"Hey! We've got something!"
There's excitement in the college student's voice as they call me to an overturned log in the forest where we're spending the afternoon. Instead of our usual menu of field trips to off-campus nature preserves and parks across southwest Virginia, COVID-19 has forced my Vertebrate Zoology class to stick closer to home, studying the patch of woods behind my office at the University of Virginia's College at Wise.
The group has been checking logs and rocks on the forest floor for salamanders, an activity that usually turns up a handful of common species. As I get closer, though, my own excitement starts to build.
Wriggling in the student's hand is a brick-red Four-Toed Salamander, a miniscule animal only an inch or two long. As I approach, it puts on a show, flipping over to display a brilliantly white belly flecked, cookies-and-cream style, with tiny black dots.
The find is interesting for more reasons than one. For starters, Four-Toed Salamanders are secretive, hiding in and around wetlands that aren't frequently visited by humans. Encountering one in an upland forest, well away from water, is a treat for any herpetologist. But finding one here is surprising for a different reason: Instead of appearing in a pristine hardwood forest, this animal has been living in the scraggled, second-growth woods of an old surface mine.
In a region as blessed with national parks, national forests and other public lands as central Appalachia, it can be easy to look past the corners of our mountains that have been surface-mined for coal. Researchers combing through mining permit records and satellite imagery have estimated that more than 1,100 square miles of the coalfields have been surface-mined to date. That's an area nearly the size of Rhode Island where mountaintops have been leveled, hardwood forests have been bulldozed and headwater streams have been buried under rock and soil.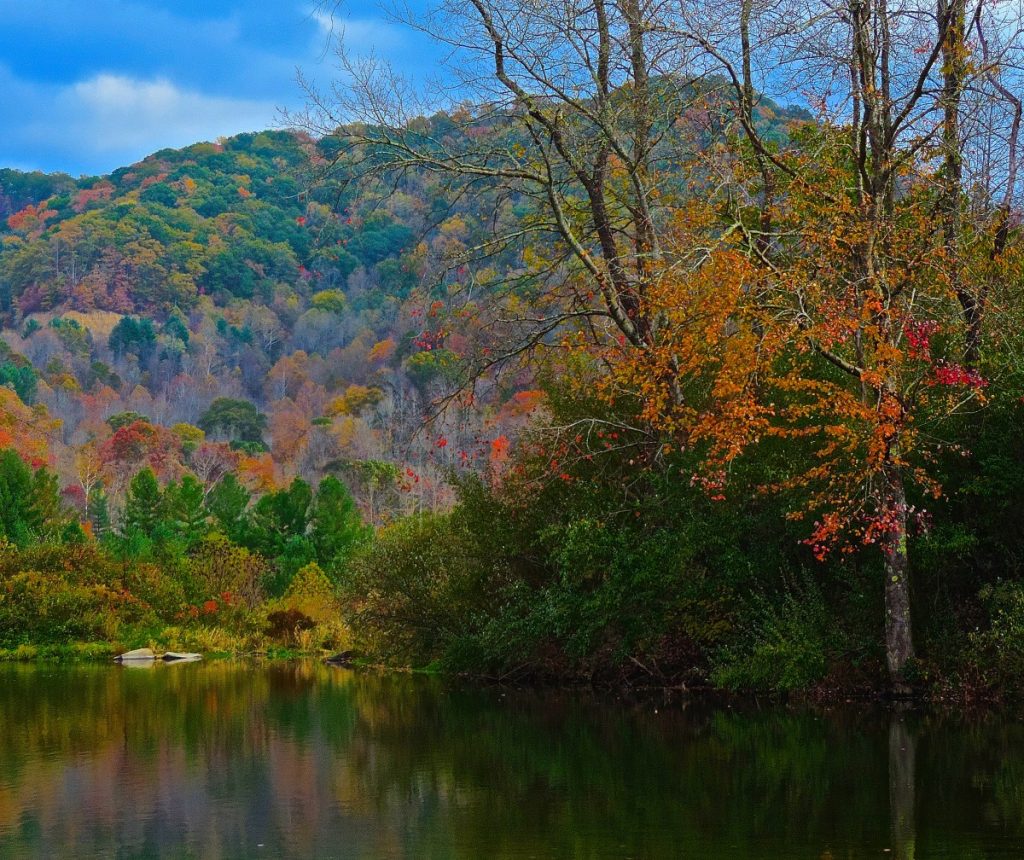 Our public dialogue about these formerly-mined landscapes often centers – justifiably so – around their problems. Treating streams polluted by mine runoff is one of the region's more intractable environmental quagmires, while residents living in close proximity to surface mines face a litany of health risks ranging from birth defects to premature mortality. The descriptors used in media pieces to discuss the coalfields' aging mines — barren, devastated and lifeless, to name a few — are all too often deserved.But there's another side to these places that often escapes attention, and that's what happens once wildlife begins to reclaim an old mine's disturbed slopes.
A few years ago, Kyle Hill, one of my local students and an avid duck hunter, had a question that was nagging him. He had seen waterfowl hanging around wetlands on surface mines across Virginia's Wise County. Those wetlands, some built to control surface runoff and others formed when steeply-sloped hillsides become converted into a flat plateau, are often dismissed as having little ecological value. Was hidden waterfowl diversity lurking in their waters?
Over the following two years, Hill placed game cameras at surface mine-associated wetlands across the Virginia coalfields. His results were staggering: 16 waterfowl species were calling those wetlands home, including several species that had never been catalogued in the area, like the snow-white Ross's Goose. His work provided the first inventory of waterfowl diversity in this corner of the coalfields, shedding light on the natural history of an unnatural habitat that often gets viewed as an eyesore.
Examples like Hill's are growing in the region. With help from biologists, former surface mines are becoming natural laboratories working to save declining species and reintroduce wildlife that we lost long ago. Former mines in several states are being managed to provide habitat for the Golden-Winged Warbler, a declining songbird that calls both Appalachia and Central America home. Others are being used as locations for reintroducing elk — a resident of Appalachian forests until their disappearance shortly after the Civil War — back into the coalfields' hills and hollows.
This isn't to say that all wildlife species thrive on former surface mines, of course. Researchers have found that many species, from amphibians to small mammals to fish assemblages, never reach their historic densities after recolonizing sites that have been mined. Others may never be able to recolonize some former surface mines at all. But our knowledge comes from studies of a select few surface mines across the region, leaving many unknowns and large swaths of the coalfields still untouched by researchers.
Or, to put it more succinctly, there's an area of Appalachia larger than the Great Smoky Mountains and Shenandoah National Parks combined that, for practical purposes, is still a scientific lost world.
As coalfield communities diversify their economies, aging surface mines are attracting renewed attention by elected officials, nonprofits and federal programs alike. That attention, however, is all too often limited to viewing mined landscapes as a blank slate for future development. A flattened hillside might make a perfect location for an industrial park. A cleared forest can attract a data center or solar farm, while access roads and wetlands can become trails and mudholes for an off-road park.
Such well-intended projects can help jumpstart communities struggling in the wake of a declining extraction economy. But recent investigations have suggested that both state and federal funding programs are failing to hold grantees accountable on their promises to create jobs and fix former mines' environmental issues. What environmental consequences exist when those projects fail to live up to expectations? Could poorly-managed efforts to reuse former mines create new liabilities for wildlife and nearby communities, or even worsen existing ones? How can we best ensure that such initiatives assist both local economies and the native wildlife reclaiming minelands as a home?
Answering those questions will take restructuring our dialogue about Appalachia's formerly-mined landscapes. Regional collaboratives promoting innovative uses of minelands are doing admirable work, but they must also establish long-term, science-based monitoring programs to ensure that their projects truly meet environmental goals. Exploring ways to open more former mines to ecological research involving citizen scientists from surrounding communities should also be a priority. And the Biden Administration should retool federal programs to prioritize quality over quantity when funding mineland reuse projects, supporting only those efforts that put forth realistic, data-driven proposals for improving the economic and environmental resiliency of former mines.
There is a remarkable amount of knowledge to be gained by giving the natural history of former surface mines a closer look. Back on our college campus, we turned up another of those white-bellied Four-Toed Salamanders on a later visit, then another, and even more as the season went on. The animals had found their way to the mine thanks to a shallow marshy area — the species' preferred nesting site — that had formed in the mine's hollowed-out heart. Such a small, unattractive wetland would end up drained or built over during many mineland reuse projects, without much more than a passing thought.
The class hiked past monarch butterflies stopping by wildflowers that had taken root on the mine, and game cameras captured foxes, bears and bobcats foraging in its second-growth woods. The experience taught us all an unexpected lesson: As is so often the case with rural Appalachia, there are treasures hiding in some of our mountains' most maligned places. All we have to do is look.
Wally Smith is an Associate Professor of Biology at the University of Virginia's College at Wise.