Unraveling the Hidden Black History of Appalachian Activism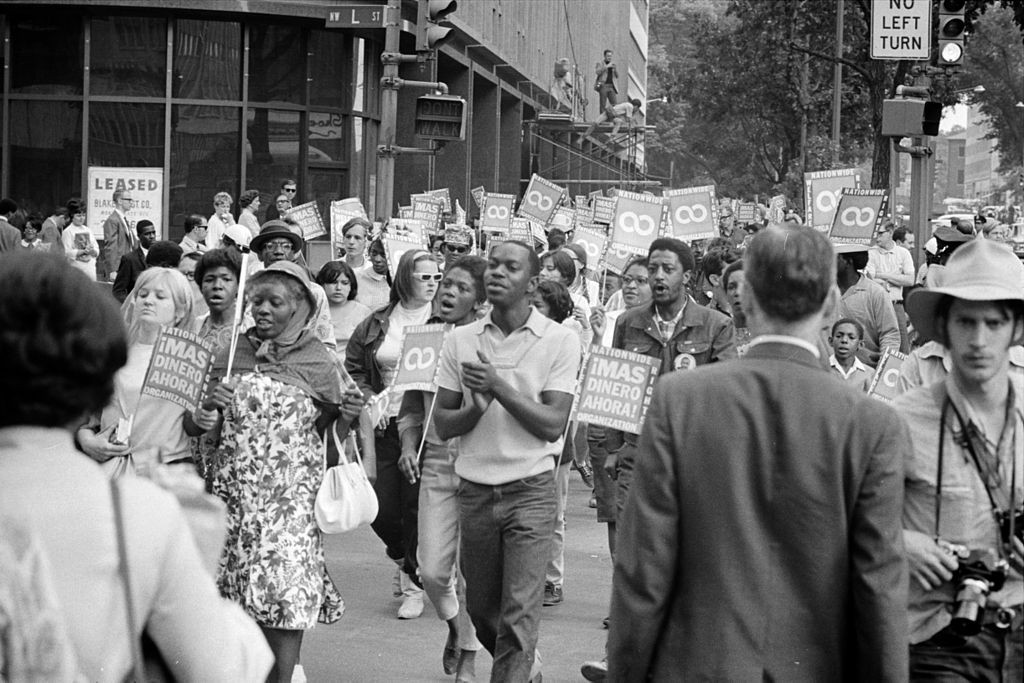 From the late-nineteenth century to the present, the most popular stories of Appalachia have been simplistic tales of white mountaineers. Those stories have infused everything from culture to politics and media. Despite important counter–examples, these stories continue to be the starting place for most Americans' understanding of Appalachia — one that erases a complex history of race, racism and Black resistance. Placing Black people in Appalachia's history is not simply a matter of recognizing diversity. Rather, it forces a different angle, a truer way of seeing the region and its relationship to the South and the United States.
If Black people have been difficult to see in Appalachian history, Black women have been virtually invisible. They can be hard to find in institutional archives that, until the 1970s, did not preserve the history of Black Appalachians with any consistency. And they have been marginalized in a region defined historically by its relationship to whiteness and embodied by white men.
Mary Rice Farris, a Black woman who lived her whole life in Madison County, Kentucky, where the knobby hills meet the bluegrass, worked much of her life to demand that Black Appalachia be seen and heard. Her story, preserved in oral history interviews and other documents at the Berea College Special Collections and Archives, reveals the intersections between African American, Appalachian and women's history, and how one Black woman from Appalachia fought for Black civil rights and economic justice.
Slavery and Emancipation in Appalachia
In 1914, Mary White, a Black midwife, caught Mary Rice Farris at her birth. Mary White was a former slave who built an illustrious career after Emancipation. Calling her generation the "second after slavery," Farris narrated her historically Black community's history through the story of Mary White.
White was born in 1835 to the enslaved couple Metilda Elder and Mitchell Walker. The man who owned the family sold infant Mary White to slave owner Wash Mopkin.
When White was 11 years old, Mopkin sold her for $14 to Durke White, who placed her in a cabin behind his house before "he took her to the big house as his mistress," according to Farris.
Farris used the coded language of her day — "took her … as his mistress" — that made clear the reality of the stealing Black women's bodies. This white man bought a girl named Mary and raped her. She bore two children, raised them and kept Durke's house. Historian Shannon Eaves has called this confluence of reproductive, domestic and emotional labor "sexual servitude."
Durke died at the hands of "night riders," the term given to vigilante groups. Farris guessed that they disliked how he carried on with a Black woman. White ended up in another slave cabin on the estate of Robert Cochran. He soon "took her as his mistress" and "after slavery, kept her on as his mistress," according to Farris.
In 1880, White headed her own household and raised her eight children. At some point in the late nineteenth century, Robert died, leaving his estate to Mary White and her children.
At that point White fashioned a new identity, one staked on freedom. She chose her own profession, adopted a little rat terrier she named Ruth (her "constant companion"), and placed a white picket fence around her house.
White entered a nursing program at Berea College, where in 1855 the abolitionist John G. Fee had organized an interracial community and opened the doors of the college to Black and white students. Carter G. Woodson is among the most celebrated alumnus. "An intellectual pioneer in Appalachian studies," as Cynthia Greenlee recently argued, Woodson, who hailed from West Virginia, would go on to attend the University of Chicago and Harvard.
White also had an illustrious career. She graduated and became a midwife in the region. According to Farris, "Most all of the Black and many of the white babies in and around southern Madison County and around Berea were delivered by Mary White."
Embodying a story of resistance and resilience, White delivered babies and cared for families up until the day before her death in 1924, when Farris was ten years old.
The Second Generation Since Slavery
White's story was evidence of what Black women could do and achieve despite a state of deprivation, as Farris called slavery. Growing up during the nadir, when white southerners restricted Black civil rights and terrorized Black communities, Farris would face a different kind of deprivation.
As a child Farris grew up near Berea College's campus and knew that community leaders like Mary White had been educated there. She desired what it had to offer. But in 1904 Governor J. C. W. Beckham had signed the Day Law, "An Act to Prohibit White and Colored Persons from Attending the Same School." She would attend the Lincoln Institute, an all-Black boarding school created in the aftermath of the Day Law.
Farris remembered, "I walked through (Berea) as a little girl, barefooted and dusty, and sold blackberries and bought me some cheese and crackers and sat on that campus and watched those girls, hopping and skipping, and looked at those buildings and wished and prayed that I might be able to prepare myself for a better life. But I wasn't able to because I couldn't go there because of the Day Law."
Neither could her own children. And her husband, Moss, could not get a job there, even though he was as qualified, often times more, than the poor white people who were hired.
Farris married the farmer Moss G. Farris and had four children with him. She helped her husband in the tobacco fields and, when her family needed more income, worked as a hotel maid, a packager at a munitions factory and as a cosmetics saleswoman.
Farris emerged as a leader in the First Baptist Church of Berea, where she served in a variety of capacities and became a well-known speaker throughout Kentucky and Ohio. She joined and was elected vice president of Church Women United of Madison County, an inclusive Christian women's movement that worked to improve the lives of women and children.
Understanding the importance of political power in the quest for full civil rights, Farris rose in the ranks of the Republican Party of Madison County and became the area coordinator, running the local polling booth. She became so well known in Madison County that white politicians began courting her for endorsements. Her granddaughter, Ms. Cheryl Farris, recalls watching her grandmother go head-to-head with politicians at her dining room table. "She could talk to anyone," she said.
By the late 1960s, she sought full-time work that brought together her interests in politics and improving her community.
The Struggle for Civil and Human Rights
"All my life done political and community work," Farris wrote in a 1967 application for a job in a War on Poverty program. "The people have been deprived of what they should have received, and I would like to see that something is done for them." Like many middle-aged Black women across the country, she saw federal resources as a right of citizenship, a way to enact freedom.
War on Poverty programs relied on networks that women like Farris had been building for years. Farris used the too-often scant resources to expand programs in her community: cultural and social programs for African American youth, information sessions on welfare for poor people and events for senior citizens. She helped to organize a library of 2500 books for local kids to use. She took one group of youth for a tour at Berea College, where African American students were finally admitted, and she took others to Frankfort, the capital of the state, for protest marches.
In February 1968, Farris took her political skills to a new arena when she went to the heart of Appalachia to confront Senator Robert F. Kennedy and Congressman Carl D. Perkins.
Vortex was the first stop on Kennedy's eight-stop tour of eastern Kentucky. On the verge of announcing his presidential campaign, Kennedy was there to document the effectiveness of President Johnson's War on Poverty programs and whether citizens had "enough to eat."
Farris arrived at a one-room schoolhouse in Vortex. Inside, almost solely white people crowded the building. They were there to testify about their lives, to tell an Appalachian story before powerful white men who seemed to care.
Farris was prepared to tell a story of Appalachia, too. A story of Black Appalachia — and Black America — at an event that recreated the story of Appalachian whiteness, a cornerstone myth of white America.
Congressman Carl D. Perkins, who represented the eastern Kentucky district, joined Kennedy. Both men gushed about how much they loved and admired the people of Appalachia, and when they said "people," they meant "white." They are the "best people in the world," Perkins exclaimed, before identifying himself as one of them. "We love our country."
Five other people besides Farris testified that day — two white men, three white women, all of them identified by the conveners as Mr. and Mrs. except for Farris, despite her decades-long marriage.
Farris testified last, and her words packed a punch. "I am Mary Rice Farris, representative of a delegation of Madison County," she began.
Perkins' embrace of white Appalachia wasn't simply semantics but had real consequences in policy decisions. The War on Poverty programs in Appalachia flowed mainly to white people in Appalachia, despite the fact that Black people were disproportionately poor and, of the impoverished population, were the poorest. Farris noted this when she pointed out that white communities throughout Appalachia had begun to get food stamps, which allowed people access to a wider range of foods, while Black communities continued to have access only to commodities food programs, in which foodstuff was rotting or full of worms.
Farris then articulated the connection between racism, injustice and poverty:
(Why are we) spending $70 million dollars a day in Vietnam, plus loss of life, when (there) are millions of people in our area hungry, without homes and decent housing, or without clothing. And we would also like to know why the Negro is having to fight for a decent place in society as a rightful citizen? Why we, as American Negroes, are having to fight and speak out for a right to take decent responsibility in this great nation?
Her line of questions raised the hackles of Perkins, who refused to address her by name, instead referring to her as "this lady here."
Kennedy and Perkins stalled and blurted out hollow statements.
Farris asserted, "I want an answer." While they could not answer, that wasn't the point; her statement underscored that the crises of the moment would demand an answer. And by her presence, she insisted on telling a story of Black Appalachia.
With Eyes Open to the Future
Farris continued community work when she returned home. In 1969, she attended the White House Conference on Food and Nutrition, and she supervised the emergency food and medical services of the Kentucky River Foothills Development Council in the late '60s.
She also joined the board of the prominent reform organization Council of the Southern Mountains. For most of its history, it had ignored the needs of Black Appalachians. Farris was part of a group of leaders who led efforts to make the council more inclusive, including establishing a Black Appalachian Commission that, in the words of one of its members, Jack Guillebeaux, "was the first recognition of the fact that the plight of black people is an integral part of the definition of Appalachia and its problems."
Farris wrote of the new Council, "It has condemned second-class citizenship and deepened its fellowship with all the people. I have confidence and hope that the Council now has a new opportunity to serve Appalachia in the coming years with eyes open to the future."
Farris's reference to the "future" was no coincidence. The common perception of Appalachia as a white enclave and a place of nostalgia had erased the complex histories of Black men and women and had led to a false history of Appalachia. She understood how incomplete histories cut off paths to the future. Lacking a true history, policy makers and activists would continue to ignore the experiences of Black Appalachians. The council's transformation signaled the possibility for new understandings of the region and a new frontier in the struggle for democracy.
We remain far from Mary Farris's future. Stories like hers continue to be erased every time Appalachia is cast as a region of poor whites. Bringing her story to light, and others like it, is necessary in order to fully reckon with our history and to imagine paths toward a more just future in Appalachia
In 2016 the Richmond-Madison County branch of the NAACP recognized Mary Rice Farris for her commitment to civil rights, nearly forty years after her death. Her legacy continues, and her words — spoken in 1973 as the backlash to the Civil Rights Movement gathered steam — still carry power today: "Because we still have people … who would like very much to put us back. Of course that will never happen. We'll never stand for that."
Jessica Wilkerson is an assistant professor of history and Southern studies at the University of Mississippi. She is currently completing her first book, To Live Here, You Have to Fight: How Women Led Appalachian Movements for Social Justice (forthcoming, University of Illinois Press).
This story has been corrected to identify Jack Guillebeaux's role as a member and eventual director, not the founder, of the Black Appalachian Commission.
Not Just Red vs Blue: What the Teacher Strike May Reveal About West Virginia's Political Landscape
The nine-day teachers' strike in West Virginia made headlines across the country, and some are wondering what the events mean for state's political landscape. How did a widespread labor strike, a practice normally associated with Democrats, happen in a state that voted so heavily for Donald Trump?
We wanted to take a step back to explore how politics have been changing here over the past generation. West Virginia has been dubbed the heart of Trump Country, but politics here are anything but straightforward.
The strike wasn't organized solely by Democrats or Republicans, or even union bosses. But some, like Angela Nottingham, a seventh-grade social studies teacher from Cabell County, said the action changed how they plan to vote this year. Nottingham said she switched from Independent to Democrat after watching some Senate Republicans fight against the pay increase teachers were demanding.
"I know there are a lot of people out there that are Republican and kind of vote with their party. I think a lot of people are gonna look back at who supported them. And I really do think they, and the people around them, and the people they influence, will vote for the people who helped us out," Nottingham said.
In 2016, President Trump received nearly 70 percent of votes cast in West Virginia.
West Virginia has a Republican governor, and Republicans control both houses of the state Legislature.
And yet, more voters in the state are registered as Democrats than Republicans. In Wyoming County, for example, President Trump won 83 percent of votes, even though more than twice as many voters in this county are registered as Democrats, compared with Republicans.
Could Democrats gain back some ground in the Mountain State?
With the midterm election around the corner, we wanted to get a sense of where we're headed, so West Virginia Public Broadcasting polled more than 900 teachers and school personnel in an anonymous, online survey. This was not a scientific poll designed by statisticians, but it did give us some interesting insights.
About half of the teachers we surveyed said they identify as Democrats, while nearly 30 percent said they are Republicans. A majority said they voted for Vermont Sen. Bernie Sanders as their first choice for president in 2016.
A majority (36 percent) said they plan to re-elect U.S. Senator Joe Manchin. An overwhelming majority (97 percent) of those who live in the state's Third Congressional District in southern West Virginia — the seat currently held by U.S. Rep. Evan Jenkins, a Republican — said they plan to vote for Richard Ojeda.
Both Ojeda, who's currently serving in the state Senate, and Manchin are Democrats. That is, West Virginia's version of a Democrat.
A Different Kind of Democrat  
Democrats in West Virginia held the majority in the state Legislature for more than 80 years. More than half of our governors have been Democrats. But, as political science professor Rob Rupp explained, the Democrats in the Mountain State have traditionally been a populist party, pro-labor and socially conservative.
Rupp, a professor at West Virginia Wesleyan College in Buckhannon, posited that three are three political parties in America: Republican, Democrat and West Virginia Democrat.
"And by that I mean you have kind of a hybrid party, a big tent where conservatives, moderates and liberals all joined," unique to West Virginia.
Rupp has spent most of his career studying what he called "West Virginia's slow-motion realignment towards the red" in this state, and he said that shift has been happening for a long time. But, he argued, it rose to the surface about 15 years ago. President Bill Clinton was fairly popular here, but Democrats on the national stage since have failed to resonate with voters in this pro-coal state.
"And now [Democrats] are realizing that to many West Virginia voters, the national Democratic Party is out of touch with the state voters," Rupp said.
This shift didn't happen overnight. Rupp and other political scientists said one reason for the change is the declining power of unions. Labor has had a strong influence on politics here since the 1930s, and labor unions have typically sided with Democrats.
But in West Virginia, Democrats are far more conservative than the national party: They're pro-coal, and they usually side with conservatives on social issues, like gay rights, abortion and immigration.
Rupp said now we're seeing the breakup of that hybrid, West Virginia-style Democrat, a change that could have national implications. West Virginia may be a bellwether for rural America, and for the national Democratic party.
"And now with the loss of power was seeing a struggle between, should the Democratic Party turn left or should it turn right, now that it suddenly finds himself in minority."
But with the recent teachers' strike, some people are wondering if the Democrats, could stand a chance of regaining power in West Virginia. And what kind of Democrats could get elected? Ones that lean progressive? Or will they need to look more like the West Virginia Democrats of the past?
One example of the traditional-style West Virginia Democrat is state Senator Richard Ojeda. He's running for Congress in southern West Virginia and he says he voted for Trump, but he's been disappointed by the President's performance. He strongly supports labor unions, and was one of the teachers' loudest supporters during the recent strike.
But if Democrats like Ojeda want to take back power in West Virginia and across Appalachia, they'll have to figure out one big question: how to bring back jobs to coal country.
Former coal miner Nick Mullins, who blogs at The Thoughtful Coal Miner, said liberals haven't done enough during the past decade to appeal to working class voters in Appalachia.
"To be frank and honest [Democrats] need to come off of their moral high horses and come back down to the level of the working class," said Mullins, a registered Independent from southwest Virginia, who said he didn't vote in the November 2016 election.
"The working class needs help. We're facing longer hours or stagnant wages. People aren't enjoying life right now because they're having to work so hard and long to just have a little bit of happiness in their lives."
This story was originally published on West Virginia Public Broadcasting.
My Hometown Is Built On Stolen Land; it's Time We Acknowledge That
It was the sort of white flight that could never have identified itself as such: My family was pulled as much as pushed from Gwinnett County to Forsyth. Only a little farther from Atlanta, the schools shrank by an order of magnitude.  It was less than an hour away, but the traffic choked less. To my 12-year-old self, it seemed merely circumstantial that in the course of the move to a traditionally rural area, the entire Black population also disappeared.
In my family's pursuit of the American Dream, Cumming — county seat of Forsyth — became my home base from 2002 until now. My brother and I thrived in those smaller schools. We swam in Lake Lanier and climbed Sawnee Mountain and played trivia over root beer and pretzels at the Mellow Mushroom back when it was still dingy. We still complained about Forsyth because that's what teenagers do, but mostly we loved it.
After college I came to recognize how thoroughly privileged my seemingly normal adolescence was; the after-school activities, the safe but laid-back school environment, the leafy neighborhood, the '95 Buick my folks paid for until I totaled it. Still, though I theoretically understood these things had been systematically denied to most Black people over the last 400 years, I didn't learn until 2016 that Black people had been forcibly erased from my hometown. It was only with the publication of Patrick Phillips' historical account Blood at the Root that the whole truth was told: Forsyth had expelled all its Black citizens through a campaign of terror that lasted from 1912 until after my own birth.
The beginning of the story is disturbingly common. A white woman was raped and murdered. Two young Black men, Ernest Knox and Rob Edwards, took the blame without evidence. Knox was lynched while in police custody, and Edwards was hanged after a sham trial.
But the county's white citizens weren't appeased. Over the course of several weeks, groups of night riders expelled every Black family from Forsyth with threats, violence and fire. Black churches burned. Law enforcement took no interest. Feeble efforts by whites to stop the campaign were quashed. Practically overnight, Forsyth became a whites-only county — one quick to discover transgressors, who would be met with continued violence for much of the century. In 1989, a civil rights march demanding the county work to protect Blacks and speed integration met with an enormous and impassioned counter-protest.
Meanwhile, the land Black families had owned before the 1912 expulsion was slowly absorbed into the holdings of their white neighbors. Now some of the most valuable real estate in the Atlanta suburbs is twice-stolen: first in the Cherokee removal, and again in the 1912 attacks.
When my family moved to Forsyth, this history was known to Black people all over the state; but within the county, this is all taboo. Like other classrooms full of white children all over the country, we learned about slavery, lynchings, and racism in the abstract—but never heard mention of the brutal pageant that had taken place blocks from where we sat. Over 400 students (seven of whom were Black) would eventually graduate from Forsyth Central High School in 2008 at the dusty fairgrounds—filing in and out of the empty livestock barn—having heard only the barest rumors explaining the racial makeup of our hometown.
Since then, the county has continued to grow by more than 25 percent, while the Black population has doubled. One newcomer is Daniel Blackman, community organizer and COO of communications firm Social Karma, who moved to Forsyth from Atlanta with his family in 2012. In 2016, Blackman became the first Black person to run for office in Forsyth and the first Democrat to run for State House in 25 years. Blood at the Root was published months before the election. Blackman says he had heard about the county's history but didn't realize the full story until the publication of the book. At the same time, in its current state, Forsyth is "not too different from other predominantly white counties in Georgia" where racism is an everyday occurrence.
 Overall, though, Forsyth is better known today for McMansions than for racist conspiracies.
Now, "Forsyth likes who we are," says Rev. Keith Oglesby of Cumming's Episcopal Church of the Holy Spirit. "[People wonder] why go backwards? But [I still want to ask], who are we? How do we own who we are today?"
Oglesby belongs to a small group of people in the beginning stages of advocating for a memorial to the events of 1912. The group, which coalesced after a lecture in Cumming by Patrick Phillips, seeks acknowledgment of the past in a public place, agreeing that the memorial should be "effective but not adversarial" in order to bring healing to Forsyth. They have also sought to have Blood at the Root placed on reading lists for public school students in the county.
Opposition to a memorial is as inevitable as more clear-cutting for more housing. Members of some of the county's oldest families still hold positions in local government; newcomers will ask why we should continue to bear shame for others' past actions. But a memorial is not about shame or even blame, and we cannot take full responsibility for the present without one.
 A memorial is not about shame or even blame; and we cannot take full responsibility for the present without one.
Without a memorial, we function like a family in denial. I learned about Forsyth's history of racial terror by accident, on the radio, from NPR's Terry Gross, exactly like learning a sick secret about a relative from a far-flung family acquaintance. Meanwhile, the events of 1912 fester and their consequences continue to metastasize, shame and secrecy compounding the slow poison of that all-too-comfortable, subtle racism pervasive in personal attitudes and public systems alike. Meanwhile, students leave our schools ill-informed and ill-equipped to function in a globalized world.
I have had the privilege of studying history, while the oppressed have borne the burden of remembering it. A memorial at its best would invite us to a sacred place to finally remember alongside one another, a communal site for grief and for exploring how the past lives on in us. White people might not be able to agree on the magnitude of our debt, but we could acknowledge it exists. We could be allowed to reckon with injustice as a community, instead of wondering or ranting about it from behind our screens.
Even if the memorial never became those things, it would fulfill its most obvious and important function — to tell the truth. Supporters and opponents alike might suddenly find themselves freed by it—delivered from secret-keeping. But as long as fear and shame control us, invisible gag orders fully in effect, we acquiesce to our own haunting, and the past will never lie peacefully in the past.
Lyndsey Medford is a youth pastor and writer on social justice, Christianity, embodiment, and place. She lives in Charleston, South Carolina where she snuggles with her husband and rescue dog. Her writing is found at lyndseymedford.com as well as Amity Coalition, Fathom Magazine, and The Billfold.
Rebirth of a Nation: The Klan's Long Shadow Falls in Charlottesville
Hours after white supremacists' violent protests in Charlottesville, Virginia, in which a car plowed into a crowd of counter-protestors killing one woman and leaving scores hospitalized, President Trump read a strategically vague, equivocal statement from his private golf club in New Jersey. He blamed "many sides" for the violence and hatred, and uncharacteristically neglected to call out the perpetrators – the KKK, neo-Nazi, alt-right and other hate groups who had just terrorized an American city. This verbal fuzziness continued with an oddly saccharin plea for mutual love and respect, and to "cherish our history" — which some viewed as a nod and wink to the "Unite the Right" organizers whose stated purpose for being in the city was to defend the removal of monuments to their Confederate heroes.
But former KKK Imperial Wizard David Duke was having none of Trump's equivocality. From Charlottesville he tweeted, "I recommend you take a good look in the mirror & remember it was White Americans who put you in the presidency."
For those aghast at this weekend's events, recall that not quite two years ago, candidate Trump dithered over Duke's tacit endorsement, while the New York Times likened Trump's success to Reconstruction-era politics. The following weekend, Saturday Night Live rolled out a "Voters for Trump" campaign spoof ad with ordinary people reciting banalities like "he says what I think" while the camera slowly zoomed out, revealing a housewife ironing a Klan robe as an audience burst into laughter. It was questionably funny then, but Trump's candidacy at the time was still widely viewed as a joke. Saturday's violence demonstrated yet again for the nation that America's latent white supremacy is no laughing matter.
Now, 200 plus meme-filled days into this President's term, America is faced with a serious choice: Keep laughing until it kills us, or take a long look in the mirror.
Trump's statement doesn't get a pass for legitimizing the resurgence of white supremacist violence, but he was right about one thing: "This has been going on for a long time." Lest you think Charlottesville is an aberration, let's revisit the rise of the "Second Klan" in 1915 —  as good as any starting point for this all-too American story.
On a chilly Thanksgiving night in October 1915, a dozen or so hooded men assembled atop Stone Mountain outside Atlanta, Georgia – an American flag fluttering in the wind, a bible opened to the twelfth chapter of Romans, and a flaming cross to light the night sky. Inspired by the recent release of D.W. Griffith's racist epic, Birth of a Nation, William Joseph Simmons and his disciples proclaimed the second rising of the Knights of the Ku Klux Klan.
I suspect you can easily imagine this scene. That's because the enduring media rendering of the Klan is deeply rooted in our popular imagination – fringe outcasts cloaked in ghostly costumes on a torch-lit hilltop. The snag in this fiery narrative is that it conjures up a characterization of racism as a cultural anomaly. Our collective imaginings of white supremacists, with all the stylings of Griffith's film, have maintained this myth.
Historical scholarship of the WWI era paints a lesser-known, but more enlightening portrait of racism in America, the nature of the Klan, and reveals the 100-year shadow it casts over our nation's current political and social divides.
The Stone Mountain version of the Second Klan remained an insignificant local group until well after the Armistice of November 1918, when in June of 1920 Simmons contracted with publicists Mary Tyler and Edward Clarke, partners in the Southern Publicity Association – a firm that had mastered the persuasive art of patriotic, nationalistic propaganda during WWI promoting the Red Cross, the Anti-Saloon League, the Salvation Army and the War Work Council (weaponized irony and smug memes serve as modern era white nationalism's propaganda of choice).
Under the guidance of shrewd publicists, the Klan refashioned itself with a familiar brew of coded values: family, community service, law and order, patriotism, "Old-time religion," hard work and economic prosperity, coupled with sober depictions of Klan members as pillars of respectable society. Their platform of hate against immigrants, Catholics, Jews and African Americans was not only disseminated through burning crosses and white-sheeted horsemen, it was carefully diffused through communities in the guise of family gatherings propagated through cheerful fliers. Picnics. Merry Go-Rounds. Proudly sponsored by your local Ford dealership.
Armed with this time-tested brand, Tyler, Clarke and Klan leaders hired a staff of seasoned organizers and set to work increasing the membership of the Klan. Within months, membership soared to 100,000, and by 1921 the Klan had chartered two hundred chapters, with nearly one million members. By the mid-1920s, they had enlisted more than 5-8 million people in nearly every state in the Union, and became a divisive force in the 1924 Democratic Convention held at Madison Square Garden in New York. Dubbed the "Klanbake" by journalists of the time – it represented the longest continuously running convention in U.S. political life. A populist force of reckoning, the millions-strong Klan opposed and defeated Catholic nominee Al Smith, then Governor of New York.
Historian Nancy McLean pulls back the deceptive cloak of decency worn by Klan members and illuminates the now-common embedded race-coding of neutral public policy issues in American politics in her book, Behind the Mask of Chivalry: the Making of the Second Klu Klux Klan:
"Most often the men who donned the order's robes and assembled beneath its flaming crosses were, as one contemporary put it, "… the good, solid middle-class citizens." Not only did the Klan draw from the broad middle of the nation's class structure, but it most commonly mobilized support through campaigns waged on the prosaic theme of upholding community moral standards."
The Klan campaigned on values that appealed to an aggrieved white middle class whose status, centrality and power was threatened by the rapidly shifting economic landscape of the WWI era: urban industrialization, the Great Migration of African Americans from the rural South, and a flood of Eastern and Southern European immigrants.
The gains and mobility of Black Americans struck a particularly painful chord among a plurality of reactionary populists, but what the Klan perhaps feared most were the hundreds of thousands of African American WWI veterans returning from fighting in Europe in 1919, and what these soldiers symbolized. Trained in combat, exposed to new experiences (and contact with African colonial troops) overseas, their sacrifices fighting had changed them forever. NAACP leader W.E.B. Dubois exhorted returning veterans to fight for their rights in a famous essay, Returning Soldiers, penned for the organization's magazine, The Crisis, in May 1919:
We return.
We return from fighting.
We return fighting.
Make way for Democracy! We saved it from France, and by the Great Jehovah, we will save it in the United States of America, or know the reason why.
And fight they did. In the Summer and Autumn of 1919, race riots erupted in three dozen cities and one rural county throughout the United States.  Dubbed "Red Summer," black veterans defended their communities from white mobs as racial frictions intensified amidst a post-war economic recession, industrial labor competition, overcrowded urban tenements and greater militancy among black war veterans. In the rural areas of the South, there were 64 lynchings in 1918 and 83 in 1919, including several Black veterans whose only crime was wearing a uniform. Just last week, while doing research on African Americans in WWI, I stood on a street corner in Chicago where one of the bloodiest of these riots occurred in August of 1919. This past does not feel distant.
The white reactionary response to the threat of Black social and economic gains was unequivocally asserted in Tulsa, Oklahoma in 1921. A group of 50 or so Black WWI veterans donned their uniforms and weapons, drove to the county courthouse and offered to guard a young black man charged with assaulting a white woman in an elevator. This inflamed a white lynch mob of 1500, who looted gun shops and attacked the prosperous Black community of Greenwood (dubbed the Black Wall Street). The veterans fought a pitched battle overnight, until the local sheriff and arriving Oklahoma National Guardsman deputized the lynch mob, and used airplanes and machine guns to burn Greenwood to the ground. The message was clear. Gains in status, position and power for Black Americans was intolerable.
Fast forward 100 years to striking economic and social parallels, in which the persistence of racially-coded public policy terms is exploited for political profit and power during periods of economic and social stress. As in the 1920s, there is growing disparity in income and wealth, unregulated excesses of Wall Street, and the extermination of the middle classes.
A similar gulf between the haves and have-nots existed just before the stock market crash of 1929. While the WWI era heralded post-industrial disruption, ours brings its own revolutionary moment with far-reaching impacts from technological change. Headlines abound about robots and artificial intelligence displacing both white and blue collar workers, while Silicon Valley Tech investment capitalists and the Koch-funded, libertarian Cato Institute explore "Universal Basic Income" for the majority of people who will be left behind in the brave new economy. The changing face of America, especially the increase in the Latino population and the influx of Muslims, is eroding longstanding privileges of white people in America. Finally, the ultimate symbolic dislocation of white power amidst this maelstrom of economic, social and technological distress — the election of America's first African American President in 2008.
Enter reactionary populism in shifting forms, from the coalescing of discontent among Tea Party members to the dramatic rise in militant "patriot" groups and the rebranding of white supremacy as the meme-loving "alt-right." West Virginia University's Director of the Center of Black Culture and Research Marjorie Fuller dissects this response in The Pendulum Effect.
Echoing the rise of the "Good Citizen" Klan of the WWI era, Tea Party ideologues originated as a decentralized, small-scale movement that was predominately white, male, nativist, patriotic, anti-immigrant, and politically conservative. It remained insignificant until shortly after the inauguration of Barack Obama in 2009, when conservative PACs, such as the Koch brother's FreedomWorks and Americans for Prosperity lent media know-how, funding and organizational expertise to grow its membership. They funded and organized "Town Hall" meetings and other patriotic-themed protests. Within five years, Tea Party affiliates were elected to political office, membership soared to nearly one-half million and sympathizers numbered in the tens of millions, with the movement becoming a divisive force in the Republican Party.
Does this all sound familiar?
If you find yourself bristling at the notion that the same forces that gave rise to the Tea Party movement, then Trumpism and the alt-right bear a resemblance to the reactionary populism that bred the Second Klan, let me stop you right there. This weekend and the past 200 days of escalating white nationalism, bears this trend out. Despite the Tea Party's frequent and early assertion that their followers were not racist, several studies found that "racial resentment" was a greater predictor of Tea Party membership than political conservatism. Similarly, studies have confirmed that racism and xenophobia drove Trump's election more than economic anxiety. Keep in mind the fraternal Klansmen of 1925 fancied themselves going about the noble business of upholding community values, patriotic virtues, nationalistic ideals and the ubiquitous, racially-coded theme of law-and-order. Trump emphasized these themes in his administration's response to the white supremacist violence in Charlottesville: "What is vital now is a swift restoration of law and order and the protection of innocent lives," he said.
Perhaps it's entertaining to scoff at the caricatures and memes of Trump as a Chaplinesque fascist, as this keeps us at a comfortable distance from a terrible truth. And Trump, in his foot-dragging disavowal of the KKK and the alt-right violence in Charlottesville, must have more than a passing awareness of this truth.
Which means we needn't look any further than the closest mirror to confront a familiar embodiment of  latent white supremacy and white nationalism — cloaked, not in white sheets, but the pretense of "Good Citizen" in this divided, troubled America.
Joel William Beeson is an associate professor at the WVU Reed College of Media and co-directs StoryBridge, a reporting collaboration with Morgan State University's School of Global Communication and Journalism. Beeson has M.A. and B.A. degrees from the University of Missouri-Columbia and received his doctorate in American Studies at the Union Institute and University investigating how Critical Race and Feminist Standpoint theories can inform counter narratives in social documentary work. Beeson recently produced a Google Expeditions VR project looking at the WWI era through the eyes of the Chicago Defender in collaboration with the Congressional Black Caucus Veterans Braintrust in honor of the WWI centennial.