Unraveling the Hidden Black History of Appalachian Activism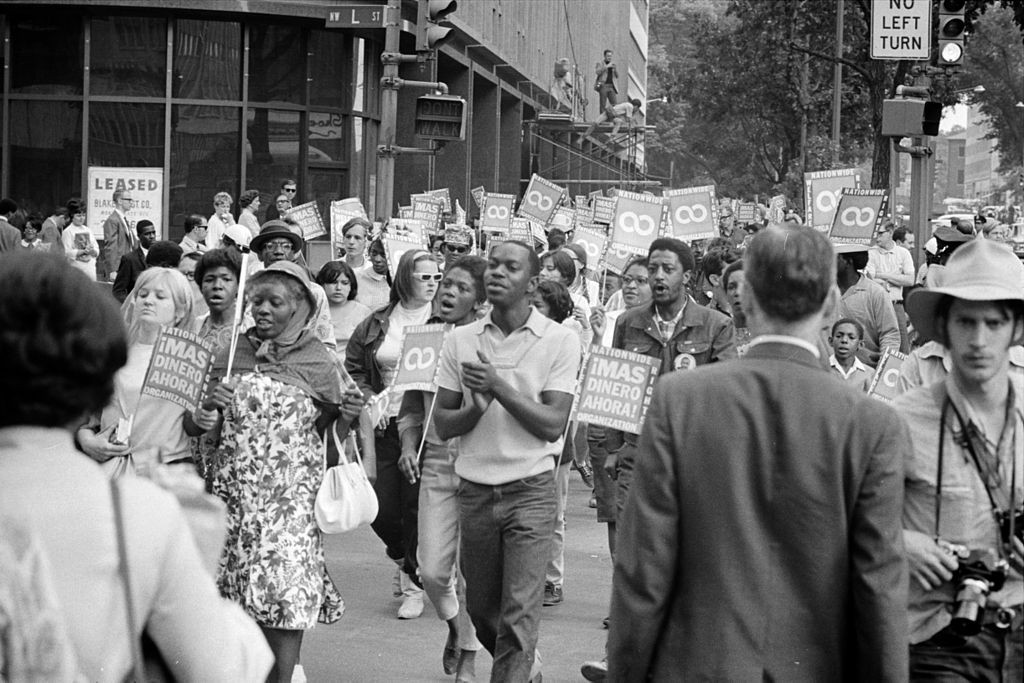 From the late-nineteenth century to the present, the most popular stories of Appalachia have been simplistic tales of white mountaineers. Those stories have infused everything from culture to politics and media. Despite important counter–examples, these stories continue to be the starting place for most Americans' understanding of Appalachia — one that erases a complex history of race, racism and Black resistance. Placing Black people in Appalachia's history is not simply a matter of recognizing diversity. Rather, it forces a different angle, a truer way of seeing the region and its relationship to the South and the United States.
If Black people have been difficult to see in Appalachian history, Black women have been virtually invisible. They can be hard to find in institutional archives that, until the 1970s, did not preserve the history of Black Appalachians with any consistency. And they have been marginalized in a region defined historically by its relationship to whiteness and embodied by white men.
Mary Rice Farris, a Black woman who lived her whole life in Madison County, Kentucky, where the knobby hills meet the bluegrass, worked much of her life to demand that Black Appalachia be seen and heard. Her story, preserved in oral history interviews and other documents at the Berea College Special Collections and Archives, reveals the intersections between African American, Appalachian and women's history, and how one Black woman from Appalachia fought for Black civil rights and economic justice.
Slavery and Emancipation in Appalachia
In 1914, Mary White, a Black midwife, caught Mary Rice Farris at her birth. Mary White was a former slave who built an illustrious career after Emancipation. Calling her generation the "second after slavery," Farris narrated her historically Black community's history through the story of Mary White.
White was born in 1835 to the enslaved couple Metilda Elder and Mitchell Walker. The man who owned the family sold infant Mary White to slave owner Wash Mopkin.
When White was 11 years old, Mopkin sold her for $14 to Durke White, who placed her in a cabin behind his house before "he took her to the big house as his mistress," according to Farris.
Farris used the coded language of her day — "took her … as his mistress" — that made clear the reality of the stealing Black women's bodies. This white man bought a girl named Mary and raped her. She bore two children, raised them and kept Durke's house. Historian Shannon Eaves has called this confluence of reproductive, domestic and emotional labor "sexual servitude."
Durke died at the hands of "night riders," the term given to vigilante groups. Farris guessed that they disliked how he carried on with a Black woman. White ended up in another slave cabin on the estate of Robert Cochran. He soon "took her as his mistress" and "after slavery, kept her on as his mistress," according to Farris.
In 1880, White headed her own household and raised her eight children. At some point in the late nineteenth century, Robert died, leaving his estate to Mary White and her children.
At that point White fashioned a new identity, one staked on freedom. She chose her own profession, adopted a little rat terrier she named Ruth (her "constant companion"), and placed a white picket fence around her house.
White entered a nursing program at Berea College, where in 1855 the abolitionist John G. Fee had organized an interracial community and opened the doors of the college to Black and white students. Carter G. Woodson is among the most celebrated alumnus. "An intellectual pioneer in Appalachian studies," as Cynthia Greenlee recently argued, Woodson, who hailed from West Virginia, would go on to attend the University of Chicago and Harvard.
White also had an illustrious career. She graduated and became a midwife in the region. According to Farris, "Most all of the Black and many of the white babies in and around southern Madison County and around Berea were delivered by Mary White."
Embodying a story of resistance and resilience, White delivered babies and cared for families up until the day before her death in 1924, when Farris was ten years old.
The Second Generation Since Slavery
White's story was evidence of what Black women could do and achieve despite a state of deprivation, as Farris called slavery. Growing up during the nadir, when white southerners restricted Black civil rights and terrorized Black communities, Farris would face a different kind of deprivation.
As a child Farris grew up near Berea College's campus and knew that community leaders like Mary White had been educated there. She desired what it had to offer. But in 1904 Governor J. C. W. Beckham had signed the Day Law, "An Act to Prohibit White and Colored Persons from Attending the Same School." She would attend the Lincoln Institute, an all-Black boarding school created in the aftermath of the Day Law.
Farris remembered, "I walked through (Berea) as a little girl, barefooted and dusty, and sold blackberries and bought me some cheese and crackers and sat on that campus and watched those girls, hopping and skipping, and looked at those buildings and wished and prayed that I might be able to prepare myself for a better life. But I wasn't able to because I couldn't go there because of the Day Law."
Neither could her own children. And her husband, Moss, could not get a job there, even though he was as qualified, often times more, than the poor white people who were hired.
Farris married the farmer Moss G. Farris and had four children with him. She helped her husband in the tobacco fields and, when her family needed more income, worked as a hotel maid, a packager at a munitions factory and as a cosmetics saleswoman.
Farris emerged as a leader in the First Baptist Church of Berea, where she served in a variety of capacities and became a well-known speaker throughout Kentucky and Ohio. She joined and was elected vice president of Church Women United of Madison County, an inclusive Christian women's movement that worked to improve the lives of women and children.
Understanding the importance of political power in the quest for full civil rights, Farris rose in the ranks of the Republican Party of Madison County and became the area coordinator, running the local polling booth. She became so well known in Madison County that white politicians began courting her for endorsements. Her granddaughter, Ms. Cheryl Farris, recalls watching her grandmother go head-to-head with politicians at her dining room table. "She could talk to anyone," she said.
By the late 1960s, she sought full-time work that brought together her interests in politics and improving her community.
The Struggle for Civil and Human Rights
"All my life done political and community work," Farris wrote in a 1967 application for a job in a War on Poverty program. "The people have been deprived of what they should have received, and I would like to see that something is done for them." Like many middle-aged Black women across the country, she saw federal resources as a right of citizenship, a way to enact freedom.
War on Poverty programs relied on networks that women like Farris had been building for years. Farris used the too-often scant resources to expand programs in her community: cultural and social programs for African American youth, information sessions on welfare for poor people and events for senior citizens. She helped to organize a library of 2500 books for local kids to use. She took one group of youth for a tour at Berea College, where African American students were finally admitted, and she took others to Frankfort, the capital of the state, for protest marches.
In February 1968, Farris took her political skills to a new arena when she went to the heart of Appalachia to confront Senator Robert F. Kennedy and Congressman Carl D. Perkins.
Vortex was the first stop on Kennedy's eight-stop tour of eastern Kentucky. On the verge of announcing his presidential campaign, Kennedy was there to document the effectiveness of President Johnson's War on Poverty programs and whether citizens had "enough to eat."
Farris arrived at a one-room schoolhouse in Vortex. Inside, almost solely white people crowded the building. They were there to testify about their lives, to tell an Appalachian story before powerful white men who seemed to care.
Farris was prepared to tell a story of Appalachia, too. A story of Black Appalachia — and Black America — at an event that recreated the story of Appalachian whiteness, a cornerstone myth of white America.
Congressman Carl D. Perkins, who represented the eastern Kentucky district, joined Kennedy. Both men gushed about how much they loved and admired the people of Appalachia, and when they said "people," they meant "white." They are the "best people in the world," Perkins exclaimed, before identifying himself as one of them. "We love our country."
Five other people besides Farris testified that day — two white men, three white women, all of them identified by the conveners as Mr. and Mrs. except for Farris, despite her decades-long marriage.
Farris testified last, and her words packed a punch. "I am Mary Rice Farris, representative of a delegation of Madison County," she began.
Perkins' embrace of white Appalachia wasn't simply semantics but had real consequences in policy decisions. The War on Poverty programs in Appalachia flowed mainly to white people in Appalachia, despite the fact that Black people were disproportionately poor and, of the impoverished population, were the poorest. Farris noted this when she pointed out that white communities throughout Appalachia had begun to get food stamps, which allowed people access to a wider range of foods, while Black communities continued to have access only to commodities food programs, in which foodstuff was rotting or full of worms.
Farris then articulated the connection between racism, injustice and poverty:
(Why are we) spending $70 million dollars a day in Vietnam, plus loss of life, when (there) are millions of people in our area hungry, without homes and decent housing, or without clothing. And we would also like to know why the Negro is having to fight for a decent place in society as a rightful citizen? Why we, as American Negroes, are having to fight and speak out for a right to take decent responsibility in this great nation?
Her line of questions raised the hackles of Perkins, who refused to address her by name, instead referring to her as "this lady here."
Kennedy and Perkins stalled and blurted out hollow statements.
Farris asserted, "I want an answer." While they could not answer, that wasn't the point; her statement underscored that the crises of the moment would demand an answer. And by her presence, she insisted on telling a story of Black Appalachia.
With Eyes Open to the Future
Farris continued community work when she returned home. In 1969, she attended the White House Conference on Food and Nutrition, and she supervised the emergency food and medical services of the Kentucky River Foothills Development Council in the late '60s.
She also joined the board of the prominent reform organization Council of the Southern Mountains. For most of its history, it had ignored the needs of Black Appalachians. Farris was part of a group of leaders who led efforts to make the council more inclusive, including establishing a Black Appalachian Commission that, in the words of one of its members, Jack Guillebeaux, "was the first recognition of the fact that the plight of black people is an integral part of the definition of Appalachia and its problems."
Farris wrote of the new Council, "It has condemned second-class citizenship and deepened its fellowship with all the people. I have confidence and hope that the Council now has a new opportunity to serve Appalachia in the coming years with eyes open to the future."
Farris's reference to the "future" was no coincidence. The common perception of Appalachia as a white enclave and a place of nostalgia had erased the complex histories of Black men and women and had led to a false history of Appalachia. She understood how incomplete histories cut off paths to the future. Lacking a true history, policy makers and activists would continue to ignore the experiences of Black Appalachians. The council's transformation signaled the possibility for new understandings of the region and a new frontier in the struggle for democracy.
We remain far from Mary Farris's future. Stories like hers continue to be erased every time Appalachia is cast as a region of poor whites. Bringing her story to light, and others like it, is necessary in order to fully reckon with our history and to imagine paths toward a more just future in Appalachia
In 2016 the Richmond-Madison County branch of the NAACP recognized Mary Rice Farris for her commitment to civil rights, nearly forty years after her death. Her legacy continues, and her words — spoken in 1973 as the backlash to the Civil Rights Movement gathered steam — still carry power today: "Because we still have people … who would like very much to put us back. Of course that will never happen. We'll never stand for that."
Jessica Wilkerson is an assistant professor of history and Southern studies at the University of Mississippi. She is currently completing her first book, To Live Here, You Have to Fight: How Women Led Appalachian Movements for Social Justice (forthcoming, University of Illinois Press).
This story has been corrected to identify Jack Guillebeaux's role as a member and eventual director, not the founder, of the Black Appalachian Commission.
Researchers Uncover History of Former W.Va. Coal Community
West Virginia University researchers recently completed a year-long project exploring the history of a coal community in Monongalia County, using photos and oral history to create an exhibit.
Scott's Run is a five-mile area that stretches along the banks of the Monongahela River, about four miles from West Virginia University.
Today less than 2,000 people live there, and the former towns in Scotts Run – such as Osage and Cassville – are all unincorporated.
But, in the early 1900s, the area was booming from the coal industry. Its main economic advantage was its proximity to the river, railroads and coal resources. But, by the 1930s during the Great Depression, like much of the country, Scott's Run hit hard times.
Consequently, the community banded together, creating a family-like bond that still exists today.
"There's this community that is a completely different world from what you've seen of Morgantown that has this history that's very much the history of West Virginia," said Kristina Hash, a professor of social work at WVU.
Hash was one of six researchers on the team that studied Scott's Run. Other researchers included Catherine Gouge, Lori Hostuttler, Tamba M'bayo, Christine Rittenour and Tyler Redding.
The project was funded in 2018 through a grant from the West Virginia University Humanities Center.
Many photos were taken of the people of Scott's Run during the Great Depression years, Hash said. Using these photos, she and her team documented stories from West Virginians who were children during the early years of Scott's Run.
About a dozen of the original residents of Scott's Run still get together every weekend. Hash said the sense of community is strong.
"People that had a really diverse community that lived in harmony that centered around coal and together faced major tragedy," she said.
All the research was compiled into a video and an exhibit that has been donated to the Scott's Run Museum where it will be permanently on display. The museum is open every Saturday from 10 a.m. to 2 p.m.
This article was originally published by West Virginia Public Broadcasting.
Art Exhibit Explores Appalachia's Connection to Wales
Across the Atlantic Ocean — 3,586 miles away from West Virginia — you will find Wales, which is part of the United Kingdom. The western side of Wales is lined by two channels from the Celtic Sea. And inland is quite mountainous. Within those mountain towns, you will find similar folk culture to Appalachia.
"The nature of the people and the landscape is very similar. Plus, many people from West Wales came over here. So we've got those really strong connections," said Peter Stevenson, a Welsh artist, writer and storyteller.
These strong connections inspired Stevenson to host an art exhibit at the Monongalia Arts Center in Morgantown, an expansive art exhibit dedicated to the Wales-Appalachia connection.
History
Many of Appalachian's ancestors migrated from Wales to Appalachia. There are other strong historical connections between the two regions. For example, both have a long and complicated history with the coal industry, and both have a strong mountain culture – a culture that includes music, art and storytelling.
Stevenson has family who immigrated to West Virginia in the 1960s. So, Stevenson has listened to many Appalachian folktales, and he has found many similarities to Welsh folklore. Similar characters appear in both traditions, like fairies or little people and granny women – older, eccentric women who either create charm or mischief.
But the stories differ slightly. Stevenson thinks the Welsh brought over their folklore when they immigrated to Appalachia hundreds of years ago, but the stories changed slightly over time to become more Appalachian.
"Within these stories which appear to be the same they take on something from the landscape and nature of the people in that landscape and they're subtly different," he said.
The Exhibit
Stevenson organized the art exhibit on display in Morgantown to further explore the connections.
The exhibit is one big story that contains many little stories, it is a bit like a fairytale book come to life at the Monongalia Arts Center, featuring Welsh and Appalachian artists.
There are dolls made to look like witches with a black triangle hat, drawings of mermaids in the Monongahela river and a woman who turned into a swan. There are a lot of bright colors and characters that make one's imagination run wild.
Stevenson is a professional storyteller. When he tells a story, one feels spellbound. He tells the crowd a folk story using a cranky – a storytelling device likely familiar to Appalachians.
A cranky is like a picture book except with drawings all on one long scroll. It is contained within a frame with two handles that move the scroll, and it is typically accompanied by a story.
The Story of Betty
The story Stevenson told at the exhibit opening is about an old granny woman named Betty who lived on the west coast of Wales. She often would gaze out her window toward America.  
"Thousand wrinkles around the eyes, a single yellow tooth wobbling unnervingly in the breeze from her breath and a single gray hair in the middle of her chin," Stevenson said.
Stevenson turned the cranky as he spoke. The pictures are drawn in heavy black ink. Betty looks like a kind, but mischievous old woman out of a children's book.
Stevenson explained that Betty could make love potions. She would make them for all the town folk. But sometimes she mixed them up, and in Stevenson's story, much to the town's dismay, Betty accidentally made a farm woman and a man of nobility fall in love. But they ended up living happily ever after and having dozens of babies.
Peter turned to the final image on the cranky, and revealed a picture of Betty with a sly smirk pointing to her love potion bottle and a trail of red hearts.
"Old Betty is still there. She's still there in her little cottage. She's got even more wrinkles around her eyes, her solitary yellow tooth fell out years ago, but her little gray hair is still there and she twirls it and looks out across the water to America," Stevenson said. "And thinks to herself, maybe my love potions would work in West Virginia."
West Virginian Art
The first floor of the exhibit features the Welsh artists and their interpretation of folktales. The second floor is dedicated to West Virginian artists, such as Eddie Spaghetti.
He is based in Morgantown and works in many art mediums, including crankies. One of Spaghetti's crankies on display is titled 'Light in the Darkness.' It is accompanied by a poem that Spaghetti wrote in tiny print underneath the drawings.
"I put a magnifying glass onto it, that magnifying glass is a real attention-getter – you can't help but to look at stuff," he says.
Another of the West Virginian artists featured in the exhibit is accomplished sculptor Jamie Lester. Some of his well-known work includes the Don Knotts and Jerry West statues in Morgantown.
Lester's piece on display in the Wales-Appalachia gallery reflects man's connection to coal. Something that is a big part of Appalachian and Welsh history. It's a sculpture of a man's body merged with a coal operation, and the coal tipple is connected to his head and shoulder.
"He's being like fed coal, he is coal, coal is in his blood, he's being force-fed coal," Lester said. "And his arms are tied behind his back and one of his arms is breaking the structure of the tipple, so you get the feeling he's being tormented, but there's the possibility of him breaking away from his tormentor."
This sculpture and all the many other pieces from Appalachia and Wales are on display at the Monongalia Arts Center in Morgantown. The exhibit will be up through the end of this month, when it will travel to Wales for display.
This article was originally published by West Virginia Public Broadcasting.
Mountain Justice: Appalachian Women Fought for Workers Long Before They Fought for Jobs
This piece was originally published in Scalawag, which amplifies the voices of activists, artists, and writers reckoning with the South. You can read the original article here.
As historian Jessica Wilkerson carefully turned the pages of a notebook documenting a coal miners' strike, fragments of dried leaves fluttered out. Sudie Crusenberry, who glued it together, was the wife of a disabled Kentucky miner. She had to reuse her children's old school scrapbooks to record the work of her "women's club," which helped drive the successful 1973 Brookside Mine Strike. "She was layering memories of her children with this dramatic struggle for justice in the coal fields," said Wilkerson.
The notebook also held newspaper clippings about the strike, the campaign to help miners dying of black lung disease, and the Ku Klux Klan's attacks on female organizers. Crusenberry pasted a photo of herself next to the lyrics of "Dreadful Memories," a song about raising hungry, shivering children in the coal fields. Another page featured a photo and quotation from the spitfire labor organizer Mother Jones.
Crusenberry and other miner's wives inherited a legacy of labor activism from Jones and previous generations of Appalachian women. This tradition is the subject of two recently-published books of history written by women from the region. Wilkerson's To Live Here, You Have to Fight: How Women Led Appalachian Movements for Social Justice documents how the War on Poverty in Kentucky triggered a period of rising activism among Appalachian women in the 1960s and '70s. They, in turn, built on the union organizing at the heart of Never Justice, Never Peace: Mother Jones and the Miner Rebellion at Paint and Cabin Creeks, by Ginny Savage Ayers.
Both authors grew up with a generational fascination with Appalachian history.
An Assistant Professor of History and Southern Studies at the University of Mississippi, Wilkerson hails from East Tennessee, where her distant cousin helped found the Museum of Appalachia.

Her grandfather spent most of his career as a union organizer for the Amalgamated Clothing and Textile Workers Union, and her grandmother papers she had saved from her own involvement in the labor and Civil Rights work of the Coalition of Labor Union Women.

"That I didn't learn about his until I was a young woman, despite my grandmother's deep pride in their involvement in the labor movement, is a testament to the power of conservatism in the region, how it silences and erases certain histories," Wilkerson said. "It seemed such a relief to my Grandma when she could finally share that history with me."

Savage co-wrote Never Justice, Never Peace with her late father, Lon Kelly Savage, a journalist and Virginia Tech administrator born in Charleston, West Virginia. His dad told stories of being hired to fight the miners in the Battle of Blair Mountain, the most significant in the West Virginia mine wars. Savage wrote the only popular history of that insurrection. After his death, Ayers decided to finish his research about the earlier mine wars, a forgotten chapter in American history.
Ayers' book describes a strike that devolved into armed skirmishes between miners and hired "mine guards," followed by a series of military trials held under martial law. Mother Jones, who would later inspire Sudie Crusenberry, traveled the country publicizing the plight of workers. Her famously foul mouth and rabble-rousing speeches belied her grandmotherly appearance. Jones was among many long held without trial at the whim of the governor, who also hounded the socialist press.
"He sent National Guard troops to physically bash the presses to silence that voice," Ayers said, noting that attacking the media is a time-honored political tactic. "Today it's not done physically, but done by casting doubt on the validity of the press."
One of the main narratives in Never Justice, Never Peace, focuses on how Mother Jones helped the miners and their wives recognize their own power. (A West Virginia example was Willie Fish, a teenager and miners' wife who smuggled guns and ammunition to strikers under her dress while very pregnant.)
Wilkerson's book picks up decades later, as Appalachian women in Kentucky sought to reclaim that power. They started as community workers during President Lyndon Johnson's War on Poverty, then expanded into related social justice issues, such as the environmental effects of strip mining.

Wilkerson argues their activism arose from their understanding of how their unpaid caregiving—for children, disabled husbands, and abused wives —was linked to their rights as citizens: the right to affordable child care and health care, clean water, and safe working conditions for raising a family.

Her book's title was inspired by the words of Bessie Smith Gayheart, an Appalachian woman who led a group of activists during a sit-in at a strip mine: "I was born and raised in east Kentucky and I am going to stay; but to stay here you're going to have to fight like hell."

At a time of heightened racial antagonism in the South, white Appalachian women lobbying for welfare reform were still willing to form alliances with urban Black activists and disabled men. This solidarity arose partly from generational experiences in mining camps. Coal companies had historically employed mountain whites, Black workers moving north, and recent European immigrants.
"Companies felt it was to their advantage to segregate these populations and foster distrust between them, because if they're not working together, they won't revolt together," Ayers said. "This was flawed thinking on their part, because these workers became aware they were being abused. They knew there was strength in banding together."
Wilkerson agrees that there was a collective memory of those partnerships – but also of lynchings and racial terror. "We often want to focus on one or the other, but the two were happening at once, which is why it was hard for those coalitions to hold," she said.
Nevertheless, the latter-day female Appalachian activists faced risks for crossing racial lines.
For example, Appalachian community organizer Edith Easterling was called to testify before the Kentucky Un-American Activities Committee during the Red Scare. "Politicians saw it as a way to go after War on Poverty funding," Wilkerson said. "They'd use the same organization to go after Black activists in cities and the white working class in Eastern Kentucky."

Easterling, a local woman called to testify before the committee for her anti-poverty work, used the opportunity to strafe corrupt local "politicianers."

"I will confess we have done wrong—or I have done wrong," she told the committee. "I voted for that dirty bunch in that courthouse." She said they wanted to control all the money in the county and were angry when federal programs benefited community organizations. "If they can't get it theirself, they don't want nobody else to have it," she said.
While some women faced public threats, other threats happened at home. Eula Hall endured years of abuse from her husband—who at various times broke her jaw and stabbed her—as her activism built toward the creation of a community health clinic in Kentucky where she still works.

"When a woman tried to do anything, she must fight her husband to do it," Hall told Wilkerson. "If we have a group, women won't be so scared to try."

Bessie Lou Cornett, a leader in promoting the Brookside Mine strike, later helped fight plans to build a highway through a Black neighborhood. Her husband would attack her to try to prevent her leaving the house to organize. After their divorce, he gained custody of their son by arguing that she was an unfit mother because of her union activity and alliances with Black people.

Cornett maintained her resolve with the memory of her grandfather suffering of black lung. In the film Harlan County, USA, Cornett says, "I told myself, if I ever get the opportunity to get those coal operators I will. Because I thought, you know, [the company] was the enemy. So when the strike came up, I saw the opportunity, and I jumped right in there."
Cornett's friend Crusenberry was targeted by the KKK, which burned a cross in her yard. (Local KKK members tended to be white, anti-union men, who thought both Black workers and women should stay "in their place.")
While some things have changed in the decades since, Ayers says corporations continue to use their power in ways that harm and manipulate Appalachians. In the coal fields, she says that translates into convincing miners they are under attack from green energy and environmental regulations. Another example is the the 2010 explosion at Massey Energy's Upper Big Branch mine, which took the lives of 29 West Virginia coal miners but resulted in only a misdemeanor conviction for the company CEO.
She also sees examples outside the mining industry. Ayers points to the toxic Kingston coal ash spill in Tennessee, where 40 workers have died and hundreds more were sickened after the cleanup contractor denied them protective gear and tampered with air monitors.

One of the women featured in To Live Here, You Have to Fight is still doing just that. Sue Ella Kobak, a 1960s War on Poverty Activist-turned-attorney, jumped up at a Knoxville book event in February to passionately argue that Big Pharma is the most serious corporate threat to Appalachia today. Kobak and her husband have been vocally challenging Purdue Pharma since shortly after it began marketing its highly-addictive drug OxyContin in the 1990s. She said her husband, a doctor, now treats about 70 addicts a week.
"My husband and I have been vilified, talked about. We didn't get shot at like we did in the 1960s, but we have to be very careful," she told a crowd of about 100 people who had come to hear about women's activism in Appalachia at the East Tennessee History Center. "The raping (of) Appalachia has not stopped at all. I'm 73 years old… and I've never left. And it has not stopped or even slowed down," Kobak said, her voice breaking.
Although coal is losing dominance, the industries replacing it are still rife with health and environmental hazards, Kobak argued. Streams that once ran black with coal now run black with fracking fluid.
Wilkerson said she'd like to see West Virginia teachers replace miners as the emblem of America's workers. The statewide teachers' strike—which inspired others across the nation – was a bipartisan, multiracial coalition with women at its center. It benefited not only teachers but all the state's public-sector employees, as well as children.
Modern striking teachers owe a debt to women like Crusenberry. After her husband was injured in a mine, her family was forced out of a home the mine owned. Before moving out, she wallpapered the interior with United Mine Workers of America bumper stickers.

"I loved that image," Wilkerson said. "They're going to take her house, but not without recognizing who she is and what she stood for."

S. Heather Duncan is a print and radio reporter and storyteller raised in Appalachia and living in Knoxville, Tennessee. She has won regional, state and national awards for her newspaper coverage of the environment, business, and government, as well as for feature writing. In her free time she enjoys hiking, whaling on the clarinet, and learning the knack of making five-star fried okra, biscuits, and chicken korma (although not necessarily together).