Carter G. Woodson's West Virginia Wasn't 'Trump Country,' it Was a Land of Opportunity
For young Carter G. Woodson, West Virginia shimmered in the distance, a not-so-far-off land of opportunity.
Of his decision to set off for this frontier as a teenager in the 1890s, the future "father of Black History Month" wrote that his home state of Virginia, "like most of the worn-out South, was passing through an age of poverty and to escape the hardships that endured in that state, younger Negroes went as workers to build railroads and open the coal mines of West Virginia, Kentucky, and Ohio." Neither did it help that, due to his father's meager earnings as a carpenter, Woodson could only attend school when it snowed or when agricultural production was slow.
Part of a precursor wave to the Great Migration that propelled Southern Black people across the nation, Woodson (1875-1950) listened to his brother, Robert, who had relocated and glowingly reported the prospects in West Virginia. Woodson saw manna in the mines and followed his sibling to the southern part of the state.
In predominantly white Appalachia, Woodson continued his education and sharpened his interest in history. He wrote a few pieces that were remarkable in their early focus on Black people in a region that was, then and now, more diverse than contemporary stories of its white poverty and Trumpian politics imagine. Though his memories of West Virginia and research on the region make up a tiny share of his voluminous writings (which include the classic text The Mis-Education of the Negro), they are important contributions and correctives to versions of Appalachian history that define Appalachia by whiteness alone. Woodson may arguably be considered an intellectual pioneer in Appalachia studies, a field that became an academic discipline so late that, in 1966, West Virginia University librarian Robert Munn could still quip that "more nonsense has been written about the Southern Mountains than any comparable area in the United States."
Woodson's first stop in West Virginia: Nuttallburg, a boomtown that was later a pet project and fuel source for car magnate Henry Ford. As Woodson remembered in a 1944 recollection in his Negro History Bulletin, it was during his time in Fayette County that "my interest in penetrating the past of my people was deepened and intensified."
The National Parks Service (which maintains historic Nuttallburg, which was abandoned in the 1950s) estimates that Black laborers made up almost 25 percent of West Virginia coal workers by 1909. Many served as coal loaders who filled the trucks. The work was dirty and dangerous: Early 20th-century reports of mine deaths document the violent deaths of Black Americans, Italians, Poles, when giant wedges of earth crushed them or when coal powder combusted and started fatal fires. But the wages were better than sharecropping or farm work, workers could leave early if they met their day's packing targets, and though towns such as Nuttallburg separated black and white workers (in this case, with their residences on a separate side of a creek), they came with lodging.
African-Americans — some of them "leased" out while serving jail sentences — did the backbreaking and sometimes fatal work of laying railroad tracks that would shuttle the coal from the mountains to hearths nationwide. Woodson was among them, manning the line that traveled from Thurmond to Loup Creek until he found "more desirable work" in Nuttallburg's coal mines and a part-time teaching gig.
In Nuttallburg, Woodson found a kindred spirit in Oliver Jones, who ran a tearoom for black workers. In Jones, he found a subject of a 1944 personal recollection, where he recalled this modest shop that was the nerve center for Nuttallburg's black working class. The cozy setting was an alternative to the price-gouging company store, which "sold the essentials of life at prices from 60 to 100 per cent [sic] more than they were offered elsewhere. There was no objection, however, to Oliver Jones' selling ice cream, fruits and especially watermelons, which he bought by the carload." The autodidact Jones became a friend who was just as eager for conversation as Woodson.  
Jones' tearoom was both a sweet shop and a layman's library. A former cook who had been injured in a mine accident, Jones could not read. But he impressed Woodson with his curiosity and broad intellectual interests. The two struck a deal: Woodson could eat to his heart's content — for free — if he read newspapers to Jones and the Black men, many of them also illiterate, who frequented the shop for provisions and camaraderie. Woodson understood that Black people barely a generation removed from slavery, coal miners and laborers of all sorts, and mountain people had minds and interests that went beyond their often back-breaking work.
Jones and Woodson's relationship was an intellectual bonanza for Woodson. He had read newspapers to his father, but had few publications to savor back in Virginia because "Negroes and poor whites could not spare funds for such a purpose, and we had to depend on stale news." West Virginia miners had more disposable income, and while some spent it on gambling and alcohol, Jones spent his money on books and magazines.
Woodson wrote that Jones "bought interesting books on the Negro — J.T. Wilson's The Black Phalanx, W.J. Simmons' Men of Mark, G.W. Williams' Negro Troops in the War of the Rebellion, and others giving the important contributions of the Negro." Jones also subscribed to newspapers for Black West Virginians, including Christopher Payne's The Pioneer, and periodicals from Cincinnati, Toledo, and Pennsylvania. And his salon entertained Black visitors, who debated topics as varied as the role of blacks in the Civil War, whether the dollar's value should be tied to gold or silver, and the white populist politicians who organized for workers rights. "In seeking through the press information on these questions for Oliver Jones and his friends, I was learning in an effective way the phases of history and economics."
Woodson would go on to Kentucky's Berea College; the University of Chicago; and Harvard, where he earned the second doctorate in history awarded to a black student (the first went to another scholarly polymath, W.E.B. DuBois). But much of his formative learning — inside and outside classrooms — happened in Nuttallburg and in Huntington, West Virginia, where he moved to attend high school as a young adult and then accepted a principal post at Douglass High School.
Since education was of the push-and-pull factors that propelled Woodson to West Virginia, it's not a surprise that he trained his eyes on chronicling Black education in the state. In a 1921 paper titled "Early Negro Education in West Virginia," Woodson noted both the small numbers of Black people in the state — some 13,000 had been enslaved in the mountainous counties — and the varied efforts to establish schools for this population. Himself a teacher in a West Virginia school, Woodson detailed the names and achievements of his fellow educators, sometimes commenting about their qualifications and failures to meet his high standards.
Woodson, often known for his acerbic wit and vocal denunciations of anything that assumed black inferiority, had remarkably little to say about white resistance to black education. Writing about Storer College, a school established in Harper's Ferry, Woodson only wrote, "This institution, of course, had its opposition. But wherever there was a helpful attitude toward the Negro, the work which it was doing in spite of its difficulties stood out as a shining light."
However, snippets from Woodson's writings reveal a less sanguine view of white attitudes toward Black Americans who lived in Appalachia. In The Mis-Education of the Negro, he remembered meeting a "very faithful vestryman of the white Episcopal Church" who boasted of participating in an 1891 lynching of four Black coal miners in Clifton Forge, Virginia. And making a living may have been particularly difficult for smaller groups of Black professionals in West Virginia; as Woodson relayed, a simple land purchase he made from a white lawyer was delayed by six months because he had hired a Black attorney to see the process through. When Woodson inquired about why the transaction was taking so long, the "white attorney frankly declared that he had not taken up the matter because he did not care to treat with a Negro attorney; but he would deal with the author, who happened to be at that time the teacher of a Negro school, and was, therefore, in his place."
In his 1944 article, Woodson shared the tale of a run-in between this father, who had also moved to West Virginia, with his supervisor on the railroad. At 25, Woodson was an adult and now a school principal, but he so loved hearing his father's railroad cronies tell Civil War tales that he delivered his father's Sunday breakfast — typically, a child's errand — with little complaint. On one occasion, his father's white railroad supervisor, only identified by the last name Wynnsong, got too exuberant in his praise of the Confederacy. The debate turned to fisticuffs, and "the employer got the better of the boss," Woodson said. Wynnsong demanded the elder Woodson be fired to no avail, but the mechanic in charge banned all discussion of the War Between the States.
Those conversations probably lingered in Woodson's mind. In 1916, Woodson published an article titled Freedom and Slavery in Appalachian America, one of the few pieces to tackle this topic at the time, in the Journal of Negro History he had founded just three years earlier. He compared the German and Scotch-Irish settlers of the "West" to the planters of the coastal regions. Woodson rhapsodized over what he argued was a love of democracy among the hard-scrabble settlers of the mountains, citing abolitionist movements in Kentucky and West Virginia as well as well-documented resistance to state and elite control:
"In the mountainous region the public mind has been largely that of people who have developed on free soil. They have always differed from the dwellers in the district near the sea not only in their attitude toward slavery but in the policy they have followed in dealing with the blacks since the Civil War. One can observe even to-day such a difference in the atmosphere of the two sections, that in passing from the tidewater to the mountains it seems like going from one country into another. There is still in the back country, of course, much of that lawlessness which shames the South, but crime in that section is not peculiarly the persecution of the Negro. Almost any one considered undesirable is dealt with unceremoniously. In Appalachian America the races still maintain a sort of social contact. White and black men work side by side, visit each other in their homes, and often attend the same church to listen with delight to the Word spoken by either a colored or white preacher."
Woodson's view was part reality and part romance: Swaths of whites in Appalachia resisted the Confederacy's call to arms, but were also not as dependent on remote state governments or on slavery for economic survival. Typically small numbers of black residents and few community buildings did sometimes make for shared spaces — including schoolhouses — that were not segregated or policed in the same way or with the same rigor as they were in the South. But though Woodson got education and achieved some professional mobility in Kentucky and West Virginia — he later became a dean at what is now West Virginia State University — sometimes unsegregated didn't mean racial utopia.
That's one of the lesser told stories of Appalachia, stories that include Black migrants who mined coal and dreams on the frontier; former slaves who called the region home and became today's "Affrilachians"; and small, intimate communities that simultaneously upheld and sometimes undermined Jim Crow. That was Woodson's world. And as Huntington's current mayor Steve Williams said during a recent Black History Month commemoration that featured Carla Hayden, the first Black head of the Library of Congress, "Woodson changed the world from Appalachia, he changed the world from Huntington, West Virginia, and his roots run deep here."
Dr. Cynthia R. Greenlee is a historian and journalist who works as the senior editor at Rewire, the leading online news source about reproductive health, rights, and justice. And, yes, she's Black and has roots in Appalachia. Follow her on Twitter @CynthiaGreenlee.  
A Regional Focus on Health Care, Community by Community
Understanding Appalachia requires coming to grips with the complexities and challenges of rural healthcare.
It means understanding that addiction isn't just an opioid issue, as methamphetamines make a comeback in our communities. It means understanding that health goals reflect a Maslow's Hierarchy of Needs chart from one community to the next, and that how we define wellness is as diverse and place-based as other forms of Appalachian culture. It means understanding that there are no one-size-fits-all solutions in the creative ways that our communities tackle addiction, vaccines, mental health, access and affordability.
With support from Jim and Alexis Pugh, we hired a part-time editor/reporter for developing this beat. We'd like to introduce him to our readers and invite story pitches for tackling this topic together.
— 100 Days in Appalachia
Introduce yourself to the 100 Days audience. How does your background inform your perspective on health and health care issues in Appalachia?
I've been covering rural health throughout the Southeast for some years now. Appalachian born, in the mountains of Western North Carolina. I began writing about health care on a regular basis in 2008 with a series of articles on the breakdown of the mental health care system in North Carolina. I then began to more fully appreciate the complexity of health care issues and the range of repercussions of the decisions we make societally about health care.
I worked for a couple of years under a grant to cover rural health issues in North Carolina, and that job allowed me to spend a lot of time on two-lane roads – those roads William Least Heat-Moon coined the "blue highways" for the color in which they appeared on old Rand McNally maps. I've since been doing the same work as a freelancer, from the Finger Lakes region of New York to the Mexico border. I love driving those roads, realizing that I'm now somewhere I've never been before, then arriving at my destination and exploring how the issues this particular community is grappling with are the same and different as others elsewhere.
I'm looking forward to now returning my focus to Appalachia. I divide my time between Nashville, Tennessee, and Carrboro, North Carolina. I make the trek between those two cities every couple of weeks, and whenever I'm headed west and begin the climb up Old Fort Mountain or headed east and hit Pigeon River Gorge, I feel the tug. It's less than a hundred-mile stretch, but it's so distinctly Appalachia.
With 100 Days, I'm psyched to reorient along a roughly north-south axis, unfolding this region that ambles from Schoharie County, New York, to Kemper County Mississippi. Granted, much of this work will be done from my desk in Nashville or Carrboro. But I'll always be looking forward to that next excursion.
Of course, not all of Appalachia is rural. I do enjoy Appalachia's metropolitan areas, love discovering them anew, and look forward to further delving into their particular health care issues and successes.
Urban or rural, I'm intrigued by the role that place plays in the health care issues communities face and in their outcomes. I'm so looking forward to witnessing Appalachia.
When people see that we're launching a health vertical, it might seem like we're late to the game, that any number of outlets already have a strongly established focus on issues in this area. In what ways do you hope to lead the conversation about health in Appalachia?
Appalachia is facing some considerable health care challenges. In addition to the rising costs of care, rural communities are experiencing diminishing access to services, including hospital closures, and difficulties in recruiting health care professionals. Rural and urban communities alike have been particularly hard hit by opioids.
But Appalachia isn't a monolithic region, and there are nuances to these issues from one sub-region to the next, from community to community. While underscoring shared concerns, I intend to draw out those distinctions. I most especially want to bring attention to the particular ways in which communities are finding solutions
When I write that I'm from Western North Carolina, I capitalize the "W," as those in the region commonly do – because beyond identifying the region geographically, "Western" is an integral part of a proper noun, denoting cultural distinctions. I could ramble on about what those distinctions are – the libertarian instinct, etc. My point is that place matters. Murphy, North Carolina, in the far southwestern corner of WNC, is 355 miles from Raleigh, the state capital.
There are four other state capitals closer to Murphy. To assume that all North Carolinians share a sense of place, an identity, would be a mistake. I want to explore the contours of geography and culture, and how they shape health, health care, attitudes, practice and policies.
I intend to report on the challenges individual communities are facing and their responses to those challenges, and on decisions that the federal and state governments make and the outcomes of those decisions – whether to expand Medicaid coverage, for example, and the implications of that decision.
Are there any specific topics you think media outlets outside of the region do a bad job of covering here or that have perpetuated stereotypes of the people in Appalachia? In what ways do you hope to challenge those views?
I think there's a perception that Appalachia is waiting for a handout, that people in the region are expecting the federal government to solve all their problems. I hope to help counter that narrative.
The first piece I wrote for 100 Days was titled "New Report Cites Economic Woes, Addiction and Optimism in Appalachia." It was about the results of a survey conducted by the Robert Wood Johnson Foundation, National Public Radio and the Harvard T.H. Chan School of Public Health titled "Life in Rural America." Those results underscored the loss of jobs and the scourge of addiction. But the researchers also found that rural Americans are largely optimistic about their future, placing their faith in a shared sense of community. I described how that sense of community is expressed in Moorefield, West Virginia.
I strive to take a solutions-oriented approach to my work. I've written about the closures, mergers and acquisitions of hospitals and the ripple effects they have on communities. That's certainly an issue today in Appalachia. In reporting on these transactions, I've described how communities have responded – at times, rebelled.
I intend to tell the stories of ground-level, multi-fronted responses to the health care challenges Appalachian communities are experiencing.
The focus outside, and inside, the region, in terms of covering health in Appalachia, is largely focused on the opioid epidemic. In what ways do you hope to shine a new light or further the conversation around this topic?
I refer to my answer to the previous question: solutions. Whenever possible, I intend to report on solutions.
Recently, I attended a listening session hosted by the Appalachian Regional Commission in the small town of Wilkesboro, North Carolina. The objective was to discuss workforce issues related to the opioid epidemic. Participants brainstormed job-placement strategies and how communities can engage substance-abuse treatment programs, recovery initiatives and other services. They shared information on available resources in the community. People had driven up to three hours to attend – health care professionals, business owners, social workers, elected officials, academics, law-enforcement officers and plain-old concerned citizens. It was an impressive display of solution-oriented community resolve.
I've reported on naloxone initiatives, needle-exchange programs, law-enforcement assisted diversion programs and health care professionals assisting mother and child in alleviating the effects of neonatal abstinence syndrome, addressing the stigma attached to medical-assisted treatment. I've ridden along with a peer support specialist who helps former inmates in recovery and others who assist those exiting the criminal justice system.
I intend to remain attentive to programs focused on the treatment, care and recovery of those with substance-use disorders and on the prevention of addiction, but with an eye toward how we are solving these problems in our communities.
Distress Grows For Ohio Valley Farmers As Trade Deals Stall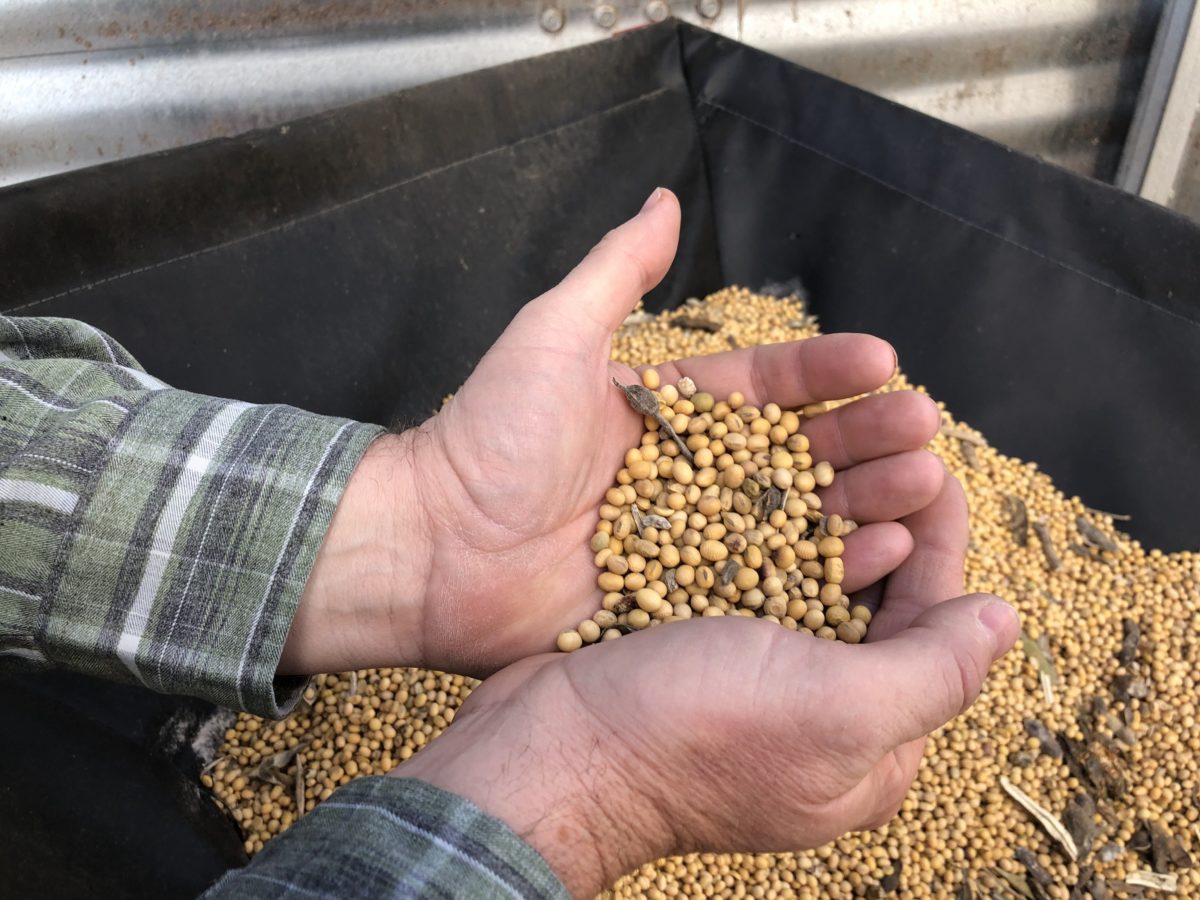 This story was originally published by the Ohio Valley ReSource.
West Kentucky Farmer Barry Alexander doesn't have an answer on when the Trump administration will reach a trade deal with China, now a year into tariffs that have hamstrung some Ohio Valley industries.
Alexander is optimistic these continued negotiations will be worth it, but his plan in the meantime lies in massive, silver storage bins on Cundiff Farms, the 13,000-acre operation he manages.
He pulls a lever, and out tumbles a downpour of pale yellow soybeans.
"These beans have been in here since Halloween day," Alexander said. "The large bin on the right, that's 350,000 bushels. The next-size bins down, that's 180,000 bushels. To give reference, a thousand bushels is one semi-truck load."
He's been trying to hold onto about half of his soybean and corn bushels, waiting to see if he can sell for a better price before he's forced to start planting again in early April.
Crop prices have crashed partly because of Chinese tariffs, and the losses have put a strain on some farmers he knows.
"There are farmers that have decided to retire because they didn't want to work through these things now. We're to that point," Alexander said.
Alexander said he's survived in part because his sprawling farm has resources to work with: eight full-time employees, two new $550,000 combines he traded up for, and the storage bins to help ride out bad crop prices.
"Our large structures are not cheap, but financially for our farming operation, they're a necessity for us to do what we do," Alexander said.
Farmers like Alexander are coping with losses from tariffs and a continuing trade war, and it's not clear when it will end. A March 1 deadline for negotiations with China was delayed indefinitely by President Trump, and an agreement with Mexico and Canada that Trump signed in November has yet to be ratified by Congress. The retaliatory tariffs on U.S. crops and dairy remain, compounding problems caused by overproduction and low crop prices, and small farmers are suffering the most.
Size Matters
"If you look at all the large farmers, these guys have the storage facilities to wait out bad prices," Kent State University-Tuscarawas Agribusiness Professor Sankalp Sharma said. "For a lot of these small guys…they couldn't actually store their commodity, they still had to deal with those lower prices."
Sharma and others argue grain prices have been low for five years because farmers are overproducing, and tariffs are only making the situation worse.
"The United States soybean harvest this year in general was just crazy. There was a bumper crop, and prices were down because of that," Sharma said. "This was just your classic demand and supply situation."
Both Ohio and Kentucky set records for soybean harvests in 2018: 289 million bushels and 103 million bushels, respectively. This is up significantly compared to two decades ago, when Ohio harvested 162 million bushels and Kentucky harvested a little over 24 million bushels in 1999.
Farmers are also becoming more efficient than ever before — Ohio set records in 2018 for most corn and soybean bushels produced per acre.
Oversupply problems haven't been limited to grains, though. Small dairy farmers are also dealing with excess supply and tariffs, with hundreds of cases of extra milk being dumped at Ohio Valley food banks.
Farms At Risk
Greg Gibson's operation is small, but his family has made it work for decades. He milks 80 cows at his dairy farm in Bruceton Mills, West Virginia, and he took over the operation in 2002. The past year of tariffs hasn't been easy.
"Everything's down. Historically, if milk price is down you can sell some corn or you could sell some replacement animals are something," Gibson said. "But nothing has a lot of value to sell right now, so it's really hard to generate any additional revenue. And a lot of that is because of the trade problems we're having."
Like many Ohio Valley farmers, Gibson is receiving payments from the $12 billion in federal relief from the Market Facilitation Program intended to to help those who suffer losses from tariffs.
Gibson appreciates Trump's efforts to renegotiate trade deals, and like Alexander, is cautiously hopeful about the prospects of new trade deals.
But he said he's also disappointed in Trump because the payments are not nearly enough to recoup his losses. He says milk's price has plummeted nearly a dollar per hundred pounds of milk sold and the payments only reimburse 12 cents of that.
"I would have rather him said 'I got to do this. You're going to take the hit. Sorry.' Don't promise me you're going to take care of me and then don't," Gibson said.
Some commodity associations including the National Corn Growers Association and the National Milk Producers Federation have called on the Trump administration in past months to bolster what they call lackluster relief payments.

Gibson's squeezed budget has had him extend paying off his farm loans and put off paying several repair bills. He's also had to put up his 150-year-old family farm as collateral for his loans.
Farm lenders say Gibson's situation isn't unique right now. Senior Vice President of Agricultural Lending Mark Barker helps oversee lending for Farm Credit Mid-America, which serves most of Ohio and Kentucky.
"Are we doing things differently? Well, sure," Barker said. "Because we have customers coming in now and telling us 'I'm struggling at this point. I'm challenged.'"
Barker said while most people are making their loan payments right now, the rapidly increasing amount of debt farmers are taking on to deal with depressed prices is concerning, especially for smaller operations.
"It seems like the larger producers, you think about their equipment and everything else, they've got some added advantages," Barker said. "It doesn't mean the smaller producer is necessarily 'out,' but I do think they got more challenges in this current environment."
U.S. Department of Agriculture economists predict nationwide farm debt will reach $263.7 billion in 2019, levels of debt not seen since the 1980s farm crisis, when thousands of farm families defaulted on their loans amidst a trade embargo with the Soviet Union and high loan interest rates.
New Farmers
Tom McConnell leads the Small Farm Center at West Virginia University's Extension Service and tries to help small farms succeed, in a state that has the highest proportion of small farms in the nation. He's lived through the 1980s farm crisis and saw many dairy and beef farmers lose their farms.
He said one solution for small farmers to withstand these depressed prices is to switch to crops that bring a higher value, like vegetables. But those can be more labor-intensive, and the transition can be difficult.
"If you've been in a family that has milked cows or grown row crops for three generations, and I suggest you grow three acres of sweet corn and five acres of snap beans, there will be some resistance to that," McConnell said.
McConnell said it might take a new generation to redefine what a successful small farmer business model can look like.
One of those younger small farmers is Joseph Monroe, who moved from Indiana to central Kentucky to raise beef cattle and grow tomatoes and greens. Monroe believes a way forward for smaller farms is to find ways to work together to sell products and have a greater market impact.
"I think there needs to be some pioneers and some examples out there of how to draw up a contract to work together," Monroe said. "I think we need to throw all the darts and see what hits."Share on Twitter

This story was originally published by the Ohio Valley ReSource.

Plastics: The New Coal in Appalachia?
With the natural gas fracking boom, plastics production is spreading in the Ohio River Valley. But at what cost to health and climate?
MONACA, Pennsylvania — Along the banks of the Ohio River here, thousands of workers are assembling the region's first ethane cracker plant. It's a conspicuous symbol of a petrochemical and plastics future looming across the Appalachian region.
More than 70 construction cranes tower over hundreds of acres where zinc was smelted for nearly a century. In a year or two, Shell Polymers, part of the global energy company Royal Dutch Shell, plans to turn what's called "wet gas" into plastic pellets that can be used to make a myriad of products, from bottles to car parts.
Two Asian companies could also announce any day that they plan to invest as much as $6 billion in a similar plant in Ohio. There's a third plastics plant proposed for West Virginia.
With little notice nationally, a new petrochemical and plastics manufacturing hub may be taking shape along 300 miles of the upper reaches of the Ohio River, from outside Pittsburgh southwest to Ohio, West Virginia and Kentucky. It would be fueled by a natural gas boom brought on by more than a decade of hydraulic fracturing, or fracking, a drilling process that has already dramatically altered the nation's energy landscape—and helped cripple coal.
But there's a climate price to be paid. Planet-warming greenhouse gas emissions from the Shell plant alone would more or less wipe out all the reductions in carbon dioxide that Pittsburgh, just 25 miles away, is planning to achieve by 2030. Drilling for natural gas leaks methane, a potent climate pollutant; and oil consumption for petrochemicals and plastics may account for half the global growth in petroleum demand between now and 2050.
Despite the climate and environmental risks, state and business leaders and the Trump administration are promoting plastics and petrochemical development as the next big thing, more than three decades after the region's steel industry collapsed and as Appalachian coal mining slumps.
"We have been digging our way out of a very deep hole for decades," said Jack Manning, president and executive director of the Beaver County Chamber of Commerce.
"When Shell came along with a $6-to-$7 billion investment … we were in the right spot at the right time," he said.
Everyone wants jobs and economic growth, said Cat Lodge, who works with communities in the Ohio River Valley affected by the shale gas industry for the Environmental Integrity Project, a national environmental group. But not everyone wants them to be based on another form of polluting, fossil fuels, she said.
"While the rest of the world is dealing with global warming, Pennsylvania and Ohio and West Virginia are embracing developing plastics, and that just appalls me," Lodge says. "It's just not something I see as the future and unfortunately that seems to be the push to make that the future. And that's upsetting."
Lodge and her husband moved from Pittsburgh to the countryside 18 years ago in search of fresh air and open land. They have a small farm in a corner of rural western Pennsylvania, where winding roads trace the contours of Appalachian hills and a stark transition fueled by a shale gas boom is underway.
"We still love it, but little by little, and quickly over the last several years, we have become totally surrounded by the oil and gas industry," she said.
Rising Demand, but Also Pushback on Plastics
The natural gas that's pulled from deep underground in the Utica and Marcellus shale formations has done more than outcompete coal for electricity generation.
Drilling companies have also extracted a lot of natural gas liquids, particularly ethane, also called wet gas. It's used to produce ethylene, which then gets turned into plastics, providing an additional revenue stream for the oil and gas industry. It's the industry's latest play, and it comes at a time when industry analysts and the federal government say the demand for plastics is skyrocketing.
"These materials are hooked into just about every part of the economy, from housing to electronics to packaging," said Dave Witte, a senior vice president at IHS Markit, a global data and information service. "Today, the world needs six of these plants to be built every year to keep up with demand growth."
IHS Markit calls the Appalachian or upper Ohio River region "the Shale Crescent." Last year, it reported that the region's gas supplies could support as many as five large cracker plants, like the one Shell is building. The plants "crack" ethane molecules to make ethylene and polyethylene resin pellets and would be in close proximity to a number of manufacturers that use those products to make everything from paints to plastic bags.
IHS does see some headwinds, including an international backlash against plastics. It published a report last summer that found that worldwide pressure to reduce plastic use and increase recycling was one of the biggest potential disruptors for the plastics industry and was "putting future plastics resin demand and billions of dollars of industry investments at risk."
The oil and gas industry might find themselves with stranded assets, needing to abandon Ohio River valley communities, said Lisa Graves-Marcucci, a Pennsylvania-based organizer for the Environmental Integrity Project.
"Do they really care," she asked, "if they can make money for the first 10 years or 20 years of their operation, but then plastic goes away in the world? What happens to the communities that are left behind?"
She said she is also worried about such a major investment in oil and gas as the world grapples with the effects of climate change.
Visions of an Appalachian Plastics Hub
The idea for a plastics hub in Appalachia got a lift in December with a reportto Congress from the U.S. Department of Energy. It described a proposal for the development of regional underground storage of ethane along or underneath the upper Ohio River.
Storage is needed to help provide a steady and reliable stream of ethane to ethane cracking plants, and it would be important for the development of a regional petrochemical complex in the upper Ohio River valley, the report concluded.
A West Virginia business, Appalachia Development Group LLC, has proposed developing storage for ethane, possibly in mined salt or limestone cavernsdeep underground. It's in the second phase of an application process for $1.9 billion in loan guarantees from the Department of Energy for the project, according to the department.
"We have sites of interest in Pennsylvania, Ohio and West Virginia," said Jamie Altman, a representative of Appalachia Development Group. "We are aggressively pursuing private capital."
The Energy Department is thinking big, too.
Its report projects ethane production in the Appalachian basin would continue rapid growth through 2025 to a total of 640,000 barrels per day, more than 20 times greater than five years ago. By 2050, the agency said ethane production in the region is projected to reach 950,000 barrels per day.
China Energy signed an agreement with West Virginia in 2017 to potentially invest $84 billion in shale gas development and chemical manufacturing projects in the state. Late in January, West Virginia's development director, Mike Graney, told state senators that China Energy was looking at three undisclosed "energy and petrochemical" projects. An announcement could be made later this year, he said, though President Donald Trump's trade war with China was causing delays.
Other experts see a natural gas industry that's subject to booms and busts and question whether the region is headed down another unsustainable path, like coal.
"We are less optimistic than the industry that this will really boom out," said Cathy Kunkel, an energy analyst with Institute for Energy Economics and Financial Analysis, an environmental think tank that just published a reportdetailing how the natural gas industry in West Virginia hasn't lived up to earlier expectations for jobs and tax revenue.
There is a huge amount of international competition for plastic production, she said. "All of the major oil exporting countries in the Middle East are talking about making massive investments in petrochemicals over the next five years or so," she said. "That contains the risk that you will be exporting into a market that would be oversaturated with products."
The Energy Department report also cited "security and supply diversity" as a benefit of developing a new plastics and petrochemicals hub in Appalachia. The bulk of U.S. plastics and petrochemical plants are currently along the Gulf Coast, where they face supply disruptions caused by hurricanes, it said.
Vivian Stockman, the interim director of the Ohio Valley Environmental Coalition based in West Virginia, called that a "hugely ironic" justification for an Appalachian plastics hub, since science is showing that global warming can intensify hurricanes.
Economic Benefits, with Health Concerns
The Shell plant was lured to Beaver County by Pennsylvania officials with some $1.65 billion in tax incentives. It's scheduled to open "early next decade," company spokesman Ray Fisher said. This year, as many as 6,000 construction workers will be working on it, and Shell says it plans 600 permanent jobs to run the plant.
It's in Potter Township, a community with fewer than 700 residents. Rebecca Matsco, who chairs the township commission that gave Shell the local zoning permits, said she sees the plastics plant as an industrial upgrade from a dirty zinc smelter that had stood on the property for about a century, and that Shell cleaned up.
"It had become a real environmental burden, and we do feel like Shell has been a real partner in lifting that burden," Matsco said.
Others, however, see the cracker plant as its own environmental burden—a new source of emissions that cause lung-damaging smog and heat the planet.
People in Pittsburgh were sad to see so much of the steel industry go, but they don't miss the dirty skies, said Graves-Marcucci, an Allegheny County resident. The economic resurgence that followed was centered around health care, academic institutions and cleaner industries, she said.
Pittsburgh has been brushing off its sooty steel city past and is now pledging to slash its carbon emissions. But the Shell cracker plant alone, just 25 miles away, would emit 2.25 million tons of carbon dioxide a year, effectively wiping out nearly all the gains in carbon reduction that Pittsburgh plans to achieve by 2030, said Grant Ervin, Pittsburgh's chief resilience officer.
The Shell plant will also emit as much smog-forming pollution as 36,000 cars driving 12,000 miles year; that would equate to about a 25 percent increase in the number of cars in Beaver County, said James Fabisiak, an associate professor and director of the Center for Healthy Environments and Communities at the University of Pittsburgh.
The environmental and health threats will only increase with a plastics hub buildout, and no regulators are looking at those potential cumulative impacts, Graves-Marcucci said.
Two More Communities Could Get Cracker Plants
About 70 miles southeast of the Shell plant, another community waits for news about what could be the region's second major ethane cracker plant, in Belmont County, Ohio.
PTT Global Chemical, based in Thailand, and its Korean partner, Daelim Industrial Co., Ltd., could announce any day whether they intend to proceed with an ethane cracker plant after getting state permits in late December. That plant would be along a section of the Ohio River in Belmont County where hulking old manufacturing plants and shuttered businesses paint the very picture of the nation's Rust Belt.
"Do you know what the biggest export is from Belmont County? Our youth," said Larry Merry, an economic development officer with the Belmont County Port Authority, overlooking the Ohio River bottomlands where the cracker plant would be constructed on the cleared-away site of a former coal-fired power plant.
Merry, who has been working to secure the plastics plant, called the oil and gas industry "a great employer for us that's provided a lot of investment that's helped."
But it's not fully made up for losses in steel and coal, and this cracker plant "is about jobs and opportunities so people can make the most of their lives," he said.
He brushed aside any concerns about climate change or too much plastics. "How are we going to live and have products? Until you come up with a solution, don't expect the world to shut down," he said.
A spokesman for PTT American said he could not say when an investment decision will be made.
A third potential cracker plant is planned for Wood County, West Virginia, but it has been delayed because of unspecified "challenges" with its parent company, the Department of Energy report said.
"It just blows my mind that there could be three or four cracker plants, or even one," said Steve White, a western Pennsylvania builder. "That's some serious investment. It just shows you where everything is headed and how much development is coming."
White is also a pilot, and he said he has observed from the cabin of a Cessna 3,000 feet aloft the spread of oil wells, pipelines and processing plants across shale drilling zones in Pennsylvania, Ohio and West Virginia, slicing up farms and encroaching on homes, schools and businesses.
"We are just in the way," he said.
This article was originally published by Inside Climate News.