On any given Friday night, a parade of customized cars and trucks cruise from north to south and back again on Williamson Road in Roanoke, Virginia.
Modified with neon lights, spinning rims and streamlined spoilers, these vehicles do not necessarily scream "folk tradition"—but they are just the modern version of a long-running Appalachian tradition.
People in the mountains have tinkered with cars for as long as there have been cars. In the '20s and '30s, that often meant converting stock cars with bigger engines, stiffer suspensions and hidden compartments to hide bootlegged whiskey. That tradition formed the foundation for NASCAR and modern-day stock-car racing.
In a special report as part of the Inside Appalachia Folkways Project, Mason Adams profiled one family about how car repairs have turned into a unique family tradition.
In Roanoke, the Bennett family is sustaining the automotive tradition another way, by restoring vintage cars into pristine conditions, and sometimes by building them from the frame out.
"I'm into the traditional style cars," said Jeff Bennett. "That's what I like. I like stuff that looked like it was built in 1960. My term there is, less is more."
Jeff's father, Jack Bennett, ran Perfection Auto Body in Roanoke for 25 years and died last year. Jeff now operates a custom auto shop out of his home, where his son Jeremy assists him with high-end bodywork.
"His [Jeff's] father had been in the automotive business and was interested in hot rods," says Roddy Moore, vintage car aficionado and retired director of the Blue Ridge Institute, a folklife center in Ferrum, Virginia. "Jeff grew up with that and that interest went from father to son, like it's gone from Jeff to his son. So you've got three generations right there."
The Bennetts are all about cars that are built correctly, from the ground up. They find old cars through Craigslist, Facebook Marketplace and word of mouth. They take those bodies and rebuild them to look brand new.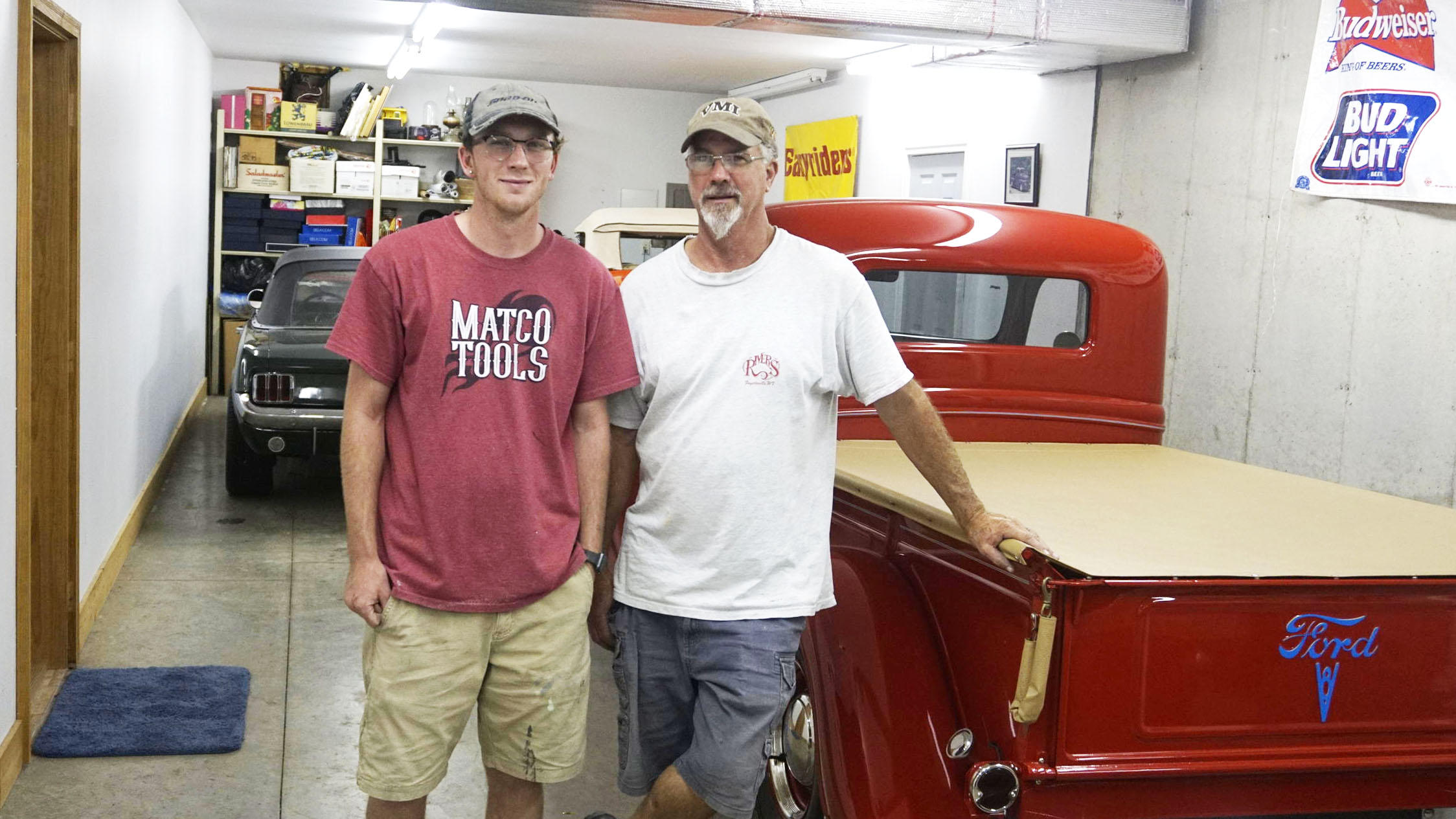 One of the cars in their shop sits stripped down to its frame, with only the engine and front seats sitting on it. The Bennetts will take this and build a new body for it. Sometimes they lower the body closer to the ground, but otherwise, they tend to keep them as close to the original as possible.
Jeff spoke about a 1931 Ford Coupe he bought in North Carolina and rebuilt.
"I basically made the whole bottom of the car," Jeff said. "It was rotted, all, built the frame. Built the whole car from nothing. There was really nothing there."
Jeff learned those skills from his father, Jack, whose style was exemplified in the name of his shop: Perfection Auto Body.
"He was a perfectionist," Jeff said. "I guess he tried to teach me to be a perfectionist also. You know his big thing is edges. Make sure the edge of everything is straight. Everything is perfect. Everything is fixed. "Edges will make you or break you, boy," that's what my dad would tell you."
Jack passed away in September of 2018. More than a year later, Jeff is still processing his loss. What remains are his memories, and the lessons that his father passed to him. He recalled the first time he handled a professional paint job.
"We had a car sitting in the paint booth, and it had to be painted," Jeff said. "He's like, 'You're going to have to paint that car.' I said, 'I've never sprayed that stuff before.' He said, 'Well, just go in there and paint. That's all I can tell you.' I went in there and started prepping the car. I came back out of the paint booth." Jeff was struggling with the job. Jack called him over to a picnic table and sat him down. They had a beer and took a moment. Jeff tears up thinking about it, especially since Jack's death. "We sat there and had a beer," Jeff said. "He said, 'You feel better now?' I said, 'Yeah.' He said, 'Go paint the car.' I went out and painted the car and it looked really, really good."
Now, Jeff is passing that knowledge on to his son Jeremy.
"I guess he's taught me everything really," Jeremy said. "I mean, cause I didn't know a clue about how to do anything before I started here when I was like 14."
On a balmy autumn evening, Jeremy worked with Jeff in the shop. Jeremy meticulously buffed the inside of a car hood, preparing it for another layer of paint. Very few people notice the inside of a car's hood. But for Jeremy and his dad Jeff, the inside of the hood is just as important as the parts of the car you do see.
Jeremy also has developed his own interest in restoring vintage Volkswagen Bugs. He has completely restored two so far, including one vanilla and mint Beetle he drives around sometimes. The body of a third sat in the shop, waiting for rebuild and a new life.
The Bennetts are keeping their family tradition alive, while carrying on the tradition of tinkering with cars – an Appalachian craft that has been flourishing since before Prohibition. Jeremy Bennett's Volkswagen Bugs would not make the best bootlegging cars, though. There is not enough trunk space.
This story is part of the Inside Appalachia Folkways Reporting Project, a partnership with West Virginia Public Broadcasting's Inside Appalachia and the Folklife Program of the West Virginia Humanities Council. The Folkways Reporting Project is made possible in part with support from Margaret A. Cargill Philanthropies to the West Virginia Public Broadcasting Foundation. Subscribe to the podcast to hear more stories of Appalachian folklife, arts, and culture.
This article was originally published by West Virginia Public Broadcasting.