Gnomes: A Tourism Strategy In Southern W.Va.
Little creatures are popping up on the streets of downtown Fayetteville, W.Va. People might find them hiding in trees, behind bushes, on benches or even inside local shops.
"Cause at this point, we're like a gnome explosion," said Tabitha Stover, Fayetteville Convention and Visitors Bureau executive director.
She came up with the idea to have a month-long scavenger hunt throughout the town, called "Gnomevember."
"With it being November, we thought – Gnomevember. And we kind of have a weird abundance of gnomes already in town, so it seemed like a good fit," she said.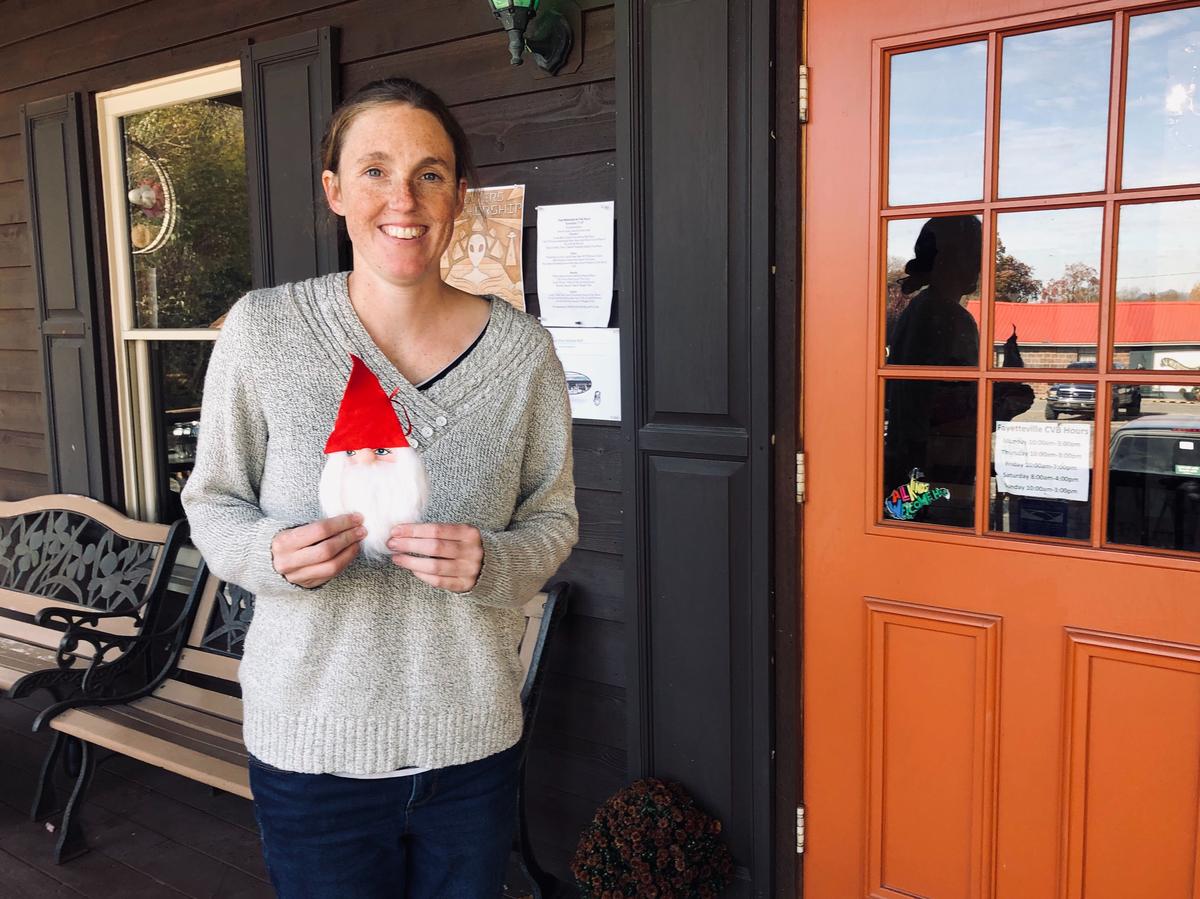 It is a unique tourism campaign to help address the off-season of a tourism-dependent town, Stover said.
Fayetteville was once a coal town in the early 1900s, but has since shifted to an outdoor-tourism economy. Nearby rivers are rated as some of the best white water rafting in the country, and mountain biking and rock climbing are on the rise in the county. But most of those sports are limited to the warmer months.
People spend more than $69 million per year visiting Fayette county, according to a travel impacts study by Dean Runyan Associates. Stover said about three-quarters of that is spent during the peak summer season.
Local business owner Brannon Ritterbush said she notices a decline in visitors during the off season.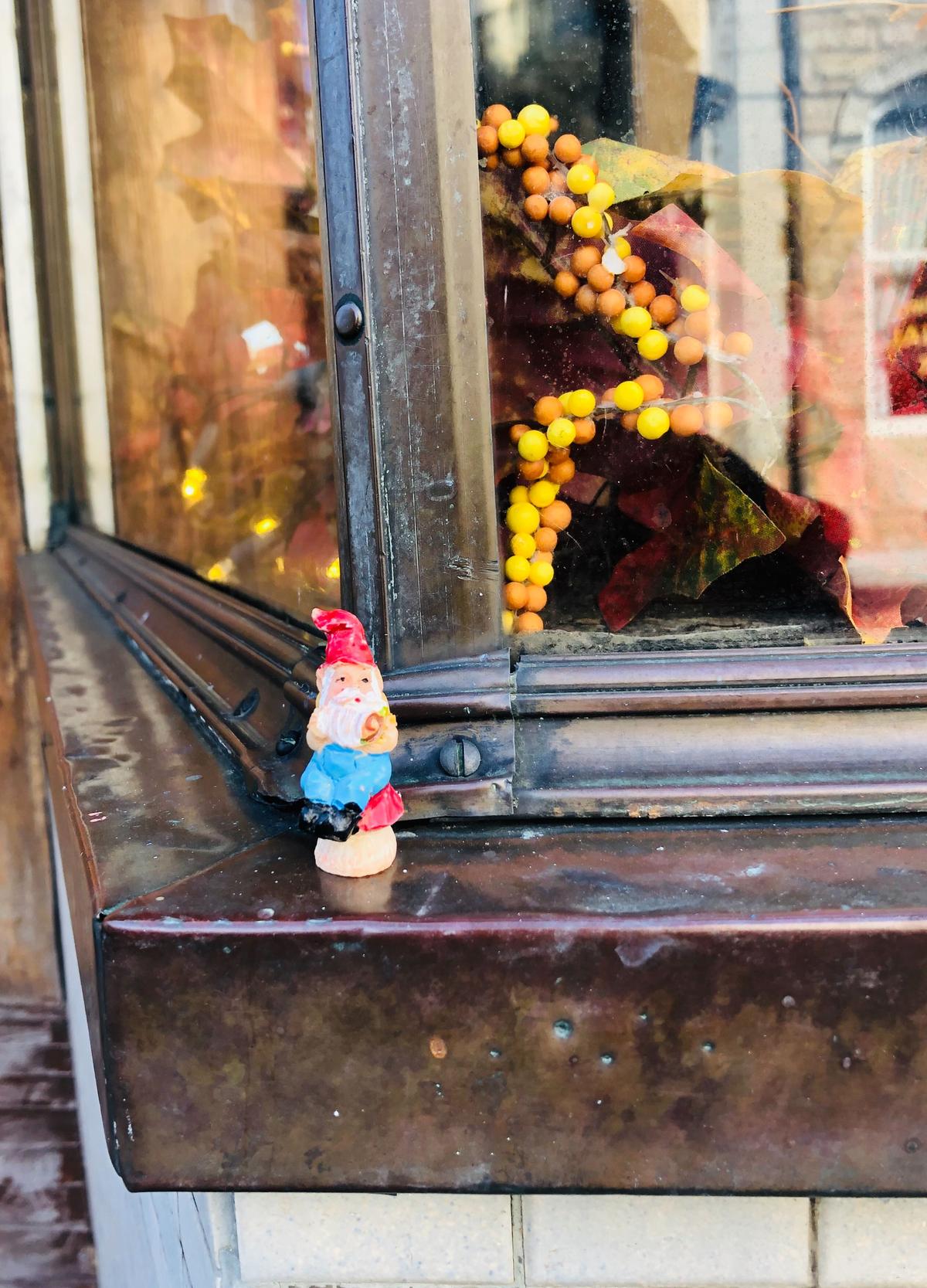 "I'm just glad it's a way to get people here that they normally wouldn't have a reason to get out and about," Ritterbush said about Gnomevember.
People from across West Virginia have donated a variety of gnomes to Fayetteville — more than 80 so far. Some are life-size and some are just a couple inches tall. Others wear a WVU sports jersey, a Santa Claus hat or Halloween colors.
But all the gnomes have a distinct long, white beard, large nose and pointy hat. Some have names like Linda, Bob or Steve.
"We have family gnomes – which is hard to say without laughing," Stover said. "So many people hold onto these little characters. They seem to just keep popping up."
The goal for visitors is to find at least 12 gnomes to earn a small prize. At the end of the month, the person who finds the most will receive a gnome-themed gift basket.
Fayetteville's resident gnome, Walter, lives at Ritterbush's shop, Wild Art Wonderful Things. Walter is about three feet tall and sits behind a sign that reads, "There's Gnome Place Like Fayetteville."
Although gnomes originated in Germany, Ritterbush said they fit West Virginia.
"They're little woodland outdoor creatures, and that's kind of what we are here in Fayetteville," she said.
Tabitha said more than 100 people have participated so far. There was even a family from New Jersey who stopped in Fayetteville to hunt gnomes.
She added that events like this could work in other small, economically distressed towns.
"I think there are so many awesome little towns with potential in West Virginia," Stover said. "I think each town could have its own little thing, be it gnomes or whatever else it is."
Some gnomes had gone missing. Stover said either the mystical forest creatures are roaming or there might be a "gnome-napper" in town.
This story was originally published by West Virginia Public Broadcasting. It is part of West Virginia Public Broadcasting's Southern Coalfields Reporting Project which is supported by a grant from the National Coal Heritage Area Authority.
European Traditions, W.Va. Twists: Making Grittibanz at Christmastime
In the mountains of Randolph County, West Virginia, is the small Swiss-German town of Helvetia. This tiny, remote town is rich with Swiss-German tradition, including the Feast of Saint Nicholas held at the Helvetia Community Hall.
"We're gathered here on the Feast of Saint Nicholas to think about generosity, because [Saint Nicholas] was a very generous person," said local resident Eleanor Betler to a crowded dining room in the Community Hall, "And we carry that through by teaching, and we teach to make the grittibanz."
Grittibanz is loosely translated to "doughboy," and families often make them in Switzerland and Germany for the Feast of Saint Nicholas, which is held on the eve before Saint Nicholas Day on December 6th.
It may be based off an old tradition, but the Feast of Saint Nicholas has only been held in Helvetia for the past 20 years.
It's one of their smallest events during the year and averages about 25 to 30 attendees, but it's no less a favorite for locals.
Making Grittibanz
Hours before the feast, locals prep the Community Hall for the festivities and the grittibanz. Anna Chandler stands over a large, silver mixing bowl and reads through the list of ingredients needed. 
Anna may not be a local, but her father's side of the family is from Helvetia. She lives in Morgantown and makes a point to attend local events like this one. Over the past three years, she's been making the dough for the grittibanz with Eleanor's guidance.
"This is the; it's called Hebel; that's the yeast dough," Anna said. "So, this is like the starter, so you get it going first, so the yeast is active and going at it, and then you add it to everything else."
After mixing in all the ingredients, Anna kneads the dough until it becomes soft, but still firm enough to mold and shape into bread people.
"First time I made this, or worked with anybody to make it, I thought it was gonna be a really sweet dough, like cinnamon roll dough; it's not, it's just a rich, cause it's got the eggs and butter in it, yeast dough; it's very straightforward," she explained. "And when the kids get done decorating, we decorate with raisins and citron, and stuff like that, so it's not sweet by any means, it's just bread."
Upstairs in the main room of the Community Hall, a small group of kids and their parents make Christmas crafts and play games together while they wait on the dough. Decorating the grittibanz with children is a big part of the tradition.
Back in the kitchen, Eleanor and Anna lay out baking sheets for each person, butter knives, and round, sticky dough balls for each child and parent to work with.
At the center of the table is a tray of flour, a couple bowls of egg wash, and dried fruit to use for decorating.
"Okay, so kind of take it from the sides and make him a neck, okay," said Eleanor to the group of kids and their families. "And then make some shoulders and some arms."
After everyone's grittibanz is decorated, they're left to rise for about 15 minutes, and then they're ready to be baked.
Carrying On Tradition
Helvetia's population has dropped dramatically over the decades as people have moved away for job opportunities and other reasons. Yet, Eleanor says she doesn't think the town, or its traditions will ever disappear.
The annual events are unique and a big draw for visitors, she said, but also, many people who have family connections to Helvetia are proud of where they come from…and the events bring people home.
"Everybody does everything together, and I think that's what keeps almost all of our traditions alive is that we do things as families and as community," Eleanor said. "Church community; family community; community-community, and community and family mean everything to us here. Everything."
Making grittibanz from scratch is just one aspect of Helvetia's Feast of Saint Nicholas event. Residents also gather that day for a visit from Santa Claus, to hear the story of Saint Nick, a potluck dinner…and a community square dance.
This story was originally published by West Virginia Public Broadcasting.
Sensitive Santa: A Kinder, Gentler Kringle For Kids with Special Needs
I'm not usually one to name-drop but my brother Pat Meehan is Santa Claus. A real, professional Santa.
Sitting in his home office fresh from work, he's wearing black suspenders and a red T-shirt. There at least six other Santa outfits in his closet including beach Santa. His thick, white beard (yes, a real one) shimmers faintly with glitter.
It goes without saying that Pat is really into being Santa. He's been doing it for 40 years.
But even Pat understands how the over-the-top Santa persona can be a bit much. Pat says it's no wonder kids get rattled. If you think about it, an old, super-extrovert in a crazy outfit isn't exactly kid-friendly. That can make capturing the traditional holiday photo a trial.
"We tell kids to stay away from strangers then we take kids to see this big, hairy guy in a red suit and we say, 'Sit on his lap and smile!,'" he said.
Imagine what that's like for a child who struggles with sensory overload.
Amanda Ralston runs Verbal Behavior Consulting, Inc., where she has worked with children on the autism spectrum and with developmental delays.
The holidays, she said, can be a lot of stress for everyone but for those with sensory challenges it can be extra tough.
"It's the lights, the smells, the sounds, the endless play of the Mariah Carey songs."
She said all that, combined with the pressure of meeting a mythical figure, can lead to a lot of stress for both children and their parents. And that can lead to outbursts in an effort to cope with that stress.
It can be so intimidating for parents, she said, they just opt out of the holiday tradition of getting a picture with Santa.
But a growing number of Santa's helpers are making sure there is an option.
Last year before a holiday party for a group of children with autism spectrum disorder, Pat trained for what's called a "Low-Sensory Santa." Sensitive Santa is no less jolly, just more reserved. You move a little slower and let the child take the lead about interacting. And only gentle "ho,ho,hos" allowed, he said.
"It's important for every child to have that experience to have that feeling of joy and excitement," he said. "And of course it is as much for the families as it is for the children."
Welcoming Experience
Social worker Amanda Newsome works at West Virginia University Hospitals Chestnut Ridge Center. She said the staff there saw a need for a more welcoming experience.
"Loud noises, sensitivity to light, waiting in line, we kind of wanted to eliminate that," she said. "That's where the idea came from."
The idea is to give families a chance to experience Santa in their own time and in their own way. That includes activities to keep kids busy as they wait their turn, like making crafts or decorating cookies. Newsome said one child's visit made a lasting impression.
"We had one girl our first year that would come up and touch Santa and run away, and then come back to come up and try to sit on his lap and then run away again."
Slowly, eventually, the girl stood next to Santa.
"She never did get on his lap I don't think," Newsome said. "It just allows that time, the parents don't feel pressured, they don't feel like they have to push their child to hurry up and go because there are other people waiting."
Zen Santa
Recently in Richmond, Kentucky, large, chains of white paper flakes turned a YMCA workout room into a Zen Santa's den.
Santa Jared Raymer is a skinny, dark-haired college student wearing a baggy red suit. Sitting on a wooden rocker, not a velvet throne, he greets families brought in by a cheerful, volunteer elf. Most families come to the program through the Kentucky Adaptive PE program at the YMCA.
It is 45 minutes before a child goes directly to Santa. Some ignore him. Some stare from a distance. And then there is Paul Smith.
Paul comes in wearing only one shoe and quickly plops on the floor, fascinated by a bag of soft balls. Raymer majors in occupational therapy at Eastern Kentucky University, so he knows how to handle situations like this. He eases away from his rocker, making a gentle approach. He slowly rolls the boy a ball. Paul, who doesn't speak, is startled.
"We don't have to do that," Santa Raymer says softly.
After that, the two make eye contact and Raymer is soon crouched next to the boy. Then it is Santa who is giggling with joy. As the camera frames that often elusive photo, Paul reaches out to touch Santa's hand.
"I'm going to tell the elves to bring you lots of presents," Raymer tells him.
For some parents, a cherished memento can feel like a Christmas miracle.
Veronica and Edward Merritt brought three of their seven children to experience low-sensory Santa. They adopted two of their three youngest, Samantha and Ryan, as their older children left home. Both Ryan and Samantha have special needs.
Veronica Merritt sighs as she explains trying to navigate the typical mall Santa experience.
"One, they don't like to wait in line, they don't like to see something that they can't get to," she said. The lines are long, the noise intense.
She's thrilled to have this option for her kids. "Thank God, it's about time. It's nice for us because we feel like we can get out and do what everybody else is doing and we typically can't do that."
The event was special she said. The keepsake she retrieves from her purse was something more.
"This is the second time we got a Christmas picture. The first time we went to the mall and there was nobody during the day, we created our own low-sensory Santa," she said. When she shows off that second Santa picture, the one of her 12-year-old son, she has tears in her eyes.
"Ryan was so excited," she said, "he was so happy to have his moment with Santa."
This story was originally published by the Ohio Valley ReSource.
Inside Appalachia: Traditions Make Holiday Season Special
This week, West Virginia Public Broadcasting has put together a special holiday episode of the podcast Inside Appalachia about seasonal traditions.
Holidays in these mountains have always been meaningful. In Appalachia, it's usually a time to go home, or to carry on traditions of home in a new way.
Most major holidays around the world revolve around eating special foods together, and the memories that come with the traditions aren't always about the taste. We take a look at how food plays into our holiday traditions, in general, through the eyes of a fifth-grader.
We'll also visit Helvetia, W.Va. This time of year, the tiny mountain town's distinctive Swiss heritage is on display, with tales of Saint Nicholas, sweet treats, square dancing, a potluck dinner — and perhaps best of all, Swiss grittibanz, a special kind of holiday bread.
If you want to join in this tradition, we've posted the recipe for grittibanz bread here. Be sure to let us know how it turns out if you try it.
To learn more about how Helvetia got its name, listen to this What's In A Name story.
We'll also learn about cured country ham, the centerpiece of many tables during Christmas. Inside Appalachia contributor Fred Sauceman visited with a man in southeast Tennessee who cures country hams the old-fashioned way, a process involving many months — and knowledge accumulated over generations.
Another beloved food tradition revolves around the making of rosettes: light, crispy, deep-fried pastries made using a floral-shaped iron mold. Mike Costello, head chef at Lost Creek Farms in Lost Creek, W.Va., inherited a rosette iron last Christmas in an old box of his late great-grandmother's things.
Without any specific instructions, this year he carried on the tradition of making rosettes with a passion for learning more about his ancestors and a little help from an old family cookbook.
You can find the Helvetian recipe for rosette batter here.
One consistent holiday tradition around the Christmas holiday is Saint Nick himself. The annual photo with Santa can be difficult and scary for any child, but it can be especially overwhelming for a child with special needs. We take a look at how some Santas are seeking training to handle those situations.
Most traditions evolve with time. But one holiday tradition has been around for 200 years and is still going strong. On Christmas Eve, 1818, Father Joseph Mohr, a parish priest from Austria, approached organist Franz Xaver Gruber about writing a music score for a Christmas carol. Mohr had written the lyrics a few years before. The men debuted the song in the St. Nicholas parish church in Oberndorf, Austria.
About 100 years later, Gruber's nephew, a doctor, moved to West Virginia and eventually settled in Helvetia. The local community choir keeps the Silent Night tradition alive, singing the song in German each year on Christmas Eve in the local church. The song has become one of the most loved, and most recognizable, Christmas songs of all time.
For some, the holiday season is a great time to hit the slopes in parts of Appalachia where winter spots generate millions every head. Unfortunately, climate change is creating more challenges to those traditions.
And the National Audubon Society Christmas Bird Count is yet another tradition that has endured for more than 100 years. The group wanted to discourage people from shooting birds around the holidays, and it called on the public to help. Citizen scientists look to the skies, trees and bird feeders to identify and count as many birds as possible in a 24-hour period between Dec. 14 and Jan. 5. Last year, about 77,000 people participated.
Inside Appalachia is produced by Roxy Todd with associate producer Eric Douglas. The show's executive producer is Jesse Wright, and he also helped to edit this show. The audio mixer is Patrick Stephens. Molly Born is show's web editor.
This story was originally published by West Virginia Public Broadcasting.