W.Va. Food Bank Trying Out Hydro-Panels For Clean Water Needs
In McDowell County, West Virginia, access to clean water can be a challenge. Aging infrastructure, a shrinking tax base and lack of oversight affect the region's water quality. That is why one community food bank is trying something different, to provide cleaner water to some who are in need.
Earlier this month, the Five Loaves and Two Fishes food bank and outreach center in Kimball debuted its new set of hydro-panels to the McDowell County community.
They are like solar panels, but instead of using sunlight to create electricity, these hydro-panels pull moisture from the air and filter it with sunlight, to produce clean water.
According to information from developer Zero Amounts, each panel can hold up to eight gallons at a time in a mineralized reservoir. How fast the panels gather and filter water depends on how much sunlight is available, and the humidity.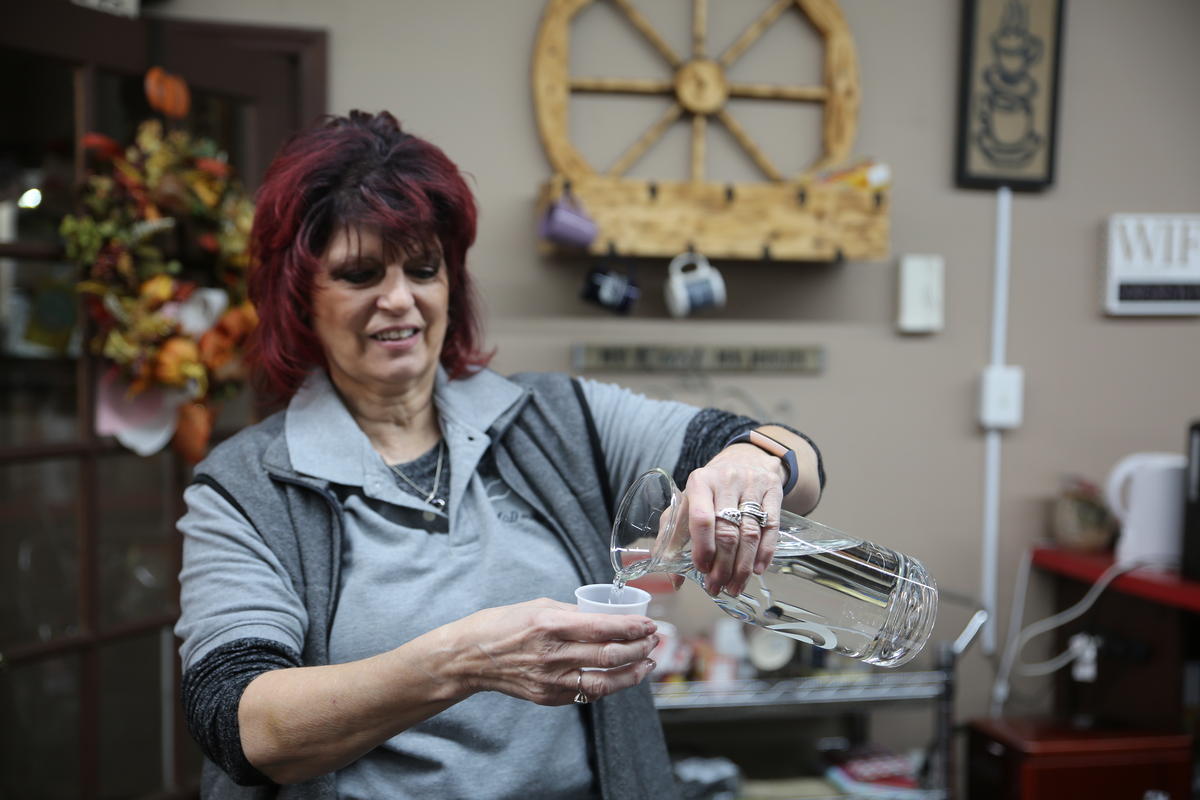 Altogether, food bank director Linda McKinney said her 24 panels should hold 192 gallons at full capacity. That might seem like a lot, but Five Loaves and Two Fishes provides food and other essentials to more than 800 McDowell County families each month. Bottled water is one of their most requested items. 
"There's no way with that amount of panels that we could, you know, supplement everybody in the county with enough water," McKinney said.
"It is a small start, but it's better than no water. That's what I say about food. You know, a lot of times we don't get the healthiest food, and I always tell people [that] in my world, some food is better than no food. You know, it keeps your stomach from growling."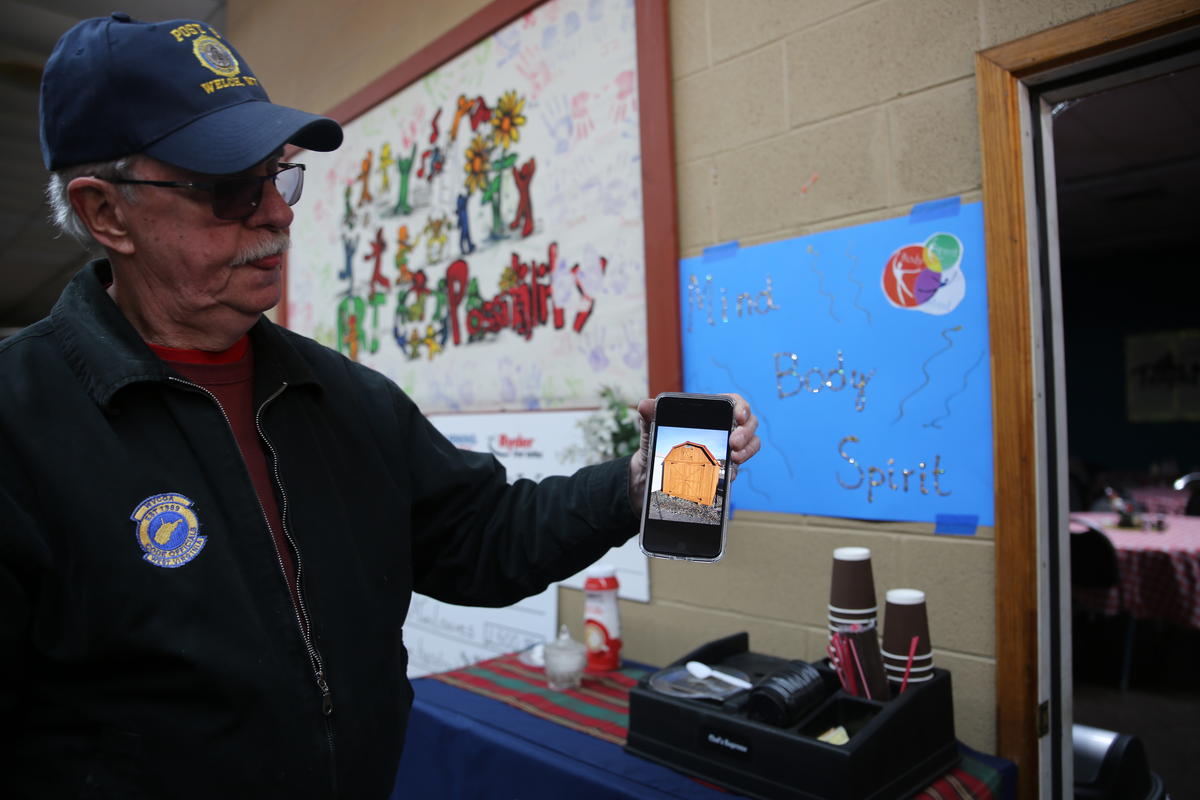 The food bank got the hydro-panels with help from a California-based nonprofit called Dig Deep, which McKinney said visited McDowell County over the summer for a water quality study it released earlier this month.
"Dig deep was here for about a week," she recalled. "And then they went back, and I kept in contact with this lady named Nora Nelson … and then one day she said, 'Hey, I have this great opportunity, I think that would benefit you guys.'"
Dig Deep connected McKinney with Zero Amounts and the one2one USA Foundation, which paid for the panels.
McKinney said she has not had to spend anything on the project herself. She added that she expects it to be fully operational by spring.
She and her husband were installing a shed a few feet away from the panels on Friday, where she will be able to pump water into one-and-five-gallon jugs for distribution.
Contractors still need to install pipes to connect the panels and the pump.
This article was originally published by West Virginia Public Broadcasting.
'Dark Waters' Puts PFAS Saga On Big Screen As Ohio Valley Contamination Comes To Light
This article was originally published by Ohio Valley ReSource.
The new film "Dark Waters" depicts the real-life story of the 20-year battle waged by attorney Rob Bilott against chemical giant DuPont.
We meet Bilott, played by Mark Ruffalo, as a young corporate defense lawyer living in Cincinnati. His grandmother, who lives in Parkersburg, West Virginia, gives his phone number to local farmer, Earl Tennant. Tennant lives next to a landfill where DuPont had been dumping a chemical called C8.
In a scene from the film, Tennant, played by actor Bill Camp, shows Bilott around his farm, where his cows are dying.
"You tell me nothing's wrong here," Tennant tells Bilott.
Bilott, with the begrudging blessing of his law firm Taft Stettinius & Hollister, LLP, takes the case as a "small" favor for a family friend.
Over the course of the next two decades, documents released by DuPont during litigation would reveal that C8, or PFOA, a completely unregulated chemical, was toxic. The company had known this for decades, feared it was poisoning workers, and yet continued to dump the chemical into the Ohio River and air around its plant in Parkersburg without alerting the community or the U.S. Environmental Protection Agency.
Bilott's fight in the Ohio Valley introduced America to PFOA and its related class of chemicals called PFAS. They've been used in everything from pizza boxes to flame-retardant foam sprays and in nonstick and stain-resistant products like Teflon. The film comes as new testing reveals widespread contamination of water systems in the region and regulators and lawmakers consider new rules on exposure to these toxic chemicals.
Broader Contamination
As concern about PFAS exposure grows Ohio Valley officials are stepping up efforts to identify the extent of contamination of water supplies.
Kentucky regulators recently released results of 81 water system tests around the state. Half tested positive for PFAS compounds. In about 82 percent of those samples, researchers found levels under five parts per trillion, much lower than EPA's 70 parts per trillion health advisory issued in 2016.
However, it is higher than the health standards set by a handful of states for these chemicals, and some researchers believe 70 parts per trillion is not protective of human health. A recent study by the National Institute of Environmental Health Sciences suggests that safe levels of PFAS chemicals are as low as .1 to 1 parts per trillion.
Researchers found the highest levels of contamination in eastern Kentucky along the Ohio River and in drinking water systems that pulled from waters connected to the river. At water systems that use surface water from the Ohio River, the results found a 100 percent detection rate for PFAS compounds. Groundwater connected to the Ohio River saw PFAS detections in about 41 percent of samples, according to the report.
Upriver lies the Washington Works Plant, formerly owned by DuPont and now operated by its spinoff company Chemours. The plant for decades produced PFOA to make Teflon. Chemours now uses it to produce other chemicals using another PFAS compound, GenX.
The more recent testing by states reveals far more contamination than did earlier testing conducted to meet the EPA's requirements under the agency's Unregulated Contaminant Monitoring Rule. That rule did not require testing for as many of the PFAS compounds, and did not require public disclosure of PFAS detections at low levels. For example, under that testing regimen, only two Kentucky communities were identified in 2016 as having PFAS compounds in drinking water. This raises questions about whether water customers have received adequate notice about PFAS chemicals in their water.
Ohio in September announced it would begin monitoring water systems near known contamination sites. In recent years, a growing number of communities have detected PFAS in their drinking water. Many U.S. military bases, where PFAS-laden firefighting foams were used, have measured high levels of contamination.
The advocacy organization Environmental Working Group estimates 110 million Americans drink water with dangerous PFAS levels. EPA estimates PFAS have been found in the blood of 98 percent of Americans.
These so-called "forever chemicals" don't break down in humans or the environment due to the strength of their carbon-fluoride bond. It's what makes PFAS chemicals highly effective at repelling water and oil.
A growing body of research shows that same characteristic makes these chemicals toxic in humans.
Bilott won a $670 million settlement with Dupont over its undisclosed contamination of the drinking water of 70,000 residents in West Virginia and Ohio. The outcome of the class action lawsuit also funded a 70,000-person health study into the effects of PFOA exposure. That allowed an independent panel to link exposure to six diseases including thyroid disease and testicular and kidney cancer.
"This is one of those rare circumstances where the community came together actually got the human studies done and actually was able to confirm, you know, that this chemical was causing harm," Bilott said, speaking at a recent event hosted by the Washington Post Live.
Susan Pinney, a professor at the University of Cincinnati Department of Environmental Health at the College of Medicine, said the C8 study was incredibly important in understanding how exposure to these chemicals is affecting humans.
"They made a huge contribution to our understanding of health effects of PFOA," she said.
Revisiting Regulation
While more states are seeking and finding evidence of PFAS contamination, guidance from federal regulators on at what level exposure to the chemicals is safe has not been finalized.
Recognizing growing concern, in February the agency announced it would take a series of actions to address the widespread contamination of fluorinated PFAS chemicals. The "PFAS Action Plan" included a commitment by EPA to set legally-enforceable drinking water standards, or Maximum Contaminant Levels, for PFOA and PFOS. EPA said it would also move forward with listing PFAS as hazardous under the Superfund law, which would make federal funding available for costly cleanup efforts.
Critics have questioned the agency's expansive timeline for taking action. Documents have also emerged that show in-fighting between federal agencies over how best to regulate PFAS chemicals.
A report released last year by the Agency for Toxic Substances and Disease Registry, found PFAS chemicals can endanger human health at levels 7 to 10 times lower than the EPA says is safe. The Pentagon has questioned the price tag of regulatory action. The agency weakening EPA's draft cleanup requirements for the chemicals. Last month a top defense official ignored the EPA guidance, instructing the military to use screening levels 10 times higher than EPA recommended when looking for the chemicals at its sites, according to reporting by Poltico.
The inaction has angered environmental advocates and some members of Congress. The House Oversight Committee's Subcommittee on Environment has held four hearings on PFAS chemicals. Dozens of bills related to PFAS are snaking their way through both the House and Senate among debate about whether there is sufficient science to regulate the chemicals. One measure would add to the 2020 defense spending bill to speed up EPA's timeline and regulate the entire class of PFAS chemicals.
"We need government to save people's lives by protecting them from dangerous chemicals," said Committee Chairman Rep. Harley Rouda from California at the latest hearing. "They did not know they were drinking and wouldn't have drunk if the truth had not been shrouded by them from corporations that knew for decades how toxic these chemicals were, and are."
While Republicans have said they broadly agree more needs to be done about PFAS contamination, some members have also attacked Bilott's use of litigation against DuPont and questioned whether the science is sufficient.
"We should be careful about taking any sweeping actions that could have the unintended consequence of negatively impacting a broad segment of the economy, including public entities like hospitals and airports," Rep. James Comer, a Republican from Kentucky and ranking member of the subcommittee testified. "Any legislative or regulatory actions we consider should be based on solid scientific understanding of the toxicity of specific compounds."
Philippe Grandjean, an adjunct professor at Harvard University who has spent his career studying the ways pollution impacts children, including PFAS chemicals, said there is ample evidence.
"The science is very strong and the public health consequences are really serious," he said.
In addition to the six diseases linked by the Ohio Valley C8 study, he said other research has shown vaccines might not be as effective in children with high levels of PFAS exposure.
Pinney at the University of Cincinnati characterized the science as "emerging," but said new findings are showing similar, worrisome trends. She said it will likely take time for new research to be incorporated in the regulatory process.
But at the same time, Pinney said, she expects a growing number of municipalities will begin testing and finding PFAS in their drinking water.
"To me where we're at right now, we're soon going to find that there are a whole lot more communities with exposed people than anyone thought," she said.
While EPA determines what level of exposure is safe, a handful of states, including New York, New Jersey, and Vermont, among others, have adopted drinking water standards for some PFAS chemicals much stronger than EPA's health advisory.
New Chemicals
Over the last few years, DuPont and other companies have phased out the manufacture of PFOA and PFOS.
However, replacement chemicals including GenX, which is manufactured by DuPont's spinoff company, Chemours, have been found widely in the Cape Fear watershed in North Carolina. GenX is used at the Dupont facility near Parkersburg in the manufacture of fluoropolymers.
Earlier this year, EPA cited Chemours for releasing chemicals used to make GenX into the environment at both its North Carolina and West Virginia plants.
Bilott has remained focused on PFAS chemicals and he said the ongoing GenX contamination shows the need for strong regulation.
"It just shows you almost kind of what a whack-a-mole game we're dealing with here," he said. "As the information's finally coming out about one of these, there's the switch to another one that's slightly different. So, we've got to really focus on this broad class of chemicals and deal with all in a comprehensive way."
In a statement, DuPont said the film "misrepresents some things that happened years ago" and in some cases depicts "wholly imagined events."
Bilott, who has spent years embroiled in internal documents released by DuPont, said he thinks the facts speak for themselves.
"It is now in the blood of everyone. It's in water all over the planet. I mean, these are facts," he said. "And the story, I think people can see for themselves and they can judge for themselves exactly what really happened. And you know where the truth really is here."
Bilott has filed a second class-action lawsuit against eight chemical companies on behalf of everyone in the U.S. who has PFAS chemicals in their blood. A judge in late September rejected the companies' motion to dismiss the case and ruled it can proceed.
EPA Proposes Changes To Federal Coal Ash, Wastewater Rules
This article was originally published by Ohio Valley ReSource.
Federal environmental regulators released proposed changes to two rules related to the disposal of coal ash and wastewater from coal-fired power plants.
The U.S. Environmental Protection Agency on Monday announced its third round of changes to its 2015 rule regulating coal ash. Coal ash is one of the largest waste streams in the country and often contains toxic compounds like arsenic, lead and radium. Dozens of the waste sites dot the Ohio Valley, often along rivers.
The Obama-era regulation requires utilities to conduct groundwater monitoring at ponds and landfills, close leaking ash ponds and clean up polluted groundwater.
Last year, the Trump administration extended the closure deadline through October 2020. Now, it's proposing to move the deadline two months sooner, in part to address legal challenges surrounding the rule.
The rule also lays out a series of provisions that would allow coal ash sites to remain open longer, including if the nearby coal-fired power plant is scheduled to close. Sites can also request a closure extension if the plant needs time to figure out how to dispose of other waste being placed into coal ash sites.
"At first glance they're like, 'oh, it used to be October. Now it's August — that's better,'" said Larissa Liebmann, an attorney with Waterkeeper Alliance, an environmental watchdog group. "But then they've created all these alternatives, which give them this extra time based on various issues."
The toxic residue from burning coal is a major concern in the Ohio Valley. An analysis by the ReSource and partner station WFPL found nearly every power plant covered under the EPA rules had coal ash waste sites with evidence of contaminated groundwater. At several sites, hazardous compounds are found in groundwater at levels that far exceed federal drinking water standards.
That mirrors data collected on a national level. An analysis of data collected under the 2015 coal ash rule, released this year by environmental groups, found more than 90 percent of the nation's regulated coal ash repositories are leaking unsafe levels of toxic chemicals into nearby groundwater, including ash sites at more than 30 coal-fired power plants in the Ohio Valley.
Effluent Rule
The EPA is also proposing changes to another 2015 rule that regulates water discharged from power plants, also known as effluent.
The Steam Electric Power Plant Effluent Guidelines Rule set federal limits on the levels of toxic metals in wastewater that can be discharged from power plants. The rule required affected plants to install technology to reduce discharge.
Similar to the coal ash regulation, the wastewater rule was also embroiled in legal challenges.
In its proposed updates, the EPA is relaxing some pollution limits and extending the compliance deadline by two years. In exchange, the agency is promoting its voluntary incentives program.
In a press release, EPA said the new effluent rule would achieve greater pollution reductions than the 2015 rule, at a lower cost.
Environmental groups disagree and argue the rule change will instead expose millions of people to toxic pollution.
"Not only does [EPA Administrator Andrew] Wheeler's proposal eliminate some of the strongest pollution limits required by the 2015 rule, it carves out new polluter loopholes for the industry," Jennifer Peters, with Clean Water Action, said in a statement. "Wheeler's proposal also claims that power plants will voluntarily adopt new, stricter standards, despite the fact that a similar program existed in the 2015 rule, and virtually no coal plants adopted it."
Edison Electric Institute, which represents investor-owned utilities, praised EPA's efforts to rewrite the effluent rule.
While Washington Debates, Appalachians Wait for Investments in Clean Water
Just because the water that comes out of your tap meets federal drinking water standards doesn't mean it's safe to drink. At least, that's what researchers at the Environmental Working Group, a D.C.-based water advocacy organization, say.
Since 2012, EWG has been collecting the results of millions of drinking water quality tests from states across the country, every few years releasing their database and its findings to the public.
This month, the 2019 update to EWG's Tap Water Database shows what people living in central Appalachia who often struggle with the quality of– or even basic access to– the vital resource already know: The quality of our water is not necessarily getting better. And advocates, activists and even entrepreneurs say, at least to some degree, inaction in Washington is to blame. 
The 2019 Tap Water Database Findings
The EWG Tap Water Database tracks the appearance of certain contaminants in more than 50,000 public drinking water systems nationwide, looking for pesticides, arsenic and PFAS, a family of chemicals used in the production of products like Teflon that have been tied to increased rates of cancer and other diseases.
The most previous version of the database, released in 2017, found more than 250 chemical and agricultural contaminants in the drinking water of millions of Americans. At the time, EWG President Ken Cook said in a press release, "it's time to stop basing environmental regulations on political or economic compromises, and instead listen to what scientists say about the long-term effects of toxic chemicals."
Millions of residents in central Appalachian states of West Virginia, Kentucky, Ohio, North Carolina and Tennessee were impacted by the findings that EWG releases to advocate for updates the federal Safe Drinking Water Act, first approved by Congress in 1974.
"Our Tap Water Database shines a light on an ugly reality: The Safe Drinking Water Act is broken, and the water millions of Americans drink is contaminated with unhealthy pollutants," Cook said in a 2019 release.
So, what's changed in the two years since the last database update? According to EWG, not much.
Tasha Stoiber, a senior scientist at EWG, who worked on the latest update, said the last significant changes Congress made to the Safe Drinking Water Act came in 1996, requiring the U.S. Department of Environmental Protection look to the best peer reviewed science on water quality findings to guide its oversight of drinking water, among other things. But EWG's findings, Stoiber said, show more needs to be done today.
"I believe about half of the contaminants that we've detected this round were from drinking water contaminants that are unregulated," Stoinber pointed out. "So, basically, science has not kept pace with what we're already seeing in our drinking water."
In several central Appalachian communities, the number of contaminants exceeding the EWG's health guidelines increased in the 2019 report, compared to 2017 findings. In a sampling of those communities, listed in the table below, 11 of 20 utilities in Appalachian towns saw an increase in the total number of contaminants detected in the water.
| | | |
| --- | --- | --- |
| Location | 2017 Update | 2019 Update |
7 contaminants exceeding health guidelines

13 detected contaminants

8 contaminants exceeding health guidelines

13 detected contaminants

8 contaminants exceeding health guidelines

15 detected contaminants

6 contaminants exceeding health guidelines

15 detected contaminants

Serious violations of federal standards

Serious violations of federal standards

8 contaminants exceeding health guidelines

14 detected contaminants

7 contaminants exceeding health guidelines

16detected contaminants

8 contaminants exceeding health guidelines

14 detected contaminants

7 contaminants exceeding health guidelines

16 detected contaminants

5 contaminants exceeding health guidelines

12 detected contaminants

4 contaminants exceeding health guidelines

15 detected contaminants

6 contaminants exceeding health guidelines

12 detected contaminants

4 contaminants exceeding health guidelines

12 detected contaminants

4 contaminants exceeding health guidelines

7 detected contaminants

3 contaminants exceeding health guidelines

8 detected contaminants

4 contaminants exceeding health guidelines

7 detected contaminants

4 contaminants exceeding health guidelines

7 detected contaminants

6 contaminants exceeding health guidelines

12 detected contaminants

6contaminants exceeding health guidelines

14 detected contaminants

0 contaminants exceeding health guidelines

1 detected contaminants

0contaminants exceeding health guidelines

1 detected contaminants

7 contaminants exceeding health guidelines

14 detected contaminants

7 contaminants exceeding health guidelines

17 detected contaminants

5 contaminants exceeding health guidelines

6 detected contaminants

5 contaminants exceeding health guidelines

7 detected contaminants

3 contaminants exceeding health guidelines

4 detected contaminants

4 contaminants exceeding health guidelines

9 detected contaminants

1 contaminants exceeding health guidelines

1 detected contaminants

1 contaminants exceeding health guidelines

1 detected contaminants

6 contaminants exceeding health guidelines

9 detected contaminants

6 contaminants exceeding health guidelines

11 detected contaminants

3 contaminants exceeding health guidelines

8 detected contaminants

7 contaminants exceeding health guidelines

14 detected contaminants

5 contaminants exceeding health guidelines

6 detected contaminants

4 contaminants exceeding health guidelines

10 detected contaminants

5 contaminants exceeding health guidelines

10 detected contaminants

10 contaminants exceeding health guidelines

15 detected contaminants
While the finding of new contaminates in a community's drinking water doesn't automatically mean that the quality is worse, it could have cumulative effects scientists are not aware of yet. Contaminants measured above federal health guidelines should of course be concerning, Stoiber said, but people should not write off the ones that measure below the limits either.
"A lot of these [contaminants] are drinking water disinfection byproducts, and we would be concerned about those as a group," Stoiber said. "They often have the same kind of health effects in the body and they target the same areas in the body. So we're worried about those in terms of their effect on your risk for cancer."
According to Stoiber, some of the top contaminants in West Virginia, Kentucky and Ohio are in fact disinfection byproducts, but also another chemical compound that's becoming more and more known in the region: PFAS.
According to the group's website "highly toxic fluorinated compounds known as PFAS continue to grow at an alarming rate. As of October 2019, 1,026 locations in 49 states are known to be affected."
This interactive map shows approximate areas of contamination with PFAS compounds. Southern Appalachian states like Mississippi, Alabama and Georgia, as well as Central Appalachia seem to see most of the pollution in the region.
The scale of the problem is not fully known, or understood yet. Stoiber said testing for PFAS compounds started only recently. "The more that we test for them, the more that we're finding them. They may have been there for decades, but we didn't know until we actually had the data."
This group of chemicals has led Appalachians, especially those living in the Ohio River Valley, to call on their national representatives to update drinking water testing requirements, but so far, little has happened– with testing for PFAS or any other contaminant and even with investments that would help prevent or remove contaminants from rural water systems.
The lack of action in D.C. has led many in the region to step up and take action on their own.
For Appalachia, the Problems Remain
For six years during the early 2000s and 2010s, Teri Blanton traveled the U.S. as part of the National Environmental Justice Advisory Council. Created in the early 1990s, the council advises the U.S. EPA on any and all issues that pertain to environmental justice, recommending ways the federal agency should tackle some of the most pressing issues in the space.
Now a fellow at Kentuckians For The Commonwealth, a grassroots community organization focused on issues that affect the state's working class, Blanton said in her time on the council, "the common denominator in all of it was the access to clean water, in every community that we went into."
Years later, it continues to be the biggest challenge, she said, at the very least for Kentucky if not elsewhere. But in her advisory role on the NEJAC, Blanton and her fellow council members' recommendations were just that– recommendations. She said they had no real clout to create change for communities who lacked that access. That takes legislation.
Investing in infrastructure improvements, however, especially for water in rural communities, is not a politically sexy issue. Advocates and activists like Blanton struggle to get policy leaders to listen to the large, sometimes urgent, needs, both in terms of access to reliable drinking water and the necessary funding to clean up local waterways still reeling from decades of pollution. New legislation is often thought of as controversial, meanwhile, previously approved laws are at risk of going away.
West Virginian Amanda Pitzer pointed to the Surface Mining Control and Reclamation Act of 1977, which is up for reauthorization in 2021, as an example. While it may seem like a significant amount of time before Congress actually considers reauthorization, Pitzer knows these issues aren't cut and dry and often take years of negotiations and coalition building to achieve.
She's the executive director of Friends of the Cheat, an organization working to restore the Cheat River Watershed in northern West Virginia and southern Pennsylvania, which was devastated for decades by acid mine drainage from abandoned coal mines. Work like hers is dependent on a reauthorization, even in the face of a Congress that often refuses to act.
"Congress is going to have to get their act together and reauthorize the collection of abandoned mine land fees, and reauthorize that law on that program. Because if they don't, all of the abandoned mines and land work will essentially stop," Pitzer warned.
The programs established under SMCRA assist in the reclamation of waterways much like the Cheat River, but Pitzer said that's not all. SMCA also provides funding for crucial water line extensions and other economic development projects.
But in the nation's current political climate, laws to reclaim land polluting community waterways or strengthen drinking water standards pit two sides against each other, environmentalists on one side, business and economic development on the other.
Throughout Appalachia, however, a number of people are working to bring those two sides together.
Moving Toward a Blue Economy
In 2014, a coal cleaning chemical leaked into the drinking water supply of West Virginia's capital city. As a result, 300,000 people in the state were left without access to potable water for, in some cases, as many as 14 days. Residents were told not to drink, cook or clean with what was coming out of their taps. Use only in cases of fire, people in the area still recall being directed.
As a result, Nicolas Zegre, Associate Professor of forest hydrology and director of the mountain hydrology lab at West Virginia University, estimates the local economy took a $60 million hit. It was a health and environmental issue, sure, but an economic one as well.
"Right now, water is kind of taken for granted in water rich regions like Appalachia. But when you start thinking about the issue of water scarcity, you can see how that can collapse an economy very quickly," Zegre said.
Access to clean water and the security of an economy are interconnected, Zegre believes. The juxtaposition that Appalachians can only have access to one or the other, he said, has to be broken in order to move forward.
"There are large economic benefits in the local area to addressing acid mine drainage. One of those benefits is pumping money into the restoration economy, actually paying companies and people to do the restoration work the reclamation work," said Evan Hansen, a principal at the West Virginia-based environmental and economic development consulting firm Downstream Strategies and member of the West Virginia House of Delegates.
It's called a blue economy, according to Zegre, and parts of Appalachia are finding success in publicizing their access to clean water for a number of uses. One is tourism.
That's the story of the Cheat River and Pitzer's work at Friends of the Cheat. Decades of high pH levels from acid mine drainage killed off wildlife in the river and its tributaries, but by working directly with private landowners on reclamation work, Friends of the Cheat has been able to bring the river back to life.
Muddy Creek, a tributary of the river, is the most recent success story. Heavily polluted when the restoration work began in the early 1990s, Muddy Creek is being readied to become a trout hatchery connected to the Cheat River in its lower 3.4 miles, drawing in anglers from across the region. It's pristine rapids draw white water rafters and swimmers hang out along the river's swimming holes in the summer months– all part of the recreation industry and all due to the success of Friends of the Cheat partnering with industry, not fighting them.
"There's a culture here of mining and engagement with the mining industry. So working with industry was really a bridge. We wanted to come to the community with an open hand […] because we need that local landowner buy in. We could've really alienated ourselves from the community if we were suing their employers," Pitzer said.
In fact, the first reclamation project completed by the group was fully funded by Anker, a mining company that has since been bought out by a larger corporation. The company sponsored the first passive treatment project at the total cost of around $200,000.
"It's really bought us some credibility with local folks and kind of broke down that stereotype of dislike, of us versus them, you're either a friend of coal or you're not," Pitzer said.
Access to clean water has also attracted significant investment to Appalachian cities in other industries aside from tourism, though. In Pittsburgh, Pennsylvania, Zegre said the tech sector relies on water from the Monongahela River, which also has a history of pollution due to both surface and underground coal mining.
In Asheville, North Carolina, a different industry took root as New Belgium turned an 18 acre brownfield into a brewery that can produce up to half a million barrels of beer each year on the banks of the French Broad River.
The company chose Asheville for its clean, municipal water supply and its resemblance to the Colorado water the company uses in its other brewery in Fort Collins. Its similar mineral composition helps to save money on the front end of the operation.
Their more than 130,000 square foot facility sits on a site that was once polluted by previous industrial development. But New Belgium has partnered with local organizations to clean up that site, providing them an Appalachian home while benefiting their new neighbors.
"Penland Creek, which actually goes through the property, turned into a really big project that we partner with Equinox Environmental on because we wanted to use the water flowing through our property as an opportunity to clean up the water," Michael Craft, New Belgium's community ambassador, explained. "So it was designed to have these filtering pools…and [the water] has a chance to get this pond treatment, for lack of a better term, [and] cleaned up before it hits the river."
Beyond the work on its own property, New Belgium is also lobbying for better care and stewardship of the natural environment in Asheville with local politicians through engagement with other businesses and coalitions like Business for Innovative Climate and Energy Policy, coordinated by the nonprofit organization Ceres. Between 2012 and 2018, the company supported financially 17 organizations dedicated to water stewardship in the region.
Sarah Fraser, a sustainability specialist at the brewery in Asheville, now works as a lobbyist for New Belgium after years advocating in the non-profit sector. She said having the backing of industry has made a difference in her work.
"When they hear from businesses, particularly talking with conservative lawmakers, their ears seem to perk up and they ask questions, and they seem to pay a little bit more attention," she said.
The success of these partnerships of activists and industry may be a possible solution to getting lawmakers, both locally and nationally, to work toward more stringent environmental regulations and funding to clean-up polluted waterways. But the region's issues are exclusive to pollution. Congress has also done little to invest in reliable water infrastructure, especially in rural regions like Appalachia.
Nearly Two Years Later, Consensus on Infrastructure Remains a Pipe Dream
It's been nearly 18 months since the White House presented Congress with a $1.5 trillion plan to rebuild the country's crumbling infrastructure, and create potentially thousands of jobs in the process. Appalachia stood to see some significant gain under the proposed plan.
The bill includes $200 billion in new government spending, which the White House predicts would attract the additional trillion-plus dollar amount through outside investments. A quarter of that initial spending, some $50 billion, would be earmarked specifically for rural programs, including improvements to water infrastructure.
But aside from Democrats pioneering some conversations in June around environmental justice issues, Congress as a whole has done almost nothing to progress the president's proposal or any other infrastructure investment plans. And with a vote expected this week to formalize public impeachment proceedings, it's unlikely the issue will take center stage any time soon.
Prof. Martina Caretta, a researcher investigating the human dimensions of water at the West Virginia University, says in order to succeed in securing new investments in water infrastructure, activists have to successfully engage communities in the process and encourage them to pressure their lawmakers.
In the course of her research, Caretta has been working with West Virginia stakeholders, local organizers and activists – all of them invested in raising the quality of the state's watersheds.
"You have to understand what is the history, how are people organized, how are relationships between people, so that bringing new infrastructure, or restoring infrastructure[…]will not exclude a certain part of the population, or will not harshen relationships between different groups," Caretta said.
She believes that given the funding and resources available, West Virginians are doing well when it comes to monitoring the water quality and organizing around environmental issues. But part of the conversation surrounding water infrastructure has always been about private industry investing and privatizing elements of it. That, according to Carreta, is something to be cautious of.
"Privatization that is done by companies, or entities that are from out of state, because they don't have that direct relationship with the community, that don't understand the local dynamics, are most often only geared towards economic profit," she said.
Her point is simple and powerful: If something has a price tag, there will be people who can't afford it. It's a familiar sentiment in Appalchian communities that have an abundance of resources, but always seem to ship them elsewhere, for someone else's benefit.
"It doesn't need to be either or," Caretta said. According to the scholar, there's nothing stopping investments in industries that are already in place and investing more in restoration efforts and water infrastructure. 
For Congress, There's Just One Thing Left to Do– Act
At the end of the day, WVU's Zegre believes people are largely open to new ideas and innovations when it comes to strengthening their economies. They want the jobs and they are ready to embrace alternatives, like those that could come through monetizing clean water as a resource for business development and recreational attraction.
But, "alternatives haven't been presented," Zegre said, and new ideas and new investments have been slow.
Zegre sees West Virginia– the only state to lie fully in the Appalachian region– as a potential leader in solving problems related to water quality and quantity, because it has an "abundance of both of those." He'd like to see shifts in the tech sector or even the creation of a new industry fully focused on water-related issues– figuring out how to use water sustainably across different facets of a diverse economy. That kind of development is crucial to the future of our country, he said.
"Water security is economic security, economic security is national security," Zegre said.
But Congress has yet to see it through his eyes and bills that would aid in the reclamation of polluted streams or provide investments in infrastructure that would ensure all Americans, not just Appalachians, have access to clean drinking water are overshadowed.