Job Program Helps People In Recovery Rebuild Houses – And Their Lives
The Housing Development Alliance in Hazard, Kentucky, found that volunteers referred by the Drug Court were some of their hardest workers. Now the nonprofit organization and others are creating an employment program to help those in addiction recovery get back on their feet.
In Hazard, Kentucky, the mission of the Housing Development Alliance is to build affordable homes for people in the community. With their new program, Hope Building, they are expanding that mission: to provide employment training for individuals in addiction recovery as they learn to construct affordable homes.
The program was inspired by the individuals in recovery from addiction who have volunteered with HDA. For each of the last seven years, 60 folks from the Perry County Drug Court have served with community building and repair projects. The Drug Court leadership says it is one of the best community service projects they do, and the construction team at HDA says those volunteers are some of their hardest working.
"There is almost something spiritual about building something," says Scott McReynolds, HDA's Executive Director. "It really fits well with the needs of those in recovery."
When McReynolds approached the Drug Court about further ways to partner, he quickly understood how HDA could help. One of the greatest needs of individuals re-entering society after recovery is employment, so they recruited other partners and launched Hope Building. The job training and placement program is a collaboration between HDA, the Drug Court, Hickory Hills Recovery Center, Hazard Community and Technical College, and the Eastern Kentucky Concentrated Employment Program. It provides paid on-the-job training, part-time schooling towards a construction technology degree, and the chance to garner a quality job reference. Six trainees at a time will complete the approximately year-long program, with job placement assistance as part of the process.
Research is starting to show what advocates have known anecdotally: having a job makes a significant difference in long-term addiction recovery. Only part of that is financial. For people who have misused substances, the chance to make a positive contribution in their communities can bring healing and instill a sense of purpose. But for those in recovery, the challenge of finding employment is exacerbated. Some lack job skills or good work practices. Many have a criminal record. HDA and its partners hope to create a model of how to help those in recovery re-integrate into society.
In 2017, Kentucky had an opioid overdose rate almost twice the national average, according to the National Institute of Health. Few families are left untouched, and many individuals and organizations want to be part of the solution.
That includes regional non-profit Fahe, a collaborative network of over 50 locally-rooted non-profits, including Housing Development Alliance. After learning about the Hope Building project, Fahe developed a plan to instigate eight such home construction/recovery job training programs in other Appalachian communities. They are in the process of seeking funding for this expansion.
Fahe is currently launching a separate program that offers incentives for employers to hire individuals in recovery in six Kentucky counties. Transformational employment, as Fahe calls it, connects recovering individuals with meaningful work. "We want to partner with employers who are invested in our mission of eliminating persistent poverty and want to be part of social change in their communities," says Jessie Hunt of Fahe. Transformational employers receive financial incentives, including reimbursement for the employee's salary for the first six months, and mentorship opportunities with Rob Perez, a successful transformational employer and owner of DV8 Kitchen in Lexington.
Fahe is partnering with Addiction Recovery Care, a network of 19 treatment centers throughout the region that incorporates workforce training in its residential recovery program. Even with their job training program, the folks at Addiction Recovery have had difficulties placing their graduates in jobs. Hunt says regional employers see the need for this second chance and they often ask her where to start. "First, do not ask applicants their felony history," she says. "Then, hire just one individual who is in recovery."
While the term "transformational" refers to the newly hired employees, the employers just might find themselves transformed as well. A self-proclaimed construction geek who loves to build, McReynolds of HDA has had a shift in focus since working with those in recovery. "A decade ago, I would have said our mission is to build houses. Now, I believe we use the power of housing to transform lives and build a brighter future for the community. Home construction is a tool we use to accomplish a greater purpose."
This article was originally published by The Daily Yonder.
'Like A Flu Shot' For Addiction Crisis: Training High School Students As Recovery Coaches
In Clay, West Virginia, downtown Main Street is maybe a half-mile long.  Amid shuttered storefronts, the two most prominent stores are Family Dollar and the Dollar Tree. 
Like the rest of southern West Virginia, the opioid epidemic has hit Clay hard.
"I would venture to guess that every single student in this entire school has been affected by addiction in some way," said Leslie Osborne, the school counselor. But Clay County, like the rest of the region, lacks resources for mental health services. Despite a desperate need, there are no licensed therapists in the county. And efforts to recruit one have been unsuccessful.
So the school decided to create its own mental health resources. In the form of students.
On the last Friday before Christmas break, the entire junior class graduated from a weeklong "life & recovery coach academy." At the academy, which replaced academic classes for the week, students learned hard skills like how to administer the opioid overdose reversal medication naloxone, as well as softer ones such as asking open-ended questions and listening actively. At the end, they received three college credits and a nationally recognized certification.
Senator John Unger founded the West Virginia Recovery Coach Academy in 2016 and has been leading trainings around the state since then.
"One thing we want to do is look at changing a culture. Not just changing individual lives but changing a culture that transforms lives," he said.
Unger said the goal is to build resiliency within the students themselves, give the kids concrete job skills they can use immediately upon graduation if they choose, and provide the community with more engaged citizens.
"The one thing that we haven't done a good job of in the past is really treating our students like resources. We treat them more like objects or recipients, but not resources. So this is an initiative to really say 'hey – we need everybody's help. We need your help, and we need you to help each other, along with the professionals like the counselors and the psychiatrists and psychologists."
After graduation, two boys hung back while their classmates filed out to lunch. Both had seen people in their lives struggle with addiction.
"You know seeing people in Clay with such bad addictions and stuff, I figured if I could do anything, [I should] be involved and know how to help," said junior Lucas Lynch. For his friend Bryson McGlothlyn, the experience was even more personal.
"For me, it was more of my mom because she's been through it [active addiction] once before, so she told me it was a good experience to have," said McGlothlyn.
McGlothlyn said the training has helped him feel more comfortable talking to those in his life who are struggling with addiction.
"I just feel like I can talk to them easier knowing that there are more people out there that have the same problems. And I feel like more people would help if more people knew about it," he said.
The idea is that by training the junior class, next year the school will have a cohort of seniors ready to mentor incoming freshmen in resiliency.
"We're training them to be advocates and leaders in that area," said Unger.
With 111 juniors now holding the recovery coach certification, this group constitutes the biggest academy Unger has ever run for high school students. But it may not be the last.
"It's like a vaccination for our students," said State Associate Superintendent Kathy D'Antoni.
"In order for them to have a way to fight off an epidemic – and this is basically what it is – whatever skillset, just like a flu shot [or] medicine we can give kids, [let's] arm them, so we can protect them as well as we can."
Officials from the WV Department of Education came to Clay to observe during the week-long academy. D'Antoni said plans are underway to expand the program to other high schools across the state.
This article was originally published by West Virginia Public Broadcasting.
Appalachia Health News is a project of West Virginia Public Broadcasting, with support from Marshall Health and Charleston Area Medical Center.
Experts Say Peer Support Makes A Difference In Recovery
At the Crossroads Recovery Home in Gilbert, West Virginia, the residents — all women — can have as much of a leadership role as the case managers and other staffers helping them.
The women are in charge of maintaining their own 12-bed house. They lead a few of their own classes in a small building next door. They drive each other to off-site meetings for Alcoholics Anonymous and Narcotics Anonymous. One of the Crossroads women is helping a handful of others study for their GED.
"But we also support each other in recovery," said resident Rosa Lovejoy. "The older mentors can help with the newer ones, with their phases in recovery. And if they're just struggling to get used to the new environment, we're here for them, to make that environment more comfortable."
Lovejoy is highlighting something distinctive about Crossroads, and the reason the home receives $120,000 annually in state grants for its 12-bed recovery home. (Crossroads also has a postpartum suite for one mother in recovery and her young children, funded separately by donations.)
Crossroads operates on a peer-supported recovery model. In the world of recovery, research shows that peers can effectively help others remain substance-free for a longer period of time.
Several medical experts have said peer support should be used to enhance other forms of treatment, and it doesn't serve as a replacement. Crossroads Executive Director Angela Sparks says the women who participate are supposed to be substance-free when they arrive.
The peer role hasn't always been a formally recognized one in the recovery and treatment process. But now, more programs — like Crossroads — are incorporating peer support into their day-to-day operations.
Some programs even employ state-certified peers, to coach or mentor people at various stages in the recovery process.
According to the West Virginia Department of Health and Human Resources, as of October, the agency had certified 268 peer recovery support specialists through its Bureau for Medical Services since July 2018. With state certification, these peers can be reimbursed for their work through West Virginia Medicaid.
Some of the Crossroads women, including Lovejoy, are training to become peer recovery support specialists, also called peer recovery coaches.
Of that $120,000 total the home gets in grants, $35,000 is focused on paying for recovery coach classes.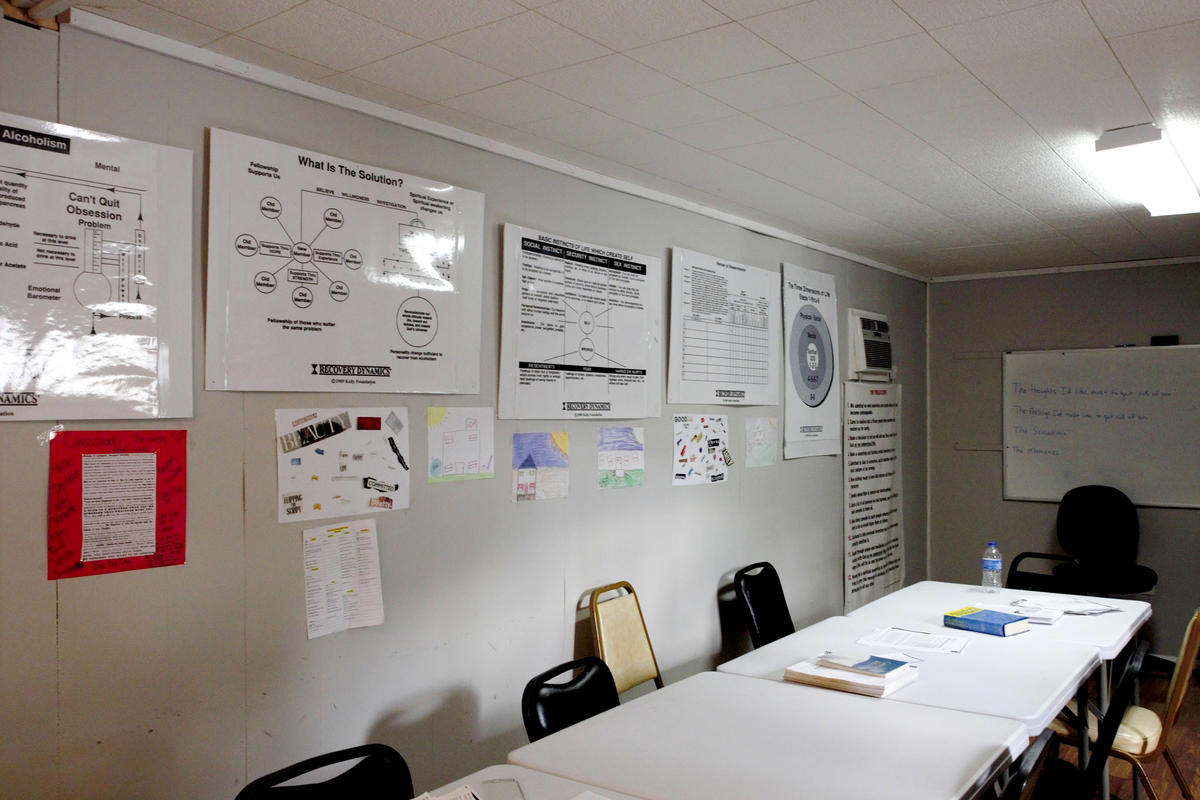 "So that way, if that's something we want to do when we come out, just help others in addiction, like us, [they] pay for our classes so we're able to do that," Lovejoy said.
At the time we spoke with Lovejoy, she and others were working to complete their 40 hours of volunteer field experience. That's one of the state's requirements for certification.
The Value Of 'Lived Experience'
According to Greg Perry, president-elect of the West Virginia Certification Board for Addiction and Prevention Professionals, a peer recovery coach is a person with "lived experience of substance use disorder or another behavioral health condition."
"And that lived experience is their value," Perry said. "You can only get that experience, obviously, by living through it, which means you were in active substance use or another behavioral health condition. And you are now in recovery from that."
He estimated in October that peer recovery coaches working anywhere in West Virginia can make anything from $9 an hour to $15 an hour. 
State-certified peers are sent to all kinds of places, including hospitals, criminal justice centers, recovery homes and behavioral health centers.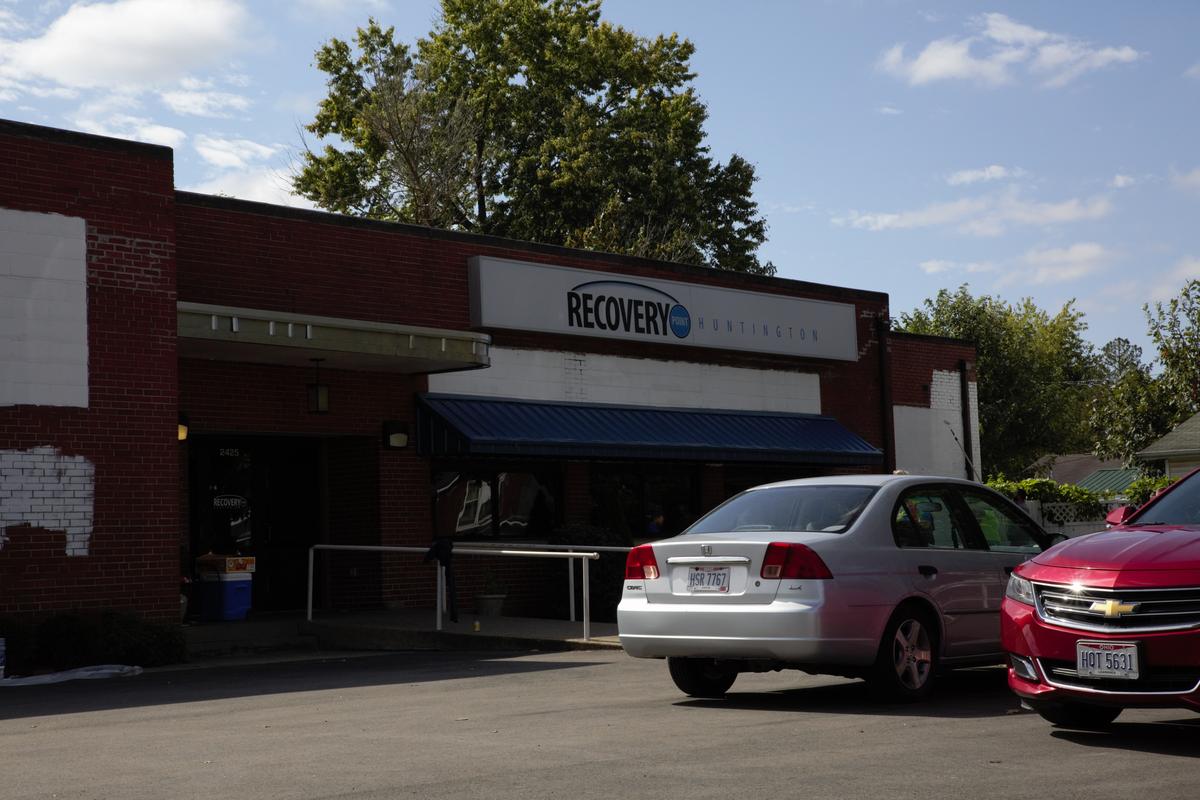 Perry also is the director of recovery support services for a statewide network of homes called Recovery Point, one of the 17 recipients of a DHHR grant in 2018 for peer recovery coaches.
According to Perry, the organization plans to open a licensed behavioral health center, also in Huntington. He says it plans to employ roughly 20 new state-certified peer recovery coaches.
Any time Perry walks through a Recovery Point site, he easily can point out and elaborate upon which phase in the recovery process each room represents.
There are bedrooms filled with bunk beds for when people first enter the program. Later on, they move to larger rooms with more beds and more responsibilities — eventually, clients begin taking classes on recovery topics at an off-site location, which they have to walk about a mile to reach. Perry says when the clients aren't in class and they're not sleeping, they're working in the kitchen or they're helping clean the building.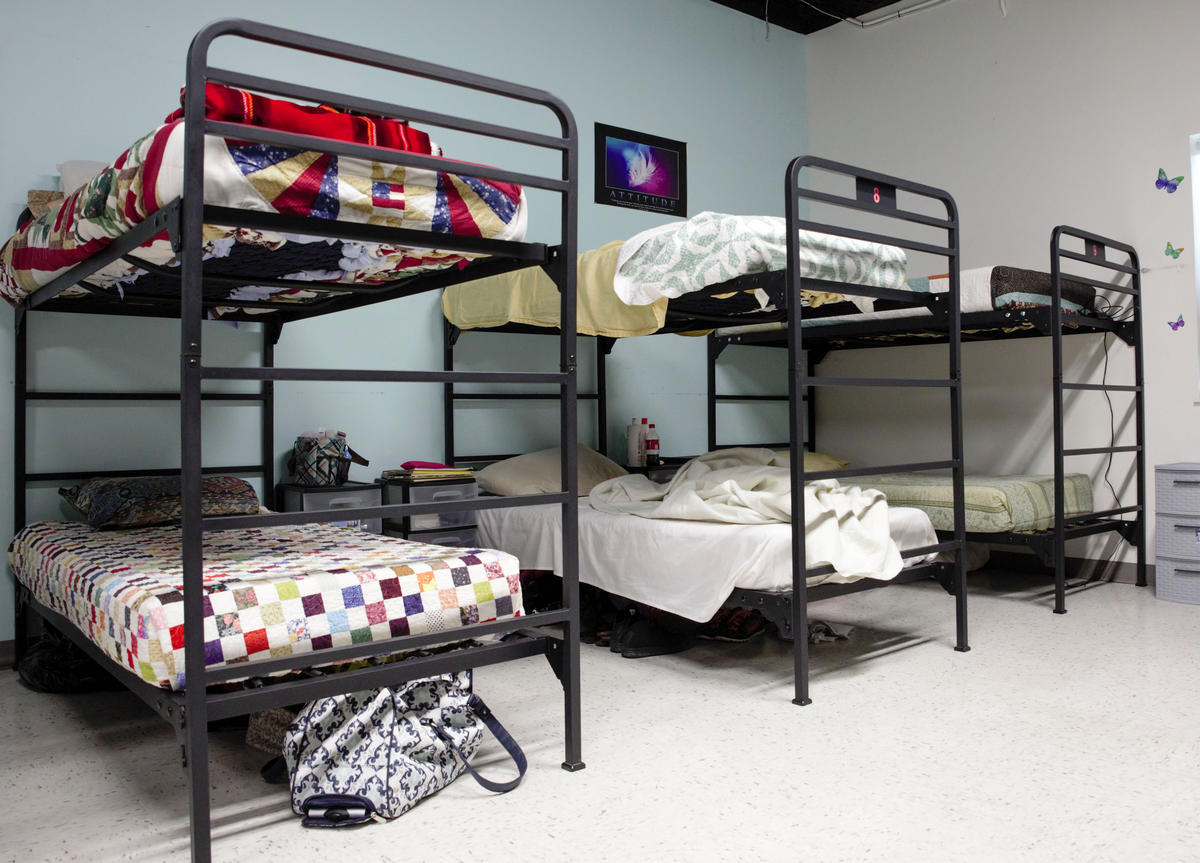 Toward the end of a person's time at Recovery Point, clients can choose to stay in the building and apply to be a peer mentor, a special position in the Recovery Point system that gives senior residents at Recovery Point the ability to coach others.
Years ago, Perry went through these same phases, as a client of the men's center in Huntington. Most of Recovery Point's full-time staffers are graduates of the program.
"Living in an environment like this, where everybody sees everything you do, there's no secrets," Perry said. "There can't be, in a room like that. So, you really learn how to gradually start to learn how to hold yourself accountable, for issues you have."
Peer Support Roles Can Be A 'Transitional Step'
Experts agree that when you're in treatment, or just in recovery, having a peer relationship makes a difference. Dr. Kathlene Tracy directs the psychosocial division within the Addiction Institute at the Icahn School of Medicine at Mount Sinai, in New York.
Tracy says she has worked for years at various academic institutions, studying peer support models and methods. Before Icahn, she did work with groups like the National Institute of Health to develop peer support treatments for veteran populations.
"It allows an abstinence-based relationship to occur, at a time when the person may be at limited access to relationships," Tracy said of peer support. "In addition, you're taking somebody who has been through recovery themselves, and knows that system, who is particularly in tune to the struggles that an individual may be facing at that time, to give them additional encouragement and support."
When done right, Tracy says, peer relationships also can be good for the peer offering support.
"Often it's like a transitional step for them," she said. "So, by being a peer, or a peer specialist, or peer mentor — the term is different things throughout time — an individual has an ability to be seen in helping as a helping professional, and then that opens the door for other jobs and positions."
Back at Recovery Point in Huntington, intake coordinator Mike Robinette spends his days taking phone calls and answering emails from people interested in entering the program.
"That takes up every moment of my day," Robinette said. "I'm constantly on the phone with probation officers, parole officers, attorneys, talking about their clients qualify."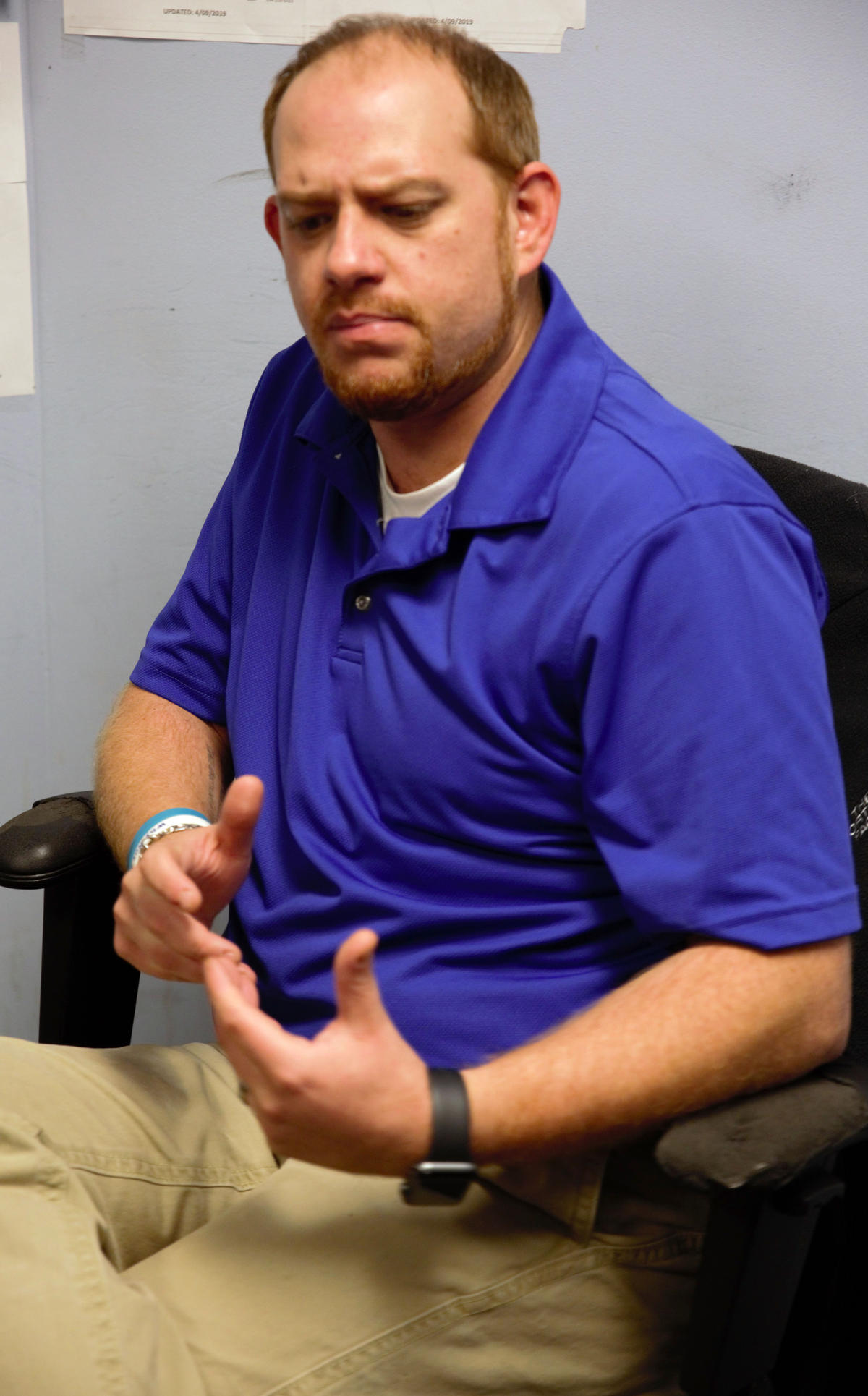 Robinette entered Recovery Point in
Huntington as a client in July 2015. Less than a year later, he decided to become a peer mentor and support the work of other clients who are newer to the program.
He says it was the most fun he had.
"Because I was able to see this program, I was able to see how this program had worked in me," Robinette said. "Because I was able to pass that along to other people."
At the time of our interview, Robinette was preparing for a new job as a transition agent in southern West Virginia. He said he'll be working in Logan county, where he grew up.
"After four-plus years of sobriety, I feel like it was God telling me it's okay to go back now and be a part of something in the coalfields," Robinette said. "And try to help people who are just like me from the same area as myself, get back into life on life situations, and try to be happy, and accomplish the things that I have."
This article was originally published by West Virginia Public Broadcasting.
ARC Awards Grant To Help Pave Road To Addiction Recovery
This article was originally published by Ohio Valley ReSource.
The Appalachian Regional Commission has awarded a major grant to what it calls an innovative pilot program for a region hit hard by the addiction crisis. The goal is to help people struggling with addiction get on the road to treatment, recovery and – ultimately – employment.
People with substance use disorders can have trouble getting to addiction treatment, long-term recovery programs and job opportunities if they don't have access to reliable transportation, especially in rural areas.
ARC Federal Co-Chair Tim Thomas was in Huntington, West Virginia, Tuesday to announce a grant of more than $215,000 to a pilot program to connect people with rides to important appointments.
"This is a big barrier to recovery for those that have begun that journey," ARC Federal Co-Chair Tim Thomas said. "We've got to remove barriers like this."
The ARC recently went on a listening tour around Appalachia to learn about the barriers to addiction treatment and long-term recovery. The lack of reliable transportation came up at each stop.
Mobility Advisors
The Appalachian Transportation Institute at Marshall University and the Community Transportation Association of America will work with key partners to implement the program.
Three of the main components of the program are expanding mobility options, subsidizing rides and training local addiction treatment providers to be mobility advisors.
"They're going to sit down with each person that they're working with and instead of just saying 'Okay, here's your next appointment. We'll see you there.' They're going to say, 'Your next appointment is in two weeks, let's get you a ride scheduled so we'll see you there,'" Appalachian Transportation Institute Director of Marketing Tricia Ball said.
The rides will not be limited to treatment or recovery services. It will include transportation to legal appointments, education programs and job opportunities.
The ultimate goal is to help those with substance use disorders return to the workforce and contribute to the ARC's mission of economic development.
The infrastructure of the program is still being developed, but it will involve mobility advisors coordinating with community volunteer driver programs, public transportation and the ride-hailing company Lyft, depending on where the person is located.
Most of the ARC's grant will be used to subsidize rides, according to Ball.
Data-Driven
Another major component of the program is collecting data and documenting both the successes and challenges.
The ARC is interested in gathering this data in hopes that it could help develop more programs across Appalachia.
"We want to see what works," Thomas said. "What subject set of individuals seem to be the ones to benefit most from this type of service? What aspects of the service maybe don't turn out to be productive? We need to know both of these things."
Thomas said Huntington is an appropriate location to experiment with this innovative program, given the proactive approach the city has taken.
Huntington had some of the nation's highest rates of fatal drug overdoses during the height of the opioid crisis, drawing national attention in 2016 when it responded to 26 overdoses in just four hours.
The city since then has implemented a number of evidence-based strategies that seem to have found early success. Fatal overdose numbers dropped from 174 to 64 over the course of one year, according to city data.
"Often times people will come into Huntington … and will try to say that we are in the community that is the epicenter of the epidemic, or the epicenter of the problem," Mayor Steve Williams said. "We like to say that we're the epicenter of the solution, a 'City of Solutions.'"
The pilot program is scheduled to begin sometime later this year and last 12 months.