Fact-check: Did Donald Trump win West Virginia by 42 points in 2016?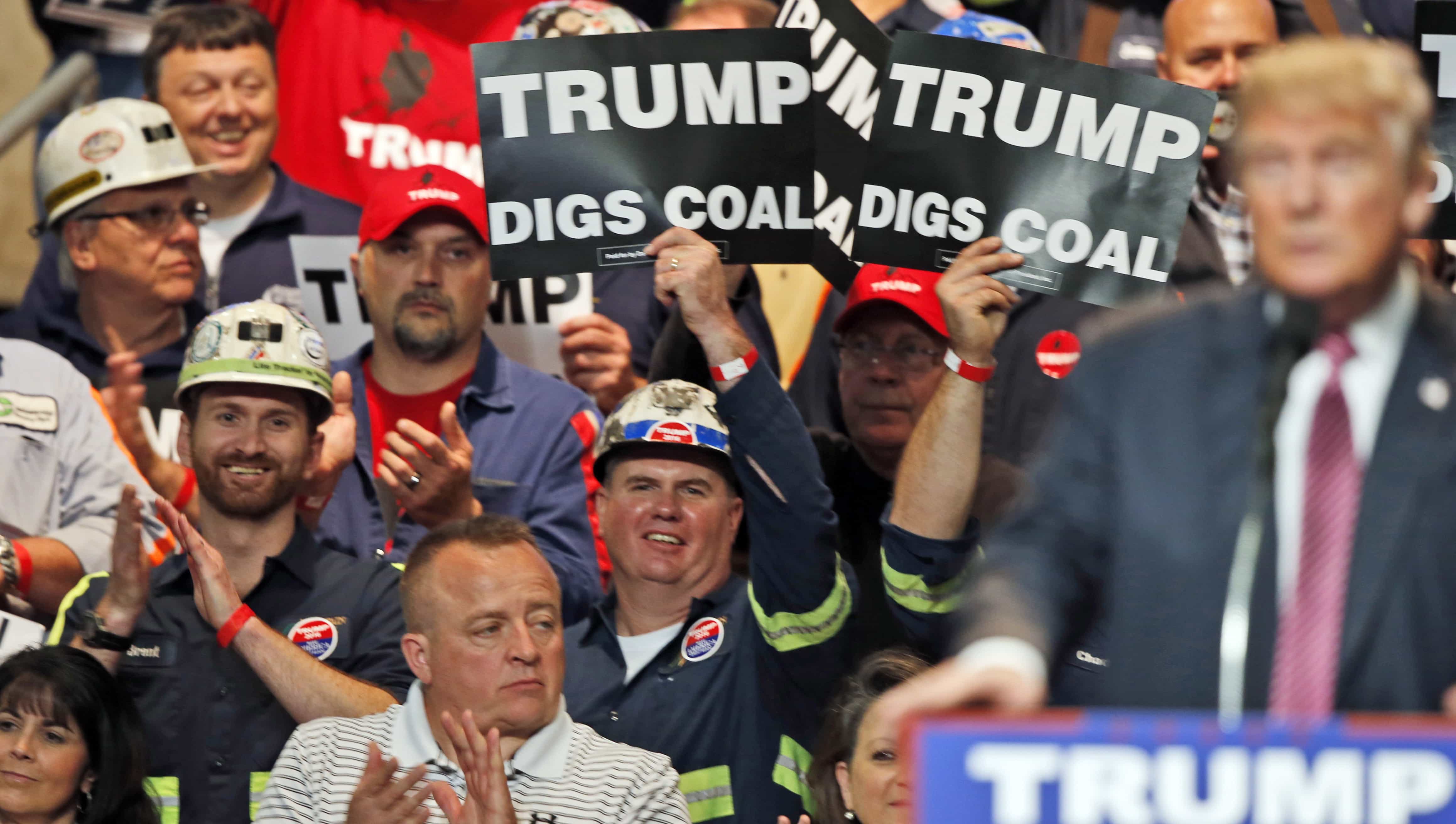 At a rally in neighboring southwestern Pennsylvania, President Donald Trump trumpeted his wide 2016 presidential election victory in West Virginia.
"I won that one by 42 points — 42 points — West Virginia," Trump said during his Aug. 13 speech in Monaca, Pennsylvania.
That would be a big win. Was his victory in the Mountaineer State that large?
The Trump campaign pointed us to the official results on the website of the West Virginia Secretary of State, which showed that Trump won West Virginia with 68.63 percent, outpacing his Democratic opponent, Hillary Clinton, with 26.48 percent. The difference is 42.15 percentage points — right in tune with what Trump said.
West Virginia accounted for Trump's second-widest margin of victory of any state, following Wyoming at 46.29 percent.
The 2016 results were also the latest sign of the widening of the gap between Republicans and Democrats in West Virginia, a state where Democrats were once dominant.
The following chart shows how Democratic margins of victory in the presidential race shrank between 1992 and 1996, then produced increasingly large Republican margins of victory.
As the Pew Research Center has noted, this pattern has coincided with the increasing alignment of national partisan politics on certain demographic factors, notably race, educational attainment and population density.
Geographical areas that are less racially diverse, less college-educated and more rural have swung hard to the Republican Party in recent years, especially in federal-level elections. When Governing magazine recently analyzed all 50 states on these three demographic factors, it found that West Virginia had the strongest Republican-aligned demographics of any state.
Our ruling
Trump said that in the 2016 presidential election in West Virginia, he won by 42 points. He's correct; in fact, it was his second-widest margin in any state, trailing only Wyoming. We rate the statement True.
This article was originally published by PolitiFact.
Is West Virginia Short of 20,000 Skilled Workers its Economy Needs?
Is West Virginia falling significantly behind in the job skills required for today's economy? West Virginia University President E. Gordon Gee said so in an address to students at Musselman High School in Berkeley County.
"In West Virginia, we have 20,000 jobs in which we don't have skilled workers," Gee told students at the high school.
Gee's office told PolitiFact West Virginia that they could not point to the original source of the statistic. However, we were able to reverse-engineer data that falls short of Gee's number.
This gets a bit complicated, so bear with us. Here's the overall concept. First, we'll estimate the total number of job openings in West Virginia that require skilled workers. Then we'll look into how hard these jobs are to fill, based on the educational shortcomings of West Virginia's workforce.
How many job openings in West Virginia require advanced skills?
On the job openings side, Brian Lego, a research assistant professor at WVU's College of Business and Economics, suggested we look at data produced on an experimental basis by the Bureau of Labor Statistics, the federal government's chief agency for employment statistics.
This data in question is a spinoff of the longstanding Job Openings and Labor Turnover Survey, which produces monthly estimates of job openings, hires, and employee departures on a national basis. For several years, the bureau has also produced an experimental study of this data on a state-by-state basis, which is what Lego was referring to.
We looked at the most recent data for West Virginia, which covers the first six months of 2019. We found that in each of those six months, West Virginia had 38,000 job openings. (BLS acknowledges that this is an estimate, though the agency says it isn't sure what the margin of error is.)
This 38,000 figure represents all job openings in West Virginia — not necessarily those requiring advanced skills.
However, we found a way to estimate the percentage requiring advanced skills, using data in a report published by Georgetown University's Center on Education and the Workforce. The report is from 2010, but it offered projections for the share of jobs in every state by 2018 that would require various levels of educational attainment, so it should offer a rough guide.
For West Virginia, the report said, 9% of jobs would be open to high school dropouts, 38% would require a high school degree, 12% would require some college but not a college degree, 15% would require an associate's degree, 17% would require a bachelor's degree, and 8% would require a master's degree or higher.
All told, the Georgetown data sees 25% of jobs requiring a bachelor's degree or higher. And 25% of 38,000 job openings in West Virginia works out to 9,500 job openings in any given month that require a bachelor's degree.
How big are the educational shortcomings in West Virginia's workforce?
This 9,500 figure refers to the number of high-skill job openings in West Virginia — the demand side. What about the supply side — the share of West Virginia workers who have the necessary skills to fill those jobs?
We found a way to estimate that number, too.
Statistics from the U.S. Education Department show that in 2016, about 21% of West Virginians age 25 and up had a bachelor's degree. Meanwhile, in October 2019, West Virginia had 38,052 unemployed workers.
If one assumes that this group of unemployed workers is a representative cross-section of the state's educational attainment patterns, this would mean there are just under 8,000 unemployed West Virginians who could fill a job requiring a bachelor's degree. But in reality, better-educated workers tend to be more likely to be employed, meaning the actual number of unemployed workers with a bachelor's degree is probably well below 8,000.
Tara Sinclair, a George Washington University economist, told PolitiFact West Virginia that a reasonable guess is probably 4,000.
So of the 9,500 West Virginia job openings requiring a bachelor's degree, qualified workers who are currently unemployed could potentially fill a 4,000 of those. That leaves 4,500 bachelor's-level jobs unfilled.
And that's quite a bit smaller than Gee's 20,000 figure.
Some caveats
We should emphasize that our estimates involve a lot of moving parts, each with a source of statistical error.
We also focused on bachelor's-level jobs. If we were to instead define "skilled" positions as requiring at least some college experience, the supply of skilled jobs could go as high as 53%, according to the Georgetown University data. That works out to 21,400 jobs requiring advanced skills, rather than 9,500. Using this broader number could make Gee's figures closer to accurate.
Finally, we should note that in the Georgetown comparison, West Virginia ranks 51st in the nation — dead last among the 50 states and the District of Columbia — in the percentage of jobs requiring advanced skills. So West Virginia may require advanced skills to fill many of its jobs, but the pressure to fill these advanced-skill jobs is weaker in West Virginia than it is in every other state.
"Gee's argument could have been better supported by focusing on the deficit of college educated workers in West Virginia compared to the rest of the U.S. — 21% versus 31%," Sinclair said. "That seems to be a really big problem. That might actually be the driver of West Virginia's ranking in terms of jobs requiring college degrees: Employers go where the workers are."
Our ruling
Gee said, "In West Virginia, we have 20,000 jobs in which we don't have skilled workers."
Gee has put his finger on what experts say is a genuine concern for West Virginia — the mismatch between educational attainment and skills requirements for job openings — but he's overestimated the specific figure.
He was unable to back up this figure, and when we tried to come up with an estimate, we found that the number is probably around 4,500.
We rate his statement Half True.
This article was originally published by PolitiFact.
Does China Burn Seven to Eight Times as Much Coal as the U.S.?
When former New York City Mayor Michael Bloomberg announced that he would spend $500 million on a Beyond Carbon initiative, West Virginia Gov. Jim Justice joined energy industry representatives at a press conference to denounce the effort.
The project Justice criticized aspires to retire all coal use by 2030 while securing an economic future for fossil fuel-producing communities.
In an op-ed announcing the effort, Bloomberg — who has since entered the Democratic presidential primary race — touted an existing partnership between Bloomberg Philanthropies and the Sierra Club that has "shut down 289 coal-fired power plants since 2011."
The new initiative would build on this effort and also "work to stop the construction of new gas plants," Bloomberg wrote. "By the time they are built, they will be out of date because renewable energy will be cheaper."
Justice, a Republican whose state is a leading producer of coal and other carbon-based energy, said the effort could be "catastrophic" to West Virginia. (Justice himself also inherited a coal mining business and continues to own several mines.)
At one point in the press conference, Justice was asked about the environmental impacts of fossil fuels. He responded by questioning the value of the United States cutting back if China is using carbon-based fuels on full blast.
"How does it make sense that in China, they're burning seven to eight times the amount of coal that we're burning in the United States?" Justice asked.
Is his comparison accurate? Justice's ratio is not far from the reported data, though it's worth noting that the reason for the discrepancy has a lot to do with the fact that China has a much larger population. (His office did not respond to inquiries for this article.)
A look at the numbers
There's little doubt that, as a whole, coal consumption by China is several times larger than it is in the United States.
According to the 2019 BP Statistical Review of World Energy, China's coal consumption was 1.91 billion tons of oil equivalent in 2018. In the same year, the United States consumed 317 million tons. That means China consumed about six times as much coal as the United States did.
Another data source, the Global Energy Statistical Yearbook 2019 published by Enerdata, an energy intelligence and consulting firm, found a nearly identical difference — China was about six times larger than the U.S. in consumption of coal and lignite (a low-efficiency type of coal).
Justice didn't mention it, but another country, India, also consumes more coal than the United States does — 452 million tons of oil equivalent, according to the BP review.
What about population?
We'll note that the difference in coal consumption between China and the United States is partially explained by the two countries' differences in population — China has about 4.3 times higher in population than the United States.
However, adjusting for population is less significant in this case than it often is, given Justice's point.
Justice is arguing that greenhouse gases do not stay within national borders; they spread everywhere in the atmosphere. So any decreases in carbon emissions made in the United States will be a relatively small factor compared to China in the global context — regardless of which country has a bigger population.
Indeed, according to the BP data, China accounted for just over half of the world's coal consumption in 2018. In addition, the same data shows that China's coal consumption increased by 1.8% between 2007 and 2017, whereas U.S. coal consumption declined by 4.9%.
Unlike the United States, which has a lot of economically competitive natural gas under development, China doesn't, said Anna Mikulska, a nonresident fellow in energy studies at the Center for Energy Studies at Rice University's Baker Institute for Public Policy.
"China has to go against the economic calculus to retire at least some of the coal if it wants to lower emission levels," she said. "This is why we see China still consuming so much." Mikulska added that the current trade friction with China "does not help, as China turns more to domestic or regional resources due to energy security concerns. One of them is coal."
That said, the Paris-based International Energy Agency, has projected that China's coal consumption will indeed decline over the next two decades. "This new direction will have consequences that are no less significant for China and the world than its earlier period of energy-intensive development."
Our ruling
Justice said that China today is "burning seven to eight times the amount of coal that we're burning in the United States."
The actual number is a little bit less than that — China consumes roughly six times the amount of coal as the United States does. But that's pretty close. We rate the statement Mostly True.
This article was originally published by PolitiFact.
Shelley Moore Capito Correct on Suicides in West Virginia
Sen. Shelley Moore Capito, R-W.Va., recently sought to raise awareness about suicide, focusing on its toll in her home state.
"On average, one person dies by suicide every 22 hours in West Virginia," Capito said in a Facebook post on Sept. 19.
She went on to note her efforts with two Senate colleagues, Cory Gardner, R-Colo., and Doug Jones, D-Ala., to pass the Suicide Training and Awareness Nationally Delivered for Universal Prevention, or STANDUP, Act, which would expand efforts to educate young people about mental health resources.
Is Capito correct about the frequency of suicide in West Virginia? Capito's office did not respond to an inquiry for this article, but we were able to find statistics that backed up her assertion.
We turned to the Center for Disease Control and Prevention's WISQARS database, which includes data as recently as 2017. The database shows that there were 393 suicides in West Virginia.
With 8,760 hours in a year, that comes out to about one suicide every 22.3 hours, making Capito's statistic correct.
According to the American Foundation for Suicide Prevention, suicide is the 10th most common cause of death in West Virginia. It ranks even higher for certain age groups, ranking second among those between 15 and 34 and fourth among those between 35 and 54. On a per capita basis, West Virginia has the eighth-highest rate of suicide in the nation.
We checked with both the American Foundation for Suicide Prevention and University of Denver associate professor of social work Stacey Freedenthal, a specialist in suicide, and both agreed that there are no complications with the data that would undercut Capito's statement.
Our ruling
Capito said, "On average, one person dies by suicide every 22 hours in West Virginia." This statistic is backed up by official data from the Centers for Disease Control and Prevention, so we rate her statement True.
This article was originally published by PolitiFact.