One Piece at a Time: Cleaning Trash from W.Va Waterways
It is a hot, muggy day along the Monongahela River. Zoma Archambault is standing on a small, sandy beach about 10 minutes from Morgantown. It is one of the few along the river, as much of it is covered in thick brush and mud.
The beach used to be an informal camp spot. Zoma found it abandoned, with trash covering the ground in every direction. It is almost all picked up now, aside from some muddy clothes, a couple hypodermic needles and roof shingles.
The nearby stream flowing into the river erodes the dirt, exposing some of this older trash.
"Yeah there's still trash, it'll be eroding out for years," Zoma says.
Toxic to Aquatic Life
In Morgantown abandoned campsites along the rivers, like the one described, are common. Over time the left-behind trash can break down and contaminate river ecosystems, which is something that concerns Zoma. He has volunteered the past year and a half cleaning these trash sites.
"I strongly don't believe in, of course, microplastics in the ocean – we have a tremendous problem in the world because of it," he says.
Microplastics are the size of a sesame seed and nearly impossible to clean, according to the National Oceanic and Atmospheric Administration (NOAA), and they are toxic to aquatic life and birds. Microplastics can form from littered plastic products, like a grocery bag, that over time, break down into smaller and smaller pieces, eventually getting washed into our waterways. 
"Yeah, that stuff does not belong in our rivers," Zoma says.
The sites Zoma cleans are usually hidden from the bike path, so they can go unnoticed. To get to this particular site Zoma bikes about 10 minutes from Morgantown on a paved trail, but the last stretch he points his bike down a narrow, veiled path leading into dense, green bushes.
Zoma
Zoma is unassuming. He is lanky and tall – he stands almost 6 and a half feet. He has a gray goatee and a head full of salt and pepper hair. He typically wears a pair of jeans cut off at the knees, with a loose cotton T-shirt.
Zoma is always observing. While he is cleaning up abandoned camps, he often thinks about who the people were, why they had the things they did.
"The human memories and such. There's some reason people carried that object with them," he says.
But it is also personal for him. In the past 10 years Zoma says he has lost 25 friends to drugs and suicide, and so cleaning these sites, where people were likely suffering from addiction, is a healing process.
"So to help I think erase that so it's not out here is also a huge reason. Just try to clear it up. And I like these places," Zoma says. "West Virginia is a beautiful place and it doesn't deserve to be trashed this way."
Zoma grew up on the West Coast, but he settled in Morgantown 21 years ago.
More Needles
Zoma has seen the city grow, and in the past couple of years he has noticed more trash, and a different kind of trash.
"These sites used to be full of beer bottles, and the transition is now to needles," Zoma says.
And this is a trend other organizations have noticed too, Jonathan Suite operations manager for Friends of Deckers Creek, says. Deckers Creek is an almost 25-mile-long tributary of the Monongahela River that flows through Morgantown.
"We come in with tongs and a sharps container and get rid of them. They are definitely common and it's really unfortunate," Jonathon says.
Friends of Deckers Creek dedicates a lot of time to cleaning up trash along the waterway. Just a couple weeks ago Jonathan cleaned up a site with a mattress pad, clothing and blankets. He says the trash is a river ecosystem hazard.
"It's bad for all the aquatic life in the creek. And when you have a clean area I feel like people are less likely to dump there, as opposed to if it's already a really nasty, trash-filled area," he says.
And that is Zoma's thinking too. The first site he cleaned was in Morgantown at Whitmore Park last year. There were over 300 hypodermic needles, three tents, several futons and other trash completely covering the grass.
"I remember returning like two weeks later just hoping somebody else had cleaned this up and nobody had," Zoma says.
The Clean-up Process
Zoma attached a small trailer to his bike – which he calls 'Big Red' – and loaded up shovels, rakes, garbage bags and a machete for the thick brush. He began cleaning Whitemore Park a year and a half ago.
"We had to load stuff up on tarps to drag it out, like all the bedding. We couldn't put that in bags, and we just made giant mounds of clothes. Mounds of clothes. It was amazing," he says.
A lot of the sites Zoma cleans alone, but friends occasionally come and help haul the trash bags away.
Zoma uses 33- and 55-gallon size trash bags. Just this year he has filled 100.
He likes to document the sites, taking before and after photos and videos and posting them to Facebook.
Barbies, Teddy Bears, Chocolate Milk Bottles
Zoma especially likes to document sites when there is an excessive amount of trash or unique items left behind, which was the case with his most recent clean-up site.
It is still on the Monongahela River, and it is roughly the size of half a football field, with overgrown trees creating almost a roof.
"Well this place is not perfect yet, but I tell you one thing is missing and that's 25 bags of trash," Zoma says.
There is still some work to do. But Zoma has gathered all the remaining trash into piles.
There is a Disney princess backpack, a Barbie with blonde hair, a chocolate milk bottle, Haines underwear and a moldy, medium-sized, brown teddy bear.
"I'll remove it sooner than later, or later than sooner. Not too sure," he says.
There were 40 teddy bears that Zoma already threw out.
Originally he had only found two hypodermic needles at this site, but as he is talking Zoma uses a stick to rustle around in the dead leaves. Ultimately he finds 18 needles within one square foot.
"Well, so much for that," he says.
Zoma uses the chocolate milk bottle to carry the needles out. 
Cleaning the Water
Primarily Zoma picks up trash on the banks of the rivers, but he does do some trash clean up in the water. He has focused mostly on Decker's Creek.
"It amazes me just how shredded the plastic bags will be. It's already working its way to be microplastic and it hasn't even hit the major rivers yet," Zoma says.
He has found bicycles, grocery carts, parts of bridges, furniture, old railroad ties and a lot of old coal slag.
Zoma uses a four-prong hook to pull out larger trash. The hook is about the size of a tennis ball.
"It's a grappling hook. It's what I use to pull grocery carts out of the river," he says.
But for smaller, magnetic trash, he uses a powerful magnet that is about the size of a grapefruit.
He walks along the banks of Decker's Creek with the magnet. A big thunderhead is rolling in.
The magnet is attached to a long rope, which allows him to throw it in the river and reel it back in. Kind of like fishing.
"This is 65 feet of rope – I can throw the whole thing," Zoma says.
The water is dark, and Zoma has cleaned up this location before. He does not expect to catch anything.
"There's something on there. It's a steel ring of some sort," Zoma says.
He puts the little bit of slag and metal he finds in a yellow bucket. He'll throw it out later. 
There are hundreds of miles of waterways just in Monongalia County. Trash could potentially be everywhere. Even the spots Zoma has cleaned, eventually get re-trashed — he says it is almost expected.
But, standing back on the banks of the Monongahela River, at one of his cleanup sites, Zoma smiles, looking at a beach that was once covered in trash. He is proud of the work he has done.
This story is part of a recent Inside Appalachia episode exploring some of Appalachia's most unique destinations, on the water and beneath the water. 
This article was originally published by West Virginia Public Broadcasting.
Ohio Valley Residents Among Millions In America Lacking Access To Clean Water, Sanitation
This article was originally published by Ohio Valley ReSource.
Communities across the Ohio Valley are among an estimated 2 million Americans that do not have consistent access to clean drinking water and basic indoor plumbing, according to a report published in November by two nonprofits, DigDeep and the US Water Alliance.
The report titled, "Closing the Water Access Gap in the United States," synthesized data collected by the U.S. Census Bureau, including its American Community Survey, to identify six areas of the country where access to clean water is lagging. That includes some communities in Appalachia, which the report lists among six "hot spots" for inadequate water access.
"From all the data sources we looked at, we know at least 2 million people in the U.S. don't have access to running water or a working flush toilet," said George McGraw, founder of DigDeep. "But we also know because of some errors with the census that the number is probably much higher than that."
The analysis finds people of color, low-income individuals living in rural areas, tribal communities, and immigrants are more likely to go without running water and basic indoor plumbing. Native Americans are 19 times more likely than any other group to have trouble accessing clean water.
The report states there are multiple reasons why some communities find themselves lacking access to clean water. One is a steep decline in federal funding for water infrastructure. Historical discrimination has also played a role.
In the 1980s, the federal government started placing more emphasis on loans over grants for water infrastructure. As a result, federal funding for water and wastewater systems has dropped from 63 percent in 1977 to less than 9 percent today.
Nationwide, the report finds the number of Americans without access to complete plumbing has declined. Between 2000 and 2014, those without water access dropped from 1.6 million to 1.4 million. However, the rate of decline has fallen in recent decades. For example, between 1950 and 1970 the percentage of the population lacking complete plumbing dropped from 27 percent to 5.9 percent.
"This suggests that the remaining communities lacking access face particularly entrenched challenges," the report states.
Further analysis of state-level data by researchers at Michigan State University showed that while states made improvements, others including, Delaware, Idaho, Kansas, New Hampshire, Nevada, South Dakota, and Puerto Rico, saw the number of people without access to clean water grow.
"We're worried in those places fewer people might have access to a working tap or toilet tomorrow than they do today," McGraw said. "That's a very alarming trend in a country that is as prosperous and has been as successful as we in extending services to all."
West Virginia
In McDowell County, West Virginia, for example, the authors highlight three communities where crumbling infrastructure and population loss are creating a perfect storm.
In the town of Keystone, for example, the water system was constructed decades ago by coal companies that no longer exist. Today, the community, which stopped funding its police department in 2018, does not have the tax base to repair the leaking pipes.
In the nearby community of Mile Branch, many residents are not connected to any type of water system. Instead, some collect water from streams or other natural sources.
But the springs and wells many people used to gather drinking water may not be safe either.
When households are not connected to sewer systems or septic systems, waste is sometimes piped straight into nearby streams. The practice, also known as straight piping, can contaminate water used for drinking and cause health problems including staph infections and gastrointestinal issues. Water sampling from 2012-2014 in southeastern Kentucky found as many as 64 percent of the sites exceeded the Environmental Protection Agency threshold for E. coli bacteria.
Despite the region's challenges, the report's authors also highlight solutions across Appalachia that boost access to clean water.
For example, in McDowell County, the authors profiled the Five Loaves & Two Fishes food bank, which has become the de facto source of bottled water across the county. As a trusted organization within the community, the food bank is able to not only deliver drinking water, but check in with elderly and other vulnerable residents.
In southeastern Kentucky, the faith-based organization Red Bird Mission has installed a water filling station. The authors note that some residents fill up at night to avoid being seen, "an indication that life without water access still carries a stigma."
Radhika Fox, CEO of the US Water Alliance, said the prolonged failure to provide water and sanitation access in Appalachia is, in part, a question of the country's priorities. She said while for most communities local taxes can fund maintenance and service, in impoverished, rural communities that may not be the case.
"We need to honor communities that live in rural America," Fox said. "And when maybe the math might not always pencil out, we need to figure out how we utilize public investment to build that water safety net for those communities as well."
W.Va. Democratic Lawmakers Announce Plans To Tackle PFAS Chemicals
A group of Democratic West Virginia lawmakers announced plans Monday to introduce legislation to regulate a group of toxic, man-made fluorinated chemicals.
Del. Evan Hansen, who represents most of Monongalia County, and a group of colleagues, said the "Clean Drinking Water Act" would address the release of per- and polyfluoroalkyl chemicals, also called PFAS chemicals. The class of chemicals includes C8, or PFOA, the chemical produced and dumped in the Parkersburg area for decades by chemical giant DuPont.
The effect of the chemical and related events were recently brought to the silver screen in the blockbuster film, "Dark Waters" starring Mark Ruffalo and Anne Hatheway.
Hansen said the bill, which is still being drafted, would require facilities that use or produce PFAS chemicals to disclose that information to the West Virginia Department of Environmental Protection. The DEP would be required to monitor these facilities and regulate their discharges of these chemicals into waterways. Currently, PFAS chemicals are unregulated nationwide.
The second component of the bill would set legally-enforceable drinking water limits, or Maximum Contaminant Levels, for some PFAS chemicals.
The legislation comes at a time when both U.S. Environmental Protection Agency and state regulators are increasingly testing for, finding and seeking regulations for these so-called "forever chemicals."
In recent years, a growing number of communities have detected PFAS in their drinking water. The chemicals are widely used including in everything from pizza boxes to flame-retardant foam sprays and in nonstick and stain-resistant products like Teflon.
Ohio announced in September it would begin monitoring water systems near known contamination sites. In Berkeley County, federal researchers are currently studying residents' exposure to C8 after it was found at a water treatment plant in Martinsburg. The contamination was likely due to groundwater contamination from the Shepherd Field Air National Guard Base, which used PFAS-laden firefighting foam.
Research conducted in the Mid Ohio Valley after DuPont's settlement over C8 contamination linked chemical exposure to six diseases including thyroid disease, as well as testicular and kidney cancer.
"I think we owe it to the citizens of West Virginia, especially considering we were ground zero for the impacts of many of these chemicals, we owe it to the people of West Virginia to take matters into our own hands," Hansen said.
The EPA is currently weighing how to set drinking water standards for PFOS and PFOA. A handful of states have set their own limits, much lower than the EPA's current health advisory of 60 parts-per-trillion.
Hansen said if the bill is passed, West Virginia would examine both EPA's decisions and state actions. He also noted he hopes to put safeguards in the legislation so that if contamination is found, rate payers and cash-strapped municipalities won't be on the hook for paying for cleanup.
"What we are going to get out of this is the chance of transparency," said Angie Rosser, executive director of the West Virginia Rivers Coalition, which supports the bill. "Companies will have to tell us what is in our water."
Rosser and others said clean water is key to boosting the state's economy.
"The people of our state know polluting industries drive away clean industries," said Del. John Doyle, a Democrat from Jefferson County.
When asked about the bill's chances of making its way through the Republican-controlled Legislature, Hansen said he recognized it could be a tough sell, but said he's open to hearing any ideas from his colleagues across the aisle or other interested groups.
"I don't think clean drinking water is a partisan issue," he said.
During the 2020 session, Hansen, who is an environmental scientist, said he also intends to reintroduce a proposed amendment to the state's Bill of Rights that would enshrine clean air, water and the preservation of the natural environment as constitutional rights for current and future generations.
The measure was introduced last session and had more than 30 co-sponsors. Two other states — Pennsylvania and Montana — have adopted a similar constitutional amendment. If passed, the environmental rights amendment would serve as a guiding principle for state leaders and regulatory agencies.
This article was originally published by West Virginia Public Broadcasting.
W.Va. Food Bank Trying Out Hydro-Panels For Clean Water Needs
In McDowell County, West Virginia, access to clean water can be a challenge. Aging infrastructure, a shrinking tax base and lack of oversight affect the region's water quality. That is why one community food bank is trying something different, to provide cleaner water to some who are in need.
Earlier this month, the Five Loaves and Two Fishes food bank and outreach center in Kimball debuted its new set of hydro-panels to the McDowell County community.
They are like solar panels, but instead of using sunlight to create electricity, these hydro-panels pull moisture from the air and filter it with sunlight, to produce clean water.
According to information from developer Zero Amounts, each panel can hold up to eight gallons at a time in a mineralized reservoir. How fast the panels gather and filter water depends on how much sunlight is available, and the humidity.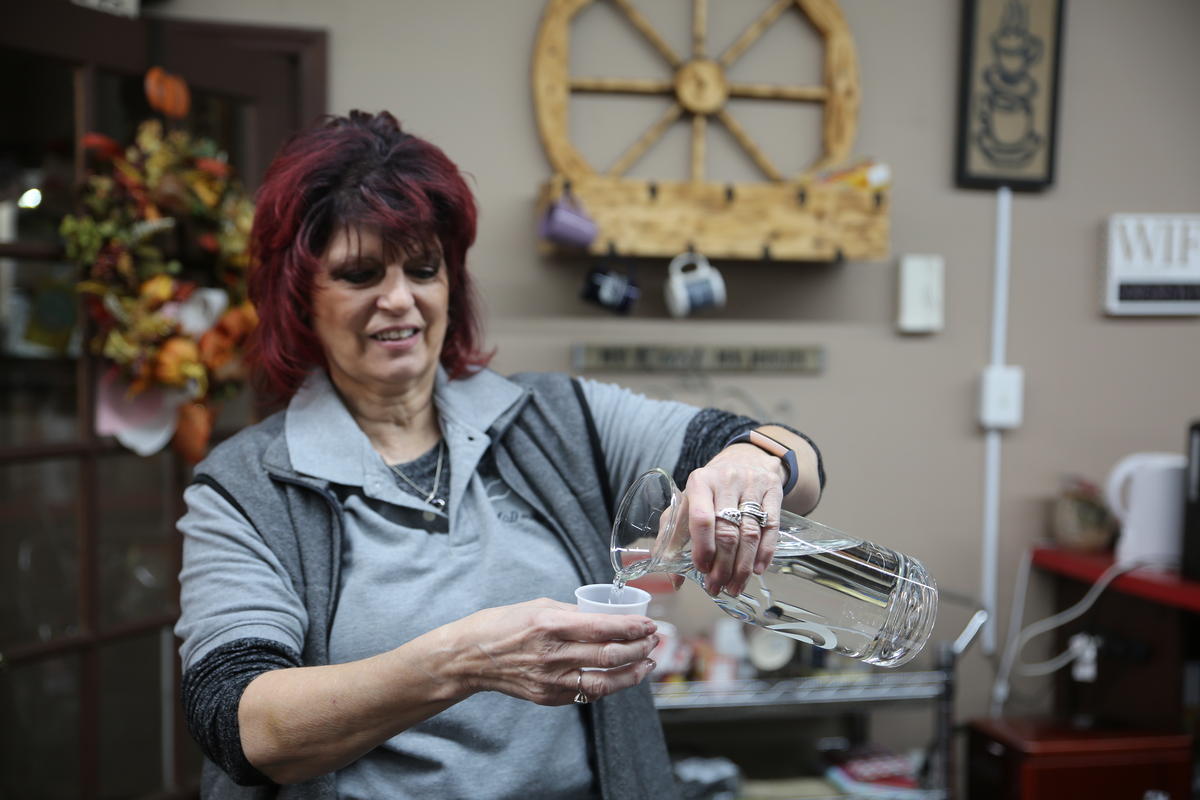 Altogether, food bank director Linda McKinney said her 24 panels should hold 192 gallons at full capacity. That might seem like a lot, but Five Loaves and Two Fishes provides food and other essentials to more than 800 McDowell County families each month. Bottled water is one of their most requested items. 
"There's no way with that amount of panels that we could, you know, supplement everybody in the county with enough water," McKinney said.
"It is a small start, but it's better than no water. That's what I say about food. You know, a lot of times we don't get the healthiest food, and I always tell people [that] in my world, some food is better than no food. You know, it keeps your stomach from growling."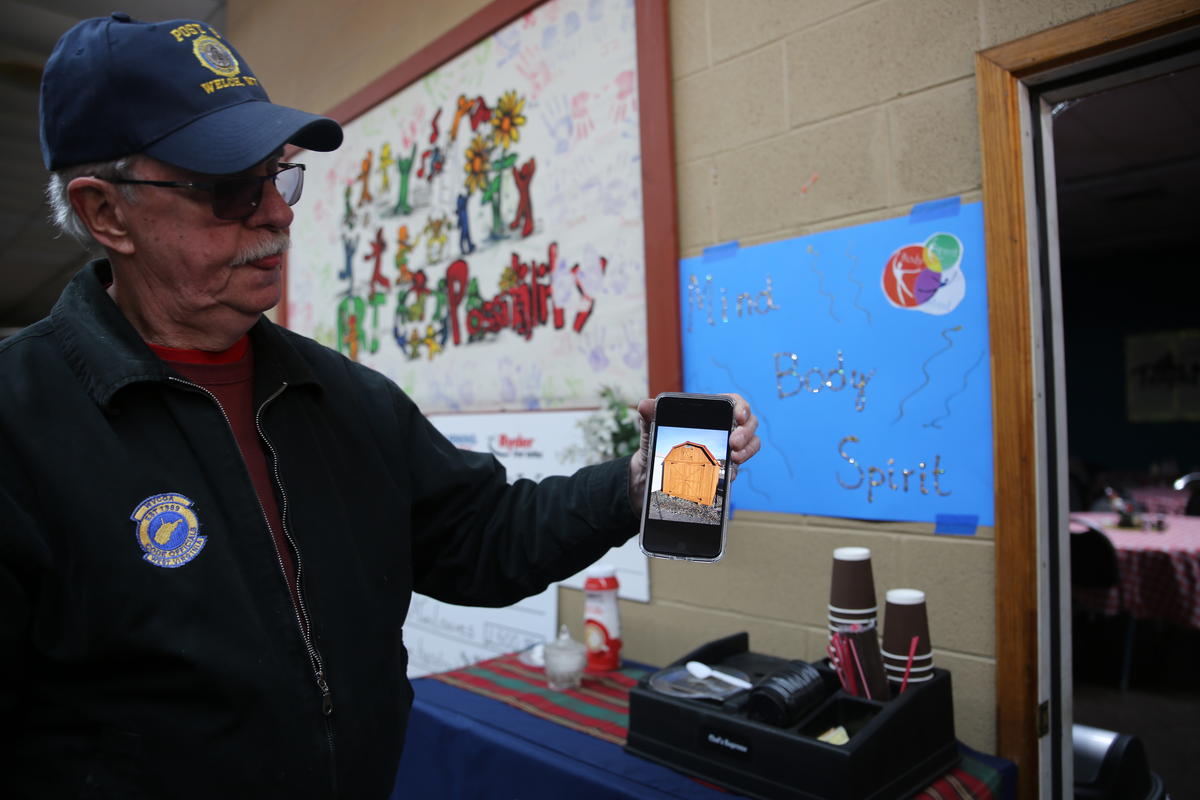 The food bank got the hydro-panels with help from a California-based nonprofit called Dig Deep, which McKinney said visited McDowell County over the summer for a water quality study it released earlier this month.
"Dig deep was here for about a week," she recalled. "And then they went back, and I kept in contact with this lady named Nora Nelson … and then one day she said, 'Hey, I have this great opportunity, I think that would benefit you guys.'"
Dig Deep connected McKinney with Zero Amounts and the one2one USA Foundation, which paid for the panels.
McKinney said she has not had to spend anything on the project herself. She added that she expects it to be fully operational by spring.
She and her husband were installing a shed a few feet away from the panels on Friday, where she will be able to pump water into one-and-five-gallon jugs for distribution.
Contractors still need to install pipes to connect the panels and the pump.
This article was originally published by West Virginia Public Broadcasting.