Mountain Dragon Mazery co-founders Ruthann Smith and Tom Maltby began making honey wine — or mead — more than two decades ago as a way to marry their love of old-world traditions with their love of honey. Five years ago, they opened a tasting room and custom-made micro-factory to produce and bottle nine varieties of mead on a commercial scale. They're part of the fastest-growing sector of the alcoholic beverage industry in the U.S.
"I've been a beekeeper since I was three and alcohol making has always interested me," explains Maltby, who sports a long, grey-streaked beard and brown leather fedora with feathers.
At its core mead is simply water, honey and yeast, mixed together and left to ferment, but the beverage can take many forms. Fruit, spices, rose petals and more can be added to create different varieties. Mountain Dragon Mazery, for example, specializes in a style of mead that is dry, which makes for easy drinking.
Historians have found evidence that honey wine was made by communities around the world thousands of years ago, something Smith and Maltby have embraced. Their blue glass bottles of mead are adorned with a dragon and red-haired maiden logo. Inside their tasting room and factory ⁠— an old neighborhood bar in Fairmont, West Virginia, that has been repurposed ⁠— a large black and orange dragon kite hangs near the bar.
"It's been really neat to bring to the local community, and West Virginia in general, an old-world craft to the modern times," Smith said.
In the decades since Smith and Maltby began experimenting with mead in their kitchen, the beverage, often associated with Vikings and medieval feasts, has experienced a modern-day revival. In 2000, there were less than 100 commercial meaderies nationwide, according to the American Mead Makers Association. Today, the trade group estimates a new meadery opens, on average, every three days.
"When we first opened the people would come in and say, 'you're making alcohol out of honey — are you sure that works?'" Maltby said. "And now we have people searching for us, sometimes driving from several cities away."
Appalachia's unique geography plays an especially important role in the mead crafted in West Virginia. That's because honey, the core ingredient for mead, tastes different depending on what plants and flowers the bees had access to.
Honey, It's Important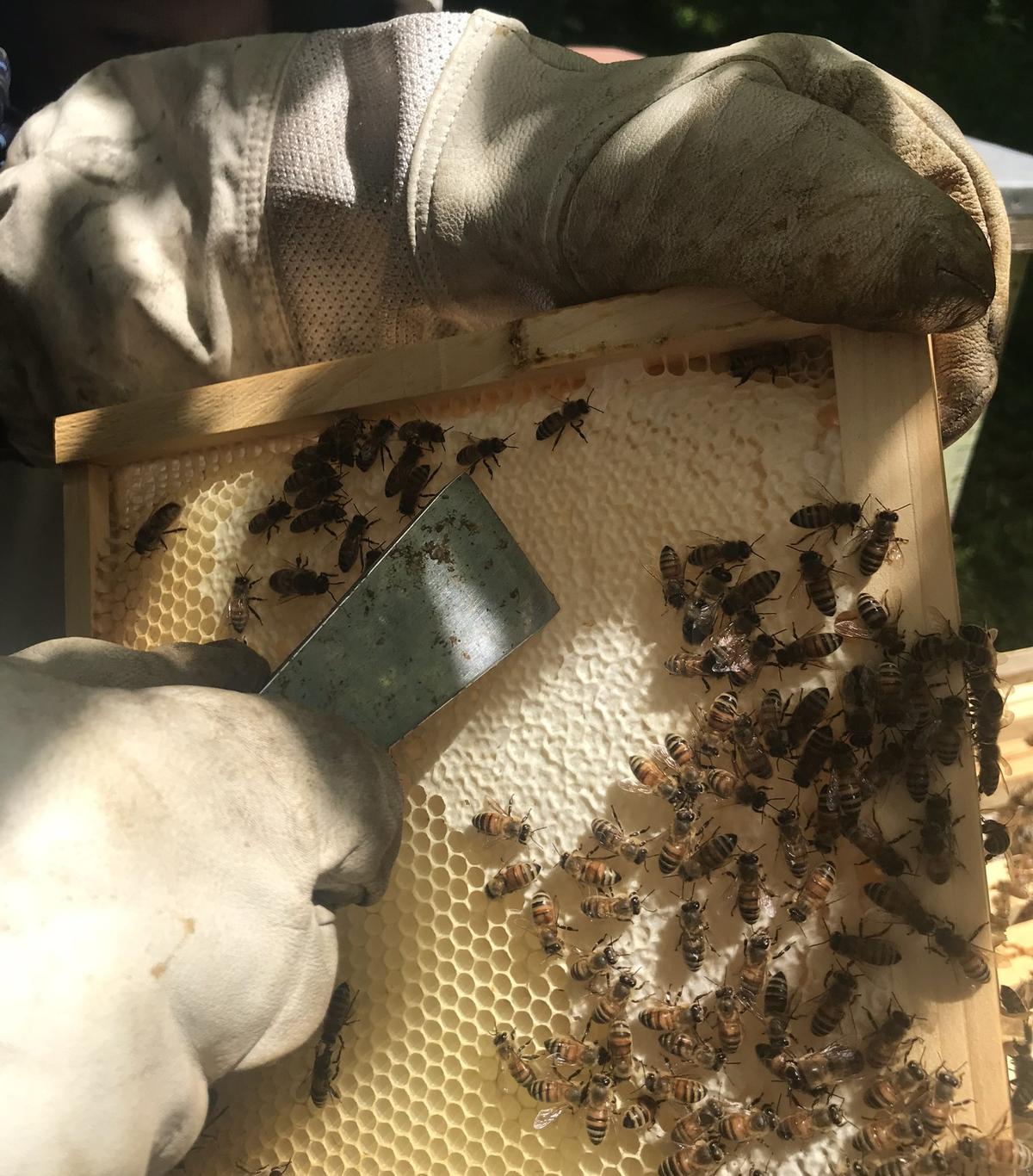 At their farmhouse just a few miles away, Maltby tends to the hives of bees that make the honey used in Mountain Dragon Mazery's mead. Each 60-gallon batch of mead requires 10 gallons of honey.
As their mead operation has grown, Smith and Maltby have moved most of their hives to the care of another beekeeper in the state. Four hives remain at the farmhouse.
"I believe that the Mountain State is making some of the best honey left in the world," Maltby said. "Partly because we're so far from primary sources of agriculture and chemical pollutants. Here we make forest honeys instead of agricultural honeys."
Bees make honey by extracting sugary nectar from flowering plants and storing it inside a honeycomb. West Virginia's diverse geography, mountainous terrain and relatively small farms mean that the nectar collected by bees here can be quite diverse. That changes the way honey tastes and one's mead will taste, said Josh Bennett, owner and founder of Hawk Knob Cider and Mead.
"If you're a beekeeper and trying to make meads from locally sourced honey you're going to have the essence of your region in your mead," he said. "That's going to be dependent upon when that honey was harvested by the bees and the little microclimate that it was in, but specifically related to your local flora."
Bennett said the types of tree and plant species in the local forest or region change the taste.
"Here in the mountains you've got bees away from large swathes of monoculture," he said. "Appalachia has a lot to offer in that way and the diversity of the biosphere that we have here."
Versatile Beverage
It's also a diverse drink.
"You can have something herbal, something fruity, something sweet, something dry," Bennett said. "You can hop it up like a beer, or you can age it like wine, and there's just a lot of versatility. You can create a lot of different types of beverages within the realm of mead."
Mead's versatility is both a blessing and a curse for modern day mead makers, said Rowe, with the American Mead Makers Association.

On a regulatory front, the Alcohol and Tobacco Tax and Trade Bureau regulates mead as a wine, which Rowe argues is not broad enough to cover the variations on the beverage, which can range in alcohol by volume (more commonly known as ABV) from under 4 percent to upwards of 20 percent.
"We have a segment that aligns more accurately with what the cider people or what the craft beer people are doing, and yet we're still clumped under wine," she said.
Because meaderies aren't individually tracked like cider and beer is by federal regulators, new mead makers face barriers in applying for loans with up-to-date growth numbers for the industry.
And the wide variation among mead often means mead makers, like Mountain Dragon Mazery, often find themselves educating patrons about the craft beverage.
On a recent weekday, Smith gives a full tasting to the Menjivar family who stopped into the tasting room while on vacation.
Smith pours a blush-colored liquid into a small plastic cup. This variety of mead is called a Rhodomel, which is fairly unique. It's made with wild tea roses harvested at their home along the Monongahela River and fermented with wildflower honey.
Paty Menjivar, the family matriarch, said she wasn't sure what to expect but was curious about honey wine. She takes a sip.
"It's really good," she said. "Really good."
This story is part of an Inside Appalachia episode exploring the alcohol culture and industry in Appalachia. It was originally published by West Virginia Public Broadcasting.