Modern Business Reimagines Traditional W.Va. Folklore
Greasy pepperoni rolls, pungent ramps, sweet apple butter, shaggy Big Foot, scruffy Mothman – these are all symbols that represent West Virginia. Local treasures that began from traditions and legends from long ago that are getting a modern flair, thanks to a graphic design artist in Morgantown.
Liz Pavlovic's business "Liz Pavlovic Design and Illustrations" recreates West Virginia's mementos with an endearing modern, cartoonish flair.
The Studio
Her studio is nestled in a bright corner of her living room.
Everything is colorful and quirky, like Pavlovic herself. She sports a rainbow-hued T-shirt, a Mothman tattoo and bright purple hair.
A doll head that looks like Pavlovic sits on the windowsill.
"I found that in a thrift store and I was like I can't not buy it," Pavlovic said.
But what stands out the most is Pavlovic's art. On her computer screen is a work in progress featuring two West Virginian monsters. Below the illustration is the words "not all who lurk are lost."
"That's a new poster I'm working on. It's Mothman and Flatwoods Monster – I have them hanging out a lot. They're kind of the best friends of the group I guess," she said.
Pavlovic keeps stockpiles of her artwork on her bookshelves, neatly organized. She has become somewhat of a West Virginia celebrity for her state-themed graphic designs.  
The Art
Her art is mostly featured on pins, stickers and posters. There is a food collection, including pawpaws, apple butter, ramps, buckwheat cakes and pepperoni rolls, which are a bit controversial. Her design includes cheese, which for pepperoni roll purists is not traditional.
"The next round of pepperoni roll pins I might remove the cheese, there's been some debate about it," Pavlovic said.
Another popular design is her West Virginia hotdog, or better known as the slaw dog. It's topped with mustard, chili, coleslaw and onions. The slaw dog is thought to only be loved below what's known as the "slaw line," or everything south of milepost 111 on Interstate 79.
"Occasionally, people will come to my table when I'm vending and say that's disgusting," Pavlovic said. "People get really heated about it — more than the pepperoni roll."
Some of Pavlovic's favorite designs are the area's cryptids, or animals from legends that may or may not exist (creatures like Bigfoot). However, Pavlovic likes to focus on more unique and local characters, such as the Flatwoods Monster, named for the West Virginia town where it was sighted.
"I believe it was the 1950s when it was seen in the woods there by some people who saw bright yellow eyes, and I guess it had a coppery smell," she said.
Often her cards and posters will feature cryptids with a pun. For example, her headless Grafton Monster valentine's card reads, "I'm headless over heels for you."
Pavlovic explains that the Grafton Monster was supposedly seen by a news reporter, "and he described him as being like 6 feet tall and 4 feet wide with seal skin and basically no head."
Those descriptions might seem creepy, but Pavlovic's designs render these monsters as adorable oddities. Her Mothman is a fuzzy, black being that is often doing everyday activities, like surfing the web or riding a bike. On one sticker, Pavlovic includes the words "live, laugh, lurk," with Mothman confidently laying on his side.
"He's in sort of a model, sassy pose. Some people say it's like a 'draw me like one of your French girls,'" she said.
How she got here
Pavlovic studied graphic design at West Virginia University and graduated in 2010. Two years ago, she opened her own business. The pepperoni roll pin was the first design she sold.
She grew up in Alabama, but as a child, she visited her West Virginia family every year and says she's always felt connected to the state.
"I grew up eating pepperoni rolls. My mom made them at home even when we lived in Alabama," she said. "I guess there was a big part of my life that was West Virginia that I didn't even realize."
It took about a year for Pavlovic's business to take off. At first, she said, she was just trying to break even. Now, after two years, she says her art sales make up her income. She does half of her art sales through her online store.
Pavlovic's sales follow a national trend. According to the Hiscox Online Art Trade Report, a little less than half of art buyers choose to purchase their art online, which is in itself more than a $4 billion industry.
"Instagram has been a huge part of it for me because there's a lot of artists on there and just a big community. And it's easy to share your art there, obviously," Pavlovic said.
Instagram launched in 2010. And today, the majority of people who manage art galleries say Instagram is the best way to promote their art. Even more, the majority of consumers under 35 years old say Instagram is how they discover new artists.
Pavlovic has a lot of fans. She has a respectable 2,836 followers on Instagram, including Candace Nelson, the author of "The West Virginia Pepperoni Roll" book.
"Anytime I see any art or products, or anything even remotely related to the pepperoni roll, I get really excited," Nelson said.
She fell in love with Pavlovic's pepperoni roll collection. One of her favorites is Pavlovic's Valentine's Day cards.
"One of them said, 'Pep rolls before bros,' and I thought that was really funny," Nelson said.
Selling to the People
Pavlovic also sells her work in boutiques and tourism shops around West Virginia and Ohio, but she also does a lot of in-person vending.
Recently she sold her merchandise at a music show at Morgantown's Retrotique store. Several bands played, including the local punk-rock duo Haggard Wulf.
Her booth was a long table filled with all of her stickers, pins, T-shirts and posters with twinkling lights weaving through the items.
People of all ages stopped by, including one young boy named Devlin, who purchased a bedazzled Mothman pin.
"I like Mothman and also I like sparkly things," he said.
It is through the little designs on pins, cards and stickers that Pavlovic is able to capture a part of West Virginian culture. Nelson, the pepperoni roll fan, says Pavlovic's art takes traditional West Virginian things and adds a sense of humor.
"I love that she draws on these almost inside jokes that we have as West Virginians and turns it into something beautiful," Nelson said. "I like that it's almost as though you have to be in on it. You have to know West Virginia culture to really truly appreciate it."
And Pavlovic says she hopes to keep up with it. The motto for her business is "Keep on Creepin' on."
Be on the lookout for her newest cryptid, the Ogua. According to local lore, this 500-pound serpentine creature can be spotted swimming in the Monongahela River.
This episode is part of an Inside Appalachia episode exploring folklife and material culture in Appalachia.
This article was originally published by West Virginia Public Broadcasting.
How To Be an Authentic Hillbilly
Who has the right to tell the story of a place?
My friend Jeremy B. Jones is a man of Appalachia, but you wouldn't know it by his accent. He plays a little banjo, but not, I believe, as an affectation.
Jones has an essay in the book "Appalachian Reckoning: A Region Responds to Hillbilly Elegy," out this year from West Virginia University Press. Jones's essay has me thinking about the ways we are and are not tied to the land we live on, and about who does and who doesn't have the right to tell the story of a place.
"Appalachian Reckoning" is a broad-ranging response to J.D. Vance's 2016 book "Hillbilly Elegy: A Memoir of a Family and Culture in Crisis." Vance, it should be noted, is a venture capitalist who grew up in southwestern Ohio. In the book, he was writing about the poverty, violence and addiction that he observed while spending time with members of his family in Kentucky.
As a political conservative, Vance tends to blame poor people's problems on their own decisions. He makes the case in the book through anecdotes like the time he was working at a grocery store and got mad at a welfare recipient for owning a cellphone.
After a series of glowing reviews and an extended run on bestseller lists, his book was sometimes held forth as a diagnosis of an entire region's ills and as an explanation for the election of Donald J. Trump.
The book's widespread popularity (along with its forthcoming movie adaptation) was also an occasion for massive backlash among actual living Appalachian people, some of whom resented the book's heavy reliance on anecdote and stereotype to explain away their struggles. Some, like Appalachian Reckoning co-editor Meredith McCarroll, bristled at Vance's use of the word "we" to describe Appalachian people, as if he could speak for them all.
"Who holds the camera matters as much as who's in the picture," McCarroll wrote.
An entire podcast, the Trillbilly Workers Party, launched partly because its hosts wanted to skewer the right-wing bootstraps ideology they found the book to be rife with. Reacting to another phenomenon, the hosts also coined the term "Y'all Stars" to describe the out-of-town poseurs who show up wanting to swap stories from the holler and swill artisanal moonshine.
It is fashionable in some circles to claim a cultural heritage that feels more exotic than the one you actually grew up in. It's why white Americans take those DNA tests to find out we are 0.5 percent Mongolian, or what have you.
Another way of doing this is to revisit some ancestral homeland and try to make a connection, as many a coastal-dwelling American has done in Appalachia. To stand on some mountain or in some valley and summon up the feeling that this is the home I have always longed for. Try as I might, I don't think I could muster the sentiment if the opportunity presented itself.
***
My friend Jeremy B. Jones has a real connection to Appalachia. His first book "Bearwallow" is about moving back home to Henderson County, North Carolina, where he grew up and his ancestors worked the land.
Bill Moss, editor and publisher of the "Hendersonville Lightning," opined, "It's the most significant book about our region — really about Henderson County in particular — since whatever Robert Morgan last wrote, which happens to be 'The Road from Gap Creek.'"
Jones has another book in the works, this one about his great-great-great-great-grandfather's sexual conquests in a small North Carolina town, and it's based on the highly coded journals he kept as a sort of personal confessional booth. It promises to be a juicy and illuminating read and to complicate some of the tired old pieties about Appalachian values.
Jones's contribution to "Appalachian Reckoning" is "Notes on a Mountain Man," which obliquely comments on the nature of rootedness and authenticity by meditating on Ernest T. Bass, a fictional Appalachian character on "The Andy Griffith Show," which was a sitcom from the 1960s shot on location in sunny California.
He holds up Bass as the archetypal Mountain Man and then descends into absurdity, describing himself and all of his students and neighbors as troublemaking untameable Mountain Men just like Ernest T. Bass:
"Or, if you like, this is an essay about a massive region reaching from Alabama to New York. About how every single one of the people living in that streak of the map is a male trapper. Not thousands of male trappers, but — like the body of Christ — we together form Male Trapper. Some an eye. Some a coonskin cap."
Which is a funny image to conjure up, and which is a pretty good approximation of the way regional archetypes work. Because we can't wrap our heads around the boundless complexity of a web of communities spread across mountains, we have to distill some assumptions down to the personal level, to a fictional body we can understand. Behold the Male Trapper. Consider the Southern Belle. Think about the Florida Man; really think about him for a minute: Who is he, and how do you know him?
There are some clear-cut ways in which stereotypes about Appalachia hurt the people there and impoverish everyone else's understanding of the world. Public perception moves public investment, and voyeurism of the mythic White Working Class glosses over the diverse lived experiences of the people living there. It is worthwhile to point out the wrinkles in any such narrative.
***
As for me, my people on my dad's side come from Carter County, Tennessee. I really only know about this from reading my great-great grandfather's memoirs when I was a kid. The only copy we had was typewritten, and my dad set me to work typing it into Microsoft Word so we could preserve it in perpetuity.
I was a little enchanted by the title, "Heritage in Brogans," which forced me to Google the word brogan (it's a type of shoe). As a young man and aspiring writer, I thought some of the prose was very finely wrought, including some graceful clauses and old-timey uses of prepositions. The memoir begins:
"This diary covers the longest journey I have ever made. My full name is Carmon Stewart Bowers, born at Hopson, Carter County, Tennessee, on the banks of Doe River on Oct. 17, 1894, my father's eighteenth birthday."
The book is the best accounting I can find of my family history on that side. It starts out talking about Carmon's father, Joseph Powell Bowers, working as a telegraph man on the whimsical-sounding Tweetsie Railroad, which stretched from Boone, North Carolina, to Johnson City, Tennessee.
I felt a misplaced nostalgia reading about the arrival of automobiles, the prospering of the "Campbellite" Christian Church in Elizabethton, and the day Carmon met his wife Mary Hope Taylor. Some of the names and themes still echo through the generations in my family.
To this day I have not seen Johnson City. I finally made it up to Elizabethton in Carter County with my dad last year, recorded some conversations with a great-aunt who remembers a good deal of family history and saw the Tweetsie Railroad, or what remains of it.
The rails have been torn up and replaced with a bicycle path through Elizabethton. Near Boone, another portion of the old railroad has been converted into a Wild West theme park. I have no earthly idea how I'm meant to feel about this state of affairs and will refrain from making any broader poetic points about it.
***
Like my friend Jones, I pick a little banjo. I take an interest in the finer points of regional accents, though I have painstakingly avoided picking one up myself.
If those ancestry DNA tests had any level of precision or validity, they would show that I am some umpteenth percent Appalachian. But unlike Jones, I have no personal connection to the place. Appalachia has little to do with my lived experience.
I grew up in suburbs and lived, as such, in a fairly homogenized culture. The things that set my home apart from any other place in the country were my Southern Baptist youth group, metalcore shows at the American Legion Hall and a particular preparation of shrimp with tasso gravy in corn grits. I am as much a mountain man as Howard Jerome Morris, the actor from the Bronx who played Ernest T. Bass on the TV.
If I had the ambition and wherewithal, would I have the right to tell the story of Appalachia in any broad sense? On one level, yes, anybody can be a journalist. But it would be awfully damn presumptuous of me to write in the first person, singular or plural, about Appalachian people.
I don't know much about East Tennessee. I know enough to pronounce it "TEN-uh-see," emphasis on the first syllable, in a stab at authenticity. (Is that even correct? It strikes me now that I might sound like some kind of y'all star.)
I know a few charming anecdotes. I know about my forebear from Carter County, Union Civil War chaplain John L. Bowers, whose three wives bore him 25 children, so that when I meet someone with the same last name and they asked if we're related, I can smirk and say, "Well, maybe."
I know the grimmer outlines of the family history. From "Heritage in Brogans," I learned that John L. Bowers sold an enslaved person and used the money to buy some land. The land my family lived on was bought for the price of someone's body.
If I am somehow tied to the land John L. Bowers bought, then so are the descendants of the person he sold. I aim to learn that person's name one day.
Like all non-native Americans, I live on stolen land, and I share it with people who have as legitimate a claim to it as I do. Some days that's all I'm comfortable saying about my "regional identity," to the extent such a thing can be said to exist.
This article was originally published by the Brutal South.
Paul Bowers is the author of Brutal South, a weekly email newsletter about culture, class struggles, education, parenting and brutalist architecture in the American South. A former local news reporter in South Carolina, he has also written for the Guardian, Al Jazeera America, Huffington Post, The New York Times and Paste Magazine.
Read more and subscribe at brutalsouth.substack.com. Follow him on Twitter at @paul_bowers.
Guitars, Jobs and Music: Startup Business Hopes to Build on Mountain Traditions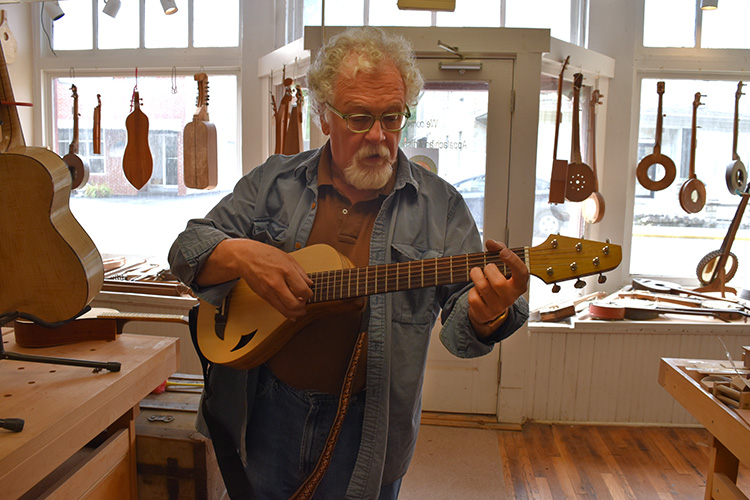 A nonprofit school of luthiery in Eastern Kentucky is helping develop an instrument-building company that will build the local economy along with high-end guitars.
All kinds of stringed instruments fill the storefront of the Appalachian School of Luthiery in Knott County, Kentucky. There are antique pieces, like an old banjo and a giant replica of a mountain dulcimer. And there are newly built instruments, like acoustic guitars and an unusual hurdy-gurdy/dulcimer hybrid.
Beyond the windows, the rest of the building is a workshop filled with tools, templates and materials for hand-crafting stringed instruments. Here, people come from next door, the next state and around the world, to learn the art of luthiery for themselves. The school is part of the Appalachian Artisan Center, a nonprofit that helps develop the region's arts economy.
Creating stringed instruments has long been part of the culture in this Appalachian area. The first hour-glass shaped dulcimers were made in Knott County in 1871, according to the luthiery's website.
Doug Naselroad is the head luthier at the school and continues in this long history of teaching the craft. Now, Naselroad and others are working on an economic development plan to help local people craft a livelihood with luthiery skills. The nascent Troublesome Creek Instrument Company will build high-end guitars in a small manufacturing facility out of Appalachian hardwoods, some of which have never been used in instruments before, like black locust and red spruce.
"These Appalachian trees produce some of the best tone wood in the world," says Naselroad. "They really make beautiful, resonant instruments."
This is a place in need of more economic opportunity. Nine of the 30 poorest counties in the United States in 2017 were in eastern Kentucky, according to the Census Bureau. Naselroad says there are few jobs and no help-wanted section in the newspaper. There has never been a manufacturer in Hindman, and an outside company is not likely to build one any time soon.
These economic realities and a vacant woodshop inspired Naselroad and his partners to develop their facility. Troublesome Creek Instrument Company is one of the creative new enterprises taking root in the region. It adds to other projects in Hindman, like the Artisan Center and Hindman Settlement School, both of which contribute to the local economy through cultural activities. The instrument company will also support other local businesses, like the lumberyard, Naselroad said.
Company employees will complete a six-month training program. The manufacturing will be a hybrid of digital fabrication and old-world hand skills. The goal is to create 60 well-paying, highly skilled jobs for the community.
Naselroad said he also hopes Troublesome Creek Instrument Company can be part of addressing another pressing problem in the region – addiction recovery. Each week, the School of Luthiery opens its doors to participants in the Culture of Recovery, an arts-based recovery program run by the Artisan Center. He said promising candidates from the Culture of Recovery program will be encouraged to apply for employment with the instrument company. Crucially, a felony conviction – a frequent result of opioid addiction – will not automatically disqualify job applicants.
One person who completed county drug court has already been hired in the first handful of employees.
Naselroad has seen the difference that meaningful work can make in the lives of those in recovery.
"They complete a heroic process of recovery and embark on a new life discipline," says Naselroad. "The worst thing is for them to be released to nothing. They need a goal to work towards."
Troublesome Creek, with primary funding through the Appalachian Regional Commission, is structured as a non-profit with plans to be commercially sustainable. One avenue for marketing will be building relationships through the National Association of Music Merchants.
It is an ambitious project: beautiful guitars, meaningful employment and a sustainable business. Naselroad is under no illusion about the guarantee of success, but he likes where things are heading.
"Even now, we are folding our funding into paychecks for families," he said. "That is worth doing even on a bad day."
This article was originally published by the Daily Yonder.
Mountains Piled Upon Mountains: Appalachian Self-Reflections
Living in the mountains of Appalachia, the nature that surrounds us often becomes a mere backdrop. We expect it to be there, so we forget about it.
In the new book "Mountains Piled Upon Mountains: Appalachian Nature Writing in the Anthropocene," nearly 50 writers focused on the natural world of Appalachia using place-based fiction, literary nonfiction and poetry. 
The current geological age is known as the Anthropocene — the period when human activity has become the dominant influence on climate and the environment.
The writers in the new book from West Virginia University Press, "Mountains Piled Upon Mountains" examined human experience and influence on the mountains that make up Appalachia. 
Jessica Cory, the book's editor, teaches in the English department at Western Carolina University. She grew up in southeastern Ohio, then lived for a while in a very flat geography along the eastern coast. She described a kind of hill-sickness she got in the flat lands, or a longing for that folding geography. It was alleviated when she moved to the mountains of North Carolina.
"I moved out here and just fell in love," Cory recalled. "Oh, I'm home. I'm home. There are hills, there are shadows. There's topography. It feels like home."
Cory said she noticed a shared sense of rootedness and tie to place in the author contributions to the book.
"Everybody seems to have that idea that this is home, this is what home looks like."
After moving back to Appalachia, Cory had come to notice she couldn't find a compilation of writings that focused on the overall Appalachian region, as place.
From that seed, "Mountains Piled Upon Mountains" was born. 
Moving beyond nature writing, much of the writing in the book discusses issues facing the region.
Ann Pancake is the West Virginia University Humanities Writer in Residence and a contributor to the book.
"I've been writing about the natural world in West Virginia for a long time," Pancake said. "And many people in West Virginia, I would say, have a deep ambivalence about the natural world here. They love it and at the same time, there's pain about the way that it's hurt and also the pressure to destroy the place in order to make a living."
Here's an excerpt from her contribution:
"Dear West Virginia, what kind of writer would I have been if I hadn't been raised to love you? Taught to love you by my family and by the culture, by school, and even by church, but taught to love you also (and here taught is too innocent a word: seduced? ensnared?) by the land of you yourself. Pull of you, draw of you, hold of how you won't let us go, and why, when almost everyone else I know is also decades from their childhood places, I'm about the only one who still calls that place home?
And through you, West Virginia, I have also learned how the ferocity of any love is hotter-fired by threat of loss. To grow up in you, West Virginia, was to be nurtured by what was also continuously being taken away, from the days stood, six years old, in the picture window of our middle-class home and Nicholas County in view of bulldozers stripping a mountain, to the day I stood, thirty years later with another generation of West Virginia children at the turquoise-goo toe of a seeping mountaintop removal valley fill. West Virginia, how profoundly beautiful. How profoundly vulnerable, Loving you accompany to always by witnessing, by bearing up under, your destruction. Clear-cut, strip mine, gas well, chicken factory farm, pipeline, power line, subdivision of second homes, whatever the appetites of people not of this place who don't it won't have to look at what was sacrificed for what they have to have."
Rick Van Noy is another of the roughly 50 contributors. He wrote about the rivers that run through the mountains. And the calming effect they can have.
"Wilderness certainly, I think, sustains us and in various ways enriches us provides a kind of joy," Van Noy said. "I think those bubbling rivers just provided an endlessness, or repeated cycle."
Other contributors to "Mountains Piled Upon Mountains" write about experiences from northern Georgia to upstate New York, inviting parallels between a watershed in West Virginia and one in North Carolina. They emphasize connections between Appalachia and more distant locations, emphasizing the need to understand the nature around us.
This article was originally published by West Virginia Public Broadcasting.