This Storied Football Town in Ohio is Looking to Revitalize its Stadium — and Fight the Opioid Epidemic
On a late June afternoon, a slight breeze blew as rolling clouds framed the Kentucky hills on the other side of the Ohio, just a stone's throw away. A new semi-pro football team called the Portsmouth Stealth gathered in a parking lot outside Portsmouth, Ohio's Spartan Municipal Stadium, home to an NFL team called the Spartans (and later, the Detroit Lions) from 1930 to 1933. Olympian Jim Thorpe, Hall of Famer Earl "Dutch" Clark, and single-wing tailback Glenn Presnell all played there. The 8,000 seat concrete stadium is one of the oldest NFL structures in the country where football is still played.
"That stadium is football," Stealth fullback Matt Owens said. "Being an ex-NFL stadium, there's a certain ambiance, a certain uplifting feeling — you feel the presence of the people who played here and that rich history that's almost forgotten."
The concrete is cracking and the bleachers are worse for wear. In some ways, the stadium's decline has mirrored the economic and social struggles of this Rust Belt town with a dwindling population. In recent years, especially, opioid addiction has ravaged parts of the community.
But now, locals are working to renovate the structure and repurpose the stadium, trying to give it — and the town — renewed energy.
Owens, a Marine veteran raising three children, displays a wisdom beyond his 29 years of age. He said there's a not a lot for young people to do in Portsmouth so he's hoping the Stealth can offer young people a positive, healthy distraction. The team wants to use proceeds from ticket sales to support youth sports in the area.
The Stealth is currently in its first season in the semi-pro Blue Collar Football League, but Owens is already inspired by the camaraderie this team has fostered. He said he joined, in part, because he missed playing, but more importantly because he was looking for a community. "We're not a football team; we're a family. If you're in, you're my brother, and we're going to take care of you."
Portsmouth and its storied football history are intertwined, and the team wants to take advantage of that. Rooting for the team, and the stadium, gives people energy to fight against the typical narrative of a dying industrial town. "We fight hard," Owens said. "We might be down, but we'll come back."
Old story, new story
Portsmouth lies at a crossroads for trains, rivers, and highways. In its heyday, it was a manufacturing behemoth, making everything from bricks to steel and shoes to golf clubs. For decades, Shelby Shoe and Empire-Detroit Steel each employed thousands.
When the Spartans played in the 1930s, Portsmouth was home to about 42,000 people. Over the course of four seasons, the team played the likes of the Green Bay Packers and the Chicago Bears. They were trailblazers: In September 1930, the Spartans played one of the earliest night games in the NFL. In 1931, the team finished second to the Green Bay Packers. Green Bay opted out of playing a regular season finale game because if the Spartans had won, they would have been declared league champs.
So the next year, when the Spartans took on the Packers at Municipal Stadium, Spartans coach George "Potsy" Clark wanted to prove they were the better team and made no substitutions during the game — eleven men played both sides of the ball. The Spartans won, 19 to 0, in a game that has since been known as the "Iron Man" game.
The Portsmouth Spartans have been the stuff of legend around this region, winning an impressive 28 games, losing 16, and tying seven. They packed the stadium with adoring fans — an estimated 15,000 watched the Iron Man game.
But in 1934, due in part to the Great Depression, the Spartans were sold off and became the Detroit Lions. The stadium became home to local high school football teams. The city owned the stadium — but with less money in its coffers for upkeep — it deteriorated over the years. In the early 2000s, there were rumors it might be torn down so that the city wouldn't have to pay for costly repairs.
By that point, the declining town had more serious concerns than its beloved football stadium. Beginning in the late 1990s, prescription drug abuse gripped the city as doctors dispensed prescriptions for opiates at local cash-only pain clinics, which are often called pill mills. By 2010, 9.7 million doses of opiates were dispensed in Portsmouth's Scioto County — 23 doses for every man, woman and child in the county. In 2011, the DEA, along with local and state law enforcement, raided the pill mills.
However, the opioid problem never went away. Since the pill mills were shut down, intravenous drug use has soared: Heroin and synthetic opioids like fentanyl and carfentanyl were introduced and have since wreaked havoc, as they have around the country. Scioto County has high rates of Hepatitis C, the highest rate of newborns suffering from neonatal abstinence syndrome, and it ranks sixth for rate of fatal overdoses per 100,000 people. Last year, 31 people died from overdoses.
Still, the community keeps coming up with solutions. In early June, just days after Ohio Attorney General Mike DeWine announced the state would be suing five makers of opioid painkillers for their role in the epidemic, Scioto County Commissioners announced their own lawsuit. Rather than hold the producers accountable, the county has decided to investigate and hold accountable drug distributors. Portsmouth City Council has also announced it will file a similar lawsuit.
Though that's a step in the right direction, Sean Dunne, a sociology professor at Portsmouth's Shawnee State University, said it will take more than lawsuits to repair the decades of damage from addiction. He said he believes the community will also have to push against what he calls a "narrative of decline."
Dunne thinks renovating Spartan Municipal Stadium might be a way to begin that work. He submitted a proposal to help fund renovations to Municipal Stadium to a corporate giving program run by State Farm Insurance called "Neighborhood Assist."
The proposal competed in a public vote last November with 200 others nationwide and placed second. Dunne and the Spartan Municipal Stadium Renovation Project were awarded $25,000. They rallied a group of volunteers to fix the sprinkler system, install security cameras, and remove graffiti. The group, including boosters from Notre Dame High School, whose football team still plays there, hope to eventually restore the concrete, the bleachers, the track, and the plumbing. But Dunne estimates that will take up to a million dollars.
People tell him that the stadium represents Portsmouth's great past, Dunne said, but he also thinks it represents the town's potential in the future. "Communities are made up of social institutions and social interactions, but also stories," he said. "And if you allow stories to turn on you, if you look at groups that will adopt toxic narratives about themselves—they take it on an agree with it. When we won the grant, that was a great victory."
He knows it's going to take more than a football stadium to transform the town, but it's a start.
A scrappy team and its potential
Just before practice at the stadium that hot June day, it began to rain. Owens and the others headed out to the field anyway. A group of seven or eight players started running their routes, and quarterback Duke Edwards threw on target, even with a sopping wet pigskin.
Last year, Dusty Mogan, Jojo Parker, and Emily Owens started the Stealth team to help get young people off the streets. Mogan is a single mom raising three kids who says she's also "mom" to the more than 40 young men on the team. She said she hopes the younger players will try to play in college so they can be assured an education.
As she pointed out at Edwards, she said, "He needs to get out of here. I have about five players that have the talent to play in college." She adds that the Stealth's placekicker is in the process of trying to walk-on at Marshall University, which sits across the Ohio River in nearby Huntington, West Virginia.
The team is scrappy, but Owens said they're hard hitters and this team gives them something to work for. "There's a lot of drugs in the area, a lot of crime," Owens said. "Not a lot of jobs. Not a lot of options for getting out."
Basel Cooper, a 21-year-old offensive and defensive lineman, is another type of young person the team is trying to recruit. Cooper played football from middle school through high school, but after graduation he was working a dead-end job, he said. "There was no meaning to anything I did outside of work."
Then, someone from the Stealth asked him to join the team. Now, he has something to look forward to. "I come out to practice and work hard. I go home, and I feel accomplished," he said.
While watching the team practice, Mogan lowered her voice almost to a whisper, speaking slowly. "Portsmouth's been beaten down," she said. "Sports are not the only way out, but for a lot of kids it is." She considers this team as her small intervention in the community.
The stadium is breathing new life into Portsmouth in other ways, as well. Last March, recovery activists Kortney Calver, Sarah Gee, and Michael Pack, hosted Ohio's National March Against Heroin there.
Gee said she wanted to have the event at the stadium because of its historical significance. All the good things about the stadium, and Portsmouth, have "been forgotten about" she said.
For the march, more than 2,000 people attended to hear from musicians and celebrities who are in recovery or have been affected by drugs, like professional skateboarder Brandon Novak and Rodney Lavoie, Jr., from CBS's "Survivor," who lost his sister to drug addiction. Organizers gave out scholarships for rehab and raised money to buy doses of the expensive opioid blocker Naloxone for the local health department, which is given to people who overdose.
Attendees marched from Municipal Stadium all through Portsmouth chanting, "We're here to let you know, heroin has got to go!" and carrying posters that read "Recovery works!" and "Real life angels carry Naloxone." Marchers paused along the way to talk to folks sitting on their porches, handed out information to strangers, and walked together in support of each other.
The opioid epidemic is growing more serious by the day, but Gee is still hopeful. "Portsmouth is in a better place than it was a decade ago because people are talking about the problem and coming together to address it," she said. "We're not just going to sit back and let addiction take over our city."
Jack Shuler (@jackshuler) is the author of three books including The Thirteenth Turn (Public Affairs, 2014). His writing has appeared in Salon, The Christian Science Monitor, The Atlantic, and elsewhere. He teaches at Denison University in Ohio and recently launched betweencoasts.org, an online magazine covering stories from Rust Belt and rural America. 
'Fallout' Video Game Series' Post-Apocalyptic Vision of West Virginia Might Not Be Worth the Trip
Video games are often not great at depicting rural life. But all signs indicate that the next game in the "Fallout" series, "Fallout: 76," is going to be set somewhere in the mountains of West Virginia—for better or worse. The news has been met with a range of responses, from celebratory to cautionary, but either way the short trailer released last week serves as a conscious choice on the part of the game's developer Bethesda to diverge from expectations that their next big release would continue their popular "Elder Scrolls" series.
Information found in earlier "Fallout" games referring to a "Vault 76" located somewhere in Virginia, as well as a certain iconic West Virginian song making its way into the recent teaser, make it pretty clear that Bethesda is eyeing the Mountain State as the setting for the next big iteration of its best-selling game series.
But while the "Fallout" video game series has never properly given the Appalachian region its unique retrofuturist/post-apocalyptic treatment, the game series' history of portraying rural areas proves that it might not handle its own vision of West Virginia in a way that's responsible to the state's real-life residents.

The "Fallout" series has always been about loss and its implications. The word "fallout" itself has multiple meanings as far as the game's themes are concerned. Nuclear fallout from a brief but devastating world war results in the physical state of the game's world (once a gleaming sci-fi utopia, now a decimated landscape dominated by twisting metal and debris), but there's an altogether different sort of fallout visible in the disastrous condition of so many of that same world's civilizations and people—namely, that they've regressed to a point where killing or attacking strangers has become part of the new post-apocalyptic way of life.
A hefty percentage of the folks who players encounter in the game will either immediately try to kill them or else will ask them to complete some kind of quest on their behalf (at the end of which they may also try to kill the player). But most of them are just trying to survive in any way they can. They're fighting every day with whatever vaguely weapon-shaped implements they have on hand in order to hold on to what little land they have left. The people of the "Fallout" series' world are deeply connected to and shaped by their local landscapes, forgotten or ignored by whatever remains of the government, wary of outsiders, and fiercely loyal to whoever (or in some cases, WHATever) they've chosen to call their family.
Those images might start to sound pretty familiar to many Southerners, particularly those who have lived or grown up in the Appalachian Mountains. But those hoping that their rural experiences will be responsibly represented in the newest "Fallout" iteration have reason to worry; for an explanation, look no further than "Fallout 3" (the first major game in the series with current developer Bethesda at the helm) and its downloadable content "Point Lookout."
Set in the Point Lookout State Park region of Maryland on the state's western shore, the in-game region of '"Point Lookout" hardly resembles the present-day region's outdoorsy New-England-fishing-village vibe.

Instead, the area looks like something out of the movie "Deliverance."

Deranged "swampfolk" roam the land, killing anyone without "the marks" (disfiguring mutations) and worshipping eldritch gods through blood sacrifices and worse. It's later explained in-game that the swampfolks' appearances are the result of intense nuclear radiation as well as (naturally) generations of inbreeding. Much like the horror film "Wrong Turn", the game trades in on its audience's preconceived notions of rural residents in order to instill fear and create a feeling of otherness or strangeness in its players. Everything about these enemies is designed to call to mind the "dangerous hillbilly" stereotype, from their threadbare overalls to their broken shouts of "There you is!" when they spot the player character roaming their lands.
These characters are not human, a fact that the game telegraphs to the player in various ways (some more subtle than others). The swampfolk are implied to be capable of trade and interact offscreen with certain non-player characters. Despite this, there is only one true swampfolk character players can interact with directly, and it's a young boy who has specifically been outcast from the swampfolks' society due to lacking their distinguishing disfigurements. The way to know in-game who is a friend and who's a foe starts to become a question of simply who looks the most traditionally "human."
One of the few humans tolerated by the swampfolk is a local moonshiner, because of course the swampfolk love moonshine. They use scavenged teddy bears, bizarre idols and wood carvings to mark the boundaries of their territory, and occasionally dead swampfolk can be found carrying around human flesh in their pockets. Even the game's official downloadable editor lists the swampfolk as "creatures" rather than human enemies, despite their ability to speak, obvious culture, and mostly-human appearances. Consistently, the gameplay and story of "Point Lookout" work in tandem to "other" the swampfolk through stereotypical redneck characteristics, only to follow up this othering by dehumanizing them so the player won't feel bad later about killing dozens and dozens of them over the course of the DLC.

Again, none of this is surprising on its own, given how important it is in a video game to develop a visual language to signal to players who and what their enemies are. But Bethesda's use of harmful rural stereotypes as a shorthand for "enemy" reinforces these stereotypes within American culture at large, and its dehumanization of the characters that embody these stereotypes can't help but also dehumanize people in the real world with the same characteristics.
It's possible, even given this track record, that "Fallout: 76" will pay homage to the Appalachian region's unique history and traditions without stereotyping and minimizing the culture it depicts, and many in the game industry are hopeful that it will . And to be fair, we'll all have to wait until Bethesda's E3 conference on June 10 to know for sure that the game is even set in West Virginia in the first place.

But Bethesda's past missteps have made it unclear whether or not the company values making the kind of effort required to portray rural working class people with any kind of dignity. And if other recent big budget games like "Far Cry 5" are anything to go by, mass-appeal games still have a long way to go before they're able to evoke rural themes and imagery without completely flattening or misrepresenting the very folks they're working so hard to call to mind.
Ryan Scott Morris (@Ryabn_Morse) is a North Carolina writer based in the Research Triangle. He attended Appalachian State University, and his work has appeared in Scalawag Magazine, Show Your Skin, and Timothy McSweeney's Internet Tendency. He lives in a little white house with a baby blue porch over a basement full of dying plants.
The Mountaineers as a metaphor: How WVU's heartbreaking loss reminds us of what else we're missing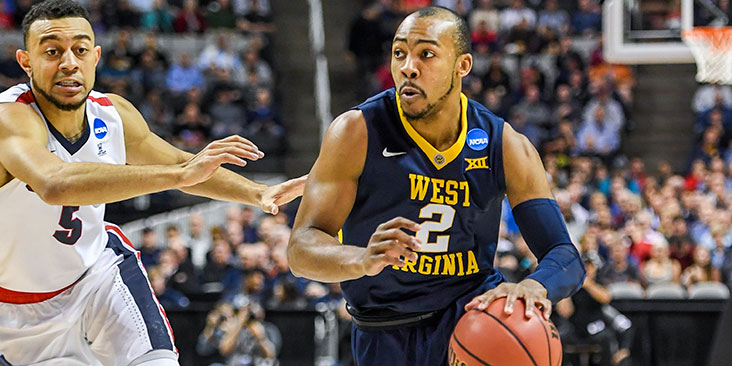 On nights like Thursday night, it feels like it's the very mountains that are keeping us down. No matter how high we climb, it's never quite high enough.
Very few people outside the state of West Virginia know that the Mountaineers are the winningest college program without a national championship. But West Virginians? We feel it acutely, like the last breath of winter slicing through the trees, like the numb feeling after a Mountaineer loss.
My father will never get to see WVU win a national championship. On a cold morning last fall, two days into hunting season and two days before Thanksgiving, his heart stopped.
Maybe it was the thousands of miles he had walked along the trout streams of the Monongahela National Forest. Maybe it was the passion with which he devoted himself to the city of Elkins and his friends, family and neighbors. Maybe it was the countless times his heart had skipped a beat worrying about the Mountaineers at the end of a close game. Maybe it was just time.
He took his last breath under the canopy of a deer blind, with the golden light of day driving away the dawn along the hillside below him. He was only 64, but it was a fitting close to the life of a Mountaineer.
I thought about my dad a lot while watching the game. How he would have jumped out of his chair – shouting "yeah!" – when we went up by three after the break. How he would have slapped his hands together and muttered "shoot" when Gonzaga went up, stretching out the "shhhhh" like a curtain drawing close.
This past year was hard. A close friend from high school succumbed to the depression that had plagued him since childhood — an occurrence, like heart disease, that is far too common in the state. A win, in some ineffable way, would have felt like a defeat over that darkness.
I understand intellectually, perhaps, how ridiculous it is to put this emotional baggage on a basketball team. But the Mountaineers aren't just another basketball team and WVU isn't just another school.  It has roots.  I went there; my father went there; his father went there.  My great-uncle played basketball with Charlie Huggins, who went on to be a great coach in Ohio and father to the current WVU coach. My uncle played football with Joe Manchin, who went on to be our U.S. Senator. The school, like the state, is a part of me, just as WVU is interwoven into the fabric of the state like no other college in the country.
With so many panhandles and regional quirks, the school is a unifying force in a state stretched in so many directions. Those of us who grew up there know it's three, four, maybe five states in one, while others don't even know we're a state at all (is that near Richmond?).  For those of us driven away by the lack of opportunity, who long for country roads to take them home (there's a reason every great song about the state is written through a rear view mirror), Mountaineer sports provide that momentary connection. In a state that has seen such economic distress while enduring a hundred years of condescension and belittling stereotypes, WVU's athletic success over wealthier, more pedigreed schools is the comeuppance we so desire, even as that one big win eludes us.
Our shared love of — and continual frustration with — WVU athletics was a cornerstone of my relationship with my father, as it is with so many sons and fathers in the state. I can remember Tony Caridi's golden voice crackling out of an old radio while we shucked beans on our back porch. I can remember calling him from the stadium to shout over the din of a crowd singing "Country Roads" arm-in-arm after Pat White and Steve Slaton stunned Louisville in a triple overtime win in 2005. And I can remember calling him on Skype while living in London to lament that horrible football loss to Pitt in 2007 — the closest we had ever come to playing in a national championship in my memory.
He was proud of WVU despite its losses, proud of the state despite understanding its flaws, proud to call himself a Mountaineer despite the destruction we inflicted on its mountains and his beloved streams. In a state blighted first by industry and then by its exit, it sometimes feels like hope and pride are too much to ask.
The Mountaineers made us proud.
Coach Huggins, one of the great coaches in the sport, prepared the team well just a short time removed from a heart-related scare of his own and WVU gave the country one of the best basketball games of the year. It was ugly and beautiful, excruciating and thrilling. Javon Carter seemed at times like a one-man offensive barrage against an entire army of blue and red. Nathan Adrian ended his career doing what he did best, diving out of bounds for a loose ball, creating something out of nothing, reminding us again that putting in the hard work and effort can pay off for a hometown boy. And Sags [Sagaba Konate] had the most beautiful block I've ever seen – Chris Webber sounded so excited I thought he was going to jump from out behind the announcers' booth and sub in for Elijah Macon just to get in on the action.
And yet, despite our best efforts, the state will have to wait another year for a national championship. It will have to wait another year for a lot of things: a better economy, an end to the opioid epidemic, that maddening last section of Corridor H. But the grit, the determination, and, yes, the heart the team showed in the face of a more talented and higher ranked squad made us all a little prouder to call ourselves West Virginians.
More importantly — and this is perhaps the essence of what makes WVU matter so much to this state – the team gave us hope.
I know if my dad were alive, I would have gotten a call after the game. After recounting the highlights, he would have told me the team played a great game and the players should be proud of themselves.
And as he wished me goodnight, I would have heard him smile over the phone: "Well, there's always next year."
Seth Gainer (@SethGainer) is a business consultant and former staffer to Senator Jay Rockefeller. He lives in Washington, D.C. but still calls Elkins home. He hates that his new D.C. plates get him tickets driving those country roads.