Fact-checking a GOP Talking Point on Walls and Border Apprehensions
Sen. Shelley Moore Capito, R-W.Va., took to Twitter earlier this year to discuss the debate over erecting a wall on the U.S-Mexico border. She said that previous barriers built on the southern border have been successful.
In the tweet, Capito said, "Beginning in the early 1990s, we built barriers in 4 sectors at our southern border. Since each was built, those sectors have seen massive drops in apprehensions of people crossing the border illegally. Let's admit that physical barriers need to be a part of the solution."
A graphic attached to the tweet said there had been decreases of 90 percent in the Tucson sector, 95 percent in the Yuma sector, 95 percent in the San Diego sector, and 95 percent in the El Paso sector.
Did the barriers in four sectors of the southwestern border result in massive drops in apprehensions? We took a closer look.
Capito's evidence
Tyler Hernandez, Capito's communication director, pointed to a "Border Security Metrics Report" released by the Department of Homeland Security dated May 1, 2018. This report included data back to 2006 but we were able to find additional data going further back at the Customs and Border Protection website. (Meanwhile, the fact-checking site Snopes.com noted that the statistic originated with the Republican National Committee.)
Here's a chart showing the trend lines for border apprehensions — the typical way to measure illegal immigration into the United States from the southern border — going back to 1990, the period Capito referenced in her tweet.
Broadly speaking, the chart shows a downward trend for apprehensions at the various sectors, interrupted by a spike around 2004 and 2006. This means that for roughly the last 20 years, there has been a downward movement in migrant flows across the border.
Tucson fell by 92 percent from its peak in 2000, Yuma fell by 70 percent from its peak in 2005, San Diego fell by 93 percent from ts peak in 1992, and El Paso fell by 89 percent from its peak in 1993.
That said, these large declines started between 1992 and 2005 — before passage of the Secure Fence Act of 2006. The law, which was signed by President George W. Bush, authorized about 700 miles of fencing along certain parts of the southern border. That fencing was built over the course of several years after passage of the law, depending on the sector.
If you measure the declines between the law took effect in 2006 and 2018, they are still substantial, but not as large as the declines from the pre-2006 peaks. El Paso fell by 74 percent, San Diego by 73 percent, Tucson by 87 percent, and Yuma by 78 percent. Those percentages are all smaller than what Capito tweeted out.
It's also important to note that some border crossings may have shifted from urban areas, where fences were erected, to more rural areas, said Tony Payan, a fellow for Mexico Studies at Rice University.
"Some barriers did go up, primarily along urban areas, like San Diego and El Paso," he said. "But these barriers did not stop undocumented migration at all. They simply funneled it to areas further out from the urban areas."
In fact, the overall apprehension statistics in the southwest border fell less than the statistics for some of the relatively urban sectors Capito cited. Overall, apprehensions at the southwestern border, including areas that Capito didn't highlight, fell by 76 percent from their peak in 2000 to 2018, and by 63 percent between 2006 and 2018.
That's a less dramatic decline than those seen specifically in El Paso, San Diego and Tucson that Capito cited. So Capito's chosen sectors are somewhat cherry-picked.
Finally, immigration experts say that security measures do not account for all — or necessarily even most — of the decline in border-crossing.
Douglas Massey, a professor at Princeton University's Office of Population Research who has studied border migration for decades, has previously told PolitiFact that he considers the economy the primary factor. The Great Recession, he said, had an immense impact in slowing border crossing. In particular, dwindling prospects of finding a job in sectors such as construction, which traditionally attract a disproportionate number of Latinos, dampened the urge for potential Mexican migrants to undertake a difficult journey.
Payan agreed that barriers would not have been the only factor.
"Although tougher enforcement and barriers did help," Payan said, "other factors played a role, including Mexico's changing demographics, and rising middle class, and U.S. deployment of tougher checks, such as E-Verify," an electronic employment verification system.
"Everything helps, but it is absolutely misleading to attribute the decrease in undocumented crossings to barriers, particularly that early," Payan said.
Capito's office reiterated to PolitiFact that her tweet said that "physical barriers need to be a part of the solution," rather than the only part.
Our ruling
Capito said, "Beginning in the early 1990s, we built barriers in 4 sectors at our southern border. Since each was built, those sectors have seen massive drops in apprehensions of people crossing the border illegally," including 90 percent to 95 percent decreases in the Tucson, Yuma, San Diego and El Paso sectors.
The four sectors she cited fell substantially after hitting peaks in the 1990s and the early 2000s, but not quite as much as she indicated. And the rest of her assertion is questionable.
Border apprehension declines started prior to passage of the 2006 law that authorized border fencing. Moreover, while such barriers may have had an impact, other factors, notably the troubled economy after the Great Recession, are often credited with playing a key role in the decline of border apprehensions.
We rate the statement Mostly False.
This article was originally published by PolitiFact.
Fact-check: Is Jim Justice the First West Virginia Governor to Fight For Teacher Pay Raises?
West Virginia Gov. Jim Justice, facing a competitive Republican primary in 2020, recently introduced an ad touting his accomplishments in office, including a focus on K-12 education.
The ad, released in a Dec. 4 tweet, features several West Virginians reading off a series of scripted accomplishments from Justice's tenure. One of the accomplishments, voiced by a teacher, is that "Jim Justice is the first West Virginia governor to fight for pay raises for educators."
This struck us as odd since governors of all parties regularly tout their support for teachers — a group that's popular with voters and, in many states, a politically powerful constituency.
Teacher salaries have been an especially sensitive issue in West Virginia. Between 2005 and 2017, West Virginia teacher salaries never rose higher than 44th in the nation. That history set the stage for a 2018 teacher strike in West Virginia, which was the state's first major K-12 walkout in almost three decades. Justice eventually signed a 5 percent pay bump, which is more than the legislature had offered prior to the strike.
So is Justice really the first West Virginia governor ever to push for teacher pay raises? His office did not respond to inquiries for this article, but we found that each of Justice's five immediate predecessors either proposed or enacted teacher pay raises.
Gov. Earl Ray Tomblin, Democrat, 2011-2017
In his first state of the state address in 2011, Tomblin proposed a one-time, across-the-board $800 increase for teachers. "Frankly, it should be more and we need to strive for a day when our teachers are paid at a rate equivalent to the most important role they play," he said in the speech, according to the Associated Press.
In 2014, despite offering few increases in his relatively austere budget proposal, Tomblin did include a 2 percent pay raise for teachers. The bill he eventually signed contained a $1,000 raise for teachers for the 2014-2015 school year.
Gov. Joe Manchin, Democrat, 2005-2010
As governor, Manchin — now a U.S. Senator — periodically sparred with teachers' unions over the size of his salary increase proposals. But both Manchin's Senate office and West Virginia teachers' unions agree that he proposed a teacher salary increase and signed it into law.
During his tenure, Manchin raised teacher salaries by 3.5 percent, according to a joint statement released by the West Virginia Education Association, the American Federation of Teachers-West Virginia, and the West Virginia School Service Personnel Association when the groups endorsed Manchin's Senate reelection bid in 2018. Manchin's Senate office cited the same 3.5 percent increase when we inquired.
The legislation Manchin signed also improved teachers' annual salary increments and allowed educators to move from a 401(k)-style defined contribution plans to a defined-benefit system.
Gov. Bob Wise, Democrat, 2001-2005
In his 2001 state of the state address, Wise proposed raising teacher salaries by $1,000, plus $2,500 in incentives. "Teachers are the heart of the educational system. We must honor the work of our teachers," he said.
After leaving the governor's office, Wise became CEO of the Alliance for Excellent Education, an education advocacy group.
Gov. Cecil Underwood, Republican, 1997-2001
In his 1998 state of the state address, Underwood proposed giving teachers a $750 pay raise. He signed a three-year pay raise into law later that year.
Gov. Gaston Caperton, Democrat, 1989-1997
Caperton was governor during a divisive, 11-day West Virginia teacher strike in 1990, but he ended up presiding over a significant pay increase for the state's teachers. The strike was settled when all parties agreed on a $5,000 pay increase phased in over three years.
Last year, PolitiFact reported that most significant recent improvement in West Virginia teacher pay compared to other states came between 1990 and 2000, a period during which Caperton and Underwood were in office.
Like Wise, Caperton headed an education group — the College Board — after serving as governor.
Our ruling
Justice's ad said he's "the first West Virginia governor to fight for pay raises for educators."
That's far off-base. Seeking pay raises for teachers is practically a rite of passage for governors, and West Virginia is no exception. Not one, not two, but each of Justice's five most recent predecessors — Tomblin, Manchin, Wise, Underwood and Caperton — either proposed a teacher pay raise, signed one into law or both. We rate the statement Pants on Fire!
This article was originally published by PolitiFact.
Fact-check: Is Jim Justice Right About Growth in West Virginia Tourism?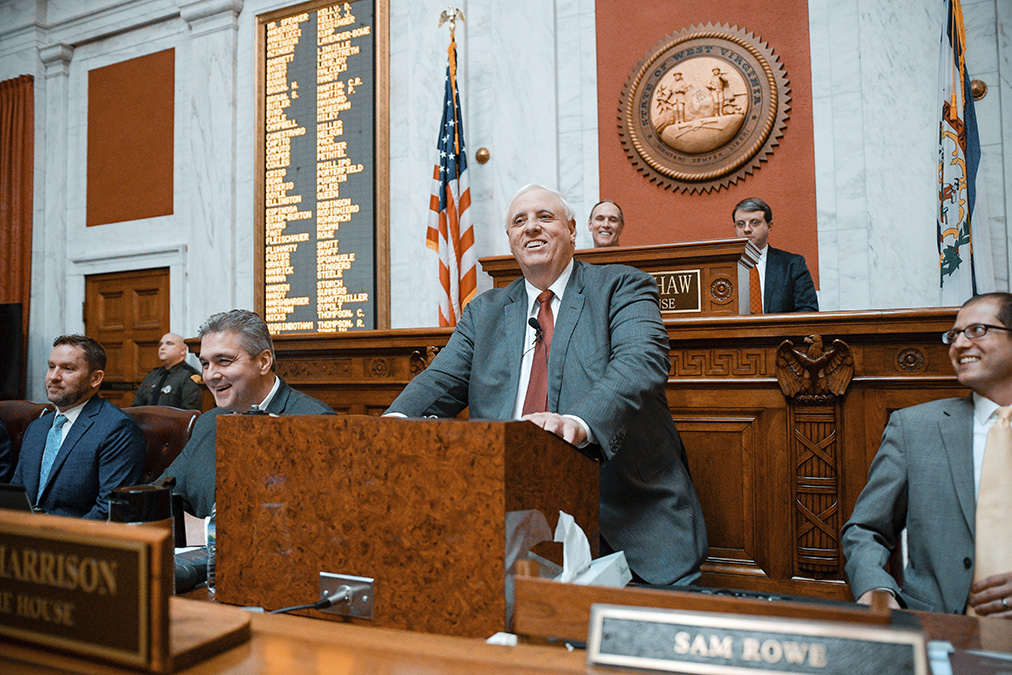 West Virginia Gov. Jim Justice took to Facebook in October to tout gains in his state's tourism industry.
"When I took office, I made tourism a top priority because I knew it had all the potential in the world," Justice wrote in his post. "Today I am proud to announce that West Virginia's tourism industry has grown for the second consecutive year, reversing years of decline and outpacing national growth by 58%! Way to go West Virginia Tourism!" 
The post linked to a press release that provided additional detail and cited a study conducted by  Dean Runyan Associates, an economic consulting firm that has examined the state's tourism industry annually since 2000.
A year ago, we fact-checked how well Justice described the previous year's statistics and rated it Mostly True, because Justice glossed over some of the report's negative findings.
How about this year? Let's take a look, point by point. (Justice's office did not respond to inquiries for this article.)
"West Virginia's tourism industry has grown for the second consecutive year… "
This is accurate. 
The report found that overall spending on tourism in West Virginia grew from $4.14 billion in 2016 to $4.28 billion in 2017 to $4.55 billion in 2018. That's an increase in the most recent year of 6.5 percent, easily exceeding the rate of inflation.
Spending also grew for the second straight year if you set aside gambling revenue. It rose from $3.48 billion in 2016 to to $3.63 billion in 2017 to $3.91 billion in 2018. That's an increase in the most recent year of 7.5 percent. This also exceeded the rate of inflation.
"… reversing years of decline …"
This is accurate, too. According to the data in the report, the rise over the past two years came after four consecutive annual declines, as this chart shows:
Fact-check: Does West Virginia Rank Sixth in the Nation in At-Risk Youth?
Woody Thrasher, a Republican who is challenging West Virginia Gov. Jim Justice in the 2020 GOP primary, took to Twitter to call out the state's level of at-risk youth on his opponent's watch.
"'West Virginia is sixth overall in the average number of at-risk youth.' Let's turn this around and grow our workforce by supporting post-secondary training programs. #TimeToGetToWorkWV #wvpol," Thrasher tweeted.
Here, we won't address whether or how much post-secondary training programs can help at-risk youth. Instead, we'll focus on the credibility of his statement that "West Virginia is sixth overall in the average number of at-risk youth."
There are certainly warning signs about West Virginia's youth, many of them traceable to the opioid crisis. We have rated as True the statement that West Virginia "has the highest overdose rate per capita of any state in our nation."
The drug epidemic is "the driving force in (the) child welfare crisis," the West Virginia Department of Health and Human Resources said in a statement in February 2018. The department said that the opioid crisis has made it difficult to help get children back on their feet and is making them more prone to mental-health issues.
But how does West Virginia compare nationally?
In his tweet, Thrasher linked to a July 18 editorial in the Exponent-Telegram newspaper of Clarksburg. The editorial includes the exact sentence Thrasher quoted, and it says the source is the most recent edition of an annual survey by the website WalletHub. Thrasher's campaign also confirmed to PolitiFact West Virginia that the WalletHub survey was the source.
As Thrasher indicated, the WalletHub report does show West Virginia ranking sixth in at-risk youth, behind Louisiana, the District of Columbia, Mississippi, Arkansas, and Nevada.
The website determined the overall rankings by weighting 15 different metrics. They include the population aged 18 to 24 years who are not attending school, not working and have no degree beyond a high school diploma; the labor force participation rate, the poverty rate, and the homelessness rate for the population aged 16 to 24 years; the rate of teen pregnancy; the percentage of those under age 21 who are detained in residential facilities in the criminal justice system; and the percentage of youth who are overweight, who use drugs, who have alcohol problems, or who have clinical depression.
We reached out to several of the academic advisers to the WalletHub study. The only one to answer us was Rigaud Joseph, an assistant professor of social work at California State University San Bernardino. However, Joseph said that he "did not have any statistical input in the study. WalletHub decided on the criteria for the rankings."
So we turned to independent experts, who said that WalletHub's study was credible.
"The WalletHub methodology seems fine and it generates a credible ranking of states," said Gary Natriello, a professor of educational research, sociology, and education at Teachers College, Columbia University. "Other rankings would be possible if different combinations of indicators were used, but West Virginia would likely be among the states with the most at-risk youth, as Thrasher's statement suggests."
Our ruling
Thrasher said that "West Virginia is sixth overall in the average number of at-risk youth."
He is correctly citing a study by the website WalletHub that came up with its ranking by using 15 metrics on youth health, employment, and education. An expert said this is a reasonable way to compare states against each other, though it's hardly the only way; the use of other data points or weighting of the factors could produce somewhat different rankings.
We rate the statement Mostly True.
This article was originally published by PolitiFact.