When W.Va. Delegate Compared LGBT to KKK, He Highlighted the History of Religious Right Prejudice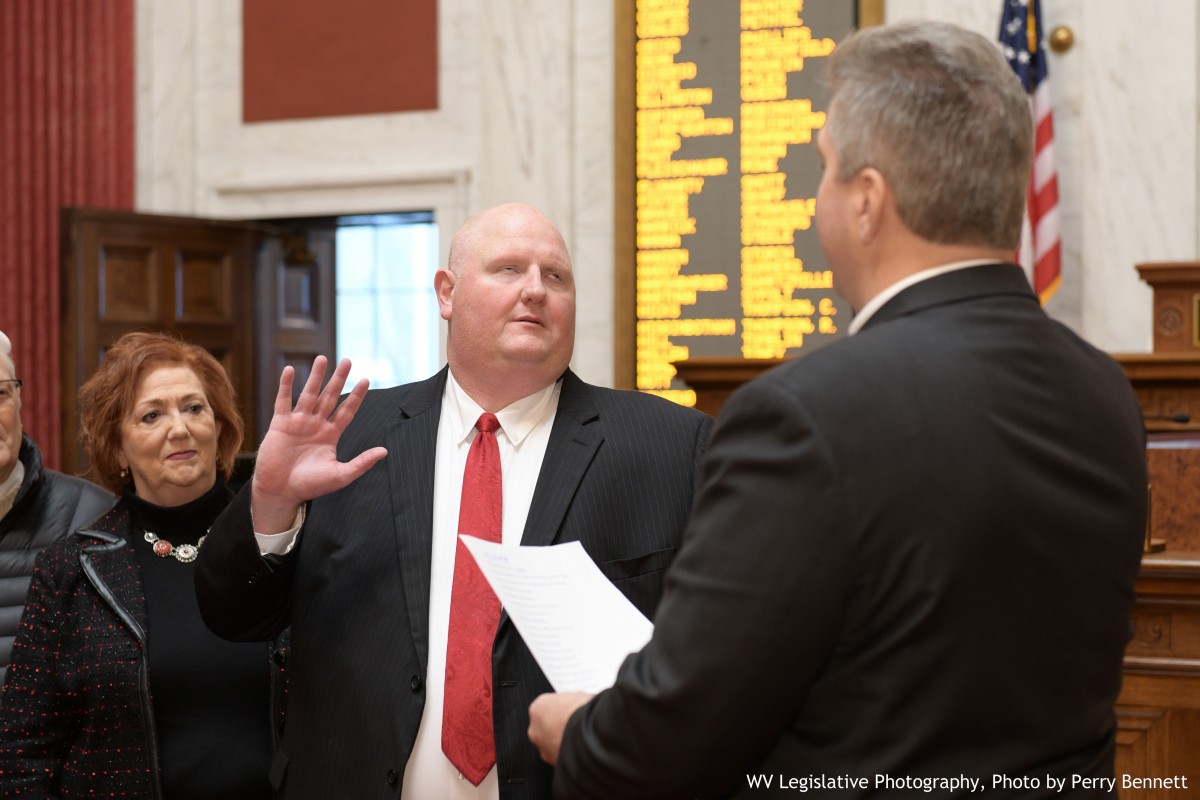 When West Virginia House of Delegates member Eric Porterfield, R-Mercer, called the LGBT community "the modern-day version of the Ku Klux Klan" in an interview with a Charleston Gazette-Mail reporter last week, it drew condemnation not just in the state, but nationwide. But Porterfield, in fact, joined a long legacy of right-wing evangelicals who have conflated legal protections for lesbians, gay men, bisexuals and transgender people with white supremacy and domestic terrorism.

The Southern Baptist Convention in 2012 resolved that "homosexual rights activists" had "misappropriated the rhetoric of the Civil Rights Movement" in advocating for marriage equality and other legal protections.

Bryan Fischer, former director of issues analysis for the American Family Association, has compared LGBT people to Nazis numerous times, arguing in a 2010 column that "homosexuality gave us Adolph [sic] Hitler."

And Tony Perkins, president of the Christian conservative lobbying group the Family Research Council, argued in a 2018 column on the organization's website that marriage equality was really "about obliterating every moral and cultural boundary humans have ever known."

"The LGBTQ is suppressing the freedom of people that disagree with them and forcing their ideology," Porterfield told Rachel Anderson, a reporter and weekend anchor with the Bluefield, West Virginia, TV station WVVA, in a separate interview.

"If they do not get their way, they cause chaos, apply pressure, intimidate, internet stalk," he added. "They're the most evil-spreading and hate-filled group in this country."
Porterfield's comments came after a controversial rant in a legislative committee meeting, during which lawmakers were debating a bill to add protections to the state's housing and employment nondiscrimination law for sexual orientation and gender identity.

His broader claim that "the LGBTQ" are harming America by lobbying for equal protections under the law is not new either. It's right out of the right-wing evangelical playbook, according to Randall Balmer, an Episcopal priest and historian whose work studying the religious right has been recognized with numerous accolades, including an Emmy nomination for script-writing and hosting the PBS documentary based on his book, "Mine Eyes Have Seen the Glory."

Balmer said that right-wing evangelical leaders often rely on a "rhetoric of victimization" to make themselves seem persecuted in the face of changing social norms.

"That, by the way, is one of the reasons that they embrace Trump…he's very good at this rhetoric of victimization," Balmer said. "What this guy in West Virginia is saying is just a variant on this. 'We're the ones who are under siege, we're the ones who have some sort of grievance that needs to be redressed.'"

But even given this context, Porterfield's comparison of LGBT people with the KKK is a strange one, given the religious right's origins. Although many believe abortion had a central role in pushing evangelical leaders toward politics, pro-life rhetoric did not become important in those circles until well past the 1970s.

In a Politico Magazine piece, Balmer traces the beginnings of the evangelical right's political efforts to a court case in the late 1960s, when a group of Black parents in Holmes, Mississippi, filed a lawsuit against the U.S. Treasury Department in hopes of preventing segregated private K-12 schools from receiving full tax-exempt status. As the Internal Revenue Status targeted the tax exempt status of private, segregated primary and secondary schools, leaders like the late Jerry Falwell became involved in the fight. "In some states it's easier to open a massage parlor than to open a Christian school," Falwell is quoted as saying at the time in an article in The Nation exploring the preacher's racist roots.

The racism exhibited by leaders of the evangelical right at the time was not limited to their efforts to preserve whites-only Christian academies. Tony Perkins, the aforementioned president of the Family Research Council, had no problem associating with the KKK when he served in Louisiana's House of Representatives. He even spent time with David Duke, a former grand wizard for the white supremacist hate group.

"The religious right has its roots in racism, I'm sorry to say," Balmer said. "So for this guy to kind of call on that trope is both ironic, but also fully compatible with the history of this movement."

Heather Warren, a University of Virginia religion professor who studies American religious history, agreed with Balmer, adding that racism and Christianity were intertwined not just in evangelical movements, but in "hardcore KKK ideology." Warren, who is also an Episcopal priest, said that in the 1950s and '60s, leaders in the religious right were fighting not to make America great again, but "to keep America Christian."

"And Christian and white and democracy all went together," she said. "They were all interchangeable. There was this way that it all added up to a white supremacy."

So laws and ordinances banning discrimination based on sexual orientation and gender identity are a direct affront to democracy, Warren said, and an attack on democracy is synonymous with an attack on white Christianity and America, under this belief system.

"When Falwell was alive and writing, usually in his catalogue of phenomena and types of people who were eroding America and eroding American democracy, he'd often start off with homosexuals at the top of his list," Warren said. "Feminists were close behind."

It's a convenient leap to make if you want to demonize the continued push for increased LGBT rights, which Porterfield seems to think are somehow wholly separate from the gay community. He clarified in his interview with Anderson that his original statement was an "anti-LGBTQ sentiment," not an "anti-gay sentiment."

Even before taking office, Porterfield made his positions on issues that directly impact the LGBT community clear. In a December interview, Porter condemned efforts to outlaw conversion therapy in West Virginia, a practice opposed by every major credible psychology or psychiatry organization. Porterfield called efforts to ban the practice "bigoted and discriminatory" and that the counseling practice should be protected as free speech.

Historically, conversion therapy methods have relied on tactics like castration, induced vomiting and electroshock therapy to "cure" LGBT people. While the unscientific and unethical therapeutic method has been banned or condemned in a number of states, including California and Washington State, New York is the only Appalachian state so far to outlaw it.

Porterfield's comments, both before taking office and since, make it clear that he believes being criticized for bigotry is on par with a legacy of racist, sexist, homophobic and transphobic violence rooted in white supremacy and white Christianity. By making this comparison, he's dismissing that Black and LGBT Americans have faced far worse than a few mean comments online.

The KKK was infamous for carrying out lynchings against Black Americans, a hate crime that often involves hanging but often also can include being burned alive or shot multiple times. The 1998 murder of Matthew Shepard's, a gay college student from Wyoming who was beaten and left to die tied to a fencepost,is sometimes considered a lynching, and the history of lynching was painfully brought up for many Black LGBT Americans recently when Jussie Smollett, a Black gay actor, was assaulted by two men in Chicago who put a noose around his neck.

There's hope, however, for Balmer in the form of younger white evangelicals who might not share Porterfield's extreme beliefs.

"Not that his views are unique, and not that his vitriol is unique," Balmer said. "But I think it's changing, and much of it is generational."

Balmer says young evangelicals are already showing they're more concerned about issues like ending widespread hunger and poverty than whether someone is trans or attracted to a person of the same gender. Hopefully, he says, one day these young people will refuse to back other politicians like Porterfield and focus their efforts on finding solutions for struggling communities.
Tiffany Stevens (@tiffanymstevens) is an independent journalist living in Southwest Virginia. Their work focuses on the media, the LGBT community and Appalachia.

A High-Speed Internet Boondoggle is Now a Campaign Issue in Kentucky
Candidates for governor of both parties are using Kentucky's long-delayed and over-budget statewide internet project to bash Gov. Matt Bevin, following a jointly published report by the Courier Journal and ProPublica.
KentuckyWired — a bipartisan plan pushed by former Democratic Gov. Steve Beshear and Republican Rep. Hal Rogers — promised to bring improved broadband internet connectivity to the state's farthest corners. But it is years behind schedule and more than $100 million over budget.
Bevin's Democratic opponents in the governor's race laid blame with the current administration.
"The governor has damaged the project with his lack of commitment to keep it on schedule," House Minority Leader Rocky Adkins, D-Sandy Hook, said in an emailed statement. "In fact, it will cost the state more to get out of the contract than if we continue. In order to go the last mile and complete this project, we need to look at successful models in other states and bring new partners to the table."
Representatives for Bevin and his technology chief, Chuck Grindle, did not respond to multiple requests for comment on the report, which highlighted dissent in the Republican administration's approach to salvaging the troubled KentuckyWired project.
Democratic candidate and former state Auditor Adam Edelen, who has made improved broadband connectivity part of his platform in the governor's race, said in an emailed statement that Bevin "doesn't care" enough to fix the project.
"As governor, I will prioritize building a real system to provide broadband to the hundreds of thousands of Kentuckians who still lack access, whether in the hills of eastern Kentucky or Southern and Western Jefferson County," Edelen said. "It must be done through partnership between the public and private sector, but that doesn't mean pushing a half-baked plan that leaves taxpayers holding the bag."
The campaign manager for Attorney General Andy Beshear, the son of the former governor, called for "working together across party lines."
"As governor, Andy's first step will be evaluating the KentuckyWired program in a nonpartisan way focused on both its costs and potential benefits for our families," campaign manager Eric Hyers said in an emailed statement. "From there, he can keep what's working and change what isn't."
A spokeswoman for Rogers, however, issued an emailed statement last week defending Bevin's stewardship.
"With any public-private project of this magnitude, delays and challenges are to be expected," the statement said. "Since Gov. Bevin inherited this project, he has worked diligently to comb through the unexpected problems and carefully balanced rising expenses with future benefits."
Wednesday's Courier Journal-ProPublica report underscored warnings that Beshear administration officials received about likely roadblocks.
Despite these, KentuckyWired moved ahead with what experts have said is an unrealistic three-year construction schedule for the project that saw the state accept most of the risk for the public-private partnership.
In his statement, Rogers described KentuckyWired as the "only path" to affordable, high-speed internet for his constituents in eastern Kentucky.
But state Rep. Robert Goforth, R-East Bernstadt, a challenger to Bevin for the Republican Party's nomination for governor, disagreed.
In an interview with the Courier Journal, Goforth said Bevin should have killed the project years ago. He said Bevin has much to learn from a broadband project in Jackson County, which Goforth represents.
The Kentucky-based nonprofit Peoples Rural Telephone Cooperative used federal stimulus money to bring high-speed fiber-optic lines within reach of every home and business in Jackson and Owsley counties, the Courier Journal and ProPublica reported.
"If Jackson County can do it, the rest of Kentucky should be able to follow their example and be able to duplicate what they have done to be able to provide the fastest internet service to one of the most rural communities in Kentucky," Goforth said. "We can do this."
State Rep. Lynn Bechler, R-Marion, described as "marvelous" the job Peoples Rural and other similar cooperatives and rural providers have done.
He said he wished the Peoples Rural model could be followed in his area of western Kentucky, where residents such as Christy Hardison say they pay upward of $120 a month for unreliable satellite internet service, the only available option.
Bechler, co-chairman of the Program Review and Investigations Committee, which is investigating KentuckyWired, reiterated his call for a halt to the project.
To solve the problem of poor rural broadband access, Bechler proposed the creation of a state incentive program to encourage more projects like the one in Jackson County.
Keith Gabbard, head of Peoples Rural, told the Courier Journal that a state-level program, similar to Tennessee's new Broadband Accessibility Grants, would encourage rural providers like his to expand service.
"The state doesn't have to build their own network that way," Gabbard said. "People that have already been doing that work can do a little more of it and would have an incentive to expand into areas that, it appears, the bigger companies are not going to build fiber to."
Meanwhile, a longtime KentuckyWired skeptic, state Sen. Chris McDaniel, R-Taylor Mill, said he's still waiting for the first section of the state-owned network to operate.
The project's overseers said in December that the first loop, an area that includes Frankfort, Lexington, Louisville and northern Kentucky, was nearly ready to be turned on.
Phillip Brown, then head of the state authority in charge of KentuckyWired, promised "very good news" in the first quarter of 2019.
"I'm still waiting to see the press release on that happening," McDaniel told the Courier Journal. "This thing is a mess and it's going to continue to be a mess. I don't know where it ends."
This article was produced in partnership with the Louisville Courier Journal, which is a member of the ProPublica Local Reporting Network. It was originally published by ProPublica.
This story is part of an ongoing investigation into what went wrong with KentuckyWired. Sign up for the Miswired newsletter to receive updates in this series as soon as they publish.
Reach reporter Alfred Miller at amiller@gannett.com or 502-582-7142. Follow him on Twitter. Support strong local journalism by subscribing today: courier-journal.com/subscribe.
DOJ Files Suit Against W.Va. Governor's Family Companies Over Mine Violation Debts
This article was originally published by the Ohio Valley ReSource.
The U.S. Department of Justice has filed a civil lawsuit against 23 coal companies owned by the family of West Virginia Gov. Jim Justice, seeking more than $4.7 million in unpaid fines and fees for mine safety and health violations.
The delinquent fines were brought to light by investigations by NPR and the Ohio Valley ReSource as the Justice companies' overdue debts ballooned from just under $2 million in 2014 to more than $4 million in 2018.
The lawsuit was announced Tuesday by U.S. Attorney Thomas Cullen of the Western District of Virginia and David Zatezalo, the head of the Mine Safety and Health Administration, or MSHA.
In a news release, the DOJ said the 23 companies named in the lawsuit incurred nearly 2,300 mine safety and health violations over the last five years. According to a 2019 financial disclosure filed with the West Virginia Ethics Commission, all 23 companies are owned by the Justice family.
The civil complaint says the companies failed to pay nearly $4 million in penalties associated with those violations.
The DOJ said the Justice-owned companies ignored multiple demands by MSHA, the Department of Treasury, and the U.S. Attorney's Office to pay the delinquent debts.
"As alleged in the complaint, the defendants racked up over 2,000 safety violations over a five-year period and have, to date, refused to comply with their legal obligations to pay the resulting financial penalties," Cullen stated in the news release. "This is unacceptable, and, as indicated by this suit, we will hold them accountable."
"MSHA stands with the Department of Justice in seeking to hold mine operators responsible for the penalties they owe," Zatezalo said in the same release. "Failure to pay penalties is unfair to miners who deserve safe workplaces, and to mine operators who play by the rules."
Representatives for the Justice companies and the governor's office did not immediately respond to a request for comment.
ReSource Investigation
Last month, an Ohio Valley ReSource analysis of federal mine safety data found that the Justice family companies owed $4.3 million in delinquent debt for mine safety violations. That meant the Justice companies had by far the highest delinquent mine safety debt in the U.S. mining industry. And it was also far more than the companies owed when Justice ran for governor in 2016, when he pledged to make good on such debts.
In 2016, an investigation by NPR, the ReSource and partner station West Virginia Public Broadcasting found that Justice's mines owed $2.6 million in overdue mines safety fines, as well as millions more in unpaid tax debt.
Then-candidate Justice said those debts would be paid.
"When it all really boils right down to it we're taking care of them," Justice said at a rally announcing his gubernatorial bid. "We'll absolutely y'know, take, make sure that every one of them is taken care of."
This story was updated on May 8 at 4:30 p.m. to include additional information.
Kentucky Aluminum Plant Investor Is Russian Company Formerly Under US Sanctions
This article was originally published by the Ohio Valley ReSource.
Russian aluminum company Rusal announced Monday it plans to invest in a new Kentucky aluminum mill to be built near Ashland in eastern Kentucky. The $200 million investment in Braidy Industries is Rusal's first U.S. project since the Trump administration lifted U.S. sanctions placed against the company.
Rusal had been sanctioned by the U.S. government because its major controller, Russian oligarch Oleg Deripaska, who has close ties to Russian President Vladimir Putin, faces accusations of "a range of malign activity around the globe" by Russia, according to the U.S. Treasury Department. Those actions include interference in the 2016 U.S. presidential election and meddling in neighboring Ukraine.
Deripaska also has close business ties to former Trump campaign chair Paul Manafort, who has been convicted of tax evasion and money laundering. Deripaska is suing the U.S. to have sanctions against him removed.
The Trump administration released Rusal from sanctions in January after the company reduced the ownership stake held by Deripaska. Congressional Democrats attempted to block the White House decision and passed legislation in the House that would keep sanctions in place. However, the bill fell short in the Republican-controlled Senate, where Majority Leader Mitch McConnell of Kentucky accused Democrats of trying to "politicize" the sanctions.
Braidy Bunch
According to a press release, RUSAL will earn a 40 percent share in the factory's profits, and Braidy will keep the remaining 60 percent. The plant has also received $15 million in direct investment from the state of Kentucky. Gov. Matt Bevin cut a deal to attract Braidy to the state with that public money and additional tax incentives totaling more than $10 million.
As part of his reelection bid, Bevin has pointed to the Braidy development as evidence of job creation in an economically struggling part of the state.
"This is a seed that has been in the ground, the germination so often seems invisible to people," Bevin said at an event over the weekend in Martin County, Kentucky. "But good things have been happening."
The project is expected to cost more than $1 billion and employ over 500 people.
The Ashland project will produce rolled aluminum for the American auto and aircraft markets, and is the type of project President Donald Trump hoped to support with his tariffs on aluminum imports.
Braidy Industries CEO Craig T. Bouchard discussed the partnership at the New York Stock Exchange Monday morning.
"We're really lucky and honored to have them as our partner in Kentucky," Bouchard said of Rusal, adding that his company had chosen to partner with Rusal for its record of environmentalism.
"We are going to lead the world in highest quality, lowest cost, and the least use of carbon from start to finish in the manufacturing process, and we're changing the world," he said.
The Ashland aluminum mill would be the first such plant to be built in the U.S. in 37 years, according to industry sources. Final agreements among the partners are expected to be signed later this year.