Coal Comeback? Coal At New Low After Two Years Under Trump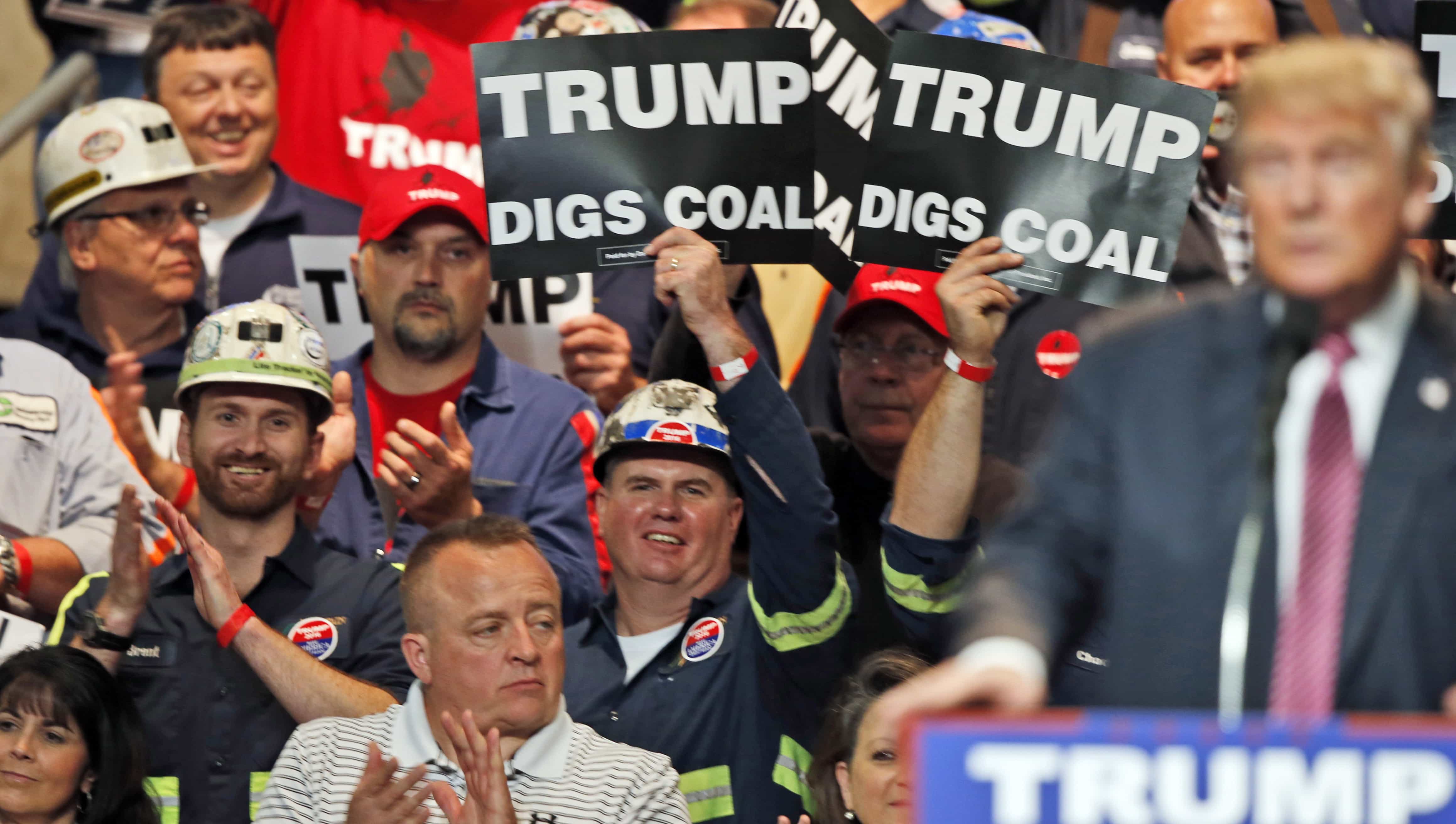 It's been two years since President Donald Trump took office and began rolling back environmental regulations on the coal industry.
At a November rally in Huntington, West Virginia, the president took credit for a coal comeback in front of a cheering crowd.
"We've ended the war on beautiful, clean coal and we're putting our coal miners back to work," he said. "That you know better than anybody."
But federal data about the industry tell a different story.
Mine operators and independent contractors are required to report regular employment information to the Department of Labor's Mine Safety and Health Administration, or MSHA. Preliminary figures for 2018 show 80,778 people were employed by mine operators and contractors. That's a record low, and about a thousand fewer than were employed by coal in the last year of the Obama administration.
Nationwide, coal plant retirements neared a record high, and overall coal production dropped to the lowest level in nearly 40 years, according to the U.S. Energy Information Administration, a non-partisan government agency that tracks energy trends.
In the Ohio Valley, things looked much the same. In 2018 two prominent Ohio Valley utilities announced a spate of coal power plant closures, federal data show the region lost 150 industry jobs, and Westmoreland Coal, which has a substantial presence in Ohio, declared bankruptcy.
However strong exports of one type of coal continued to support jobs for those who provide metallurgical coal, which is used to make steel. That boosted employment in West Virginia, where the president's supporters say he is keeping his promise to revive the industry. Elsewhere, others aren't convinced and are looking for ways to fill the void left by coal's decline.
Environmental Rollbacks
The Trump administration has leaned heavily on the U.S. Environmental Protection Agency to try to boost the region's coal industry. In March, 2017, Trump signed an executive order that kicked off an in-depth review of a series of environmental regulations. Since then, the administration has proposed a series of regulatory rollbacks aimed at helping struggling coal plants and operators.
In August, the EPA proposed a replacement for the Clean Power Plan, an Obama-era regulation that aimed to cut greenhouse gas emissions from power plants by one-third over the coming decades in an effort to stem the effects of climate change.
The Trump EPA has also moved to roll back existing regulations that govern the storage of toxic coal ash. In December, the agency proposed a rule revision that would allow coal plants to emit more carbon dioxide per megawatt-hour of electricity generated by scrapping a requirement that plant operators install expensive technology that reduces emissions. The agency in December also proposed weakening a regulation that limits mercury and other toxic emissions from coal power plants.
The Trump administration last year was also embroiled in an ongoing attempt to bail out struggling coal-fired power plants, which has since stalled.
But many industry analysts believe Trump's looser environmental rules have not helped the industry.
"So we had some pretty significant regulatory rollbacks in 2018," said Trevor Houser, a coal analyst at the independent research company Rhodium Group. "And yet, 2018 was a record year in terms of coal plant retirements." [Story continues below map]
Houser said there is also little indication any utility in the country is planning on building a new coal-fired power plant, even under the current, more relaxed regulatory environment.
Last month, S&P Global Market Intelligence reported Longview Power LLC, which operates one of the newest and most efficient coal-fired power plants in the U.S. just outside of Morgantown, West Virginia, is seeking investment to shift some generation from coal to natural gas and solar. Energy Secretary Rick Perry visited the power plant in the summer of 2017 to tout the benefits of coal in a competitive energy market.
Across the Ohio Valley, utilities announced more coal power plant closures in 2018. After Ohio-based FirstEnergy Solutions declared bankruptcy, it announced it would close two coal-fired power plants, one in Pennsylvania and one in Ohio. Another of its plants in West Virginia will close by 2022. Another major utility, American Electric Power, announced it was moving up the closure date for some units in its Conesville plant in Ohio to 2019.
A report by the Institute for Energy Economics and Financial Analysis, an energy think tank, found cost is the biggest force in coal's decline. Renewables and gas-fired generation continue to provide a cheaper and more flexible alternative.
The Met Demand
With more power plant closing there are fewer places to sell thermal coal, which is burned to make electricity, and that has a major impacts coal producers in the region.
"If you look at the share of where the coal was headed, the domestic utility market for West Virginia coal continues to decline," said Jason Bostic with the West Virginia Coal Association. "And that's extremely concerning."
Nationwide and as well as in the Ohio Valley the amount of coal mined dropped to the lowest level in nearly 40 years. Coal exports, however, were up, driven largely by international demand for metallurgical, or met coal, by Asian countries.
"There's the kind of continual disconnect between the poor fate of the thermal coal market and a little bit more resilient met coal market," Houser said.
To meet higher met coal demand, some mines in West Virginia and Virginia have reopened. Federal data from MSHA show West Virginia mines added a little over 500 jobs in 2018.
Tom McLoughlin trains coal miners in southwestern Virginia, where some met coal mines have ramped up production. He said he's been busy since Trump took office.
"As soon as Trump got elected It was like somebody taking the finger out of the dam," he said. "There was all kinds of activity including especially the training, and it's held up fairly well since."
But even in West Virginia, where things have looked slightly better for the industry, there were also some high-profile mine closures. A mine in Wyoming County shut its doors in October, putting about 400 miners out of work.
There are a lot of indications that the international demand for met coal, especially by China, is cooling off.
"In 2019 we have some pretty troubling signs about the outlook for the Chinese economy this coming year and that could take the wind out of the sails of the metallurgical coal market pretty quickly," said Houser with the Rhodium Group.
Temporary Bump?
It's possible that West Virginia's bounce in production could be a brief one. Elsewhere around the Ohio Valley coal employment has been stagnant, at best. Ohio mines added just 16 jobs last year, and Kentucky lost almost 400 jobs, according to MSHA data.
Retired Kentucky miner Larry Miller said it's not surprising the data show the industry has not bounced back. He added that he didn't have a lot of faith in Trump's ability to revive the industry in the first place.
"I don't think it's sustainable," he said. "The EPA relaxing of the rules might help some, but I don't think it's the main driver for the job loss."
Miller worked for more than two decades underground and said he made a good living. In his own backyard he said he's seeing first-hand that coal is often no longer an economic source for electricity. For example, near his slice of western Kentucky a group of utilities is installing an 800-acre solar farm, further evidence, he said, of coal's declining importance.
"It's not going to be gone but it's not going to be the economic engine that it once was," Miller said. "And I made a good living in coal for a long time and I liked it, so I don't take pleasure in saying that."
Recently, the EIA adjusted downward its coal forecast. It says coal production is expected to hit a record low in 2019. Appalachia will see its overall coal production drop from 201.5 million tons in 2018 to 170.1 million tons in 2020, according to the EIA forecast.
Limited Retraining
That doesn't bode well for miners. Houser, with the Rhodium Group, said while the Trump administration doubled down to boost coal, it has not offered any additional aid for job retraining.
"The past few budget proposals from the Trump administration have actually reduced the amount of support for retraining and economic diversification and coal retraining in coal country," he said.
Clemmy Allen has been retraining coal miners for more than 30 years for the United Mine Workers of America.
Since 2012, the UMWA's Career Training Centers in Appalachia has relied on a Department of Labor grant, which provides $5000 in tuition assistance and a $20 daily stipend to West Virginia miners who have been laid off or lost their jobs. He said thousands of miners have taken advantage of the program, but acknowledged it's also limited.
"It's very, very difficult for for a person just to … just shut down and go into training and not have money to, you know, meet their monthly obligations," he said.
Allen said in previous years the center had more federal grants to retrain miners in other states, and he says there are thousands of miners who have lost their jobs over the years who have since found work, but would like to be retrained to do something else.
"We never have enough resources, never," he added.
This article was originally published by Ohio Valley ReSource.
Rural Drivers Can Save the Most From Clean Vehicles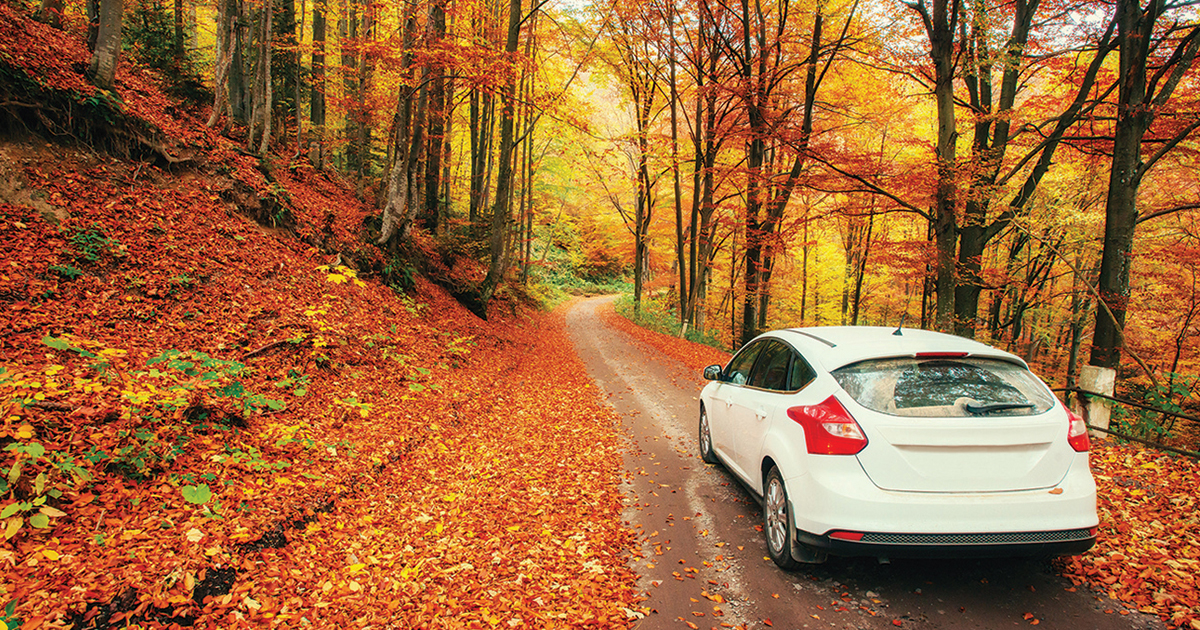 This post was written in collaboration with Maria Cecilia Pinto de Moura
The transition to clean vehicle technologies such as electric vehicles will benefit consumers everywhere, promising lower operating and maintenance costs, along with less pollution and a cleaner environment.
But the drivers with the greatest economic potential to gain by purchasing an electric vehicle are the residents of small towns and rural counties. Drivers living outside of urban areas often have farther to travel to work, shop, and visit a doctor. They have to repair their vehicles more frequently, they produce more carbon emissions per capita, and they spend more money on gasoline. As a result, rural drivers have the greatest potential to save money by making the switch to an electric vehicle.
Overall, rural residents have the potential to save up to twice as much as urban residents by making the switch from a conventional sedan to an electric vehicle. In addition, rural residents who drive pickup trucks and SUVs have the potential to dramatically cut their fuel costs and emissions through programs to encourage efficiency and electrification.
Rural drivers' potential to save money and cut emissions
Using data from the 2017 National Highway Traffic Survey, we created a model that approximates what vehicles are being driven, and for how many miles, in every county in the Northeast and Mid-Atlantic region. This data allows us to approximate the average cost and emission savings from an electric vehicle in each county. We also mapped out some of the differences in vehicle miles traveled that form the basis of these calculations (see below, our full methodology is here).
Overall, we find that in our most rural counties, the average driver will save $870 per year and cut carbon dioxide emissions by more than 3 metric tons per year by choosing an electric vehicle over a conventional sedan. That is almost twice the average emissions reduction from an EV in our most urban counties.
Bringing clean vehicle technologies to rural areas will not only benefit rural drivers, but it will also improve whole rural economies. Nearly all the money that we spend on gasoline and diesel fuel ultimately leaves our towns and our region, for other parts of the world. As electric vehicles replace the internal combustion engine on our roads, there will be more money in consumers' pockets – which means more jobs, and more local development for our small towns.
Obstacles to rural electrification
Unfortunately, although rural residents have the greatest potential to save from purchasing an electric vehicle, currently EV sales are concentrated in urban areas and inner suburbs. As of 2017, people in urban areas and inner suburbs report that they are about three times more likely to own a plug-in vehicle compared to people in rural areas.
Rural drivers share many of the same challenges in selecting an electric vehicle as urban and suburban drivers: not many consumers are aware of how easy it is to make the switch to an electric vehicle, and the charging infrastructure is inadequate. These concerns are particularly acute for rural drivers, who on average need to travel greater distances between charging stations and destinations. Rural drivers do have one major advantage over urban drivers: they are much more likely to have access to offstreet parking, which should make installation of a home charging station easier.
In addition, rural drivers may have additional concerns about electric vehicle technology, such as the ability of electric vehicles to provide adequate performance in cold weather climates (hint: EVs are great in cold or inclement weather) or to provide enough range to deal with rural driving distances. Some of these concerns are being addressed through improvements in technology: at 200+ miles, cars like the Chevy Bolt and Tesla Model 3 can serve the daily driving needs of residents of all areas. But even as the technology improves, cultural assumptions about what kind of vehicle is appropriate in what kind of area may remain.
As more electric vehicle models come to market, and vehicle costs continue to drop, rural drivers will have increasing choices in vehicle types from SUVs to pick-up trucks. But an EV may not work for every rural household today. Fortunately, automakers compelled by vehicle efficiency standards have been bringing more efficiency gasoline and diesel cars and trucks to market. Upgrading to a newer, more fuel efficient vehicle is another strategy available for every household today.
The Northeast needs a rural electrification strategy
Increasing growth of EV sales in rural areas will require states of the Northeast region to take a more proactive approach towards electrification in rural areas. We need a targeted strategy to reduce the barriers to adopt electric vehicles in our outer suburbs and rural areas. Such a strategy should include:
Increased incentives for rural & low- and moderate-income drivers. Overcoming the high purchase price of the vehicles is critical to achieving mainstream penetration of electric vehicles. Northeast states should consider adding additional incentives to make electric vehicles affordable for rural drivers. These incentives should include not only additional upfront rebates to reduce the purchase price of the car, but also financing assistance to help people with insufficient credit to purchase a new car. By targeting rural drivers, we can use incentive money most effectively to achieve our goals for emission reduction and cost savings.
Vehicle retirement programs to take the most inefficient trucks off the road. Many rural drivers are stuck driving some of the dirtiest, most inefficient vehicles on the road. A 10 year old Ford F-150 gets as little as 14 mpg, for example. A rural driver who trades an old F-150 to a new model can save up to $1,000 per year. Programs such as California's Enhanced Fleet Modernization Program have helped retire some of these low-emission vehicles and in the process saved money for drivers of all kinds of vehicles.
Build rural charging infrastructure. Addressing rural range anxiety will require increased investment in rural charging stations. Utilities should target rural areas for support, both for public charging and for support in constructing home charging stations.
Support grassroots education outreach and marketing efforts. Bulk purchasing programs such as the Drive Green program run by Green Energy Consumers Alliance can reduce costs and help consumers address the complex decisions necessary to purchase an electric vehicle. Utility programs such as Green Mountain Power's electric vehicle program can negotiate good deals from the auto industry and help their customers make the switch to electric vehicles. These programs should be encouraged to target rural communities and drivers.
As states in the Northeast and Mid-Atlantic consider new regional strategies to address transportation emissions, it will be critical for states to identify new strategies to help rural residents cut emissions and save money on transportation. One piece of a rural transportation strategy should be to enhance infrastructure that provides an alternative to driving an automobile, through expanded regional public transportation that give them easy access to urban centers, pedestrian and biking infrastructure that create vibrant communities in small towns. We should also consider how to best use innovative new transportation models facilitated by technology, such as vanpools, flexible bus routes, and ride hailing and sharing services to expand clean mobility to rural residents.
At the same time, we know that realistically driving a personal vehicle will remain an important part of the transportation system for rural communities. We need to provide rural residents with the cleanest vehicles that fit their needs. We encourage states to meet the challenges facing rural drivers with bold investments that can save money for consumers and reduce pollution for everybody.
This article was originally published by the Union of Concerned Scientists.
Rural's Connection to Environment Means Bigger Climate-Change Impact
Mainstays of rural American culture and economy – such as timber, agriculture, tourism, ranching, hunting, fishing, winter sports – could see major disruptions from climate change. The impact will be big enough to disrupt the national economy, a federal report says.
Rural communities face clear economic and environmental risks from a changing climate, according to the 2018 National Climate Assessment.
The report documents changes in the timing of seasons, temperature fluctuations, increased incidence of extreme weather and change in rainfall – all patterns with the potential disrupt rural economic activities.
Climate change in rural communities poses an outsized risk to the national economy, the report says.
"Rural America's importance to the country's economic and social well-being is disproportionate to its population, as rural areas provide natural resources that much of the rest of the United States depends on for food, energy, water, forests, recreation, national character, and quality of life," the report stated.  
While not all regions face the same impacts due to increased greenhouse gasses in the atmosphere, the assessment explains how increased volumes of carbon, methane and other greenhouse gasses in the atmosphere will lead to changing climatic patterns. The report's authors predict that changes will likely increase volatility in agricultural commodity markets, shift plant and animal ranges, increase the number and intensity of droughts and floods, and increase the number and size of wildfires throughout the rural landscape.
For portions of rural America with an economy based on agriculture, climate scientists are most worried about shifting geographic suitability of particular crops and abnormal timing for planting and harvest. These changes may result in additional use of herbicides and pesticides, which could create additional health risks from chemical applications. Crop and pasture yields and profitability could also be affected by changes in rainfall, temperature and extreme weather events. Increased flooding could increase soil erosion and water pollution from agricultural runoff, according to the report.  
Rural communities with an economy based on recreation and tourism also face significant challenges due to climate change, according to the report. Rising seas could damage rural Florida's multi-billion dollar recreational fishing sector and cause further ecological damage to the Everglades region.
Coastal erosion and rising oceans throughout the nation could affect wildlife habitat, disrupting hunting, fishing, bird watching, and other wildlife-related activities.
Rural places with significant winter recreation activities could face risks as snow-pack is expected to decrease.
Forest-dependent rural communities are likely to face significant change as well. Forest geographies and species composition are likely to shift as the climate changes. The number of pests and disease will increase. These factors could decrease timber and pulp harvests in some places. Forest fires are also expected to continue to increase in number, intensity and cost.
The report identifies certain demographic trends in rural communities that make climate change adaptation more difficult.
"Modern rural populations are generally older, less affluent, and less educated than their urban counterparts. Rural areas are characterized by higher unemployment, more dependence on government transfer payments, less diversified economies, and fewer social and economic resources needed for resilience in the face of major changes," the report states. That combination of an aging population with higher poverty rates increases vulnerability of rural people and places to changes in climate.
"Emergency management, energy use and distribution systems, transportation and infrastructure planning, and public health will all be affected," the study states. State, regional, local and tribal governments in rural communities tend to be under-funded and rely heavily on volunteers.
"Even in communities where there is increasing awareness of climate change and interest in comprehensive adaptation planning, lack of funding, human resources, access to information, training, and expertise provide significant barriers for many rural communities," the report concludes.
This report is the fourth National Climate Assessment, and summarizes the impacts of climate change on the United States. The report process was established by the Global Change Research Act of 1990 and mandates that the U.S. Global Change Research Program (USGCRP) deliver a report to Congress and the president no less than every four years.
A team of more than 300 experts guided by a 60-member Federal Advisory Committee developed the report. Scientists and researchers from federal, state and local governments, tribes and Indigenous communities, national laboratories, universities, and the private sector volunteered their time to produce the assessment. Information was gathered through a series of regional engagement workshops that reached more than 1,000 individuals in over 40 cities. Listening sessions, webinars and public comment periods also provided valuable input.  
This article was originally published by Daily Yonder.
When Losing 14 to 1 is a Win — Sort Of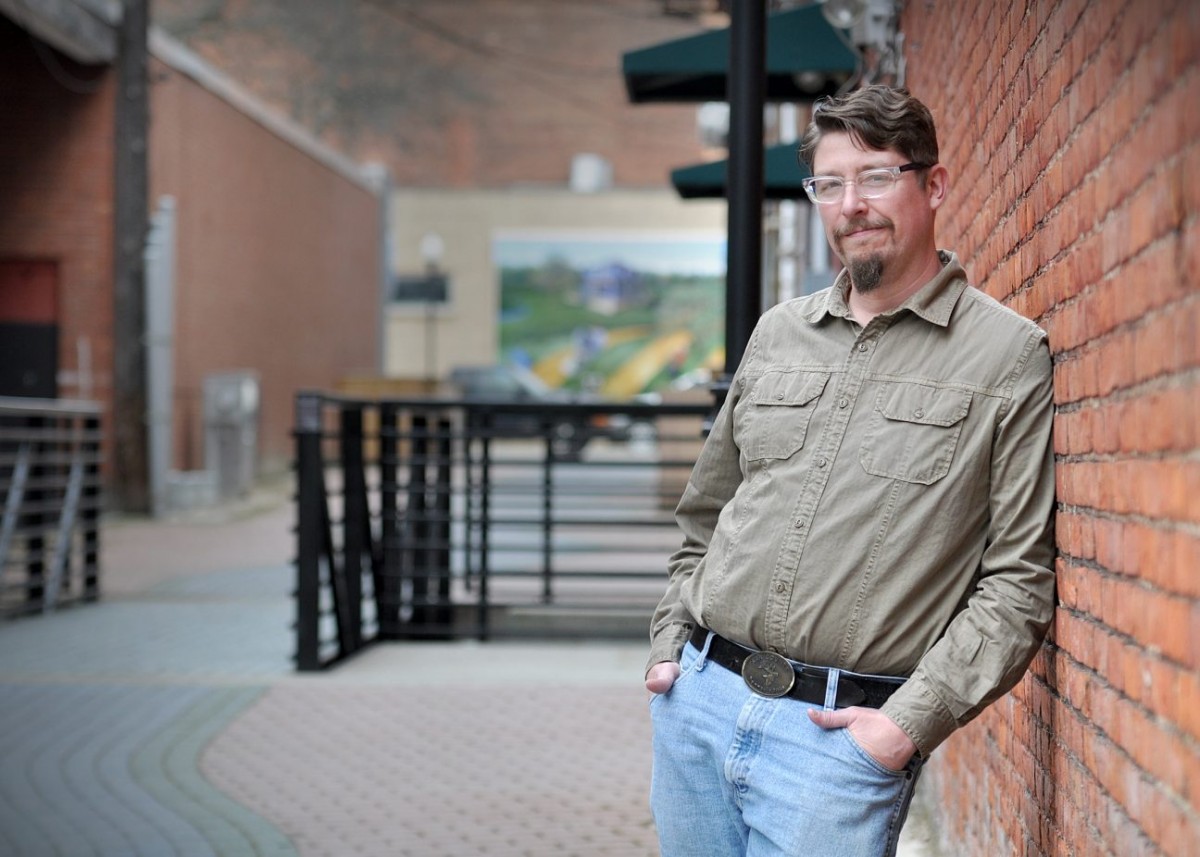 A last-minute write-in campaign against an unopposed Pennsylvania state representative yielded 900 official votes. It wasn't nearly enough to win, but it was enough to show that there's more to Appalachia than the average TV pundit claims.
Well, I didn't win. Let's get that out of the way.But on the night of November 6th, 2018, after launching a last-minute zero-budget Green Party write-in campaign against an unopposed Republican incumbent, in a Pennsylvania district that perpetually votes at about a 70 percent clip for even Republicans who get absolutely blasted in statewide races (see: gubernatorial candidate Scott Wagner, soundly defeated by Tom Wolfe), I wound up making a nearly 5 percent dent.
The how isn't quite as important as they why, I think, but in brief: exactly two weeks before the election, I announced on Facebook my intention to mount a write-in campaign for the Pennsylvania House of Representatives, disgusted that for the fourth time in seven elections, the local incumbent — Brad Roae — faced literally no competition. Nobody squared off against him in the Republican primary and nobody ran on the Democratic ticket. In fact, only twice in his tenure has he faced opposition from Democrats, each of them throttled to the tune of 60-40 or thereabouts in the general election.
As an even sorrier indication of the state of political engagement in the rural part of Northwestern Pennsylvania where I live, only once has a Republican ever challenged him in a primary. It's smooth sailing every two years, which leads to a tepid, basic and uninspiring legislative track record. Taxes are bad, he says. And, oh, let's have some laws to weaken environmental protections for gas well drilling. He has made public media posts that appear to equate school boards to Hitler, and he has argued that state funding shouldn't support students who major in "poetry or some other pre-Walmart major."
Yeah, that's who I lost to, my 900 votes or so to his 13,000. And that's the guy who has gone to Harrisburg for more than a decade representing my home. Among the many things that gall me about his incumbency is the way that, outside of Appalachia, a lot of people would probably nod their heads and say, yup. Brad Roae is the kind of representative people think Appalachia embraces, is the kind of person so many non-Appalachians see as purely representative of who we are and what we stand for.
But here's the thing. I'm finding hope in my two weeks as a candidate, and in the sudden flurry of interest and support. I ran because there had to be some opposition for democracy to have any chance at all, and when I did so I hoped I'd get 1 or 2 percent, not embarrass myself, shoot for the bar of 300 votes. That would be the same number of votes I would have needed as signatures to get on the ballot had I, say, planned ahead.
Then a funny thing happened. I started making videos introducing myself and my ideas, and put together a platform paper, and people started sharing these materials on Facebook, and I had to work through the anti-Russian Bot regulations the social media site now has so I could finally "boost" two of those posts on the morning of the election, and even before all that the organic sharing of an electorate dying for something, anything, that pushed against Appalachian political stereotypes meant 9,000 people had seen my stuff. Then, even though people had to first know I was running and then actually bother typing my name in, I fared okay. I earned about 65 votes for each day of my campaign. And I spent $50 on stickers, $20 on my Facebook ads.
Official county returns compiled right before Thanksgiving gave me 851 votes. The Monday following, I reviewed the official computations and found another 60+, if I include misspellings like Matt Terrance and, Michael Ferrence, and Matthew Fetterman (for a voter who maybe confused me with our Democratic Lt. Governor candidate John Fetterman), and That Guy Whose Name Starts With F, as well as The Guy on Facebook Ask (name redacted), as well as a litany of close-but-no-cigar last names coupled with Matt or Matthew: Ferrer, Ferraro, Fetter, Farreah, Ferrenc, Ferrous, Ferris, Ferentz, Ferrick, and DeFerence. I got 14 votes in neighboring state districts, and four votes for the U.S. House Race. Among other write-ins, I beat a slew of names that received a single vote or a handful, tough competitors like Brad Roae (who a few people wrote in, even though he was on the ballot), Stephen Colbert, Anyone But Him, Anyone Else, Jesus, God, and Red Breasted Nuthatch.
Look, my day job is writing and teaching. I'm a professor at a small liberal arts college, chair of the Department of English, writer and teacher of creative nonfiction. I was born in southwestern Pennsylvania, among the played out coal fields and strip mines an hour east of Pittsburgh. I earned a Ph.D. at West Virginia University, where I specialized in Appalachian literature. I wrote a memoir about my brain tumor, and the geology of the Allegheny Plateau, and the curious exile of inhabiting the weird position of Northern Appalachian, which means you're not quite normal American and not quite Appalachian. None of that adds up to politician, but all of it adds up to frustration. I've spent most of my life, other than brief adult stints in Arizona and France, living in a region that skews way right, even as that right continues to exploit and degrade the people and place. All Appalachia ever has been allowed to be is exploited. That's it. And that's all the rhetoric of the GOP offers, when you boil it down. Let's Make America Great Again, like when black lung wrecked lives on the regular and, newsflash, is now roaring back to life since the unions have been busted, and the economy of the region stayed busted, so the people crawled down into mines without the protections hard fought with blood and love by the striking workers of Blair Mountain, and the striking workers of Pittsburgh steel, and the striking auto workers of the Rust Belt.
Public historian Elizabeth Catte gets it right (she's the author of "What You're Getting Wrong about Appalachia") when she argues that Appalachians have been socialists all along. They just don't know it. They gathered together. They fought the power of industrial dominion. They powered America with their coal, yes, but they also fueled the national movement for respect and dignity for labor. Then the GOP figured out how to weaponize hatred and fear, and there you go. You get Joe Manchin, alleged Democrat. And you get a region that votes more than 2/3 for Trump and Trump-esque troglodytes like Pennsylvania's GOP gubernatorial candidate Scott Wagner, who claims that global warming is probably just accumulated body heat from a larger human population or happens because the earth is getting closer to the sun, and campaigns by saying he'll dance on the governor's face while wearing golf spikes.
It boils down to this: I am so tired of waking up on November Wednesdays in Appalachia, seeing election results and, worse, national punditry that says this is all we are and all we'll ever be. The election map of my state is bright red, other than around a few urban centers, just like most of Appalachia. That seems to translate to the same conclusion we get over and over and over again: dumb hillbillies voting for the worst. That conclusion seems to be supported by the simple math of our state politics, where more than half of state legislators run unopposed in their general elections, and our incumbency rate is about 90 percent. Few candidates ever put up a fight to change that.
So what's an Appalachian creative writing professor to do? You run a last-ditch campaign. You tilt against the windmills in a manner that is both impotent (because you get crushed at the polls) and, at least for me, hopeful. Because having a choice, any choice, other than the incumbent mattered to the 2,000 people who either voted for me or tossed in a symbolic protest write-in. Because people stopped me when I walked by, and messaged me on Facebook, and were angry when they learned about the campaign only after they voted because, damn it, they couldn't vote for the incumbent, and leaving it blank is just what the GOP has wanted for so long. The story of Appalachian politics has been about that blankness, a cultivation of the sense — and you can read this in almost every national outlet at some point in the last two years, usually with a quote from that faux-Appalachian pseudo-pundit J.D. Vance — that there's nothing but right-wing fools in these hills and hollers. Appalachia is given up for dead again, this time just as a tarnished example of the hatred and backwardness of politics in this strange, strange land.
That's just not how it is. That's not the Appalachia I know nor the one I saw in my brief campaign. Heck, I ran this mini-campaign focused specifically on lefty sustainability, as in ecology and tree-hugging, as well as economies that stop repeating the boom-bust cycles of our past, and I drew a mighty good swipe of votes all at once, in the end. There are a lot of people in my county who believe in the value of the environment, and the necessity of fine educations, and the rightness of universal healthcare, and the imperative of social justice, and the glory of love in all its forms. There are progressives in these hills, you know. And a lot of them, but also a lot who hear those same old stories and worry about what the neighbors will think, so they don't vote, or accept the inevitability of political monoculture. Thus the slam happens again. And again. And again. Unopposed Republican. Platforms of no taxes. Tacit acceptance of the Confederate Battle Flags that flutter on too many once-Union farmhouses.
Yeah, I got creamed. But I think we also won something that night. And we'll keep coming back for more, riding a blue wave tinged with green, fighting for a change in the rural center of America that so many figure is lost forever. You know the joke, about Philadelphia and Pittsburgh and a lot of Alabama in between. Well, Alabama has a Democratic Senator, and so does Pennsylvania. We can do more, do better, push against the dogged stupidity of a right-wing cultural war that makes us all weaker and worse off. We can step into these races, and we can square off and say, hit me, and we can get hit, and eventually we can win. I know I'll give it another shot – with my name printed on the ballot next time. I'll need at least a couple of months next time, to get enough votes to be competitive, if history holds. But I'll vow, and I hope others will too, that no one gets to run unopposed anymore. No one gets to spit out tired political bullshit and not get called out. This is our Appalachia too.
This article was originally published by the Daily Yonder.