WV School Workers Demonstrate as Legislative Session Begins
As a frigid wind blew around 6:30 Wednesday morning, Kanawha City Elementary teachers gathered in the dark on the sidewalk on 36th Street, holding signs and receiving a few supportive car honks in the moments before school began.
"We're out here just to let the Legislature know and the governor know that we still remember, we still didn't get PEIA fixed, so we want that to be a priority, we want more funding for our schools, we don't want them to cut the taxes, we heard rumors of the business tax being cut," said third-grade teacher Danielle Loehr.
"We're still ready to fight," interjected fourth-grade teacher Danielle Fernandez, another of about 15 teachers on the sidewalk. Her sign read "Funding education should be normal, not historic. #FundEducation #FixPEIA."
This was among the "walk-ins" at West Virginia schools Wednesday, the first day of the annual regular legislative session.
Last year's historic statewide public school worker strike won a 5 percent pay raise for school employees, and Public Employees Insurance Agency health insurance coverage benefits were spared from cuts.
But last month, Republican Gov. Jim Justice's PEIA Task Force, created as part of a deal to end the strike, announced that it wouldn't recommend a long-term way to fund the state health insurance program at its current benefit levels before the now-beginning session.
Stonewall Jackson Middle School teacher Jay O'Neal said teachers "walked in" in multiple counties, but didn't know exactly how many. He said the demonstrations were also about pushing for more employees in schools to deal with the problems students are facing.
"We want to remind and alert our communities, the Legislature and the governor that our schools are kind of dealing with a crisis," O'Neal said. "We see the effects of poverty and the opioid crisis every day here and we feel it when we don't have enough teachers, enough bus drivers, school psychologists, counselors."
Loehr also said schools need more counselors.
"We're cutting teachers and school staff, and that's not what we need, we need more help," she said.
O'Neal said the WV United Caucus, a group of teachers of which he's a member, came up with the idea for the walk-ins and pushed it in local union meetings, on Facebook and through caucus members' contacts.
Fred Albert, president of the American Federation of Teachers union's West Virginia arm, joined demonstrators at South Charleston High alongside Kanawha County Board of Education member Tracy White.
South Charleston High language teacher Robin Peck held a small sign in each hand, one saying "Fund PEIA" and the other saying "Increase Salary!"
She had a third, "Coat Club," attached to the lanyard hanging around her neck — a reference not to the outside temperature, but the climate she and her students deal with inside the classroom.
"I always wear a coat because the HVAC in our building is inadequate and my classroom temperature ranges from 57 to 60 degrees," Peck said of the heating, ventilation and air conditioning system. She said it's been that way for all 10 years she's been at the school. (Kanawha County's excess levy property tax increase for schools, passed by voters in November, is expected to address the school's HVAC issues.)
Peck said the main reason she was demonstrating Wednesday "is I have colleagues who struggle to pay their medical bills, I have colleagues who work an extra job or two, and this is unconscionable, we value education, you can't do this to your teachers, stress 'em out, and overwork 'em, we're professionals."
"They have a family member with a serious disease, they shouldn't have to worry about bankruptcy, they shouldn't have to worry about moving to another state because we're not covered adequately," she said.
This story was originally published by Charleston Gazette-Mail.

Fact-check: Is Jim Justice the First West Virginia Governor to Fight For Teacher Pay Raises?
West Virginia Gov. Jim Justice, facing a competitive Republican primary in 2020, recently introduced an ad touting his accomplishments in office, including a focus on K-12 education.
The ad, released in a Dec. 4 tweet, features several West Virginians reading off a series of scripted accomplishments from Justice's tenure. One of the accomplishments, voiced by a teacher, is that "Jim Justice is the first West Virginia governor to fight for pay raises for educators."
This struck us as odd since governors of all parties regularly tout their support for teachers — a group that's popular with voters and, in many states, a politically powerful constituency.
Teacher salaries have been an especially sensitive issue in West Virginia. Between 2005 and 2017, West Virginia teacher salaries never rose higher than 44th in the nation. That history set the stage for a 2018 teacher strike in West Virginia, which was the state's first major K-12 walkout in almost three decades. Justice eventually signed a 5 percent pay bump, which is more than the legislature had offered prior to the strike.
So is Justice really the first West Virginia governor ever to push for teacher pay raises? His office did not respond to inquiries for this article, but we found that each of Justice's five immediate predecessors either proposed or enacted teacher pay raises.
Gov. Earl Ray Tomblin, Democrat, 2011-2017
In his first state of the state address in 2011, Tomblin proposed a one-time, across-the-board $800 increase for teachers. "Frankly, it should be more and we need to strive for a day when our teachers are paid at a rate equivalent to the most important role they play," he said in the speech, according to the Associated Press.
In 2014, despite offering few increases in his relatively austere budget proposal, Tomblin did include a 2 percent pay raise for teachers. The bill he eventually signed contained a $1,000 raise for teachers for the 2014-2015 school year.
Gov. Joe Manchin, Democrat, 2005-2010
As governor, Manchin — now a U.S. Senator — periodically sparred with teachers' unions over the size of his salary increase proposals. But both Manchin's Senate office and West Virginia teachers' unions agree that he proposed a teacher salary increase and signed it into law.
During his tenure, Manchin raised teacher salaries by 3.5 percent, according to a joint statement released by the West Virginia Education Association, the American Federation of Teachers-West Virginia, and the West Virginia School Service Personnel Association when the groups endorsed Manchin's Senate reelection bid in 2018. Manchin's Senate office cited the same 3.5 percent increase when we inquired.
The legislation Manchin signed also improved teachers' annual salary increments and allowed educators to move from a 401(k)-style defined contribution plans to a defined-benefit system.
Gov. Bob Wise, Democrat, 2001-2005
In his 2001 state of the state address, Wise proposed raising teacher salaries by $1,000, plus $2,500 in incentives. "Teachers are the heart of the educational system. We must honor the work of our teachers," he said.
After leaving the governor's office, Wise became CEO of the Alliance for Excellent Education, an education advocacy group.
Gov. Cecil Underwood, Republican, 1997-2001
In his 1998 state of the state address, Underwood proposed giving teachers a $750 pay raise. He signed a three-year pay raise into law later that year.
Gov. Gaston Caperton, Democrat, 1989-1997
Caperton was governor during a divisive, 11-day West Virginia teacher strike in 1990, but he ended up presiding over a significant pay increase for the state's teachers. The strike was settled when all parties agreed on a $5,000 pay increase phased in over three years.
Last year, PolitiFact reported that most significant recent improvement in West Virginia teacher pay compared to other states came between 1990 and 2000, a period during which Caperton and Underwood were in office.
Like Wise, Caperton headed an education group — the College Board — after serving as governor.
Our ruling
Justice's ad said he's "the first West Virginia governor to fight for pay raises for educators."
That's far off-base. Seeking pay raises for teachers is practically a rite of passage for governors, and West Virginia is no exception. Not one, not two, but each of Justice's five most recent predecessors — Tomblin, Manchin, Wise, Underwood and Caperton — either proposed a teacher pay raise, signed one into law or both. We rate the statement Pants on Fire!
This article was originally published by PolitiFact.
Lawmakers Express Need For Revival Of W.Va. Holocaust Education Panel That's Been Dormant For Years
A West Virginia commission tasked with educating middle and high schoolers on the horrific events of the Holocaust has lain dormant for years. But some state leaders have been pushing for more than a year to bring it back. Those involved in trying to revive the commission say recent displays of anti-Semitism highlight the need for its existence. 
Gov. Cecil Underwood established the West Virginia Commission on Holocaust Education in 1998 by executive order. Dr. Edith Levy, a Holocaust survivor and Morgantown resident, was the architect of the panel. She had written about her experiences and developed curriculum on the subject.
"There was nothing in the schools, the history book had one paragraph that mentioned the Holocaust. Who was it that said, if you don't learn from history, you're bound to repeat it?" Dr. Levy told West Virginia Public Broadcasting five years ago.
In 2001, the Legislature enshrined the commission in state code. State law called for 11 members, including educators and state lawmakers.
As a result of declining health, Levy stepped down as chairwoman of the commission and, since then, the commission laid dormant.
"We've been in limbo since 2014," said state Sen. Bob Beach.
Beach has served on the commission since being appointed in 2001 by then-House Speaker Bob Kiss. Later, when Beach was elected to the Senate, he became that chamber's appointee.
Beach acknowledges that the commission has fallen off in recent years but said recent displays of anti-Semitism have motivated him and others to bring Dr. Levy's vision back.
"It's actually her son who approached me last year following the scenario that played out in Pittsburgh at the synagogue there at the Tree of Life," Beach explained. "So, he reached out to me during Thanksgiving last year and said, 'Hey, what can we do to get this moving forward again?'"
"As a survivor, she saw the value of education and getting the message out, particularly at the middle school and high school levels," Levy's son, Laurent, said.
As part of the growing effort to revamp the group, House Minority Leader Tim Miley nominated Del. Mike Pushkin to serve on the commission.
"Last month, I believe about the middle of November, the minority office — the Democrats in the House — we sent a letter to the Speaker of the House, requesting that I be appointed as one of only two Jews that serve in the Legislature," Del. Pushkin said. "We asked that I'd be appointed to this commission — and I've yet to get a response from the Speaker's office."
House of Delegates spokesman Jared Hunt said Speaker Roger Hanshaw's office is still researching the status of the commission and who the most recent delegate-appointee was. Basically, Hunt said, there are some technical issues that may be at play.
The commission also hasn't been funded since 2016, according to state budget documents.
The governor's office did not respond to a request for an interview.
The renewed interest in the commission comes as a photo of West Virginia corrections officer trainees showed many in the cadet class giving an apparent Nazi salute. The story made national and international headlines, and state officials say they are nearing the end of an investigation into the matter.
Given the timing of his nomination to the commission and the discovery of the photo, Del. Pushkin said the need for the panel goes far beyond any one incident that displays hatred.
"Had this commission been up and running, would it have prevented something like this? I don't know," Del. Pushkin said. "But I never think it's the wrong time to educate our children — even educate our adults — about the atrocities that happen when we stop seeing each other as human beings."
Those who have ties to the commission say there are growing problems with anti-Semitism — and the Commission on Holocaust Education needs to be revived.
"There is that pattern that is redeveloping itself — in our country, in our state. Particularly we want to focus on, I think Holocaust education is the opportunity for us to let's re-educate the public and that's why we're back," Beach said. "We're coming back to square one. It's a real education of our students and the general public that the Holocaust was a serious issue. We won't accept folks standing in a photo working for the state of West Virginia and giving the Nazi salute. It's just not acceptable."
Laurent Levy agrees with others who see the need. Levy is not quick to pass judgement on those in the Nazi salute photo. He said it may be a joke — and maybe those cadets didn't really know what they were doing while making that pose. Regardless, he said, those kinds of messages are dangerous and underscore the need for his mother's commission.
"I think a lot of what you're seeing with some of this anti-Semitism around the world is simple. It's ignorance — and the only remedy for that is education. We need to have these people taught and shown — and understand what's really behind that," Levy said of the photo depicting the corrections officer trainees giving a Nazi salute.
While other states have similar commissions that guide Holocaust education, there are others who mandate teaching the subject — in hopes of educating children.
According to the United States Holocaust Museum, 12 states require Holocaust education as part of their secondary school curriculum. West Virginia is not one of them.
This article was originally published by West Virginia Public Broadcasting.
Mountain Nature Camp: Celebrating 90 Years Of Solace, Community, Outdoor Learning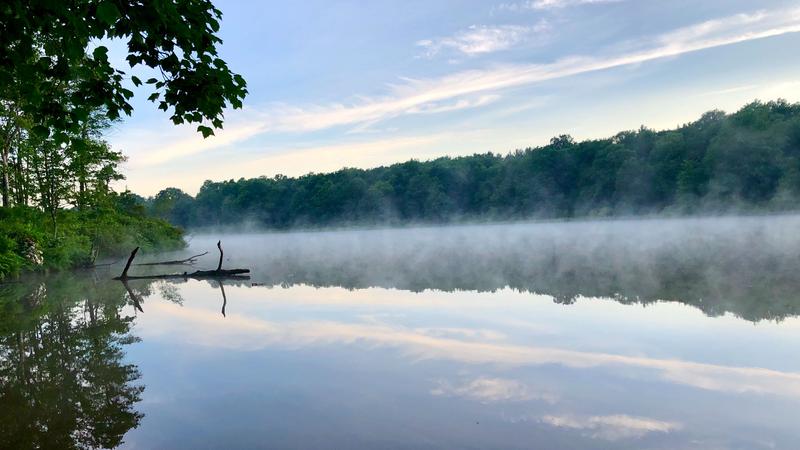 People from all over the state and region converged in Terra Alta, West Virginia, this summer to celebrate nine decades of Mountain Nature Camp. It's a camp where adults go to study pristine Appalachian corners of the world. Many folks came to celebrate community and traditions that have been going since 1929. But also to get their nature fix – which researchers say is critical for both human health and maybe even life on the planet.
A Tradition of Outdoor Learning, Being
"As far as I know, this is the oldest running nature program for adults in the country," camp director Mary Grey said. She started as a camper in the 1980s. "It's a program that lets adults come and be kids again. We do nature study, we go on bird walks, we sit around the campfire and sing songs."
The camp property is in a forested grove outside of the small, rural town of Terra Alta in Preston County. A larger wooden structure with a kitchen and mess hall stands next to some shelters and a bath house. They're all clustered at the edge of a small lake among mixed hardwoods, ferns, and wildlife. It's the basecamp. Most days are spent traveling to unique and protected ecological spots nearby like Blackwater Falls, Dolly Sods, or the Cranesville Swamp.
This year campers from years past rolled in and pulled up chairs and stools in front of the main building, passing around photo albums and sharing memories.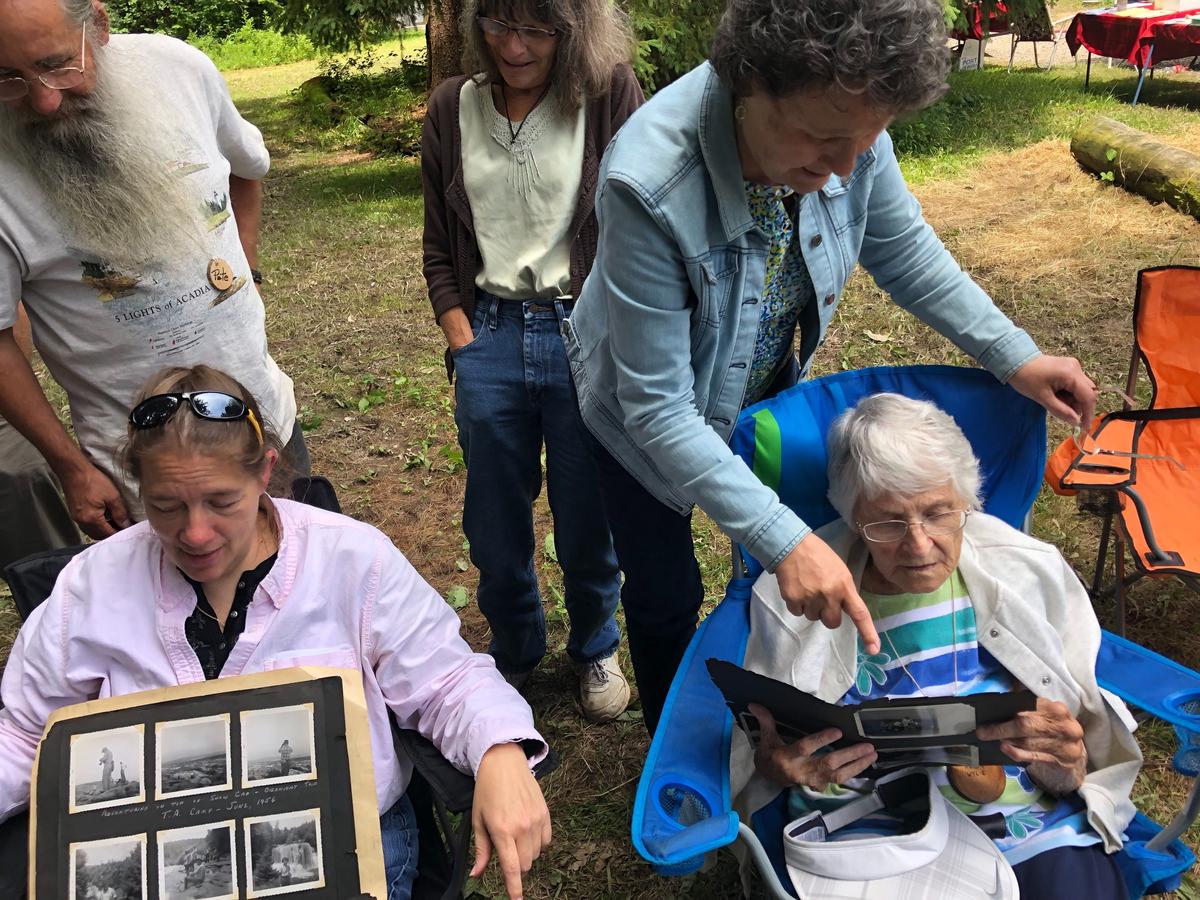 The Ultimate Classroom
Don Altemus came from Cleveland for the 90th celebration. He first started coming to camp in 1947 and for many years was a lead naturalist, teaching many classes.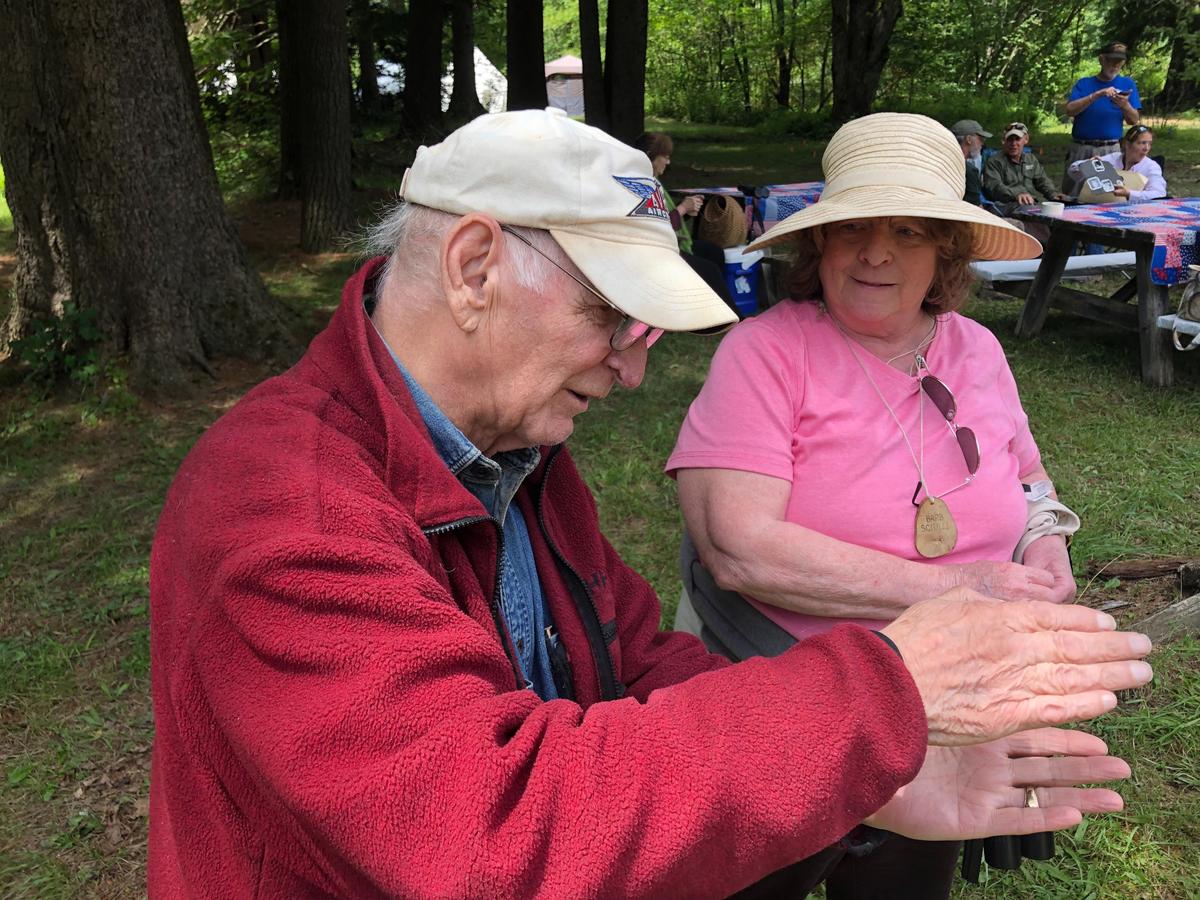 Altemus is retired now, but he kept a day job as a naturalist in Cleveland for years. He says he's always found West Virginia to be an ideal place to study and teach about the natural world. 
"West Virginia for natural history is one of the most fascinating in the eastern United States," Altemus said.
He explains that since Preston County sits 2,700 feet above sea-level, the winters get really cold, while summers are still very hot – creating a lot of ecological variety. He calls Mountain Camp the ultimate classroom.
"In nature if you don't see anything interesting, look closer," he said.
Mountain Camp takes place every June in Preston County for two weeks. It costs $350 a week, with some scholarships available, and has operated through Oglebay Institute since it was founded in 1929. Some campers come year after year, as well as expert naturalists, and regular newcomers who rotate through each year.
"Really for the last 90 years, the teachers that come in to teach these classes whether it's ornithology or botany — they really are the experts in their field," explained environmental education director at Oglebay, Molly Check. "And I think that's why Mountain Nature Camp has lasted as long as it has and also remains relevant."
The Hidden Lessons, Benefits
Today, one of those experts is Bill Beatty. He's the lead naturalist here at Mountain Nature Camp. At the edge of Terra Alta Lake — a several-acre body of water nestled into the high altitudes of Preston County — Beatty easily identifies any of the plants growing, adding facts about how they can be used or roles they've played throughout history.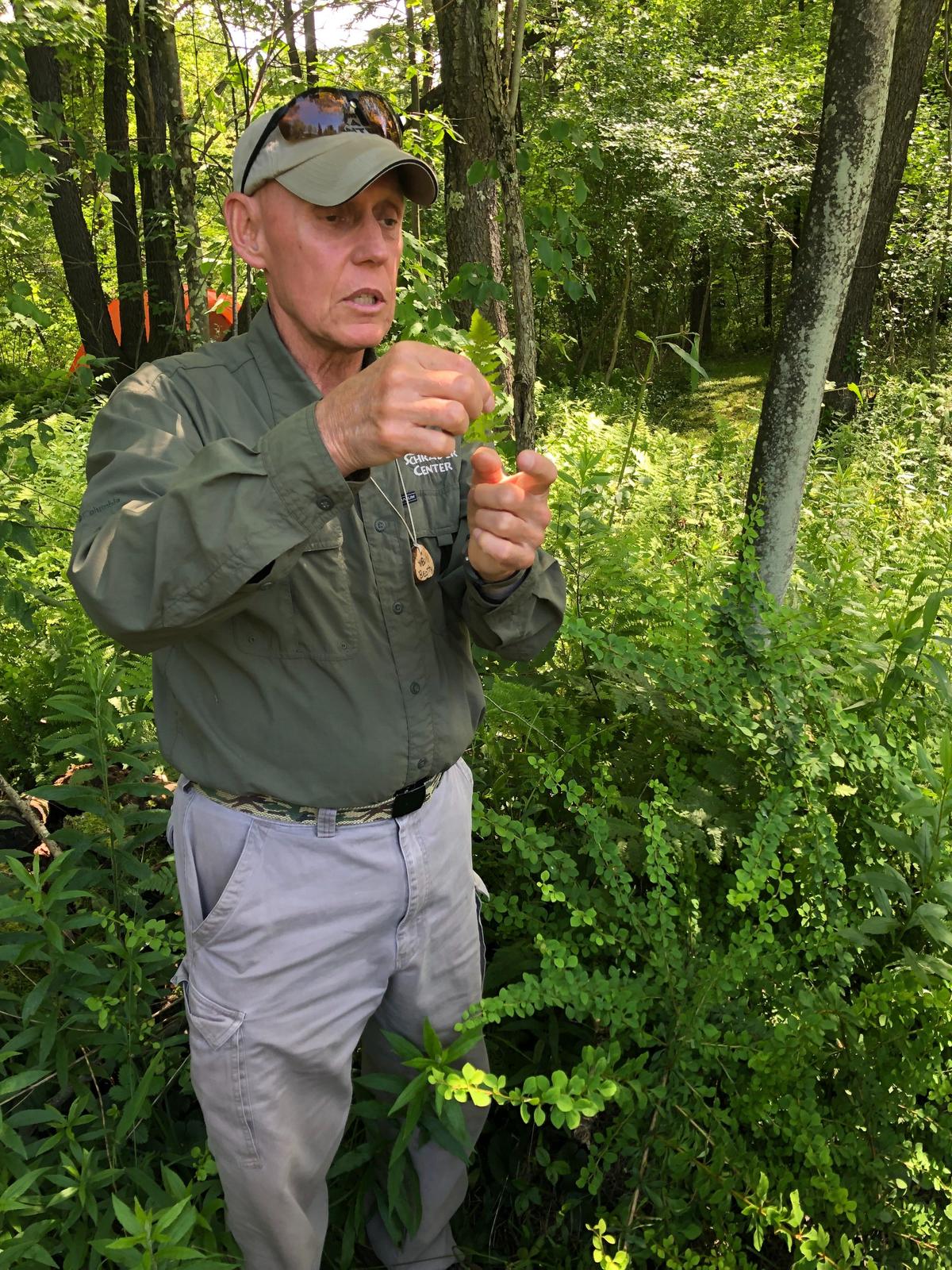 Beatty's career from college until now has been nature-related and he's been coming to Mountain Camp since 1972. He comes to study nature, but also for peace of mind.
"We're sitting here looking across this lake. You don't see a single person or anything associated with people. There aren't many places you can go and see that," Beatty said. "I've had students who I taught at a university who were inner-city and they're very uncomfortable in this situation. It's very foreign to them. But yet we're learning through studies that this is the kind of thing that people need to be healthier."
Beatty is referring to any of dozens of peer-reviewed studies that have been published over the past 40 years that share findings related to the effects of viewing and experiencing natural settings — benefits like lowered blood pressure, pulse rate, and the stress hormone cortisol as well as elevated moods and higher serotonin production (aka, "the happy chemical").
Researchers have also discovered that people today typically spend about 90 percent of their time indoors or in a car, which can be dangerous not only because of physical inactivity, which contributes to a host of life-shortening health problems, but also because of exposure to indoor air pollutants.
Fortunately, Beatty points out, going outside is often a cheap, easy remedy. He says it's good for our health, and maybe the planet, too.
"We have to get people to understand how valuable this is," he said. "And what I mean by value is — you can't stay conscious any more than four minutes without the air we breathe! You think, 'Oh my TOOTHBRUSH is really important. I gotta brush my teeth every morning' — which is good, that's not a bad thing — but you don't think about the air."
Education director Molly Check agrees.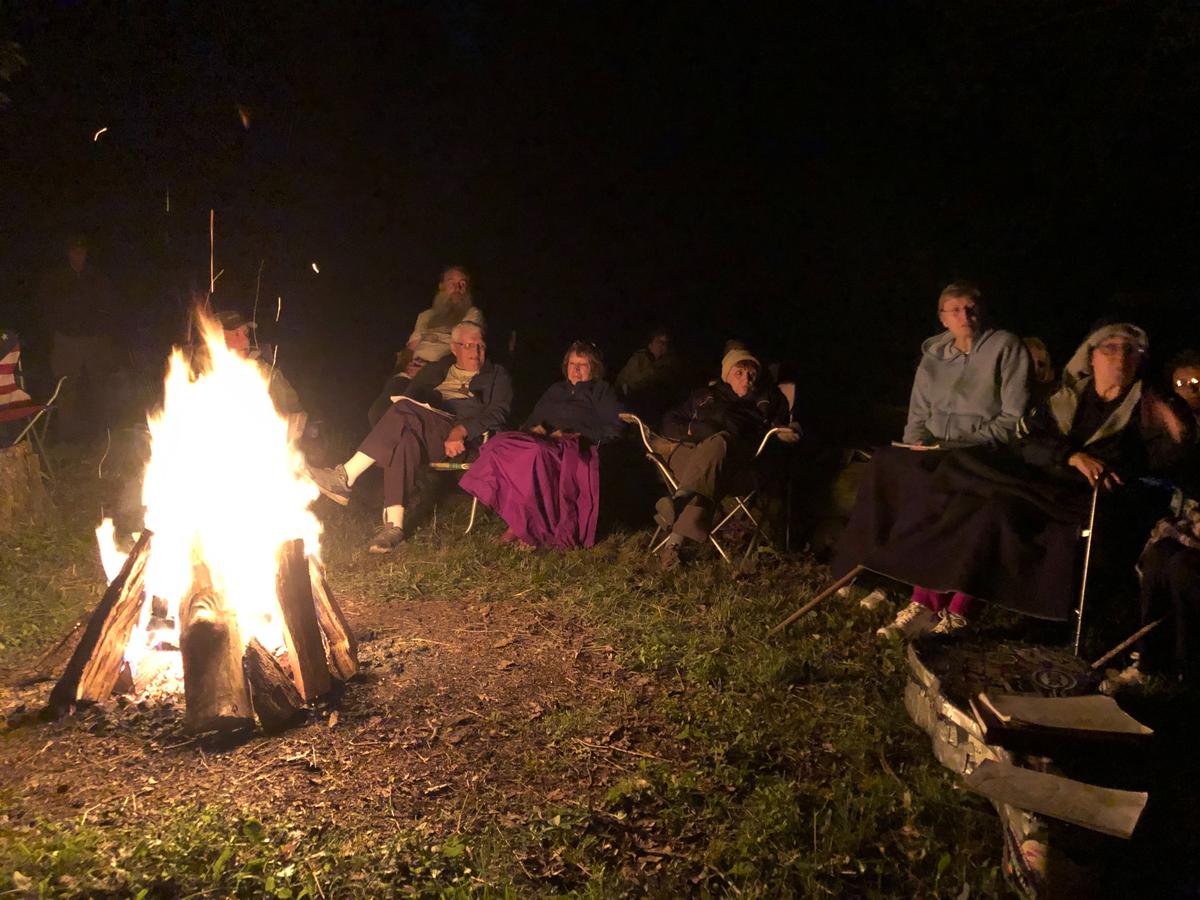 "Seven billion plus people that live on Earth. And I think everyone is aware of the different environmental problems that we face as a species. Whether you're gonna talk about climate change or conserving water resources, there are a lot of challenges that lie ahead of us."
Check says the best way to overcome those challenges is to gather a group of people who are very passionate about the earth and motivated to solve those problems. And she says Mountain Camp produces those types.
"You're not going to care about those problems or even know about them unless you have that firsthand experience. The campers that are here would likely lay down their lives to save this little place in West Virginia and also by extension the natural world that found all over."
This article was originally published by West Virginia Public Broadcasting.