Charlottesville's Other Jim Crow Legacy: Separate and Unequal Education
The Virginia city has one of the widest achievement gaps in the U.S., and a ProPublica/New York Times analysis shows that white students there are about four times as likely as black students to be considered gifted.
This article was produced in partnership with The New York Times.
CHARLOTTESVILLE, Va. — High school seniors Zyahna Bryant and Trinity Hughes have been friends since they were 6 years old, raised by blue-collar families in this affluent college town. They played on the same T-ball and softball teams and were in the same church group.
But like many African-American children in Charlottesville, Trinity lived on the south side of town and went to a predominantly black neighborhood elementary school. Zyahna lived across the train tracks on the north side and was zoned to a mostly white school, near the University of Virginia campus, that boasts the city's highest reading scores.
In elementary school, Zyahna was chosen for the district's program for gifted students. Since then, she has completed more than a dozen Advanced Placement and college-level courses, maintained a nearly 4.0 average, and has been a student leader and a community activist. She has her eyes set on a prestigious university like UVA.
"I want to go somewhere where it shows how much hard work I've put in," said Zyahna.
Trinity wasn't selected for the gifted program. She tried to enroll in higher-level courses and was denied. She expects to graduate later this school year, but with a transcript that she says won't make her competitive for selective four-year colleges.
"I know what I'm capable of and what I can do," Trinity said, "but the counselors and teachers, they don't really care about that."
For every student like Zyahna in Charlottesville's schools, there are scores like Trinity, caught in one of the widest educational disparities in the United States. Charlottesville's racial inequities mirror college towns across the country, from Berkeley, California, to Evanston, Illinois. But they also match the wider world of education, which is grappling with racial gaps — in areas from gifted programs to school discipline — that can undercut the effort to equitably prepare students for college in a competitive economy.
The debate over the city's statue of Robert E. Lee and the white supremacist march last year set Charlottesville apart and spurred it to confront its Confederate past. But the city hasn't fully come to terms with another aspect of its Jim Crow legacy: a school system that segregates students from the time they start and steers them into separate and unequal tracks.
Charlottesville is "beautiful physically and aesthetically pleasing, but a very ugly-in-the-soul place," said Nikuyah Walker, who became its first black female mayor during the self-recrimination that swept the city after last year's white nationalist rallies. "No one has ever attempted to undo that and that affects whether our children can learn here."
Today, white students make up 40 percent of Charlottesville's enrollment, and African Americans about a third. But white children are about four times as likely to be in Charlottesville's gifted program, while black students are more than four times as likely to be held back a grade and almost five times as likely to be suspended out of school, according to a ProPublica/New York Times examination of newly available district and federal data. (Look up your school, district, or state in ProPublica's interactive database.)
Since 2005, the academic gulf between white and black students in Charlottesville has widened in nearly all subjects, including reading, writing, history and science. As of last year, half of all black students in Charlottesville could not read at grade level, compared with only a tenth of white students, according to state data. Black students in Charlottesville lag on average about three and a half grades behind their white peers in reading and math, compared with a national gap of about two grades.
Over the decades, school board members have often brushed aside findings of racial inequality in Charlottesville schools, including a 2004 audit — commissioned by the district's first African-American superintendent — that blamed inadequate leadership and a history of racism for the persistent underachievement of its black students.
Officials in the 4,500-student district — which spends about $16,000 per pupil, one of the highest rates in the state — instead point to socioeconomic differences; the vast majority of Charlottesville's black children qualify for free or reduced-price meals at school because of low family income. District leaders say they are tackling the achievement gap, with initiatives such as eliminating prerequisites for advanced classes. Besides, they say, test scores are only one measure of success.
"I'm not trying to make excuses" for the test scores of black students, said Rosa Atkins, the district's superintendent for almost 13 years, "but that's only one measure of where they are, and who they are, and their capabilities for success."
About a third of the 25 districts with the widest achievement disparities between white and black students are in or near college towns, according to a review of data compiled by researchers at Stanford University. That may be because affluent families in university towns invest a large proportion of their resources in their children's education, said Sean Reardon, a professor of education at Stanford. In such communities, "disparities in resources — between white and black students, for example — may be more consequential," Reardon said.
Atkins said that it's unfair to compare black students with white classmates who attended the best preschools and have traveled abroad. "The experiences that they bring into our school system are very different," she said. "When we start saying that until you start performing like white children, you have a deficit, I think that in itself is discrimination."
Still, socioeconomics don't fully explain the gap. State exam data shows that, among Charlottesville children from low-income families, white students outperformed black students in all subjects over the last three years. The same pattern holds true for wealthier students.
And in the last year, even the city's immigrant students who are learning English have outperformed black students on state exams in every subject.
Atkins said that what doesn't show up in test scores is how far behind black children start and how they sometimes have to acquire two years' worth of skills in just one year.
"I dare say that our black children are performing better than our white children" when their progress is considered, she said. "That tells me that our children have resilience, tenacity and ability far superior than what we're giving them credit for."
Among white parents, last year's rallies have fostered franker discussions of racial inequality, said one of them, Guian McKee, a UVA associate professor. "There's been a lot more openness to some of those challenging conversations," he said.
At their predominantly black elementary school, McKee's two children participated in the gifted program, which is about three-quarters white. Such disparities, at odds with Charlottesville's reputation as a bastion of Southern progressivism, have long been a taboo topic, he said.
"For a lot of people, it's really uncomfortable to see that even if you haven't personally done anything wrong, you're part of larger structures that contribute to producing poverty and inequality, including in educational outcomes," McKee said.
Much like its Confederate past, Charlottesville's history of school segregation weighs heavily on the present day. "I don't think the hate groups selected our community by chance," Atkins said.
Charlottesville greeted the Supreme Court's 1954 Brown v. Board of Education desegregation decision with a firm no. In 1958, Gov. J. Lindsay Almond ordered the city to shut down two white-serving public schools rather than integrate.
Many white families opted for private schools, which were able to secure public funding through voucher-like tuition grants. Under pressure from the Supreme Court of Virginia, Charlottesville reopened its schools in 1959, allowing a dozen black students to attend its historically white schools.
But the city's resistance to integration persisted. Instead of outright segregation, the white-led district established testing requirements solely for black students who tried to enroll in historically white schools. It also allowed white students who lived in attendance zones of historically black schools to transfer back to predominantly white schools. Black students who lived near mostly white schools were assigned to black schools.
After a federal appeals court invalidated the district's attendance policies, the city relied more closely on residential zones to sort students.
In 1984, Charlottesville High School ignited after the student newspaper published derogatory remarks about black students. The high school was shut down for a day. "Seniors for White Supremacy" was painted in its parking lot.
Two years later, the board considered redrawing school zones to bolster racial and economic equity, but it worried about white flight. In the end, elementary school boundaries were largely left alone. The district pooled the city's middle school students into two schools, one serving all fifth- and sixth-graders, and the other serving all seventh- and eighth-graders. The number of white students declined about 20 percent within a decade.
Other efforts to reshape attendance zones faced resistance. In 2003, a predominantly black group of families asked to send their children to Venable, one of the historically white schools that had closed rather than integrate. Venable, which Zyahna would later attend, has the highest reading proficiency of all elementary schools in the city.
The black families lived several blocks from Venable and had grown frustrated by their children's long commutes to their zoned school. But when the board proposed reassigning the 20 children, white parents from Venable "freaked," said Dede Smith, then a school board member.
"We will NOT accept redistricting when it is done, as in this situation, sloppily and hurriedly and in a way which negatively impacts the quality of education for all students involved," read a letter from the Venable parent-teacher organization. It took a year for the board to rezone the children to Venable, according to Smith. Today, some black families are able to send their children there, but residents of a mostly black public housing complex nearby are not among them.
"We only put our toe in the water," Smith said.
The following year, in 2004, the school board hired Scottie Griffin as superintendent. She tapped a respected education association to review inequities across the district. The report by five academics revealed a deeply fractured school system.
"While some members of the community might wish for an elongated period of time to ponder and debate changes, the children are in school only once and then they are gone," the audit concluded. "No city can survive by only serving one half its constituents well. The future of such a legacy is dire."
The auditors pushed for increasing black students' access to high-level academic programs, including gifted and Advanced Placement courses.
Kathy Galvin, a parent who is now a City Council member, responded to the audit in an internal memo to the school board, urging the board to reject the racial bias findings, which she called "unnecessary and in fact harmful," and implored members to focus on improving "our educational system for the benefit of all children."
​​Today, Galvin largely stands by that position. "A 'too narrow and racially biased' focus on the schools does a disservice to the dedicated educators who have made a difference and risks misdiagnosing a complex problem, leading to ineffective solutions," she said.
In 2005, within a year of her hiring, Griffin was pushed out. She did not respond to questions from the Times and ProPublica.
Atkins said she has incorporated some of the audit's recommendations, such as data-driven decision-making and a reorganization of central office staff, into the district's strategic plan.
One of the audit's central focuses was the city's gifted program, known as Quest. As white enrollment in the city's schools contracted over the years, the program tripled in size, according to an analysis by a UVA researcher, largely benefitting the white families who remained.
To black families, segregation had returned by another name.
"Everyone wants the best for their kid, but this has been the thing that has helped drive the segregation engine," said Lisa Woolfork, an associate professor at UVA and member of Black Lives Matter Charlottesville, whose children attend Charlottesville schools. "I have always been of the opinion that this type of internal segregation is the way to keep white people in the public schools. This is a way that white supremacy undergirds the public school system."
In 1984, only 11 percent of Charlottesville's white students qualified as gifted, according to federal data from the UVA analysis. By 2003, according to the audit, about a third of white students qualified, the same proportion as today. White students make up more than 70 percent of the district's gifted students.
When students are selected for Quest, they are pulled out of their regular classrooms for enrichment sessions in academics and arts with a specialized teacher in a designated classroom.
"When people bring up Quest, we get angry," Trinity said. "We all wish we had the opportunity to have that separate creative time. It drives a gap between students from elementary school on."
For children who read below grade level, the city offers a supplemental program called Extending the Bridges of Literacy. But the literacy program takes place after school, and it is taught by any instructors who volunteer to extend their workday for extra pay, regardless of whether they have specialized intervention training.
Racial inequities persist into the high school's Advanced Placement courses, which provide students with college credits. White students in Charlottesville are nearly six times as likely to be in AP courses as their black peers, according to recently released federal data.
"There is an incentive to segregate these kids," Smith said. "I don't think the schools see anything positive in an academic mixing pot because the white parents will leave."
In the last two years, Charlottesville High administrators have introduced staff training on racial inequalities. Teachers have participated in professional development that included studying "equity-based teaching," lessons in Charlottesville's local black history and Civil War history, and workshops on implicit bias. The school's principal also set up focus groups and surveyed high-performing black students about underrepresentation in advanced courses.
Atkins has introduced other initiatives aimed at reducing the achievement gap. Besides abolishing prerequisites for advanced courses, she created a "matrix" that families could follow to map out a sequence of coursework. She also has tried to remedy the underrepresentation of minorities and girls in science electives by giving every middle schooler an opportunity to take an engineering course.
The school district has also expanded what it calls "Honors-Option" courses, in which students can opt to meet requirements for regular or honors credit.
Jennifer Horne, an English teacher at Charlottesville High School, called her honors-option course "the most beautiful place in the building. You've got struggling readers and kids who are way smarter than me in the same room." She said she is able to pose the "big questions," which are usually reserved for advanced courses, and identify students with untapped potential.
With the help of a scholarship, Zyahna attended preschool to first grade at an elite private school. Her preparation helped her to pass an admission test for the gifted program after she entered Venable. As she got older, church members who worked in the schools advised her on the programs and classes she needed to stay on pace with her white peers.
Zyahna felt isolated in the sea of white faces. She became an activist, founding the Black Student Union, petitioning the City Council to remove the Lee statue and speaking out at school board meetings about the achievement gap. "It has caused me to become even more of an advocate for people of color, just for my blackness, because you enter into this whole sunken place when you get into honors and AP courses," she said.
Zyahna likened her high school experience to shopping because students have to scout out the best deals. "You literally have to go ask for everything yourself, and not everyone has those skills or confidence."
Trinity said she lost that confidence as teachers repeatedly rejected her requests to enroll in higher level courses. She tried to take Algebra II her junior year, an essential course for many colleges. Trinity had struggled early in a geometry course but had stayed after school, sought tutoring and earned a B. She figured that she could work just as hard in Algebra II.
Her geometry teacher wouldn't allow it, Trinity said. The teacher declined to comment on individual students. School officials said that a student's performance in geometry isn't the only factor in a teacher's recommendation for Algebra II.
Trinity's mother, Valarie Walker, fought for Trinity to take higher level courses, but school personnel didn't "want to listen to what the black kids have to say," she said.
"I don't think our voices were as strong as they needed to be," she said. "They kept saying, 'This would be better.' I think we gave up fighting."
In Charlottesville's schools, the mantra is graduate by any means necessary. Bring up anything else — test scores, suspension rates — and Atkins counters, "We prefer to focus on the long-term goals, and the long-term goal is graduation."
About 88 percent of black students graduate, just under the state average for African Americans, and up from 66 percent a decade ago. They trail their white peers by about 8 percentage points. The district's graduation rate, 92.6 percent, is at its highest since the segregation era, said Atkins.
But all diplomas are not equal. About three decades ago, Virginia established a two-tier diploma track, in which districts award "standard" or "advanced" diplomas based on a student's coursework. It's one of at least 14 states with this kind of approach. Three years ago, the state superintendent of public instruction proposed moving to a single-diploma system but backed off when parents complained.
The advanced diploma requires students to complete an additional credit in mathematics, science and history and mandates students to take at least three years of a foreign language; for the standard diploma, learning a language is not compulsory. Starting as early as middle school, honors and accelerated courses put some students on a path to advanced high school credits. In Charlottesville, about three-quarters of white students graduate with an advanced diploma, compared with a quarter of their black peers.
The type of diploma that students receive overwhelmingly dictates whether they enroll in two- or four-year colleges, or move on to higher education at all. In Virginia, only a tenth of students with standard diplomas enroll in a four-year college, a recent study found.
Atkins acknowledged that some minority students may be discouraged from taking higher-level courses that could qualify them for better colleges and said the district will remind parents to bring these rebuffs to her attention. Mayor Walker, whose son is a sophomore at Charlottesville High, said some attitudes haven't changed: "There have been a lot of people who just don't believe in the potential of our kids."
Since middle school, Trinity's goal has been to attend James Madison University in Harrisonburg, Virginia. She has gained enough credits for an advanced diploma. But last month she learned that she would need a math class higher than Algebra II to gain admission.
A university representative recommended she go to community college, and possibly transfer to James Madison. Michael Walsh, dean of admissions at James Madison, said 99 percent of students it accepts have gone beyond Algebra II.
She was crushed: "It made me realize I really haven't been prepared like the rest of the students to be 'college ready.'"
Zyahna's achievements make her a prime candidate for an elite university. So she was taken aback when, as she was beginning her search, her principal encouraged her to explore community college. The principal says the context was a broad discussion with black student leaders about community college as an affordable option.
That's not how Zyahna heard it.
"No matter how high your scores are or how many hours you put into your work, you are still black," she said. "There's a whole system you're up against. Every small victory just cuts a hole into that system reminding you how fragile it is. But it's still there."
This article was originally published by ProPublica. 
Appalachians are Dying at Higher Rates than Almost Anywhere Else in the Country. Investing in Education Could Change That.
Appalachia is, and has been for decades, lagging behind the rest of the nation in a number of health outcomes. The region struggles with heart disease, diabetes, cancer and much more.
But new research on the rate at which Appalachians are dying has health officials calling for more investments in not just health care but in education and economic development to reverse the trend.
Alarming Death Rates
A recent study by the National Center for Health Statistics found that in 2017, four of the five states with the highest death rates in the U.S. lie either partially or fully in Appalachia: Alabama, Kentucky, Mississippi and West Virginia. These four states, and the fifth on the list, Oklahoma, saw people dying at a rate 50 percent higher than the five states with the lowest rates: California, Connecticut, Hawaii, Minnesota and New York. 
The elevated death rates were reflected in the top five causes of death in the country: heart disease, cancer, stroke, chronic lower respiratory diseases and unintentional injuries. The rate for chronic lower respiratory diseases was double that of the five lowest states on the list; the rate for unintentional injuries, nearly so.
"We knew that mortality rates vary widely by state; that has been the case for a long time," said Jiaquan Xu, an epidemiologist with the National Center for Health Statistics and author of the study. But for several of the causes in the states with the highest rates, he said, "those rates are much higher than we originally thought."
The purpose of Xu's study was simply to present the statistics. It does not dig deeper into the causes of the disparate rates seen across the country, nor the elevation of the rates in Appalachian states. But Xu trusts there will be people sufficiently concerned by his findings to delve into the causes. Randy Wykoff is one such person.
Roadmap to a Healthier Future
Wykoff is the dean of East Tennessee State University's College of Public Health. In research of his own, he's dug deeper into the death rates of central Appalachian counties and their causes.
Wycoff has looked closely at the death rate of the 238 counties that make up the central part of the region. Those counties are in Kentucky, North Carolina, Ohio, Tennessee, Virginia and West Virginia. He found the mortality rate in those counties to be a little more than 25 percent worse than that of the rest of the country.
His research also indicates that the death rate for those Appalachian counties is about 25 percent worse than that of the 353 non-Appalachian counties in the same six states.
"What we see in Appalachia is just considerably worse health as measured by early death, among many other statistics," Wykoff said.
In a 2017 paper titled "The Future of Appalachia: Health," Wykoff and coauthor Olivia Egen, an ETSU doctoral student, noted that an American in the poorest income category is three times more likely to die before the age of 65 than an American in the wealthiest category.
Educational attainment plays a critical role in life expectancy, Wycoff said at a recent gathering of health care professionals hosted by the University of Kentucky's Center of Excellence in Rural Health in Hazard. There, he cited research that shows that the life expectancy of a black man in the U.S. with a college degree is almost 81, while that of a black man with at most a high school education is 71.
Low educational achievement and poor health are interlinked in a number of ways. "One is that they are both the result of long-standing poverty," Wykoff said. "There's the common-causal relationship of the two; things that lead to poor health also lead to lack of education."
But there's also a direct relationship. "People who are less educated tend to get jobs that are more stressful and physically damaging," he said, citing, for example, coal mining and other extraction-industry occupations. Others work in service-industry or part-time or temporary jobs – jobs with low wages and no health benefits.
Wykoff's voice is among the many in central Appalachia arguing that there are accessible avenues to a better education for all, which can, in turn, lead to a healthier population. In 2005, he said, Tennessee ranked among the states with the lowest high school graduation rates in the country. "[But] by last year," he said, "we were in the top 10. So you can't say that these are things we can't change. We know we can." 
The private sector is stepping up to invest in educational programming for rural Tennessee students, Wykoff said, and the state's Tennessee Promise program, which covers tuition and fees for students to attend community college or other institutions offering associate degrees, will also make a difference in future health outcomes.
The Interconnectedness
But, Wykoff cautioned, in order to build a healthier Appalachia, we must create opportunities throughout the whole of the region. Without well-paying jobs close to home, he said, "When you say, 'Hey, get your college degree and you'll be better off,' what that really means is, 'Get your college degree and if you leave this area you'll be better off.'"
Economic development, he stressed, is essential. "We've got to have jobs for people, meaningful jobs, once they get their education…It's inseparable: economic development, education and health."
Wykoff believes that the region's elected officials, educators and business, community and faith leaders are increasingly aware of this interconnectedness. "I think we're starting to have the right conversations," he said.
He quotes a phrase commonly attributed to former Speaker of the U.S. House of Representatives Tip O'Neill: "All politics is local."
"I like to say that all public health is local," Wykoff said. "That's not [entirely] true, but it's somewhat true. You've got to have communities coming together and saying, 'Okay, we want to do something about this.'"
In their "Future of Appalachia" paper, Wykoff and Egen outline some broad, essential initiatives that must be advanced, including changing health-related behaviors (smoking, poor diet, no exercise), addressing the social conditions associated with poor health (economic opportunity, investment in education), improving access to care (spoke-and-hub hospital systems, mobile services, telehealth) and disrupting intergenerational cycles of poor health (health-related education and encouragement for new parents and elementary-school kids and in the workplace and faith communities).
Ultimately, the authors acknowledge, efforts to lower death rates, and elevate the quality of life, in Appalachia must begin at the beginning. They write: "What we eat, how we exercise, our commitment to education, our understanding of health, and many other factors, are driven by the environment we grow up in." 
It'll take time, but, the authors conclude, "if we work together to assure that every child in Appalachia has the best possible start in life we will see a dramatic change over the course of that child's life." Children who grow up in this "new" Appalachia "will not only be healthier, but they will also become the agents of change over the ensuing generations."
Commentary: The Cost of Rural School Consolidation
On paper, consolidating South Robeson County High School in rural North Carolina might make sense. But how do we account for the intangible losses like community identity, cohesiveness and social investment?
A few weeks ago, the Robeson County, North Carolina, Board of Education voted to close South Robeson High School, my alma mater. The school currently serves Rowland, an old rail town with a population of approximately 1,000 people, and the outlying rural areas.
In Robeson County, people identify with their local communities, an allegiance often fortified by high school attendance. Losing the high school means losing a part of the community's identity, an irreparable tear in the social fabric that may never heal. It also means creating perpetual outsiders of the students who will be siphoned off to other local schools, away from their community and their lifelong friends.
For me, closing the high school symbolizes the county giving up on the community where I grew up. I learned so many lessons in the halls of South Robeson High School. As president of the school's Beta Club and the Native American Student Association, I learned about leadership, the value of public service and what it means to give back to your community. These lessons were amplified by the fact that I was actually serving my own community, a lesson that will be lost on the students who would have to attend schools in other communities.
I also learned about disparities in access to educational opportunities, even within the same school district. My high school did not have AP classes or a plethora of extracurricular activities; funding did not allow for any of that. I hoped that one day the school board would allocate more staff and money to my home community so students could reach their full potential. Now, that may never happen, a fact that fills me with profound sadness.
In making their decision, the school board cited a decline in attendance. The board also cited a $2 million budget shortfall that needed to be closed "immediately." The population data support this decision. According to the latest American Community Survey from the U.S. Census Bureau, since the 2010 Census, the population has declined in the schools' service areas. The residents tend to be older than the rest of the county, a trend with troubling implications for the number of children entering the local schools. On paper, it might make sense to close these schools and focus on the parts of the county that are growing, especially considering the dire state of the finances of the public schools of Robeson County.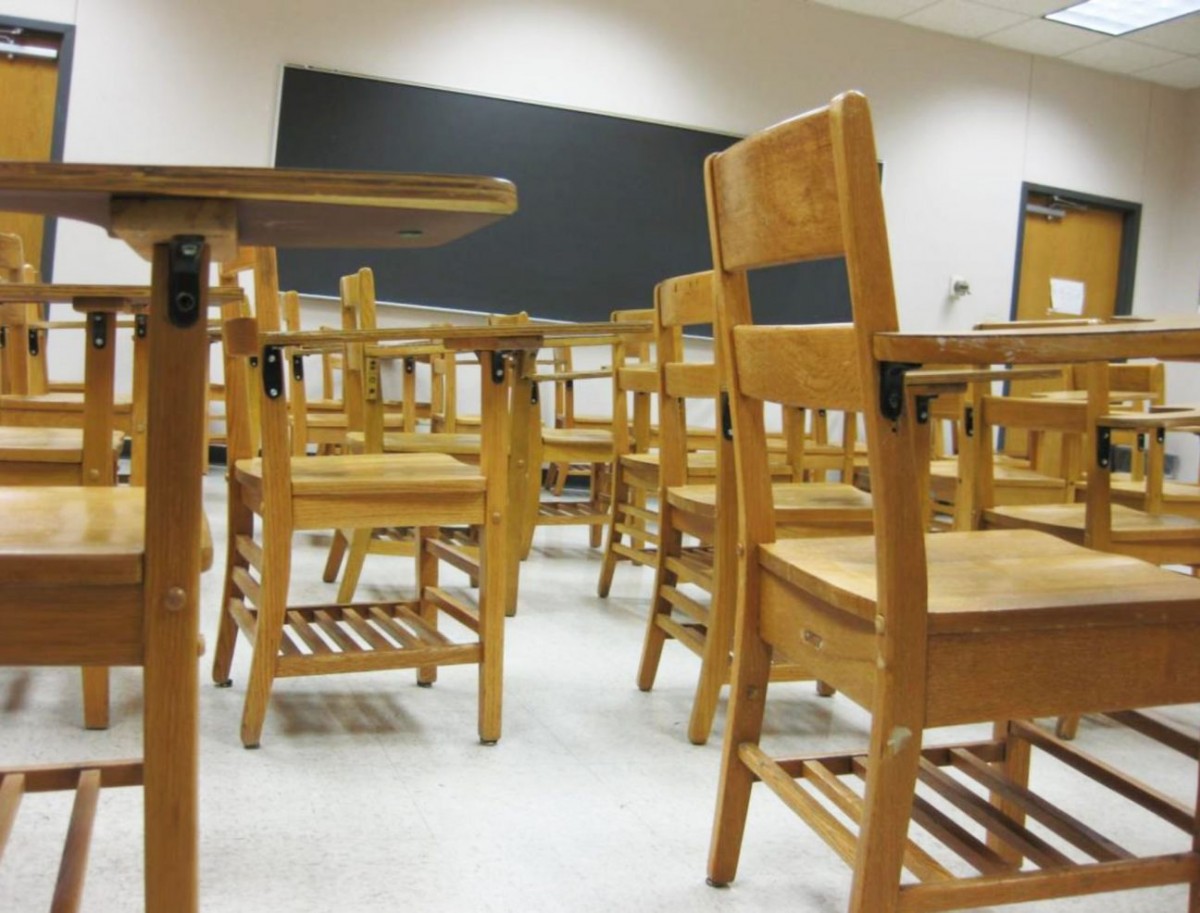 Robeson County is not alone in facing these tough decisions. According to the National Center of Education Statistics, there were 2,700 fewer rural schools in the 2015-2016 school year than existed just a decade prior.
When a rural school closes, it affects the entire community. In fact, according to a study by the Urban Institute, the impacts of a school closure are most acutely felt in rural communities, which often lack the wraparound services needed to compensate for the hole in the community a school closure creates.
However, what works on paper may have troubling implications in reality. At a community meeting on July 8th, students, parents and community members voiced their concerns to the school board. The Town Clerk for Rowland noted that closing the high school would kill the town. Already an impoverished town that has never recovered from the decline of its initial industry, the railroad, it would lose one potential draw to both businesses and residents – easy access to a high school. Without the ability to attract new businesses and residents, the town's economic woes would continue to grow. That also represents a bit of a paradox. In order to grow, you need resources. This is especially true in public education, which is usually funded by local property taxes. If residents leave and property values decline because of lack of economic development (or even access to a high school), the remaining local schools are going to suffer. Shutting down the high school would almost certainly exacerbate the current issues that the town is facing.
For a moment, the story appeared to have a happy ending. The day after the public hearing, the Robeson County Board of Education voted to reopen South Robeson High School for the coming year. However, there was a huge caveat. The high school would also house students from Rowland Middle School, meaning grades 6-12 would have to attend school in a facility designed for only four grade levels.
But even this measure of good news turned out to be fleeting. On July 19, the board reversed itself and voted to close South Robeson High School after all.
Christopher Chavis  is  a native of Robeson County, North Carolina, and a member of the Lumbee Tribe of North Carolina. His article, "The Past, Present, and Future of Rural Northern New England: A Study of the Demographics and How It Affects the Rural Lawyer Shortage," is forthcoming in the University of Maine Law Review.
This article was originally published by the Daily Yonder.
West Virginia's Pied Piper of Post-secondary Science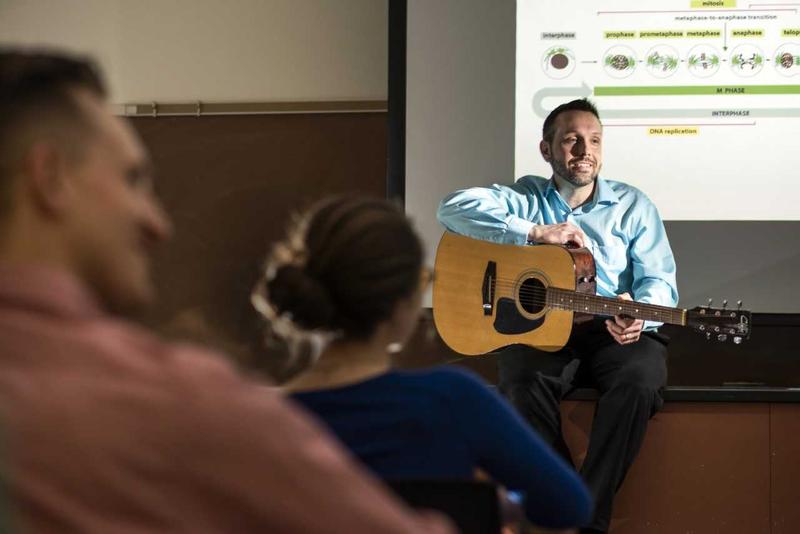 Science can be a hard subject to understand, especially upper-level higher-ed science courses. A professor in West Virginia's Northern Panhandle is creatively cracking the code to help his students understand tricky topics.
Joe Horzempa is an associate professor of Biology at West Liberty University, and he has what could be described as an unorthodox way of teaching science.
Horzempa uses his musical talents to help certain topics stick out in his students' minds.
In the lab, Horzempa and his students study vaccines, which is a pretty demanding task, as Horzempa points out.
"There's a lot of failure in the laboratory. A lot of experiments that you would call failure, but you learn something from every experiment," Horzempa said. "There's a construct, you work years on it, and it either doesn't produce the protein correctly, you don't get the antibody response you thought you were going to get."
Science in Song
But in the classroom, you don't have years to experiment with students to see what will get a response. While you may see some students again over their time in college, a professor generally only has one shot at getting information across.
That's why Horzempa turned to an old pastime he and his friends would do to make themselves laugh to help students learn.
"I thought 'wouldn't it be cool to somehow to take my love of music and bring it into the classroom.' When my friends and I were young, we would always, kind of like Weird Al Yankovic, make song parodies — we'd hear a song, we'd change the words to make each other laugh. So that's what I do in the classroom," he said.
Some of Horzempa's hits include "American Pie-tosis" (cell division in the style of Don McLean's "American Pie"), a song about bacterial byproducts in the style of "Piano Man", among others, but he is always wary of the effectiveness of the songs themselves.
"I don't know if it helps them learn the material any better, I don't know, maybe it does, maybe the song gets in their head, but I'll tell you it does make them come to class more, and it does make them talk about science more," he said.
But there's an added benefit that Horzempa may be overlooking, as Junior Chemistry student MacKenzie Jacobs points out.
"Whenever he plays guitar and sings the songs in class, it really inspires me to be more creative about the topic. It really gets my wheels in my mind spinning like 'oh wow there's so many cool things you can do with the knowledge that you know' and there's so many ways you can help people with this," Jacobs said.
Professor of the Year
Horzempa was recognized as the state's professor of the year in 2017, but he says it's not awards, but student opportunities that keep him going.
"Whenever a student comes to me and says 'I made it to medical school, or I got into this grad program, I got a job working for this laboratory' that's the stuff that really makes me feel like I'm doing something right," he said. "The Professor of the Year thing, not to take anything away from it, that was amazing, but that doesn't change about the fact that I'm here to try to be an influence on these students and try to help them realize their potential."
Helping students realize their potential seems to be going well for Horzempa, as Jacobs has just earned two grants through NASA for summer research.
This article was originally published by West Virginia Public Broadcasting.