Truck Drivers are Overtired, Overworked and Underpaid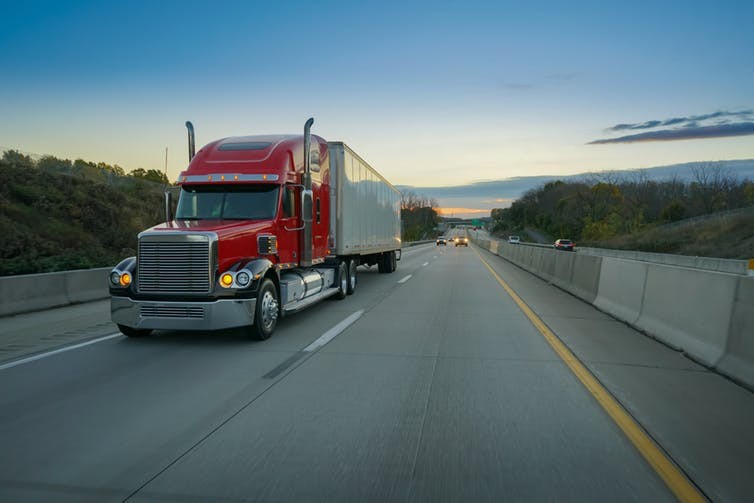 Research shows that economic pressure pushes drivers to work extremely long hours, contributing significantly to truck crashes.
A 2010 survey by the U.S. National Institute for Occupational Safety and Health showed that, on average, long-haul truck drivers work 50 percent more hours than typical workers and regularly violate U.S. regulations limiting commercial driver work hours for safety reasons.
Long working hours and intense economic pressure are important to everyday motorists, because the truck driver's workplace is everyone's roadway. Trucking casualties claim not only the lives of truck drivers, but a significant number of other roadway users – pedestrians, bicyclists, and automobile drivers and passengers. In 2015, 3,836 people lost their lives in heavy vehicle crashes in the U.S.
My team's research, as well as numerous other studies, shows a strong link between pay and safety. We calculated that, at 60 cents per mile, truck drivers will trade labor for leisure, working fewer hours and thereby reducing crashes and improving highway safety.
Dangerous driving
In one study, we looked at the University of Michigan Trucking Industry Program truck stop-based driver survey of 573 mostly long-haul truckers.
Most truck drivers do not get paid for loading, unloading and other delay time, so they regularly record that work time as "off duty," conserving their available work hours and allowing them to extend their work week. Because this work time goes unpaid, cargo owners feel free to waste this time, costing American truck drivers more than US$1 billion per year. The Office of the Inspector General of the U.S. Department of Transportation finds that each 15 minutes of excessive delay time increases the average expected crash rate by 6.2 percent.
Truckers log this unpaid labor as off-duty so that they can drive more hours during the week. Indeed, the long-haul truck driver survey shows that more than half of all U.S. truck drivers exceed the weekly limit of 60 hours per week. One in 5 of these drivers work more than 75 hours per week.
In addition to long hours and low pay, truck drivers face dangerous workplace pressure. My study looked at the U.S. Large Truck Crash Causation Study of more than 1,000 truck-involved crashes. This study shows the last action that a driver took – such as failing to brake for stopped traffic – before the crash. The data suggests that fatigue and driver aggressiveness – in addition to the already substantial economic pressure – make it significantly more likely that the truck driver is responsible for the crash.
There are no good public data on mileage rates. However, according to one private survey, the average dry van truck driver with three years experience made 35 cents per mile in 2010. Wages have gone up since then and may be about 40 cents now, but this is in an unusually tight labor market. No matter how you cut it, wages are far lower than the predicted "safe rate" or safety wage.
Political battles
In Australia, the Transport Workers Union has called on the government to increase truck driver safety by increasing rates. This month, they asked the federal government to reintroduce a road safety watchdog that would mandate minimum wages and working conditions for interstate truck drivers.
Australia actually once had a road safety watchdog, the Road Safety Remuneration Tribunal, but that was scrapped in 2016. The government decided to kill it based on a private consulting report that claimed that the link between pay rates and safety was bogus.
However, the report actually showed a 50 percent decline in fatal heavy truck crashes after the tribunal was established in 2012, failing to quantify the benefit of the approximately 25 percent decline in the number of deaths.
Safe rates are not just an Australian or American problem. In 2015, trucking employers, labor organizations and 25 governments signed a tripartite global consensus agreement at the International Labour Office in Geneva, Switzerland. All parties agreed that low rates paid to truck and bus companies and their drivers contributes to unnecessarily dangers on the world's highways, pledging to conduct further research on the problem.
In my view, a "safe rates" program – raising pay rates by about 50 percent and paying drivers for all working time – would go a long way toward reducing this risk and the cost borne by victims of crashes.
This article was originally published on The Conversation. Read the original article.
'If We Can't Mine Coal, What Are We Going To Do?'
In this excerpt from the book After Coal, documentary filmmaker Tom Hansell describes how his media work in the coalfields of Central Appalachia led to a different understanding about what might come next for coal communities.
"EPA = Expanding Poverty in America."  
This statement is written in three-foot-high letters on a banner stretched over a bandstand in a public park in Pikeville, Kentucky. It is June 2012 and I am just starting production of the After Coal documentary. The crowd around me is dressed in the reflective stripes of mining uniforms or in T-shirts reading Friends of Coal and Walker Heavy Machinery. I am documenting a coal industry-sponsored pep rally before a public hearing on new water-quality regulations proposed for mountaintop-removal coal mines.  
The speaker onstage is speaking proudly of his family's heritage in the coal industry. He concludes his passionate statement with a question: "If we can't mine coal, what are we going to do in eastern Kentucky?" 
Good question. As a filmmaker who has spent my career living and working in the coalfields of eastern Kentucky and documenting coal-mining issues, this is an important and difficult question to answer. My earlier documentaries Coal Bucket Outlaw (2002) and The Electricity Fairy (2010) were intended to start a civil conversation between workers in the coal industry and other community members about a shared vision for good jobs, clean air, clean water, and a safe working environment. However, the conversations almost always broke down as soon as someone pointed out the obvious: the coal industry had long been the only model of economic development in the central Appalachian region. More examples of what life after coal might look like were desperately needed to move the conversation forward.  
As I struggled with the haunting question "If we can't mine coal, what are we going to do?" the image of Welsh mining villages rising from the ashes left by the coal industry captured my imagination. I thought that if I could just learn a few details about how Welsh communities made the transition, then I could identify specific solutions to help coal communities in Appalachia. However, I quickly learned that the secret to life after coal was not that simple. …  
On my own quest for solutions, in 1990, I began my career at Appalshop, a rural, multidisciplinary arts center located in Whitesburg, Kentucky—the heart of the central Appalachian coalfields. From my young and naively privileged perspective, moving to eastern Kentucky was an act of opposition to the materialistic consumer-driven world. I had a goal of living self-sufficiently, fulfilling my needs with what I could make or grow, and buying as little as possible. And, as an aspiring environmental activist, the clear moral lines around the issues in the Kentucky coalfields, especially strip mining, were appealing. The battle call of union songs such as "Which Side Are You On" charged up my little post-punk heart.  
However, my experience at Appalshop quickly taught me that the struggles of coal communities were not as simple or straightforward as I had imagined. Working as part of this artistic collective, I produced radio and video documentaries and taught community media workshops. As a young artist and activist, I quickly absorbed Appalshop's mantra of providing a platform for mountain people to speak in their own words about issues that affect their lives. I attended hundreds of community meetings: school board, the fiscal court, mine permit hearings, and union meetings. I also documented dozens of direct actions where citizens blocked roads to stop mining, took over government offices to protest the lack of enforcement, and set up picket lines to enforce union contracts.  
My experiences working on the front lines of the environmental justice movement in Appalachia gradually developed my understanding of the complexities of how culture, place, and politics had shaped the situations I was documenting. I witnessed firsthand the incredible power of community to support people as they faced threats against their homes and families. As a result, I expanded my ideas about self-sufficiency from an individualistic vision of each person taking care of their own needs to a larger vision of individuals living in symbiosis with their neighbors and the natural environment—community self-sufficiency. 
Participating in cultural exchanges at Appalshop also provided me with valuable lessons. Meeting artists from the mountains of western China and rural Indonesia opened my eyes to some of the universal challenges faced by regional cultures in an increasingly globalized economy. I hoped that an international exchange with another coal-mining region such as south Wales could identify resources and strategies that would help Appalachian coalfield communities create a future beyond coal.  
The process of creating the After Coal documentary took more than five years. During that time, I learned to stop looking for concrete solutions and start supporting an ongoing conversation about how to create healthy communities in former coal-mining regions. International efforts to address climate change make this challenge especially intense for coal-producing regions. As our economy shifts from fossil fuels, how can we ensure that places where fossil fuels were extracted do not continue to bear an unfair share of the costs of extraction?  
I believe there are as many solutions for life after coal as there are residents of mining communities. I hope these stories from south Wales and central Appalachia will inspire people to discover solutions that work in their home communities. 
This article was originally published by Daily Yonder.
International Firm Hired to Help Off-Ballot GOP Senators with Messaging on WV Teacher Strike
As the 2018 midterm election approaches, some West Virginia Senate Republican leaders are making use of a large and influential worldwide public relations firm to aid in messaging about this year's teacher strike and the economy. The politicians making use of the public relations services, which an independent expenditure political action committee is paying for, are not on this year's ballot.
Campaign finance experts say promoting off-ballot politicians is very unusual for independent expenditure political action committees, or PACs, such as the one paying for these services. The public relations firm that's been hired has made national headlines for its possible connection to the FBI special counsel's probe of Russian interference in the 2016 presidential election.
Emails from employees of public relations firm Mercury, LLC, sent to West Virginia Public Broadcasting reporters — and others in news media who cover state government — have recently solicited interviews with Senate President Mitch Carmichael.
Those emails — which were sent by Mercury employees Katya Myagkova and Brent Petrone throughout the month of August — sought to have reporters speak with Carmichael regarding the federal Tax Cuts and Jobs Act and federal legislation attempting to curb the country's opioid crisis. The emails included a banner image with "West Virginia's Future PAC" and signatures identifying Petrone and Myagkova as Mercury employees.
Emails between Carmichael, Sen. Craig Blair and Mercury employees — obtained by West Virginia Public Broadcasting through a public records request under the state's Freedom of Information Act — also indicate the firm was helping GOP Senate leadership tailor messaging around a number of issues and craft a "proper narrative" regarding this year's teacher strike and West Virginia's economy leading up to the 2018 midterm elections, despite neither Carmichael nor Blair being up for re-election this year.
Emails Show Mercury Helped Carmichael, Blair Craft Messaging on Teachers, Economy
While records show that West Virginia's Future PAC spent a total of $21,731 in August on digital advertising services from Pittsburgh-based company Fifth Influence in support of Republican Senate incumbents Ryan Ferns, Ed Gaunch and Tom Takubo in the general election cycle, $37,500 the committee spent this reporting period was paid to Fulcrum Campaign Strategies, for consulting and PR services mostly used by Carmichael.
In a July 19 email sent at 8:24 a.m. with the subject "Thank you," Carmichael contacted Mercury employees Nicole Flotteron, Chapin Fay and Dan Bank — all of whom hold the title of senior vice president.
"Thank you for conducting the on-site meeting/training yesterday. Our team was very impressed with all aspects of Mercury. The outside entities that we invited and that gained further exposure to your team were equally impressed," Carmichael wrote in the first of two emails sent to Mercury employees July 19. "We look forward to working with you to craft the proper narrative as to the West Virginia comeback story and Republican commitment to education."
Another email sent July 19, this one with the subject line "Response to local AFT leaders agreeing with our statement" and sent at 8:37 a.m., Carmichael seeks advice from Flotteron, Fay and Bank in messaging related to teacher unions.
"What do you think of crafting a message in which we commend Christine Campbell, WV-AFT, and Dale Lee, WVEA, for agreeing with us and rejecting the socialist agenda of the national AFT?" Carmichael wrote. "The message could give credit to the WV Teachers for recognizing that the socialist policies of the left wing union bosses is not good for our state and would damage the economic recovery that is occurring under Republican leadership. Your thoughts……"
Days earlier, on July 17, Carmichael drew attention for a thread of eight tweets in which he criticized the American Federation of Teachers' adoption of a platform at the union's national conference in Pittsburgh.
Teachers in West Virginia — backed by the West Virginia Education Association and the American Federation of Teachers-West Virginia — went on strike for nine days during the 2018 legislative session demanding better wages and a permanent fix to the health care program for state employees, the Public Employees Insurance Agency.
With the Republican Senate majority once rejecting a 5 percent pay increase for teachers, the strike ended with the passage of a bill doing just that — but adding raises for all state employees — and the creation of a task force on the health care issue. The bill was passed only after being sent to a conference committee between the House and Senate, where members finally agreed to the 5 percent raises.
In the interest of full disclosure, the Educational Broadcasting Authority, which does business as West Virginia Public Broadcasting, is an independent state agency. As such, its employees also received the pay hike.
During and since the strike, leaders of teacher unions and their members have taken aim at GOP Senate leaders — particularly Carmichael — promising an education-focused takeover of the Legislature in the 2018 midterms. Through their political action committees, the unions have supported candidates they see as promoting a pro-public education agenda. The unions have largely supported Democratic candidates.
Carmichael and other top Republicans in the Senate have taken credit in recent months for the pay raise for teachers and all other public employees, despite the caucus' holdouts that drew out the strike. Some of the messaging around teacher issues has taken place under the consultation of Mercury.
"I'm not up for re-election," Carmichael said when asked about his use of Mercury for help with messaging on the aftermath of the teacher strike and its potential impact on the upcoming election. "I just want to make sure that the proper narrative is spoken as it relates to the teacher issue, because I think I've not — in my years of public service — seen anything have so much misinformation about a particular issue."
Despite not being on the ballot for the 2018 midterms, Carmichael has been a target — with his name and face being placed on billboards and other campaign materials reading "Ditch Mitch!" and "Ditch the Mitches And Their Candidates," referring to Carmichael and U.S. Senate Majority Leader Mitch McConnell. The latter of those two advertisements also states that Carmichael was "attacking teachers and public schools."
Carmichael argues that those efforts, funded by the West Virginia Democratic Party, have mischaracterized him in terms of what unfolded during the teacher strike.
"The press, in large measure, does a good job, but some of those opposing — the people that want to just create havoc — are distorting that message and, so, I think it's important for the people to know the truth and to hear it as it really occurred," Carmichael said about the narrative surrounding the strike.
"The West Virginia's Future PAC – which is an entity outside the legislative purview — contracted with Mercury to develop that messaging and make sure the story is told in a way that, you know, is sort of what we believe is the truth about the story and cut through all the different aspects of distortions and so forth. So, they're working with West Virginia's Future PAC to develop that message and make sure it gets out," he added.
Other emails show Carmichael forwarded a June 8 email newsletter from the West Virginia Chamber of Commerce to Flotteron. A June 14 email from Carmichael to Flotteron detailed state employment numbers from May sent to members of the West Virginia Legislature from West Virginia Chamber president Steve Roberts. "I'm compiling more data and will forward in a string of emails," Carmichael wrote to Flotteron.
An Aug. 8 email from Carmichael with the subject line "Fwd: Strikes Again?" included a newsletter forwarded to Mercury employees from The Center for Education Reform sent to Carmichael the day before. The newsletter detailed the possibility of teacher strikes by union members in Puerto Rico and Los Angeles.
More recently, Carmichael sought advice in responding to an email newsletter from the West Virginia Center on Budget & Policy. That Sept. 17 email newsletter from the West Virginia Center on Budget & Policy included the headline "New Census Data Shows Lack of Progress in West Virginia."
"Help me craft response….." Carmichael wrote in regard to the newsletter from the West Virginia Center on Budget & Policy.
As for Blair, who serves as chairman of the Senate Finance Committee, emails from Aug. 7 between he and Mercury staff show he asked for help when he forwarded a solicitation from D.C.-based website The Washington D.C. 100 — asking him to author a piece of writing on West Virginia's economy for the website. According to the email forwarded by Blair to Mercury employee Nicole Flotteron, The Washington D.C. 100 is "a bi-weekly publication consisting of 100-word long stories covering key policy issues and current events."
"Is this useful?" Blair wrote to Flotteron.
"We will write it for you. Standby," Flotteron replied.
On Aug. 16, The Washington D.C. 100 published a short piece with Blair's bylinetitled "Economic Growth in West VA."
About West Virginia's Future PAC & Mercury, LLC
A campaign finance report filed recently with the West Virginia Secretary of State's office shows the independent expenditure political action committee West Virginia's Future raised $320,250 from May 21, 2018 through Sept. 23, 2018. Contributors to that committee during that time period include a $15,000 donation from DuPont spin-off company Chemours as well as a list of more than 200 names of people who donated funds following a Wheeling dinner event on June 28, where the group raised $284,655.
The first general report from West Virginia's Future PAC was due Friday, Sept. 29, but wasn't received by the Secretary of State's office until Oct. 1. According to the state's campaign finance reporting system, the organization has been late in filing two of its three other reports that have been due. There is no penalty for a filing campaign finance reports after a deadline.
Among the $149,685.19 in expenses the committee paid during the first general election period from May 21 to Sept. 23, two payments totaling $37,500 were paid to Fulcrum Campaign Strategies for "strategic / communications consulting." According to the District of Columbia's Department of Consumer and Regulatory Affairs, Fulcrum Campaign Strategies has been used as a trade name for Mercury, LLC. Company officials also confirmed Mercury does business under that name.
According to Mercury's website, the company is a "global public strategy firm" that handles public relations, public opinion research, crisis management and mergers and acquisitions. The company's clients include AT&T, Airbnb, eBay, The Ford Foundation, Hyundai, Pfizer, Tesla and Uber. Mercury also lobbies on behalf of foreign governments.
Mercury has come under scrutiny during the past year for possible connections to President Donald Trump's former campaign manager Paul Manafort. In September, Manafort agreed to plead guilty to charges in the indictment and cooperate with FBI special counsel Robert Mueller's investigation into Russian interference in the 2016 election.
In Manafort's indictment, two companies identified as "Company A and Company B," were named as having done work under the direction of Russian-friendly former Ukrainian President Viktor Yanukovych. Manafort spent nearly a decade as a consultant to Yanukovych and his country's Party of Regions. A report from NBC News identified "Company A" as Mercury and "Company B" as the Podesta Group.
According to reports from various news outlets citing court filings from Mueller, Mercury could face legal trouble for their connections to Yanukovych.
"We worked for an [non-government organization] based in Brussels that supported Ukraine's entry into the European Union, which would have driven Ukraine closer to the west and further from Russia's influence. The project started more than six years ago and ended more than four years ago," Mercury partner Michael McKeon wrote in an email when asked about the company's connections to Yanukovych and the the FBI special counsel's probe of Russian interference.
"We hired lawyers to advise us on proper disclosure, reported our work to Congress in 9 different public lobbying reports and later voluntarily filed a FARA. Any questions you may have about the work is all in the public filings," McKeon added.
FARA is the acronym for Foreign Agents Registration Act, federal legislation requiring "persons acting as agents of foreign principals in a political or quasi-political capacity to make periodic public disclosure of their relationship with the foreign principal, as well as activities, receipts and disbursements in support of those activities," according to the U.S. Department of Justice.
McKeon also said none of the Mercury employees on the project in West Virginia worked for the non-government organization and most current employees were not with Mercury at that time of the company's work linked to Yanukovych.
Carmichael said he was unaware of Mercury's connections to Manafort's indictment in the Russian probe when he began working with the firm. He said he later became aware of those ties, but has no concerns about the company.
"I've just heard, anecdotally, somebody say, 'You know, hey, this or that' about Mercury. I don't have anything other than just a cursory [understanding of those allegations]," Carmichael said.
Asked about Mercury's work with Carmichael or anyone else in the West Virginia Senate, McKeon deferred to West Virginia's Future PAC.
Chris Asbuy, an attorney for West Virginia's Future PAC, provided a statement to West Virginia Public Broadcasting noting pay raises for state employees, reported economic growth, implemented regulatory reforms and other efforts by the Republican majority in recent years. He attributed those accomplishments to the GOP takeover of the Legislature in 2014.
"West Virginia's Future PAC hired Mercury to cut through the election year political chatter and help tell this remarkable comeback story directly to West Virginians," Asbuy wrote.
Independent Expenditure PACs
Independent expenditure political action committees, like West Virginia's Future, are created to expressly advocate for the election or defeat of a particular candidate — but not in cooperation with or at the request of that candidate. Typically, independent expenditure political action committees would not raise money for services such as polling or public relations services, according to campaign finance experts.
Dan Weiner of New York University School of Law's Brennan Center for Justice said promoting non-candidates and paying for services like public relations is atypical of independent expenditure political action committees.
"I would say that is quite unusual," Weiner said. "Bottom line, it is deeply troubling that a PAC would be funneling unlimited money for sitting office-holders, regardless of whether or not they are on the ballot. That raises quite obvious concerns."
Weiner said political action committees funding politicians not on the ballot -—or services for them — should raise questions about the possibility of political favors being returned in exchange for that help.
Why Mercury, When the Senate Has Its Own Communications Director?
While Mercury's services have provided public relations support for Carmichael and Blair, the Senate employs its own communications director who works with news media. Jacque Bland currently holds the title of communications director of the Senate, under the supervision of Carmichael in his role as Senate president.
In the position of communications director, Bland works as a liaison between all members of the Senate — regardless of party — and the news media. According to the state auditor's office, Bland was paid $73,640.01 for her work in 2017.
Asked whether Mercury's work has affected her job as communications director of the Senate, Bland declined to comment for this story.
Carmichael said the work performed by Mercury — particularly that which is focused on issues related to the teacher strike — is politically motivated and is inherently different than the work Bland does. He said the political messaging should be outsourced to an entity outside the Legislature.
"West Virginia legislative announcements and so forth get published on the Legislature's website. These recently, on both sides of the aisle, have become very political — they have become too political," he said.
Carmichael said he has had conversations with Democratic minority leaders Sen. Roman Prezioso and Del. Tim Miley about trying to limit the scope and use of the Legislature's public information office and get politics out of the equation. Prezioso and Miley confirmed those conversations.
"If it becomes political, you need to use an outside entity to craft that. That message needs to get [put together] outside of here. Jacque does a phenomenal job of getting this messaging — the informational pieces — out to the public. But in terms of it, if it's going to turn political at all, it needs to be done by a separate political arm outside of this Legislature. And, so, that's what Mercury's purpose is," Carmichael said.
Teacher Strike Still in Focus Ahead of Election with Plans for Additional Raises Announced by Gov. Justice
As the November midterms get closer — and with teachers issues remaining on the minds of voters — Gov. Jim Justice announced this week plans for another 5 percent pay raise for teachers and all other public employees and a promised dedication of $100 million to funding PEIA.
During a news conference Tuesday announcing those plans, Justice touted Republican accomplishments in terms of this past year's teacher raises and economic growth in general, citing a nearly $120 million budget surplus three months into fiscal year 2019. He also downplayed the role of the unions and the strike.
"Over and over and over, you can say what you want. But, at the end of the day, the teachers' pay raise last year — the teachers' pay raise — that all happened not because of people that were 'rah-rah-ing' and everything upstairs," Justice said. "It happened because the good work of the Republicans, the Republicans are the ones that passed it. Your Republican governor is the one came up with the idea of the five percent. Nobody but your Republican governor. The Republican House followed suit."
Justice acknowledged holdouts by Senate Republicans, but also gave credit to the majority caucus in the upper chamber.
"It took a little while to get the Senate on board. But when they came on board, what did they do? They came on board for not only the teachers — they came on board for everybody. Everybody got the five percent," he said.
In a news release dated Oct. 2 — the same day as Justice's announcement of plans for another round of raises for state employees — Carmichael released a statement through the Legislature's public information office. Bland is listed as the contact on the release.
"Thanks to pro-growth policies that have been implemented by the Legislature in recent years, our economy continues to expand, while tax revenue continues to increase, leading to historic budget surpluses," Carmichael said in the release. "In turn, we are able to use that growth to deliver our teachers the pay increases they need and deserve."
How much the teacher strike and issues related to public education will impact the 2018 general election remains to be seen.
This article was originally published by West Virginia Public Broadcasting. 
West Virginia And Kentucky College Students Still Struggle to Pay Back Loans
New research this month shows that West Virginia and Kentucky have some of the nation's worst rates of student loan defaults.
West Virginia had the highest and Kentucky the fourth-highest rate of student loan defaults, according to data released by the U.S. Department of Education.
In West Virginia, 17.7 percent of students who entered loan repayment in 2015 had defaulted three years later. New Mexico and Nevada were second and third, and Kentucky came in fourth, with 14.3 percent of students unable to pay back their loans. At 12.2 percent, Ohio ranked near the middle, tying Michigan for 14th place.
The rates refer to the total number of people who took out loans and the percentage of that number who missed nine consecutive student loan payments.
Economists in West Virginia and Kentucky say the high default rates reflect the rising costs for college, stagnant wages for many entering the workforce, and budget cuts that target higher education.
Costs Up, Wages Flat
Ashley Spalding, a senior policy analyst at the left-leaning Kentucky Center for Economic Policy, said the cost of college is rising but wages are not keeping pace.
"When you really look at what's happening with Kentucky, we have a lot of people living in poverty, having trouble making ends meet," Spalding said. "We've seen tuition just skyrocket in recent years, but wages aren't really going up for most people."
Sean O'Leary, a senior policy analyst at the West Virginia Center on Budget and Policy, said a decade of tax and budget cuts had resulted in less funding for higher education.
"We've seen that the biggest part of our discretionary budget is higher education," O'Leary said. "So when we have budget shortfalls and we need to cut the budget, higher education is the first part of the budget that goes under the budget knife."
Rural Challenge
Schools with the highest default rates tended to be for-profit schools and community colleges; at Kentucky's worst-performing school, Southeast Kentucky Community and Technical College, nearly a third of borrowers couldn't pay back their loans.
Spalding said it wasn't surprising that the state's worst-performing school was in rural eastern Kentucky. "Where people live in Kentucky affects their access to jobs," she said. "Our rural areas are more economically challenged right now."
Separate research from the Federal Reserve Board has shown that student loan debt makes it less likely for borrowers to become homeowners, an important way that Americans build wealth.
According to the Department of Education, the national average for student loan default stood at 10.8 percent, down from 11.5 percent last year. The national default rate has been trending down since 2010, when it peaked at 14.7 percent.
This article was originally published by Ohio Valley Resource.