Community Colleges Are Changing the Way We Develop Our Workforce
In his State of the State Address, Governor Jim Justice made clear his intention to make West Virginia's community and technical colleges free for in-state students. A bill to accomplish that was introduced shortly after this year's state Legislative session began.
The main goal of the bill is to cultivate a strong workforce in West Virginia by making education at community and technical colleges more accessible. West Virginia Public Broadcasting took a closer look at CTCs and their focus on workforce training.
We first heard rumblings about a bill to make community and technical colleges free to everyone in West Virginia in December, when Senate President Mitch Carmichael announced he was drafting a proposal with that focus in mind for the 2018 state Legislative session.
And in Governor Jim Justice's State of State Address, we heard more to that effect.
It was only five days after the governor's address that a bill to make CTCs free or more affordable was introduced in the state Legislature — Senate Bill 284.
In its current form, Senate Bill 284 would create a grant program of $7 million for tuition and fees at a community and technical college for students to use after all other forms of financial aid have been exhausted. A prospective student would need to be at least 18-years-old with a high school diploma, or equivalent, and agree to remain in the state as a taxpayer for at least two years and fulfill some community service.
Located here in the Eastern Panhandle – in Martinsburg, Berkeley County – Blue Ridge Community and Technical College is one of nine public CTCs in West Virginia that could feel the effects of Senate Bill 284.
West Virginia's 9 CTCs Include:
Blue Ridge Community & Technical College

BridgeValley Community & Technical College

Eastern WV Community & Technical College
Mountwest Community & Technical College
New River Community & Technical College
Pierpont Community & Technical College
Southern WV Community & Technical College
West Virginia Northern Community College
West Virginia University at Parkersburg
Leslie See is Vice President of Enrollment Management. She says community and technical colleges fill a role in producing an educated workforce with the skills needed for today's jobs.
"The cycle of education, when you look at it historically, is that there was a divide between what skills were needed for labor positions and the baccalaureate degree, so community college really fill that gap now," See noted, "because the workforce now has automation, it has robotics, it has a new level of technology, even if you don't stay current with even using a computer, you could get behind very quickly. So, the education a community college provides is giving those technical, tangible skills."
West Virginia's CTCs work closely with local employers to help fill demand in each geographic region. In the Eastern Panhandle, Blue Ridge provides training for careers in cyber security, software development, manufacturing and health care.
"Really, we have a little bit of everything, whether it's short term, whether it's an associates degree, certification, really, we have over 70 degrees and certificates to choose from," See said.
According to the West Virginia Higher Education Policy Commission, jobs in manufacturing, IT, and health care are all in demand in the state – and to be qualified for those jobs, several only need a degree or certification from a CTC.
Musselman High School senior Alexandria Cox wants to be a nurse. She's looking to get her associate's degree from Blue Ridge.
"I'm a big heart, like, I'm a giver, I'm a people-pleaser. I just like seeing people smile and get better," Cox said.
Cox just turned 18 and would like to eventually take her nursing degree into the military.
There are several industry partnerships at Blue Ridge, and the oldest is its nursing program. Cox will get "real-world" training while she studies at Blue Ridge in the form of clinical rotations at Berkeley Medical Center — which is part of WVU Medicine.
Cox says she's excited about the idea of training at Berkeley Medical Center and notes she has a friend who's already in the program.
"She goes here, and she does do her clinical trials, and she says she loves it, so it makes me even more excited, because that's someone who goes here and she does her clinical trials, and she says it's great, you meet new people, you get insight on what your occupation's gonna be, what her career's gonna look forward too," Cox explained.
At Berkeley and Jefferson Medical Centers, Samantha Richards is the Vice President and Chief Nursing Officer for Patient Care Services. She oversees the nursing staff and is also in charge of the nurse trainees who come in from Blue Ridge.
"Being able to have a partnership with Blue Ridge allows us to expand our services and to have nurses who can come into our workforce," Richards noted, "so when we do new services, for example, opening a NICU or a CATH lab, and so forth, we need additional personnel to do that, and without having Blue Ridge as a technical school to be able to graduate nurses in a two-year program, that allows us to meet the needs of the continued growth and development, which is great for our community."
Richards says Berkeley and Jefferson Medical Centers don't differentiate between a bachelor's degree and an associate's degree in nursing.
"Starting out as a brand-new nurse, usually starting out, you can make about $37,000 to $42,000 a year, as a nurse," Richards said, "so for somebody who went to a two-year program, it's really a nice starting point for a salary."
Community and technical colleges can provide an affordable first step for many prospective students, and Leslie See at Blue Ridge hopes Senate Bill 284 will help more people see the potential CTCs bring to the table.
"Let community colleges not be a second choice, or a second chance, which they can be a second chance, but also let it be a first consideration," See said, "because there are so many opportunities at your community college that really, people need to explore."
Senate Bill 284 passed out of the Senate chamber and is now being considered in the House.
This article was originally published on West Virginia Public Broadcasting. 
West Virginia's Pied Piper of Post-secondary Science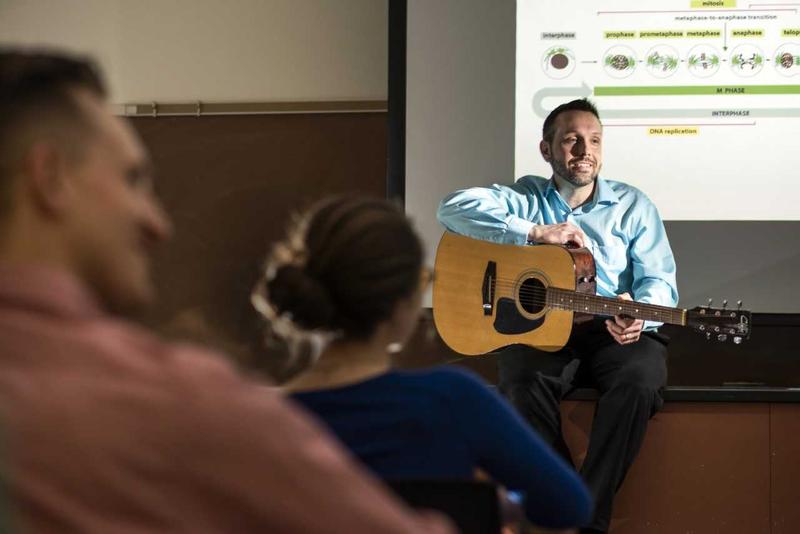 Science can be a hard subject to understand, especially upper-level higher-ed science courses. A professor in West Virginia's Northern Panhandle is creatively cracking the code to help his students understand tricky topics.
Joe Horzempa is an associate professor of Biology at West Liberty University, and he has what could be described as an unorthodox way of teaching science.
Horzempa uses his musical talents to help certain topics stick out in his students' minds.
In the lab, Horzempa and his students study vaccines, which is a pretty demanding task, as Horzempa points out.
"There's a lot of failure in the laboratory. A lot of experiments that you would call failure, but you learn something from every experiment," Horzempa said. "There's a construct, you work years on it, and it either doesn't produce the protein correctly, you don't get the antibody response you thought you were going to get."
Science in Song
But in the classroom, you don't have years to experiment with students to see what will get a response. While you may see some students again over their time in college, a professor generally only has one shot at getting information across.
That's why Horzempa turned to an old pastime he and his friends would do to make themselves laugh to help students learn.
"I thought 'wouldn't it be cool to somehow to take my love of music and bring it into the classroom.' When my friends and I were young, we would always, kind of like Weird Al Yankovic, make song parodies — we'd hear a song, we'd change the words to make each other laugh. So that's what I do in the classroom," he said.
Some of Horzempa's hits include "American Pie-tosis" (cell division in the style of Don McLean's "American Pie"), a song about bacterial byproducts in the style of "Piano Man", among others, but he is always wary of the effectiveness of the songs themselves.
"I don't know if it helps them learn the material any better, I don't know, maybe it does, maybe the song gets in their head, but I'll tell you it does make them come to class more, and it does make them talk about science more," he said.
But there's an added benefit that Horzempa may be overlooking, as Junior Chemistry student MacKenzie Jacobs points out.
"Whenever he plays guitar and sings the songs in class, it really inspires me to be more creative about the topic. It really gets my wheels in my mind spinning like 'oh wow there's so many cool things you can do with the knowledge that you know' and there's so many ways you can help people with this," Jacobs said.
Professor of the Year
Horzempa was recognized as the state's professor of the year in 2017, but he says it's not awards, but student opportunities that keep him going.
"Whenever a student comes to me and says 'I made it to medical school, or I got into this grad program, I got a job working for this laboratory' that's the stuff that really makes me feel like I'm doing something right," he said. "The Professor of the Year thing, not to take anything away from it, that was amazing, but that doesn't change about the fact that I'm here to try to be an influence on these students and try to help them realize their potential."
Helping students realize their potential seems to be going well for Horzempa, as Jacobs has just earned two grants through NASA for summer research.
This article was originally published by West Virginia Public Broadcasting.
First Class in More than Name: Why Alabama's Preschool Program is Best in the Country
The excitement in the room is hard to miss – and it's coming from the kids as well as the teacher.
"Kiss your brain for knowing that!" Dr. Stephanie Parker exclaims to her students at Huffman Academy Pre-K this cool December morning in Birmingham, Alabama. The class is part of Alabama's First Class Pre-K program.
Surrounded by colorful charts, educational photos and pictures of kids and their art, Parker takes her eager students through a recitation of the previous day's Gingerbread Man story, as part of their "morning meeting." She's sitting in her wooden rocker at eye level with the kids, who talk and shout excitedly, answering her questions.
When they get something right, she applauds them with either a "kiss your brain," or after a particularly significant achievement, encourages them to do a "standing Saturday Night Fever," – with more than a dozen kids mimicking John Travolta's hand-across-the-body dance move.
In the classroom next door, Denise Dennis's preschoolers– after their own morning meeting– are putting together gingerbread houses, some sitting at a small round table with their teacher, others at another table with her auxiliary teacher Wyesha Pullum.
There are two teachers in each pre-K class at Huffman Academy, and that is just one of the reasons Alabama's public pre-K program got high marks in July from the Rutgers University-based National Institute for Early Education Research (NIEER). NIEER ranked the efforts of 43 states and the District of Columbia to provide quality instruction for kids before kindergarten age.
For those who expect Alabama to be at the bottom of the list in educational achievement, the NIEER report may come as a surprise.
"I think if you look at this report, the conclusion would be Alabama's the national leader here," says Steve Barnett, the founding director of NIEER and a member of the team that put together the report, "Implementing 15 Essential Elements for High-Quality Pre-K: An Updated Scan of State Policies."
The report concludes that Alabama's program fully meets 14 of the 15 essential elements. The standard was derived from research by Jim Minervino, founder and CEO of Ready On Day One, a Washington state-based nonprofit focused on making sure that all children are ready to learn on the first day of kindergarten.
The fact is that this result is nothing new; Alabama's First Class Pre-K program has met all of NIEER's benchmarks for quality standards every school year since 2006.
"Minervino concluded that each of 15 elements must be present to a considerable extent for high-quality pre-K to be implemented at scale," the NIEER report notes. "We believe assessments of the extent to which each element is present in each state are useful to those concerned with improving the quality of these programs."
Breaking down the rationale behind the 15 essentials, Barnett says: "They're the result of a project which was developed to reverse engineer successful preschool. Rather than saying 'On average how much do any of these things matter?' the question was 'Well, if we focus on the programs that seem to have succeeded in doing great things for young children, what do they look like? What do they have in common? What is it that seems to have to be in place to really have a high-quality preschool program that delivers excellence?'"
The 15 elements that Minervino cites are clustered into three major groups:
Enabling environment
Political will including support from political leadership and, more rarely, judicial mandates
A compelling vision and strong leadership from early learning leaders
Rigorous, articulated, early learning policies
Well-educated (BA & ECE expertise) and well-compensated teachers (K-12 pay parity)
Class size maximum of 22 children
Two (or more) adult teaching staff in each classroom; maximum teacher to student ratio of 1:11
At least a full school day is provided to ensure adequate dosage
Appropriate early learning standards for preschoolers
Effective curriculum that has systemic support
Strong supports for education of special needs children in inclusive settings
Strong supports for dual language learners
Strong Program Practices
High-quality teaching
Professional development (PD) to improve individual teacher performance
Child assessments that are appropriate and used to inform instruction
Data-driven decision-making and independent evaluation
Integrated systems of standards, curriculum, assessment, PD, and evaluation
The only one of the 15 essential elements that Alabama's program doesn't fully meet, NIEER concludes, is "strong supports for dual language learners." On that score, the state pre-K program ranks as "partially" meeting the standard.
"What distinguishes Alabama from most other programs in the country, in fact from almost all of them, is that Alabama hits all of those. Alabama's hitting on all cylinders," Barnett says.
"In terms of the enabling environment, that's basically do you have the resources, not just the financial resources, but is there the political will? Is there strong leadership? And Alabama has that both from state government, from the legislature, from a series of governors, from the agency that runs the pre-K program and is now cabinet level, but also outside in terms of support from higher education, support from the business community," Barnett added.
He cites Alabama's commitment of resources, as well as political will – manifested in the creation of a cabinet level pre-K program with approval from the legislature and the offices of successive governors. He also commends state business leaders for supporting pre-K.
"I think the business community support in Alabama has been important because…they don't have a self-interest apart from an interest in Alabama doing well in supporting pre-K," Barnett notes.
"And then the [rigorous] policies are, really, do you set high standards and put the resources behind them? And again, Alabama does that across the board," he says.
About the third major grouping, strong practices, Barnett says it has a lot to do with actually carrying out the policies. He notes that in the state, strong teaching and professional development, along with assessments of individual children and classrooms make a difference.
"Alabama does all of those things and very few other state programs do," Barnett says.
A different look for state education
Alabama is a state which does not always score so highly in national education rankings. For example, Education Week's Quality Counts Report in 2018 offered states grades on K-12 achievement; in that assessment, Alabama scored a D – slightly ahead of Mississippi, Oklahoma, South Carolina, Oregon and Arkansas which got the same score.
On the other hand, the same Education Week assessment gave Alabama a C for student chances for success, on par with states including California, Texas, Oregon and Florida.
Alabama's First Class Pre-K program, which was implemented in 2000, is technically a separate function from K-12 education in the state and benefits from a coalition of elements that make it stand out nationally.
In most other states, pre-kindergarten falls under departments of education, sometimes supported by nonprofit foundations, Barnett says.
"While it is more common for the department of education alone, or with another agency, to administer state pre-K, it is not uncommon" to have a separate pre-K division, he says. "Other states using this approach include Arizona, Florida, Connecticut, Georgia, Washington, Hawaii and Massachusetts."
Jeana Ross, secretary of the Alabama Department of Early Childhood Education (DECE), travelled to Montana to talk to the governor there about starting a similar pre-K program in his state.
Ross says Alabama's high rankings in the NIEER study result from concerted efforts in preschool programs, not only at public schools, but also at daycares, churches, Head Start, YMCAs and schools at colleges and military installations, which Ross says is key.
"We all understand that we want this program for these children to truly be a program of excellence. So, we spend a lot of time looking at child outcomes. We spend a lot of time putting coaches into those classrooms, supporting those teachers and directors that hold the grants for these programs," Ross says.
Ross understands the particulars of putting together a First Class Pre-K program from more than one angle. As a former public school teacher and administrator, before becoming secretary of the Department of Early Childhood Education, Ross was one of the first to win a grant under the program.
She served on the advisory committee for the program since the administration of Gov. Bob Riley, before being appointed secretary under Gov. Robert Bentley in 2012.
Her department provides a framework for preschool programs to build on, which is how it was designed in 2000 when pre-K was established by Alabama state government as a separate, cabinet level education division, then called the Department of Children's Affairs. The department was established under then-Gov. Don Siegelman, the last Democrat to serve as governor in Alabama, but then maintained by each of his three Republican successors. The Department of Children's Affairs became the Department of Early Childhood Education in 2015.
In 2017, the First Class Pre-K program got another dose of support from current Alabama Gov. Kay Ivey, who announced the Strong Start, Strong Finish Initiative, an effort to "integrate Alabama's early childhood education, K-12 education and workforce development efforts into a seamless educational journey," as described on the governor's office website.
Specifically, the initiative's "Pre through Three" component "is focused on ensuring the Alabama First Class Pre-K program is available to all families who choose to participate and ensuring that all of Alabama's third graders are proficient readers by 2022," the website notes.
"One of the responsibilities of the Department to this day, is to coordinate the activities and the resources and the supports for children and families of up to age 19, except for the K-12 academic," Ross says. "We have evolved over time as early childhood has become more understood nationally, and particularly with the brain research that lets us understand and know for sure now that what happens to that child before they're five years old pretty much sets what's going to happen…their ability to succeed and their skills, for the rest of their life."
NIEER's report calls back to that same idea: "Over the past 50 years, a growing body of research suggests participation in a high-quality preschool program can enhance children's development, reduce achievement gaps at kindergarten entry, and support a child's later success in school and life. However, pre-K can only provide these benefits if a child's classroom experience is high quality."
"We have a tremendous amount of science that establishes the first five years are really important," Barnett says. "Not that the other years aren't, but that we really do set a foundation for success in the years before children get to kindergarten and that very few states put forth the kind of effort in it that is required for preschool to make a big difference in those early years. Alabama does that."
He notes that Alabama's Early Childhood department employs a substantial number of staff members – seven in the Office of School Readiness, with more than 150 (including coaches and mentors for each county in the state) in the department as a whole. Contrast that with much larger states which have much smaller staffs and Alabama's commitment stands out, Barnett says.
"I just think that's one of the really smart things that Alabama's done and a big part of these benchmarks is whether you actually have the state capacity to make sure these things happen," he added.
How well does it work?
Alabama's pre-K program has been proven to offer a classroom experience of high quality, Secretary Ross says.
"If you'll look on our website, we've got some amazing research from the program and some outcomes showing that the children that attended this First Class Pre-K program are out-performing their peers on state assessments. They're less likely to be chronically absent. They're also less likely to be retained in school…and they're also less likely to need special education services," she says.
The science is settled on the critical import of the early part of a child's development. A study called "The First 1000 Days: An Evidence Paper" by experts at the Melbourne, Australia-based Murdoch Children's Research Institute, indicates that "the importance of the first 1000 days of life for children's health and wellbeing cannot be overstated."
"The first thousand days is a period of maximum developmental plasticity, that means it's the period during which as an organism we are most susceptible to change by environmental experiences, and those changes can have lifelong consequences," Dr. Tim Moore, a senior research fellow at MCRI, and one of the authors of the study, said in an interview with AAP.
"The first 1,000 days of a child's life are the most important to their development – and our economic success," says the headline of an article from the World Economic Forum. The article contends that "The first 1,000 days of life – from conception to age three – open a critical and singular window of opportunity. During this period, children's brains can form 1,000 neural connections every second. A three-year-old's brain is twice as active as that of an adult and the connections their brain makes are the building blocks of their future."
The same article goes on to note that the brains of young children develop best when they have stimulation from the earliest possible moment, proper nutrition, protection from violence, abuse, neglect and traumatic experiences, and protection from pollution.
Ross says Alabama's program is trying to provide what children need as early as possible based on this international research into early childhood development and the evidence that it sets a child up for success in the future.
"That four-year-old year is that last great window of opportunity that we can close those achievement gaps," she says, "and [in our research] you're going to see some significant results of gap closure in children that have been exposed to this program."
About 75 percent of students entering First Class Pre-K programs in Selma during the 2016-2017 school year were performing below "widely held expectations for school readiness for their age," Ross says. After a year of First Class Pre-K, 90 percent of those students were meeting those same school readiness expectations across the board.
Getting in
In order to have a preschool in the state-funded First Class Pre-K program, administrators have to apply for a grant and agree to a set of rigorous standards. The program, as noted on the department's website, is funded by the state's Education Trust Fund and the Preschool Development Grant through the Alabama Department of Early Childhood Education Office of School Readiness.
"When they write a grant application, they have to…know enough and do enough research and get enough understanding to put that grant together, because actually what they're doing is they're creating a program design," Ross explains. "We're just giving them the framework and within that framework, we include those elements of quality that we know will help them have a program of excellence, which, in turn, the children are going to be successful."
"And that's the whole point: doing whatever it takes to make sure that the children are getting the type of learning experience that they need to be ready for kindergarten," she adds.
A major part of assuring that children across the board are exposed to the same standard of teaching has to do with the training and support Ross' department gives to teachers when they enter the First Class Pre-K program.
"We've created a system and a structure to ensure that that system is working efficiently and effectively. And when I say efficiently, our administrative cost at the department is less than two percent," Ross says. "We have a regional director that has so many counties, and then that regional director then has coaches – instructional coaches for the teachers – to go in and support the teachers."
A tiered coaching model means more efforts are with newer teachers, less with master teachers, she said.
Even experienced teachers like Huffman Academy's Stephanie Parker, a 22-year veteran, say they benefitted from the First Class Pre-K approach when she went from regular K-12 to the specialized preschool program five years ago.
"When we're first hired into the pre-K program, the state has built into their model, coaching," Parker says. "So, they have First Class coaches that come out and visit and provide resources to us and they do demonstration lessons for us and they coach us….The First Class coaches do a great job bringing in the research, telling us what best practices are, what research says is the reason we're doing these things and what's best for kids."
Proof of concept
Parker, whose PhD is in early childhood education, says there are remarkable developmental differences in kids who have been through the First Class Pre-K program.
"I'm very proud of the work we're doing," Parker says. "I know we are making a significant difference. We talk to kindergarten teachers all the time who tell us they definitely can tell a difference in children that they have that have been through our pre-K program from other children [who have not been in the program], not just academically, but in getting along with others, and we work a lot on problem solving."
She cited as an example, the game she played with her students, called "Mingle." At first glance, it looks like this: children walking around the classroom chanting "mingle, mingle, mingle" until she stops them in their tracks and instructs them to gather themselves into groups of three. There is momentary confusion as they figure out how to do it. And again, when they realize there are some kids left over.
Figuring out what to do next is part of the exercise, Parker says.
"It was absolutely a counting game and a grouping game. But it was also a problem-solving game," she says. "So, you don't have enough in your group, what do you think you need to do? 'Well, I can ask somebody else, but if I ask somebody else and pull them away from their group how is that going to affect their group?'"
"We're not just trying to get academic skills down. In most instances, that will come – even if they haven't been anywhere. But if we're teaching them to start thinking at an early age, that makes a huge difference in the long-term education and livelihood of all children," Parker says.
A recently released report verifies that First Class Pre-K students do better in the short and long term than students who aren't in the program.
"Alabama public school students who participated in the state's publicly funded First Class Pre-K program performed better on academic assessments than those who did not, and the improved performance persists as students progress through the early grades and into middle school," as noted by the Public Affairs Research Council of Alabama.
The study behind the Jan. 7, 2019, report results from collaboration between PARCA, the University of Alabama at Birmingham School of Public Health and UAB School of Education. It was funded by the Alabama Department of Early Childhood Education, the parent organization of the First Class Pre-K program, to test the results of the program using the standardized ACT Aspire Assessment System.
The report shows that First Class Pre-K students do "statistically better" in math and reading than other students and that the results do not fade over time. Moreover, the study shows that First Class Pre-K helps close the learning gap between poor and non-poor students, PARCA reports.
The study looked at ACT Aspire results from the three school years between 2014 and 2017. During the study period, 6.4 percent of students participated in First Class Pre-K, and those students were more likely to be black and live in poverty than students who did not participate in the program, according to the Alabama Department of Early Childhood Education brief on the study.
Expansion plans
Alabama's First Class Pre-K program doesn't yet touch all 3 and 4- year- old students, but with about a thousand classrooms now using the standards, the number served is significant.
"We're serving right at 33 percent of 4-year-olds right now, and what we know for sure is that we have right is about 5,700, close to 6,000 children, whose young parents signed them up for this program last year that did not get to go," Ross says.
That means that two-thirds of the state's 4-year-olds are not yet able to access the First Class Pre-K program. Increasing those numbers will mean more classrooms, since First Class Pre-K limits the number of students per classroom. It will also mean more teachers, since First Class Pre-K requires two teachers per classroom. And it will mean more money.
"We're hoping to be able to…get increased funding from the legislature so that we can be able to have a classroom and have this opportunity for all children whose parents choose for them to participate," Ross says, adding that "we expect that we will meet that goal when we reach 70 percent, serving 70 percent of 4-year-olds."
Pre-kindergarten is not mandated by law in Alabama, meaning that some parents might opt out of First Class Pre-K, even if it becomes available to their children. Ross believes the program should continue to be voluntary.
But Ross says that her department also continues working on the one element that Alabama only partly meets, support for dual language learners, she says.
NIEER's description of this requirement says that to properly support dual-language learners, "Programs have a well-developed strategy for educating young DLL children that recognizes their unique needs and the importance of home language and culture. The state strongly supports the implementation of this strategy with guidance, materials, and professional development. Ideally, bilingual teachers lead classrooms where there is dominant language other than English. Bilingual paraprofessionals also may be part of strong system of supports."
Alabama is judged as having partially met that standard, meaning that the standards are either in place in some areas of the state but not others, "or the state has some provisions and support but no requirements," NIEER's report states. Alabama is one of five states meeting the standard partially; eight states meet the standard completely while 19 states don't meet it at all.
"Even this year we've progressed more; we'll more than partially meet it the next time because we added more training for teachers that will address children that are dual language learners," she says.
Even after all her years with state education, Ross remains excited about and convinced of the power of the First Class Pre-K program.
"It's just been very, very exciting, and it's just been wonderful to work with just great early childhood professionals in the state," she says. "They're just…we've got the best."
Barnett says NIEER investigated state programs by examining laws and policies on the books, documentation by teachers and school systems and interviews with child advocates and other interested parties in the state. And NIEER watches for success over time, Barnett says.
"The purpose is to set out what we think is needed to have a highly effective program," he says. "Maybe you don't have to do that to be highly effective but these are ones that we know have succeeded."
"Relatively few do well across the board, and some of those states that do, do in fact have evidence that their programs are producing good results for kids. And part of it is not one year or some short period of time. Is this something that's sustained for the long term and that's one of the reasons that having political will and strong leaders in this enabling environment are important," Barnett adds.
And while some states don't prioritize preschool – perhaps because of the idea that kids can catch up in K-12, Barnett argues that there is plenty of evidence to the contrary.
"Some of the states that have lower income and less educational success in the past, whether you're talking about Alabama or Georgia or West Virginia, have concluded that the future economic success of their states is linked to boosting the educational success of their students and that starts in the preschool years."
This story was co-published in partnership with Birmingham Watch, a publication of the Alabama Initiative for Independent Journalism.
Virtual Reality Tours Give Rural Students a Glimpse of College Life
The first time that Nyah visited the University of North Carolina at Greensboro for a campus tour, there wasn't much of a chance to see what takes place inside the classrooms.
"We just walked by buildings and the guide talked about what goes on inside," Nyah recalls of the campus tour this past spring.
But during a second "tour" of UNC Greensboro this fall, Nyah, now a senior, got to see students in a science lab, even though she never left her high school in Roxboro, North Carolina, a small city of about 8,400 more than an hour from the Greensboro campus.
Rather, Nyah got to "see" UNC Greensboro through cardboard goggles and an immersive 360-degree virtual reality college tour app that I'm helping to develop and test for the University of North Carolina System. The project is being funded through a federal grant for North Carolina's GEAR UP program. GEAR UP – an acronym that stands for Gaining Early Awareness and Readiness for Undergraduate Programs – is a federally funded program to increase high school graduation, college readiness and college enrollment at low resource high schools.
If the virtual college tour initiative is successful – that is, if it ultimately leads more rural students to enroll in college – I believe it could radically change how students in rural or otherwise remote places do their campus visits, which are a critical part of a student's college selection – one of the most consequential decisions of their lives. The app can be an introduction to college for rural communities without a university campus. Research shows that fewer students attend a university if it is not within commuting distance, that is, about 25 miles or less. This is particularly true for students from families with low incomes, the same research has found. About one out of every four students is rural, federal data show.
Early enthusiasm
Thus far, the app – which only features UNC universities – has been tested in four GEAR UP high schools in Rockingham and Person counties. Anecdotally, students have a positive view of the virtual college tours.
"I like this better," Nyah said of the virtual college tour in comparison to the physical tour she took earlier this year.
Other students told me similar things as I visited schools throughout North Carolina to educate students about the virtual college tours. The students' real names are not being used because the research project I am doing on the virtual college tour app does not allow student participants to be identified.
Some school administrators also reported enthusiasm for the app. "I like that the app has the tour and the ways to communicate with each campus," said Person High School Assistant Principal John Koket. "That will really help us get our students connected to college."
Costs and benefits
GEAR UP NC and the Emerging Technologies Lab at the University of North Carolina at Chapel Hill teamed up to develop the new virtual reality college tour app. A 360-degree video company was contracted to create immersive video content. The app – officially known as the GEAR UP VR app – is available for free download from the Google and Apple stores.
Cardboard goggles and earbuds were given to 16,000 students at 21 GEAR UP NC high schools at the cost of US$28 per GEAR UP student and $1.75 per UNC campus tour. This estimate reflects the app development, video footage, and the manufacturing and shipping of the cardboard goggles. The the cost per student may drop further since the app has already been developed.
The app uses language to draw students in. For example, the introductory video opens with "Hello, we're excited for you to join us as we explore college campuses all across North Carolina. Every college has unique experiences to offer, and there is a place for you no matter what you want to do." The tours and app create an experience and a connection to campuses.
The GEAR UP VR app was launched with federal grant funds at a cost of $450,000. However, in order to sustain the project, more funding is needed. Costs include the video content server, video updates, chatbots, and cardboard googles for future high school students. GEAR UP NC plans to explore ways to secure funding to keep the initiative going if it proves worthwhile.
Students in this initial phase of the project were able to keep the goggles to explore the 16 UNC campus tours on their own and share the experience with family and friends.
That's what Kailee, a student at Reidsville High School, says she intends to do.
"I'm going to show this to my little brother," Kailee said. "He needs to think about college."
Anyone can download the app onto their phone. The goggles allow sharing the 360-degree video. The video content can also be viewed without goggles on a desktop computer or a phone. The app also enables parent exploration of college choices, a key factor in a student's choice.
Many colleges and universities already have some form of virtual tour to recruit students. The GEAR UP VR app is different. In addition to the virtual reality campus tour, the app provides web links to campus admissions and financial aid, features a chatbot to immediately answer questions, and links information about degrees and campus life and campus social media.
Challenges linger
While students and administrators have expressed positive views about the app, the app is not without its challenges. For instance, right now, it's up to high schools as to how to make the virtual tours a part of their college search activities. A guidebook might be helpful in the future.
Also, broadband and internet signal strength were a challenge in some rural schools. For example, when an entire class of 25 to 30 students attempted to download the app at the same time, the school's internet connection was stretched and download speeds were significantly slowed, if it worked at all. This problem occurred at all of the schools I visited. Some students indicated the app could not be downloaded on the latest model phones.
Even if the app works flawlessly from a technological standpoint, schools still need to help students make college decisions. Schools play a particularly influential role for rural students when it comes to deciding whether to go to college. One of the questions I'm exploring is whether the virtual college tour app can help rural schools play this role even better.
Carol Cutler White, Assistant Professor, Community College Leadership, Mississippi State University
This article is republished from The Conversation under a Creative Commons license. Read the original article.