The stretch of U.S. 23 in Kentucky from Ashland to Louisa is littered with Christian churches – Methodist, Church of Christ, Baptist, Nazarene – and on a recent Sunday, the drive down the winding, rural highway showed parking lots in some places littered with cars, just until services let out only to empty just as quickly as they had filled.
After months of not being able to celebrate their faith with parishioners in person, some churches in Appalachia are slowly returning to normal as states lift restrictions on the number of people that can gather. In Kentucky, Governor Andy Beshear released guidelines for safe worship services at the beginning of May after a court ruled he could not restrict faith communities from meeting, but the state is still limiting gatherings to 10 or fewer people, even when neighbors like West Virginia are increasing their restrictions to 100.
But not every place of worship in the region feels comfortable with returns to in-person services, even as the guidelines change.

At Burnaugh Baptist Church in Catlettsburg, for example, a few cars sat scattered throughout the parking lot the Sunday before Labor Day. Inside, members practiced social distancing in pews while ministers spoke from the lectern to those gathered, but also those on Facebook live who tuned in from the comfort of their homes, just like many had been for weeks before.
Louisa United Methodist Church, in Louisa, held drive-in services in their parking lot instead of returning to their pews. Pastor Dan Smith's voice boomed out of the church's PA system, reverberating off of the surrounding mountains. 
"We're glad to be able to get together," Smith said. "We're part of a connectional system so we have to listen to the Governor, as well as to our bishop. We didn't want to open up [to in-person services] because we didn't want to have the potential problems that could come with doing so."
For five weeks after the closure of the churches in Kentucky, Dan Smith and Tammy Smith, pastor of the nearby Louisa First United Methodist Church (no relation), have worked together to provide their congregations with combined digital services. Switching back and forth between the two churches as their backdrop, the two pastors taped sermons on Saturdays to upload to YouTube in time for Sunday morning.
Still, Dan Smith said, his church's members miss their in-person gatherings. 
"They're lonely for their community, but they're also lonely for their church," he said. "When we're sure it's safe, we'll open up again…I'm not willing to risk anyone's life if I'm wrong."
Across the Ohio River in West Virginia, religious leaders said they were also concerned about the prospect of opening up churches and synagogues and mosques, and how that may affect some of the members of their faith family, but as an area that values religion as part of its culture, the closure of some churches due to the COVID-19 pandemic has taught some religious leaders new things about their religion.
On March 13, the Diocese of Wheeling-Charleston announced it was canceling all public celebrations of mass, cancelling or postponing all non-essential meetings, closing its schools and dispending Catholics from their obligation to attend mass.Just two months later, the diocese provided Catholic churches with the approval to open on May 23, provided they submitted to the diocese a plan to re-open as safely as possible. 
There would be no congregating before or after the services. Seating would be limited to six or eight people per pew in every other row. There would be no hand holding during the Lord's Prayer. Parishioners would be asked to wear masks at all times, except when receiving the host during communion, and then only after they had moved away from the priest.
In a two-page letter outlining the re-opening procedures, Father Casey Mahone, pastor at Immaculate Conception Church in Clarksburg, West Virginia. and his parish nurses ministry outlined what it would take for the re-opening to be successful.
First and foremost, it outlined who should not return to in-person services – those in the high-risk categories; those who may be sick with COVID-19; those who may have been exposed to COVID-19; and those who exhibit symptoms of COVID-19, like an elevated temperature.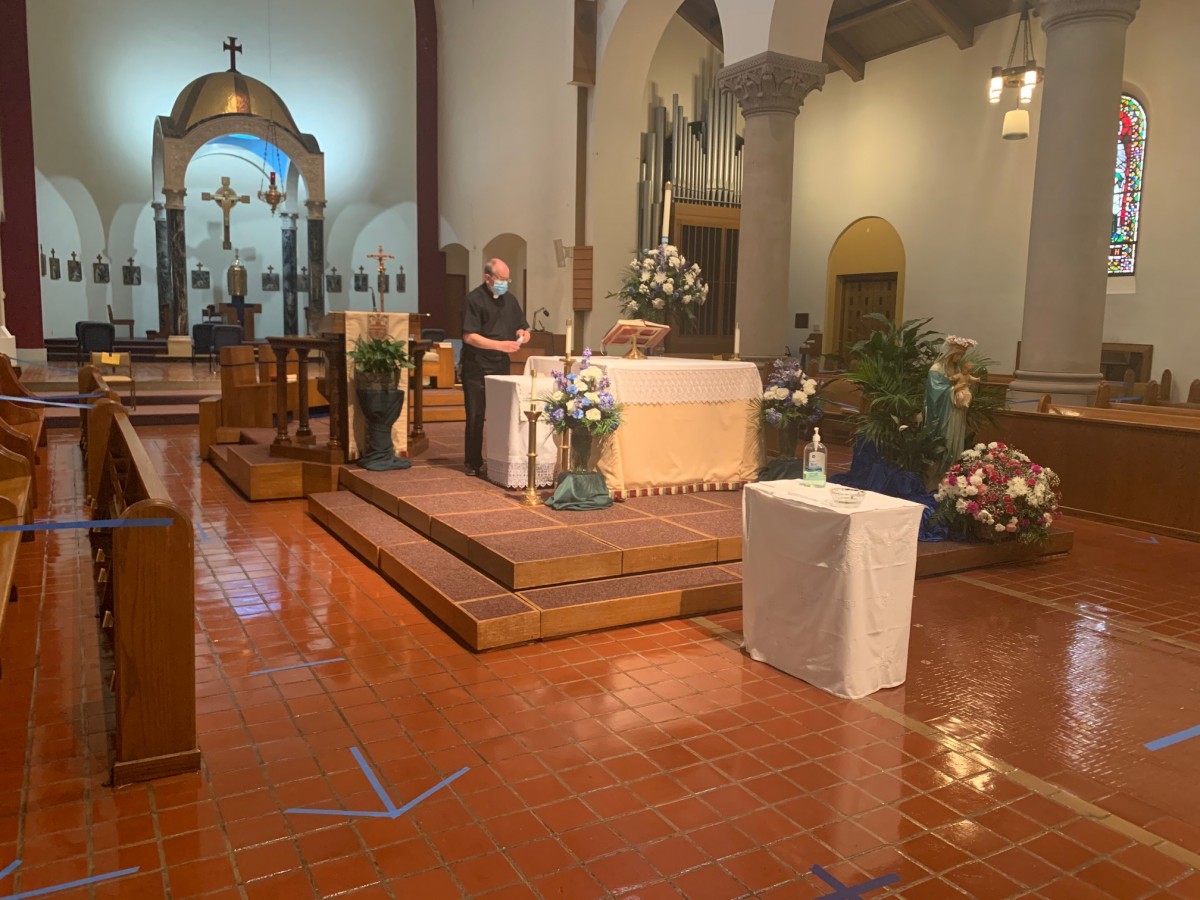 "I've spent the last 35 years of my life trying to get people to come to church, now I'm trying to get them to stay away," Mahone said.
Veronica Gallo, the head of the Clarksburg nurse ministry, said that procedures were being put in place to assure social distancing, like placing directional arrows on the floor to show which way traffic should flow, and cleanliness, like frequent cleanings of the church, were put in place and practiced.
The procedures were necessary to keep everyone – from worshippers to deacons to priests – safe. 
"We know that some of them are itching to come back, and I'm itching to see them all, but we want them to be safe," Mahone said.
For Rabbi Victor Urecki, however, the desire to keep members of his faith community safe was more important than opening up B'nai Jacob in Charleston, West Virginia.
"I'm very reluctant to open back up because of the safety and security of the ones who are most vulnerable," Urecki said. "We are concerned because of their health. Our decision to not open back up is to protect them, but the elderly members of our synagogue are the ones who are our most loyal members."
For Urecki, the switch to an online version of his services has been a blessing. Now, through services on Zoom, his reach has expanded beyond his physical community, drawing in participants from across the country. 
"There are all these Appalachian expats who have moved out of the area who are now able to reconnect with the family here at B'Nai Jacob in a way they weren't able to do before," he said. "We have people who moved away from here and moved to Texas, California, Illinois and Virginia coming back to join us."
Once the temple does open up, he said, it will be important to figure out how to continue to keep those members engaged and part of the temple's faith community.
While the way services are held has changed, he said, the importance of them has not changed. In fact, he said, the significance of having that community has become more important than ever before. As families and individuals face isolation, connecting before and after services through Zoom had helped his members stay connected with one another.
"I think what I have learned from this is that these sacred sites and these sacred objects are not what is important," he said. "We're not missing the holy objects as much. We're discovering that the synagogues and holy objects are not as important as the community and that it's the interaction with human beings that give these holy objects the spark of holiness." 
Nancy White, pastor of the Milton United Methodist Church, in Milton, West Virginia,  said her congregation will not be opening up just yet, but that doesn't mean there won't be services. They are continuing drive-in services, like many in Appalachia, until their bishop starts writing reopening plans this month.
"We have invited people to drive in to the parking areas around the church for 11am worship over [an] FM transmitter," she said. "We hope to use our lawn for people to socially distance worship by bringing a chair within the next month as well." 
White said she will continue providing religious messaging and teaching on Facebook and her church's website until her congregation is comfortable utilizing the building for activities, programs and ministry. They will continue to provide children's lessons and crafts for families to pick up, as well as crafting ideas for its parishioners so they can learn new ways of expressing their faith – such as creating prayer squares or journaling about their faith story during the coronavirus crisis.
CDC guidelines for cleaning and sanitizing, as well limits on how many people can be in the building at a given time will all be taken into consideration as the Milton United Methodist Church creates and revises guidelines throughout the summer.
While worship looks different, White's parish is continuing their charitable programs by coordinating a drive thru food drop-off to collect food items for the Eastern Cabell County Humanities Organization to provide those in need with food, but the decisions to close, and stay closed, have not been without struggle, she said. She calls or texts or checks in with members of her congregation who need her via social media now instead of making in-home visits. For her and members of her faith community – just like so many others in the region – the separation is hard. 
"It is difficult to maintain connection and people are praying for the time to really be together again," she said. "I hate it for people and for me too. My congregation, being that many are in the risk category, does not need to be gathering just yet and it is hard for them as they are very close."