Across the country, medical professionals fighting the coronavirus pandemic are struggling to get their hands on protective gear – things as basic as goggles, gloves and masks – and without federal assistance, groups of West Virginians are handmaking face masks at their own expense.
In the past weeks, President Trump said the federal government does have some equipment in stock, but due to the lack of cases in West Virginia, the state would not be receiving any.
Since then, the number of West Virginians testing positive for the coronavirus has grown each day, but local hospitals say they still fear they will not receive federal assistance.
As a result, local hospitals have started calling on West Virginians to handmake and donate masks.
Cotton Masks
One person who jumped into action was Stacy Grubb, a mom of four who lives in Raleigh County. During the first week of social distancing, she put a call out on her Facebook offering to hand-make masks. Within three days she had almost 200 likes, nearly 100 comments and made more than 100 masks, including 24 for the McDowell County Health Department.
"I'm thinking this can't be real, you know?" Grubb said. "Like, how is it that this can possibly be real, that hospitals are asking people to sew masks?"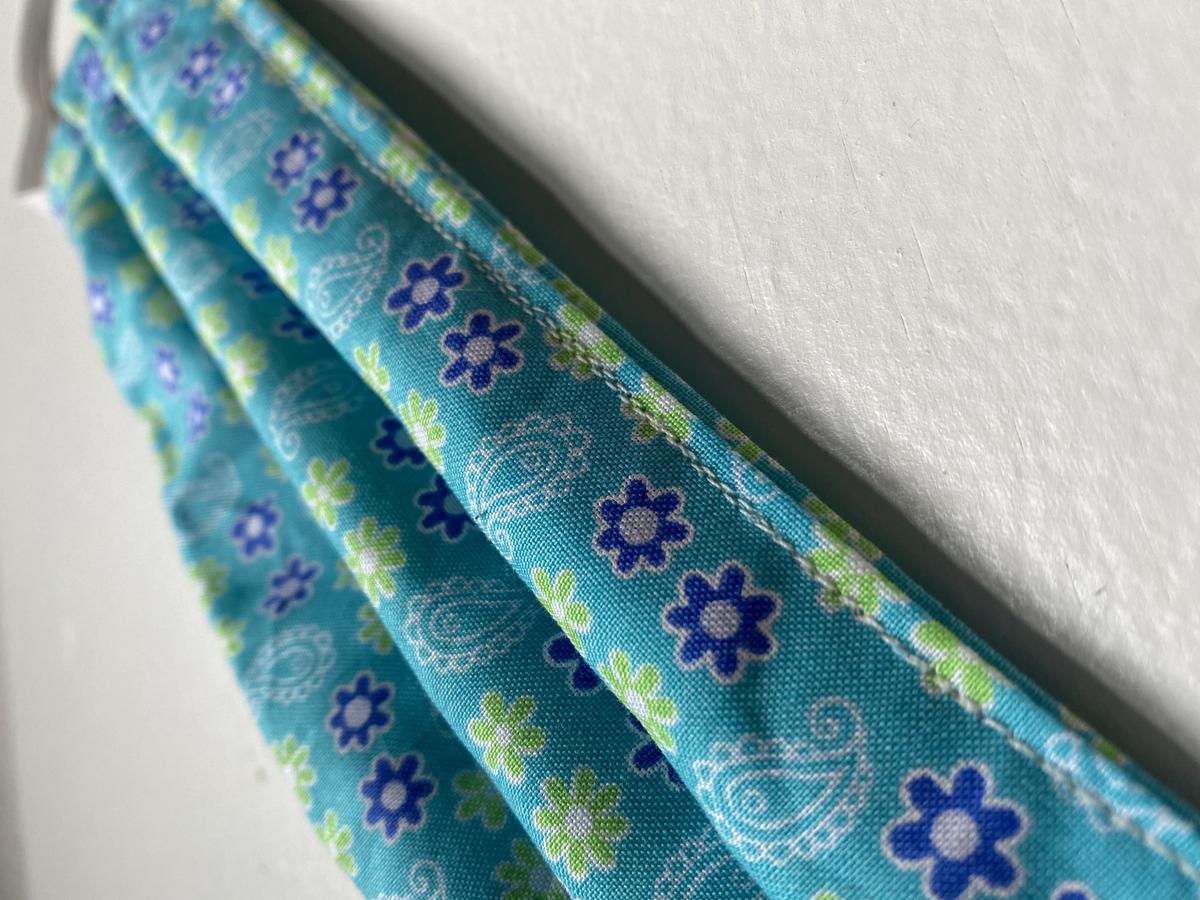 Grubb is following a pattern recommended by healthcare workers online, using two materials — 100 percent cotton and one-eighth to one-quarter inch elastic. Each mask takes her about 20 minutes.
The Centers for Disease Control and Prevention says it cannot classify cotton masks as "personal protective equipment" and medical professionals should only use them as a last resort. And Grubb said that makes her nervous.
"And so all of these doubts start clouding in my mind like, 'What if I'm doing more harm than good?'" Grubb said.
Where Are All The Masks?
Medical professionals are facing the reality that in order to treat patients with the coronavirus, they might have to wear homemade masks that are not medical grade — leaving them exposed to the virus themselves.
Sydnee McElroy, a family physician and assistant professor in Huntington, said in the past she treated patients in developing countries, and only there she expected a lack of medical supplies.
"I really never dreamed – I trained here, I grew up, I lived most of my life in Huntington – I never thought I would be in that situation here," McElroy said.
But the coronavirus is causing a nationwide shortage of supplies. Initially, it was caused by the general public mass buying and hoarding face masks. But now, according to the Institute for Supply Management, global companies that U.S. hospitals rely on for masks are overwhelmed. The institute's survey reported that in late February and early March, 75 percent of those companies' supply chains were disrupted, and almost half did not have a plan to deal with it.
And although there is a federal stockpile of medical supplies, as well as a federal Defense Production Act that could force American industry to mass-produce supplies, President Trump has been hesitant to tap those resources.
And McElroy said that concerns her.
"If you're relying on the state or the federal government to provide whatever it is we need in that crisis," she said, "you have to make sure that they are paying attention to you and they hear you, and I think, unfortunately, that isn't always true for rural areas of the country in general. But specifically, I feel that way for West Virginia a lot."
With no alternatives, medical facilities in West Virginia are calling out for homemade masks, and people across the state are responding, all on their own expense.
In Morgantown, a local suit and tailor store – Daniels of Morgantown – donated over 400 cotton masks to Cardinal Pediatrics, WVU Medicine and Mon General. There are groups in Shepherdstown, Pocahontas County and Elkins, just to name a few, all making masks and raising awareness through Facebook groups.
​Furnace Filter Masks
Perhaps the largest movement has come from the West Virginia Mask Army, a Facebook page created March 20, with over 1,500 followers and receiving national attention. Although these masks cannot replace a medical grade version, they are a step up from the 100 percent cotton variety, said Suzanne Strait, a professor of biological sciences at Marshall University in Huntington and the founder of the mask army coalition.
"We needed something that actually had some filtration capability better than cotton. And we came up with the concept of using good high-end furnace filters that actually are known to at least filter some viruses and particles," Strait said.
The masks are made from a furnace filter, elastic and a pipe cleaner or twist tie, which helps shape the mask over one's nose. Medical centers in Washington state are using a similar model.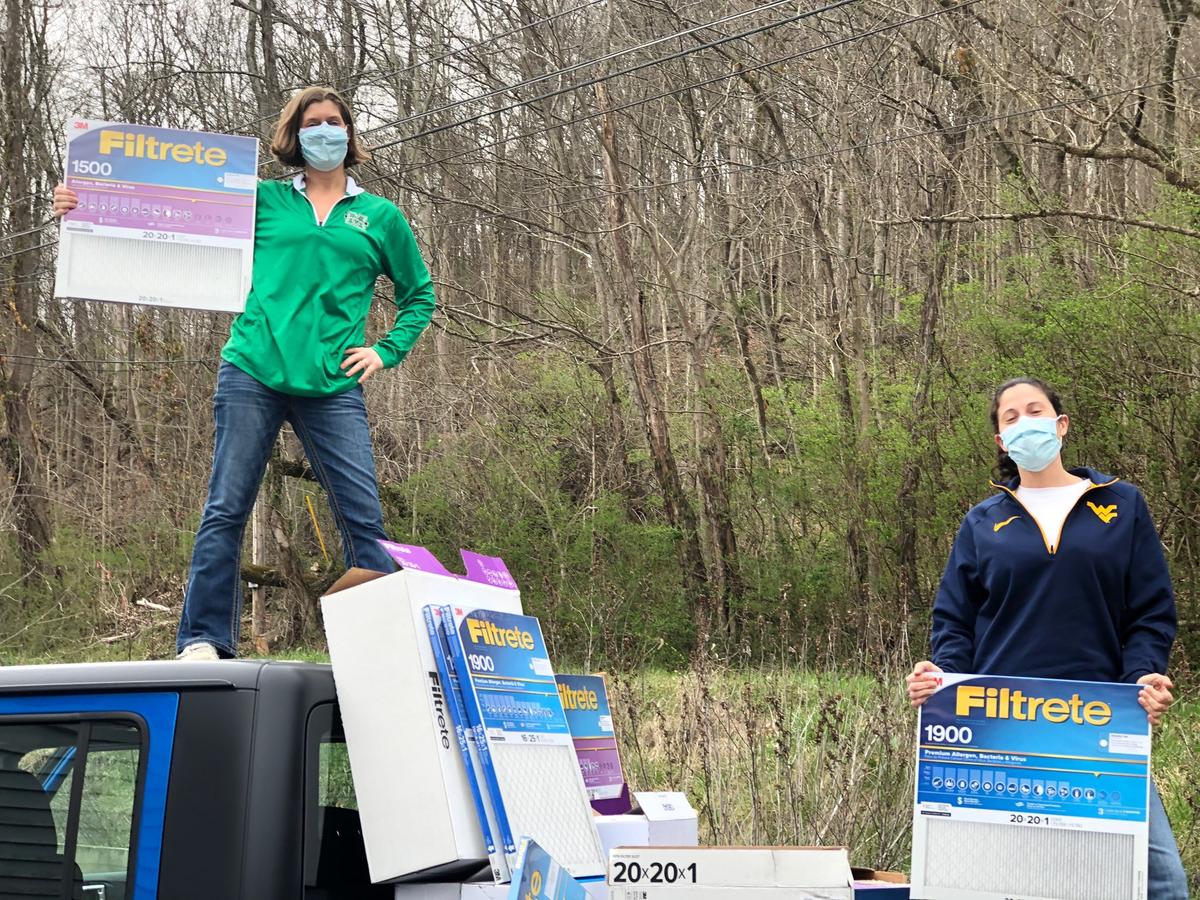 Over two days, Strait said she and her team worked closely with the Charleston Area Medical Center, who approved the design.
"We would much rather have these than the cotton ones. There is some question about, you know, you don't really normally on a day-to-day life want to be cutting up and wearing a furnace mask – because they're not designed for that. And with the edges where you cut it, little particles can come out," she said.
These particles can include polyester which is classified as a microplastic, and when inhaled are very hard for the body to get rid of, potentially leading to respiratory and cardiovascular disease.
"But the difference between that risk, you know, and the risk of a virus is kind of a very, well, we're living in different times," Strait said. "We have to be creative."
Most medical centers requesting handmade masks are doing so as a preemptive measure, according to Kelly Anderson, a registered nurse and CAMC's director of volunteer services, adding that CAMC does have enough medical-grade masks, for now.
"As a nurse, I've never dreamed that we would even be considering using a fabric mask. However, you know, with the pandemic, we just, we just don't know. And so anything will be more helpful than nothing," Anderson said.
Effectively Using Homemade Masks Is Tricky
To extend the life of the medical-grade masks Anderson said some staff are wearing the homemade masks over the top, which can then be cleaned.
But cleaning is an issue too. One website said to hand wash in warm water with soap and no bleach, while another recommended hot or cool water with a small amount of detergent. Stacy Grubb – the mother making masks in Raleigh County – said she read to wash on a hot sanitizing cycle, a hot rinse, a hot dry and then repeat the three steps again.
Sydnee McElroy, the physician in Huntington, said the effective way to wash the masks is unclear.
"And one of the other downfalls is if you don't wash them appropriately and then let them dry, that you can actually store particles pathogens in the material," McElroy said.
But she added that cotton masks are certainly better than just bandanas, which is what the CDC is recommending medical professionals use as a backup.
So not knowing yet whether there will be a need, West Virginians keep sewing masks. And Stacy Grubb said that is something that is uniquely Appalachian — even if there is no outside help, people out here just have a way of making do.
This article was originally published by West Virginia Public Broadcasting.