Ona, West Virginia, is a town with two stoplights, but it's also a place where legends are made. 
Greg Sigler has been racing at Ona Speedway for nearly two decades. But today, he's coaching his 15-year-old son, Cole, from the sidelines, using a headset that lets them talk back and forth. Cole, who drives a white 2006 Cobalt sporting the number 99, has just embarked on his own racing career. It's his first time behind the wheel of a car.
In a special report exploring folkways traditions, as part of the Inside Appalachia Folkways Project, Lexi Browning spoke to the Sigler family. For them, days at Ona Speedway are a family affair. Cole's mother, Michalann, is there too. She said racing has brought the father and son closer together.
"They didn't have a whole lot in common, and now that they're racing, they talk a lot," she said. "They stay gone late at night working on cars, and it's really made his dad proud of him."
Between practice sessions and races, Greg, Cole and Michalann often spend long days together at the speedway. But she doesn't mind. 
"It's just real family-oriented and I like that about it," Michalann said.
Out on the track, Cole's cautious, but he's gaining confidence. He's easing into turns and leaning harder into the accelerator.
After a few more laps, he pulls over for a tune-up and his crew guides him to a trailer, which serves as their makeshift pit. It's a routine check for safety. The guys check the tires, add air and tighten a few bolts. 
Greg gives the green light and with that, the Cobalt — and Cole — are ready to return to the track.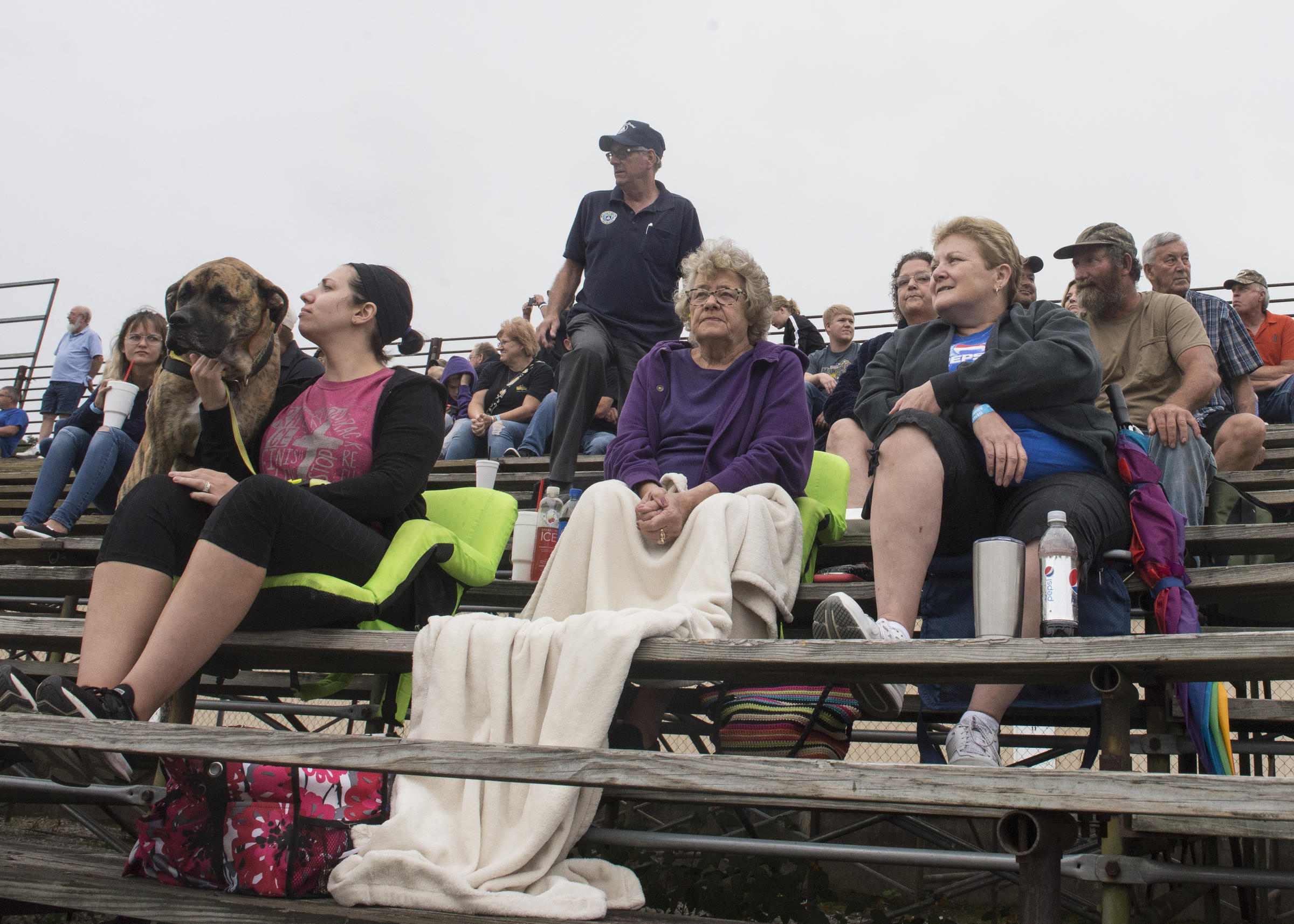 It's not just blood relations who come together here. The track is the center of a racing community that Michalann describes as, "one big family."
Marshall Herring agrees. He's been coming here since the track opened, first as a spectator, then as a driver, promoter and flagger. Now, at 71, he's seen his fair share of tracks.
"I raced at Ona back in the sixties and then I moved to Florida. Raced at Palm Beach Fairgrounds Speedway, Hialeah Speedway, Hollywood Speedway, Punta Gorda Speedway, Vero Beach Speedway …" he trailed off.
But the Ona Speedway is home, and there's no place he'd rather be.
When it opened in August 1963, it could seat 16,000 spectators and was slated to become a NASCAR track. The speedway hosted four NASCAR races, bringing big names like Richard Petty and Bobby Allison to the tiny town.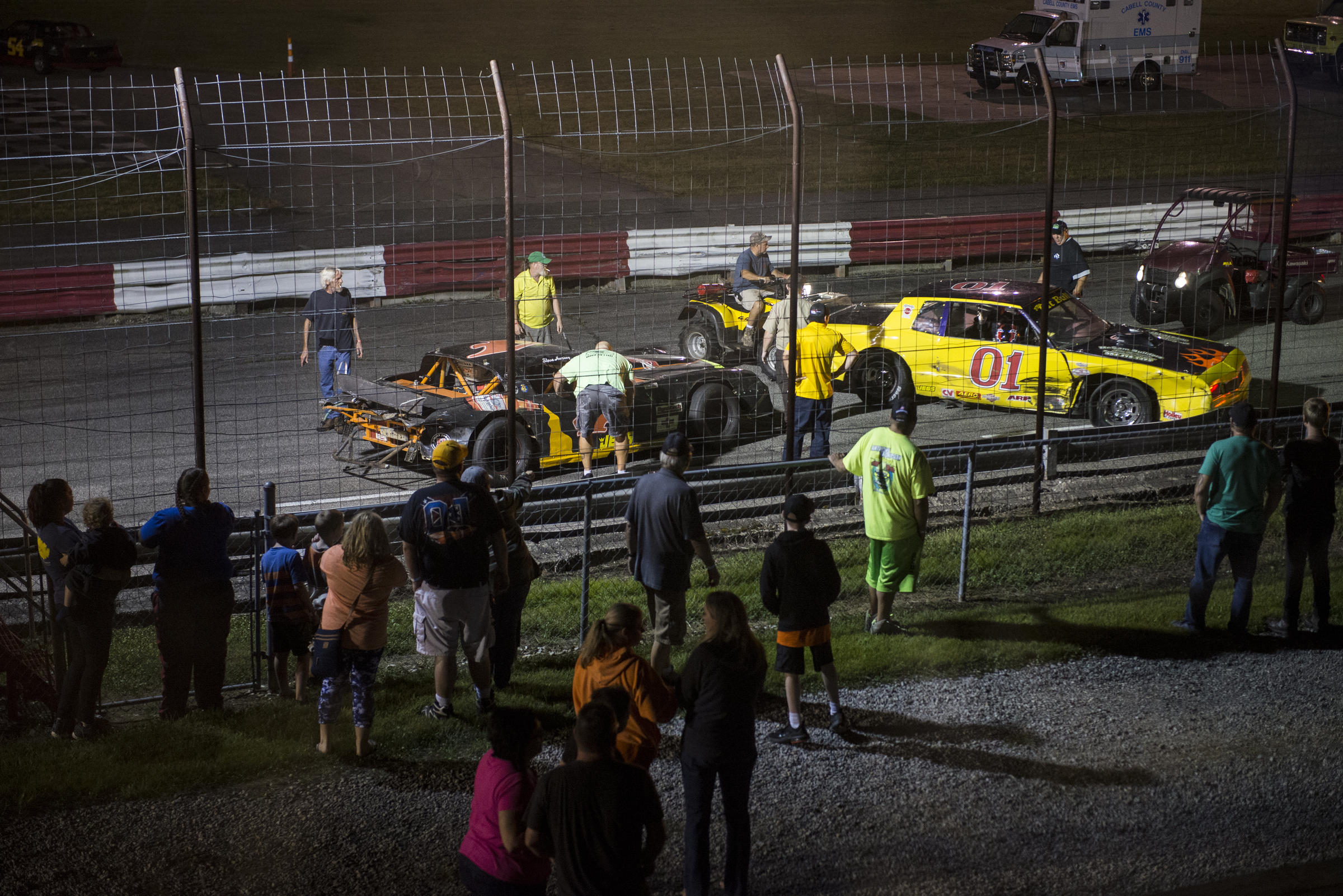 "People actually bought stocks in Ona Speedway. Back then they were going to build this track and make it a big thing. The track that's there now is the original track that they built, but it was laid out for an even bigger track around the outside of it to run the NASCAR cars on."
NASCAR racing traces its roots to the Prohibition era, when quick getaways were a necessity for moonshiners in the hills of Appalachia. Souped up engines became a way for moonshiners to deliver their products — and outrun any lawmen they encountered.
By the 1950s, the sport was gaining traction and fans across the United States. And Ona was right there at the center of it.
"It was unbelievable I mean I remember going there when I was young as a kid," Marshall said. "When they ran it as a NASCAR track. Where the airport is now and all that whole bottom land, there was nothing but cars. There was people up in the trees on the hillside. It was unbelievable the people that came to watch the NASCAR races at that track."
But things were about to change.
The rural roads made it difficult for NASCAR's massive car-hauling trailers to access the track. The speedway was only a half-mile from the nearest stretch of interstate, but without any off-ramps to accommodate the trailers, the NASCAR races eventually stopped.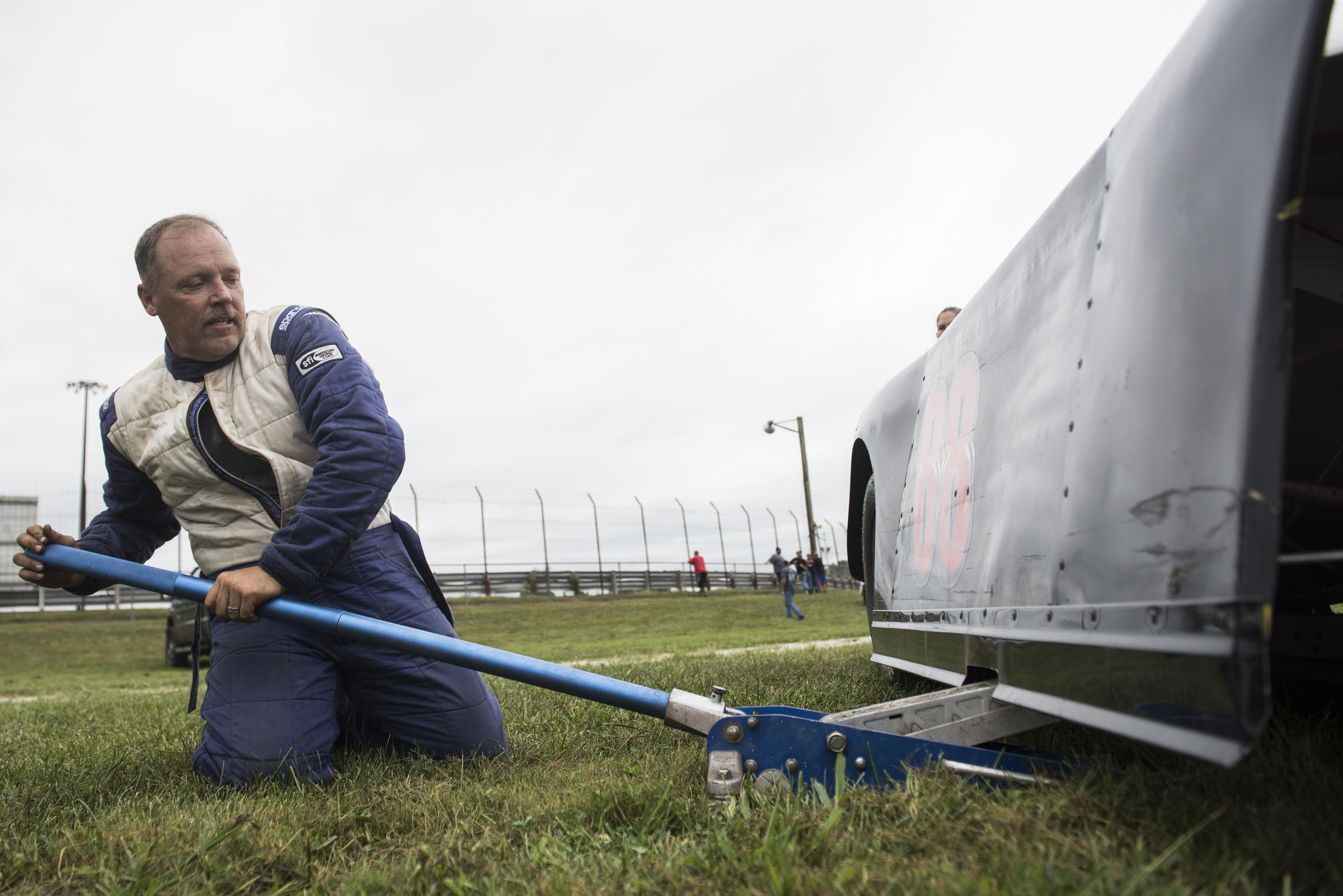 But after a 22-year hiatus, a local family re-opened the freshly paved track in 1995. By then, its seating capacity had shrunk from 17,000 to 5,000, reflecting racing's new realities.
"The track doesn't bring the crowds in like they used to," Marshall said. "It's hard to bring a crowd into a race track and charge somebody to come and watch a race, even though they might want to watch it and it's a show that you're getting and it's well worth the money, it's hard to get people to do that because of television. That's been a big factor in the short track racing."
Over the last few years, though, Marshall said things have started looking up thanks to new owners. Both attendance and car counts are up. He said it reminds him of the old days.
"They're running things pretty much the way it should be, and I see the track coming back a little bit," he said. "And I hope it continues to. I would love to see that place packed full of people the way it used to be. The way all tracks used to be."
Marshall said the key is leveling the playing field to make the sport more accessible to younger folks, and those with lower incomes.
"The little guy wants to race just like the big guy, and if you've got a big guy that's got a million dollars in the bank versus a guy that pays out of his pocket from week to week and has to do without a loaf of bread maybe to get a bolt for his tire or something for his car so he can race, there's a big difference," he said.
Scouring junkyards for used parts or bartering with other drivers can help lower costs of restoring and maintaining the modified stock cars, which can be classified as late models, hobby stocks and classics. So can swapping out metal bumpers with cheaper plastics.
But the best way to get involved, Marshall said, is simply to start showing up and helping out at the track and in the garage. Like Cole did.
"He started coming up here to the shop with his dad some, and I'd give him a hard time and tell him we're going to put you in one of these cars next year and he got to where he's working on the cars little bit and helping us," Marshall said. "I think it's great, and I think we need more kids doing stuff."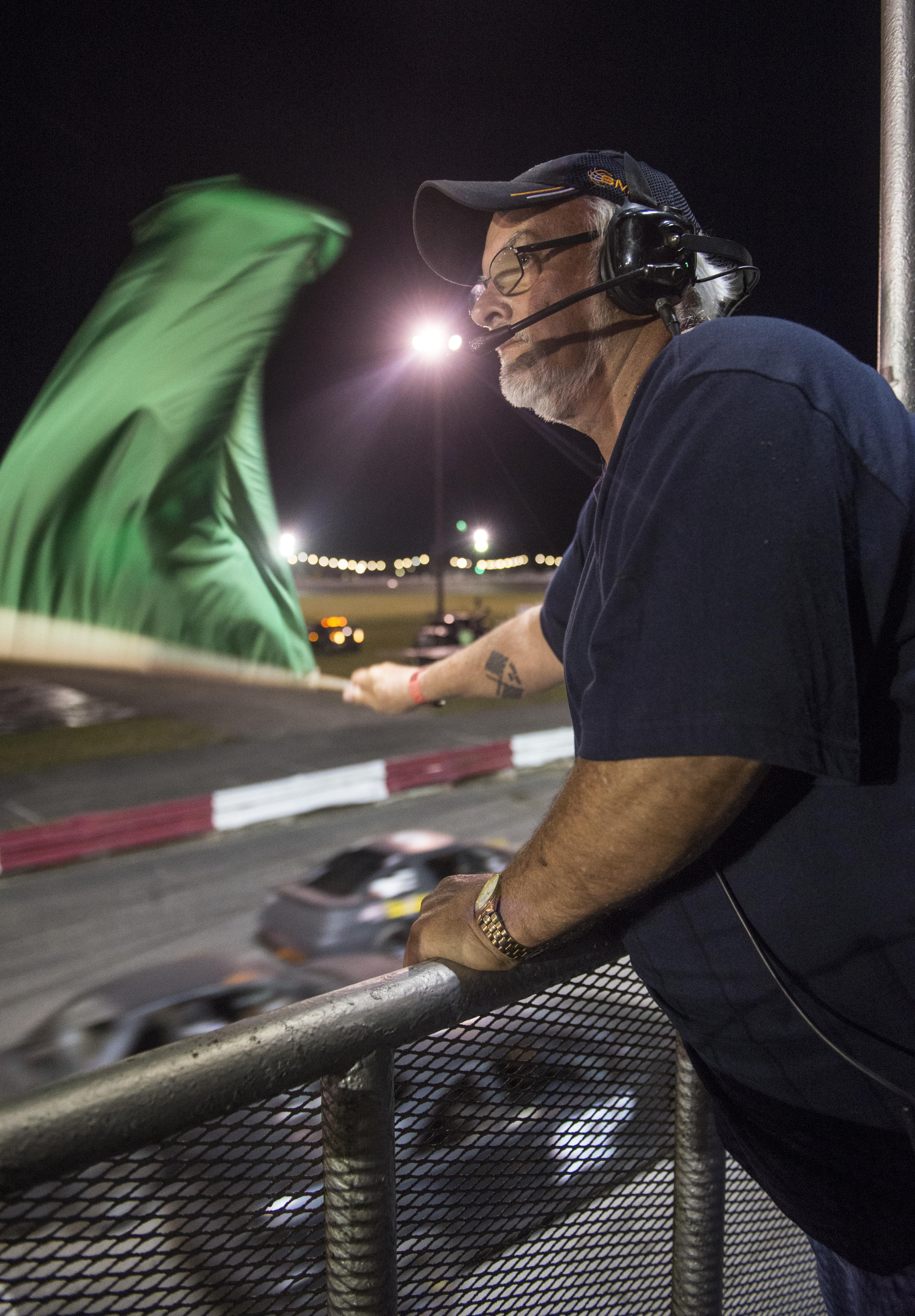 It's been a few hours, and Cole's finishing out his final set of laps. The setting sun marks the end of practice, so he pulls off the track, parks, and gets out. Driving, he found out today, isn't as hard as it seems.
"Honestly it feels like you're being pushed. Feels like everything's getting pushed to one side," Cole said. "But you know, this is probably the best track for starting off."
Greg walks over to congratulate his son on a job well done.
"You did it!" Greg said with a grin. "Look at you, you're like a professional racer."
The race cars are loaded and the trailer doors are closed. With that, the Siglers head home; eager to cross the next finish line.
This story is part of the Inside Appalachia Folkways Reporting Project, a partnership with West Virginia Public Broadcasting's Inside Appalachia and the Folklife Program of the West Virginia Humanities Council. The Folkways Reporting Project is made possible in part with support from Margaret A. Cargill Philanthropies to the West Virginia Public Broadcasting Foundation. Subscribe to the podcast to hear more stories of Appalachian folklife, arts, and culture.
This article was originally published by West Virginia Public Broadcasting.