Walter DeBarr: Making Waves Across Appalachia and In-studio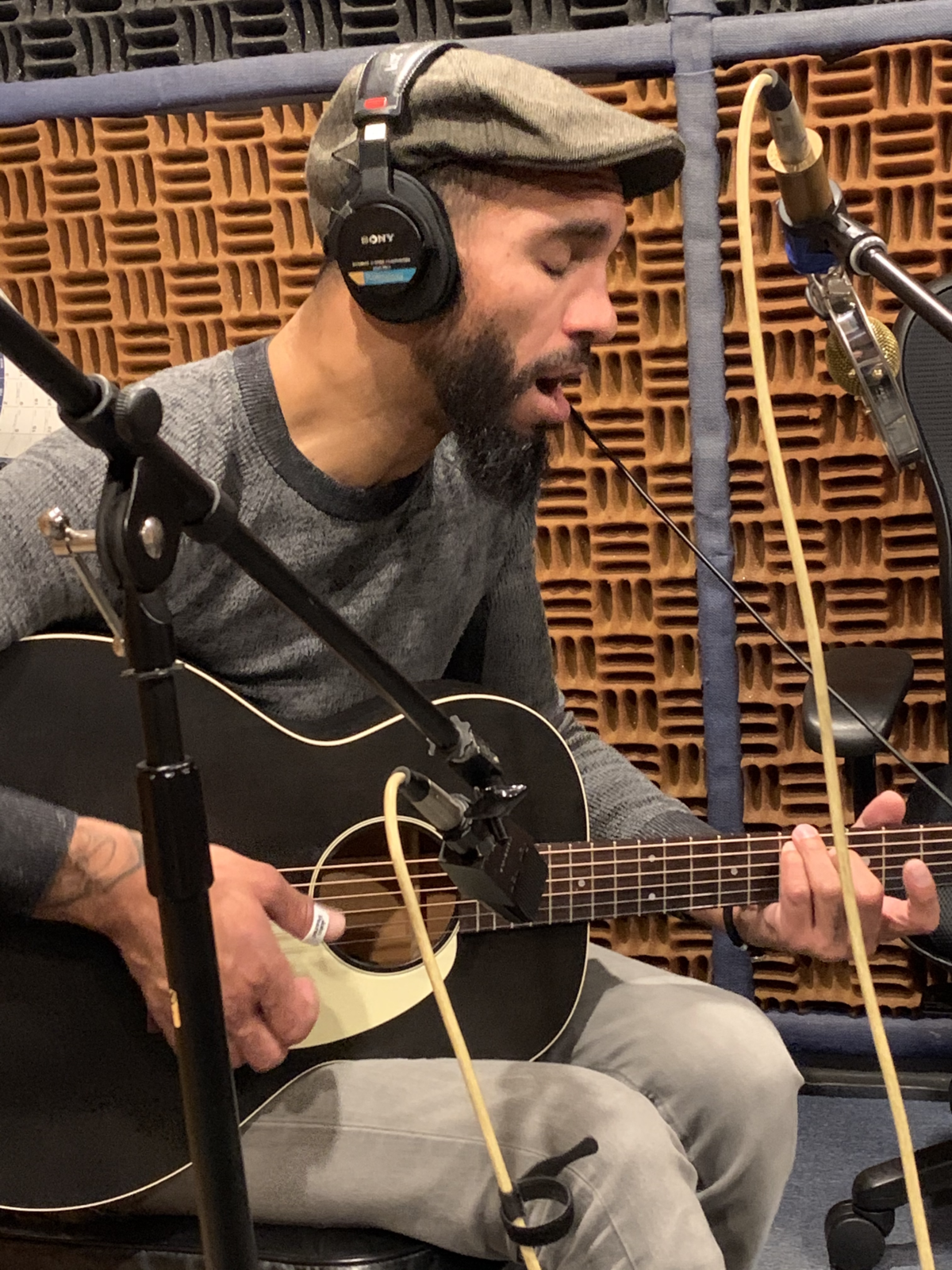 Singer-songwriter Walter DeBarr is using his unique voice and turbulent past to create and spread a heartfelt message across Appalachia. Growing up a Black man in mostly-white Buchannon, West Virginia, DeBarr had it tough among his peers. "I got beat up alot and kids would mess with me. Kids who didn't understand."
Now, DeBarr draws upon these experiences to write his songs. "Nearly all of the music stems from my growing up… just from being different from all the other kids I grew up with… simply for being who I was." He had an epiphany which turned that negative energy into something positive. "I realized, man, it doesn't matter–none of that matters. What matters is what's in your chest, and what sort of moral compass you carry."
DeBarr chooses his lyrics by remembering how he grew up with the hopes that other people don't feel so isolated. "We all struggle everyday with something, and I just genuinely want people to know they're not alone." For instance, his song, "Hurts so Good," is about coming to terms with the necessary growing pains of getting older. "I just want to be a kid forever, but… we gotta grow up."
Lyrics and music seem to flow through him easily. He's written over 60 songs in just a few years without even knowing much music theory. "I don't even know the names of all the chords," DeBarr joked. But theory doesn't matter when you can make beautiful songs. He's made so many that he's recorded and released his first EP We Fall, We Break with Greg McGowen at Rose City Recordings. It can be bought on most major platforms online.
Take a listen to our interview with DeBarr, where he performs two songs, "Hurts so Good," and "These Hands, These Eyes". Then check out his website walterdebarrmusic.com.
This article was originally published by West Virginia Public Broadcasting.
Love and Tradition Passed Down Through A Guitar
Mill Point is a blink-and-you'll miss it wide spot off the twisty mountain roads of Pocahontas County, West Virginia. It's also the home of Bill Hefner, a luthier who isn't just making guitars, he's passing his tradition of meticulous craftsmanship down to the next generation.
A Music-Filled Life
Bill Hefner grew up in a house filled with music. His mother and aunt would harmonize to popular songs on the radio, and his Uncle "Dude" Irving played guitar, mandolin and banjo. Bill and his brother Richard both learned to play on Harmony Archtop guitars, delivered by Santa Claus in the late 1950s. Richard said Bill was inspired by county music star Chet Atkins.
"He ordered a Chet Atkins book, and he'd play that guitar and study that book," Richard said. "And he'd come down every now and then and ask Uncle Dude how Chet Atkins did this or how Chet Atkins did that or how he would do it, and he would show him. Billy would take the guitar and go back upstairs again."
When Uncle Dude formed his band, he recruited Bill to play guitar and mandolin. Richard played the banjo. And with the addition of a couple of cousins, they formed the Black Mountain Bluegrass Boys, a group that still performs in Pocahontas County and surrounding areas.
Bill played with the band until Uncle Dude passed away in 1973. These days, Bill performs with his wife and daughters as The Hefner Family Band in church and at local festivals.
The Calling
Bill has played the guitar for most of his 76 years, but about 14 years ago, he decided playing the guitar wasn't enough; he wanted to make the instrument. So, he prayed about it.
"I told the Lord, I feel like I'm supposed to be doing this," he said. "I told the Lord if He'd get me in this business, I was going to dedicate it to him for the rest of my life."
Bill quit his job at the rock quarry in Mill Point and started making guitars full time. His workshop is right next to his house. There are pieces of uncut wood everywhere and a few guitars under construction. Local sign maker Eric Warner taught Bill how to bend wood and cut semi-precious stone for the guitar inlays. Bill also learned some tips from luthier John Greven, who built guitars for musicians like Johnny Cash and Mary Chapin Carpenter.
"I used to call John when I first started, every week," Bill said. "I called him up and asked him questions hundreds of times. And he was nice enough to explain everything and talk as long as I needed to."
Bill said the most important component to guitar making is the wood. He used to import walnut from Oregon and Sitka Spruce from Alaska, but then about 10 years ago, he switched to woods native to Pocahontas and Greenbrier counties in West Virginia, because they were easier to acquire. Wood such as Black Walnut, Maple and Cherry.
He's used Pocahontas Red Spruce in his guitars because John Greven told him it has a real high head room.
"It means that the harder you play it, the better it sounds," Bill said. "And some of the other woods will start breaking up if you play them real hard, the notes won't be clear. Red Spruce just gets louder and prettier."
Happy Customers
Bill sold one of his Red Spruce guitars to old-time musician Doug Stalnaker, who said he loved it for the sound and the ease of playing it.
"Just like playing with butter, it's just so smooth," said Doug. "And the fact that I got what I wanted: I got a West Virginia artist doing West Virginia woods!"
Retired naturalist Pat Parr purchased two guitars from Bill. She said she loves them not only for their deep sound but for the intricate stone inlays she designed and Bill handcrafted. One is of a Swallowtail butterfly. The other is more complicated, with mountains, trees and a stream. She remembered the drawing she gave Bill.
"When I showed Bill the picture, I said, 'Can I get this inlay?' I said, 'that's going to be hard to do, isn't it?' 'Yeah' [he said], but he did it, and it's absolutely gorgeous."
The Next Generation
The gamble to quit his day job paid off. Bill has been able to make a living, crafting guitars, for several years now. And he's passing on what he knows about guitar building to his 24-year-old grandson Levi Hefner. Levi is mostly into rock music, and he builds and repairs electric guitars, but he and Bill are also building an acoustic guitar. Levi said the process has taught him a lot about patience.
"It's a lot of fine finesse work and you've got to take your time with it and really slow down, that's something I've never been great at so it's really helped me out with that," he said. "I've gotten to learn more about why a body is shaped this way and how different woods and different densities have a different sound to them and a different ring."
Levi said the best part of making a guitar is imagining what a musician will do with it.
"Getting to see the progress of making something knowing that wherever it goes, someone else is going to make something else with it," he said. "There's always a unique sound to each guitar and each musician has their own unique sound so you can see how far it travels and how far things can go with it."
Bill said he'll keep teaching Levi and his other grandson Ben what he's learned to extend the craft as far as possible, even beyond his own lifetime.
"I'd like to teach them everything I can do, the tools and the woods and stuff," he said. "There's a lot I don't know but I'd like to get them started and keep this thing going from now on and bring it on down to their kids later."
Bill said passing on his skills is the best way to inspire his grandsons to create their own legacy.
This story is part of the Inside Appalachia Folkways Reporting Project, a partnership with West Virginia Public Broadcasting's Inside Appalachia and the Folklife Program of the West Virginia Humanities Council. It was originally published by West Virginia Public Broadcasting.
The Folkways Reporting Project is made possible in part with support from Margaret A. Cargill Philanthropies to the West Virginia Public Broadcasting Foundation. Subscribe to the podcast to hear more stores of Appalachian folklife, arts and culture.
Lady D Passes On Love of the Blues
Doris Fields, an R&B, soul and blues musician and songwriter, also known as Lady D, is the daughter of a coal miner. Her dad moved to West Virginia from Alabama at 10 years old and spent 50 years in the mines. She currently lives in Beckley.
Fields explained that music has been in her blood since she was a young girl, growing up in Cabin Creek, West Virginia.
"I've always wanted to be a singer. I remember being three years old and literally, every Saturday me and my grandmother would watch 'American Bandstand'. And I knew that's what I want to do. Of course, I started out singing in church like just about everybody else, but R&B was always what I loved growing up," she said.
As part of her devotion and exploration of blues music, Fields authored a one-woman play about Bessie Smith. Smith was the most popular female blues singers of the 1920s and 1930s, earning her the nickname the "Empress of the Blues". Fields has now been doing her one-woman show for 17 years.
"I love Chicago blues, and I talk about classic blues a lot because that was the Bessie Smith era in the 20s and 30s when women were really out front in the blues. They wore the fancy costumes and everything," Fields said. "I learn new things about Bessie all the time. And she's a great inspiration to me. We've been together all this time and we are sort of interchangeable. She is me and I am her."
Fields loves to share the connections between the blues and modern styles of music, like R&B and country, or even rock 'n' roll. She often makes presentations for school groups and says she enjoys explaining to them that popular music today has its roots in the blues.
"The first thing I usually ask kids is what kind of music do you listen to? And of course, in this area is usually country they say they like that they listen to country, they like rock 'n' roll or they like hip hop. And then when I say, 'well, this all came from blues,' they don't believe me. And then we'll get to talking. We'll do a couple of exercises around how blues was created, and then…they get it right away," she said.
She breaks down songs to show students chord progressions and rhythms from blues songs and show them how the same riffs show up in rock, pop and country music.
Fields participated in the West Virginia Humanities Council's Folklife Apprenticeship Program, which connects emerging artists to mentors in their tradition. She was paired up with gospel singer Xavier Oglesby of Beckley.
She said that, at one time, Christians called music like the blues the "devil's music" because of its secular themes. But Fields and Oglesby often found more similarities than differences between gospel and the blues. Revisiting some of the old songs they learned in church growing up, they found reminders and refrains of the so-called "devil's music."
"It wasn't so much me teaching Xavier anything about blues, but we were sort of reminding each other about where we both came from. He's a great gospel singer. He comes from a family of ministers. And he's a minister himself. But his family has owned juke joints. We don't see a lot of that distinction that people make, you know, between blues is the Devil's music and gospel is God's music. It's all God's music," she said.
This article was originally published by West Virginia Public Broadcasting.
'If I'm Not Helping to Create More People Like Me…Then I Risk My Art Form Dying With Me.'
I love to teach beginners because of that moment where maybe they're going to realize there's a musician in there somewhere.
Jennifer Rose Ramsay Escobar: I am a professional musician and dancer, definitely a product of my raising at Berea. Sometime in the last 20 years, Berea has been designated as the folk arts and crafts capital of Kentucky. We sat around the living room at night and read plays together, sang songs together and played music together. I thought that was normal and not until I got well into elementary school, that I realized that my family was pretty wacky different from the average American family.
I've been fortunate enough to be invited to work with students for a long, long time. One of the most fun things that I get to do in the classroom is to teach students to play the dulcimer. I think our music programs in schools are usually seriously underfunded and very few music programs have any instruments that the kids can play on. It's so incredible what happens to a kid when they get to play a musical instrument, especially in elementary school. I believe that everyone can sing, but not everyone wants to sing or has the kind of voice that other people want to hear.
Being able to make music on an instrument is something that ought to be available to kids from a much earlier age than we are able to do now. I have answered this issue for myself by having on hand, 25 cardboard dulcimers that I can take into a classroom and pass out to any student and teach them how to play some simple songs on the dulcimer. It's such an easy instrument to play. If I hand out 25 dulcimers that are all in tune with each other, the kids don't have to know anything — they can strum across them. You can see it in their faces they just light up like, "Wow, we sound good together." Then we learn how to press down a string near a fret and make different pitches happen.
They're learning science at the same time because they learn how sound is created and vibration and resonation, that pitch is changed to high or low based on tension and length of string. They make music and they feel good about themselves. It's wonderful to see in a classroom. It's an investment for a family to buy a wooden or real musical instrument for a kid. But $50 they can usually do. If the child is really enjoying playing it then that's a reasonable experiment.
Every once in a while a fellow musician, especially one that doesn't teach, will wonder why I keep working with beginners, "Don't you want to have a studio and have students that are really excelling where you can see great progress in their becoming a virtuoso or something?" I think that's fine for other people. I love to teach beginners because of that moment where maybe they're going to realize there's a musician in there somewhere. If I'm not helping to create more people like me, helping them find a love for an art form, then I risk my art form dying with me. And, I don't want that to happen. So I will listen to "Hot Cross Buns" over and over and over in hopes that I'm helping to raise up an entire generation of people who love folk music and who love the dulcimer.
The reason that I teach kids dulcimer is probably the same reason that my dad got me a dulcimer. It's so simple to start out with. You sound pretty good from the beginning, whereas with the guitar it takes longer to sound good. It takes longer to work up the dexterity and the strength to go from chord to chord. A lot of other instruments, like the violin for example, you sound bad for a really long time before you ever sound good. In a week, which is the normal length of time for an artist-in-residence program, I can accomplish enough with the dulcimer that it actually works and kids can have a performance experience at the end of the week that people are impressed with. With other instruments it takes a little longer to impress anybody else.
Just about every Appalachian state claims the origin of the dulcimer. But somewhere in Appalachia, 200 to 250 years ago, somebody created the very first dulcimer and it very likely didn't look like the dulcimers that we play today. It's a baby in the string instrument world. It's still trying to grow up. We're still seeing changes happen in how the dulcimer is put together. If you think about the guitar, it's originally from Spain, and the harp has been around for thousands of years and the banjo from Africa, who knows how long?
So the dulcimer continues to evolve, but it is considered by most experts to be truly an Appalachian invention and that's cool. What else in the music world is truly an Appalachian invention or even an American invention?
Jennifer Rose Ramsay Escobar had her first solo dulcimer performance at the age of 14, and she's had a career in music and dance ever since. Now at 47, Escobar is an instructor for the Berea College Country Dancers, director of the Berea Festival Dancers and frequently teaches elementary school students to play the dulcimer. She lives with her husband and two children on Happiness Hills Farm in Madison County, Kentucky. To hear more of her music visit her site.
Recommendations from Escobar:
"The Dulcimer Book" by Jean Ritchie, "Great for Appalachian melodies, also a good resource list on the back"
"Fun with the Dulcimer" by Virgil Hughes, "Many good, familiar tunes in D-A-A tuning included in this book. A lot of newer books only address D-A-D tuning, which is fine for fiddle tunes, but not as good for singing, and singing while playing is of course my preference. Also, a good list of other resources on the back"
[soundcloud url="https://api.soundcloud.com/tracks/315696934" params="auto_play=false&hide_related=false&show_comments=true&show_user=true&show_reposts=false&visual=true" width="100%" height="450" iframe="true" /]
---
In '100 Days, 100 Voices' Nancy Andrews presents photographs depicting the diversity of voices across Appalachia. These portraits strive to show the varied faces, passions, issues and opinions from around the region. These interviews have been edited for brevity and clarity. If you have an idea for '100 Days, 100 Voices' please contact Nancy Andrews on Twitter @NancyAndrews or email at nancy.andrews [at] mail.wvu.edu. Follow her on Instagram @NancyAndrews.