West Virginia University's mascot, the Mountaineer, is a big deal in the state. In fact, fans are called 'Mountaineer Nation.' West Virginians have long identified with the mascot as it symbolizes independence, strength and curiosity — a true frontiersman attitude.
On a football gameday, the Mountaineer stampedes down the field, rallying the crowd. The mascot wears a tan leather buckskin shirt and pants with long fringes that flap in the wind. There is a raccoon skin hat with a bushy tail and beady eyes, knee-high moccasins and a bison horn that holds black powder — the ammunition for the rifle held in the Mountaineer's hand.
Among a cheering crowd of 60,000 fans and a stadium with a giant screen, is a Mountaineer who looks like he stepped straight out of the 1800s Appalachian frontier.
"Growing up in West Virginia, you're instilled with that mountaineer pride at a very young age," said Timmy Eads, the current WVU Mountaineer.
Becoming The Mountaineer
The mascot was officially recognized in the state in 1934. It is unique in that unlike most other university mascots, the Mountaineer does not wear a foam head – one can see the person's face.
Also, there are no top-tier pro-sports teams in the state, so most sports fans rally around the Mountaineer.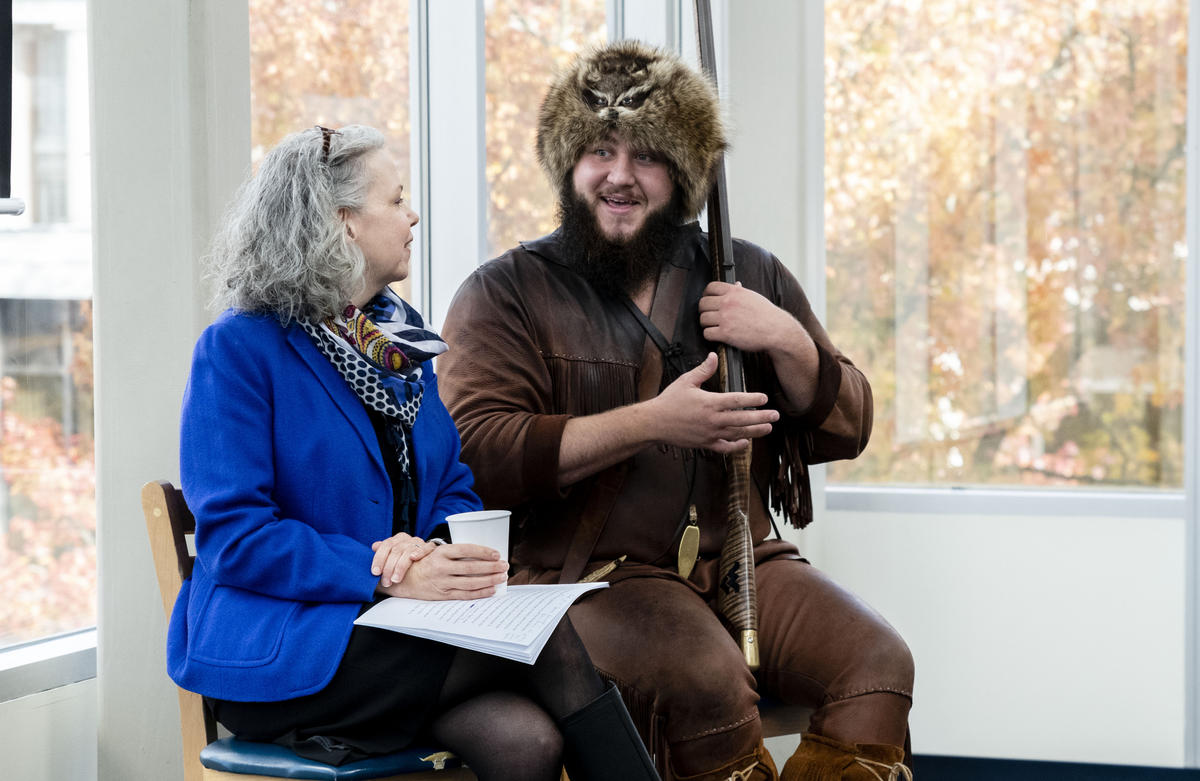 Rosemary Hathaway is the author of the soon to be released book "Mountaineers Are Always Free." She said former Mountaineers she interviewed all say it is more than a mascot for them.
"Putting on the outfit and feeling almost this magical transformation; I'm both myself but I'm also sort of this symbol of the state," she said.
Becoming the Mountaineer is a rigorous process. One has to be able to handle a gun, take a full class load, be a good public speaker, be willing to travel across the country, have the energy to serve as a role model daily and be able to represent not only the university, but West Virginia as a whole.
Gene Wotring started making the Mountaineer rifle last year. His father, Marvin Wotring, made rifles for the university for more than 40 years before he passed away in 2018.
Growing up, Gene watched many Mountaineers come in and out of his father's shop.
"The Mountaineers, they were little kids dreaming about being a mountaineer and they're here now, and going through it," Gene said. "I think they have to mature in the role because it's a big responsibility."
The Buckskins
In just about six months, Timmy has attended over 250 events as the Mountaineer – including everything from elementary school visits to sports games to hospitals to rural hollow communities. He said he wears his buckskins almost every day, and one can tell. The leather has darkened, the creases look permanent, there is a musky smell and it is a little rough around the edges.
"What I was told by former Mountaineers to do if you come home and are absolutely drenched in sweat or you catch an odor, just freeze the entire thing and the freezer will help kill the bacteria and help it not smell so bad," Timmy said.
Each Mountaineer keeps their buckskins at the end of their reign.
Gary Nebel has been hand-stitching deer hides together to create the Mountaineer outfit since the 1980s. All his work is in the style of pre-1840s.
"We even make some of the buttons — we roll the leather buttons or put antler buttons on them," Gary said.
Gary is not from West Virginia, nor has he ever lived in the state. He lives in Indiana, but WVU still sought him out to make the outfit. That is just how rare his skill set is.
Gary said, hand-making these buckskin outfits — much like our Appalachian ancestors did — is a knowledge that is also dwindling.
"When I'm gone I don't know who will take it over. I don't know if my son will do it or not," Gary said.
But he does not plan to retire anytime soon.
The Rifle
Gene Wotring — the new maker of the Mountaineer rifle — is someone who did take over his dad's business. His dad, Marvin, made 949 black powder rifles. Gene is on number nine.
The Mountaineer uses a .45 caliber Kentucky Long Rifle, a weapon developed in the early 1700s. Gene said it is a primitive technology, and the pressure of making the WVU rifle is huge.
"It's not just the Mountaineer, it's all of Mountaineer Nation," he said. "If the rifle doesn't go boom, a lot of people are upset."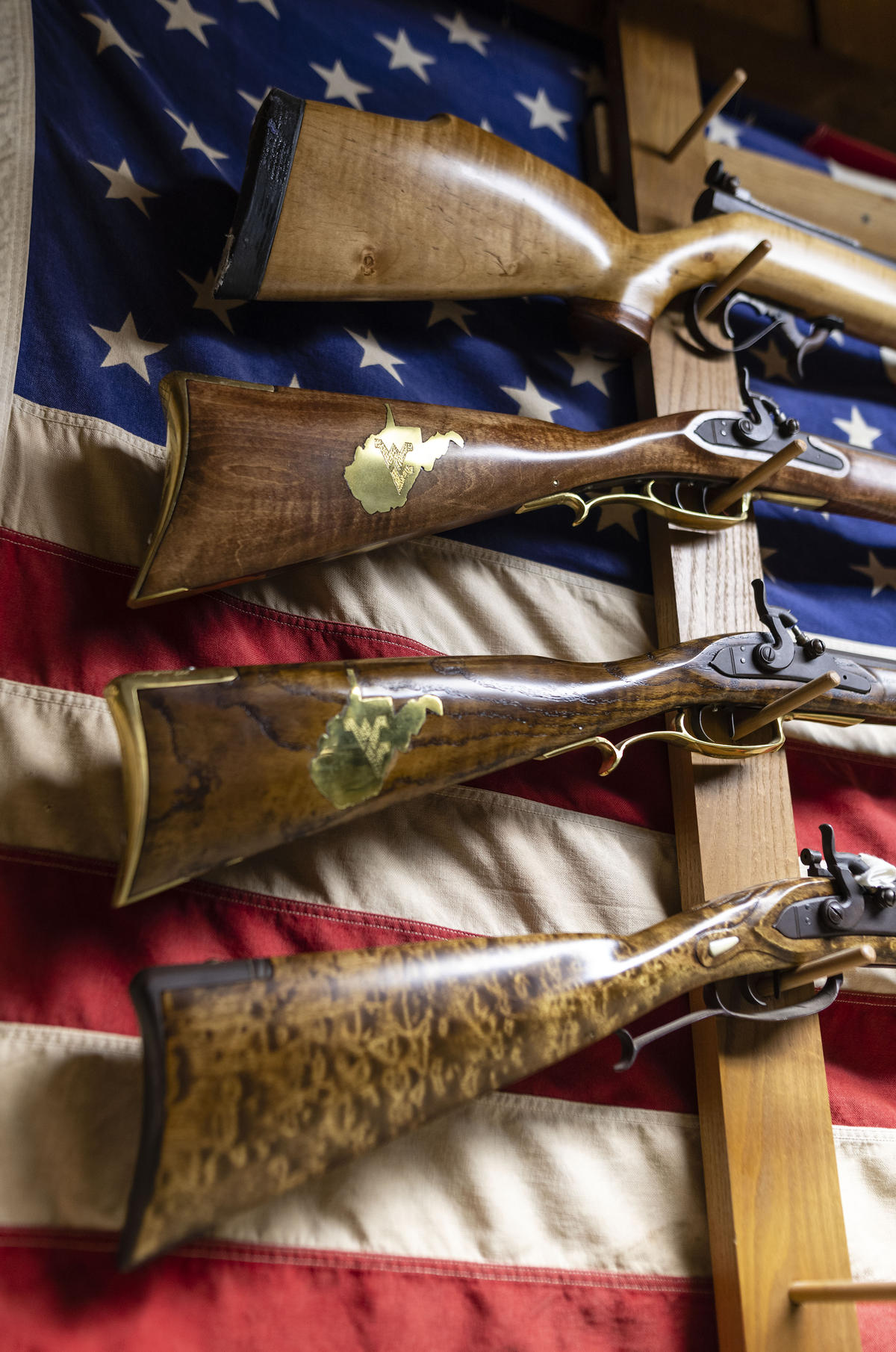 In a football game, the rifle is shot dozens of times, with a stadium and thousands of fans at home watching.
The Mountaineer rifle Gene made last year is striking. It is a dark, maple brown and about four-feet long. There is a gold metal, hand-carved emblem in the shape of West Virginia on the side. Underneath, in gold metal, are the words "Country roads take me," with the shape of West Virginia as the implied home.
"I had to do like five of these to get the state and get the arc right and get the words to fit in there," Gene said.
And on the other side are the distinctive flying letters "WV" — the letters almost look painted on.
"It's coal, and it's inlaid in there," Gene said. "I took coal and crushed it up and put it in a resin and molded it in there. Yeah, coal's just a big part of West Virginia."
The WVU rifle is passed down each year to the new Mountaineer. It is only replaced every five or six years.
Seeking Diversity
These days, the Mountaineer typically has a big, bushy beard. Although, prior to the 1970s, that was not the case. Rosemary Hathaway, the author of the upcoming Mountaineer book, said beards were seen as being unkempt and represented someone who has radical politics.
In fact, the Mountaineer statue at WVU does not have a beard, and two women have been the mountaineer — Natalie Tennent in 1990 and Rebecca Durst in 2009. Rosemary said the beard was used as an argument for not having a female as the mascot.
"In their minds, I think they're thinking, 'You're not being sexist, right? Because you just can't grow a beard so you can't be the Mountaineer,'" Rosemary said. "But, I think it was really just a cover for a woman not being the Mountaineer for a whole lot of other reasons, and not growing a beard was just one of them."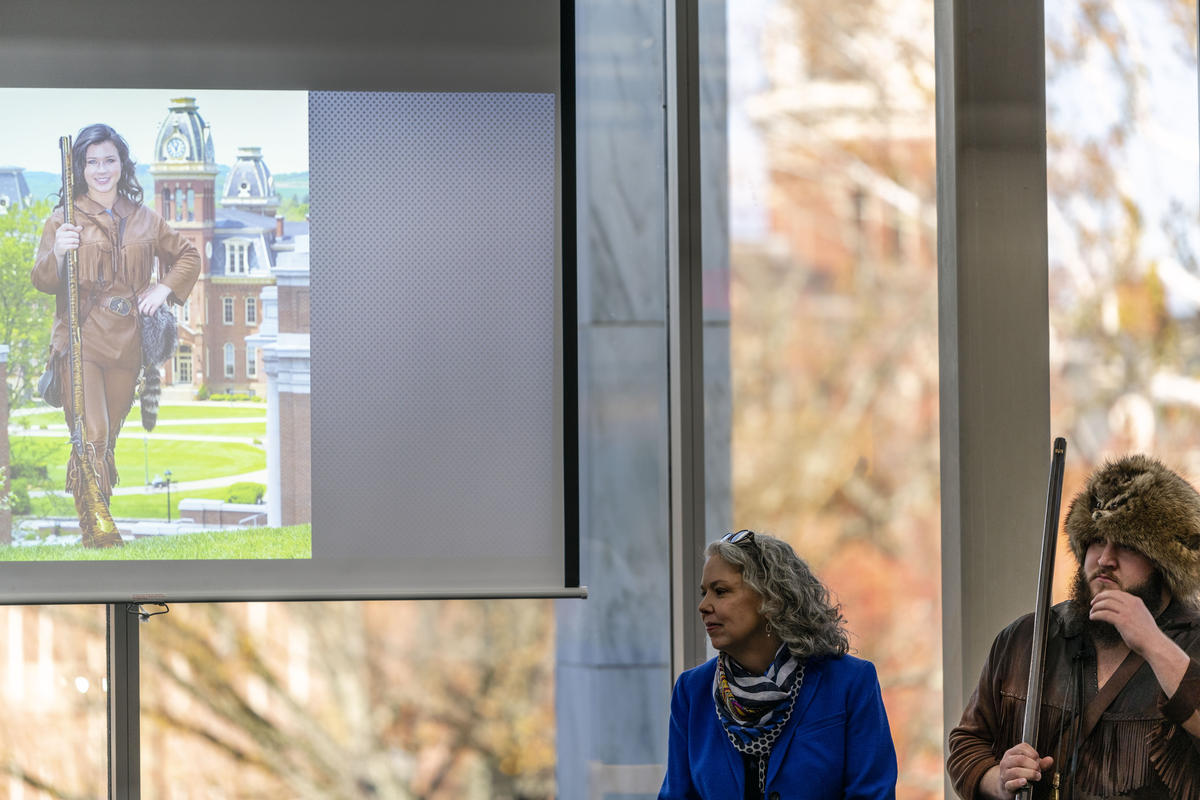 In the 84 years since the mascot was officially recognized, there has not been a person of color in the role. Granted, over 75 percent of WVU's population is white, but there are students of color, and only one person of color has ever applied.
Rosemary said the women who were the mountaineer faced a lot of backlash, and that could be intimidating for any minority student who is thinking of applying.
"I don't know what the reaction would be, if people would be cool about it or if they'd think, 'It'd be politically incorrect for me to say something, so I'm just going to keep my mouth shut.' Or whether there would be an out-and-out racist response to it," Rosemary said.
However, according to the mascot application the "Mountaineer Mascot selection committee and the Mountaineer Advisory Committee do not discriminate on the basis of race, sex, age, disability, veteran's status, religion, sexual orientation, color or national origin."
Timmy Eads will be passing the rifle that Gene made onto the new mountaineer this spring.
This story was originally published by West Virginia Public Broadcasting. It is part of the Inside Appalachia Folkways Reporting Project.
Subscribe to the podcast to hear more stories of Appalachian folklife, arts and culture.