Rising Waters: Aging Levees, Climate Change and the Challenge to Hold Back the Ohio River
When 78-year-old Jim Casto looks at the towering floodwalls that line downtown Huntington, West Virginia, he sees a dark history of generations past.
The longtime journalist and local historian is short in stature, yet tall in neighborhood tales. On Casto's hand shines a solid gold ring, signifying his more than 40 years of reporting at the local paper. "It was a lot cheaper to give me a ring than to give me a pay raise," he said with a chuckle.
He walks up to the entrance of Harris Riverfront Park, one of 21 gate openings in the more than 3.5 miles of floodwalls covered in decades of charcoal-colored grime and dirt.
The river has shaped the city, providing the transportation for coal, steel and chemical products. But Casto also knows the river has the power to destroy, as it did before the omnipresent walls were there.
Casto published a photobook on the most destructive flood the Ohio River Valley has seen.
"January of 1937 was exceptionally warm. And that meant that the snow on the hillsides melted much earlier than usual and faster than usual. Then, there were 19 consecutive days of rain," Casto said.
He points to the number 69 near the top of a decorative gauge marking river heights.
"That is the '37 flood," he said. The river rose to nearly 20 feet above flood stage — more than 69 feet high. 
Thousands of Huntington residents were forced from their homes. The county courthouse became a virtual port for rescue boats.
"As Time Magazine in '37 described it: 'Hell and High Water,'" Casto said. 
Ohio River communities from Pittsburgh to Cairo, Illinois, were inundated. About a million people were left homeless; 385 people were killed; and the flood, adjusted for current inflation, caused an estimated $9.12 billion in damages.
In the wake of the disaster, the U.S. Army Corps of Engineers took on a mammoth effort to construct hundreds of miles of levees, floodwalls and numerous pump stations to keep back rising water. Those defenses are now, on average, nearly 60 years old. Huntington's system was built in 1943, one of the oldest in the basin.
That advanced age worries local officials from several Ohio Valley towns who look after these defenses, plagued by rust, antiquated designs, archaic pump engines and, in some places, sinkholes. They say funding is scarce to upgrade World War II-era safeguards that protect $120.7 billion in property and about 720,000 people throughout the Ohio River basin.
Huntington is one of a dozen levee systems in the basin that the Corps of Engineers classifies as a "high risk" due to the combination of aging infrastructure and the people and property that would be harmed if the system were to fail. The American Society of Civil Engineers estimates aging levee systems like these across the country will need $80 billion in upgrades within the next decade.
The challenge is made greater by the growing menace of climate change. A warmer, wetter climate could intensify the severity and frequency of flooding and send up to 50 percent more water flowing through Ohio Valley waterways within this century. 
Aging Protection
With the twist of a cold handle, a heavy, metal door creaks open, the sound echoing throughout the cavernous Pump Station Number Six on the west side of Ironton, Ohio, along the Ohio River.
"Like going into the Frankenstein laboratory, wasn't it?" said Mike Pemberton, who's managed flood defense for decades in the city of more than 10,000 people, a half-hour downstream from Huntington. Four gigantic red pumps protrude 10 feet from the ground below a raised platform, where large, green electrical switchboards from the 1940s take up most of the space.
Pemberton motions to a sensor with a weighted pulley that uses mercury to tell how much water is being pumped during high water; modern equipment, on the other hand, would be computerized. He said it's fairly reliable, but sometimes the mercury container collects a film of carbon material that he shakes off.
"Slap the side of it, and sometimes that'll clean the carbon off the mercury," Pemberton said.
Ironton's flood defense system of pump stations, levees and floodwalls were also built in the 1940s, much like in Huntington. The sensor is something he can see and more easily maintain. Yet some things remain outside his experienced sight, including the more than half-century-old pipes that run through the station and the sluice gates that seal water from flooding the station itself.
"We don't know the condition of the inside of that pipe. We don't know if that gate could have a stress crack in it," Pemberton said. "That's some of the things I kind of worry about."
Pemberton's maintenance worries extend far beyond to nine other archaic pump stations, almost 4 miles of earthen levee and over another mile of floodwall. He said a local tax levy that generates about $260,000 a year for his department mostly funds salaries for three employees and daily maintenance on the flood protection system. That includes tasks such as mowing the grass on top of levees and greasing pump motors.
Ironton voted in 2014 to double the tax levy. Pemberton campaigned for the measure by hanging signs marking the 1937 flood level throughout the city's historic downtown, reaching the second floor of many buildings.
Ironton City Council also passed an ordinance in 2018 that created a monthly $5 flood protection fee tacked onto utility bills. That revenue goes into a Flood Improvement Fund that had a little more than $200,000 as of late November, according to the city's finance director. Ironton's per capita income is about $20,000 and the city's poverty rate hovers at 20%, but the city didn't have many other options.
"To nobody's knowledge was there anywhere, any kind of money available to go after that would meet the kind of needs, and there was an immediate need," said Jim Tordiff, the former Ironton councilman who drafted the ordinance. "It had gone on too long and couldn't be ignored."
But Pemberton said even with the extra local funding, the glaring, long-term problems still pile up.
Pump Station Five, directly along the banks of the Ohio, is the first station that's turned on when high waters hit Ironton. Pump engines have caught fire over the decades and, a few years ago, Pemberton said, the electrical switchgear controlling the station's pumps also went up in flames. He said his department was only able to afford the $198,000 switchgear repair cost because of a city insurance payment.
But he can't rely on insurance for the future, he said, as all of his stations have the same outdated switchgears that could fail. He estimates each station would cost around the same amount to receive an upgrade — money he and other Ohio River communities in similar situations struggle to find.
"You can imagine the maintenance and repairs and the parts and pieces that it would take and the cost it would take to keep a 1940 car on the road today," said Sherry Wilkins, director of the Huntington Stormwater Utility. "That's kind of what we're dealing with here, we're dealing with an 80-year-old system."
Wilkins said Huntington encounters a lot of the type of problems with an aging system that Pemberton described in Ironton.
The flood defense employees she manages often have to hunt across the country for pump station replacement parts, like leather straps or metal brackets, or pay extra to get custom parts made, simply because the parts for the World War II-era equipment aren't manufactured anymore.
"Our floodwall has a 50-year design life," Wilkins said, meaning that obscure replacement parts must be custom-made and can cost thousands of dollars. "The average person wouldn't think of that, 'Wow, does it really cost $20,000 to repair a pump?' So, currently we don't have the money to do those kinds of things continually."
Wilkins said grant funding is tight because of competition with dozens of other municipalities in need. And in older cities, other aging infrastructure issues may be a higher priority when it comes to applying for grants.
If there were a flood that damaged Huntington's downtown floodwall, the Corps of Engineers would not help the city pay for repairs.
The federal government fully funds repairs to a system after a disaster through the Rehabilitation and Inspection Program, but only if the system meets basic inspection requirements. The Corps of Engineers inspects flood defense systems annually on physical flaws and administrative practices, such as whether cities practice routine floodwall gate closures.
If the inspection is considered at least "minimally acceptable," the Corps will cover damage from a disaster.
The reason Huntington's downtown floodwall does not qualify? A sinkhole, almost the size of a car, threatens to swallow up ground near the city's 11th Street Pump Station.
"It's not just Huntington, it's every single floodwall that was built in the 1930s, 1940s. It is not a luxury. It is a necessity," Wilkins said. "It's a problem nationwide."
With scientists predicting warmer temperatures and more frequent flooding due to climate change, the urgency is growing to address aging infrastructure.
Warmer, Wetter Future
Huntington as warm as Los Angeles. Cincinnati as hot as Atlanta: Those are just some of the predicted temperature rises in the Ohio River basin in the coming century, according to a 2017 report studying the effects of climate change. The Army Corps, the National Weather Service, regional universities and other federal and state partners worked on the study.
Jim Noel is a service coordination hydrologist with the National Weather Service Ohio River Forecast Center and one of the authors of the study. He said the higher temperatures predicted in the study tend to increase the amount of water evaporation, which not only could mean more rainfall but also increase the frequency and severity of floods and droughts throughout the basin.
Already, several cities in the region saw record rainfall in 2018. Cincinnati saw its third wettest year, and Charleston, Pittsburgh, Columbus and Louisville all saw their wettest year ever.
Some levee systems in parts of the Ohio River basin — including Huntington and Ironton —  could see an average annual river streamflow increase of 25 percent to 35 percent by 2099. That increases the chance of another flood on the scale of the historic one in 1937.
Noel said the Ohio River basin today has several extra protections beyond the floodwalls and levees, such as dams and reservoirs along tributary rivers, that help control water levels before they reach levee systems.
"The 1937 flood happened before most of the flood control projects in the Ohio basin," Noel said. "Therefore, for example, like if you look at Cincinnati, Ohio, or Louisville, Kentucky, those kind of cities, if 1937 were to exactly repeat itself, the crest on the Ohio River would be some 8 to 10 feet lower in many locations because of the great ability of the Army Corps of Engineers to regulate that flow in that water through their flood control projects."
And the height of some older floodwalls and levees could already be capable of handling higher waters, according to Kate White who led the 2017 Corps study.
White said levee projects created in the 1940s often estimated how high to build their levees using what's called the freeboard method. Past engineers would calculate how high potential floods could be from historical records and then add a few feet on top of that height as a buffer. While newer levees have a more modern analysis for calculating the right flood protection height, she said the old method still offers relatively robust protection.
"I just think there are older things that are still perfectly fine if they've been maintained and looked after," White said.
Flood protection managers including Pemberton, Wilkins and others along the Ohio River generally agree that stationary floodwalls and earthen levees are relatively solid compared to the moving parts of pump station equipment.
Army Corps Huntington District Levee Safety Program Manager John Ferguson said he expects all the levee systems in the upper Ohio Valley to perform as expected. But the increasing age is still a question.
"Maybe the general consensus on most of these projects is a 50-year design life, but again, that's not a hard or fast rule that really means anything," Ferguson said. "And yes, that just proves that it's aging infrastructure like everything else in the country. We just got to take care of it and make sure we maintain it."
Army Corps officials like Ferguson are relying on a system called Levee Safety Action Classification to help prioritize which aging levee systems carry more risk. A levee gets a risk classification based on its condition and the people and property it protects.
Twelve levee systems in the Ohio River basin have a "high" risk classification, including in Huntington, Louisville and systems protecting cities as small as Brookport, Illinois. This classification calls on officials to increase the "frequency of levee monitoring" and ensure the "community is aware of flood warning and evacuation procedures."
The risk surrounding aging levees was a prominent topic at a Huntington meeting in November among several local levee project managers. Corps officials, including Ferguson, recommended that managers join forces to be a louder voice for federal funding.
"It's a completely different story if you have every project, from Parkersburg to Maysville, that raises their hand and says, 'Hey, we've got aging infrastructure,'" Ferguson said. "If there's a lot of 'squeaky wheels,' it gets a lot of grease."
Pemberton in Ironton said there was once an association of regional floodwall managers who advocated for infrastructure improvements, but that group dissolved in the early 2000s. He isn't sure what future flooding from climate change will look like, but he said he believes banding flood defense managers together will help alleviate some of the uncertainty.
And when Pemberton hears about climate change from local meteorologists, the nagging worries he has for the future only continue to dog him.
"'What if' I guess [are] the two big words. 'What if?'"
Liam Niemeyer, a reporter for Ohio Valley ReSource, authored this story. He can be reached at lniemeyer1@murraystate.edu.
Good River: Stories of the Ohio is a series about the environment, economy and culture of the Ohio River watershed, produced by seven nonprofit newsrooms. To see more, please visit ohiowatershed.org.
We Mapped out the Toxic Wastewater Discharges along the Ohio River. Here's What We Learned.
All Tim Guilfoile wants to do is fish. Before his retirement, he had two careers: one in business and one in water quality activism. Now, he serves as the director of marketing and communications for Northern Kentucky Fly Fishers. "We fly fish for bass, blue gill, striped bass and others. Not just trout. I fish on the Ohio River."
Will he eat the fish he catches in the Ohio River?
"Oh God, no!" he said.
The Clean Water Act has regulated the levels of pollutants discharged into U.S. waterways since 1972, but sport anglers on the Ohio River still have to check the Ohio River Fish Consumption Advisories to see if their catch is safe to eat. Having worked as deputy director for the Sierra Club "Protecting America's Waters" Campaign and the Sierra Club Water
Sentinels, Guilfoile knows the contamination risks of fishing on the Ohio.
"But the scary part," he said, "is that most people who fish are not aware of these advisories although there are notices with fish and wildlife agencies."
The Clean Water Act's original goal was to completely eliminate discharges into waterways by 1985, requiring that anyone who intentionally discharged wastewater into a U.S. waterway obtain a National Pollutant Discharge Elimination System [NPDES] permit. Yet today, in the Ohio River watershed alone, there are still roughly 40,000 active NPDES permits.
Using public records, Eye on Ohio mapped out the roughly 6,900 toxic-containing wastewater discharges along the Ohio River, including how much they spew annually.
Source: The United States Environmental Protection Agency's Enforcement and Compliance History online database, echo.epa.gov. 2017 figures above 0 shown.
But public records only tell part of the story. 
Permitting Process 
The Environmental Protection Agency [EPA] works with authorized state regulatory agencies to implement the NPDES permitting program. Though the Clean Water Act governs the process, each state's approach can differ. The EPA sets minimum standards nationally but it is up to each state to establish and manage its own regulations.
The Ohio River Valley Sanitation Commission [ORSANO] is an interstate commission in the watershed that sets pollution control standards for states permitting industrial and municipal wastewater discharges into the Ohio River.
There are two types of permits: general and individual.
General permits are meant for discharges of wastewater that is considered to have minimal adverse effects on the environment. Individual permits, on the other hand, are for sites with more complex discharges that include toxics dangerous to the environment and humans. The permit process analyzes physical, biological and chemical data of the facility's wastewater and determines what the receiving water can accommodate.
Permits assess direct dumping or point-source pollution. The permits do not take into account pollutants such as agricultural runoff, which contributes to nutrient overload, known as "nonpoint" pollution.
Located in New Martinsville, West Virginia, Eagle Natrium, LLC, is the second-highest point polluter in the Ohio River watershed. In 2017, it spewed 196,165 toxic-weighted pounds into the Ohio River.
Mercury from the Eagle Natrium facility have made two species of local fish too poisonous to eat in significant quantities, according to the Ohio River Fish Consumption Advisories.
In August 2019, the Ohio Valley Environmental Coalition and the Sierra Club filed a lawsuit against the company. The complaint states that Eagle Natrium is the "only remaining chlor-alkali plant in the United States that uses mercury cells."
"Mercury cells" refers to the process that uses liquid mercury to produce chlorine, sodium hydroxide and potassium hydroxide. This is an old technology that came into use in the late 1800s. Other chlor-alkali plants use "membrane cells" for this process, which has been available since the 1960s.
Mercury found in moist environments can transform into methylmercury that bioaccumulates in the food chain. According to West Virginia Department of Health and Human Resources, eating fish is the primary local exposure source for mercury.
In a 2016 Healthy Building Network newsletter, Eagle Natrium's parent company at the time Axiall stated that it "has not announced any plans related to its mercury circuit processes" at the Natrium facility. WestLake Chemical acquired Axiall in 2016 and has not responded to several requests for comment.
The EPA's response was the following:
"The West Virginia Department of Environmental Protection [WVDEP] is the lead agency for overseeing NPDES permitting and enforcement programs in West Virginia, and is actively involved in addressing compliance issues at Eagle Natrium LLC."
On Oct. 15, 2019, just two months after the citizen's suit was filed against Eagle Natrium, WVDEP amended their administrative order once again, giving Eagle Natrium until June 30, 2020, to comply.
The EPA also provided this statement on the facility: "Eagle Natrium (NPDES Permit No. WV0004359) continues to work to achieve compliance pursuant to an existing state formal enforcement action. The facility has invested an excess of $1 million in studies and improvements and has paid more than $1 million in penalties for exceeding NPDES permit limits. Further, the facility was granted interim permit limits. The interim limits were not updated in the national database, therefore, the compliance summary is not accurate. EPA and WVDEP are working to resolve these data discrepancies."
Out of Compliance
The individual NPDES permit process requires a public notice along with the opportunity for public comment prior to its approval. Permit notices are found on each state's environmental protection department website. But a lengthy process doesn't always ensure better review.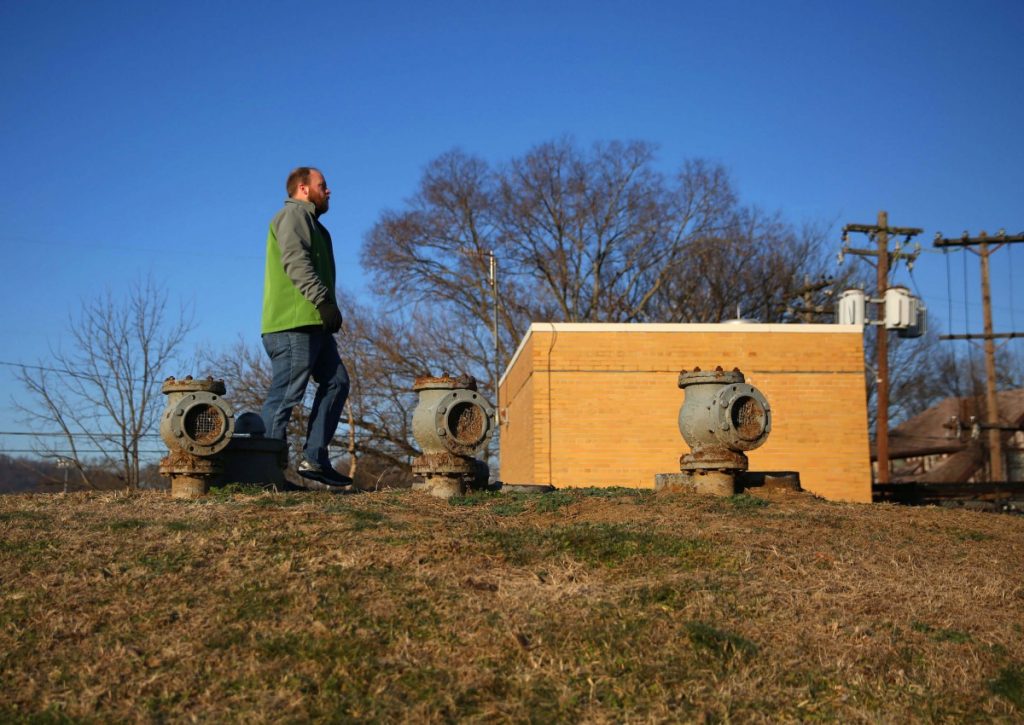 "There are very few members of the public that can monitor and comment on permits," said Jim Hecker, environmental enforcement director for Public Justice, a national nonprofit legal advocacy organization. "You have to be pretty sophisticated to even know what to say in your permit comments. There's probably a handful of people who are doing that in each state, with a few environmental groups."
Having a legal limit also doesn't ensure that facilities follow those standards.
A study from Frontier Group and Environment America Research and Policy Center examined NPDES permit data from 2011 to 2017 and found that an average of 27,849 facilities were noncompliant each year across the United States. Of those noncompliant facilities, the study found only an average of 13,076 faced EPA or state enforcement action on an annual basis.
What determines whether or not action is taken against a noncompliant facility?
According to the EPA, "enforcement actions are determined on a case-by-case basis. The EPA and its state partners work together to address NPDES permitting and compliance issues."
Guilfoile is skeptical. "I don't think we have a culture of corporate responsibility associated with public health, I just don't, and it's exhausting," he said.
The same study examined data to determine how many facilities discharged more than their permit allowed between Jan. 1, 2016, and Sept. 30, 2017. West Virginia topped the list with 54% (26) of its facilities reporting exceedances greater than 100% of their permit limits at least once. Other states in the Ohio River watershed on the top-10 list of those with facilities that exceed their permit limits by greater than 100% at least once included Indiana at 32% (21 facilities), New York at 31% (37 facilities), and Illinois at 29% (19 facilities).
Facilities with reported discharges greater than 500% of their permit limits also showed West Virginia at the top of the list with 31%(15 facilities).
Eagle Natrium reported 56 exceedances from 2011 to 2017, according to the study. On 38 occasions, the company allegedly discharged more than 100% their permit limit. On 17 occasions, the discharge allegedly exceeded 500% percent of the limit. The discharged toxics included mercury, copper, chloroform, iron and chloride.
Eagle Natrium's predecessors, PPG Industries, also had issues with permit compliance and was under a consent order when the company changed ownership in 2014. Eagle Natrium is operating via a permit granted to PPG Industries.
The permit was extended because ORSANCO's pollution control standards required facilities operating prior to 2003 and discharging bioaccumulative chemicals of concern [BCC] to eliminate their "mixing zones" by 2015. Mixing zones are collection areas where facilities dilute their discharges to meet water quality standards before entering waterways.
Also in October 2015, ORSANCO updated its pollution control standards to remove the mixing zone deadline and replaced it to say "as soon as is practicable, as determined by the permitting authority." Therefore, WVDEP extended the facility's deadline while implementing interim discharge limits higher than the permit allows.
"One of the reasons the Ohio is ranked the dirtiest is because these bioaccumulative chemicals of concern are in the sediment and you'll never get rid of them unless you dredged the length Ohio River bottom," Guilfoile said. "Even if we stopped dumping everything today, that's not going to change the BCC contamination in the Ohio River. Continuing to dump will make it worse, but it's already pitiful."
Prior to his work in water quality, Guilfoile was Cincinnati Children's Hospital senior vice president of operations. In his time there, he loved the fact that he was able to impact the general well-being of children in many ways, but in other ways he knew he couldn't.
The split of wins and losses when working to protect the environment weighs on him.
"I'm 70 years old now and I used to be a person with strong optimism and I'm not anymore. I'm just not. I've got a few years left to live and I'm going to fish as much as I possibly can and it's too bad that this may very well be our last century on earth."
Note: Data from this story was derived from the EPA's Enforcement and Compliance History Online [ECHO] site.
The National Library of Medicine's Toxmap application is no longer operating as of Dec. 16, 2019. When Eye on Ohio asked for an update, the National Library of Medicine [NLM] released the following statement: 
"The decision to retire the tool was made in 2019 as part of a broader NLM reorganization that integrated most of NLM's toxicology information services into other NLM products and services. The sunset was announced in early summer 2019 to give users sufficient time to transition to other sources. NLM has taken great care to ensure that no data become unavailable as we reorganize our toxicology and other resources. Some data have been archived and made available via FTP. In the case of ToxMap, underlying data remains available through their original sources. The links to those sources are available on the ToxNet redirection site."
For more information, see the NIH announcement or The Resource Page in its place.
Bonnie Jean Feldkamp is a Cincinnati-based freelance writer. Find her on social media @WriterBonnie or at WriterBonnie.com.
Good River: Stories of the Ohio is a series about the environment, economy, and culture of the Ohio River watershed, produced by seven nonprofit newsrooms. To see more, please visit ohiowatershed.org.
Whose Job is it to Reduce Toxic Mercury in the Ohio River?
The brain-harming metal is discharged directly into the river and carried to it on air currents. Some argue authorities are doing too little to stop both routes of pollution.
Mercury, which damages young brains, is flowing through industrial wastewater into the Ohio River. But the multi-state agency tasked with keeping the waterway clean hasn't tightened controls on this pollution because it doesn't have the authority to do so.
While coal-fired power plants, chemical manufacturers and other facilities along the Ohio River are piping mercury directly into the river and there's a permitting process to regulate that, the more significant source appears to be mercury blown into the atmosphere from smokestacks — both locally and across the globe from mining, energy and other industries. The mercury eventually settles on land and flows into water.
Figuring out how much of the toxic is coming from local industries or wind currents remains a challenge. The efforts so far to get a handle on it have spurred a patchwork of states to make rules that leave it up to consumers whether it's worth the risk to eat their catch of the day. Fish are the most important source of exposure to humans.
There's a legal pathway for further ratcheting down mercury releases directly to the river, but the regulated industries say they already meet strict permit requirements and that path has hit diminishing returns. The industries say the problem lies in regional and global air emissions, but the legal levers there aren't as easy to pull.
The tension between blaming airborne or wastewater sources is one factor among many that have played into controversial decisions around mercury over the past decade at the Ohio River Valley Water Sanitation Commission [ORSANCO] — an interstate water quality agency created in 1948 when the Ohio River was an open sewer for cities and factories and the Clean Water Act was still decades away.
Environmental groups have looked to ORSANCO to tighten mercury standards on wastewater discharges. Industries arguing against tighter water standards say that atmospheric sources are a bigger problem, and much of the mercury in their wastewater is in a chemical form unlikely to move through the food chain into fish. ORSANCO has moved away from regulation, a path the agency said reflects the reality that it doesn't have the same authority as its member states' environmental agencies or the U.S. Environmental Protection Agency [EPA].
"ORSANCO doesn't set rules for the states," said Richard Harrison, the agency's executive director. "The states set rules for the states. The states agree to work through ORSANCO as a collaborative body to work globally for the Ohio River basin."
ORSANCO's strengths, Harrison said, are monitoring and research. In 2016, commission staff launched a broad accounting of atmospheric and wastewater mercury sources across the Ohio River watershed. The report isn't yet published, but a presentation delivered to an ORSANCO committee meeting in October 2019 said 11% of the mercury in the Ohio River main stem comes from wastewater discharges throughout the watershed, including tributaries.
An environmental scientist who has seen preliminary results said the study has flaws, though it's not clear if those concerns will make it into the final version expected next month.
While ORSANCO and state authorities are bogged down in disagreements over the relative threat of atmospheric and wastewater sources and whether states should work through ORSANCO to tighten regulations across the watershed, environmental advocates say the public is worse off for having to sort through the mess.
The ORSANCO fish advisory website lists seven species — sauger, black bass, freshwater drum, white bass, striped bass, hybrid striped bass and flathead catfish — that shouldn't be eaten more than once a month from one 135-mile section of the Ohio River (from the John T. Myers Locks and Dam in southern Indiana to where the river empties into the Mississippi River) due to mercury concerns. Yet the agency's most recent annual report says the "entire river is impaired for fish consumption due to dioxin and PCBs, but fully supports fish consumption for mercury."
"What is that telling the public?" said Jason Flickner, director of the Indiana-based Lower Ohio River Waterkeeper. "Especially when it comes down to something as important as the ability to eat the fish and remain healthy."
Dangerous for Young Brains 
For all that's complicated about regulating mercury, one thing is clear: It's a potent neurotoxin that is particularly dangerous to children. Mercury persists in the environment in a few different chemical forms. One of the less common forms, methylmercury, is the most threatening to people. Industries emit some methylmercury directly; the rest is created from other forms of mercury that are digested by microbes or undergo chemical reactions in soils and sediments.
"By now, about 12 different prospective studies have documented that children's brain development is negatively affected by methylmercury," said Phillippe Grandjean, an environmental health scientist and professor at Harvard's School of Public Health. "The more, the worse."
"The results also show that EPA's current intake limit is too high to protect the brains of the next generation," he said. The agency has announced plans to update its "reference dose."
Studies have also linked mercury exposure to heart disease in adults. Children exposed in the womb or through breast milk can suffer impairments to memory, language and other cognitive functions.
People are mostly exposed to mercury through eating contaminated fish. It's one of a group of pollutants that when consumed by animals can build up, or "bioaccumulate," in their tissues.
"The larger and higher up in the food chain the fish are, the more mercury," Grandjean said. "That sounds like sports fish, right?"
Mercury-contaminated fish are common in waterways across the country, and the Ohio River is no exception. Species including angler favorites like hybrid striped bass have been found in the Ohio River with mercury above the level considered safe by the EPA. A 2010 study found five of 12 hybrid striped bass samples tested higher than the EPA mercury limit. An ORSANCO fish contaminant database shows that 36 of the 307 samples collected since 2009 with a methylmercury record appear higher than the EPA limit.
A Ban that Lost its Teeth 
Each state along the Ohio River issues fish consumption advisories that warn against eating too much fish from the river due to mercury and other chemicals. ORSANCO supports such work by collecting fish contamination data for member states and helping to keep the warnings consistent.
ORSANCO's work on advisories is an example of the interstate collaboration the agency was designed to support when it was created. Its actions are guided by the votes of a board of 27 commissioners appointed by the eight member states and the federal government.
Tom FitzGerald, director of the Kentucky Resources Council, is one of the few ORSANCO commissioners from the nonprofit environmental advocacy world. He's a federal commissioner appointed by the Obama administration in 2014. His term lasts until he resigns or is replaced, and he jokes that his days might be numbered under the anti-regulation Trump administration.
"I kid everybody that I'm an endangered species because one of these days the administration is going to realize that I'm a holdover and they're going to replace me," FitzGerald said.
FitzGerald lobbied ORSANCO for stronger water quality protections long before he was a commissioner there, including a 2003 ban on "mixing zones" for facilities with mercury and other bioaccumulative chemicals in their wastewater. Some facilities on the Ohio River that couldn't meet mercury standards at the end of their pipes were historically allowed to instead measure pollutants at the end of a downstream mixing zone that diluted their discharges.
"Relying on dilution … doesn't seem to be an appropriate pollution control strategy," FitzGerald said.
ORSANCO commissioners in 2003 agreed to ban any new mixing zones in the Ohio River for mercury and other toxics. Facilities already using mixing zones would have 10 years to find a way to meet standards without them.
But by 2010, it was clear some industries wouldn't meet the deadline. ORSANCO, despite pleas from environmental groups and the public, exempted some polluters from the ban. In 2013, they delayed the deadline to 2015. In 2015, the commissioners dropped the deadline altogether and set a goal to eliminate mixing zones "as soon as is practicable," which would be left up to the state agencies that issue pollution permits.
"A recognition of the complexities of implementing a hard ban for existing permitted facilities really came to light," said Harrison, ORSANCO's executive director. "It was a recognition that the states were the best entity to work in that arena."
According to the most recent data available from EPA's Toxic Release Inventory, Dynegy's Zimmer Station coal plant in Moscow, Ohio, released 100 pounds of mercury compounds into the Ohio River in 2017, the largest discharge that year. The plant is in compliance with its wastewater permit from the Ohio EPA, said Meranda Cohn, director of media relations and corporate affairs with the plant's parent company.
"This permit includes strict mercury discharge limits," she said.
Lafarge's Joppa cement plant in Grand Chain, Illinois, released 32 pounds the same year. Clifty Creek Station, a coal plant in Madison, Indiana, released 12 pounds. It's not clear if any of these facilities were using mixing zones. The data are self-reported by industries.
The ban on new mixing zones on the Ohio River stayed, but leaving the phase-out for existing ones up to the states has played out unevenly in these Ohio watershed states:
A representative from the Ohio EPA said the state agency had phased out all mixing zones for mercury and other bioaccumulative chemicals by 2009.

The Pennsylvania Department of Environmental Protection hasn't removed mixing zones from any permits since the ORSANCO rule changed in 2015, but the state weighs renewal applications against ORSANCO and state water quality standards "and incorporate the more stringent limit if applicable," said DEP press secretary Elizabeth Rementer.
Indiana and Kentucky have similarly not yet phased out mixing zones completely.

Illinois and West Virginia's permitting agencies did not respond to requests for comments.
Comparing 'apples and oranges'
According to Rob Reash, environmental scientist and principal at his consultancy company Reash Environmental, a mixing zone ban on the Ohio River wouldn't significantly affect fish mercury levels there anyway.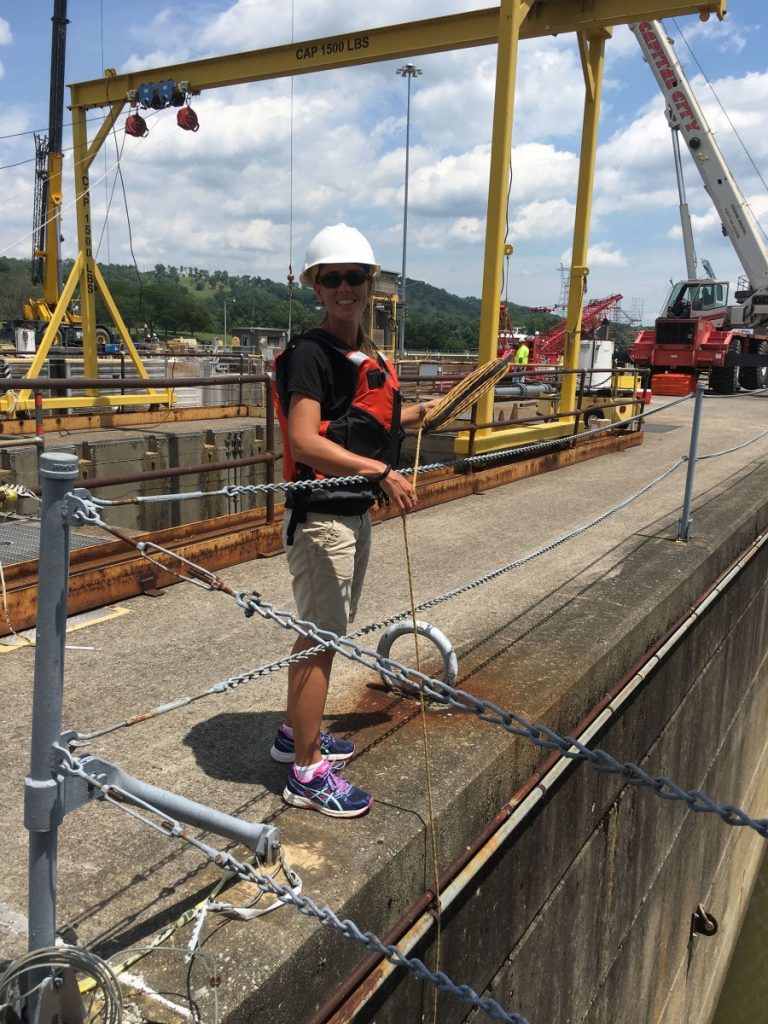 Reash has studied mercury in water — particularly the Ohio River — for decades. He's a member of the ORSANCO mercury committee. Reash retired last year as an environmental scientist at American Electric Power [AEP], a utility company that runs coal plants in several states along the Ohio River, and set up his own firm this year. As an AEP scientist, he published studies suggesting fish mercury levels aren't higher near coal plants and much of the mercury in their wastewater is in chemical forms that don't build up in animal tissues like methylmercury.
Despite consistently publishing results that argue against regulations for the industries that have funded his work, Reash said he hasn't encountered skepticism of his work.
"One of the primary reasons I've been doing this research for so long is it is a priority for me to have credibility with my peers," Reash said. "So when I say something, I can be trusted."
FitzGerald, who also sits on the mercury committee and is familiar with Reash's work, agrees.
"He knows his stuff," he said. "He works for industry, but I think his work has been subject to some pretty significant scrutiny."
Reash is also familiar with the preliminary results of the ORSANCO study attempting to figure out how much of the mercury in the Ohio River comes from atmospheric sources and industrial wastewater (known as "point sources").
Referencing the October presentation that said all point sources in the basin — not just those along the main stem — account for about 11% of the instream mercury, Reash said, "That tells me that if you want to reduce mercury in water or in fish, you can't cap up industrial discharges. It's not going to work."
Others familiar with the draft report say it's a good start, but the final version will have to include important changes to accurately sort out sources of mercury.
For example, the October presentation shows an estimate of how much mercury was deposited from the atmosphere on the land area of each of the Ohio's tributary watersheds. Those numbers are compared against industrial discharges for the same portion of the river and estimated to be 20 to 50 times larger than the local point sources.
Joel Blum, professor of earth and environmental sciences at the University of Michigan, is familiar with a draft of the report and has seen the data presented in October. He said this comparison between atmospheric and point sources is "apples and oranges."
The study, he said, gives a good estimate of how much mercury is deposited on the land. But not all of that mercury flows into the Ohio River.
"We know that a large amount of the mercury that is deposited to the land surface accumulates in organic rich soils and vegetation and in sediments throughout the system," Blum said.
"What they need to do is figure out how much of that is actually making it to the river and how much is staying put on the land," he said. "In all likelihood, it's a very small percentage."
Reash agreed that some portion of the mercury is sequestered in the land and there is a level of uncertainty about the atmospheric results. But ORSANCO did the best study they could with the funding they had, he said.
"The big question once this thing gets finalized is what are ORSANCO and the states going to do with this," he said. "Is it going to modify policy whatsoever?"
State to State Inconsistency 
Even though the atmospheric sources are the more significant source of mercury to the Ohio River, FitzGerald said policies that address industrial sources are worth looking into.
"Do you ratchet down further those dischargers over which you do have regulatory responsibility and regulatory control? I think it's a legitimate question and one to address to the individual states," he said.
The question would be whether states should apply additional restrictions under authority granted to states through Clean Water Act policies. Under those programs, states monitor lakes and streams, and those that don't meet certain criteria — chemical concentrations, for example — are added to a list of "impaired" waters. For the most impaired waters, states are required to develop a clean-up plan called a Total Maximum Daily Load, or TMDL. Those plans calculate the total amount of a particular pollutant that is allowed to enter a waterbody. States can then apply additional scrutiny to wastewater permits in an effort to get a lake or river under that amount.
But, it's complicated.
Indiana has included its section of the Ohio River on its list of "impaired" waters due to high mercury levels. But the state's Department of Environmental Management is not developing a TMDL.
The Indiana Department of Environmental Management "has not found TMDLs to be a particularly useful tool since one of the main sources is air deposition from emissions far from Indiana," said Barry Sneed, a department spokesman.
The agency's report on impaired waters also says that an Ohio River TMDL would require more than one state because it's a boundary water between states. Across the river from Indiana, Kentucky's state environmental agency also added its stretch of the Ohio River to its list of waters impaired from mercury. But it removed the river from that list when it said new testing methods showed that fish weren't as contaminated with methylmercury as previously thought.
Flickner of the Lower Ohio River Waterkeeper said inconsistencies between states like this are exactly what ORSANCO was originally designed to mitigate.
"They're giving up the idea that they have any enforcement or can address the states on a regulatory basis at all," Flickner said. "That's the message that everybody is getting and there's really nothing we can do to stop it."
Jeff Brooks-Gillies, a freelance writer for Environmental Health News, authored this story. He can be reached at jeffgillies@gmail.com.
Good River: Stories of the Ohio is a series about the environment, economy, and culture of the Ohio River watershed, produced by seven nonprofit newsrooms. To see more, please visit ohiowatershed.org.
Fighting for the Ohio River Watershed's Mussels: Experts Are Working to Get to the Bottom of Their Mysterious Disappearances
"Will one of these fit?" Wendell R. Haag asks, holding out a couple pairs of well-worn creeking shoes he's pulled from the back of his pickup, both decidedly larger than a ladies size 8. Haag is taking me to see an aquatic wonder, and I've worn the wrong shoes. In a rush out the door of my Cincinnati apartment on this chilly October morning, I chose a pair of tall waterproof rubber boots, but Haag is sure they'll fill with water in the sometimes knee-deep stretch of the Licking River we're about to visit.
Haag grew up near here, in Kentucky. He tells me his fascination with the bottom feeder he's about to show me began as a child, collecting opalescent nacre shells in shades of pink, purple and peach near his home.
The curious boy became a biologist for the U.S. Forest Service and is now a leading expert in the field of freshwater mussels, with a Presidential Early Career Award for Scientists and Engineers from President George W. Bush to show for it.
The Ohio River watershed includes the 981-mile main stem, from Pittsburgh to Cairo, Illinois, and also dozens of tributaries. Up and down each of these waterways, the mussel fauna changes; more of one species here, more of another there, different assortments determined by their immediate environments.
About 130 mussels species have been recorded in the Ohio River system — the most of any other river system on Earth except the Mississippi, because it includes the Ohio.
Haag has taken me to a specific spot on the Licking River to see an environment that supports more types of mussels than just about anywhere. Roughly 40 species have been recorded here, though several are no longer present. For scope, 16 species have been found in all of Europe.
"Very few people know any of this," says Haag, standing in shorts, a raincoat and a Mississippi National Forest Stream Team ball cap. He adds that even fewer people understand the vital role mussels play in the environment.
Mussels are good monitors of stream quality; they purify water, provide a structural habitat and food for other organisms and ease something known as nutrient overload, often caused by farm fertilizer run-off and water treatment practices. Mussels can naturally recycle and store some of these nutrients.
A lot of people don't realize that humans are responsible for the extinction of at least 11 mussel species that once lived in the watershed and that about 70% are considered "imperiled," meaning their rapid and continuous declines put them at risk of becoming extinct.
Haag is chasing after some answers behind the diminishing population.
"When I go out and look for mussels where they should be, they are disappearing," Haag says, "time and time again." Haag has a hypothesis as to why and a plan to test it. "Before I retire, I want to prove what is doing this."
American Progress Hit Mussels Hard
Let's just say Jeremy Tiemann is comfortable in a wetsuit. The aquatic ecologist has spent 22 years exploring freshwater habitats, many in the Ohio River watershed. At his job at the Illinois Natural History Survey, housed at the University of Illinois at Urbana-Champaign, his work informs how environmental regulations are set in the Prairie State for mussels and other freshwater fauna.
For all he's seen, Tiemann is fairly confident that no other aquatic organisms have taken a bigger hit from American progress than the freshwater mollusks, mussels and snails.
"We completely changed the way the river behaves," Tiemann says by phone from his office, and that's not a good thing for these sensitive animals.
Tiemann did his master's thesis on the impact of low head dams on stream ecosystems. While many species suffered setbacks and death from their construction, it specifically devastated many mussel species. It led to extinctions and substantially reduced population densities.
Why? First, the Ohio River was not naturally as deep as it is today. During a dry spell, people could walk across a lot of it. Locks and dams began to be constructed on the Ohio River around 1885 to raise the water level and allow for easier navigation, with the final dam in that system completed in 1929. In the 1950s, the dam system was modernized by the U.S. Army Corp of Engineers to improve flood protection and raise the water level for barges to transport materials like coal and salt.
Mussels typically like free-flowing water, Tiemann explains. Dams pool the water up behind them and create more pond- or lake-like qualities. Silt and debris built up, suffocating mussels. It also restricts fish migrations, which affects mussels because some use fish to complete their life cycles.
People also built dams on smaller tributaries, channelized streams and began discharging mine and industrial waste into the waters.
So, while the Ohio River watershed has some of the greatest diversity of freshwater mussels anywhere on the planet, they're in a precarious position, Tiemann says.
Pollution spills happen with some frequency and can kill them. They were harvested in some areas a few decades ago, when mussel shells were commonly used to make buttons. Mussels have also had to fight for their place against invasive species like the Zebra mussel, a fingernail-sized mollusk native to freshwaters in Eurasia. It is believed they arrived in North America in the 1980s on large ships from Europe, and they crowded out some native mussels early on.
"We are now starting to realize the true effects of the loss of mussels, and some of us want to improve their numbers and mitigate the problems that they face," Tiemann says.
This includes reintroduction and rescue missions. Tiemann continues to monitor a 13-year project that involved moving populations of two endangered species of mussels away from a spot in the Allegheny River in Pennsylvania. The Hunter Station Bridge replacement was expected to kill the creatures. Tiemann and his team moved them to some streams in Illinois, while colleagues in the field moved them to six other states in the watershed.
Tiemann says many of the mussels are still living. But his team has yet to see evidence of reproduction, which is ultimately what they want to see. Juvenile mussels are extremely difficult to find so it could be another decade or more before they know if the mussels are reproducing.
Every day, he says, researchers learn more and more about these creatures.
"We have more people studying mussels and coming together than ever before," Tiemann says, adding that the Freshwater Mollusk Conservation Society started with a handful of people in 1989. Now they are 500 strong, worldwide, with European and South American contingents. Founders now have students in leadership positions.
Critical to the Ecosystem, Not Your Diet
Back on the Licking River, Haag has his head in a blue Lowe's bucket, which he has modified with plexiglass to create a clear bottom.
Nah, you don't want to eat these mussels, Haag says, pushing the bucket down and sweeping the river floor to find a live one.
Native Americans sometimes ate them but more often they would ground up the shells to temper pottery, Haag says. He's eaten them and says, "They taste awful." He's used to first question being whether they're edible, but he says there's plenty of other reasons to want to keep mussels around.
Haag has found one in the water. The tip of its two shells is all that's visible. It's probably a big one, Haag tells me, carefully wiggling it out of the dirt and lifting the creature out of the water.
The common name for this one is a pink heelsplitter, he says, because they have an elongated wing that protrudes from the stream bottom and could split your foot. The nacre on the inside of their shells is a pinkish purple. The mussel ejects a thin stream of water and retracts a large slimy foot, which it uses to maneuver itself short distances in the riverbed to stay submerged in the stream.
Like with many trees, each ring on the shell of many native mussels represents one year of growth. Most live 20 to 50 years but some live past 100, Haag says.
It's hard to imagine mussels suddenly disappearing from a place like this, but Haag has grown accustomed to seeing it happen. He'll visit a place last documented to have a healthy population of mussels and instead find only dead shells mixed with old mussels past the reproductive stage. It's only a matter of time before it becomes a shell graveyard.
In his years of research and considering other peer-reviewed work, Haag says he believes only two things could be the cause of the decline: either a disease that has not yet been identified or the Corbicula (Asian clam), an invasive species that has been thought to be harmless for decades.
He hopes an answer will help save these creatures whose benefits are just now being understood and, in some cases, harnessed by humans.
There is now a discussion about putting a monetary figure on mussels.
A paper on the topic was released in March 2018 in Hydrobiologia, an international journal of aquatic sciences. The authors called for more research on the economic, social and ecological value of mussels as well as "tools that will allow us to value mussel ecosystem services in a way that is understandable to both the public and to policy makers."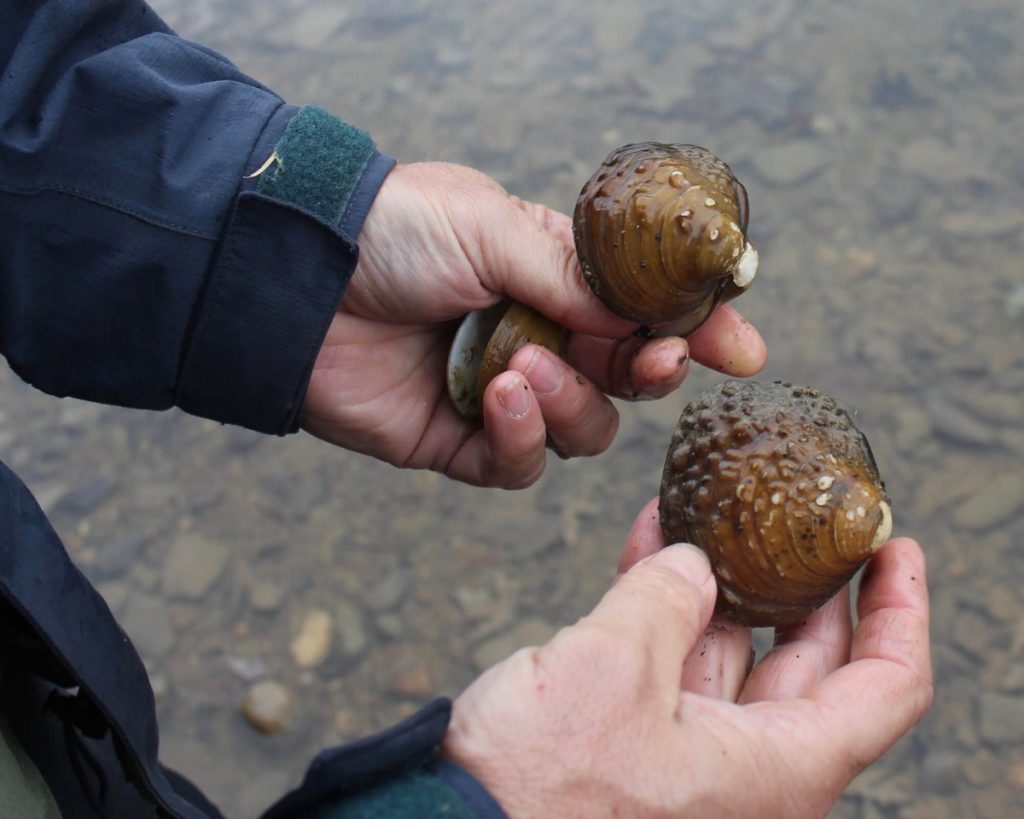 Haag says it can't hurt to determine a mussel's worth.
Suddenly, he lets out a yip of excitement. He can't believe our luck.
Haag waves me over. We peer through the bottom of the bucket together. It's a plain pocketbook mussel doing something researchers only confirmed the function of in the 1990s.
The mussel pushes two flaps of her mantle out of her shell in a way that looks deceivingly like two minnows. She is trying to lure a fish by mimicking its prey. When a fish approaches and opens wide, the mussel will spray her larvae into the fish's face, hoping to hit the gills. There, the baby mussels will attach themselves as parasites and feed off the blood of the fish. The general consensus, Haag says, is they are a relatively benign parasite. Damage to the fish is relatively rare.
It gets wilder. After they attach, they metamorphosize like a caterpillar into a butterfly. They change form — from a glochidia (parasitic microscopic larvae) to a bivalve with a shell.
At this stage, they fall off of the fish, land on the bottom of the stream floor and basically stay put. Studies show that pocketbooks only use bass as a host. "So, it's integral that those fish are here, too," Haag says.
'Fight for these guys'
Biologist Janet Clayton is laying some knowledge on the next generation of mussel experts at the annual meeting of the Ohio River Valley Mollusk Group on a November morning.
Clayton has worked with mussels in West Virginia for three decades and has developed mussel surveying methods widely adopted in the field. She's about to retire.
Today, gathered at the Thomas More University Biology Field Station on the Ohio River in California, Kentucky, she's passing on specific advice. Her tips include the best brand of glue to adhere tags to a mussel's shell and the way to sweep an area for mussels to count them properly.
"Now, it is your turn to fight for these guys," Clayton tells the group, her voice catching. "Stay true to the resource." The room, made up of roughly 40 biologists, ecologists, environmental consultants and scholars from six states, gives her a warm round of applause.
The morning talks wrap up and a discussion begins over the difficulty in getting the public to care about these unseen creatures. "How do we reach them?" one woman asks.
Professor Christopher Lorentz, director of Thomas More's environmental science program, runs the facility, lab and conference space, which was originally built as a lock house in the Ohio's first system of locks and dams. Lorentz, university staff and students study the river and its inhabitants there. Water is circulated from the river to raise and observe its fish, mussels and more.
U.S. Fish and Wildlife, state natural resource departments and nonprofits are working together to review impact of dams and cases where they could be removed. Organizations such as the Ohio River Foundation and The Nature Conservancy have been involved in dam removal and education about mussels. When a permit expires, the state or federal government generally reviews its impact on the environment to decide if it should be replaced or removed, Tiemann says.
It's exciting, Lorentz says, to see the synergy between states and experts in the watershed. Scientists are learning more about mussels, "yet, there are some species that aren't doing well in pristine areas." And if we can't figure that out, Lorentz says we can move them around, we can try to preserve them — but what will that do if the mysterious threat is still out there?
Haag says he thinks scientists need to look at the larger patterns and characteristics of the population decline and then focus in more closely on what could cause them. He continues to build on experiments he began in 2015 but fears one day he'll arrive at this place — one of his favorite stretches of river — and find only dead mussels. But not today. Today we'll see plenty of mussels, including the fanshell currently listed as endangered.
"Can you imagine?" Haag says. "It's like walking into a forest that you know and there are no trees." He walks on ahead with his bucket and talks of changing the outcome.
Carrie Blackmore Smith, a freelance journalist based in Cincinnati, Ohio, authored this story for PublicSource. She can be reached at carrieblackmoresmith@gmail.com.
This story was fact-checked by Sierra Smith.
Good River: Stories of the Ohio is a series about the environment, economy and culture of the Ohio River watershed, produced by seven nonprofit newsrooms. To see more, please visit ohiowatershed.org.