Kids have their own way of judging what's real, and it's not necessarily based on the cost of the Santa suit. Here's a Christmas memory from 1968, when Hazard, Kentucky, had three Santas — but only one would do. (This is a republication of a Daily Yonder holiday favorite).
At 17, I was the Santa Claus for the Walkertown section of Hazard, Kentucky. Rick Rosanova, the news guy at Channel 4, was Santa at the new Sears in the old bowling alley in another part of town, Lothair. And Bill Douglas was the city's main Santa from Backwoods to Big Bottom. He had a $1,000 velvet Santa outfit (in 1968 dollars) with black calfskin boots and jingle bells on a leather strap. His fake beard was combed human hair and in addition to that he could play the harmonica and jig dance. Value add-ons at anyone's Christmas party. I worked at Palmer's House of Toys, a more humble operation. I had a belly pillow and a stringy white beard-wig combination that I had to enhance by putting white shoe polish on my sideburns so my hair would not show through the gaps. The outfit was thin red corduroy, and instead of boots I had plastic covers to slip over my shoes to affect an illusion of boots.
Palmer's House of Toys was owned by Evangeline "Dang" Palmer who had been my speech and drama teacher until she got fired for telling Merrill Pelfrey he did not know his own name. "If it is M-e-r-r-i-l-l, it's pronounced Mehr-rill. "
Mehr-rill who thought his name was Merle said, "Dammit, woman I reckon I know my own name. It ain't Mehh-rul, it's Murl." She kicked him out of her class, which was just home room for 10 minutes a day, but she drew that line unrepentantly and would not let him back in even when the order came down. So the school canned her. She went straight out and bought Country Boy Feltner's furniture store, and then just before Thanksgiving she rented the upstairs above the old Pet Dairy across the street. Filled it with toy bins. Hired me.
Sadly, and this is no longer part of the story, Merrill Pelfrey ended up doing jail time for something like wanton endangerment. A couple of years later the Hazard cops were following him as he walked home from the Brown Derby, a bar below the new Sears in Lothair. He was tipsy and thought they were getting right up against him with the cruiser just to mess him up. When he got to his house, he grabbed a shotgun, blasted out their tires, and put 320 holes in the vehicle (according to the following week's Hazard Herald). At first they had him up for attempted murder, but eventually let him plead it down. He told me he wasn't attempting anything, he was looking right at the cops and could have shot them boys anytime, if he had wanted to.
Mrs. Palmer came from Central Kentucky, horse country, and more refinement. She had studied drama at Northwestern and was a classmate there of Charlton Heston (Ben Hur, El Cid, Planet of the Apes, Soylent Green is people), a fact she found reason to mention in class at least once a week. It was a time when smart women often taught school instead of being lawyers or doctors. And Mrs. Palmer was very smart. She knew all the Greek plays by heart, the eye-gouging kings who marry their mothers and mommas who kill their babies to keep them from the clutches of trifling husbands. She would tell us the plots with broad theatrical gestures. It was as good as school gets. She talked all the time, and there was never a test. Besides recalling encounters with Charlton Heston, she would regale us with tales of her performances at Pioneer Playhouse in Danville, Kentucky (Lizzie and the Rainman, Arsenic and Old Lace), and the backstage dramas in which she always seemed to triumph. We were graded on how dramatically we could read aloud, how well we could make up speeches, and for helping with the school plays that she would direct like On Borrowed Time or Wait Until Dark. Speech class had only one overriding rule, and that was you couldn't pronounce your long "i's" flat like you would naturally in Hazard. You had to make them sound like you were saying "aye, aye, Captain Bligh." If you didn't, she claimed she would fail you. Not my problem. I was good at speech. Sometimes she would tell me to stand up in class and say America.
I'd say, "America."
She'd pause for a second, "Say America."
Again, I'd say "America," sounding it out like she and Charlton Heston would.
Then she'd say, "He has a beautiful voice, doesn't he?" All followed by a chortle from the back of her throat, a sound like spit frying on a griddle that you can never unhear.
After school my friends would make fun, "Say America for me." But then it was me she hired as Santa. Paid good money, maybe two bucks an hour, and the work was nothing, if you could belt out an imitative Merry Christmas and a Ho-Ho-Ho.
Often the store was empty, and I would play with the toys myself, racecars and gyroscopes. Other times high school friends would come by to harass me, the boys trying to get me to say something inappropriate around the kids, teenage girls who wanted to sit in my lap, whisper in my ear, and make me squirm. Occasionally a kid would get scared, tear up, run back to his minder, but if you'd let the little fellow find his own way to you, he'd generally work up some courage, get a wish in, and go home hopeful. The kids that shopped in Walkertown didn't want that much, and the House of Toys was not high end. Mostly they said dolls and balls, toy guns and play kitchens. Sometimes boys wanted those little gas stations with an elevator for the cars to get up to the down ramp. Not fancy or electric.
Then one Wednesday I got a call to come in that night to be Santa when we were not open. I remember that I did not want to bother with shoe polish on the sideburns. Too much to scrub out later on a school night. When I got there, Mrs. Palmer explained that there was this kid, I want to say Lucas or James, but I don't remember, 7 or 8, and he was sick. I think it was leukemia then before all the miracle cures. His parents called Mrs. Palmer. Christmas was two weeks out, but they did not think he would make it. They told her they had taken him to Lothair to see Rosanova's Santa, and downtown to see Bill Douglas, but after each visit he had told his folks, "That's not the real Santa Claus."
I went across the street, up the metal stairs, and turned on the lights to get dressed. I pressed the white beard and wig against my temples to hide my scraggly facial hair. Santa's throne was an unsold upholstered chair in the back of the store. When they came up I could peer out over the bins and watch him see me as he began to make his own way back. Mrs. Palmer, who rarely came up the steps, was with them, the mom and the dad, and I think someone else from the family. Mrs. Palmer was a doctor's widow. She had money. She was the kind of woman who would buy a furniture store just to show the school system that she did not need their payday or their approval. She would have given James or Isaac or Lucas every toy on display and not blinked. She told him to pick what he wanted.
The mom trailed the slight, sandy-haired boy. He was ashen. She wasn't that much older than me. Her face was puffy from crying but also from holding it back. Her head cocked like when you're worn down. She smiled at him with absolute pride, like watching your kid sing in the school pageant. But it was as if she was mourning him at the same time.
I met him in the bins, reached in to the toys, and handed him a rev-up top with a gyroscope inside it. I think it was yellow and cost four ninety-five. I called him by his name and whisked him up into my chair. I talked in softer Santa, asking him what he wanted and making a deep quiet Ho-Ho trying to sound like a man. He told me about his little brother and his momma, his daddy. If he wanted something for Christmas, it was not a big part of our conversation. I just remember that when he got up to go, the top he'd been holding had slipped into the side of the chair. As he walked back to his mom, I said, "Here, Lucas, don't forget your top." And he looked at me and said "I won't, and I won't forget who gave it to me either."
We did not have a school play that year. Mrs. Palmer directed some community theater after that, and I got cast a couple of times: once as a farmer in the bi-centennial history of Hazard, another time as Vinnie, one of the poker players in The Odd Couple. No small parts, only small actors. The kid made it through Christmas, but not into spring. Rosanova moved away owing a lot of merchants money. And Bill Douglas is remembered in town as the greatest Santa of all time.
Dee Davis is publisher of the Daily Yonder and president of the Center for Rural Strategies. He's on twitter @iamflyrock.
This article was originally published by the Daily Yonder in December 2018.
Amidst Decline, W.Va. Christmas Tree Farms Carry on Traditions
People have been decorating Christmas trees in their homes since the 16th century. It's a tradition that began in Germany and spread throughout Europe and the rest of the world.
According to statistics provided by the North Carolina Department of Agriculture, about 4.3 million trees are sold in the United States each year and about 20 percent of them come from the Tar Heel state. All of their top growing counties are in the Appalachian mountains.
But in West Virginia, the industry is much smaller and declining. The 2017 Census of Agriculture for West Virginia ranks the Mountain State as 27th in Cultivated Christmas Trees. That same year, West Virginia growers cut nearly 43,000 trees.
Bob Whipkey has been selling Christmas trees since the early 1990s.
"I always enjoy watching the people. You get a lot of families coming out and their kids, everybody's in a good mood, everybody's joyful," he said. "I have families who come out and spend the day — just bring a lunch and spend the day just walking around looking at trees and finally getting [one].".
Whipkey says he sells 200-300 trees each season over about a two week period beginning the day after Thanksgiving. He converted what he calls unusable farm land on the side of a hill to plant trees. The process takes seven to eight years until the trees are ready for harvest.
Whipkey explained that the time he has to work the hardest is in mid summer when it's the hottest.
"You have a window [of] about one month to shear all your trees and you have to do it while the trees are new growth or just putting on a new growth," he said. "The tree will set more buds to make it come in thicker the next year and it shapes the tree."
Tree farming can be a lucrative business, according to Whipkey, but after more than 30 years, he is winding down his business due to age and health reasons. He said the number of choose and cut tree growers is declining in West Virginia.
"We had over 150 growers in the state and we're down to less than 90 now," he said. "And choose and cut growers like myself, there's only about 28-30 of those in the whole state."
West Virginia has nearly 12 million acres of forested land, but most of that is covered in hardwood, not pine and spruce.
For a lot of people, choosing and cutting your own Christmas tree is a family tradition. Cody Williams is creating a tradition with his own son, based on one he had with his father.
"A couple of years ago, we actually dug up a picture of me and my dad whenever I was probably two or three, but a picture of me and dad cutting down a tree and so I just decided that's something I definitely wanted to do with my kids," he said.
Another customer, Sierra Linger, was out at a tree farm recently and said she has a strategy on the best way to find a tree.
"So, I have a thing where when I first get out of the car, I try to pick out the tree that I want before I get to look at them. And then I go see if I'm right. And I did," she said. "So, this is the very first one that I picked, and I thought it was the prettiest one, the greenest and it smelled the best."
Sierra said she hopes Christmas tree farms will be around for years.
"I love it. It's something that I want to continue to do," she said. "When I get older, get married and have kids, I want to come pick out a tree. It's a big part of the Christmas tradition and I really love it."
This article was originally published by West Virginia Public Broadcasting.
This W.Va. Workshop Is Keeping Folk Toys Alive
When I was a kid, the thing that intrigued me most about Santa wasn't the beard, or the flying reindeer, or the repeated breaking and entering. No — I was fascinated by his workshop. I loved to imagine the elves working tirelessly to make toys that would end up under Christmas trees around the world.
But you know, I never once imagined the elves making the season's hottest toys.
Instead, I pictured Santa's little helpers building toys with good old-fashioned wood and glue. I imagined a shop filled with the smell of sawdust and the sound of popguns.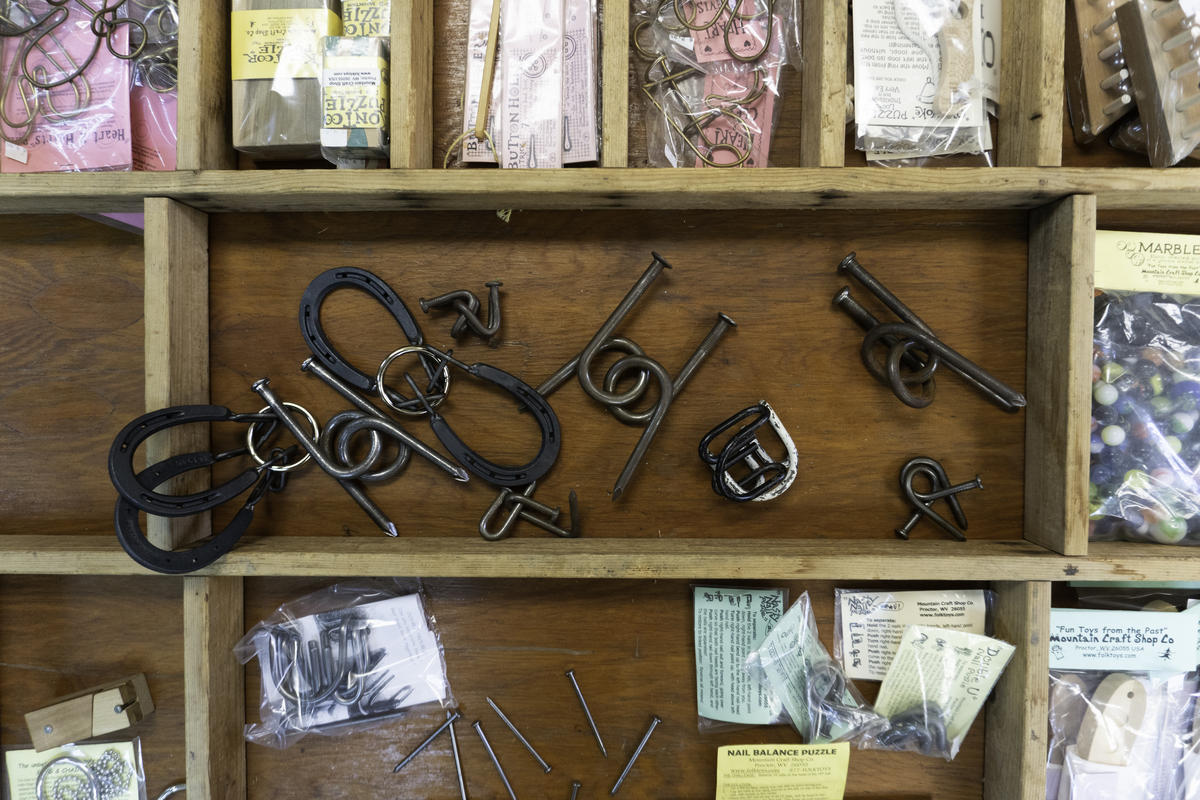 Turns out, my visions looked a lot like what I found in Proctor, West Virginia; headquarters of Mountain Craft Shop Company, which has been turning out traditional handmade Appalachian toys since the early 1960s.
The tree-shaded workshop used to be an elementary school. Now, one side of the building is filled with power saws and a wood lathe, bottles of Elmer's Glue and slabs of locally sourced hardwood. The other side, the shop's showroom, is filled with toys your great-grandparents probably would recognize.
"I like to tell the kids, can you remember before Walmart and plastics. There wasn't necessarily a store to go to to buy toys, so grandmom or granddad or dad or mom made the toys from what was readily available: sticks that they found out back, little pieces of wood, pieces of string, little bits of leather," says Steve Conlon, who runs the business with his wife Ellie.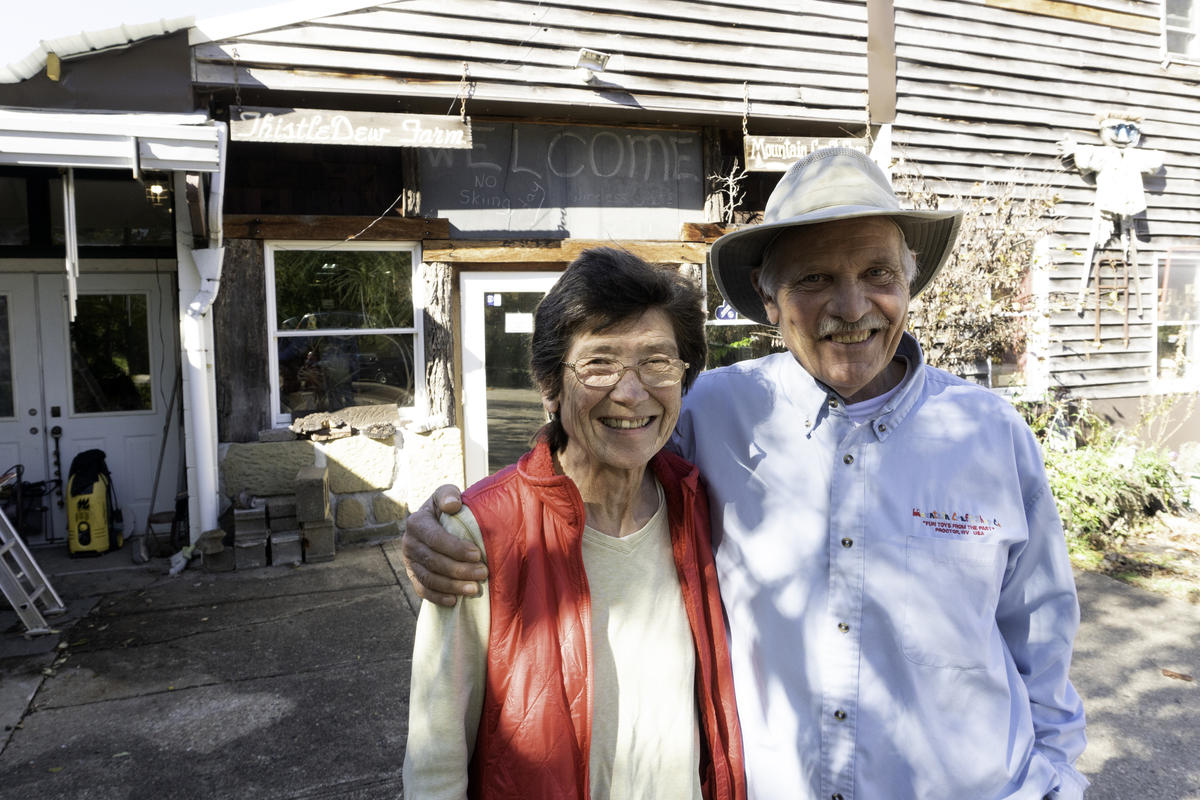 A few months back, Conlon gave me a tour of the property, which he calls "Wetzel County's Only Amusement Park." Putting down his popgun, Conlon picked up what looked like a capital letter L.
He held it by the short end and whipped it around in the air, creating an ear-splitting ratcheting sound.
"We call this a rattletrap. All this noise is generated from a tongue depressor and this little cogged wheel here. I tell 'em, it sounds better in a van," Conlon said.
Then he picked up that old toy where you try to catch a ball on a string in a cup. Conlon tried twice before landing the ball perfectly on his third attempt.
"This actually dates back to 1580 in England," Conlon said. "Good for eye-hand coordination."
Next, he moved over to a low table and palmed a handful of marbles — manufactured about 20 miles away at the Marble King factory, in Paden City.
"We make a variety of marble toys. This one is interesting. We call it a musical marble tree. It's about 30 inches tall and it has pieces of wood — leaves — that stick out on either side. We drop a marble and a marble goes from one leaf to another," Conlon said.
He dropped the marbles and they began bounced down the wooden fronds, sounding like Animal from The Muppet Show going nuts on a marimba.
"Makes a wonderful noise, don't you think?" Conlon said.
The Conlons manufacture all these toys and dozens more models in their tiny shop, which they open to visitors. They also sell their toys in gift shops around West Virginia and surrounding states and at Tamarack, in Beckley. But they did not come to West Virginia to be toymakers. They wanted to be farmers.
"We moved here in 1974 from Philadelphia and we brought with us a couple beehives in the back of the U-Haul truck. I was just fascinated with bees. We tried chickens and cows and every other agricultural pursuit and bees kept kind of rising to the top. So it evolved into us owning a lot of beehives and needing other locations to keep them," Conlon said.
They placed some of their hives on the property of a neighbor named Dick Schnacke. He was a mechanical engineer by trade and worked at the aluminum plant in nearby New Martinsville. But he also taught himself to make traditional folk toys. But researching how to do it wasn't easy.
"Very little was really recorded," Dick Schnacke told the West Virginia Division of Culture and History in 1978. "You see, toys were not considered to be anything but trifles, all through the ages, until just the last few years. So nothing was recorded."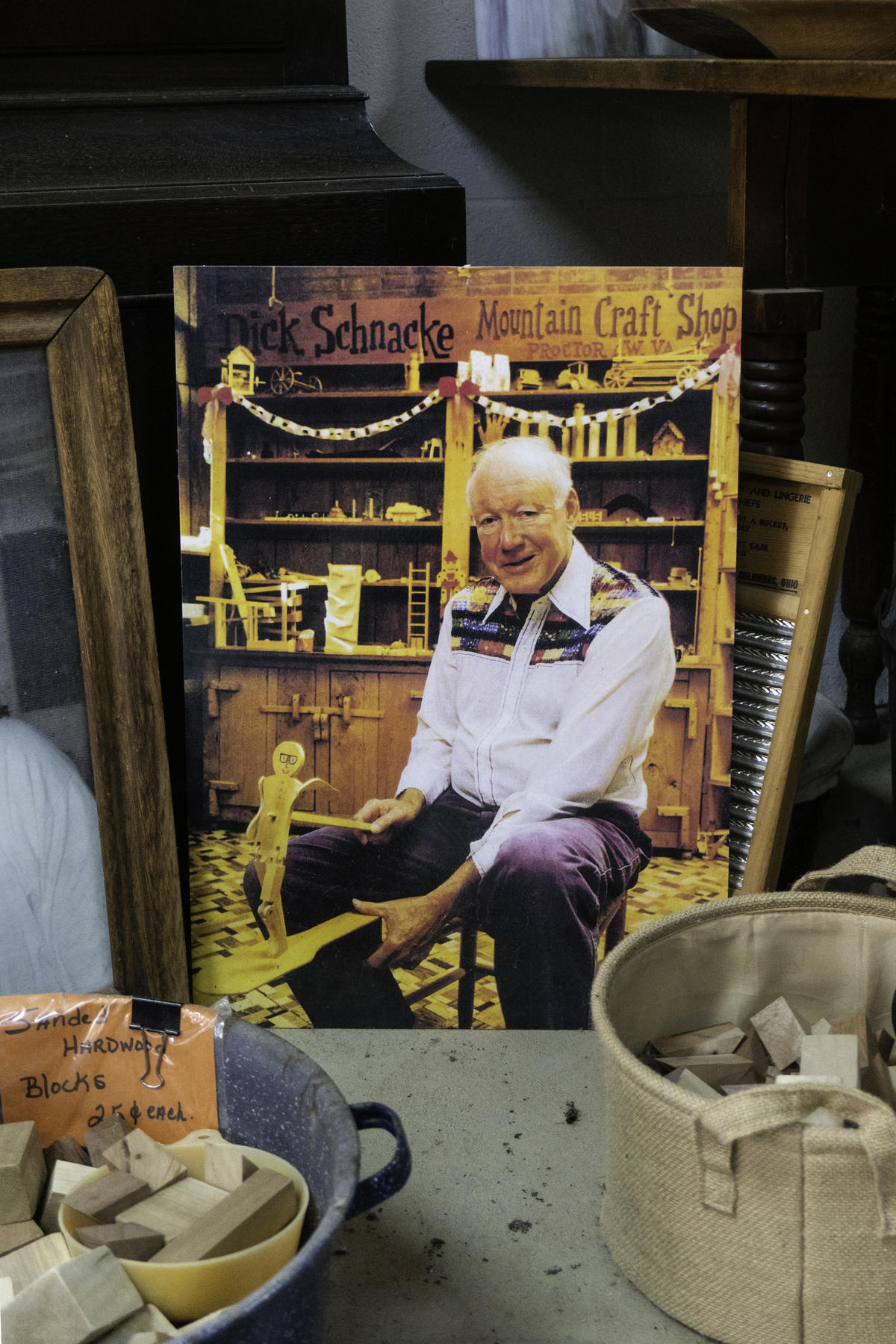 Still, Schnacke forged ahead. He eventually compiled two books on folk toys. He also spun his passion into a small business, the Mountain Craft Shop Company. Schnacke handled all the research, development, marketing, and sales. But, kind of like Kris Kringle himself, turned manufacturing over to a team of elves.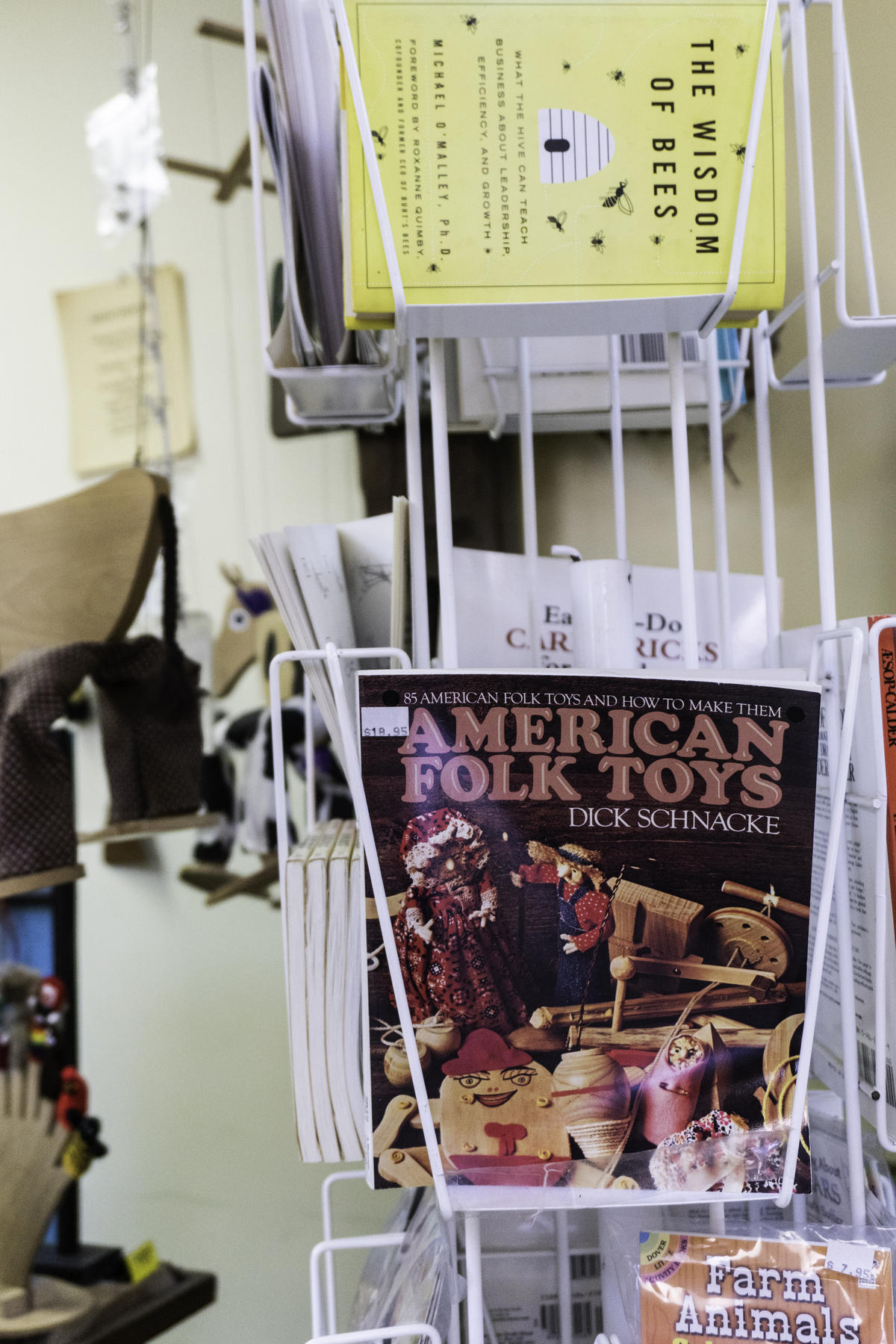 "He actually didn't make any of the toys himself. He had probably 10 people who were making the different toys at home. People who were buying their farm by making toys to be sold," Conlon said.
Through the years, Schnacke grew the company's inventory to include some 200 traditional toys. But by 2002, he was getting older and looking to get out of the toy business. So he offered to sell it to an enterprising couple who could keep his legacy alive — his friends the Conlons.
Along with the business, the Conlons also got Schnacke's expertise on building folk toys.
"It was a manufacturing business. We had to learn how to manufacture those toys and had to accumulate a lot of power tools, which wasn't painful for a man to do," Conlon said.
To keep manufacturing costs low, they decided to start making most of the toys in-house. The Conlons, who still raise bees and sell honey, get the wood from trees they harvest on their own property or from logs their neighbors give them. They mill the logs themselves and air dry the lumber in the shop.
"Some woods do a lot better at certain things. We pick out the woods for their adaptability of the product and also the beauty. If you use a piece of walnut, it really makes a toy stand out. If I'm turning things on the lathe, cherry is a very nice wood for turning," Conlon said.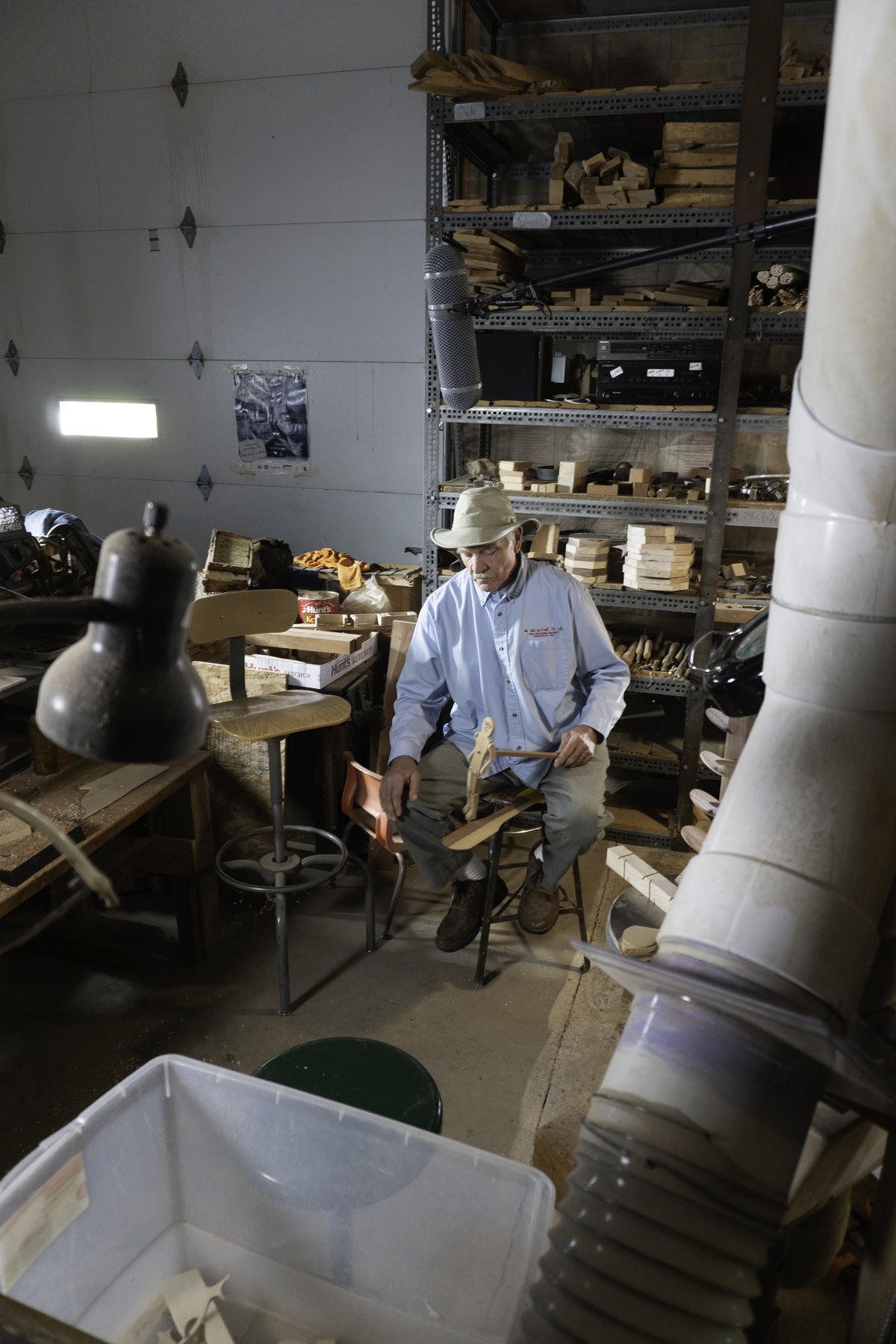 Many of the toys are incredibly labor intensive to produce. Take the Jacob's Ladder, for instance. This classic, deceptively simple-looking toy creates the illusion that pieces are click-clacking to the bottom of a string of wooden tiles.
"The Jacob's Ladder has 8 different pieces of wood. So I make the pieces of wood in here, plane them down, sand them," Conlon said.
Conlon's wife, Ellie, then cuts 24 pieces of fabric and glues them to the wooden tiles to bring the jacob's ladder together.
"We make about a thousand a year. Not too many people want to work for pennies on the hour. If you own your own business, you do that," Ellie Conlon said.
That level of commitment — and sacrifice — is one reason the Conlons are not yet sure who will take over Mountain Craft Shop Company when they decide to retire.
"How will it play out? We don't know yet. The reality of the situation is, we are manufacturing in America. Look around you. Manufacturing in America — there's a lot of competition," Steve Conlon said.
One thing remains certain, though. The traditional toys they make have not lost their ability to captivate children. They see it every time they set up a booth at a craft fair.
"Kids will just spend minutes, half an hour, there as long as parents are willing to stay. And then of course there's crying and screaming when it's time to leave," Steve Conlon said.
When Conlon says this, it reminds me of something that happened a few months ago, when my wife and I took our five-year-old little girl to Babcock State Park in southern West Virginia. We told her she could pick out one thing from the gift shop. She perused the whole store but ultimately gravitated toward a shelf near the window — where she picked up a Jacob's Ladder made by the Conlons.
As we cruised down the interstate headed for home, I noticed I couldn't hear any noise coming from her tablet.
Instead, I heard the clacking of the Jacob's Ladder.
Even in this age of screens, toys made with wood and glue still possess magic. And Steve and Ellie Conlon are keeping that magic alive.
If you're interested in picking up some toys from the Mountain Craft Shop Company before Christmas, their Proctor, W.Va. will be open 9 a.m. to 5 p.m. on Friday, Dec. 20; 11 a.m. to 4 p.m. on Saturday and Sunday, Dec. 21-22; and 9 a.m. to 5 p.m. on Monday, Dec. 23. They will be closed on Christmas Eve and Christmas Day. Their toys are also available at Tamarack and many state park gift shops.
This story is part of the Inside Appalachia Folkways Reporting Project, a partnership with West Virginia Public Broadcasting's Inside Appalachia and the the Folklife Program of the West Virginia Humanities Council.
This article was originally published by West Virginia Public Broadcasting.
The Folkways Reporting Project is made possible in part with support from Margaret A. Cargill Philanthropies to the West Virignia Public Broadcasting Foundation. Subscribe to the podcast to hear more stores of Appalachian folklife, arts, and culture.
Meet the West Virginian Who Wrote the Christmas Classic 'Frosty the Snowman'
This article was originally published by West Virginia Public Broadcasting in December 2014.
The man behind the lyrics of Frosty the Snowman, Peter Cottontail, and Smokey the Bear is none other than West Virginian Jack Rollins. His song about a magical snowman coming to life and bringing holiday cheer can be heard almost everywhere this time of year. In 2011, Rollins was inducted into the West Virginia Music Hall of Fame.
Rollins, who's also known as the real Frosty the Snowman, was born in Scottdale, Pennsylvania on September 15, 1906, but he moved to Keyser, West Virginia with his family when he was three or four years old. He ended up growing up in Keyser and as an adult lived in New York, California, and Ohio, but West Virginia was always special to him.
"Your home is where your heart is, and his mother and his brother settled in Keyser, West Virginia," said Rollins fan, Champ Zumbrun, "and he would come home at every opportunity while his mother was alive. In fact, if you go to [the] cemetery, he's buried next to his mother."
Zumbrun wrote an article in 2011 about Rollins' life that was published in Allegany Magazine in Cumberland, Maryland. He's a retired forest ranger from Maryland and he's also a musician.
While working as a forester, he performed Jack Rollins' song, Smokey the Bear every weekend for more than 30 years.
In 2011, Zumbrun received a surprising phone call.
"The chief of the Smokey Bear Program nationally learned that Jack Rollins, who wrote Smokey the Bear was going to be inducted to the West Virginia Music Hall of Fame," remembered Zumbrun, "and they were reaching out to the National Forest Service office to find out some information about Jack Rollins, and since I had been researching Jack Rollins, they contacted me, and connected me with the West Virginia Music Hall of Fame, and they asked if I would share my information with them, and I said sure, anything to help Jack out."
The West Virginia Music Hall of Fame also learned about Zumbrun's history singing Smokey the Bear, so the group asked him if he would sing at Rollins' induction ceremony. Zumbrun said yes.
The West Virginia Music Hall of Fame was, however, still looking for a family member to accept the award on Rollins' behalf.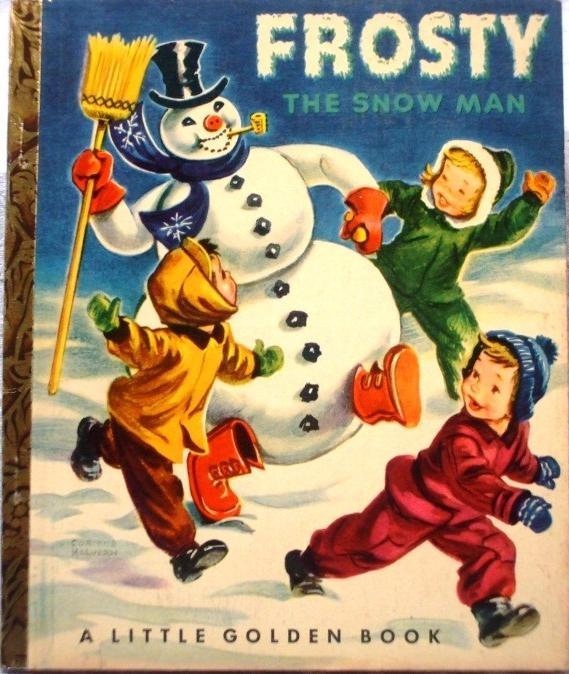 That's when Jack Rollins' grandson, James Busemeyer from Ohio, came forward to accept the award for his grandfather.
The song has become a classic. This time of year, we hear Frosty the Snowman playing on radio, television, movies, and in shopping centers.
It was written in 1950, but is still so popular today, and Champ Zumbrun knows why.
"Because I think people always need songs that are happy and have a message of joy and that's what Jack was all about. If you want to know Jack Rollins just look at the lyrics in his songs. They're happy, they're innocent, they're full of joy. I think people always need to celebrate and be reminded that life's not drudgery, and there's a spirit in life that's joyful, and those songs if you listen to them are joyful, happy songs."
The music of Frosty the Snowman, Peter Cottontail and Smokey the Bear was composed by Rollins' partner, Steve Nelson.
Walter E. "Jack" Rollins died on January 1, 1973.