Fact-check: Does China Burn Seven to Eight Times as Much Coal as the U.S.?
When former New York City Mayor Michael Bloomberg announced that he would spend $500 million on a Beyond Carbon initiative, West Virginia Gov. Jim Justice joined energy industry representatives at a press conference to denounce the effort.
The project Justice criticized aspires to retire all coal use by 2030 while securing an economic future for fossil fuel-producing communities.
In an op-ed announcing the effort, Bloomberg — who has since entered the Democratic presidential primary race — touted an existing partnership between Bloomberg Philanthropies and the Sierra Club that has "shut down 289 coal-fired power plants since 2011."
The new initiative would build on this effort and also "work to stop the construction of new gas plants," Bloomberg wrote. "By the time they are built, they will be out of date because renewable energy will be cheaper."
Justice, a Republican whose state is a leading producer of coal and other carbon-based energy, said the effort could be "catastrophic" to West Virginia. (Justice himself also inherited a coal mining business and continues to own several mines.)
At one point in the press conference, Justice was asked about the environmental impacts of fossil fuels. He responded by questioning the value of the United States cutting back if China is using carbon-based fuels on full blast.
"How does it make sense that in China, they're burning seven to eight times the amount of coal that we're burning in the United States?" Justice asked.
Is his comparison accurate? Justice's ratio is not far from the reported data, though it's worth noting that the reason for the discrepancy has a lot to do with the fact that China has a much larger population. (His office did not respond to inquiries for this article.)
A look at the numbers
There's little doubt that, as a whole, coal consumption by China is several times larger than it is in the United States.
According to the 2019 BP Statistical Review of World Energy, China's coal consumption was 1.91 billion tons of oil equivalent in 2018. In the same year, the United States consumed 317 million tons. That means China consumed about six times as much coal as the United States did.
Another data source, the Global Energy Statistical Yearbook 2019 published by Enerdata, an energy intelligence and consulting firm, found a nearly identical difference — China was about six times larger than the U.S. in consumption of coal and lignite (a low-efficiency type of coal).
Justice didn't mention it, but another country, India, also consumes more coal than the United States does — 452 million tons of oil equivalent, according to the BP review.
What about population?
We'll note that the difference in coal consumption between China and the United States is partially explained by the two countries' differences in population — China has about 4.3 times higher in population than the United States.
However, adjusting for population is less significant in this case than it often is, given Justice's point.
Justice is arguing that greenhouse gases do not stay within national borders; they spread everywhere in the atmosphere. So any decreases in carbon emissions made in the United States will be a relatively small factor compared to China in the global context — regardless of which country has a bigger population.
Indeed, according to the BP data, China accounted for just over half of the world's coal consumption in 2018. In addition, the same data shows that China's coal consumption increased by 1.8% between 2007 and 2017, whereas U.S. coal consumption declined by 4.9%.
Unlike the United States, which has a lot of economically competitive natural gas under development, China doesn't, said Anna Mikulska, a nonresident fellow in energy studies at the Center for Energy Studies at Rice University's Baker Institute for Public Policy.
"China has to go against the economic calculus to retire at least some of the coal if it wants to lower emission levels," she said. "This is why we see China still consuming so much." Mikulska added that the current trade friction with China "does not help, as China turns more to domestic or regional resources due to energy security concerns. One of them is coal."
That said, the Paris-based International Energy Agency, has projected that China's coal consumption will indeed decline over the next two decades. "This new direction will have consequences that are no less significant for China and the world than its earlier period of energy-intensive development."
Our ruling
Justice said that China today is "burning seven to eight times the amount of coal that we're burning in the United States."
The actual number is a little bit less than that — China consumes roughly six times the amount of coal as the United States does. But that's pretty close. We rate the statement Mostly True.
This article was originally published by PolitiFact.
Fact-check: Is Jim Justice the First West Virginia Governor to Fight For Teacher Pay Raises?
West Virginia Gov. Jim Justice, facing a competitive Republican primary in 2020, recently introduced an ad touting his accomplishments in office, including a focus on K-12 education.
The ad, released in a Dec. 4 tweet, features several West Virginians reading off a series of scripted accomplishments from Justice's tenure. One of the accomplishments, voiced by a teacher, is that "Jim Justice is the first West Virginia governor to fight for pay raises for educators."
This struck us as odd since governors of all parties regularly tout their support for teachers — a group that's popular with voters and, in many states, a politically powerful constituency.
Teacher salaries have been an especially sensitive issue in West Virginia. Between 2005 and 2017, West Virginia teacher salaries never rose higher than 44th in the nation. That history set the stage for a 2018 teacher strike in West Virginia, which was the state's first major K-12 walkout in almost three decades. Justice eventually signed a 5 percent pay bump, which is more than the legislature had offered prior to the strike.
So is Justice really the first West Virginia governor ever to push for teacher pay raises? His office did not respond to inquiries for this article, but we found that each of Justice's five immediate predecessors either proposed or enacted teacher pay raises.
Gov. Earl Ray Tomblin, Democrat, 2011-2017
In his first state of the state address in 2011, Tomblin proposed a one-time, across-the-board $800 increase for teachers. "Frankly, it should be more and we need to strive for a day when our teachers are paid at a rate equivalent to the most important role they play," he said in the speech, according to the Associated Press.
In 2014, despite offering few increases in his relatively austere budget proposal, Tomblin did include a 2 percent pay raise for teachers. The bill he eventually signed contained a $1,000 raise for teachers for the 2014-2015 school year.
Gov. Joe Manchin, Democrat, 2005-2010
As governor, Manchin — now a U.S. Senator — periodically sparred with teachers' unions over the size of his salary increase proposals. But both Manchin's Senate office and West Virginia teachers' unions agree that he proposed a teacher salary increase and signed it into law.
During his tenure, Manchin raised teacher salaries by 3.5 percent, according to a joint statement released by the West Virginia Education Association, the American Federation of Teachers-West Virginia, and the West Virginia School Service Personnel Association when the groups endorsed Manchin's Senate reelection bid in 2018. Manchin's Senate office cited the same 3.5 percent increase when we inquired.
The legislation Manchin signed also improved teachers' annual salary increments and allowed educators to move from a 401(k)-style defined contribution plans to a defined-benefit system.
Gov. Bob Wise, Democrat, 2001-2005
In his 2001 state of the state address, Wise proposed raising teacher salaries by $1,000, plus $2,500 in incentives. "Teachers are the heart of the educational system. We must honor the work of our teachers," he said.
After leaving the governor's office, Wise became CEO of the Alliance for Excellent Education, an education advocacy group.
Gov. Cecil Underwood, Republican, 1997-2001
In his 1998 state of the state address, Underwood proposed giving teachers a $750 pay raise. He signed a three-year pay raise into law later that year.
Gov. Gaston Caperton, Democrat, 1989-1997
Caperton was governor during a divisive, 11-day West Virginia teacher strike in 1990, but he ended up presiding over a significant pay increase for the state's teachers. The strike was settled when all parties agreed on a $5,000 pay increase phased in over three years.
Last year, PolitiFact reported that most significant recent improvement in West Virginia teacher pay compared to other states came between 1990 and 2000, a period during which Caperton and Underwood were in office.
Like Wise, Caperton headed an education group — the College Board — after serving as governor.
Our ruling
Justice's ad said he's "the first West Virginia governor to fight for pay raises for educators."
That's far off-base. Seeking pay raises for teachers is practically a rite of passage for governors, and West Virginia is no exception. Not one, not two, but each of Justice's five most recent predecessors — Tomblin, Manchin, Wise, Underwood and Caperton — either proposed a teacher pay raise, signed one into law or both. We rate the statement Pants on Fire!
This article was originally published by PolitiFact.
Fact-check: Is Jim Justice Right About Growth in West Virginia Tourism?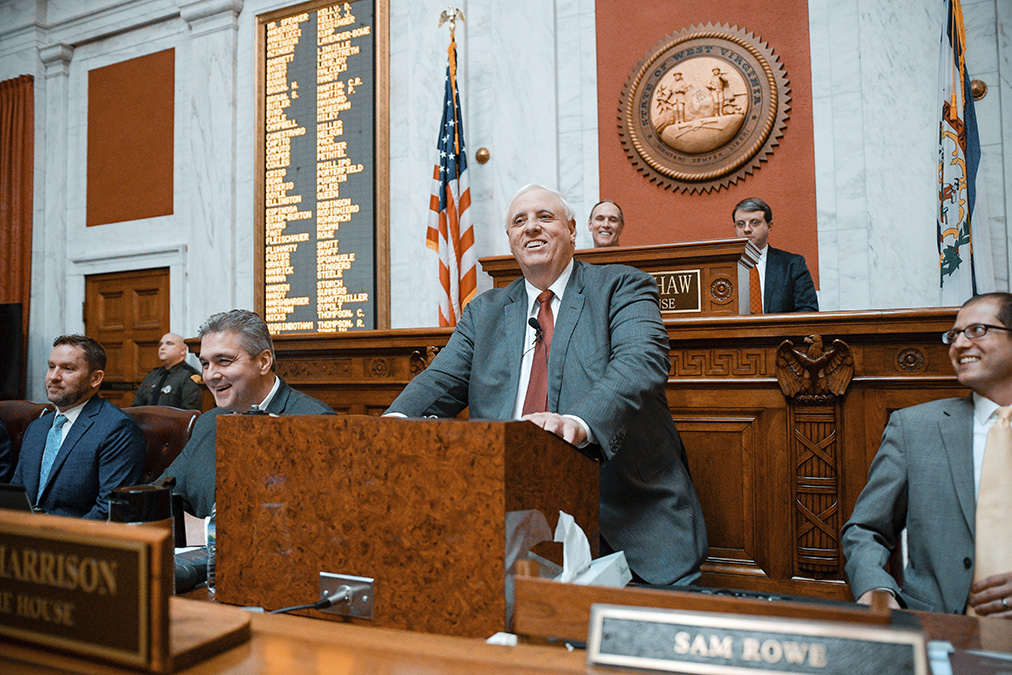 West Virginia Gov. Jim Justice took to Facebook in October to tout gains in his state's tourism industry.
"When I took office, I made tourism a top priority because I knew it had all the potential in the world," Justice wrote in his post. "Today I am proud to announce that West Virginia's tourism industry has grown for the second consecutive year, reversing years of decline and outpacing national growth by 58%! Way to go West Virginia Tourism!" 
The post linked to a press release that provided additional detail and cited a study conducted by  Dean Runyan Associates, an economic consulting firm that has examined the state's tourism industry annually since 2000.
A year ago, we fact-checked how well Justice described the previous year's statistics and rated it Mostly True, because Justice glossed over some of the report's negative findings.
How about this year? Let's take a look, point by point. (Justice's office did not respond to inquiries for this article.)
"West Virginia's tourism industry has grown for the second consecutive year… "
This is accurate. 
The report found that overall spending on tourism in West Virginia grew from $4.14 billion in 2016 to $4.28 billion in 2017 to $4.55 billion in 2018. That's an increase in the most recent year of 6.5 percent, easily exceeding the rate of inflation.
Spending also grew for the second straight year if you set aside gambling revenue. It rose from $3.48 billion in 2016 to to $3.63 billion in 2017 to $3.91 billion in 2018. That's an increase in the most recent year of 7.5 percent. This also exceeded the rate of inflation.
"… reversing years of decline …"
This is accurate, too. According to the data in the report, the rise over the past two years came after four consecutive annual declines, as this chart shows:
Fact-check: Does West Virginia Rank Sixth in the Nation in At-Risk Youth?
Woody Thrasher, a Republican who is challenging West Virginia Gov. Jim Justice in the 2020 GOP primary, took to Twitter to call out the state's level of at-risk youth on his opponent's watch.
"'West Virginia is sixth overall in the average number of at-risk youth.' Let's turn this around and grow our workforce by supporting post-secondary training programs. #TimeToGetToWorkWV #wvpol," Thrasher tweeted.
Here, we won't address whether or how much post-secondary training programs can help at-risk youth. Instead, we'll focus on the credibility of his statement that "West Virginia is sixth overall in the average number of at-risk youth."
There are certainly warning signs about West Virginia's youth, many of them traceable to the opioid crisis. We have rated as True the statement that West Virginia "has the highest overdose rate per capita of any state in our nation."
The drug epidemic is "the driving force in (the) child welfare crisis," the West Virginia Department of Health and Human Resources said in a statement in February 2018. The department said that the opioid crisis has made it difficult to help get children back on their feet and is making them more prone to mental-health issues.
But how does West Virginia compare nationally?
In his tweet, Thrasher linked to a July 18 editorial in the Exponent-Telegram newspaper of Clarksburg. The editorial includes the exact sentence Thrasher quoted, and it says the source is the most recent edition of an annual survey by the website WalletHub. Thrasher's campaign also confirmed to PolitiFact West Virginia that the WalletHub survey was the source.
As Thrasher indicated, the WalletHub report does show West Virginia ranking sixth in at-risk youth, behind Louisiana, the District of Columbia, Mississippi, Arkansas, and Nevada.
The website determined the overall rankings by weighting 15 different metrics. They include the population aged 18 to 24 years who are not attending school, not working and have no degree beyond a high school diploma; the labor force participation rate, the poverty rate, and the homelessness rate for the population aged 16 to 24 years; the rate of teen pregnancy; the percentage of those under age 21 who are detained in residential facilities in the criminal justice system; and the percentage of youth who are overweight, who use drugs, who have alcohol problems, or who have clinical depression.
We reached out to several of the academic advisers to the WalletHub study. The only one to answer us was Rigaud Joseph, an assistant professor of social work at California State University San Bernardino. However, Joseph said that he "did not have any statistical input in the study. WalletHub decided on the criteria for the rankings."
So we turned to independent experts, who said that WalletHub's study was credible.
"The WalletHub methodology seems fine and it generates a credible ranking of states," said Gary Natriello, a professor of educational research, sociology, and education at Teachers College, Columbia University. "Other rankings would be possible if different combinations of indicators were used, but West Virginia would likely be among the states with the most at-risk youth, as Thrasher's statement suggests."
Our ruling
Thrasher said that "West Virginia is sixth overall in the average number of at-risk youth."
He is correctly citing a study by the website WalletHub that came up with its ranking by using 15 metrics on youth health, employment, and education. An expert said this is a reasonable way to compare states against each other, though it's hardly the only way; the use of other data points or weighting of the factors could produce somewhat different rankings.
We rate the statement Mostly True.
This article was originally published by PolitiFact.