There's a place in southern West Virginia that many consider holy ground. For nearly 70 years, gospel music fans have gathered on this mountaintop just south of Summersville Lake for weekend concerts featuring singers from all over West Virginia and its surrounding states.
This is the annual West Virginia Mountain State Southern Gospel Convention.
It doesn't take long before you realize the people who come here feel a deep connection with southern gospel music.
"It's the old-fashioned way of worship," said Pat Coberly, the convention's second vice president. "And southern gospel music is more that way. It tells of happenings — it tells of trials, troubles, it tells of wonderful things that happen. It's more down to earth, more earthy than a lot of your music."
"It's the only kind, in my opinion, that can get in your soul. It moves you," said Jim O'Dell, a singer who's been coming to the convention for years.
There is also a deep love for the land here.
The camp is in Mt. Nebo, which takes its name from the Old Testament mountain where God gave Moses a peek at the Promised Land. In the same way, longtime attendees see these 48 acres as a little piece of heaven.
"It is a home," said Jim Nelson, the convention's first vice president. "It's not like next weekend there will be football there and the following weekend basketball or a country music concert, or something like that. This is dedicated to gospel music and to the Lord. In fact, we call the shelter where the sing is: 'The Tabernacle.' And treat it as such. Set aside for singing and fellowship and just praising the Lord."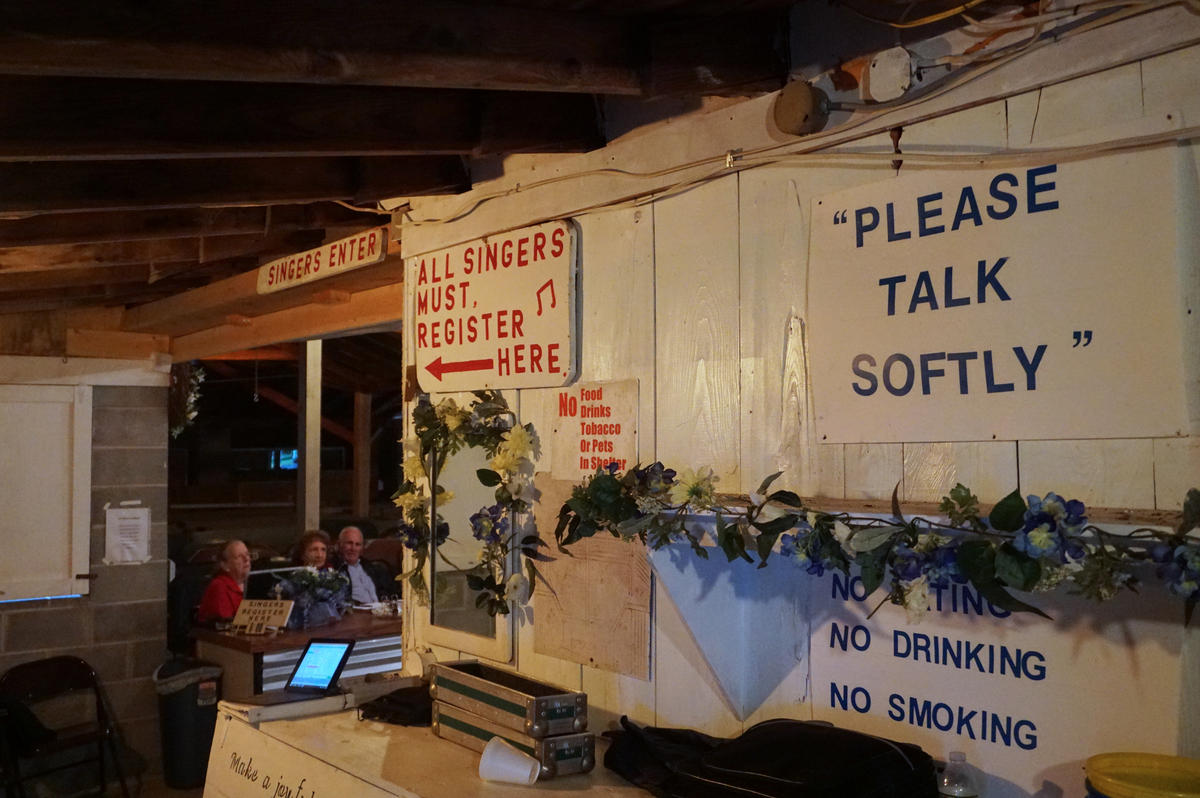 Southern gospel musicians and fans make their way to the tabernacle on a rainy summer Friday night. Singers trickle into the green room behind the stage, taking their place in a row of old wooden theater seats, each with a number on the back. Those numbers are important because that's how singers decide the order in which they'll sing.
"If you wanna go first, you're in no. 1 chair. If you wanna go fourth, you're in no. 4 chair. I picked number four because Terry said 'I can't get there by 7, don't book us first," Odell said.
O'Dell has been performing here for years with several groups. He's been singing with the trio Saved By Grace for the past three years.
"It's a good atmosphere. And the people are so nice over here. It's just a wonderful place to sing and fellowship," he said.
Fellowship. That's a word you hear a lot around here.
Although the convention is strictly for Christian music, it is independent of any church organization. For longtime convention attendee Linda Fitzwater, who lives about 25 miles away in Danese, West Virginia, that independence is one of her favorite parts.
"There's no denominations here. There's no Methodists, there's no Baptist, there's no Pentecostal. Everybody worships the Lord as one, which is the way it should be," she said.
They worship together and they work together.
"We dress up and have the sings but any other time we're raking leaves, mowing grass, cleaning bathrooms, hauling rocks, all that. It takes it all to keep it a'going," second vice president Pat Coberly said. "And it's all volunteer. We're all volunteer work. Nobody gets paid for anything, except for the Lord. And the blessings from the Lord."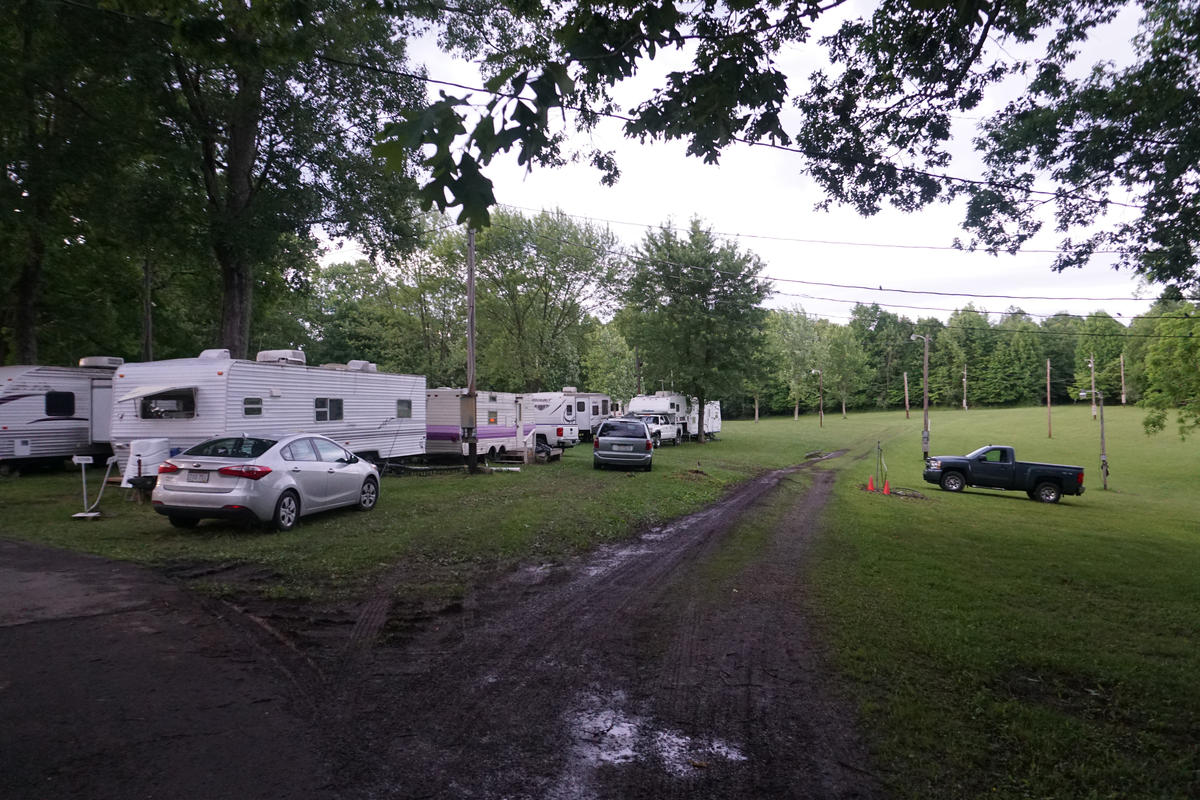 Most things at the Convention are free — except for the food at the concession stand and souvenirs at the bookstore. 
No one has to pay admission. There's no fee to park. The convention doesn't even charge campers to hook up to electricity, water, and sewer offered in the campground.
Coberly says that's because the convention serves a higher purpose.
"We're here for the Lord. This is God's. This is not ours," she said. "We're just workers for him. This belongs to him. And we're here to spread his word through gospel music."
Catch that? Not "Christian" music. "Gospel," music. There is a difference.
That Old-Time Religion
Most of the Christian music you find on the radio now is known in the music industry as "contemporary Christian music." This style has been around since the 1960s, when artists started mixing the sounds of pop and rock music with religious lyrics.
But the West Virginia Mountain State Southern Gospel Convention was built on a completely different, and older, genre of sacred music known as southern gospel.
You can trace the roots of the style to one songbook, published in the year 1900 in the tiny town of Lawrenceburg, Tennessee.
It was called "Gospel Chimes," and it was the creation of singing instructor James D. Vaughan. The book contains songs by Vaughan and other Christian songwriters of the day, arranged in four-part harmony.
Vaughan sent out quartets to perform concerts featuring the bouncy tunes from his songbook.
As the company grew, he published additional songbooks and started additional quartets. It wasn't long before other publishers got in on the act. This inspired other quartets to head out on the road and churches to organize singing conventions, where different congregations would come together and sing their favorite songs.
That's how the West Virginia Mountain State Gospel Sing got started back in 1949.
Held at the Nazarene Church Camp, just outside Summersville, it was supposed to be a one-time thing. But the sing was such a success that organizers decided, right there by the camp's split rail fence, to make the convention an annual occurrence.
It eventually out-grew the Nazarene Church Camp and bounced between a few locations before the convention purchased 48 acres of land in Mount Nebo.
Over the years, the event eventually shifted away from congregational singing to focus more on performances by southern gospel quartets. And that's when the crowds really started flocking to the Tabernacle.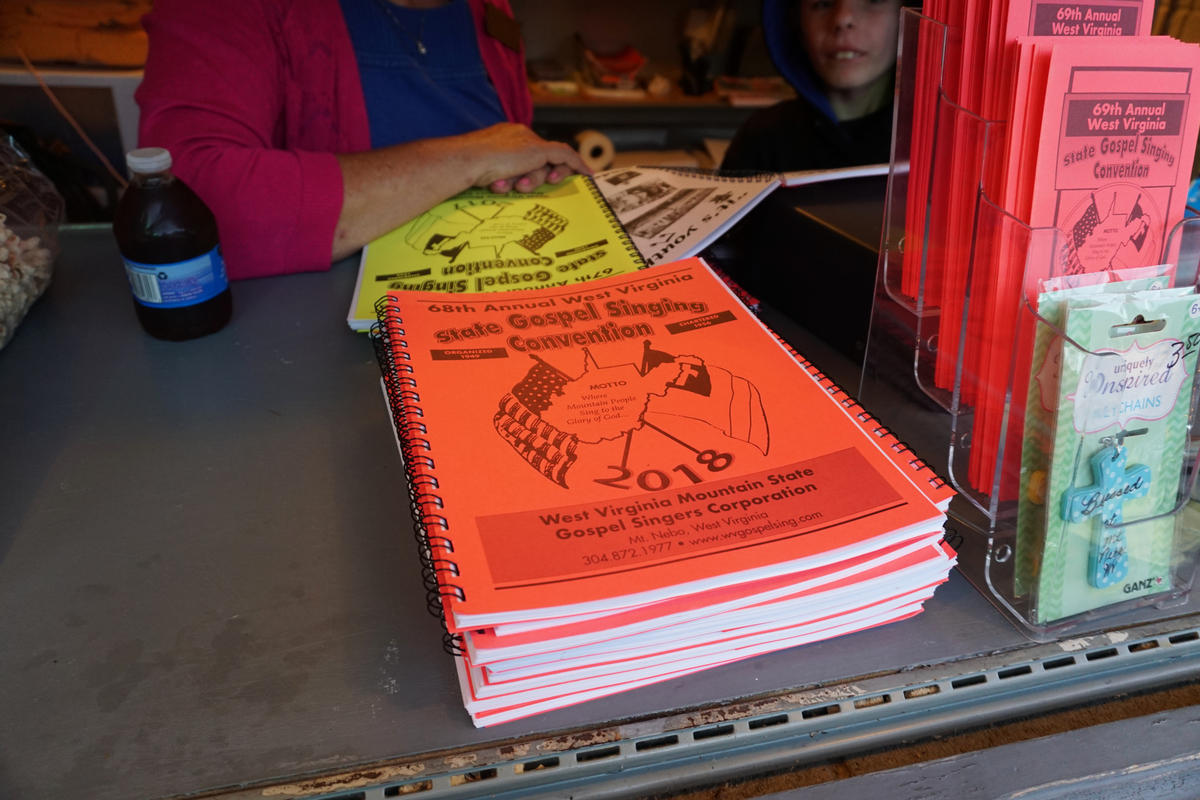 Fitzwater, now 77, says she started coming to Mount Nebo when she was just 16.
"I can remember when I was a teenager that these fields up here where they park the cars would be full. There would be thousands. Not hundreds, but thousands of people here."
The 1970s is when the convention really seemed to hit its stride. Singer Eddie Withrow remembers one night when prominent southern gospel songwriter Conrad Cook wasn't quite finished when the convention was over.
"It was about 2:30 in the morning and the singing had just stopped here in the tabernacle. And he said, 'If I had a piano, buddy we'd sing.' We pulled a piano off our bus and set up a little sound system and we got right out there. There must have been probably 150, 200 people around in a circle in their lawn chairs," Withrow said.
Precious Memories
Attendance at the convention remained strong through the 1980s and 1990s. That's when I first started going. I remember stepping onstage with my family's southern gospel group, The Bobby Adkins Family, and looking out at what seemed like an endless sea of people.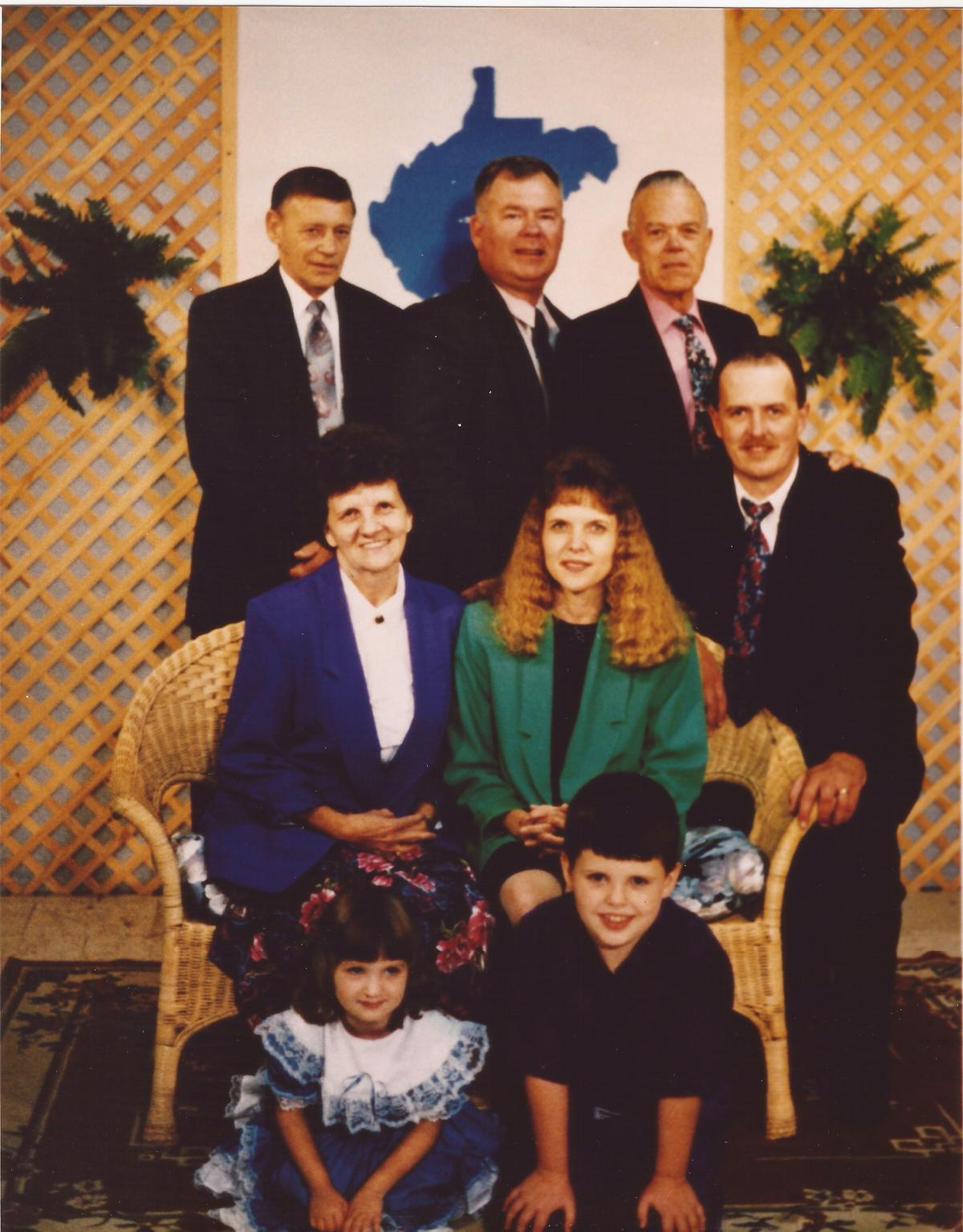 But things started to change. Radio shifted away from southern gospel music, as did some churches. Older fans started dying off. In the 1990s, average attendance was around 15,000 between all three sings. By the year 2000, that figure had dropped to about 10,000 people. And it's continued to decline.
Each sing now draws just a few hundred people. I hadn't been to Mount Nebo in years, but on the night I was there, there were almost as many singers waiting in the back as there were audience members to hear them.
The people running the convention aren't content to let their tradition die on the vine, though.
Larry Neff was elected convention president last year. He has some ideas about how to get the convention thriving again. The organization held its first-ever bluegrass gospel sing in May 2019, which attracted a modest but promising turnout. They're also upgrading the campgrounds in hopes to attract more campers.
These steps appear to be working. Neff says he noticed a slight increase in attendance in 2019. But he knows the long-term future of the Convention is up to the young people.
"If you don't have young people to come up and carry it on… like now most of us are over 50. You've gotta get young people interested in something if you want it to grow and keep on growing," Neff said.
Neff acknowledges that getting young people involved will likely require incorporating some of the more modern Christian music young people seem to enjoy — while still finding a way to stay true to the Convention's roots.
"I believe we're going to have to get contemporary music in here. Bluegrass gospel. And still keep it the old fashioned way. Somehow we're going to have to mix those three together."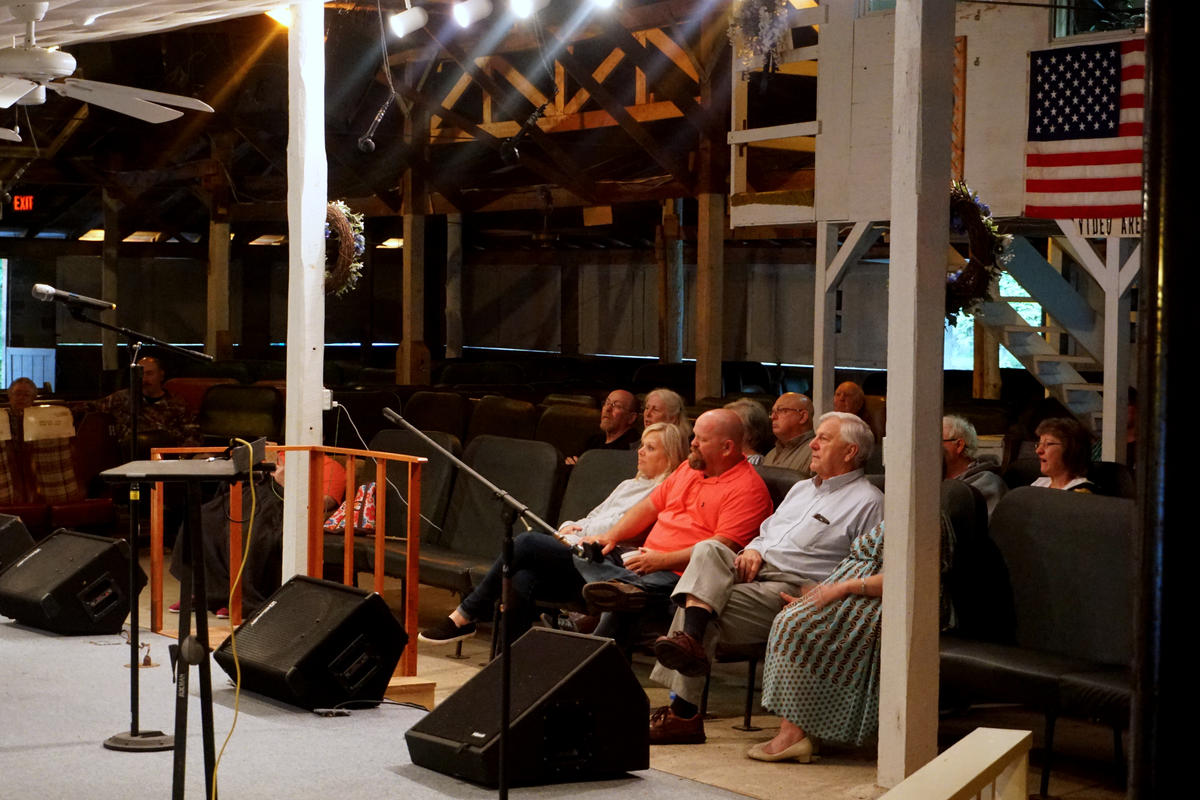 In the meantime, the folks on Mount Nebo are doing their best to make it through. While I was there, Nelson took the stage to explain some recent bad news the board received.
"We found out our insurance we have been carrying has been very lacking in the amount of coverage we need to have," he told the tiny crowd. "So to bring our insurance up to date is an increase of about $3,000. We've got to cough up some money."
So what do the organizers do? The thing they've always done. Nelson asks Withrow to say a prayer. Then, as the offering plates make their rounds, the crowd joins together in an old, familiar song:
"When we've been there 10,000 years,
Bright shining as the sun,
We've no less days to sing God's praise
Than when we first begun."
This story was originally published by West Virginia Public Broadcasting. it is part of the Inside Appalachia Folkways Reporting Project, a partnership with West Virginia Public Broadcasting's Inside Appalachia and the Folklife Program of the West Virginia Humanities Council.  
The Folkways Reporting Project is made possible in part with support from Margaret A. Cargill Philanthropies to the West Virginia Public Broadcasting Foundation.  Subscribe to the podcast to hear more stores of Appalachian folklife, arts, and culture.