The Water is Cleaner but the Politics are Messier: A Look Back at the Clean Water Act Movement After 50 Years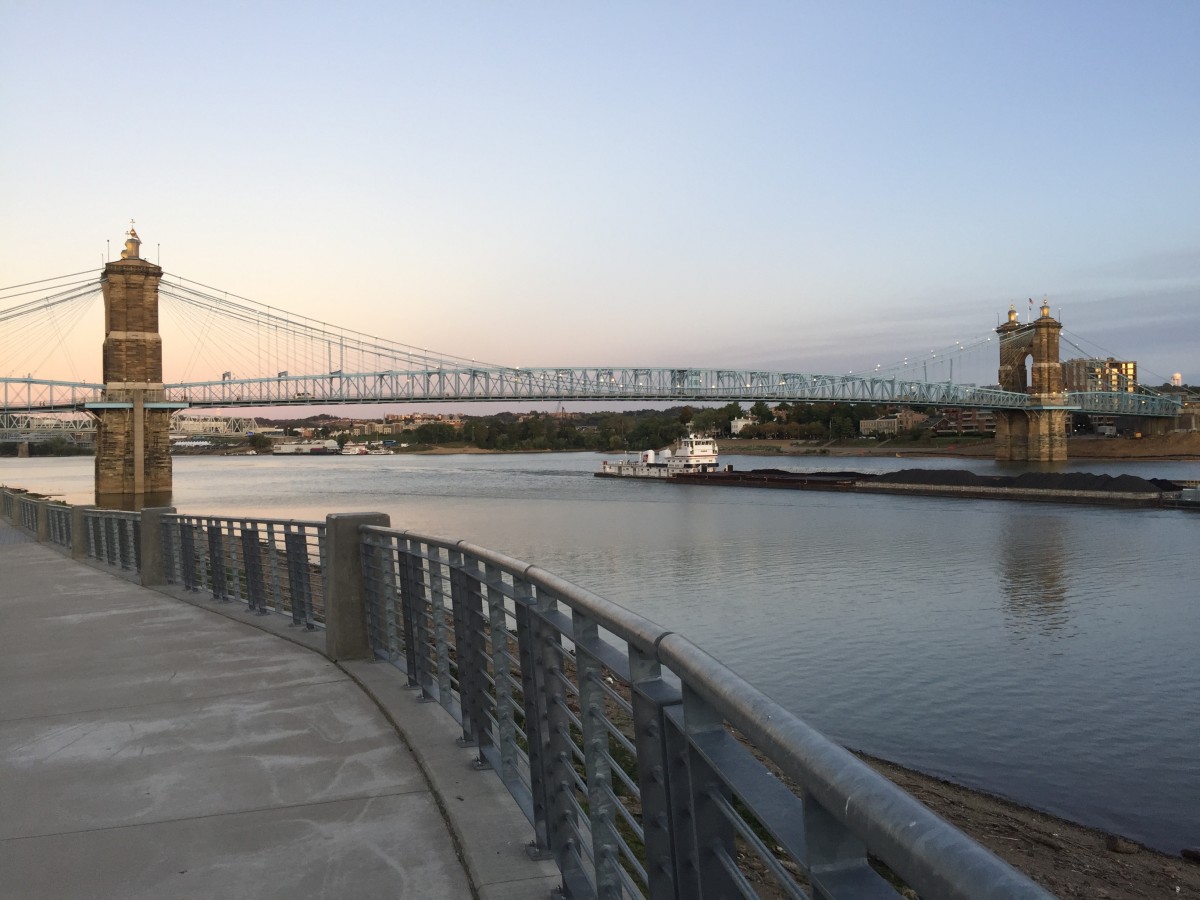 In June 1969, a Time Magazine article garnered national attention when it brought to light the water quality conditions in Ohio: a river had literally caught fire.
Oil-soaked debris ignited after sparks, likely from a passing train, set the slick ablaze. Local media actually didn't spend much time reporting on the fire. This was, after all, at least the 13th time a waterway had been set ablaze in Ohio alone, not to mention river fires in Philadelphia, Baltimore and other industrial cities. Time Magazine didn't even run pictures of this specific fire. Instead, they used stock photos of another fire that happened in the same area in 1957.
But America in 1969 had had enough with dangerous rivers. At the national level, what would eventually become the Clean Water Act passed with broad bipartisan support in 1972. In fact, the law was so popular on both sides of the aisle that when President Richard Nixon eventually vetoed the bill, Congress overrode his veto.
Today, the quality of river water has improved markedly since the early 1970s, though critics say the red tape imposed through the Clean Water Act has become burdensome.
The Clean Water Act has not been altered much over the past 50 years, though how we interpret the act has recently changed dramatically. And water quality concerns continue to mount as studies have shown that some pollutants, such as PFAS, are a grave concern to public health and aren't regulated by the Clean Water Act.
Limiting pollution, raising awareness
Though a Cuyahoga River fire near Cleveland helped to spark the Clean Water Act movement, arguably the law had an even greater effect on the Ohio River.
The Ohio drains the southern three-quarters of Ohio, as well as parts of 14 other states. A history of early industrialization, combined with legacy stormwater systems and heavy agricultural use, led to the Ohio River being named the "most polluted" river in the United States as recently as 2015.
Still, today the river is much cleaner than it was. Residents also have more access to water quality information: They can look up what contaminants their drinking water contains or if the Ohio River has tested positive for harmful bacteria.
The Clean Water Act [CWA] requires a permit for any regulated pollutants dumped into large bodies of water. Congress authorized the general framework to protect the quality of local waters and delegated its administration to the U.S. Environmental Protection Agency [EPA] and the states. For example, the EPA publishes scientifically justified limits for various pollutants under the CWA. States can write standards for those pollutants that are at least as protective as federally recommended criteria or more strict.
For example, E. coli bacteria can't exceed 126 colony-forming units of bacteria per 100 milliliters. The EPA recommended the standard first in 1986, based in part on studies of a sewage-contaminated Ohio River beach near Cincinnati where swimmers got sick. In that particular case, the median coliform density of the water registered 2,300 units of bacteria per 100 milliliters.
The CWA significantly reduced the amount of contaminants found in local streams, though even in 2019, the United States still has not complied with the pollution and quality goals it set for 1983.
Notably, the CWA exempted most agricultural uses from permit applications, so that farmers spraying fertilizer would not need to seek a permit to do so. Nutrient overload, however, is a "widespread and worsening problem," according to EPA reports.
Since its inception, the CWA has instituted water quality standards for 150 different pollutants, such as toxic chemicals, nitrogen and pathogens. Altogether, the United States has spent about $129 billion on water infrastructure, including Clean Water Appropriations and water treatment plant financing.
Recent rollbacks
The Clean Water Act says it is a comprehensive program "for preventing, reducing, or eliminating the pollution of the navigable waters and ground waters and improving the sanitary condition of surface and underground waters."
But what exactly are "navigable waters and ground waters?"
This question went all the way to the U.S. Supreme Court in 2006, in Rapanos v. United States, when the Supreme Court had to decide whether four former Michigan wetlands counted as regulated bodies. They each laid near ditches or man-made drains that eventually emptied into navigable waters, though they weren't directly adjacent to those rivers.
The court noted that the CWA made it illegal to dump without a permit into "navigable waters," and the statute defines "navigable waters" as "the waters of the United States, including the territorial seas."
Four justices decided that "waters of the United States" could only include continuously flowing bodies of water. Another four justices disagreed, noting that the Supreme Court had previously ruled that the entire watershed is key to each navigable water. Justice Anthony Kennedy wrote a concurring opinion, saying a wetland must possess a significant nexus to a navigable water.
But what exactly is a "significant nexus?"
Over the next several years, the term sparked a plethora of lawsuits. The Obama administration solicited a 25-member review panel to look at the results of 1,200 studies and to solicit the advice of 49 experts for an opinion on exactly which wetlands should be covered.
The EPA then came up with the 2015 "Waters of the United States" rule based off of that opinion. However, due to litigation, the WOTUS rule currently only applies in 22 states and federal territories. Then, in September 2019, the Trump Administration repealed the rule.
As a result, at least 16 million acres across the United States lost protections, with the possibility of more losses to come.
"We already have lost in Ohio, historically, around 90 percent of our wetlands," said Mažeika Sulliván, director of the Wilma H. Schiermeier Olentangy River Wetland Research Park at Ohio State University. "And these wetlands are what helps flood control. These wetlands sequester nutrients, so that nutrients coming off of [agricultural] fields or other types of things, wetlands pick these up and transform them before they get in the streams and rivers downstream and end up in the Gulf of Mexico."
Sulliván was on the panel that reviewed the changes and suggested the broader definition of water bodies to be covered by the CWA. Sulliván said Ohio was an excellent case study because it has had water crisis after water crisis: oil spills, algal blooms and mussel die-offs. "We have all these problems that we're dealing with, we have climate change that's exacerbating it, and then to take away the few wetlands that we do have, the remaining wetlands, from a scientific standpoint is fully unsupported," he said.
Sulliván said seasonal rivers need to be included, too, because anything dumped into a dry river bed will still pollute the river farther down when the rain comes.
Tony Francois, senior attorney at the Pacific Legal Foundation, disagreed with regulating "intermittent and ephemeral" streams. Francois said the CWA has done a "great job" at cleaning up local rivers, but Congress simply didn't intend to broaden the scope past navigable waters. Ranchers and farmers are often caught in the crosshairs because they don't know which regulations apply to them.
"Everybody struggles with whether or not a given aquatic feature on private property is covered or not. There's a very expensive consulting process that you have to go through to get the government to tell you 'yay' or 'nay,' one way or another," he said.
For example, his client Joseph Robertson was criminally convicted after digging drainage ponds. The case went to the Supreme Court, though it was dismissed after Robertson passed away this year.
"Right now, what's developed is this partisan back and forth between administrations of different political parties of how broadly or narrowly to define this term," Francois said. "That's not good for the regulated public, and that's not good for the environment either."
In April, the Trump Administration issued an executive order directing the EPA to update its regulations on the Water Quality Certification process under the CWA as well. The proposed changes would, among other things, waive the required permit to dump regulated pollutants into large bodies of water if a state or tribe didn't issue one in the legally required period. It would also limit environmental aquatic impact statements — for example, by not noting air quality or transportation effects.
The public comment period on the measure lasted from Aug. 22 to Oct. 21, with nearly 4,000 comments registered. A new regulation is expected later in the winter.
"That's a really interesting one because it's probably the most important lever for states to weigh in on federal permitting … including [for] some of the natural gas infrastructure that's going on in Ohio," said Madeline Fleisher, an environmental lawyer at Dickinson Wright in Columbus and a former associate in the Environment and Natural Resources Division at the Department of Justice. "So I think that will be really important for folks in Ohio to keep an eye on."
Looking to the future
The biggest difference between now and before the Clean Water Act is that citizens who have grown up with it have come to expect clean water, and they aren't happy when the river gets polluted, said Howard Learner, president of the Environmental Law and Policy Center, the largest Midwest public-interest environmental legal advocacy group.
"I think we're at a transition point now where there is an overwhelming public consensus on the need for businesses to reduce pollution in community waterways and for our state and federal governments to step up by implementing enforceable regulatory standards leading to cleaner, safe drinking water, robust fisheries and enjoyable outdoor recreation," he said.
The Environmental Law and Policy Center sued the U.S. EPA for failing to enforce the CWA after toxic algal blooms near Toledo in 2017. The Ohio EPA later acknowledged that western Lake Erie waters were impaired. The parties involved are still sorting out exactly how to prevent more algae.
So far, the EPA has finalized 46 deregulatory actions under the Trump administration, and EPA Administrator Andrew Wheeler has publicly stated that his goal is to continue pursuing a similar policy.
For this article, an EPA spokesman issued a statement, saying that, "The EPA's existing certification rules have not been updated in nearly 50 years, were promulgated before Section 401 [the CWA permitting process] was enacted, and are inconsistent with the text of CWA Section 401. The EPA is proposing to modernize and clarify the timeline and scope of CWA Section 401 certification review and action to be consistent with the plain language of the CWA."
At the state level, water quality issues are a perennial concern. The CWA so far does not regulate PFAS (per- and polyfluoroalkyl substances) used in firefighting foam, food packaging and industrial processes. In the last week of September, Gov. Mike DeWine ordered the Ohio EPA and Department of Health to develop a plan for testing drinking water for PFAS, due Dec. 1. Neighboring Pennsylvania is in the process of testing more than 300 drinking water sources across the state to try to determine the scope of the contamination problem.
Dustin Herrmann, assistant professor of environmental studies at the University of Cincinnati, said environmental change will have to come from not only regulatory forces, but also market pressures. Herrmann got his Ph.D. in ecology, researching how urban landscapes affect the water and nitrogen cycles and focusing on how cities can use green infrastructure to meet CWA standards.
The Ohio River, he said, is a "defining feature of a large region."
"It's a shared identity. Wetland 732 in County E doesn't really have a shared identity. But the power we all see with the Ohio River — we have this shared care for it. Its restoration would be symbolic of something bigger."
Lucia Walinchus, the author of this story, serves as executive director at Eye on Ohio, the Ohio Center for Investigative Journalism. She can be reached at lucia@eyeonohio.com.
Good River: Stories of the Ohio is a series about the environment, economy and culture of the Ohio River watershed, produced by seven nonprofit newsrooms. To see more, please visit ohiowatershed.org.
Fighting Pollution and Apathy on the Lower Ohio: It's Not Easy Being a Southern Indiana Waterkeeper
When Jason Flickner was a kid, he built a dam on the creek behind his grandparents' house causing it to flood a neighbor's basement.
When he tells the story now — at 45 and living in the same house — he says his dam was a violation of the federal Clean Water Act.
The story captures Flickner's current situation: a life interwoven with the waters of southern Indiana and the house his grandfather built in this Ohio River town, intimate knowledge of one of the nation's premier environmental laws, and a good plan going a little sideways.
Flickner is the executive director of the Lower Ohio River Waterkeeper, a nonprofit he started in 2017 to be the voice for the stretch of the Ohio that runs 300 miles from roughly Louisville, Kentucky, to Evansville, Indiana. He's a career environmental advocate who doesn't see many opportunities in that line of work in this part of the country.
He's starting to think it's time to walk away, but he feels bound to New Albany. Both his grandparents have died; the future of the estate is uncertain, and Flickner doesn't want to let it go.
"I feel like not only am I walking away from the family homestead, I'm walking away from the fight that I've been putting up for 20 years," Flickner said from his sitting room, lit through large windows covered in nose prints from his dogs, Willow and Murphy.
To him, building the nonprofit to where it can pay him $40,000 a year is his best chance to keep the house his grandfather built while fighting for a river that he feels called to protect from industrial and agricultural pollution. "I don't want to give that up," he said.
Dan Canon, a New Albany civil rights attorney and all-around progressive advocate, said Flickner has earned his environmental bonafides.
"As far as people that are really slugging it out for the conservation movement in southern Indiana, he really is at the top of the pyramid," Canon said. "He would know more than probably anybody from here to Indianapolis about what that effort looks like."
And he's at home here. After saying goodbye to the dogs, Flickner drove through New Albany, smoke from his Winston cigarette rolling out the open window, giving a nonstop history lesson of the area: The glaciers that formed the hills (called "knobs") folded up against the city's west side, the exposed fossil beds at the Falls of the Ohio, the buffalo trace where millions of American bison once passed through while migrating between Kentucky and Illinois. This is the land that he knows.
But he's broke.
He started that day with an overdraft notice on his personal checking account. The organization hasn't raised enough to pay him a salary. He's paying bills through side work and an inheritance. He said the organization had around $1,000 in mid-September, which had dwindled to $50 by late October. The way he sees it, he may need to head to the coast where environmental work is more plentiful unless his board agrees to help make a $100,000 fundraising push over the next year.
"We're to that 'do or die' moment," he said.
He's not alone. Other red state Waterkeeper leaders — whose groups are all members of the national Waterkeeper Alliance — say they're also struggling to grow. Progressive grassroots organizing isn't impossible, but getting local buy-in can be tough. Waterkeeper's mission of "holding polluters accountable" can mean suing companies in a state where "Indiana is open for business" is a catchphrase for elected officials. And in Flickner's case, the Ohio River is so big and has been so polluted for so long, even like-minded people aren't convinced they can make a difference, he said.
But they can, Flickner said, by paying him to pull the levers built into the Clean Water Act.
From the Outdoors to Door to Door
Flickner was born in West Lafayette in north central Indiana and has had a bedroom in his grandparents' house since fourth grade. His grandfather was an outdoorsman who raised beagle hounds, ran rabbits on horseback, hunted mushrooms and fished. He'd wake Flickner up on Saturdays at 4 a.m. to net minnows for the day's fishing trip.
Flickner absorbed his grandfather's outdoor ethos, preferring time in nature as long as he can remember. He'd go on to earn a bachelor's degree from Indiana University with a specialization from its School of Public and Environmental Affairs, a well-ranked program in environmental policy.
His first advocacy job was canvassing, where he learned to talk quickly and connect with people.
It also gave him an early lesson in what it means to be a progressive activist in a conservative region. In 1998 in rural Indiana, a local sheriff who received complaints picked up Flickner and his canvassing partner and drove them to the county line. They nearly missed their van ride home.
"He actually took us to the jail before he took us to the county line" even though they weren't breaking any laws, Flickner said. "He was big and he was mean and he had his hand on his gun the whole time."
The canvasser in him still comes out. One mid-October afternoon, Flickner accepted a free bottle of water from a small group of young Christians spreading the word of God on the Big Four Bridge that connects the neighboring city of Jeffersonville with Louisville across the river. He delivered a five-minute spiel on Lower Ohio River Waterkeeper, handed out his business card and invited the missionaries to volunteer all before they could ask if he knew Jesus. ("I know Jesus very well," he said.)
He had been part of on-and-off talks with Waterkeeper Alliance, the national nonprofit that licenses local groups like Fickner's, for years to start a Lower Ohio River Waterkeeper group, but the timing was never right. In 2017, having just left a full-time job based in Indianapolis and looking for a way to stay in New Albany with his aging mother in their family home, he said it was a necessity.
'A Conservation Warrior'
This isn't just a job for the sake of a job: The Ohio River is in trouble. Flickner often points out it is the most polluted river in the United States, a distinction the Ohio earned from reports of industrial discharge data that show it taking in, pound for pound, more commercial waste than the Mississippi River.
The waste includes nutrients and toxic heavy metals from coal plants and steel and chemical industries. Nutrients from agricultural runoff and sewer overflows are increasingly fueling harmful algal blooms. A toxic bloom covered 636 miles of the 981-mile river in 2015. Another bloom this year led Louisville Ironman organizers to cancel the Ohio River swim portion of the event. Environmental groups have also criticized the Ohio River Valley Water and Sanitation Commission, an interstate water quality agency known as ORSANCO, for not being tougher on mercury pollution from power plants and other sources.
Flickner's resumé looks tailor-made for this work. After canvassing, he learned the ins and outs of the Clean Water Act while challenging mountaintop removal mine permits with the Kentucky Waterways Alliance. He also fought ORSANCO for stronger pollution standards.
"I know him as a conservation warrior," said Canon, the civil rights attorney. "If you start talking about conservation around here, his name's gonna come up."
And Flickner has already notched a win. In 2018, ORSANCO proposed eliminating its water quality standards for the river. Despite having nonprofit status for less than a year, Flickner appeared in multiple media reports criticizing the proposal, helped rally thousands of public comments and lobbied commissioners. The proposal was withdrawn, and the commission passed a weaker version months later.
Red State Struggles
Still, he wasn't able to translate that publicity into a fundraising bump, he said. He hasn't raised much money at all.
Part of the problem is his skillset: He's always worked on the policy side and much less on development and isn't sure how to cultivate large donors, which is work he says should be part of his board's job. He's also not entirely confident in his interpersonal skills.
"The way that I talk to people about this stuff, it turns people off because it's just so despairing or it's so overwhelming or it's so complex," he said.
He also said this kind of work is more difficult in historically red states like Indiana, and he's not the only one who thinks that.
Since 2003, Rae Schnapp has been the Wabash Riverkeeper, which covers the watershed to the north of Flickner's as part of the Waterkeeper Alliance. She said it's still a struggle to grow, to recruit board members and volunteers. She said the national Waterkeeper group is getting better at supporting its individual member organizations, but they don't provide funding. Member groups also pay a fee for the Waterkeeper name, which Schnapp said "might mean different things to different people."
Robert F. Kennedy Jr., an environmental attorney carrying a name intrinsically tied to the Democratic Party, functions as the group's figurehead, she said.
"That sets the tone for the whole organization, which does sometimes make it difficult in red states," she said. "But hey, Indiana is a swing state now, so maybe it will be getting a little easier."
Jessie Green, of the White River Waterkeeper in Arkansas, started her organization around the same time as Flickner, and they often commiserate about their struggles. She said she's doing better than she was two years ago, having recruited around 200 members who give an annual donation. She's even being paid some, though it's less than she made in graduate school. She said she's mostly working as a volunteer, which works for now because her husband makes enough to keep them afloat. But it's not sustainable, she said.
"We're in a red state. Environmentalist is almost a four-letter word in our area," she said. "That's definitely part of the struggle."
But the problem for Flickner isn't all party-line opposition to environmental causes. A person looking upstream from the pedestrian bridge where Flickner met the missionaries sees a 2,000-foot-wide river that winds back 600 miles to Pittsburgh through a century of industrial pollution and development. It's easy to wonder: What could anyone possibly do about it?
"People know that it's problematic," Canon said. "People know that we should be doing more to keep the water clean. But the problem is so big for most of us that we don't really stop to think about it in terms of what are the mechanics of actually making it happen."
Flickner sees it similarly, often saying that people, regardless of their political affiliation, "wear blinders" to the problem because it feels too big. But the mechanics are clear to him: You sue.
"We're not talking about population growth," Flickner said, giving a common example of an intractable environmental problem. "We're talking about a river where there are actual permits" issued by the state that can be challenged in court.
But to do that, he needs money (because litigation isn't cheap) and members (to convince a judge his group has legal standing).
'Something Will Come Through' 
Flickner is just as frustrated with the people who he knows agree with him on environmental issues. They tell him the work he's doing is important, but they don't donate. They complain about the Trump administration's environmental rollbacks, but they don't give to causes that are fighting the effects.
The day he woke up to a checking overdraft, he said he blew up at two old friends who "commented in ignorance" in text messages about the Environmental Protection Agency's recent weakening of the Waters of the United States rule, which defines the bodies of water that fall under federal jurisdiction. The next morning, he woke up to an email notice that one of the friends had set up a recurring annual $500 donation to Lower Ohio River Waterkeeper. He was grateful.
In the meantime, in the sitting room with the dog-licked windows, there's a table with stuff from his grandparents' house to sort through to see what he might be able to sell. There are also remnants of his grandparents' turn as antique dealers — chairs, baskets — that aren't family heirlooms and might get a good price from a local shop.
"I've been broke on and off like this my entire life," he said. "Something will come through. Something always does."
Jeff Brooks-Gillies, a freelance writer for Environmental Health News, authored this story. He can be reached at jeffgillies@gmail.com.
Good River: Stories of the Ohio is a series about the environment, economy, and culture of the Ohio River watershed, produced by seven nonprofit newsrooms. To see more, please visit ohiowatershed.org.
What the Petrochemical Buildout along the Ohio River Means for Regional Communities and Beyond
The R.E. Burger coal-fired power plant's final day ended, appropriately enough, in a cloud of black smoke and dust. From 1944 to 2011, the plant generated power, fumes and ash in the Ohio River Valley. It was one of dozens of coal and steel plants dotting the banks of the river, which for years has ranked among the nation's most heavily polluted. Then, on July 29, 2016, following a series of detonations that echoed across the Ohio, the boiler house at the base of the smokestack crumpled amid flickers of flame. The 854-foot-tall tower toppled sideways, struck ground and sent up puffs of dirt and brick. In footage posted online, the noise is drowned out by the sound of whooping and applause from thousands of people who'd gathered in lawn chairs along the riverbanks to watch.
The demolition of the R.E. Burger plant is symbolic of one of the most significant energy transitions in U.S. history. Two out of every five power plants that burned coal to make electricity in 2010 were shut down by 2018, largely replaced by natural gas power plants — the result of a decade-long fracking rush. Few places have been quite as dramatically impacted as the northern Ohio River Valley, where shale well pads now lace the backroads of Appalachia's former coal towns. Twenty-nine new gas-fired power plants are planned or under construction in Pennsylvania, Ohio and West Virginia alone.
Historically, coal and steel marched hand in hand — coal powered the steel mills that built the Rust Belt. Now, with natural gas, industry can make a different kind of raw material, one that drillers and the International Energy Agency say represents the future of global demand for oil and gas: plastics.
The vast majority of petrochemical production in the United States has always taken place along the Gulf Coast. But, drawn by low-priced shale gas from fracking in Pennsylvania, Ohio and West Virginia, the petrochemical industry is increasingly eyeing the Ohio River Valley as a manufacturing corridor.
Oil giants are banking on plastics and petrochemicals to keep the fossil fuel industry expanding amid rising concern over climate change. "Unlike refining, and ultimately unlike oil, which will see a moment when the growth will stop, we actually don't anticipate that with petrochemicals," Andrew Brown, upstream director for Royal Dutch Shell, told the San Antonio Express-News last year. Industry analysts have projected the region could support as many as seven additional plants on a similar scale. The American Chemistry Council has tallied $36 billion in potential investment that could be tied to an Ohio River Valley petrochemical and plastic manufacturing industry.
Projects currently on the drawing board would unleash a flood of newly manufactured plastic from the region, using raw materials from fracked shale gas wells. Shell's $6 billion ethane cracker in Potter Township in Beaver County, Pa., is projected to create roughly 3.5 billion pounds of polyethylene pellets each year. A similar volume is expected from a second plant proposed just over an hour's drive south in Dilles Bottom, Ohio — to be built on the site of the razed R.E. Burger coal-fired power plant.
---
Green-lighting petrochemical projects along the Ohio River could bring new industrial vitality to a region that's been hard hit by the slow decline of American coal and steel. It could also bring a host of issues. Shell's cracker will be permitted to pump out 522 tons of volatile organic compounds into the air — nearly double the amount that the state's current largest source, U.S. Steel's Clairton Coke Works, produced in 2014 (the most recent year available). State permits also allow Shell to produce 2.25 million tons of carbon dioxide. That means this one plant, with its 600 jobs, will wield a carbon footprint one-third the size of Pittsburgh (population 301,000).
Plastic made on the banks of the Ohio is likely to reach the farthest corners of the globe. Shale Crescent USA, an industry group, projects that half of the plastic made on the Ohio would be shipped to Asia for use there. Only 9% of the plastic ever made has been recycled, with the vast majority of the rest winding up in landfills or oceans.
On a hillside overlooking Shell's petrochemical plant in Monaca, Pa., new houses are going up in a subdevelopment tucked behind a shopping mall. "Like the view?" a sign posted by builder Ryan Homes reads. "Stop by our model home to find out how it can be yours!" From the cul-de-sac, you can watch Shell build its ethane cracker in the valley. Three dozen towering cranes, including one of the world's tallest, are assisting in assembling the plant. The cracker's components, like a 285-foot-tall quench tower, are often so massive that they wouldn't fit on roads and had to be shipped in by barge.
Shell's plant hasn't yet started pumping out plastics. It's expected to be fully operational in the early 2020s. The cracker will heat ethane — a natural gas liquid abundant in the region's shale wells — at temperatures so high that the molecule cracks and becomes ethylene. Ethylene can be transformed into polyethylene, the plastic familiar to consumers from food packaging, milk jugs and garden furniture.
Old-timers will tell you the air around Pittsburgh used to be so thick with sooty particles that city workers would change into new shirts at lunch. These days, the skies look much clearer. That doesn't mean all of the dangers have dissipated. "What comes out of a well pad, what comes out of a compressor station, what comes out of an ethane cracker plant are pretty similar," Dr. Ned Ketyer said at a community forum in St. Clairsville, Ohio. Ketyer is a pediatrician who serves on the board of Physicians for Social Responsibility Pennsylvania.
"It's important to note that almost all of these are invisible," including the chemical fumes and tiny particulate matter from gas and plastics operations, Ketyer said. "You can't see it, but it's so small that it gets into the deepest part of the lungs and can get absorbed into the bloodstream."
At the forum organized by Concerned Ohio River Residents, an environmental group, Ketyer played video footage recorded in August by environmental nonprofit Earthworks with a special FLIR camera at a compressor station and at two different drilling sites. "Everything looks nice and peaceful, nice and clean, nothing going on here," he said. But in the FLIR camera footage, "you can see the air filling up with emissions."
The Southwest Pennsylvania Environmental Health Project took the data from Shell's air pollution permits and, assuming that the plant would actually pump out half as much as its permits allowed, ran the numbers on how high emissions exposure would reach, Ketyer said. The report found that a cancer treatment center next to the subdevelopment would expose those breathing outside to an "extreme" level of five hazardous air pollutants. The mall itself would see emissions four-and-a-half times higher than the cancer center.
Studies have found that those fumes can make people ill. "We've known for decades that certain pollution causes certain symptoms," said Ketyer, listing as examples headaches, shortness of breath, impaired thinking and changes in blood pressure. "So right here, Beaver Valley Mall, this is 1 mile directly downwind from the cracker plant," he continued. "It's going to be inhospitable, if not uninhabitable, in my opinion."
---
About an hour east, Donora, Pa., is home to a historical society and museum emblazoned with the words: "Clean Air Started Here." There is also a striking number of empty buildings. About 4,600 people call Donora home, according to census data, roughly a third as many as a century ago. More than 8,000 people used to work at the steelworks here, owned by American Steel and Wire Co., a U.S. Steel subsidiary. Roughly half worked at the plant's zinc works, used to galvanize wire, nails and other steel products.
The air pollution was anything but invisible back then — and it was never darker than a series of fall days in 1948. Just before Halloween, a thick cloud of smog, known as the "Donora death fog," settled over the town. More than 20 people died within days of respiratory and other problems and more than 6,000 people became ill.
Today, most of the survivors of the smog have passed away, according to Brian Charlton, curator of the Donora Historical Society, but in 2009, filmmakers interviewed 25 people who'd been there. The survivors described how grit and ash from the plant routinely darkened the skies over the town but then, for several days straight, the smoke all seemed to stay trapped in the town. "I worked at the telephone office," Alice Uhriniak told the filmmakers. "We always had smoke in Donora, from the mills and everything, and it was dark. But when I got into the office, and the girls that had worked nighttime, they said, 'Hurry up, get your set on, everybody's dying.'"
Firefighters went through town with oxygen tanks and the town's pharmacy scrambled to supply cough medications, while a community center became an improvised morgue. "I told 'em the best thing they could do at that particular time was to get out of town," Dr. William Rongaus, a Donora physician, told the documentarians. "I had a good idea that just the poisonous gases were coming out of the Donora Zinc Works."
Workers inside the plant who spent too much time breathing high levels of smoke dubbed their symptoms the "zinc shakes," Charlton explained. "They would say, well you couldn't take that environment for more than two or three hours, but their attitude was such that, 'But we could defeat that'…It is this very tough attitude; we can take anything." According to later investigations, the smoke, which carried hydrogen fluoride, sulfur compounds and carbon monoxide, could cause health problems if you inhaled too much at a time.
The week of the "Donora death fog," an unusually prolonged weather pattern left the fumes trapped in the Monongahela River Valley. There was a temperature inversion, Charlton said. "That's the thing that really cause[d] the deaths."
It's an incident that seems burned in the memories of environmentalists. Because the Ohio River Valley is also prone to inversion events, they say, there's a risk that the less visible pollution from ethane crackers could accumulate in the air. Residents often ask about inversions, too, "because that is their daily experience, they're aware of what it feels like to be in that situation," said Megan Hunter, an attorney with Fair Shake Environmental Legal Services.
In January, Fair Shake challenged a state air permit for the cracker proposed at the old R.E. Burger site, arguing that the state failed to properly account for the risks of air inversions. "It's right there in the valley," she added, referring to the proposed cracker plant and to the town of Moundsville, West Virginia, which is directly across the Ohio River. "They're both low and on the river itself."
---
Officials in the Trump administration say that promoting new petrochemical and plastics projects in the Ohio River Valley can help the shale gas industry by expanding the market for "natural gas liquids," which can command far higher prices than the methane gas that's sold to burn for heat and electricity. "What we need to do is increase the demand for the natural gas and especially the wet portion of the natural gas that we're producing in this region," Steven Winberg, assistant secretary at the U.S. Department of Energy, said at a petrochemical industry conference hosted by the West Virginia Manufacturers Association in April. "And that's going to be done through the domestic ethane crackers and the strong export market that we see for the products coming out of these crackers, for the plastics and resin."
That plan would tie the Ohio River Valley's economic fate to the natural gas industry, which — unlike coal and steel — has become notorious for its rapid booms and busts. Right now, counties in the shale "sweet spots" around the Ohio river hum with trucks on the highways, green compressor stations pumping fracked gas through pipelines, and the stream of deliveries to Shell's cracker. Reports produced by industry groups predict plastics and petrochemical projects could support 101,000 jobs in Appalachia (though a closer look shows that three-quarters of those potential jobs fall into the "indirect" and "induced" categories, not jobs at the new plants).
But shale drilling's economic foundation could prove to be as brittle as the shale itself. Over the past decade, while horizontal drilling and fracking have unleashed enormous volumes of natural gas and the natural gas liquids prized by plastics manufacturers, drillers have frequently found themselves deep in debt, as the supply glut drove prices low. A growing amount of that debt is expected to come due soon, analysts say. The Wall Street Journal reported in August that, from July to December, drillers will have to pay off $9 billion in debt, and that number will rise to $137 billion between 2020 and 2022. That spells risk for companies counting on a supply glut and low prices to continue for decades into the future.
And then there are the externalized costs. Matt Mehalik, executive director of the Breathe Project, said his Pittsburgh-based organization tallied projected health costs from the construction of three cracker plants in the Ohio River Valley, estimating from $120 million to $272 million a year nationwide. Over the 30-year lives of the plants, Mehalik projected, those health costs would reach $3.6 to $8.1 billion, including nearly $1 billion in Allegheny County, where Pittsburgh is located, and $1.4 billion in Beaver County, where the Shell plant is being built.
The economics left some concerned that history could repeat itself. "Look what coal left this area. Not very much," said Steven Zann, of Wheeling, West Virginia, who formerly worked at an aluminum plant. Zann was skeptical about the claim that the plastics industry could fill the shoes that steel left empty, in terms of jobs. "That's why they're always exaggerating the amount of employment it will create," he said. "It's not really going to be that. It's not going to be the new steel."
The Donora steelworks employed 8,000 workers at its height and supported virtually an entire town of 14,000. After construction ends, the Shell cracker will employ 600 in Monaca, a town of 5,500 — and that number includes engineers and other highly skilled workers expected to come from outside Monaca.
---
Driving Route 7 along the Ohio River near Bev Reed's hometown brings you past power plants and a coal stockpile so tall that locals call it Murray's mountain, after Murray Energy's founder Bob Murray. Head north, and Route 7 will bring you just shy of Little Blue Run, the largest coal ash impoundment in the country, which spans the West Virginia/Pennsylvania border. Drive south, and you'll pass the old R.E. Burger site, where land is being cleared to pave the way for the cracker, and past the expanding Blue Racer Natrium complex, where shale gas is separated from the liquids prized by the plastics industry.
In June, Pittsburgh's mayor announced that the Steel City would commit to getting 100% of its power from renewable energy within 16 years. Environmental groups warn that pursuing a petrochemical buildout in the surrounding region would undo the climate benefits from that shift.
Some of those born and raised in the Ohio River Valley, like Reed, have begun organizing to fight the arrival of the petrochemical industry.
Grassroots organizations, like the Ohio Valley Environmental Coalition and the recently formed People Over Petro coalition, say they're working to prevent a "cancer valley" in Appalachia (in a reference to the notorious "cancer alley" in Louisiana). They've held protests outside of industry conferences, organized meetings at public libraries and spoken on a bus tour of the valley organized by environmental groups earlier this year for reporters and policy-makers.
Reed's family owns a bicycle shop in Bridgeport, Ohio, which opened in 1973. Up the hill from the shop, water flows from the ground around the clock, staining the concrete pavement an orange-red. "My whole life, it's been like this," said Reed, 27, who also works at the shop. She described it as acid mine discharge from coal mining. "It keeps flowing down, and the river is right over there."
Plastic itself has climate impacts at each step from the gas well to disposal, whether it is incinerated, sent to a dump (where it can "off-gas" greenhouse gases if exposed to sunlight) or may even disrupt ocean food chains, vital to the ocean's absorption of carbon, according to a report published in May by the Center for International Environmental Law.
"We can't deal with the plastic as it is," said Reed, who started interning for Sierra Club after hearing about the industry's plans for the valley, "so why would you want to make more rather than use what we already have or create more jobs in the recycling industry?"
The Ohio River Valley, like the rest of the United States, stands at a crossroads of energy and industry, facing decisions about whether to turn toward a future of renewable energy and a green jobs revolution or one of shale gas and plastics. Some might say there are clear skies ahead, regardless of direction, as the valley turns its back on coal and steel. But a question hangs in the air, thick as smog: Can the public here in the hills and valleys along the Ohio count on decision-makers to steer around the less-visible hazards as they chart a course forward?
Sharon Kelly, a freelance writer for Belt Magazine, authored this story. She can be reached at shrnkelly68@gmail.com.
Good River: Stories of the Ohio is a series about the environment, economy, and culture of the Ohio River watershed, produced by seven nonprofit newsrooms. To see more, please visit ohiowatershed.org.
360 Degrees of the Cheat River: A Journey to Revitalization on an Ohio River Tributary
The Cheat River courses through one of the largest undammed watersheds in the eastern United States. The river forms from tributaries high in the Allegheny Mountains of eastern West Virginia and flows northward to meet with the Monongahela River just before crossing into southwestern Pennsylvania. From there, the Mon joins the Allegheny River to form the Ohio River. The Ohio River is a drinking water source for five million people, and 25 million people in Appalachia and the Midwest live within its watershed.
The Cheat River has a storied history. Not so long ago, the river ran orange for miles at a time from acid mine drainage, but revitalization efforts have brought the waters back to life, both literally and figuratively. The once-dead river now supports an aquatic ecosystem that draws in anglers from around the region and world-class conditions that whitewater rafters, kayakers and squirt boaters enjoy.
How To: This 360-degree video is interactive. Click and drag your mouse, move your device or drag with your finger to explore the Cheat River views, both above and below the water's surface.
This video was produced by Jeffrey Boggess, Ariel Cifala, Bijan Fandey, Shae McClain and Mark Schoenster, students in the West Virginia University Reed College of Media, under the direction of David Smith, teaching assistant professor in the Reed College and multimedia producer for 100 Days in Appalachia. Smith can be reached at clifton.smith@mail.wvu.edu.
Joel Wolpert assisted in shooting the underwater footage.
Good River: Stories of the Ohio is a series about the environment, economy, and culture of the Ohio River watershed, produced by seven nonprofit newsrooms. To see more, please visit ohiowatershed.org.