Mountain Nature Camp: Celebrating 90 Years Of Solace, Community, Outdoor Learning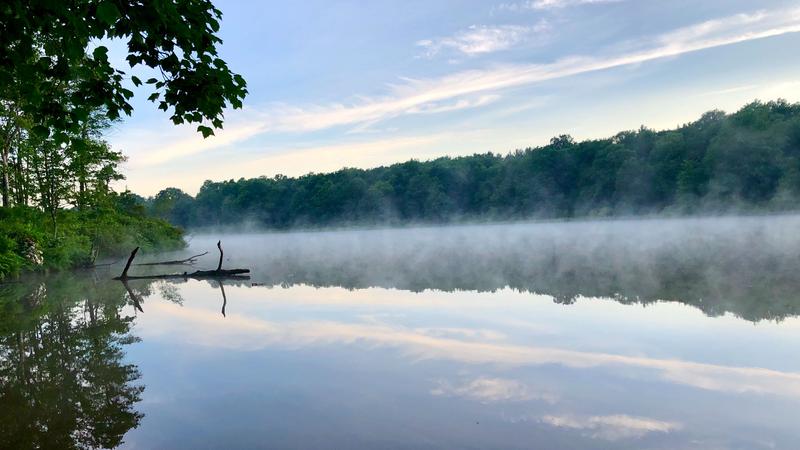 People from all over the state and region converged in Terra Alta, West Virginia, this summer to celebrate nine decades of Mountain Nature Camp. It's a camp where adults go to study pristine Appalachian corners of the world. Many folks came to celebrate community and traditions that have been going since 1929. But also to get their nature fix – which researchers say is critical for both human health and maybe even life on the planet.
A Tradition of Outdoor Learning, Being
"As far as I know, this is the oldest running nature program for adults in the country," camp director Mary Grey said. She started as a camper in the 1980s. "It's a program that lets adults come and be kids again. We do nature study, we go on bird walks, we sit around the campfire and sing songs."
The camp property is in a forested grove outside of the small, rural town of Terra Alta in Preston County. A larger wooden structure with a kitchen and mess hall stands next to some shelters and a bath house. They're all clustered at the edge of a small lake among mixed hardwoods, ferns, and wildlife. It's the basecamp. Most days are spent traveling to unique and protected ecological spots nearby like Blackwater Falls, Dolly Sods, or the Cranesville Swamp.
This year campers from years past rolled in and pulled up chairs and stools in front of the main building, passing around photo albums and sharing memories.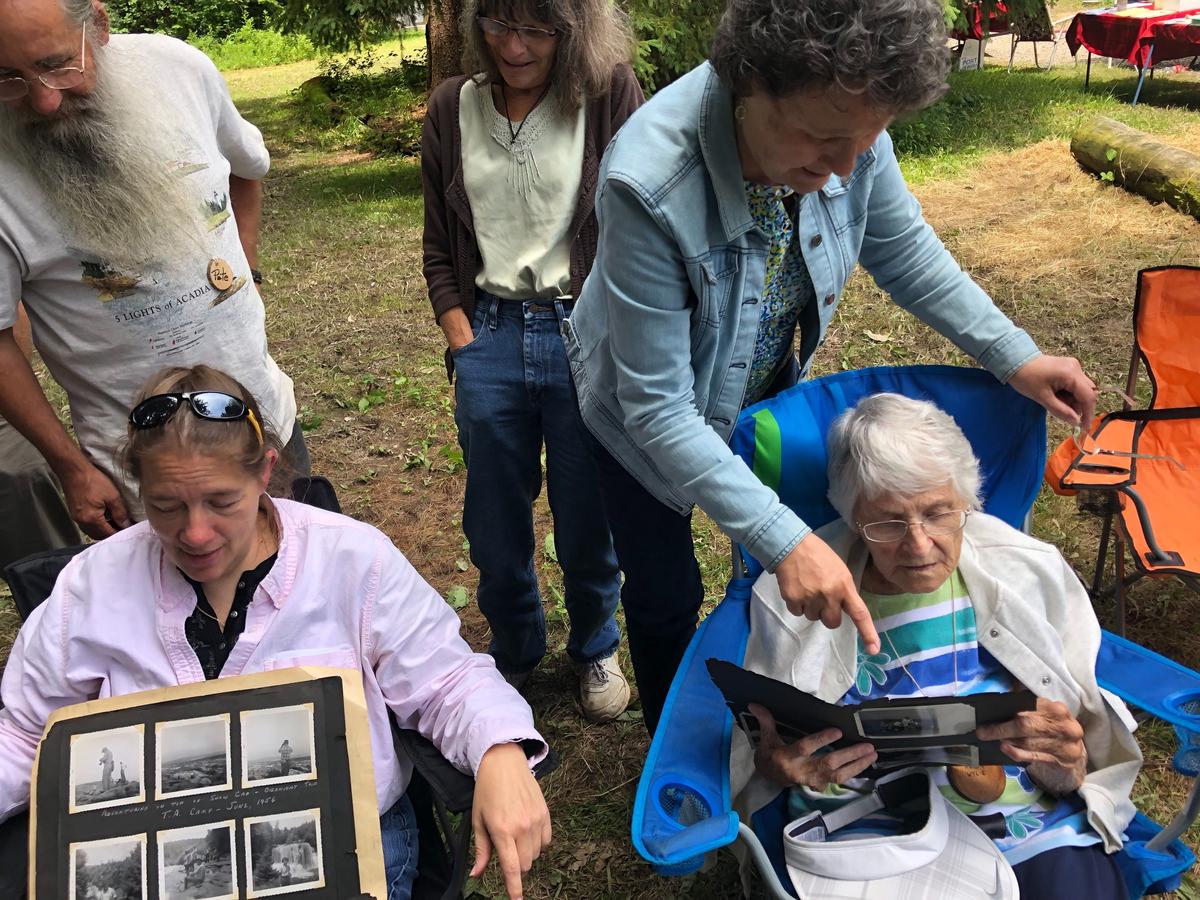 The Ultimate Classroom
Don Altemus came from Cleveland for the 90th celebration. He first started coming to camp in 1947 and for many years was a lead naturalist, teaching many classes.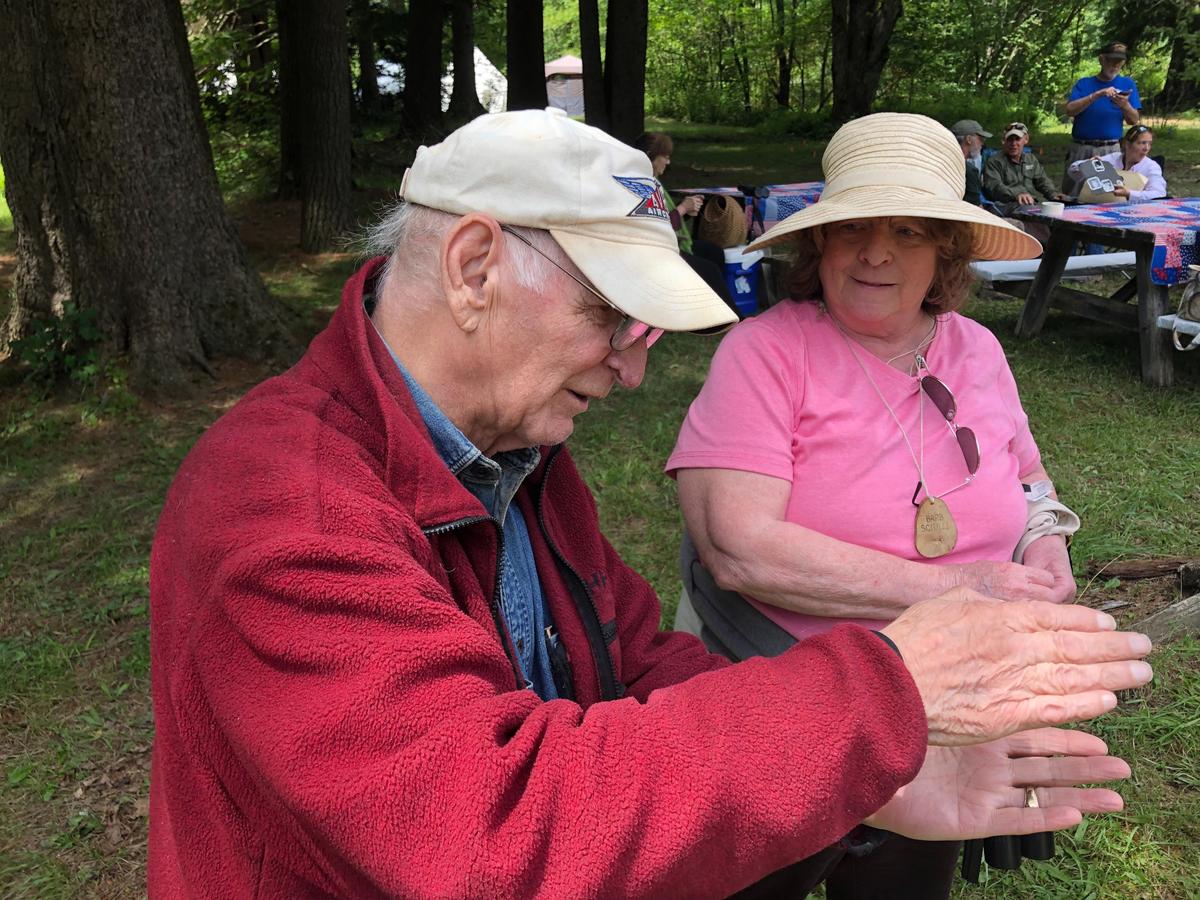 Altemus is retired now, but he kept a day job as a naturalist in Cleveland for years. He says he's always found West Virginia to be an ideal place to study and teach about the natural world. 
"West Virginia for natural history is one of the most fascinating in the eastern United States," Altemus said.
He explains that since Preston County sits 2,700 feet above sea-level, the winters get really cold, while summers are still very hot – creating a lot of ecological variety. He calls Mountain Camp the ultimate classroom.
"In nature if you don't see anything interesting, look closer," he said.
Mountain Camp takes place every June in Preston County for two weeks. It costs $350 a week, with some scholarships available, and has operated through Oglebay Institute since it was founded in 1929. Some campers come year after year, as well as expert naturalists, and regular newcomers who rotate through each year.
"Really for the last 90 years, the teachers that come in to teach these classes whether it's ornithology or botany — they really are the experts in their field," explained environmental education director at Oglebay, Molly Check. "And I think that's why Mountain Nature Camp has lasted as long as it has and also remains relevant."
The Hidden Lessons, Benefits
Today, one of those experts is Bill Beatty. He's the lead naturalist here at Mountain Nature Camp. At the edge of Terra Alta Lake — a several-acre body of water nestled into the high altitudes of Preston County — Beatty easily identifies any of the plants growing, adding facts about how they can be used or roles they've played throughout history.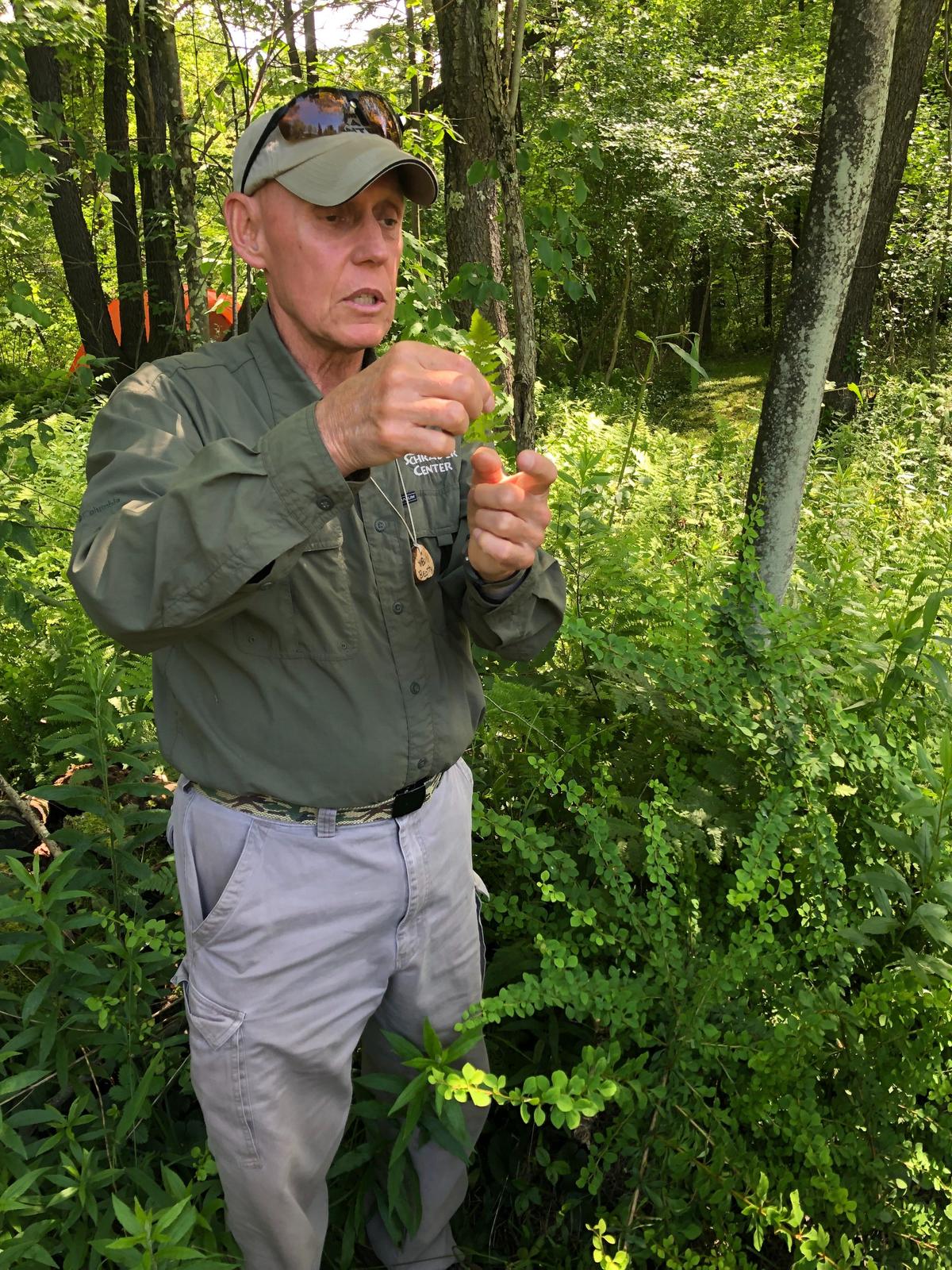 Beatty's career from college until now has been nature-related and he's been coming to Mountain Camp since 1972. He comes to study nature, but also for peace of mind.
"We're sitting here looking across this lake. You don't see a single person or anything associated with people. There aren't many places you can go and see that," Beatty said. "I've had students who I taught at a university who were inner-city and they're very uncomfortable in this situation. It's very foreign to them. But yet we're learning through studies that this is the kind of thing that people need to be healthier."
Beatty is referring to any of dozens of peer-reviewed studies that have been published over the past 40 years that share findings related to the effects of viewing and experiencing natural settings — benefits like lowered blood pressure, pulse rate, and the stress hormone cortisol as well as elevated moods and higher serotonin production (aka, "the happy chemical").
Researchers have also discovered that people today typically spend about 90 percent of their time indoors or in a car, which can be dangerous not only because of physical inactivity, which contributes to a host of life-shortening health problems, but also because of exposure to indoor air pollutants.
Fortunately, Beatty points out, going outside is often a cheap, easy remedy. He says it's good for our health, and maybe the planet, too.
"We have to get people to understand how valuable this is," he said. "And what I mean by value is — you can't stay conscious any more than four minutes without the air we breathe! You think, 'Oh my TOOTHBRUSH is really important. I gotta brush my teeth every morning' — which is good, that's not a bad thing — but you don't think about the air."
Education director Molly Check agrees.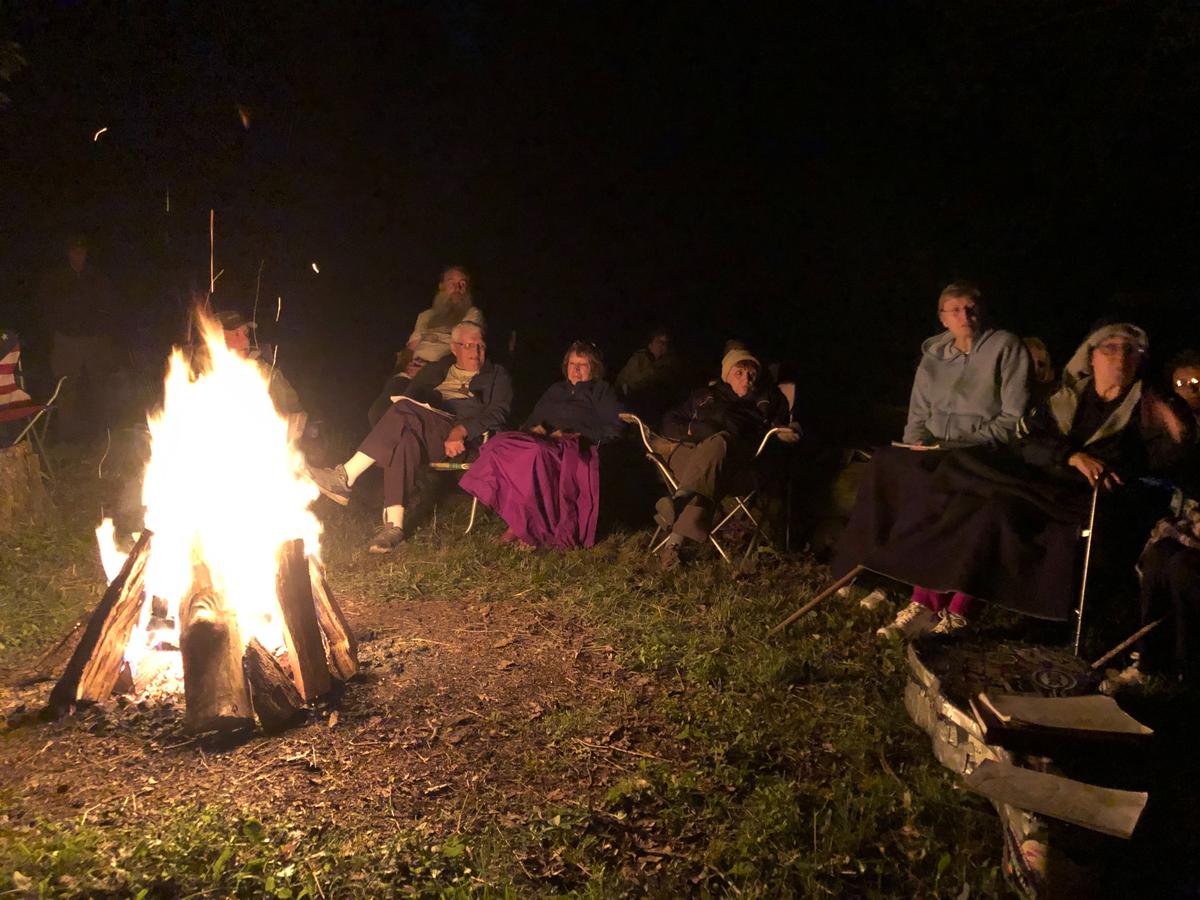 "Seven billion plus people that live on Earth. And I think everyone is aware of the different environmental problems that we face as a species. Whether you're gonna talk about climate change or conserving water resources, there are a lot of challenges that lie ahead of us."
Check says the best way to overcome those challenges is to gather a group of people who are very passionate about the earth and motivated to solve those problems. And she says Mountain Camp produces those types.
"You're not going to care about those problems or even know about them unless you have that firsthand experience. The campers that are here would likely lay down their lives to save this little place in West Virginia and also by extension the natural world that found all over."
This article was originally published by West Virginia Public Broadcasting.
West Virginia's Outdoor School Using Nature to Teach Students to Thrive
A group of fourth and fifth-grade students at Morgantown Learning Academy — a private, non-profit elementary school located in Monongalia County — are sitting at two picnic benches surrounded by a forested canopy on a recent Thursday. This isn't a special field trip. Every Thursday, students spend part of their classroom time outside with Mountain Stewardship & Outdoor Leadership, or Mountain SOL.
Two streams — Lemon Creek and West Run — meander nearby the outdoor classroom. After a lesson on the basics, the students split into small groups, grab plastic probes the size of TV remotes and hop down into the creeks to take measurements.
"I think there's a difference in opening up a science textbook and learning about water quality and looking at maps of a watershed," Hannah Spencer said. Spencer is an instructor with and co-founder of Mountain SOL, an outdoor education program based in Morgantown.
"When you can go outside and be in your own watershed … I think it really brings it down to, to the level of 'Hey, I have an impact here. And, you know, this is part of my responsibility, and I need to take care of it,'" she said.
Mountain SOL has partnered with Morgantown Learning Academy since 2014. Every week, teachers from Mountain SOL take every student out of their brick-and-mortar classrooms and into the woods.
The program reaches 200-300 students annually between its in-school programs at MLA and afterschool programs open to anyone between second and 12th grade. During afterschool programs, students learn outdoor skills like setting up shelters and building fires. In-school classes are shaped around the state-mandated learning standards.
"My favorite thing to say is that you can't protect anything until you love it," said Jen-Osha Buysse, co-founder and director of the program. "Mountain SOL is all about learning from a place of fun and adventure, and connecting new experiences and learning with coming from a place of passion."
Buysse said she wanted to create a place where kids — and adults — could find joy in learning and caring for themselves and others in nature. The mountains of West Virginia, where she raised a baby, were an ideal place to create that space. The program was also shaped by Buysee's experience spending two summers with the Huaorani people in Ecuador.
"I was absolutely floored by the level of responsibility that these young people showed, as well as the kindness, love, and teaching skill embodied by their elders," she said. "I wanted to create a space in which we could inspire and trust young people in some of the same ways."
Students are encouraged to take the lead outside. Kids are also given unstructured time to explore the natural world around them.
A study published in February found "particularly strong" evidence that experiences of nature boost academic learning, personal development and environmental stewardship. In reviewing a series of studies on the impacts of nature-based learning, researchers found widespread evidence that experiences with nature boosted test scores, graduation rates, self-discipline and physical activity. Stress levels decreased and enjoyment of learning grew.
"It is time to take nature seriously as a resource for learning – particularly for students not effectively reached by traditional instruction," the authors wrote.
Eighth-grader Braedyn Hill has participated in Mountain SOL programs for several years. He said every class is interactive.
"Every day is like its own separate adventure. You rarely get anything that's the same," he said. "It's just having fun and enjoying yourself, but still getting the knowledge and information that you need to know to progress on in life."
Morgantown Learning Academy's 12-acre campus is well-suited to incorporate outdoor education with its hiking trails, outdoor classroom and garden. Administrative Director Eve Ammons Ward said while the ethos of Mountain SOL is a great fit, it's not without a few challenges.
"We bring a lot of mud inside," she said, laughing. Experienced Mountain SOL parents often carry a "survival kit" in their cars, complete with trash bags to more easily deal with muddy kids.
Ammons Ward added that changes in student behavior are immediate and translate inside the classroom. Mountain SOL and MLA expanded their partnership this year to offer a forest-based pre-Kindergarten program called Little Acorns.
"Kids are more focused," she said. "They're ready to work, they're ready to be engaged with their inside part of their education as well."
This article was originally published by West Virginia Public Broadcasting.
West Virginia Teachers Enter Day Two of Strike with End Likely in Sight
West Virginia teachers and school service personnel are on strike for the second day, despite a procedural move Tuesday in the state's Republican-led House of Delegates that jeopardizes the passage of a sweeping education reform bill.
The bill included a 5 percent pay raise for school employees and some additional provisions that the state's labor unions approved of, including increased tax credits for the purchase of classroom supplies and bonuses for certified teachers in areas of high need, like math and special education.
But it also contained provisions that union leaders said outweighed the good, including the creation of charter schools and education savings accounts– which allow parents to take government dollars and invest them in a private account to fund alternative education options for their child.
On Tuesday, House members voted to postpone the bill indefinitely, an often tried but rarely agreed to procedural move that effectively kills a piece of legislation. It's 53-45 approval was met by cheers from hundreds of teachers who filled the House's galleries and the hallways outside the chamber.
But even with what appears to be the end of the controversial bill, union leaders said Tuesday night they would continue their strike into a second day, just in case members of the House attempt to revive the bill Wednesday when school personnel return to their classrooms, driver's seats and hallways.
"All three organizations have had conference calls earlier tonight. We've heard loudly, loudly and clearly from our members," West Virginia Education Association president Dale Lee said. "We believe that there is still a minute opportunity for something to happen. So with that being said, all 55 counties will be closed again."
Wednesday morning, 54 of the state's 55 counties did shutter their doors, although some cited winter weather as the reason for their closure.
The controversial reform bill was introduced by members of the West Virginia Senate, whose leader, Republican Senate President Mitch Carmichael, said he was promised the bill would make it through the process on the other side of the Capitol's rotunda Tuesday.
"I'll say in this political world, all you really have is your word. And, so, when one gives you your word, you take them at their word and we take actions accordingly," Carmichael said. "We had an agreement and then, you know, it wasn't honored."
The state's Republican governor, Jim Justice, said in previous interviews he would veto the Senate's version of the legislation should it pass.
Justice has proposed a 5 percent pay raise for all state employees without additional reforms to the state's education system. A member of the House's Republican leadership team said Tuesday that "clean" bill would likely be before the chamber's Finance Committee Wednesday.
West Virginia Public Broadcasting's Dave Mistich contributed to this report.
WV School Workers Demonstrate as Legislative Session Begins
As a frigid wind blew around 6:30 Wednesday morning, Kanawha City Elementary teachers gathered in the dark on the sidewalk on 36th Street, holding signs and receiving a few supportive car honks in the moments before school began.
"We're out here just to let the Legislature know and the governor know that we still remember, we still didn't get PEIA fixed, so we want that to be a priority, we want more funding for our schools, we don't want them to cut the taxes, we heard rumors of the business tax being cut," said third-grade teacher Danielle Loehr.
"We're still ready to fight," interjected fourth-grade teacher Danielle Fernandez, another of about 15 teachers on the sidewalk. Her sign read "Funding education should be normal, not historic. #FundEducation #FixPEIA."
This was among the "walk-ins" at West Virginia schools Wednesday, the first day of the annual regular legislative session.
Last year's historic statewide public school worker strike won a 5 percent pay raise for school employees, and Public Employees Insurance Agency health insurance coverage benefits were spared from cuts.
But last month, Republican Gov. Jim Justice's PEIA Task Force, created as part of a deal to end the strike, announced that it wouldn't recommend a long-term way to fund the state health insurance program at its current benefit levels before the now-beginning session.
Stonewall Jackson Middle School teacher Jay O'Neal said teachers "walked in" in multiple counties, but didn't know exactly how many. He said the demonstrations were also about pushing for more employees in schools to deal with the problems students are facing.
"We want to remind and alert our communities, the Legislature and the governor that our schools are kind of dealing with a crisis," O'Neal said. "We see the effects of poverty and the opioid crisis every day here and we feel it when we don't have enough teachers, enough bus drivers, school psychologists, counselors."
Loehr also said schools need more counselors.
"We're cutting teachers and school staff, and that's not what we need, we need more help," she said.
O'Neal said the WV United Caucus, a group of teachers of which he's a member, came up with the idea for the walk-ins and pushed it in local union meetings, on Facebook and through caucus members' contacts.
Fred Albert, president of the American Federation of Teachers union's West Virginia arm, joined demonstrators at South Charleston High alongside Kanawha County Board of Education member Tracy White.
South Charleston High language teacher Robin Peck held a small sign in each hand, one saying "Fund PEIA" and the other saying "Increase Salary!"
She had a third, "Coat Club," attached to the lanyard hanging around her neck — a reference not to the outside temperature, but the climate she and her students deal with inside the classroom.
"I always wear a coat because the HVAC in our building is inadequate and my classroom temperature ranges from 57 to 60 degrees," Peck said of the heating, ventilation and air conditioning system. She said it's been that way for all 10 years she's been at the school. (Kanawha County's excess levy property tax increase for schools, passed by voters in November, is expected to address the school's HVAC issues.)
Peck said the main reason she was demonstrating Wednesday "is I have colleagues who struggle to pay their medical bills, I have colleagues who work an extra job or two, and this is unconscionable, we value education, you can't do this to your teachers, stress 'em out, and overwork 'em, we're professionals."
"They have a family member with a serious disease, they shouldn't have to worry about bankruptcy, they shouldn't have to worry about moving to another state because we're not covered adequately," she said.
This story was originally published by Charleston Gazette-Mail.