Rural Hospital Closings Reach Crisis Stage, Leaving Millions Without Nearby Health Care
Presidential candidates and other politicians have talked about the rural health crisis in the U.S., but they are not telling rural Americans anything new. Rural Americans know all too well what it feels like to have no hospital and emergency care when they break a leg, go into early labor or have progressive chronic diseases, such as diabetes and congestive heart failure.
More than 20 percent of our nation's rural hospitals, or 430 hospitals across 43 states, are near collapse. This is despite the fact that rural hospitals are not only crucial for health care but also survival of their small rural communities. Since 2010, 113 rural hospitals across the country have closed, with 18 percent being in Texas, where we live.
About 41 percent of rural hospitals nationally operate at a negative margin, meaning they lose more money than they earn from operations. Texas and Mississippi had the highest number of economically vulnerable facilities, according to a national health care finance report in 2016.
As rural health researchers, we're well aware of the scope of rural hospitals woes', which span the entire country. Struggling rural hospitals reflect some of the problems with the U.S. health care system overall, in that the poor often struggle to have access to care and there are few obvious solutions to controlling rising costs.
If 20 percent of America lives in a rural county, why is the nation so slow to address rural health disparities?
There goes the hospital, and the town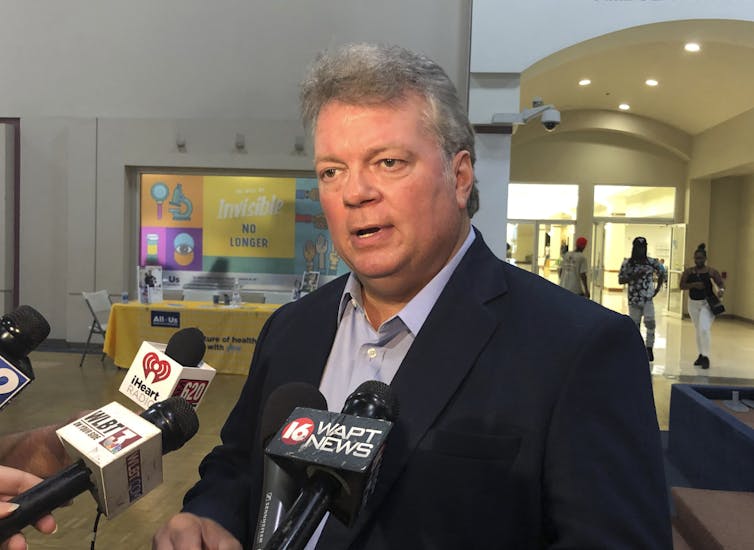 Each time a rural hospital closes, there are tragic consequences for the local community and surrounding counties. While the medical consequences are the most obvious, there is also loss of sales tax revenue, reduction in supporting businesses such as pharmacies and clinics. There are also fewer professionals, including doctors, nurses and pharmacists, and fewer students in local schools.
The closing of a rural hospital often signals the beginning of progressive decline and deterioration of small rural towns and counties. Hospitals often serve as financial and professional anchors as well as source of pride for its small rural community. It also often means loss of other employers or inability to recruit new employers due to lack of nearby health care. When a rural hospital closes its doors, unemployment often rises, and average income drops.
There are no nurses, doctors, pharmacists or ERs for local farmers, ranchers, growers and assorted men, women and children who love living and working in America's vast rural regions. Rural communities and rural citizens are often left with no options for routine primary care, maternity care or emergency care. Even basic medical supplies are often hard to find.
Residents in these communities have had to take their chances living in America's heartland, finding alternative options for basic health care services.
A compound fracturing
Those rural hospitals that have remained open are facing increasing legislative, regulatory and fiscal challenges. Some policy analysts have noted that the states with the most closings have been in states that did not expand Medicaid.
And, many of the towns in which they are located suffer from an apparent leadership vacuum. There are typically few experts within small towns who are prepared to address ways to avoid the loss of rural health care services and rural hospitals.
Small, rural communities are also less likely to have conducted formal comprehensive health needs assessments or invested in strategic planning to strengthen the ability of the community to adapt more quickly to changes in the local economy as well as changes in financing health care at the federal level. Health care services planning is often limited to input from the rural community leaders and "power brokers" rather than a cross-section of the greater community.
For example, community leaders may want to have an orthopedic surgery option, but if they had input from the community, they would know that prenatal/maternity care was more of a priority and these patients don't have transportation so they also need a bus or van to pick up for appointments.
There are also cross-cutting rural community challenges such as:
Declining reimbursement levels
Shrinking rural populations
Health professionals moving to bigger cities for higher compensation
Increasing percentage of uninsured leading to rising uncompensated care
Increasing operating costs
Older and sicker rural dwellers with complex multi-system chronic diseases.
The result is that rural hospitals often lack a dependable economic base to operate. In addition, changing processes, payment strategies and regulations coming from state and federal regulators place the small rural facility at particular risk because keeping up with changing payment or reporting rules often requires a full time person.
The continuing closures have accelerated the urgency to understand and address the problems faced by rural Americans seeking access to care. Each rural region of the country has its own industry, economy, cultures and belief systems. Therefore, rural solutions will be unique and not an urban solution downsized to a smaller population.
Replacing the hospital with … what?
At Texas A&M Health Science Center, we are among several researchers focused on rural disparities by researching causes of socio-economic inequities and by working within those rural communities to "give a leg up" to distressed rural communities and counties nationally, and in Texas.
We've come to see that providing health care services in rural counties may not include maintaining a full-service hospital, but rather "right-sizing" care to match the resources, demographics, geography and availability of providers in the community.
For example, the ARCHI Center for Optimizing Rural Health is currently working with hospitals and their communities to determine feasible health care options that will be supported by the community, meet community needs, and most importantly, offer local, high-quality care. Using tools like ARCHI's DASH – a quarterly dashboard that shows performance of the hospital in financial, quality and patient satisfaction arenas – may help hospital boards, communities and local leaders better understand their status and need for change from business as usual.
While it may be that the changing health care delivery systems are altering what health care delivery looks like, change can almost never be instant. Communities may need to envision alternatives to hospitals.
In some communities, urgent care with radiology and lab services may be able to service the majority of health care needs. In other communities, a "micro-hospital" with an ER and swing bed options – which allow rural hospitals to continue to treat patients who need long-term care or rehabilitation – may be the better fit. Telehealth, or providing care through televideo virtual face-to-face from remote sites to rural residents, can also be an option.
Challenges specific to the dilemma of rural hospital closure will take a national, state and local effort focused on the plight of rural communities struggling to maintain availability of essential health care services. Our nation's vulnerable rural communities deserve a focused, coordinated effort to address this compelling problem before any more rural hospitals close their doors.
This article is part of a collaborative project, Seeking a Cure: The quest to save rural hospitals, led by IowaWatch and the Institute for Nonprofit News, with additional support from the Solutions Journalism Network.
Jane Bolin, Professor of Health Policy + Management, Deputy Director of the Southwest Rural Health Research Center; Associate dean of research, College of Nursing, Texas A&M University ; Bree Watzak, Clinical assistant professor, pharmacy, Texas A&M University , and Nancy Dickey, Professor, Executive Director, Texas A&M Rural and Community Health Initiative, Texas A&M University
This article is republished from The Conversation under a Creative Commons license. Read the original article.
As Rural Americans Struggle for Health Care Access, Insurers May Be Making Things Worse
Living in rural America certainly comes with a number of benefits. There is less crime, access to the outdoors, and lower costs of living.
Yet, not everything is rosy outside the city limits. Rural communities face growing infrastructure problems like decaying water systems. And they have more limited access to amenities ranging from grocery stores to movie theaters, lower quality schools, and less access to high-speed internet.
Yet perhaps most daunting are the tremendous health disparities rural Americans face, in terms of both their own health and accessing care.
As a number of my recent studies indicate, these disparities may be exacerbated by insurance carriers and the networks they put together for their consumers.
A sick system that's getting worse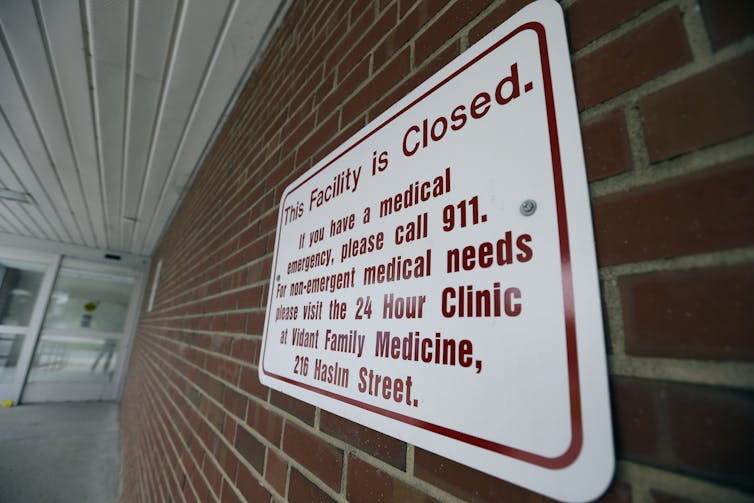 At the turn of the last century, cities were known to be cesspools rampant with disease. Much has changed since then. Today, health care disparities between urban and rural America have indeed reversed. And they are growing wider.
Part of the problem is demographic. Over the last several decades, many rural areas have lost a large share of their residents. In many areas, the young are moving away, leaving an aging population behind.
Besides being older, those staying behind are poorer and have lower levels of education. To make things worse, they are also more likely to be uninsured. And they tend to be sicker, exhibiting higher rates of cancer, heart disease, stroke and chronic lower respiratory disease. It comes as no surprise that their life expectancy is generally lower as well.
The demographic challenges are made worse by the limitations posed by the health care system. For one, rural areas are experiencing tremendous health care provider shortages. Access is often particularly limited for specialty care. But much more mundane health care services that most of us take for granted, like hospitals – including public hospitals and maternity wards – are also affected.
Politics have made rural access challenges worse in many places. Partisan opposition to the Affordable Care Act has led many states with large rural populations, like Texas and Kansas, to refuse to expand their Medicaid programs or support enrollment in Affordable Care Act marketplaces. This stance is particularly damaging because the program provides a crucial lifeline to rural providers.
A stark divide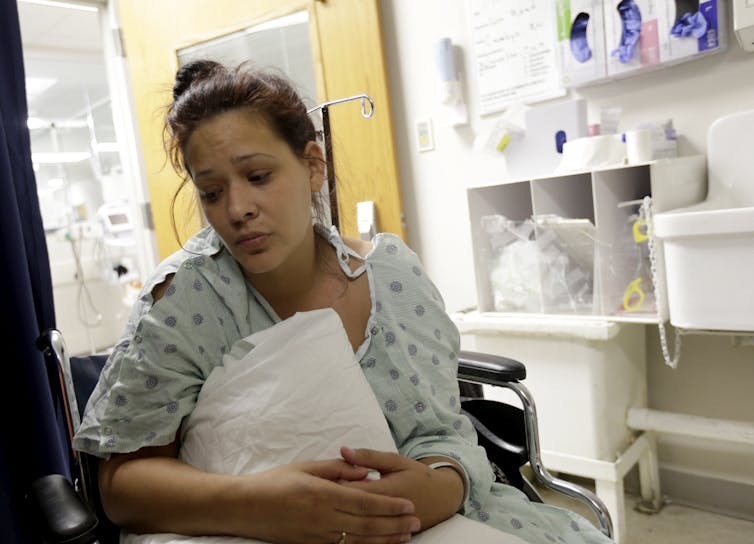 Rural communities across the country face tremendous health care access issues. And as recent study my colleagues and I did of access to cardiologists, endocrinologists, OB-GYNs and pediatricians shows, insurance plans may further complicate the issue.
Focusing on California, we compared access between plans sold under the Affordable Care Act and commercially available plans. We also made comparisons to a hypothetical plan that included all of the state's providers. In theory, this would be the plan available to consumers under various Medicare-for-All proposals.
Overall, we found that consumers living in large metropolitan areas faced only very limited access challenges. However, as distance from cities increased, access worsened significantly. Consumers had fewer providers to choose from, and had to travel further to see them.
One of our starkest findings was the existence of what we called "artificial provider deserts" – areas where providers are practicing and seeing patients, but insurance carriers do not include any of them in their networks. Without access to local providers, some rural residents are forced to travel 120 miles or more to reach in-network care.
Our findings hold for both Affordable Care Act plans and those commercially available, which fared only slightly better.
The problems we found in this study extend well past plans sold on the Affordable Care Act marketplaces. Two of my other studies found similar, if not worse problems, for rural consumers of Medicare Advantage plans in New York and California.
More protections for rural Americans
There are many reasons for the growing disparities between urban and rural America. Many of these aren't always easily or quickly remedied through government intervention. Indeed, some may be inherent to living outside of metropolitan areas.
Yet when it comes to health care access, our recent work indicates that decisions by insurance carriers may further worsen the situation. Conceivably, insurers may limit access to providers to push sicker populations to enroll with other insurers.
However, the fault may not exclusively lie with insurers. Rural providers may also demand large fees to enter into contracts with insurers, leading insurers to exclude them from their networks.
While regulating provider networks comes with a slew of challenges, it seems apparent to me that our current approach is not working for Rural America. It is time to rethink how we provide and regulate health care access to millions of Americans living in rural areas.
Simon F. Haeder, Assistant Professor of Public Policy, Pennsylvania State University
This article is republished from The Conversation under a Creative Commons license. Read the original article.
You're smart and curious about the world. So are The Conversation's authors and editors. You can get our highlights each weekend.

The High Cost of Living Rural: A Q&A with a Journalist Covering Healthcare in Appalachia
Rural hospitals across the country are closing in large numbers, making emergency and speciality services harder and harder to come by for Americans who don't live in urban centers. One hundred and thirteen rural hospitals have closed since 2010, and about a third of the remaining, some 670, were at risk of closing in 2016.
Mason Adams, who is based in Floyd County, Virginia, detailed the impacts of those closures on rural Appalachians in his latest report for In These Times. That includes the increased travel times that many older, poorer Appalachians now face to reach the medical services they need, sometimes requiring helicopter rides in emergency situations that can cost upwards of more than $44,000, more than the average annual income in many of the communities directly effected.
Adams also details the difficulty communities face in finding adequate services after their local facilities downgrade the services they offer after consolidations in rural healthcare systems, such as trauma care and neonatal intensive care units (NICUs), all of which contribute to the growing cost of rural health care.
Adams spoke with 100 Days in Appalachia's Kristen Uppercue about his reporting.
---
KU: Your report details, the challenges rural Americans, especially those that are older than 65 face when trying to access health care services. Some of the biggest challenges you write about include the impact of hospital closures. But that's not necessarily a new issue. Outlets throughout the region have been covering this issue. Was there anything you found in your reporting for this article that was new to you or that you thought was surprising?
MA: Well, first, I agree. You're right. A lot of these issues have been around for a little while. I've reported on some of them myself. What I hadn't done before this report was to really see them stacked up in one state in one story, all these different layers from access to cost to transportation, and a lot of these stacked up and so seeing that in a complex, layered way was something new to me.
I hadn't gotten into too much before, I had thought about the emergency transportation side of it. I hadn't thought about birth services so much. One of the interviews and the first person I quoted in the story had quadruplets that came three months early and she had to drive an hour to get to neonatal intensive care unit, which is where you need to go if you have a high-risk pregnancy or your babies need to stay over, as hers did for the next six to eight weeks after she gave birth. I think today with some of the changes that have been made to the hospital systems, she'd have been driving an hour and a half, which boggles my mind. But something else that came up in this was just the prevalence of these issues. You know, I kind of got started on it because I heard stories about these $44,000 helicopter bills, and I had trouble finding people who had had that experience and were willing to talk about it, I think in part because they signed nondisclosure agreements when they settled but it seemed like everybody I talked to had a story about it.
KU: I agree. That was one of the anecdotes that really stuck with me from your piece. You write that the cost of those helicopter rides are more than the average annual salary in the area you are or you were looking at. 
MA: Right. Well, air ambulances are, you know, that's the term where an emergency helicopter comes in to pick up somebody and take them to a hospital. But now there's a number of private companies running systems like that. These are out of network services for many patients and so that out of network price is you know, people will get a bill. I spoke to one lady in Rogersville, Tennessee, who'd been transported and she received a bill for more than $44,000. I will say just to qualify that, I think it's hard to find stories of people who've got stuck with that whole bill. In some cases, Medicare will more or less cover it. In other cases, there's an insurance that people purchase. I think all of the rescue squads and public safety officials in Lee County are covered by that, for instance. And they market it to people in the area because so many folks are having to be flown out. So a lot of people have that insurance that helps cover the cost. And then I think in other cases, people end up settling with the company for maybe a few thousand dollars.
KU: So your story is centered around a nonprofit healthcare provider that bought up services in a rural community, consolidated into one organization and then downgraded those services because there really isn't any competition in the area anymore. You write that this is a trend that we're seeing in the region. Can you explain in a little bit more detail what exactly is happening?
MA: Essentially, in northeast Tennessee and southwestern Virginia, there were two competing health care providers, Wellmont and Mountain States. And by 2014, both of them had, just covering a rural area that is increasingly losing population and the population's older, poorer, it tends to be, you know, sick, they're dealing with things like black lung and not to mention chronic, you know, illnesses like diabetes and heart conditions. So, they emerged under a process called a Certificate of Public Advantage, or cooperative agreement that's in Virginia and Tennessee. And so the resulting entity, Ballad Health, basically had all of Mountain States' and Wellmont's assets and some of it, you know, like I said, these had been two competing healthcare systems, so they ended up with things like two hospitals in Norton, which is a city in southwestern Virginia of about 4000 people. 
And so, you know, as you'd expect, they're looking at that larger system and looking for ways to make it more efficient. Now, some of the changes that they've made have really upset people who are in that coverage area. Probably the one that's fired up people the most is they had two level-one trauma center hospitals in Kingsport and Johnson City, which are pretty close together. Kingsport, I think, is within range of more population than Johnson City. But Ballad chose to downgrade Kingsport from a level-one to a level-three trauma center, and as part of that closed the neonatal intensive care unit. They've essentially converted one of the hospitals in Norton into a long-term facility and they've moved its services to hospital and the other hospital in Norton, and then a different one in Big Stone Gap. And they've made changes around the edges and, you know, some people are worked up. You know, Ballad will say this makes for a more effective healthcare and they're doing things by the book and the numbers, but at the same time, you know, the Robert Wood Johnson Foundation has done a study that found that basically hospital consolidation and these monopolies see price increases. 
And so we're still in the early years of this Ballad procedure or this Ballad entity, so there's still a lot to learn, but a lot of people are pretty worried about it. You know, there have been protests going on in front of that Kingsport hospital that was downgraded, Holston Valley Medical Center. They've been, there's protesters there who've been out front 24/7 continuously for more than 200 days and are involved in, you know, some battles with Ballad just not only protesting the service changes but even kind of fighting to hold their ground now Kingsport town councils looked at some ordinances that might push those protesters out and so that's like one ongoing front with Ballad. 
But, to its credit, you know Ballad is also reopening the hospital in the county that closed in 2013. The hospital there in Pennington Gap was one of two in Virginia that closed. Folks there have been really trying to reopen that hospital and, you know, this fall, six years after that hospital closed, its doors reopen, not as a full critical access hospital or even an ER but as an urgent care center and Ballad says they're going to reopen it as a critical access hospital next year. And that's met with some extra spots, but I think a lot of people in Lee County are glad it's going to be reopening again that even if it's not providing the services of a level one or even level two trauma center, it's still, you know, a place where there'll be an emergency room and in case of a trauma or other situation like a heart attack or stroke.
KU: We know that Appalachia is a region that's struggling with many health issues. The rates of diabetes, of heart disease, of cancer, they're all high here. After doing this reporting, and this might be an obvious question, but do you feel like you can say that the financial climate of rural healthcare is impacting the health of the people here?
MA: Yeah, absolutely. And I think that's true, not just in Appalachia, but across America, especially rural America. I mean, that's just speaking from firsthand experience, you know? I'm one of the many, many Americans who's basically one healthcare crisis away from financial disaster. Like, we're doing okay, but if we were to, you know, suffer an unexpected issue, you know, I think I think we'd be in financial trouble and I think a lot of people are that way, you know, and will let small things go just because they know it's going to come with a bill, and often when they can't afford. I mean even co-pays, you know. You can see that play out if you look at the local courts were Ballad is certainly not the only company, they're one of many healthcare providers that will pursue patients for bills in court, you know. They go after them to enable them to chase the debt more aggressively and then they start to garnish wages. And in all the cases I checked, I could not find one case where somebody had come to court with a lawyer. Yeah, it's, it's, I think it's a challenge for a lot of Americans and Appalachians. 
KU: So with those challenges and the challenges that you've reported on before, are there any solutions out there? Are there ways to make healthcare more accessible and more affordable in Appalachia? 
MA: That's a good question. A lot of folks are trying different things. There are clinics that have gone out and really made a difference, like a few people made a point to me that you know, just having a registered nurse or a nurse practitioner who can see people at a spot and help them maintain their long term chronic conditions like diabetes or heart issues, that's, that's super important. Ballad itself is focused on a lot of community health issues, you know, helping support Parks and Rec and things that get people outside to exercise, helping support healthy eating patterns. I certainly saw Ballad trying to engage on that level and that's something we don't always think about, but it does make a difference in community health. 
And then you have more, I guess, more political solutions or looking at changing the healthcare…healthcare system in more fundamental ways, you know, that I talked to some people for this story that made a case that moving to a single-payer system for healthcare will take the profit motive out of it. And if you can do that, then maybe you can kind of make a more level playing field, both for providers, but also patients across the U.S. instead of into this system of winners and losers of have and have not healthcare providers that we currently have now.
KU: What can rural Appalachians who view this report, learn from you, especially those who want to push back against this divide in health care?
MA: I'm not sure they'd want to look to me to learn but I do think they can look to people in the story. There are voices in the story like Danny Cook who decided to take action against the closure of the NICU in Kingsport. Now, you know, you can argue whether or not she has been successful. Ballad still closed the NICU and downgraded the trauma center level at that hospital, but she's certainly drawn a lot of attention to the topic, not just from me but from other reporters as well and I think probably from lawmakers. I'm sure there are a lot of elected officials who may not otherwise be thinking about this story but are thinking about it and how to handle it due to her. 
I think one thing is that did come through from this is just the sturdiness of Appalachian people. I think, most everybody I talked to, had a very stoic attitude toward it, which can cut both ways, but I do think and surviving day to day, it makes a difference and it's a quality I've seen in people in the mountains throughout my career. 
How Telehealth Gives A Rural School More Mental Health Services
To tackle a growing problem among young people, and fewer mental health professionals in rural areas, school leaders have joined a pilot project where students can talk with mental health therapists via a two-way video chat.
In rural areas, access to mental health services can be limited, sometimes even more so for teens and children. And the need for these services is growing, so one Midwestern school is using technology to help bridge this gap.
Two hours south of Indianapolis is Orleans, a farming and manufacturing town, population 2,000. The highway into town passes the junior-senior high school, which sits on a large lawn. Inside, a row of basketballs lines the top shelf in Principal Chris Stevens' office.
They're a symbol of rural Indiana, where schools — and basketball — are often the heart of community life. Many young people in these communities, and across the state, share something else: a struggle with mental illness.
To tackle this growing problem, Orleans leaders are involved in a pilot project to help students. In the corner of Stevens' office is a mobile stand with an iPad and speaker; students can use it to talk with therapists at IU Health via a two-way video chat.
"It's been overwhelming as far as the amount of people … who either support it or have come forward and saying, 'I want to be on this list,'" Stevens says.
School guidance counselor Kristin Bye says students tend to struggle with depression and anxiety. Others are dealing with traumatic childhood experiences.
"A lot of our students are being raised maybe by grandparents or in non-traditional homes," Bye says. "There's a lot of past trauma."
And while Orleans has some nearby options for mental health services, that doesn't mean students can easily access them.
"Parents either work and they find it difficult to get off work, or they are worried about insurance or their child missing school," Bye says. "If they go to Centerstone at Bedford, that's a 20-minute drive up a 20-minute drive back, plus the session itself."
Parental consent is required for students to participate in the new service — generally known as telehealth. The consent issue has stirred debate as lawmakers tried to tackle the rate of Indiana young adults considering suicide –– one of the highest in the nation.
Shannon Mace of the National Council for Behavioral Health says there's growing evidence that telehealth is an effective way to deliver mental health services. However, legal and logistical red tape have slowed the rollout of these services.
"So once you get over the hurdle of just being able to invest in the infrastructure itself, then they need to find a way in order to be reimbursed for the services that they're providing," she says.
Reimbursing for telehealth services can be tricky, because policies vary by state or insurance provider. And initially, incentives for telehealth services were aimed at physical health.
"So since then, behavioral health providers have really been playing catch up," Mace says.
Insurer CareSource partnered with Orleans Jr/Sr High School to donate equipment and set up the services. The company says insurance won't be a barrier for Orleans students who need treatment.
"We'd love to have this option available in every rural school setting if it's successful," says CareSource Indiana Market President Steve Smitherman.
The pilot project took about two years to get off the ground. And as schools are increasingly responsible for students' mental health needs, it remains to be seen if this is a viable option for other districts.
"It is possible, I think you definitely still have to have the correct players in the game," says Carrie Hesler, project manager for IU Health. "Access to funding to get the equipment, I think, would be one of the biggest barriers."
IU Health says a school would need to purchase the $3,500 equipment, find a provider and navigate health insurance. And deal with two bureaucracies.
"We found out though, that our small school bureaucracy kind of works a little faster than some of the hospital bureaucracies," Stevens says, laughing. "So some things took a little bit of time."
He adds that doing this work means making sure everyone is on the same page.
"Not just small schools, but in every school, the workload is tremendous, and the needs are sometimes immediate," he says. "But I feel like by us being proactive, that's going to pay dividends in the long run for us and our kids."
Results of the pilot — including grades, disciplinary records, missed school days and reduced depression and anxiety — will be tracked.
People in need can call a suicide hotline number at the National Suicide Prevention Lifeline at 1-800-273-TALK (1-800-273-8255) to reach a trained counselor. The national crisis text line can be accessed by texting CONNECT to 741741. 
This story was produced by Side Effects Public Media, a news collaborative covering public health. It was originally published by the Daily Yonder.