Grassroots Growing: Hemp Farmers Form Cooperatives Amid Growth and Uncertainty
This article was originally published by the Ohio Valley ReSource. 
Tony Silvernail swings a heavy machete at a stalk of bushy hemp and chops the plant near the root, grabbing the five-foot-tall shoot with his sun-weathered hand.
It's an unusually hot October day on his farm, Beyond The Bridge LLC, tucked in the hills outside of Frankfort, Kentucky. But the heat doesn't faze Silvernail, sporting a sweat-soaked shirt, a huge smile, and a fat cigar between his teeth.
Silvernail and hundreds of others of farmers across the Ohio Valley are finally getting to harvest thousands of acres of hemp, the first harvest since the federal government legalized hemp cultivation last December.
"Oh, I'm happy as hell," he said with a laugh. "We're all like little kids, Shawn and I, getting all excited when we're sitting here harvesting and talking. This is actually the glory part of being a farmer, as anybody whose livelihood depends on this. When you're harvesting, it's a happy time."
He's been an organic farmer for decades in Kentucky, and it wasn't until last fall when he and his business partner, Kentucky State University professor Shawn Lucas, decided to try their luck at growing organic hemp for cannabidiol, or CBD. Silvernail said when he first became an organic farmer in the '90s, he appreciated the advice experienced farmers shared with newcomers in the industry. But he said that hasn't been the case with hemp.
"I've really adopted that sense of helping, and you didn't really get that with the hemp industry. The hemp industry is still very closed," he said. "So, I got in a bad mood and sitting there eating lunch with Shawn downtown, and I really came into a moment of 'you know, we just got to do our own thing.'"
They co-founded an organic hemp cooperative for smaller hemp farmers. The cooperative purchases hemp seed and other supplies in bulk to get a better deal. It sells the members' collective hemp harvest to processors, using the strength in numbers to bargain for better prices. And the cooperative helps farmers figure out how to even grow the crop in the first place.
Their cooperative is starting out small – 15 farmers in central Kentucky growing about 30 acres – and has already seen some challenges. They unknowingly purchased faulty seed and have had thieves stealing the crop right out of the fields. But Silvernail said it's all part of the learning process.
"Ask us in November where our sales were at, how we all did," Silvernail said. "We can cry on each others' shoulders over a beer when we realized how badly we may have screwed up or what we didn't do, but hopefully next year will be better."
Cooperatives aren't a new idea in farming. But they're new in the hemp industry, and many Ohio Valley hemp growers are choosing to join cooperatives to share supplies and give small growers a better shot in an increasingly competitive marketplace. Regional agriculture leaders are championing hemp's potential for farms of all sizes. But these hemp farmers worry that the sort of corporate consolidation they've seen in other agriculture sectors will soon come to the new hemp industry.
Consolidation Concerns
Hemp farmer J. Morgan Leach has already seen attempts by larger corporations to corner the hemp and CBD market.
Leach, founder of the West Virginia Farmers Cooperative, said he testified in 2017 against initial versions of a state bill, that he said would have prevented the sale of CBD products in the state unless the product was approved by the Food and Drug Administration.
That portion of the bill was supported by lobbyists from the British company GW Pharmaceuticals, the proprietor of Epidiolex, used to treat epilepsy-caused seizures. It is currently the only CBD-derived drug approved by the FDA. Other CBD advocates that year in other states also worried about similar state legislation being pushed by the company.
Leach said initial versions of bill could have closed off a lucrative market for West Virginia hemp farmers.
"So that was one of the, I think, apparent instances where you get kind of these bigger companies that come in and try to monopolize the market," Leach said. "We were able to overcome that and preserve this market opportunity."
Leach doesn't want the new hemp business to follow the route some other agricultural sectors have, such as the poultry industry.
Large poultry companies often have extensive control over a farmer's production and pricing. That has led to a massive class-action lawsuit alleging that large firms use data to keep prices for poultry high while payment for farmers remains low.
Leach sees that as a cautionary tale about the effect larger corporations can have.
"The company owns those birds from the time they hatch to the time they purchase them, and then the farmer is stuck with the bill for raising those and the chicken house to do it. I think that's a poor example," Leach said. "Some are making money, but they're totally hamstrung to the price that the company gives them, because it's just how it goes in that industry. [Hemp] is a new frontier."
Leach founded his co-op in 2015 in part because he doesn't want a similar situation to happen with hemp.
"That's our goal, is to be able to keep the five-acre farmer in business even when the bigger companies move into this space," Leach said. "A co-op is a one member, one vote organization, so all of my members hold shares of stock. That stock is restricted only to farming members. So, farmers are the entirety of the makeup of our organization."
Leach said it's ultimately up to the individual farmer whether they want to grow in a co-op, grow independently, or grow under contract for one of many hemp processing companies entering the business.
"I think it's just kind of a difference in philosophy," Leach said. "I'd just rather be part of a farming co-op where I have a voice and I have a vote."
But Leach said he's worried about the potential for future large-scale hemp production that could push smaller hemp growers out. By banding together, small farmers can compete with larger-scale production.
Booming Growth
Jeffery Young is an agriculture economist with Murray State University's Center for Agricultural Hemp in west Kentucky. He agrees the potential is there for future hemp consolidation.
"I don't want to say 'join or die,' but it would definitely be in a smaller operator's best interest to join in on that," Young said. "They wouldn't have the acreage, or the volume or the clout that a larger operator would have."
Young said the new industry is still years away from reaching a level of large-scale production that would pressure smaller hemp farmers. But the nascent industry is booming, and the amount of hemp grown in the Ohio Valley continues to skyrocket.
The number of hemp acres planted in Kentucky this year, compared to last year, nearly quadrupled to about 26,500 acres. West Virginia saw a similar jump with 641 acres planted, according to state agriculture officials. With zooming demand for hemp to turn into products like CBD, prices for the crop are far from set in stone.
"It depends on things like geography, what kind of processors are there nearby, how many are nearby, what variety is being grown, what quality of product is being produced," Young said. "The market is still trying to get its sea legs, if you will. There's a great deal more risk with hemp…and so through sharing of risk, that would would be a key benefit from forming a cooperative."
Much of the risk comes from the learning curve many new growers face. Pesticides are still being tested to control weeds and insects, federal crop insurance for hemp won't be available until next year, and in some cases, THC levels in hemp can spike above the federal limit that classifies the crop as hemp. THC is the psychoactive compound in marijuana, and is also present in trace amounts in hemp. Hemp with THC levels above 0.3 percent is reclassified as the crop's illegal cannabis cousin, and has to be thrown out.
While cooperatives can shelter hemp farmers from some risk, the set-ups can bring on new perils for farmers as well. Aleta Botts, Executive Director of the Kentucky Center for Agriculture and Rural Development, works with cooperatives of all kinds to help them become sustainable.
She said because most hemp farmers are still learning how to consistently grow the crop, there's a chance that a co-op might promise a hemp processor to grow a certain amount of hemp and fall short because of crop failures.
"We're going to get to harvest and not have those pounds to market. So we've built our financials on a level that we're not gonna be able to achieve," said Botts.
Unlike in the rest of the Ohio Valley, Ohio farmers aren't harvesting hemp this fall because the state only legalized growing hemp in July. But that hasn't stopped widespread interest in growing hemp, something that was apparent at a recent summit for potential hemp farmers in southern Ohio.
"I printed off, I think, 480 some lunch tickets, and they were all gone. So the interest is huge," said Julie Doran, who founded the Ohio Hemp Farmers Cooperative in December.
She was also one of the few critics who panned parts of the state legislation legalizing hemp cultivation in Ohio. She feared that the bill's language setting "financial responsibility" standards could limit in-state participation in the state's hemp program and instead favor out-of-state companies with more experience and access to capital.
Doran said she believes there's a place for smaller farmers alongside larger investors, but she also cautions that farmers need to learn how to grow the new crop reliably before working with bigger companies that might want to grow larger acreages more quickly.
"It's not like any other crop that they farmed," Doran said. "Yes, corporate is going to come in and we are going to need them for an outlet to sell all this stuff, too. But we need to learn ourselves first. And, you know, get our feet wet before we jump in."
PA's Dairy Industry Is Changing. These Family Farmers Are Innovating to Keep Up.
Cara Stephenson carefully navigates the short, well-worn path that begins at her grandparents' back door and drops down a gentle slope before ending at the milking barn. It's muddy and slick this time of year, saturated with fall rain and melting snow and rutted by the repeated pounding of work boots.
It's the same path five generations have been walking since 1795 when Stephenson's great-great-grandparents purchased the 160-acre plot of land along Center Drive in Butler County, Pennsylvania, and made it a farm.
In more than 200 years, that farm has been a lot of things: a place to grow potatoes and breed racehorses and raise cattle. But, for nearly a century now, it's been Moser's Dairy, an operation known for its 80 head of prize-winning Guernseys, a hardy, docile breed with distinctive fawn-and-white coloring.
Milking them is not an easy business. At Moser's, mornings begin at 4. Evenings end after dark or not at all when a calf is coming. There are no vacations, no sick days.
"You don't hang a sign up when it comes Christmas or New Year's," said Jim Moser, Stephenson's grandfather and the farm's current owner.
At 86 and beset by heart issues, Moser is mostly retired, but for decades, he was the one rising before dawn, milking the cows, bottling the product and driving a familiar loop around the county to deliver fresh jugs.
He likes things done the traditional way, so his children and grandchildren still use a bucket milking system and his wife, Dixie, keeps track of expenses by hand. Thanks to her off-the-farm job at Koppers, a local chemical company, and her meticulous bookkeeping, the farm has never been in debt.
Dixie would like to keep it that way, but in today's economy, that likely means shutting the dairy down. Jim wants to keep milking for as long as the money will let them.
Out in the milking barn, Stephenson sweeps her eyes over the lazing Guernseys– each of which has its own name and personality– and considers the options.
"I've been in this barn since I was two days old," she said. "Us grandkids would love the dairy to go on."
She pauses and recalculates.
"If we can overcome the problems, we'd love it to go on."
The troubles in the dairy industry, not just in Appalachia, are numerous and growing. Prices, which have historically followed a three-year cycle, have been low for more than four years now thanks to a global milk glut, requiring many farmers to dip into savings or equity to stay afloat. The down market is scaring off the next generation of farmers, who see more stability and potential wealth in working off the farm. As they opt out, farms are forced to close. And as the farms disappear, the infrastructure around them — large animal veterinarians and equipment suppliers, for example — collapses, making it more difficult for the remaining farms to operate.
"It's a cumulative challenge," said Andrew Sandeen, a Penn State Extension dairy educator.
And it's a challenge to which farms across the nation are increasingly succumbing. According to the United States Department of Agriculture, the country has lost more than 17,000 dairy farms in the past decade. Dean Foods, the nation's largest milk producer, recently filed for bankruptcy protection citing a decline in dairy consumers.
Pennsylvania, which ranks sixth in the nation in total milk production, milked 25,000 fewer cows and produced 5.5 percent less milk in the past year alone and had the unfortunate distinction of ranking second in the nation in number of farms lost. Pennsylvania lost lost 370; Wisconsin lost 590.
But the state does have at least one unique advantage. It ranks second-to-last in average herd size, behind only Rhode Island. Those small, family-owned operations that pepper the western half of the state tend to be nimbler than their thousand-herd counterparts in the Midwest, theoretically allowing them to adapt and evolve with greater ease, attempting unconventional or value-added ventures that may help to keep them afloat.
"It's tough to dig out of the hole and be optimistic about the future," Sandeen said. "But Western Pennsylvania comes about as close as anywhere to fitting that idealistic farm picture our society has, and I think there's potential in that."
'Close Your Eyes and Jump off the Deep End'
Economics on a small dairy farm are stark.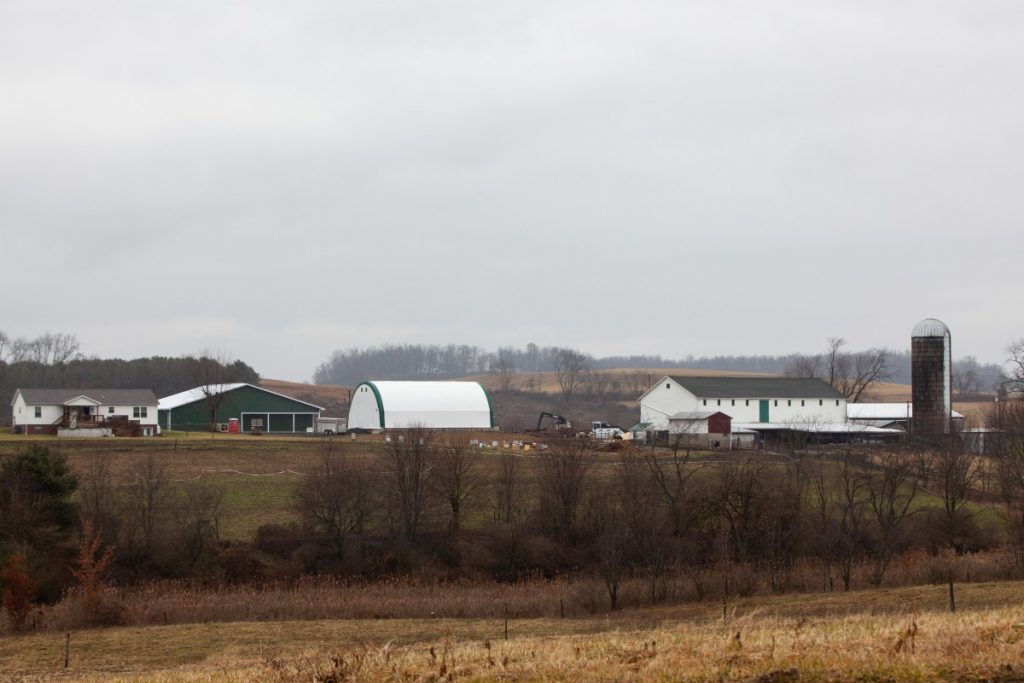 In Western Pennsylvania, a typical family farm will milk about 50 cows, and each one will produce about 20,000 to 23,000 pounds (before bottling, milk is measured in pounds, not gallons) of milk per year, depending on farm practices and cattle breed.
In the current market, an area farmer can expect to make about $17 to $18 per hundred pounds. It all sounds viable until you consider the expenses: feed, vet bills, tractors, milking equipment, machinery upkeep. In a bad year, the profits may not cover the costs.
"It's the impossible industry," said Jason Frye, whose family owns Pleasant Lane Farms in Westmoreland County, situated directly west of Pittsburgh. "There's no good reason anyone should be milking cows."
Which makes Frye's return to the farm after 20 years of working in Washington, D.C., that much more implausible.
Frye and his brothers, Todd and Chad, labored alongside their father, Ralph, a sixth-generation dairy farmer, when they were teenagers. But as soon as they were able, each chose his own path. Jason turned to tech, Todd joined the National Guard and Chad took a job in manufacturing.
Their off-the-farm work is more stable and less taxing, but their roots are still firmly planted in the ground at Pleasant Lane. So when the dairy industry took its troubling turn four years ago, instead of digging deeper into their chosen careers, they devised a bold plan to circumvent industry weaknesses and revive the ailing family business.
They're going to make cheese.
"Cheese actually makes real money that can support the family," Frye said. "But the problem is you have to close your eyes and jump off the deep end."
This summer, they did just that. With the help of a $364,000 grant from the Pennsylvania Dairy Investment Program, the Fryes are building a 5,000-square-foot facility that will house a creamery, half a million dollars worth of equipment, a learning laboratory and, eventually, a robotic milking system.
When the facility is up and running in late February or early March, the family will begin devoting 20 percent of their milk to cheesemaking– the remaining 80percent will continue being shipped to Turner Dairy Farms in Penn Hills for fluid processing. But Jason Frye predicts that 20percent will be much more lucrative, returning about $90 per hundred pounds instead of $17. As the creamery grows, they'll devote more and more of their milk to cheesemaking.
"The goal," said Frye, "is to get to 100 percent."
If that happens, they'll be able to count the gains in hundreds of thousands of dollars.
Pleasant Lane's grand experiment will begin with six cheeses, including curds, gouda, aged cheddar and quark, which has the consistency of Greek yogurt and will be spiked with honey from the farm's apiary. Eventually, family matriarch Ann Frye will add cheesecakes, filled with fresh, farm-grown berries, to the product line and a full-time employee will join the team to help process products for other local dairies.
But for all of the excitement about cheese, it's the robotic milking system that could be the true difference maker.
The smallest and most traditional dairy farms employ a relatively inexpensive bucket milking system, where the milk flows from the cow into a stainless steel drum that must then be emptied into a bulk tank. Today, most farms in Western Pennsylvania use pipeline milkers that carry milk directly from the cow to a bulk tank.
But both systems require that cows be milked at least twice a day, a process that takes hours of labor. Once Pleasant Lane Farms has its robotic system in place, the cows will decide when they want to be milked, entering and exiting the system on their own, grazing in the fields freely, letting the family focus on other operations and, perhaps, allowing them to increase the size of the herd. Eventually, they'd like to milk 65 cows instead of the current 45, expanding milk production and profits.
The venture is a gamble, if a well-calculated one, but Jason Frye says it is also a necessity if the family wants Pleasant Lane Farms to survive.
"It was basically do this or go home," he said.
'It's Hard to Imagine Getting Out'
Back in Butler County, Jim and Dixie Moser settle into chairs at their dining room table. Their home is timeworn and cozy, surfaces covered in newspaper clippings and photographs of their grandchildren. Every night, the extended family gathers inside to eat a meal that Dixie and her daughter prepare.
It's an idyllic existence, but one that the family knows could fall into economic peril with any further dip in dairy prices. And they admit that, save for selling gas and oil rights, viable solutions for the operation have been hard to come by. At 86 and 87, Jim and Dixie say they're too old to produce niche, value-added products, like cheese, ice cream, or bottled milk. They stopped the time-intensive practice of jugging their own milk years ago and now sell to United Dairy in Ohio.
Growing the Guernsey herd — a solution often offered by the uninitiated — is a futile endeavor, akin to "cutting your own throat," Jim says, noting the increased facility, feed and labor costs that would outstrip any profits.
But shuttering the farm means not only cleaving off the only revenue source for two of their four children and three of their four grandchildren but also abandoning a centuries-old tradition that has become inextricably entangled with their family identity.
"For people who have worked for themselves in an industry they love for their entire lives, it's hard to imagine getting out," dairy educator Sandeen said.
But all around the Mosers, the unimaginable keeps happening. Butler County had 396 dairy farms in 1969. Today, there are just 26.
The price of milk is, of course, the leading culprit, but Jim Moser believes there's an underlying issue that's just as troubling.
"The general public doesn't understand agriculture," he said. "They have no idea because they're too far removed. Agriculture is the most important industry in this world. If you don't have food, there's a whole lot of other things you're not going to need."
It's a lesson granddaughter Stephenson attempts to impart in her role as the chair of the Butler County Dairy Promotion Team. The 50-year-old organization's mission is to educate the public about the dairy industry, and its central message is a familiar refrain: Buy local.
Purchasing milk produced by local processors in Western Pennsylvania, like United, Turner, Marburger and Schneider, or looking for a plant label that begins with the number 42 ensures that the milk came from a local dairy and that the money will stay in the region.
At Pleasant Lane, the Fryes are doing their part by working with the state's Center for Dairy Excellence on programming designed to reconnect the public to its food source. They will offer educational tours for area students and cheesemaking classes for prospective cheesemongers in the creamery's learning laboratory, capitalizing on the farm-to-table trend — "People just want to see how the cheese is made," Todd Frye quips — and creating another possible revenue stream.
Whether messages or methods like these will slow the region's hemorrhaging of dairy farms is unknown, but the Mosers and Fryes are willing to bet that inviting the public to share in family lore and tradition is at least enough to inspire loyalty.
"That's why you build the story," Jason Frye said.
April Johnston is an award-winning freelance writer and podcaster based in Pittsburgh. Contact her through her sites apriljohnston.net and nebbypittsburgh.com.
New SNAP Rule Could Hit Ohio Valley Hardest
This article was originally published by Ohio Valley ReSource.
The U.S. Department of Agriculture estimates almost 700,000 people across the country will lose food stamps in a new Trump Administration rule announced December 4. Regional anti-hunger advocates and policy analysts say the Ohio Valley — and Appalachia in particular — could be disproportionately affected by this rule. 
In general, the rule will make it harder for states to waive requirements that low-income able-bodied adults without dependents work (or participate in a work program) for at least 20 hours or lose their food stamps. USDA officials said the rule is to encourage SNAP recipients to find employment.
"We need to encourage people by giving them a helping hand but not allowing it to become an infinitely giving hand," USDA Secretary Sonny Perdue said in a conference call Wednesday. "What's happening is that states are seeking waivers for wide swaths of their populations, and millions of people who could work are continuing to receive SNAP benefits."
Current SNAP rules limit recipients to receiving three months of aid out of a three-year period, unless they're working or enrolled in worker training or other education. But states can issue waivers to high-unemployment, economically distressed counties where it may be more difficult to find employment to meet this requirement. Ohio, Kentucky and West Virginia are all receiving partial waivers for the newest fiscal year.
This new rule, first proposed in February and planned to go into effect in April, will raise the bar for how economically distressed a county has to be to qualify. Specifically, a county would have to have an unemployment rate that is 20 percent higher than the national average while also having an average unemployment rate of six percent or higher over 24 months.
According to the research group Policy Matters Ohio, 41 counties in Ohio currently receive waivers — most of them in the southeastern Appalachian portion of the state. An analysis of SNAP data last year by The Daily Yonder, an outlet reporting on rural issues, shows out of the top 100 counties most reliant on SNAP, about 20 of those are in Kentucky and West Virginia.
In Clay County, not far from West Virginia's capital, nearly half of the county's 9,000 people receive SNAP benefits. According to a 2018 USDA report, SNAP recipients in the Ohio Valley made up nearly 6 percent of all recipients in the country, totaling an estimated 2,305,000 people that year.
Advocates working on poverty and hunger issues say that means the rule change will hit harder in the region.
"You will not see food banks make this up. We cannot make up for the loss of these kinds of benefits. We just can't," said Lisa Hamler-Fugitt, executive director of the Ohio Association of Food Banks. "If we see a massive surge on our system, the very agencies in our communities will give away what food they have, and when the food is gone, the shelves are empty, they'll close their doors."
Hamler-Fugitt also said she considers "able-bodied adults with dependents" to be a misnomer, because other people including extended family members that are not legal dependents could rely on the food budget provided by SNAP.
Dustin Pugel, a policy analyst at the left-leaning research group Kentucky Center for Economic Policy, said most counties in Kentucky already qualify for waivers. But this new rule could make it difficult for states to request new waivers in the future, especially during economic downturns.
He said while more than 100 counties in Kentucky qualify for waivers currently, only around 30 would qualify under the new rule.
"There's over 4,000 retailers in the state that accept SNAP benefits. And they're keenly aware of people who come in each month to buy their groceries," Pugel said. "When you start losing that, you also start losing the economic benefit it has to grocery stores and the benefit to the broader economy."
Pugel said this new rule is only one of several the Trump administration is proposing to alter access to SNAP, including a rule that could take away benefits from more than three million people across the country.
Other analysts say the continuing collapse of the coal industry in the Ohio Valley will only increase reliance on the program. Seth DiStefano, policy outreach director for the West Virginia Center on Budget and Policy, points to the recent bankruptcy of Ohio-based coal giant Murray Energy as an example of that decline.
"There are entire swaths of our southern coalfields that have yet to recover at all from the collapse of the coal market. So, the impact is very simple, it just hurts people," DiStefano said. "When these federal food assistance dollars come out, they're just pulled out of the economy, there will be parts in West Virginia where the only place to buy groceries will close."
Trump's USDA Is Letting Factories With Troubling Safety Records Slaughter Chickens Even Faster
Workers are getting injured, but the Department of Agriculture says their safety is not its responsibility.
Sixty miles northeast of Atlanta, a chicken statue atop a 25-foot monument proclaims the small city of Gainesville, Georgia, the "Poultry Capital of the World." In the rolling hills outside of town, white feathers trail the trucks turning into a slaughterhouse operated by a local company called Fieldale Farms.
The Fieldale factory employs about 1,900 people. A lawn sign advertises jobs for $11-plus an hour and a big banner shouts "Think Safe, Work Safe." But in recent years, according to federal safety records obtained by ProPublica, the factory has been the site of several grisly accidents, resulting in hospitalizations, amputations and death.
Those accidents didn't prevent Fieldale from getting special permission from the U.S. Department of Agriculture to speed up its processing lines. Chicken companies have long wanted to operate their plants faster so that they can boost profits, either by producing more chickens or using less labor. But speeding up increases the risks to employees already working in dangerous conditions, according to the Occupational Safety and Health Administration and the National Institute for Occupational Safety and Health.
It's been only a few months since the speed increase took effect, not long enough to make meaningful before-and-after comparisons. And there is no available data to compare injury rates at the factories with higher speeds to the industry average because the Trump administration scrapped a requirement for employers to submit their injury logs. What is clear, from safety records obtained by ProPublica, is that most of the 11 plants that received permission to run faster did so despite having a history of serious accidents, including deaths.
The chicken industry has higher injury rates than coal mines or construction sites, and it's the biggest source of finger amputations. Workers are under constant pressure to keep production going at a grueling speed. They typically perform one motion over and over, handling knives just a few inches from the next worker, surrounded by harsh chemicals and spinning blades.
"Increasing line speeds will increase poultry workers' exposure to all of these hazards," David Michaels, the head of OSHA from 2009 to 2017, said in a 2012 memo opposing a USDA proposal at the time to increase line speeds. Scientific studies, including both government-funded and industry-sponsored, have established that going faster worsens the risk of repetitive strain injuries like carpal tunnel syndrome. There is also evidence that feeling rushed or struggling to keep up with the work pace are factors in traumatic injuries.
"My conclusion from conducting this detailed research is there is no doubt that increasing line speed will increase laceration injuries to workers," Melissa Perry, chair of environmental and occupational health at the George Washington University's Milken Institute School of Public Health, said in a submission to the USDA opposing a similar plan to raise line speeds in pork slaughterhouses. The USDA is moving forward with that policy despite an internal investigation into whether the agency relied on flawed data to justify it.
For chicken factories, the USDA isn't going through the time-consuming and contentious process of making a new regulation with a higher speed limit. Instead, it agreed to waive the existing cap for companies that ask. "This deregulatory action would advance the president's objective to reduce unnecessary regulatory burdens," the National Chicken Council, an industry trade group, said in its formal request for the waivers.
When the USDA started issuing line speed waivers to poultry plants last year, the agency said it wouldn't consider the impact on worker safety. "The agency has neither the authority nor the expertise to regulate issues related to establishment worker safety," the USDA said in its official announcement of the speed waivers. "OSHA is the federal agency with statutory and regulatory authority to promote workplace safety and health."
But OSHA has no control over line speeds. A spokeswoman with the agency said the USDA "has sole jurisdiction over line speeds at these plants."
This gap in the regulatory framework puts workers at risk, said Debbie Berkowitz, a former OSHA chief of staff. She now directs the National Employment Law Project's Worker Health and Safety Program.
"The USDA doesn't care about worker safety, they just care about increasing profits for huge meatpacking companies," Berkowitz said. "If production increases and everybody has to work harder and faster in an already dangerous environment, that increases injuries."
The National Chicken Council's request for waivers acknowledged that "worker safety is a factor plants must consider when deciding the most appropriate line speed for their operations." But the trade group argued that this shouldn't prevent the USDA from issuing waivers because companies could take actions to address the risks.
The USDA's Food Safety and Inspection Service administrator, Carmen Rottenberg, has said in a December interview with trade press that the agency plans to use the line speed waivers to revisit the case for lifting the limit everywhere. The USDA declined to provide an interview with Rottenberg, and her spokesman declined to comment on the timeline for that proposal.
"A Deadly Trap"
Before it received a waiver, the Fieldale plant repeatedly broke safety rules, and managers clashed with OSHA over its enforcement efforts, according to hundreds of pages of records obtained by ProPublica.
Inside the plant, there's an insulated room for storing ice. Ice cubes fall from the ceiling into a huge mound; they then slide through turning screw-shaped blades that break up the ice and feed the cubes into the factory. The blades are covered by a grate in the floor.
One morning in 2014, a worker went inside to fetch some ice. Some of the bars in the floor grate were loose or missing, but the worker couldn't see the gaps buried under the ice. His foot fell through the faulty grate and onto the screw-shaped blades, severing his leg below the knee. He crawled out of the ice house and cried for help.
"He's bleeding bad and he's in shock," an employee told the 911 dispatcher. "Please tell them to hurry up before the man dies."
The worker survived, but his leg was so damaged that all but five inches had to be amputated.
The plant manager, David Rackley, told the OSHA inspector that the worker got hurt because he was "thin" so his foot must have fit through the regular spaces in the grate. The inspector measured the width of the thick rubber boots that the worker was wearing (5 inches) against the spaces in the grate (2 inches). Then Rackley abandoned his claim, according to the OSHA report. The inspector called Rackley's shifting explanations "deceptive" and "not true."
The inspector learned from interviewing employees that Fieldale hadn't bothered to fix the grates despite repeated complaints about the missing bars. Then, right after the accident, the company immediately fixed the grates and "covered up" records of the sudden repair. The inspector called it "a deadly trap."
Rackley, who is still the plant manager, referred questions to Fieldale's president, Tom Hensley. In an interview, Hensley repeated the false claim that the worker was injured because he was "small" and "somehow his small little foot got through the guard." When presented with the inspector's measurements and discovery that Fieldale "covered up" its repair of the faulty bars, Hensley said he wasn't aware. "This is the first time I've ever heard that," he said.
The OSHA inspector had previously warned Fieldale about maintaining protective barriers around dangerous equipment, after an unguarded conveyor had sliced open an employee's arm. It wouldn't be the last time, either.
The Fieldale plant had a longtime handyman named Ricardo Aburto. Aburto's job was to patch things up to keep the line running until a full repair could occur during downtime on the weekend, according to his wife, Alicia De La Paz.
On a Tuesday in July 2015, Aburto climbed up on a ladder to fix a high-power light, according to OSHA records. To remove the cover, he touched his screwdriver to a bolt. Instantly, he dropped to the floor.
"He stopped breathing," a nurse told the 911 dispatcher.
The wires that powered the light were supposed to be surrounded by insulation. But over time the coating wore down and Fieldale hadn't replaced it, the OSHA inspector found. The exposed conductors electrified the light's casing, shocking Aburto as soon as his screwdriver touched it. He was killed.
OSHA cited Fieldale for failing to insulate the wiring and for leaving the light on while Aburto was working on it. Fieldale paid a fine of $4,900.
Despite the coroner's finding that Aburto was electrocuted, which was reported in the local newspaper, Hensley maintained to ProPublica that Aburto died of a heart attack. He also said his engineers found nothing wrong with the light, even though the OSHA inspector took a photo of the exposed wiring. Hensley acknowledged that the light should not have been on while Aburto was working on it.
De La Paz said she was furious when she learned that Aburto's death was so easily preventable. She said she wanted to sue but she couldn't get a lawyer who would take the case because none of the witnesses would agree to testify against Fieldale.
"I miss him every single day," De La Paz said. "That's a pain nothing can ever take away." Four years later, she still describes him in the present tense: "Ricardo is," instead of "Ricardo was."
De La Paz said that since Fieldale failed to take simple and required safety precautions, it should not have received special permission to speed up operations, possibly exposing employees to additional risks.
In response, Hensley disputed that the line speed increase has any effect on worker safety. "It wouldn't matter how many birds a minute were processed through the plant for that accident," he said. "So we had a couple of bad ones, and we regret them, for sure."
A few days after the USDA announced that it would start granting line speed waivers, Hensley introduced Agriculture Secretary Sonny Perdue, former governor of Georgia, at an industry conference in Atlanta. Georgia is the country's No. 1 chicken producer, and agriculture is its top industry.
"President Trump could not have selected a better person for secretary of agriculture than Georgia's own Sonny Perdue," Hensley said at the event. Hensley and Perdue have known each other for years. Fieldale has bought corn from Perdue's farm, Hensley said. (The secretary is not related to the chicken brand.) Hensley sends Perdue Christmas cards.
Fieldale became one of the first companies to receive a line speed waiver, in October 2018. In May, the USDA granted a second waiver to another Fieldale facility nearby, where a worker clearing an air pipe had lost several fingers in the blade of a rotary valve.
Hensley told ProPublica he hasn't been in touch with Perdue outside of the conference and he doesn't think their relationship had any effect on the waiver. A USDA spokesman said the waiver decisions were made by career staff, not political appointees.
After the speed increase took effect, an employee's fingers were cut off while he was trying to remove a piece of chicken stuck in a machine that removes neck skin, according to OSHA records. Hensley said this machine's speed hasn't changed.
"Our backs hurt when we go faster," said Luis Miguel Santiago Torres, a 30-year-old worker who said he injured his knee at the Fieldale factory and recently left. "We are humans."
"An Odd Coincidence"
In October 2018, the USDA gave a line speed waiver to Gerber Poultry in Kidron, Ohio, 60 miles south of Cleveland. The company had requested the waiver with a one-page cover letter that made no mention of worker safety.
In anticipation of cranking up the speed, the company decided to order a spare set of motors so it wouldn't lose any time if one of them broke. So the staff needed to look up the part numbers. A maintenance man named Bill Derwacter climbed up on a stepladder to read the number off one of the motors, suspended 10 feet above the factory floor.
Derwacter said he knew that federal regulations require factories to turn off equipment whenever it's being serviced, but he didn't think it was a big deal to climb up and read the part number, something he'd done many times before.
As Derwacter stood up there, the motor's spinning sprocket snatched his sleeve, pulling his arm into the machine. The motor sliced his arm open and snapped a bone. It yanked him off the stepladder and threw him to the floor.
Gerber's vice president for compliance, Glenn Mott, said he saw the ambulance outside just as he was stepping out of a meeting with USDA officials about implementing the speed increase. "I thought, that's such bizarre timing," Mott, who signed the letter requesting a speed waiver, said in an interview. "It was an odd coincidence."
Derwacter said he's grateful to Gerber for covering all his medical expenses, including multiple surgeries, and holding his job for him. "They took amazing care of me; I can't even say nothing bad," Derwacter said. "It was truly 100% an accident."
OSHA, however, faulted Gerber for failing to turn off the motor and for not making sure employees followed the rule to do so. The inspector proposed a fine of $14,782, which was later reduced to $11,086.
Mott acknowledged that the line should not have been running while Derwacter was near it. But he said the accident did not cause him to rethink his plans because it could have happened at any speed. Starting the next day, the company gradually increased its speed over several weeks until reaching the new maximum.
"I Can't Do a Lot of Things Anymore"
The injuries from working in chicken factories are often not from traumatic accidents, but from the steady strain of doing one thing over and over, at a fast pace. These injuries, which can be painful and debilitating, were already common, and researchers say speeding up the lines will make them worse.
"Despite repeated studies in this industry in the past 20 years that found high prevalence of carpal tunnel syndrome, poultry processing jobs continue to be hazardous," researchers from the National Institute for Occupational Safety and Health said in 2014. "We found that the risk of carpal tunnel syndrome increased with increasing exposure to the occupational risk factors for musculoskeletal disorders," such as repetition.
Ethan Doney said that, on his first day at Peco Foods in Pocahontas, Arkansas, in 2016, he and other new hires were told by the company that they should report any injuries to the on-site nurse, and anyone who went to an outside doctor would be fired.
Peco officials didn't respond to requests for comment. (Peco's facilities in neighboring Mississippi were among the sites raided by immigration authorities in August, part of the largest sweep in decades.)
Doney was tasked with cutting meat off the bone. By the second month working shifts as long as 12 hours, Doney's fingers started locking up and he felt a burning sensation all the way up to his shoulder.
He said he went to the nurse every day for three months, but she refused to send him to a doctor because she said he was faking. Doney said the nurse put some balm on his hands, wrapped them up and sent him back to work.
After six months, Doney got so fed up that he quit and went to the doctor, who diagnosed him with carpal tunnel syndrome in both hands and nerve damage in both elbows. Both arms needed surgery. Doney asked Peco to pay for the procedures, but the company said no, because he was no longer an employee. The company also refused to rehire him, Doney said, because the same nurse who previously accused him of faking now said he couldn't work until he had the surgeries.
Doney had the operation on his left arm, but he didn't have surgery on the right one because it was scheduled for the day his twins were born. He still hasn't had the procedure and continues to feel the effect of his injuries. "I couldn't hold them for long periods of time," Doney, 25, said of his children. "I can't do a lot of things anymore."
One of Doney's co-workers at Peco, Lazaro Villegas, took pride in how fast he could pull chicken breasts off the bone. Villegas said he knew the workers were supposed to rotate through different positions to avoid repetitive strain injuries, but the supervisors often shifted them right back or didn't move them at all. "They put a lot of stress on the supervisors to make sure the line keeps moving," he said. "It's all about the money."
Villegas, 48, started waking up in the middle of the night with intense pain in his hands. "It would hurt like needles poking at you," he said. "I'd be dead asleep and boom, the pain would just be way too much." Peco moved him to a different department that was supposed to be less strenuous, but the pain didn't go away. After a year, the company finally sent him to a doctor, who said he had carpal tunnel in both hands. Peco paid for surgery on the right hand but fired Villegas two days before the operation, he said, because he'd missed too many days of work. The doctor said Villegas' left hand wasn't bad enough to justify surgery, but it still bothers him.
"Peco needs to learn how to treat their employees better," Villegas said. "Even if they gave me more money right now, I still wouldn't go back."
This story is co-published with the Atlanta Journal-Constitution. It was originally published by ProPublica.
ProPublica is a nonprofit newsroom that investigates abuses of power. Sign up for ProPublica's Big Story newsletter to receive stories like this one in your inbox as soon as they are published.