The W.Va. Monster That Crept Into International Pop Culture
West Virginia folklore includes many alien and monster-like characters, such as Mothman, Big Foot and the Yeti. One such monster has made a big resurgence in the past few years, becoming a part of the state's pop culture.
This story is part of a Halloween episode of Inside Appalachia, which features ghost tales and legends from across Appalachia.
The story of the Flatwoods Monster began September 12, 1952, in the small town of Flatwoods, West Virginia. It was 7 o'clock at night, and some schoolboys were playing football. They saw an object falling from the sky that looked to be on fire, said Andrew Smith, executive director of the Braxton County Visitors Center and founder of Flatwoods Monster Museum.
"Something, something bright, maybe a fireball, appeared to fly overhead and land on a nearby hilltop," he said.
The boys and two adults hiked up the hill to check out this "fireball." Apparently, there was an overwhelming rotten-egg smell in the air that burned their eyes.
"They see movement from their left coming from the woods," Andrew said.
They shined a flashlight and saw a 10-foot tall monster hovering above the ground, spewing smoke and gas. Its head was red, and spade-shaped, with a distinct point at the top. It had glowing eyes, with spindly arms and claws. Its body was covered in what looked to be green armor.
"Even though it was floating quietly, it was emitting a shrieking sound," Andrew said.
The group ran home and reported the incident to the police. Other than a lingering smell, there was not much evidence left behind. 
That is the basic origin story of the Flatwoods Monster. It was 67 years ago, but the legend lives on.
The telling of the story has varied over the years. For example, some people think there was a government conspiracy involved. Other versions mention a dog that died from the gas that poured out of the monster. Even more, the actual look of the monster is constantly changing.
The Flatwoods Monster Museum has become an epicenter of all the different interpretations of the monster. It is in an old pharmacy building, in the small downtown of Sutton, West Virginia. The storefront windows advertise the museum in different languages, for that international appeal.
It was originally supposed to just be the Braxton County Visitor Center, but what started as one, small shelf of Flatwoods Monster paraphernalia turned into an entire museum.
"I would say easily, over 95 percent of our traffic is because we're a Flatwoods Monster Museum, not because we're a visitor's center," Andrew said.
The museum is one large room. At the entrance, people are greeted by a life-sized Flatwoods Monster costume. The walls are lined with tall shelves displaying many interpretations of the monster, like drawings, figurines, lanterns, stickers, T-shirts and video games. Some look cute and inviting, while others have evil eyes and bulging muscles.
At the back of the room is another life-sized Flatwoods Monster, made from a green graduation gown, PVC pipe and a red, circular pizza pan. Another one sits on top of a shelf – it is just the head of the monster. Its menacing eyes peer down at guests. It has a bony, dark red face, hollowed out cheekbones and a grim reaper-like cloak.
"I have no idea where that came from," Andrew said, accompanied with a nervous laugh.
He said that a lot of the collection has been donated by artists and collectors. The museum has also become a hub for all things spooky in West Virginia. It is a place for people to swap not just Flatwoods Monster knowledge, but ghost stories and UFO sightings.
Colby White, a Morgantown-based musician, has some merchandise from his band on display. Captain Catfeesh is a punk band with an Appalachian-folk music flare. A lot of their tunes are based on regional folklore, such as Bigfoot, the Yeti and of course, the Flatwoods Monster.
One of the Flatwoods Monster inspired songs is called 'The Phantom of Flatwoods.' It is a traditional West Virginian folk song written at the time of the sighting by a local named Don Lamb; however, Colby arranged the music to it.
A verse from the song reads, "Oh Phantom of Flatwoods from moon or from Mars, maybe from God, not from the stars. Please tell us why you fly over our trees – the end of the world or an omen of peace?"
Colby has a tattoo of the monster on his forearm. Most people interpret the tale as scary or evil, but he sees it differently. He thinks the Flatwoods Monster was just taking in its surroundings when a group of kids and their mom approached from behind.
"Here comes a bunch of kids, a woman shining a flashlight in this dude's eyes or this creature's eyes," Colby says. "Next thing he knows he's getting blinded and freaks out and starts vibrating and basically throws up some weird oil on them. So, I think they startled him. That's my theory, I think they startled the Flatwoods Monster."
The monster surprisingly has a Japanese following that Andrew thinks began between the 60s and 80s. The character is featured in some older Japanese video games and was also made into figurines. They have an anime, cartoon look — with bright colors and a large, toothy mouth.
Andrew has used the Flatwoods Monster to try to boost tourism in the area. He even runs online ads in Japanese, which have proven to be fruitful. Andrew said a Japanese woman visited the museum last year after seeing the ad.
"She had seen this drawing her whole life, but she had no idea it was based in America or based in West Virginia. But learning that it was, she did this deep dive into West Virginia," he said.
There are also different names associated with the monster, like the Phantom of Flatwoods, Braxton County Monster and the Flatwoods Green Monster. Andrew said in a board game it is referred to as "Braxxie."
"Braxxie has been a word for maybe three years and how often I hear people using it is amazing," he said. "And they use it like it's old."
There are even handmade wooden chairs painted to look like the monster. All five were built by a local carpenter and are placed throughout Braxton County. They are 10 feet tall with built-in stairs to reach the seat – they look more like a throne.
Recently, Andrew also launched a social media campaign using the chairs.
"You're actually preserving the history and memory of the Flatwoods Monster and taking these pictures and putting them on the internet," Andrew said.
Andrew said he believes the group saw something that September night in 1952. As to whether it was the Flatwoods Monster, Andrew said he will leave it up to the imagination.
And Colby, the musician, said a part of him would love to spot the monster in the wild, but he also likes the mystery of it all – the unknown. It gives him something to believe in.
This story is part of an upcoming Halloween episode of Inside Appalachia, which features ghost tales and legends across Appalachia. It was originally published by West Virginia Public Broadcasting.
Great, Great Granddaughter of 'Devil Anse' Hatfield Carrying on Family Traditions
Spring, summer and fall in Gilbert, West Virginia, in Mingo County, most days you can find a barrage of ATVs rolling through town.
Most of the riders are visiting for an adventurous vacation. The asphalt road runs are usually a short trip from their cabins, or hotels to the woods onto the Hatfield and McCoy Trail systems.
Chad Bishop is the master distiller in a nearby distillery.
"You come down here at any given time and you'll see twenty four-wheelers over here, five over there six, ya know," Chad said. "Those people come in here to spend their money."
To get there, you have to drive up a steep hillside to get to the Hatfield and McCoy Distillery. Most of the customers are ATV tourists.
"When they come up my distillery if they want a bottle of my product they're getting the best money can buy," Chad said.
Chad takes a lot of pride in making moonshine. Technically it's whiskey according to the Alcohol and Beverage Commission, but for Chad, the craft of brewing corn mash will always be moonshine. Chad said the recipe comes from the infamous William Anderson "Devil Anse" Hatfield himself. 
Chad married into the family. His mother-in-law is Nancy Justus, the great, great-granddaughter of "Devil Anse". 
Nancy's father worked in the coal mines. But the boom and bust cycle meant he was often out of work.
"Everybody was poor. We didn't know no better," Nancy explained. "He had a tough life. Coal mining's hard. It's a hard life. We would have starved to death if it hadn't been for bootlegging back in the 50s."
Her daddy made moonshine with a radiator. She said today, it would take a lot longer if they had to make moonshine that way.
But the moonshine tradition goes back even before the 50s, according to Nancy's mom, Billie Hatfield; often people call her 'Granny Hatfield'.
"Back when I was 20 years old, we got married and we moved to Ben Creek a little hole in the ground; one way in one way out," Granny Hatfield said. "To make extra money, we made moonshine and sold it. We hid it when he'd bring it out of the mountains, I would mix it in a bathtub. And I got pretty good on my 90 proof and all of that. Back then we made 90 proof and 100 proof. You had to watch the feds all of the time because they were all the time after us."
Today, the family business is legit, a registered, tax-paying business that helps them make a living and stay in West Virginia.
In addition to the distillery, Nancy Justus also runs a small lodging company that rents vacation cabins and hotel rooms to tourists. She doesn't mind sharing her family's story with visitors. 
"I enjoy talking to them," Nancy said. "I talk to so many people, take so many pictures. I'm not famous or anything, but they always a picture."
Nancy said she feels like she's reclaiming her family's name through her businesses, and by telling these stories. Even though the family wasn't consulted before construction of the trail system that uses their name, both Chad and Nancy said the Hatfield and McCoy Trail system has been great for business.
Still, running a business that depends on tourists isn't profitable year-round. 
"There's only seven months of business," Nancy said. "It's dead for five months and it's hard to come back when you come back in March, first of April, because you had to spend all your money for the winter. That's the only downfall, you know. It's so hard."
Just recently, Nancy's moonshine company won a long battle with producers in other states, including Missouri and California, who were trying to use the name for their own brands of liquor.
"I got what I wanted. I want my name," Nancy said. "I don't want anybody to have my name that's not the real people. It's not fair."
Nancy and her company won the lawsuit. Now they get to keep the name, Hatfield and McCoy Moonshine, to label their liquor. Chad said it's good for tourism too. Along with the Hatfield and McCoy Country Museum in Williamson, it's just one more way to bring another layer of authentic heritage to share with visitors.
"You can come here and go to a museum, and you can come here and watch whiskey being made the mountains you know, just like they did 150 years ago," Chad said. "So yeah. I mean, they use the name but I think if anybody's got the right to use it, it should be them."
After all, the craft and recipe for this liquor were developed and preserved in the backwoods of the West Virginia hills. So the only way for it to be authentic is to keep the name. 
"We don't really play off of the name but we want what we want people to know is here we stick true to tradition," Chad said. "We're from the mountains, we make whiskey in the mountains. We do it all in the mountains."
Reclaiming their name for their business is also about taking back the narrative that has been told over the years, said Nancy. Ever since the feud, reports have traditionally focused on the fights and anger among the families.
"I could write a book on our family," Nancy said. "It was Hatfields. The curse was handed down there's a lot of temperament. They have a lot of problems with forgiving. They can't forgive. It's sad."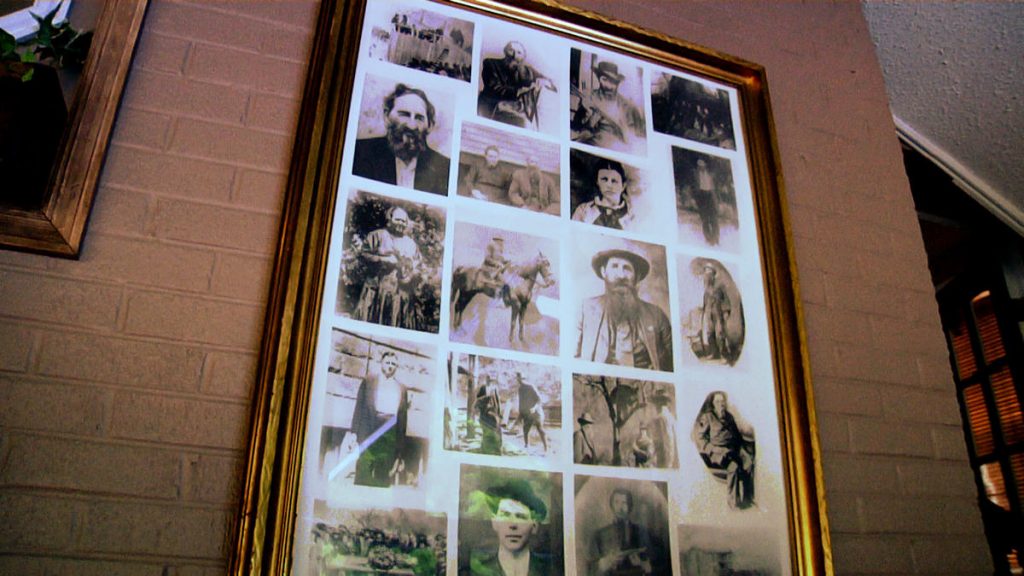 While she admits that most of her family members have a bit of a temper, she's quick to point out that there's more to her family.
"Hatfields are great people. My daddy would have given you the shirt off his back. I loved my daddy," Nancy said.
"I was his sidekick and anything he told me to do, I'd do it. And there was things I did that I probably shouldn't have done. I should have been killed. He bought me race cars. I raced them. What was I going to do with Corvettes? I raced them. Camaroes. Daddy taught me all of that."
This story is part of an episode of Inside Appalachia that explores tourism in southern West Virginia and the lasting impacts the Hatfield and McCoy feud has had on the region's identity. It was originally published by West Virginia Public Broadcasting.
'Blood Creek' Tells Mine Wars Story From Woman's Perspective
In her new novel, "Blood Creek", author Kimberly Collins writes about the strikes that gripped the southern West Virginia coalfields in the early 20th Century from the perspective of the women who lived through them.
"Blood Creek" is the first in the Mingo Chronicles series. It starts with the strike at Paint Creek and Cabin Creek in 1912. Collins used real characters from history in her books, several of whom she is related to.
"The story starts with a character named Ellie, and Ellie was a real person," Collins told West Virginia Public Broadcasting's Eric Douglas in an interview. "The overarching theme of the book is the mine wars and the thread that's kind of woven through the entire book is the relationship between Ellie, her sister and her cousin," she said. "So it's a book about relationships and just the fighting human spirit getting through some pretty pretty dark, violent times in southern West Virginia." 
Collins said the idea for the story came about when a cousin told her stories about her own great-grandmother she had never heard.
"I just thought it was important to tell the women's stories because coal is a man's world. And the women really played a huge part in it, but I don't think that that story is told enough," she said. 
"Blood Creek" is about the 1912 coal mine strike in Paint Creek. Collins said she began writing about the 1920 mine wars in Matewan, but stumbled across a story about the real-life Ellie and knew she had to write it into a book. The Matewan Massacre will be the focus of the second book in the "Mingo Chronicles" series.
Collins is from Matewan, although she now lives in Tennessee. She said the research she did for the book has opened her eyes to her own history.
"I realized that my heritage, my Appalachian heritage, is pretty amazing. I learned so much about the people of Appalachia and southern West Virginia, and that they were hardworking and intelligent, and smart and clever, and really fighting for their rights," Collins said. "All those things that came before me have made me who I am today."
This story is part of an episode of Inside Appalachia that explores tourism in southern West Virginia and the lasting impacts the Hatfield and McCoy feud has had on the region's identity. It was originally published by West Virginia Public Broadcasting.
Hauntings From The Civil War: A Snapshot of the Ghost Tours of Harpers Ferry, W.Va.
This story is part of a Halloween episode of Inside Appalachia, which features ghost tales and legends from across Appalachia.
Harpers Ferry, West Virginia, in Jefferson County is well known for its American Civil War history. The town was the site of John Brown's Raid, the Battle of Harpers Ferry, and the town changed hands from Union to Confederate several times.
Harpers Ferry saw so much destruction during the war that many now say it's a town home to ghosts and hauntings.
Up a series of steep, stone steps and just beyond a screeching gate is the entrance to the historic St. Peter's Roman Catholic Church in Harpers Ferry.
Built in 1833, it still holds mass on Sunday, and is open for special occasions like Christmas. But at night, and year-round, its courtyard is the meeting place for the Ghost Tours of Harpers Ferry – said to be the oldest ghost tour in America at nearly 50 years old.
On a recent night, about 50 people have gathered to attend the two-hour tour. There are parents with young children, older couples, and a handful of teenagers. Many tour attendees are from out of town, like Melanie Ray, from Baltimore, Maryland. Ray said she and her boyfriend were visiting the area and looking for something to do.
"I love anything that has anything to do with history, and Harpers Ferry has a lot of pretty bad history, like a lot of bad things happened," Ray said.
That history is what makes Harpers Ferry a pretty cool backdrop for spooky tales, and tourists like Ray are intrigued by that.
Not everyone believes in the stories, but some do.
Rick Garland took over the Ghost Tours of Harpers Ferry 10 years ago. He's a local historian and tour guide. During the day, he runs a four-hour historical tour in Harpers Ferry, but at night he tells tales of hauntings.
The Ghost Tours of Harpers Ferry was originally run by a woman named Shirley Dougherty, who started the tour in 1970. She has since passed away. Garland continues Dougherty's legacy because her family asked him to, and because he loves history. Garland also believes in ghosts, but he has a sense of humor about it.
"Is there anybody here who does not believe in ghosts? What are you doing here? I'm only kidding," Garland said to the laughing crowd.
With his lantern in hand, Garland takes the large group around the town, highlighting spots that are known for ghostly sightings. He encourages folks to take photos – just in case they might catch something paranormal.
Garland tells many ghost stories on the tour. One of them describes how in the 1980s, a man and his three children moved into an apartment in town, but every night, the father heard a crying baby in his bedroom.
"A few minutes later, the crying sound started up for a third time," Garland said to the crowd. "It was louder this time, and he's getting very fed up with this. So, now [he] says louder, 'I told you, you have to shut up,' and the moment that got out of his mouth, he saw something flash across his bedroom."
But when the father goes to check it out, there's nothing there. Later, the crying starts again, but this time, when the father yells, there's a crashing sound almost like an explosion of bricks.
Garland describes a possible explanation for the haunting. Apparently, a diary was discovered, written by a little girl named Anne, who lived in that building during the Battle of Harpers Ferry in 1862.
"Anne continues to write, 'when the Confederates are bombing our town there's a woman upstairs in this house on the top floor with a newborn baby, a little infant in her arms, rocking the baby back and forth," Garland tells the crowd.
Garland said the diary entry describes how a cannonball smashed into the house killing the baby and severely injuring the mother.
The crowd is silent.
A lot of the ghost stories Garland tells are connected in some way to the Civil War.
By the end of the tour, many who came out, chat with Garland, ask questions and share photos of what they captured, including one woman, Cindy Rhodes from Charlotte, North Carolina.
Rhodes and her husband travel all over the country to check out ghost tours like the one in Harpers Ferry. The history, for them, is the biggest draw.
"That's what they're more fun for, you know what I mean?" Rhodes said. "There's a ghost here and there, but they're more fun for the history, I think."
And for some who come out to tours like this one, like Brandon Schaefer of Baltimore, they like to be scared and to run into something spooky.
"I like the haunting stuff, and I always hope to see a ghost, so that's mainly why we came out here," Schaefer said.
Being a tour guide is Garland's full-time job, and though he does other historical tours, the ghost tour, is his favorite.
"It's great to see how this affects other people," he noted. "So, if you can entertain them, whether it's with the history part of it, or with the ghost tour part of it, or the spooky part of it, or with a joke, the fact is, that they want to be entertained; they came out to be entertained, and if you can do that for them, they feel good, you feel good, everybody has a good time."
This article was originally published by West Virginia Public Broadcasting.