Blackjewel Miners Likely to Receive Pay in DOL Deal
This article was originally published by Ohio Valley ReSource.
The Department of Labor and a company associated with Blackjewel agreed this week to put nearly $5.75 million toward coal miners left unpaid in the company's chaotic bankruptcy.
The July 1 bankruptcy of one of the nation's largest coal companies left 1,100 coal miners in Kentucky, Virginia and West Virginia out of work and without weeks of pay. The potential deal comes after a nearly two-month-long protest by unpaid miners, who blockaded a railroad to stop over a million dollars worth of coal from leaving Harlan County, Kentucky. The U.S. Department of Labor intervened with a motion supporting the miners' claim that delivering the coal would violate fair labor standards.
Ned Pillersdorf, an attorney representing miners in Blackjewel's eastern division, said if the miners' claims are not resolved soon, Harlan County and neighboring impacted counties could experience recessions in their already tenuous economies.
While the deal has not been formalized, Pillersdorf said he expects a firm commitment in the coming days. Pillersdorf said in exchange for the backpay, the Department of Labor will withdraw its motion to stop coal from leaving Harlan County over fair labor violations.
"I'm thrilled with the Department of Labor," Pillersdorf said. "It's a very positive step, and it sounds like it's going to happen."
The funds would likely come from Blackjewel Marketing and Sales Holdings, the entity that owns the approximately $1.4 million in coal the miners blockaded. But BMSH only has one customer: Blackjewel itself. And Blackjewel has long maintained it does not have the funds to compensate its former employees.
"I just hope it covers at least our bounced check," said David Pratt Jr., a former Blackjewel miner who has not yet been paid for his last weeks of work for the bankrupt firm.
The Appalachian miners will proceed with claims against Blackjewel regarding their 401(k)s and vacation time, as well as their original wage claims. The agreement with the Department of Labor, however, would reduce the value of that claim.
A spokesperson for Blackjewel could not immediately answer a request for comment.
Further hearings to finalize the deal and pursue miners' additional claims are being scheduled for later this month.
Murray Energy CEO Lashes Out At "Feckless" Federal Officials Over Coal Subsidy Plan
This article was originally published by Ohio Valley ReSource.
Coal executive Bob Murray clashed Monday with federal energy regulators at a Lexington, Kentucky, energy forum over what Murray called a failure by the Federal Energy Regulatory Commission to sufficiently support the struggling coal industry. 
"The word that I've been using to describe FERC is feckless," Murray told the audience, including FERC Chairman Neil Chatterjee.
Murray wanted FERC, which regulates the wholesale transmission of energy, to enact a Trump Administration proposal that would have subsidized coal-fired power plants and helped keep them competitive with cheaper natural gas. Murray Energy and other coal companies argue that without enough coal in the nation's fuel mix the electric grid could become unreliable, posing a risk to national security.
"What natural gas is available, you know, it comes in a finite pipe," Murray said. "People forget that too, that these gas wells aren't going to last. This glut of gas is not going to last."
The proposal was widely criticized and FERC rejected the idea last year. Murray and other coal industry actors viewed that as a failure by FERC to prioritize the resiliency of the power grid to threats from extreme weather events.
Chatterjee personally invited Murray to speak, knowing that he would be harshly critical. "He was obviously sharply critical of the commission and the decision we made," Chatterjee said. "And that's precisely what I hoped to achieve by inviting him here: to start the dialogue."
FERC and the University of Kentucky Center for Applied Energy Research hosted the event, which Chatterjee called a frank discussion away from the politics of Washington, D.C. Attendees included executives from fossil fuel, nuclear and renewable energy industries, and regulatory agencies from states across the country. They discussed the future of America's energy mix, "all of the above" strategies and more aggressive action to address climate change, such as the Green New Deal proposal.
Other coal industry leaders had prominent roles. Alliance Research Partners CEO Joe Craft sat at Chatterjee's left hand during a buffet-style lunch, and former Peabody Energy executive Fred Palmer took center stage in a panel about retraining displaced coal sector workers.
The coal industry has struggled in recent years as a mix of efficiency, renewable energy and especially natural gas from fracking have made coal less competitive. Major bankruptcies have shaken the industry, and Bob Murray's company could be next. Murray Energy has been in the news lately for mounting financial problems, and industry observers anticipate a bankruptcy announcement. Murray Energy is based in Ohio and the company claims to be the country's largest underground mine company, with about 6,000 employees.
Former Blackjewel Miners End Railroad Blockade in Kentucky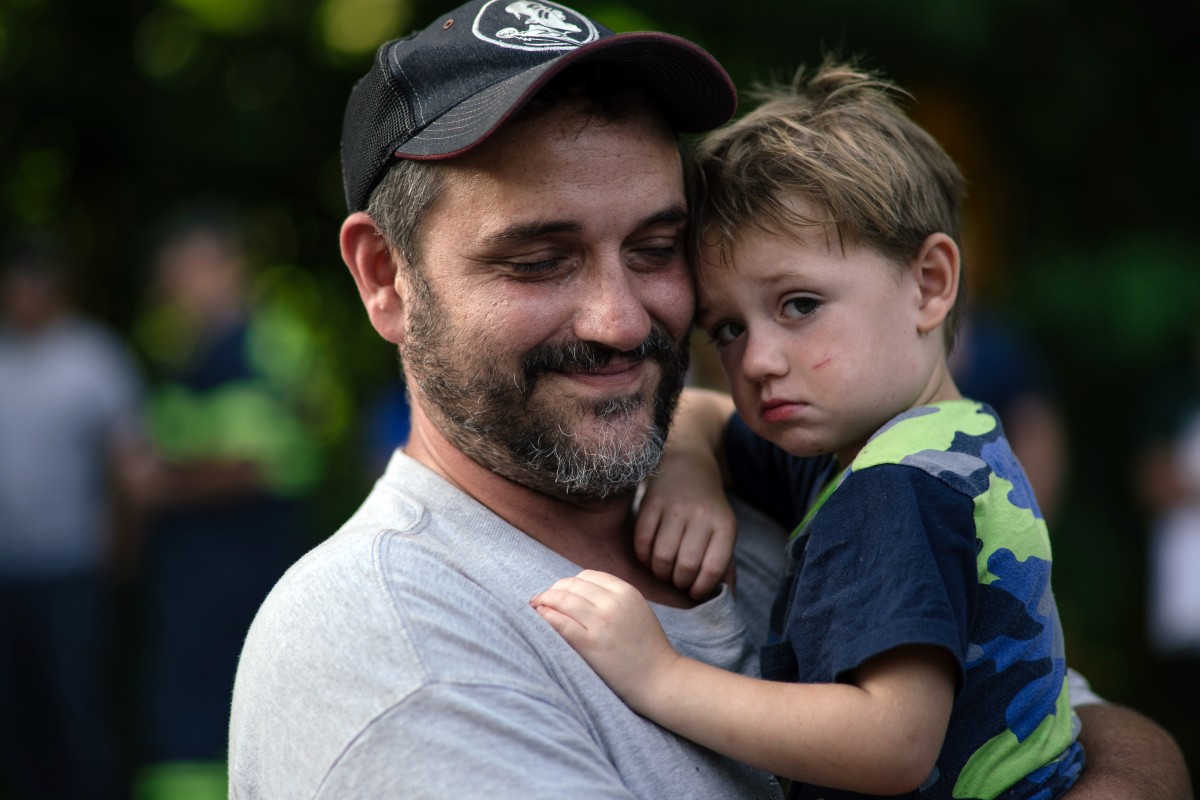 This article was originally published by the Ohio Valley ReSource.
The nearly two-month blockade of a Kentucky railroad track is coming to an end as unpaid coal miners end their protest in order to take new jobs, start classes, or move away from their coal-dependent communities.
When coal company Blackjewel abruptly declared bankruptcy in July, it left some 1100 Appalachian coal miners in Kentucky, Virginia, and West Virginia without pay. On July 29, five miners blockaded a train full of coal preparing to leave a Blackjewel facility in Harlan County, Kentucky. The miners' rallying cry was "No Pay, No Coal."
But after 59 days on the tracks, the protest is coming to an end.
Felicia Cress is married to a former Blackjewel miner, and has been at the protest since the first day. 
"This happened because we got shafted, which happens all the time," Cress said. "You got these rich people that s*** on these poor people, and people just overlook it."
She said even though her family has to move on, the relationships forged through the protest will stay with her.
"It was a bad situation that made us come together, stay there day and night, through the rain, through the blazing sun," she said. "We have now friendships, you know, we have a bond."
Felicia's husband is currently looking for work. She said her bank has threatened to foreclose on her home unless she finds money for her mortgage payment by Saturday. 
Hundreds of Blackjewel miners in Kentucky and Virginia have still not been paid. But the protesters can claim some important victories.
West Virginia miners received owed wages earlier this month. The protest drew international attention, helped win miners a portion of their back pay, and highlighted the state's failure to collect bond payments from companies like Blackjewel, as the law requires.
The train load of coal the miners blocked will remain where it is until a ruling from a West Virginia bankruptcy judge. That ruling is expected in October.
Paychecks Cut For W.Va. Blackjewel Miners; KY, VA Miners Still Waiting
This article was originally published by the Ohio Valley ReSource.
West Virginia employees of coal operator Blackjewel LLC have received their final paychecks more than two months after the company declared bankruptcy on July 1.
In an agreement reached last week between the Department of Labor and the company, Blackjewel cut paper checks for all owed wages to a few dozen employees working at the company's Pax Mine in Fayette County, West Virginia.
While good news for former West Virginia employees, about 1,000 miners in Kentucky and Virginia are still owed millions of dollars in back wages.
Christina Burgess' husband, Greg, ran heavy equipment at the Pax Mine. The 20-year coal mining veteran had been laid off before, but the family had never before experienced the fallout from a paycheck bouncing, as Greg's did in early July.
"It's been unreal," Christina Burgess said.
The Burgess family received Greg's owed wages late last week, but is still waiting for the check to clear a bank hold.
Blackjewel's bad check created a series of challenges. The first few unemployment checks the family received went straight to the bank to get the account out of the red. In total, Christina said Blackjewel's bankruptcy has cost her family about $3,000 in penalties and fees.
Greg quickly found new work after the Pax Mine closed and the family had some money saved in preparation for a downturn in the local industry. Christina said she empathizes with younger miners who were hit hard by Blackjewel's sudden bankruptcy.
As one of the administrators for the Blackjewel Employees Stand Together Facebook group, she has heard many stories of families unable to pay their bills as a result of not being paid by Blackjewel. She expects the fallout from Blackjewel's bad checks to have long-term consequences as well.
"Everybody that's involved in this right now their credit score has been damaged because of this," Christina said. "And that's hard to come back from when you when your credit starts going down."
She said she reached out to more than three dozen West Virginia state senators and Attorney General Patrick Morrisey, but heard nothing back. She said she feels abandoned by West Virginia lawmakers who were slow to advocate on behalf of stiffed workers in the bankruptcy court and haven't pushed utility companies or others to offer leniency to struggling Blackjewel families.
"They could have at least came in and said, you know, 'don't send turn off notices for the power bills, give them a little leeway,'" she said. "Nothing. We didn't receive anything."
The Pax mine is now owned by Tennessee-based Contura Energy. About 1,000 Blackjewel employees in Virginia and Kentucky are still awaiting millions of dollars in owed wages. A protest on the railroad tracks in Harlan County is in its eighth week.
Millions of dollars worth of coal mined by former Blackjewel employees is sitting in railcars. The Department of Labor says the coal is "hot goods" and can't be moved or sold until the workers who mined it are paid for their work.
Last week, the bankruptcy court in West Virginia overseeing the case gave the Labor Department, Blackjewel, and Blackjewel Marketing and Sales (BJMS) — buyer of the disputed coal — until Sept. 23 to submit a series of briefs to the court. A final set of briefs is due Oct. 1.
The judge said he expects to review the documents "swiftly" and rule soon after whether the coal should remain sitting until the Blackjewel workers who mined it are fully paid, or if it can be sold.
BJMS has proposed paying $1.4 million for the coal. The Labor Department says back wages owed to workers directly involved in producing the "hot goods" coal in Kentucky and Virginia totals more than $3 million.