Here at West Virginia Public Broadcasting, we've been asking listeners what they wonder most about West Virginia.
The latest question that won out in an online poll came to us from St. Albans resident Trish Hatfield. She asked, "Where does the phrase 'West by God Virginia' come from?" WVPB reached out to experts across the state and discovered one of the first times the phrase was found in a publication — and we have a good idea why it has stuck around.
"West by God Virginia" is an idiom many West Virginians know well, but its exact origins have traditionally been less well-understood.
West Virginia University linguistics professor Kirk Hazen did some digging for us into the phrase. The earliest printed version he found was in a Virginia magazine published in 1926 called "The Virginia Spectator." It reads:
"And it is, we believe, the only way that corn can be mixed and presented to a girl — except the iron plated ones from West (by God) Virginia."
The article was written by students at the University of Virginia who, in the middle of the prohibition, are likely alluding to making alcohol, Hazen said.
He said the quote is basically saying West Virginia women can hold their liquor.
"And the implication here is that they are accustomed to drinking homemade corn liquor," he explained. "So, they can handle it without having to mix it up in certain concoctions."
Hazen discovered this publication with the help from a Google Books application called Ngram Viewer. It's an online tool that sifts through a massive digital database of millions of publications in several languages.
Hazen said the phrase likely appeared in written form earlier than 1926, but to confirm that it would take months of sifting through physical documents, such as newspaper clippings, journals, books and magazines.
Hazen found another early publication of the phrase in 1939 in an academic article published by WVU's English department. The phrase is found in a footnote written by Harold Wentworth. The quote explores the possible history behind "West by God Virginia." It reads: 
"Among phrases so formed is the well-known 'West by God Virginia.' But the expletive insertion here is more syntactical than morphological. One story of the origin of this phrase, true or not, is that a native West Virginian, irked at being called a Virginian, retorted with an intonation that can only be suggested here, 'not Virginia, but West by God Virginia.'" — Harold Wentworth, WVU department of English, 1939
The exact origin of "West by God Virginia" as a spoken phrase is difficult to pinpoint.
Hazen points out how most spoken language is almost a living organic thing — not something that's tracked, monitored, sorted or in databases.
But Hazen and other experts say there's a good chance the phrase made its first oral appearance sometime after West Virginia became a state in 1863. But they say this is educated guesswork.
We spoke with another expert from West Virginia University. Associate Professor Rosemary Hathaway specializes in American folklore and literature.
Hathaway has been working on a book that explores the cultural history of the term "Mountaineer." She points to parallels between the origins of "Mountaineer" and the phrase "West by God Virginia."
"The first time the term Mountaineer shows up as a synonym for West Virginian is before statehood," she noted.
Hathaway said before we separated from Virginia, there was a legislator from Harrison County who sent a letter to a newspaper in Richmond expressing annoyance that his region, western Virginia, was not being fairly represented in the Virginia Legislature.
And when he signed that letter?
"He signed it, not with his name, but as a Mountaineer," Hathaway explained. "So, I sort of see that as being parallel to the phrase 'West by God Virginia' in the sense that it's just kind of a way of reminding both ourselves and outsiders that we are distinct from Virginia, and we have a unique identity and a unique history as West Virginians."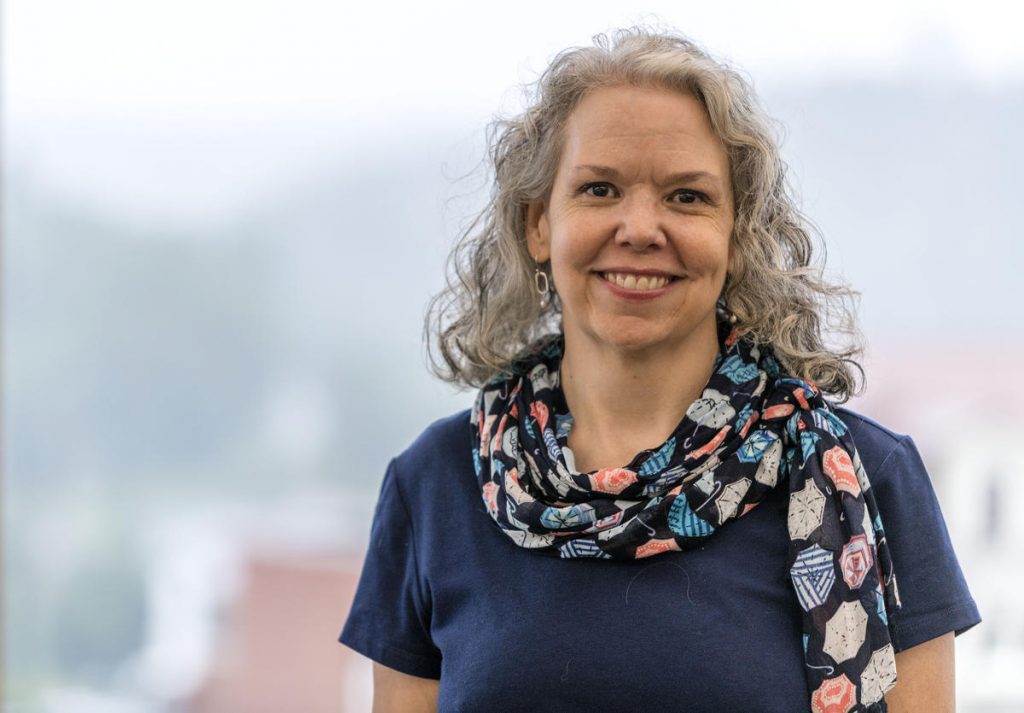 But none of this answers the underlying question — why did people start inserting "by God" into the name of West Virginia?
The use of "by God" in language dates back to the Anglo-Saxons, but it became commonplace in the 1600s, according to Eric Waggoner, the executive director of the West Virginia Humanities Council. Waggoner is also a retired history of English teacher.
Waggoner said "by God" has always been used as a way to emphasize something. He sees the inclusion of it in "West by God Virginia" as an expression of pride, when so much of the world perceives West Virginia in a negative light.
"There's been a sort of narrative about West Virginia that focuses on illness; it focuses on poverty; it focuses on hard times; it focuses on this sort of thin, cultural and educational infrastructure; a lot of things that are here that need attention and that people who live here know intimately," Waggoner explained. 
He said many West Virginians are tired and fed up with this negative narrative, and by adding "by God" into our state name, our identity, it allows us to reclaim our image.
"There's a kind of expression of pride, not just in place, but in being a person who is from this place, that 'West by God Virginia' seems to articulate in a very handy, in a very positive way," he said.
Even though the exact origin of the spoken phrase may be difficult to find, Waggoner and others said today it's often used to illustrate West Virginia as unique and separate from Virginia – that, by God, we are here, we exist and we have our own identity as West Virginians.
This article was originally published by West Virginia Public Broadcasting.