How Fly Fishing Saved a Veteran's Life
Army veteran Kyle Chanitz spent two and a half years deployed in Afghanistan, where he saw intense fighting and suffered concussions that led to seizures. When he returned to the U.S., he started taking college classes, but then dropped out to follow the jam band Phish around the country.
He spent 18 months on the road, got into drugs and spiraled out of control.
"I had eight accidental heroin overdoses in a year," Chanitz said. "And the whole time it was like, man, I don't want to be doing this."
Then one day, Chanitz was driving through Richmond, Virginia, on his way to the beach when he said he saw a sign for a Veterans Affairs hospital. He was in the midst of a methamphetamine binge and felt suicidal. Chanitz pulled over at a Walmart and convinced his meth-maker, who was riding with him, to get out of the car. Then he drove off to check himself into the hospital.
The VA moved him to a facility in Salem, Virginia, which sits at the eastern gateway to central Appalachia. After rehab, Chanitz tried to settle into life in the Roanoke Valley. He spent a lot of time in programs for disabled vets. He was learning how to garden when someone told him about Project Healing Waters, a fly-fishing program for disabled vets.
"We take vets that have never fished, and we walk them into the middle of the river, and it just washes over them," said Bob Crawshaw, a Navy veteran who works with Project Healing Waters. "They just relax. They just go … whoooooooo."
The program is designed to tap into the veterans' situational awareness—the training that soldiers need to stay alive in a combat situation, but which can become intolerable when they return home to civilian life. In Afghanistan, Chanitz was usually the first guy through the door when his unit was searching for enemy combatants. He was trained to immediately process his surroundings and detect potential threats — a stray wire, a person holding a gun or knife.
But you can't just turn that off after leaving the military. Even today, seven years after he got out of the Army, Chanitz said his eyes still dart around, followed by his arms and upper torso. It's the muscle memory of maneuvering with a bullet-proof vest and rifle.
Crawshaw said that fly fishing takes those instincts and applies them to a serene, peaceful environment.
On the banks of Wolf Creek, in Bland County, Virginia, Chanitz watched for insects in the air and on the water, then used that information to choose a lure that mimics what's he's saw.
"So you see that right there on top of the water?" Chanitz said as he waded through Wolf Creek. "That's a crane fly. I have a lot of crane fly imitations."
Chanitz enjoyed fly-fishing and fly-tying so much that he got obsessed. He quickly got bored in the classes at the VA. He started watching Youtube videos to learn new fly-making techniques. He bought tons of gear and went fishing every week.
Fishing also provided Chanitz an outlet to connect with other veterans. Some of them took him under their wing and became mentors. That's how he met his future wife, Jessica.
"My dad kind of took him under his wing, which my dad does," Jessica Chanitz said. "He's that kind of person. But there was always something special about Kyle."
Kyle and Jessica Chanitz married and bought a house in Roanoke. Fly-fishing and fly-tying have been part of their relationship since the beginning.
"I think at this point I know more about fly fishing and fly tying than a lot of people," Jessica Chanitz said. "I've slowly gotten used to the names of the material. He can tell me about a fly and the material he's using or the hooks he's using, and I can visualize pretty well what he's talking about."
Chanitz blends old-school and new-school techniques to make flies that are utterly his. For example, he'll use a modern, neon-colored synthetic thread but mix it with natural feathers, all tied in a traditional way. He's also developed a special blend of glues to secure his eyes on lures, which gives them extra action in the water and makes them more attractive to fish.
His fly-tying workshop takes up a sizable room on the second floor in the Chanitz house. Both Kyle and Jessica Chanitz spend a lot of time here—he tying fishing flies and her making jewelry, including with Kyle's old flies.
"I get kind of my own little bit of my own little creativity," Jessica said. "I don't have his creativity, but I take something that's very much a sport into something that has some beauty to it."
Kyle and Jessica Chanitz sell their creations online mostly through social media, but it's not their main source of income.
Kyle has benefitted from his interest in fishing and tying flies, but he's also paid it forward by working with other vets, like Moir Edwards, another military veteran who also loves fishing. Edwards served 20 years in the Air Force as a mechanic. He learned to tie flies by reading books, but then he found Project Healing Waters, where he met Chanitz.
"Kyle has given me some flies that he tied," Edwards said. "I try to imitate them. He'll come in sometimes and he'll just say, 'Here's a fly.' You take it."
This story is part of our Folklife Reporting Project, a partnership with West Virginia Public Broadcasting's Inside Appalachia and the Folklife Program of the West Virginia Humanities Council. The Folklife Reporting Project is made possible in part with support from Margaret A. Cargill Philanthropies.
This article was originally published by West Virginia Public Broadcasting.
Mountain State Mead Makers Provide a Taste of Appalachia
Mountain Dragon Mazery co-founders Ruthann Smith and Tom Maltby began making honey wine — or mead — more than two decades ago as a way to marry their love of old-world traditions with their love of honey. Five years ago, they opened a tasting room and custom-made micro-factory to produce and bottle nine varieties of mead on a commercial scale. They're part of the fastest-growing sector of the alcoholic beverage industry in the U.S.
"I've been a beekeeper since I was three and alcohol making has always interested me," explains Maltby, who sports a long, grey-streaked beard and brown leather fedora with feathers.
At its core mead is simply water, honey and yeast, mixed together and left to ferment, but the beverage can take many forms. Fruit, spices, rose petals and more can be added to create different varieties. Mountain Dragon Mazery, for example, specializes in a style of mead that is dry, which makes for easy drinking.
Historians have found evidence that honey wine was made by communities around the world thousands of years ago, something Smith and Maltby have embraced. Their blue glass bottles of mead are adorned with a dragon and red-haired maiden logo. Inside their tasting room and factory ⁠— an old neighborhood bar in Fairmont, West Virginia, that has been repurposed ⁠— a large black and orange dragon kite hangs near the bar.
"It's been really neat to bring to the local community, and West Virginia in general, an old-world craft to the modern times," Smith said.
In the decades since Smith and Maltby began experimenting with mead in their kitchen, the beverage, often associated with Vikings and medieval feasts, has experienced a modern-day revival. In 2000, there were less than 100 commercial meaderies nationwide, according to the American Mead Makers Association. Today, the trade group estimates a new meadery opens, on average, every three days.
"When we first opened the people would come in and say, 'you're making alcohol out of honey — are you sure that works?'" Maltby said. "And now we have people searching for us, sometimes driving from several cities away."
Appalachia's unique geography plays an especially important role in the mead crafted in West Virginia. That's because honey, the core ingredient for mead, tastes different depending on what plants and flowers the bees had access to.
Honey, It's Important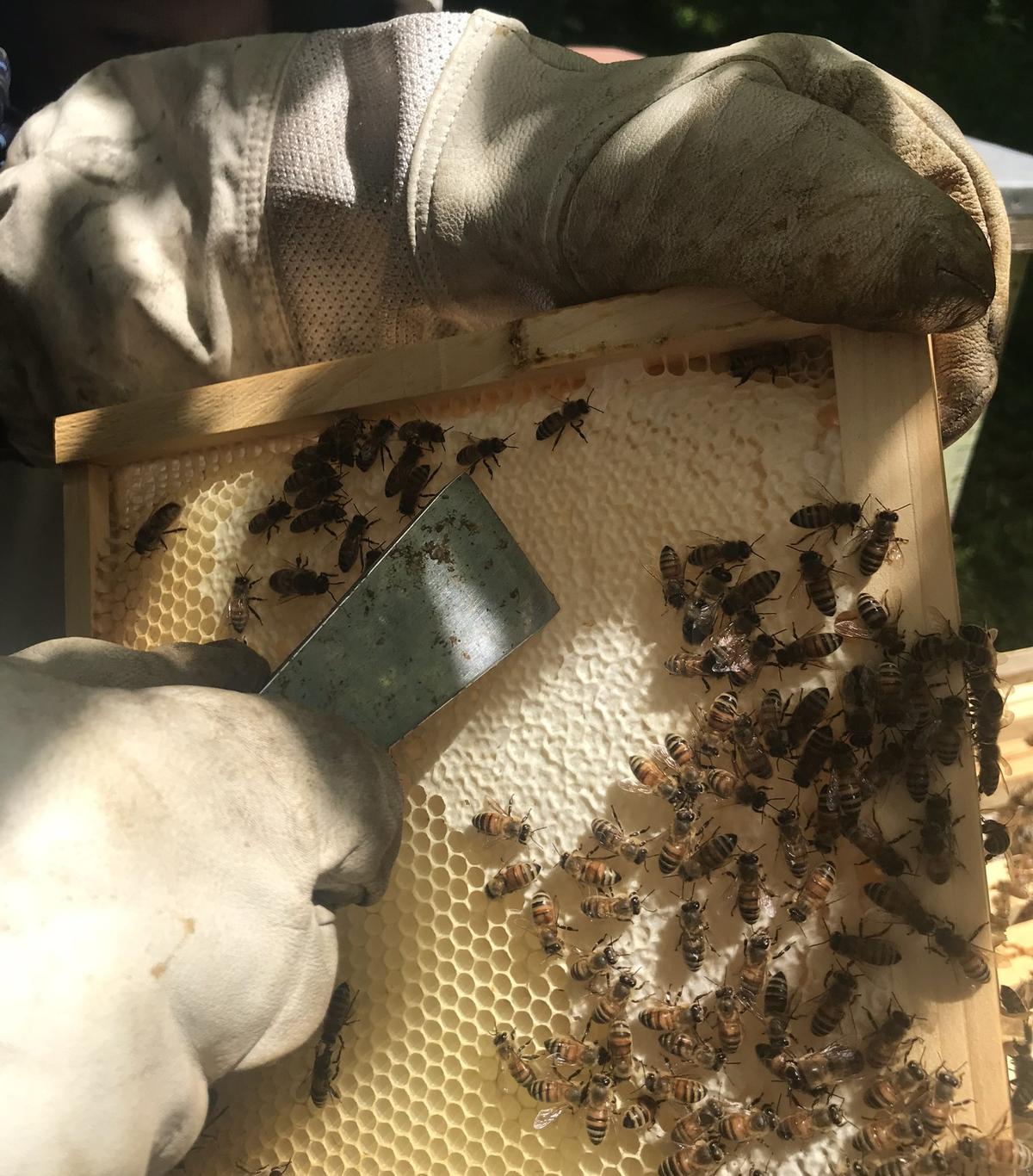 At their farmhouse just a few miles away, Maltby tends to the hives of bees that make the honey used in Mountain Dragon Mazery's mead. Each 60-gallon batch of mead requires 10 gallons of honey.
As their mead operation has grown, Smith and Maltby have moved most of their hives to the care of another beekeeper in the state. Four hives remain at the farmhouse.
"I believe that the Mountain State is making some of the best honey left in the world," Maltby said. "Partly because we're so far from primary sources of agriculture and chemical pollutants. Here we make forest honeys instead of agricultural honeys."
Bees make honey by extracting sugary nectar from flowering plants and storing it inside a honeycomb. West Virginia's diverse geography, mountainous terrain and relatively small farms mean that the nectar collected by bees here can be quite diverse. That changes the way honey tastes and one's mead will taste, said Josh Bennett, owner and founder of Hawk Knob Cider and Mead.
"If you're a beekeeper and trying to make meads from locally sourced honey you're going to have the essence of your region in your mead," he said. "That's going to be dependent upon when that honey was harvested by the bees and the little microclimate that it was in, but specifically related to your local flora."
Bennett said the types of tree and plant species in the local forest or region change the taste.
"Here in the mountains you've got bees away from large swathes of monoculture," he said. "Appalachia has a lot to offer in that way and the diversity of the biosphere that we have here."
Versatile Beverage
It's also a diverse drink.
"You can have something herbal, something fruity, something sweet, something dry," Bennett said. "You can hop it up like a beer, or you can age it like wine, and there's just a lot of versatility. You can create a lot of different types of beverages within the realm of mead."
Mead's versatility is both a blessing and a curse for modern day mead makers, said Rowe, with the American Mead Makers Association.

On a regulatory front, the Alcohol and Tobacco Tax and Trade Bureau regulates mead as a wine, which Rowe argues is not broad enough to cover the variations on the beverage, which can range in alcohol by volume (more commonly known as ABV) from under 4 percent to upwards of 20 percent.
"We have a segment that aligns more accurately with what the cider people or what the craft beer people are doing, and yet we're still clumped under wine," she said.
Because meaderies aren't individually tracked like cider and beer is by federal regulators, new mead makers face barriers in applying for loans with up-to-date growth numbers for the industry.
And the wide variation among mead often means mead makers, like Mountain Dragon Mazery, often find themselves educating patrons about the craft beverage.
On a recent weekday, Smith gives a full tasting to the Menjivar family who stopped into the tasting room while on vacation.
Smith pours a blush-colored liquid into a small plastic cup. This variety of mead is called a Rhodomel, which is fairly unique. It's made with wild tea roses harvested at their home along the Monongahela River and fermented with wildflower honey.
Paty Menjivar, the family matriarch, said she wasn't sure what to expect but was curious about honey wine. She takes a sip.
"It's really good," she said. "Really good."
This story is part of an Inside Appalachia episode exploring the alcohol culture and industry in Appalachia. It was originally published by West Virginia Public Broadcasting.
Craft Brewers Work With Farmers For Unique Ingredients
Craft breweries are popping up all over the region. In West Virginia alone, there are 27 breweries and three quarters of them opened in the last five years.
Sam Fonda, from Weathered Ground Brewery in Raleigh County, West Virginia, has almost 3,000 gallons of soon-to-be-beer fermenting and another 1,000 gallons aging in oak barrels nearby at any given time. That may sound like a lot, but his typical batch is 220 gallons, and that gives him the chance to experiment.
In addition to the basics of water, malted grains, hops and yeast, small craft brewers all over the region are experimenting with locally sourced ingredients to give their beers a unique flavor. Today, you can find West Virginia beers that contain traces of coffee, berries — even tree branches.
Weathered Ground buys malted grains from the mountains of North Carolina, as well as hops, fruit, and flavorings from local farmers. Working with his neighbors is a source of pride for Sam.
"That's why using local is so much fun. Because you can have this personal relationship with your suppliers. It's almost always more expensive. Sometimes double really, but that's just kind of the price you pay for doing what you want to do. So, we're happy to pay a little more for the flavor we're going to, as well as supporting local," Fonda said.
One of Fonda's suppliers is JR Ward, a hop farmer and full-time underground coal miner who lives just 20 miles or so down the road in Fairdale. JR loves the farm he has built, with 3,000 square feet of vegetable garden and a quarter acre of hops.
"Years ago, I couldn't tell you what a hop was, didn't even know they looked like, did not like craft beer. Then what really made me going forward was a few years ago we had layoffs in the mines and the hard times and I never want to leave here because this is just a piece of heaven to me. And it's beautiful land, I just started looking into stuff and hops caught my attention," Ward said.
He currently supplies Weathered Ground with enough hops for 440 gallons of beer in two batches. They are: "Lost Ridge Pale Ale," named for JR's farm, and the second is a nod to JR's other job. It's called "Hop Farmin' Miner."
Starting next year, he plans to expand to five full acres of hop yard on his property and is working with a friend to plant an additional five acres on a nearby farm. That will make Lost Ridge Farms one of the largest hop growers in the state.
Besides hops, Weathered Ground sources local fruits and just about anything that tastes good according to Sam Fonda.
"We brewed an IPA a few weeks ago with birch branches, and then the flavor that comes from birch just unreal, so a lot of people don't think about that kind of thing when they think about beer, but back in the day, that's kind of what beer was, what materials do you have on hand," Fonda said.There is a growing movement throughout Appalachia for beverage makers to use locally sourced ingredients. It may cost more, but brewers like Sam Fonda believe in the process and so far, they've been successful using that business model.
This article was originally published by West Virginia Public Broadcasting. It is part of an Inside Appalachia episode exploring the alcohol culture and industry in Appalachia. 
The Appalachian Home Brewers Who Brewed Craft Beer Before It Was Cool
Peanut butter stouts, guava sours, hazy double IPAs, pomegranate ales – these are just a few experimental beers to come out of the craft beer craze in recent years.
According to the National Brewer's Association, this expanding industry started in the 1990s but didn't gain momentum until 2010, making it relatively new. Today there are more than 7,000 commercial breweries in the country.
In West Virginia, that growth came even later. In the state there are 30 craft breweries, but in 2011 there were just five.
All the craft breweries started with a home brewer – someone who experiments in brewing at home, and usually it's a person who genuinely loves the science and craft behind beer.
Homebrewers in West Virginia have been experimenting with beer for decades, and they have been collaborating in community-organized home brew clubs.
There are 13 clubs in the state, one of which is in Elkins. It formed in 2009, and they call themselves the 'Appalachian Brew Club.'
"When you're around other brewers, you pick up learning how to brew in a really short time. It's a super-fast starter for people," Jack Tribble, Appalachian Brew Club co-founder, says.
He has been brewing since the 90s. He and several other members like to get together at one another's homes to brew.
On this day, they have met up to brew a New England IPA.
DIY Beer
In the kitchen, the stove is covered in giant, stainless steel pots, and the counters are filled with different yeast strains and a variety of grains. There is an oversized Gatorade cooler nearby for pouring beer into, which allows the liquid to steep in the grains.
The room is filled with a distinct, yet polarizing smell. Jack gives his thoughts on the aromas.
"I think it has a sweet cereal smell that has a grainy backbone to it. It smells great," he says.
But longtime club member Rick Newsome says it is an acquired scent.
"Brewers love the smell. Walk into a big brewery and they're brewing a porter and it smells heavenly. Unless you're my wife," Newsome says.
While the club brews, they sample other regional beers.
A lot of people enjoy beer, but these guys love beer. For Rick Gauge, it is like a creative science.
"It's a great bunch of people to hang out with and talk about beer and they, like me, nerd out about the specifics and the details and not just oh this tastes good, but why? What hops are used and what's the malt bill like?" Gauge says.
There are six stages in the brewing process – milling, mashing, lautering, boiling, fermenting and conditioning.
The Elkins club is at the end of the mashing stage, where the enzymes from the grains are converting to sugar. At this point, it is not quite beer, but a sugary liquid called Wort.
They are trying to get the Wort to an exact temperature. Too hot or too cold and the beer changes type.
"How geeky do you want to be?" Newsome says. "There are two enzymes that convert those starches into sugars – alpha amylase and beta amylase. Beta works in a range from 140 to 150 degrees. Alpha works from 150-160."
In simpler terms, he is saying in order to convert the yeast to sugar the liquid needs to be between 140 and 160 degrees Fahrenheit.
As a club, they get together several times a year to brew, but they meet up once a month just to talk beer. Clinton Hamrick, one of the members, says home brewers tend to be on the cutting edge of new styles.
"The home brewers I think are a little more on the leading edge of what's going to be popular this summer or the following year," Clinton says.
It is a lifestyle. They even plan their vacations around beer, calling them "beercations."
"We go with brewers and meet brewers over there and have a really good time, and all of a sudden they are pulling out stuff from the backs of their refrigerators and we have a really good time," Jack says.
They also brew beers for competitions.
Homebrew Competitions
Homebrewers recently competed in a competition in Morgantown, called the Coal Cup Homebrewer's Competition, which featured stouts and porters from regional homebrewers.
Inside the hotel conference room where the competition was held, judges quietly sip beers. They are voting on several categories – most boozy, coolest growler and weirdest flavor. In another room, members of the public gather to taste beers for the people's choice competition.
Jason Croston, a homebrewer in the Morgantown club, is competing with a Christmas porter and Bourbon barrel porter. He says brewing beer is something that has been passed down in his family.
"My dad actually grew grapevines on the side of our house and used to make wine. And one of my grandfathers was a brewer way back. It's in our family history and it's in our blood," he says.
There are two types of homebrewers – those who want to pursue opening a brewery and those who do not. Jason is the former. He hopes to open his own brewery one day, and even has a name picked out.
"I grew up in the backwaters in Cheat Lake, hence the name of my brewery when I do open –'Backwaters Brewing," Jason says.
But not all homebrewers want to take that path. Chris Eberlin from Cumberland, Maryland says brewers can lose their freedom with regulation. He gave an example of his friend who makes experimental beers.
"He'll just grab roots off the ground and throw them in and maybe some bark off a tree, and sometimes you get duds and sometimes you get really good flavors," Chris says. "The big challenge with commercial beer is you have to appease a big group of people. As a home brewer, I have the ability to go crazy because I've only brewed one to five gallons of beer. So I can make something horrendous and dump it and it's only a little bit of time and money I wasted. But as a commercial brewer that could be the difference between life or death."
All the home brewers spend the day tasting each other's beers, waiting to hear how they placed in the competition.
Overall, the Appalachian Brew Club place second in the Coal Cup competition.
The Bar Crawl
Back in Elkins, the brewers club members go on a bar crawl to taste some of the local beers on tap. On this day, they start at a local restaurant and bar El Gran Sabor.
Clinton Hamrick tastes a new beer on tap.
"It tastes like figs, little bit of raisin, woody, sweet, slight caramel – it's good," he says.
Whether it is making their own beer, trying other beer or taking part in competitions, home brewers simply love beer. Unlike commercial brewers, these guys are not in it for the money. They cannot legally sell you a beer, but they will try to excite your palate.
"I genuinely believe there is a beer out there for everyone," Rick Gauge says. "People who say they don't like beer, I make it my personal mission to find them a beer they like. Beer can taste like anything. The people that say they don't like beer just haven't tried the right one."
This article was originally published by West Virginia Public Broadcasting. It is part of an Inside Appalachia episode exploring the alcohol culture and industry in Appalachia.