Joe Turner: The Decorated West Virginia Military Pilot You've Never Heard Of
The jet dropped like a silvery stone out of the sky overtop West Virginia's capital city. It evened out just over the Kanawha River and roared down its length, water flashing in the jet's wake.
Crazily, the pilot charged toward a bridge over the river. Was he going to pull up?
Joseph Ellis Turner, age 11, watched in awe as the jet dashed under the bridge, not over it.
Immediately, the jet leapt skyward like a firework. It rolled once in the sky.
And was gone.
The year was 1950. Turner, now age 79, recalled his reaction as he stood stunned by what he'd just seen the daredevil West Virginia aviator Chuck Yeager do.
"I want to be like that guy," he said.
'Just a Guy Trying to Survive'
Turner would indeed follow Yeager up into the sky.
The Charleston native's career as a front-line pilot in Vietnam, as the first African-American Brigadier General in the South and as a long-haul Delta Airlines pilot would be an esteemed one. So esteemed that on August 5, Turner was inducted into the West Virginia Aviation Hall of Fame.
He joins the likes of famed Tuskegee Airman George "Spanky" Roberts, West Virginia's first African-American military pilot, and Katherine Johnson, famous for her math genius that helped NASA put humans into space and on the moon.
Don't call Turner a hero, though. He'll turn down the offer. "I'm just a guy out here trying to survive."
Survive, he did. And thrive, even in the face of segregation, growing up in a segregated neighborhood in Charleston and later facing the segregation of the U.S. Army's flight training program.
He'll eventually get around to telling you, in his happy-go-lucky and self-effacing way, how even segregated cafeterias helped his Hall of Fame career.
"Everything I've done I've enjoyed," Turner said."I don't know how I fell into all this. I think I've been blessed by God because I'm not the smartest individual in the world, believe me. But it's always worked out for me."
A Role Model Closer to Home
The bad-ass white guy in the jet was surely a lifelong inspiration. "He inspired the devil out of me," Turner said.
Yet Turner has never met the legendary Yeager–though he'd like to.
But there was a legendary black guy who was an equal, if not greater, inspiration to Turner. That is perhaps because he knew Charles Rogers personally. He grew up with Rogers after Turner's parents split up and he moved to Fayette County to live on his grandparents' farm for some years.
Turner tended to the pigs and horses as his grandfather trooped off daily to slip underground into a local coal mine. And he soon took notice of the older kid, 10 years his senior, who lived nearby.
"I lived right around the hill from him. I won't say around the block," he said, chuckling, given their upbringing amid the hills and hollers of southern West Virginia.
Rogers was an All-American before the term was ever bandied about. He was a star in multiple sports and a straight-A student with a lifelong laser focus on God and church life who went on to graduate in 1951 from West Virginia State College (now University) in Institute. Rogers was part of a book-worthy crop of African-American officers that trained in the small college's ROTC program, who would serve with distinction in the Vietnam War and beyond.
Turner, who followed Rogers a decade later into the battle zones of Southeast Asia, knows Rogers' story by heart. In 1968, Rogers' battalion was overrun by North Vietnamese on a march south along Ho Chi Minh Trail heading to Saigon. With bombs exploding and bullets flying, his 300 troops faced off with about 3,000 North Vienamese. He was shot in the face, leg and arm, but Rogers pushed through two days of hand-to-hand combat. And survived.
Rogers was later awarded the Congressional Medal of Honor for "dauntless courage and heroism" that day. He finished his career as a two-star general. He died in 1990.
A bronze bust of Rogers is now displayed at West Virginia State University honoring the notable black soldiers and commanders produced by the school. On the "Wall of Stars" behind the Rogers bust are bronze plaques, one honoring another two-star African-American general from the Mountain State: Joe Turner.
Turner, visiting from his home near Los Angeles, was inducted into the school's ROTC Hall of Fame in 2016 along with several other generals and ROTC graduate soldiers who went on to distinguished careers.The wall plaques laud 15 of the school's ROTC members who achieved the rank of one-star brigadier general, two-star major general and three-star lieutenant general.
Just like his boyhood hero, Charles Rogers, Turner would achieve the same high rank by the end of his own impressive career.
'First Class in My Own Mind'
Humid air enveloped a rural Alabama airport. The summer day was quiet. From a distance, came a buzz like a swarm of locusts.
It was indeed a swarm, not of insects but of de Havilland Caribou jets, made in Canada.
In 1962, the Caribou were a new thing the U.S. Army was testing. The STOL—Short Takeoff and Landing—planes could be put down and lifted off from a strip no longer than a few football fields.
As the squadron of Caribou touched down, most of the flight crews that got out to refuel and eat were white guys. But Joe Turner was there and one other black pilot who had survived the training so far. This was the Deep South in the early 1960s. The airport cafeteria was off-limits to a black man.
Turner shrugged it off. He'd brought a sack lunch. He refueled. He took off with his mates.
"It didn't bother me. That's the way it was and we accepted it," he recalled. "You couldn't do anything about it."
Not spending time in segregated cafeterias meant he left sooner. He got more flight time in. So, Turner finished the Caribou training before many of his classmates–certainly one of the few historical benefits from segregation's long, painful history.
"It was great because when it came time to graduate we were finished about two months ahead of everybody else. Because we were flying all the time!"
It wasn't as if Turner wasn't already intimately familiar with segregation. Growing up in Charleston, he wasn't welcome to eat downtown at local landmarks.
It didn't bug him. He says he was never really upset by it. But his mother was.
Turner learned early on useful life lessons from her. She drove a mail truck at the state Capitol, an unusual job at the time for a black woman.
He ended up working around the Capitol, too. Then, he followed his mother into the privileged homes of the well-to-do in the South Hills neighborhood where she cleaned houses. She taught him how to do a job right the first time, he said, and how to get along with people no matter their skin color.
"It never bothered me being a second-class citizen. I mean, I was first class in my own mind, as far as I'm concerned. That's the big thing."
Line of Sight
Flying Caribous in the early '60s was fun, Turner remembers. They'd keep the trainees flying huge distances, topping up the plane's gas and oil tanks mid-flight from tanks in the cargo hold.
"We didn't know why we were doing it," he said. "We'd just take off and go up and down the coasts. Turn around in Massachusetts, come back down the coast. Fly to Florida. Go down to Puerto Rico and land."
It turned out there was a method to such flights, which could last up to 15 hours.
"They were getting us ready to go to Vietnam," Turner said."They wanted these aircraft to be over in Vietnam.".
He began his military career as a Second Lieutenant in the U.S. Army Signal Corps. In 1965, he got a call while on leave in Institute, just outside of Charleston, to pack up. He was bound for war.
Turner had a wife and two kids by then. His family didn't want him to go. "But I had an obligation. I'm an officer in the Army. I'm ready to do my job."
All the other black pilots had washed out or quit Caribou training so Turner was the only black pilot among those who flew a squadron of the planes, hopscotching across America, then to Hawaii, Wake Island, Guam, the Philippines and on into Vietnam.
The 16 Caribou planes and crews were sent to the country's central highlands and the front lines. They provided support to the First Air Cavalry Division. (The division's story was told in the movie "We Were Soldiers," starring Mel Gibson.)
Turner's first mission was to fly a Caribou to snatch back the remains of a helicopter pilot shot down weeks before. The body bag was put in the back of his plane. "The smell was terrible," he said.
He thought he might have more such missions. "Luckily, I didn't."
Training flights in America became the real thing in Vietnam's skies. The only way for a commander to send orders to front-line troops was by line-of-sight— from headquarters to a bunch of radio antennas hanging out the backside of a Caribou.
"The commander of the division could call through to my aircraft. And the aircraft would relay it back to whoever was fighting on the ground," Turner said.
He piloted racetrack-shaped figure-eights at 10,000 feet. The flights sometimes lasted 10 hours. America had air superiority over the Vietnamese, "so nothing was going to fly and knock us out of the air," he said.
Ground fire was a hazard, however.
"My aircraft did get hit a few times. Small round ammunition. We didn't have anyone killed. But you could find the bullet holes in the airplane. The crew chief would find them and patch 'em."
Turner once looked down and saw clouds of smoke billowing in the jungles below. "What the hell is that coming from?" he wondered aloud. "They really have a battle down there."
But the battle was coming from up above his head.
"The B-52s had been called in. And they're flying over our heads and dropping those bombs," he recalled. "Did they see us? I don't know. That's something that made me nervous."
Six months later, Turner moved on to serve as a signal officer with the 17th Aviation Combat Group. His second tour of duty was as commander with the Headquarters Company of the 210th Combat Aviation Battalion. It took him off routine duty over the front lines.
"Generals would come in and visiting Congressmen would come over. We would fly them to wherever the mission was. Which was pretty good duty."
A Wasted War
Turner retired from active duty in 1970.
"They were going to send me back a third time to Vietnam flying helicopters and I didn't want to do that."
Ask him today about what he thinks about the Vietnam War, and his answer, after a slight pause, comes out in a tumble of words.
"I thought it was a waste. We were getting a whole bunch of people killed for no damn reason. Because of politics is what it was."
It wasn't just American lives wasted, he said.
"Think of all the Vietnamese we killed. And that Agent Orange stuff we sprayed over there to defoliate the jungle, so they could see who they were shooting at? That stuff got into our system and killed a bunch of people."
The toll from Agent Orange is personal for Turner. He'll attend an internment in Washington, D.C., this month for his dear friend, Lt. Colonel Ron McLeod, another distinguished graduate of the Yellow Jacket Battalion at West Virginia State College.
McLeod, who served in the infantry in Vietnam, died earlier this year. He battled for decades with cancers he traced from exposure to Agent Orange.
"I really loved that guy," said Turner. "We would talk two or three times a day."
"It was a wasted war. Just no reason for it."
A Decorated Career
But even after his retirement, Turner stuck with military life as a reserve officer. He split his reserve service with a long career as a pilot for Delta Airlines, carrying tourists from Los Angeles to Honolulu, among other routes.
His star continued to rise in the reserves. In 1988, he became the first African-American Army Brigadier General in the South with the 335th Signal Command out of Atlanta. The reserve unit had a forward-deployed active duty unit in Iraq, providing communications for the Third Army.
He was later promoted to Major General of the unit, becoming a two-star general.
After that, he became vice director of the Information Systems for Command, Control, Communications and Computers at the Pentagon. The position was the second highest in the Army Signal Corps in the Defense Department.
He retired as a two-star general in 1998.
Turner, a student of history, is pleased with the West Virginia Aviation Hall of Fame honor, which puts him in the same grouping as one of the great Tuskegee Airmen who paved the way for so many distinguished African-American soldiers.
There was a time before the Tuskegee Airmen that people said "black people couldn't fly airplanes," Turner said.
His 11 Air Medals, two Bronze Stars, Legion of Merit and other military accolades beg to differ, although Turner doesn't bring them up in conversation.
He's just glad to be included in such impressive company on the "Wall of Valor" of the Aviation Hall of Fame.
"I feel like I'm rubbing elbows with some great people. I'm happy to be joining them."
Douglas John Imbrogno is a freelance writer, editor, video feature producer and climate newsletter editor and podcaster. See more of his work at thestoryisthething.com and ChangingClimateTimes.substack.com
These Photos Will Change the Way You Think About Race in Coal Country
The myth that Appalachia is uniformly White lingers, but communities of "Affrilachians" were documented in the 1930s.
This article was originally published by YES! Magazine in March 2018.
Black folks have a gift for complicating the stories that Americans like to tell about themselves. Our presence, for instance, makes it hard to accept the notion that the United States was "conceived in Liberty, and dedicated to the proposition that all men are created equal." It's a comforting myth and a useful one as well. Abraham Lincoln put it to good use when he spoke those words at Gettysburg, rallying the Union in a time of crisis. But, as history, this foundational myth was undermined by the centrality of slavery in the economic and political life of the new nation.
Our presence complicates other American stories, like the ones that get told about Appalachia. Historian Ronald Eller has pointed out that the region has long been seen as the "other America," defining what the nation as a whole is not. According to this myth, America is prosperous, while Appalachia is poor. America is modern and progressive, while Appalachia is mired in the past. America is racially and ethnically diverse, while Appalachia is uniformly White, a land of hillbillies and moonshine.
"When someone hears 'Appalachia,' the first thing that pops into their head isn't an African American face, ever. It's kind of irritating."
—Shaylan Clark (Washington Post interview, 2017)
Myths about Appalachia linger in the national subconsciousness and rise to the surface when politicians and pundits find them to be particularly useful. In the 1960s, for instance, President Lyndon Johnson made Appalachian poverty the face of his War on Poverty, believing that voters would be more willing to support programs that seemed to be aimed at poor white people than poor African Americans.
Recently, myths about Appalachia have been recruited to explain the rise of Donald Trump to the presidency. As historian Elizabeth Catte points out in her important new book, What You Are Getting Wrong About Appalachia, the myths of poverty, backwardness and homogeneous whiteness have made it easy to paint Appalachia as "Trump Country." In the aftermath of the 2016 election, an entire journalistic genre emerged that ignored Trump's support among white voters of all income levels and in all regions of the country and instead focused on white working-class voters, especially in Appalachia. Somehow, the ignorance and racism of this "other America" had propelled Trump to victory, not the votes of middle-class suburbanites in Michigan, Wisconsin, Florida and Texas.
The whiteness of Appalachia is one of its most enduring stereotypes. Black folks, the story goes, live elsewhere. But in fact, African Americans, some of them enslaved, have inhabited the region since the first soldiers and pioneers drove Native Americans off of their land. Catte notes that when coal industry employment was at its height, in the early to mid-twentieth century, African American miners made up "20 to 50 percent of the workforce." Even today, she writes, more people in Appalachia "identify as African American than Scots-Irish." Yet the myth of whiteness is so strong that even well-known Black people from the region—the educator and politician Booker T. Washington, singers Nina Simone and Bill Withers, and writers August Wilson, Nikki Giovanni and John Edgar Wideman—are rarely associated with it.
Twenty-five years ago, poet and scholar Frank X. Walker, coined the term "Affrilachian." It was a response to the long history of writing African Americans out of the stories we tell about Appalachia, giving a name to the Black presence in the region and raising its visibility. The term struck a chord and is now widely embraced.
"When I imagine our history, I see photographs."
—Elizabeth Catte
Photography, Catte shows, played a crucial role in the creation of the mythology of Appalachia. Many others agree. Appalachian filmmaker Elizabeth Barret once noted that outsiders with cameras "mined images in the way the companies mined the coal." Too often, the images they made were the ones that myths and stereotypes had prepared them to see—poverty, despair and a cast of characters that was uniformly white.
Some photographers, however, have come to Appalachia with their eyes and minds wide open. Ben Shahn and Marion Post Wolcott were two of the best. Although Shahn is much better known as a painter and muralist, the photos that he made during two brief stints working for the federal government's now-famous documentary photography project at the Farm Security Administration are among the most significant documents that we have from the 1930s. Wolcott's career as a photographer, although longer than Shahn's, also was short. No matter. At the FSA, she still made some of the best and most iconic images of the era.
Neither Shahn nor Wolcott knew very much about Appalachia when they first arrived. But they were both sharp observers of people and society. And if they were burdened by stereotypes, they soon learned to discard them. They were both politically progressive and opposed to racism and segregation, and they shared an openness to and curiosity about African Americans.
"… my first assignments were very close to Washington. I think one of the first ones, if not the very first, was in the coal fields in West Virginia. That was a very short assignment, of course. And it was a very interesting one, too. I found the people not as apathetic as I had expected they might be. They weren't too beaten down. Of course, many of them were, but they were people with hope. …"
—Marion Post Wolcott in a 1965 interview
In this article, I've selected only photos from West Virginia. That's in part because it's the only state wholly within Appalachia, and in part because the images that Shahn and Wolcott made there are so strong. But these photos are only a small sample of the images of Affrilachians that can be found in the FSA archive. A rich history is waiting to be explored.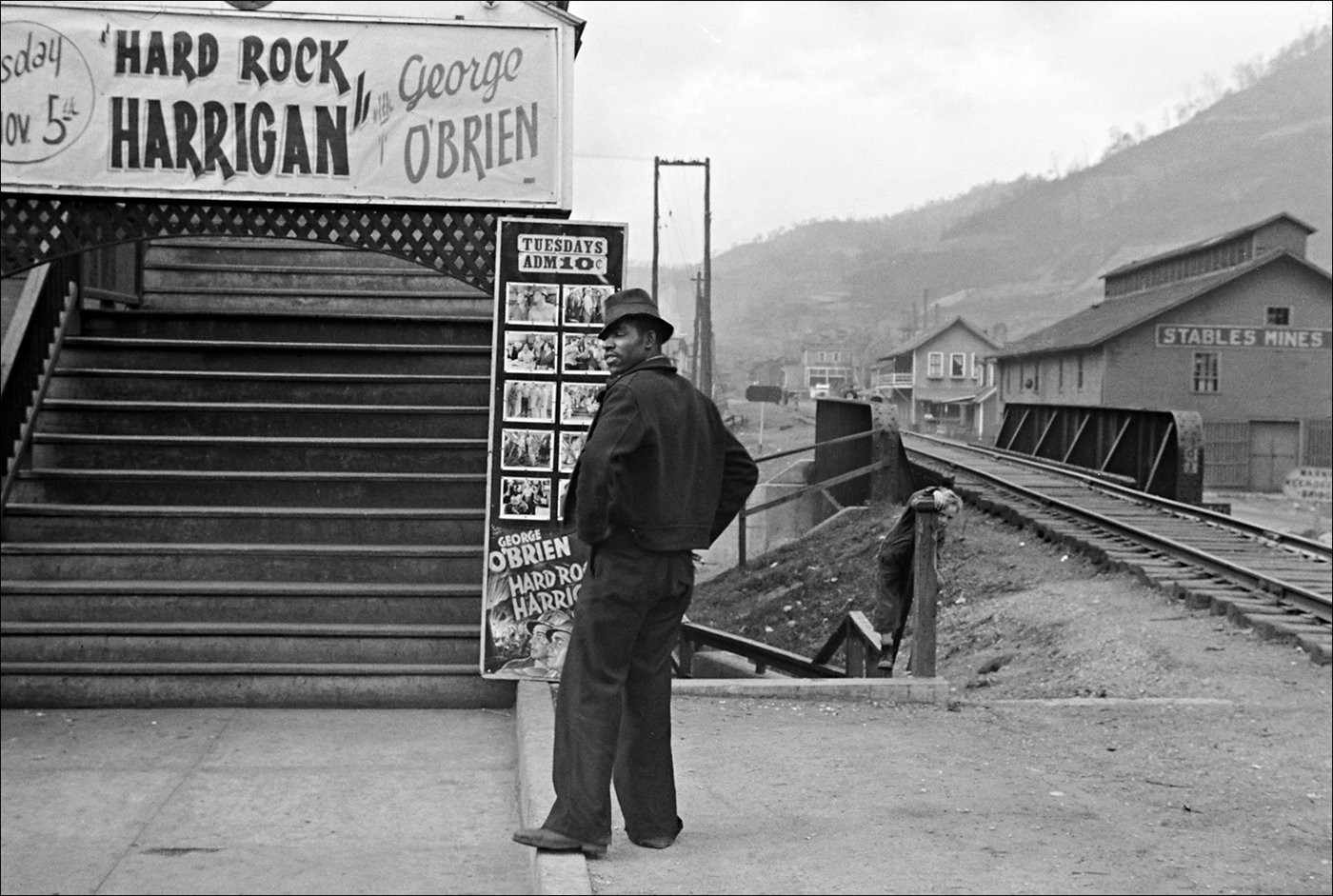 "I was offered this job [at the FSA] … but first it was suggested that I take a trip around the country in the areas in which we worked to see what it's all about, and I tell you that was a revelation to me. … my knowledge of the United States rather came via New York and mostly through Union Square. … I had desire to go to the United States, [but] I didn't have a penny. It was in the middle of the Depression, you know. I couldn't get as far as Hoboken at that time. It was really a very serious time. … the present seemed to be hopeless and I just felt that I'd never get out of New York again."
—Ben Shahn in a 1964 interview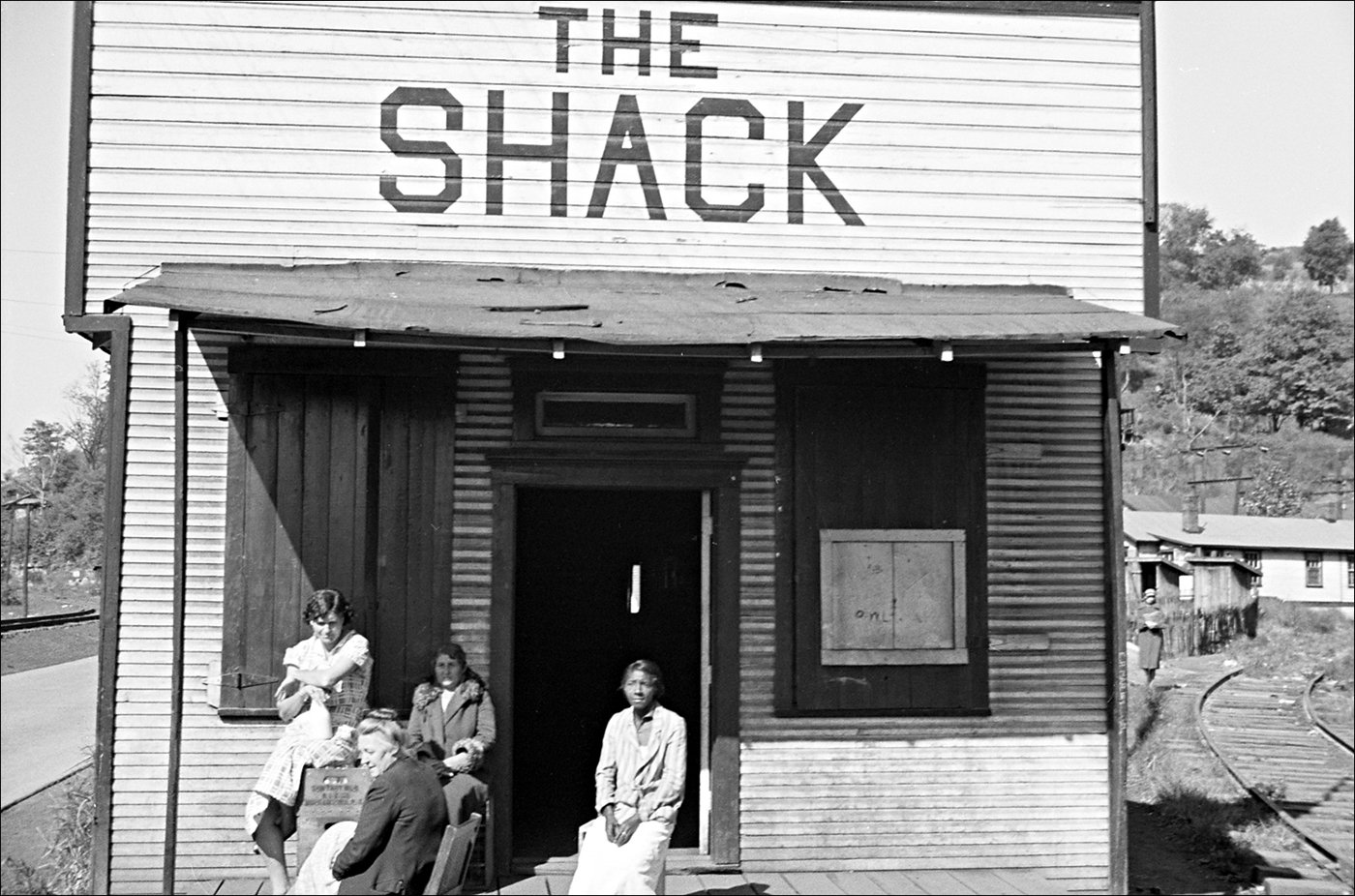 There's nothing special about the way that Shahn and Wolcott depicted African Americans. That's one of the reasons that I like their photos so much. Black people here—Affrilachians—are part of the very fiber of society.
"My wife would do the driving. She was very understanding of the whole thing and just as much enthusiastic about it as I was, so that we'd retrace steps, sometimes 500 miles. I needed something to fill in. I'd missed it and back we'd go. We had a little A Model Ford that we knocked around in. It gave us no trouble but it didn't have much speed, so going back 600 miles meant almost three days."
—Ben Shahn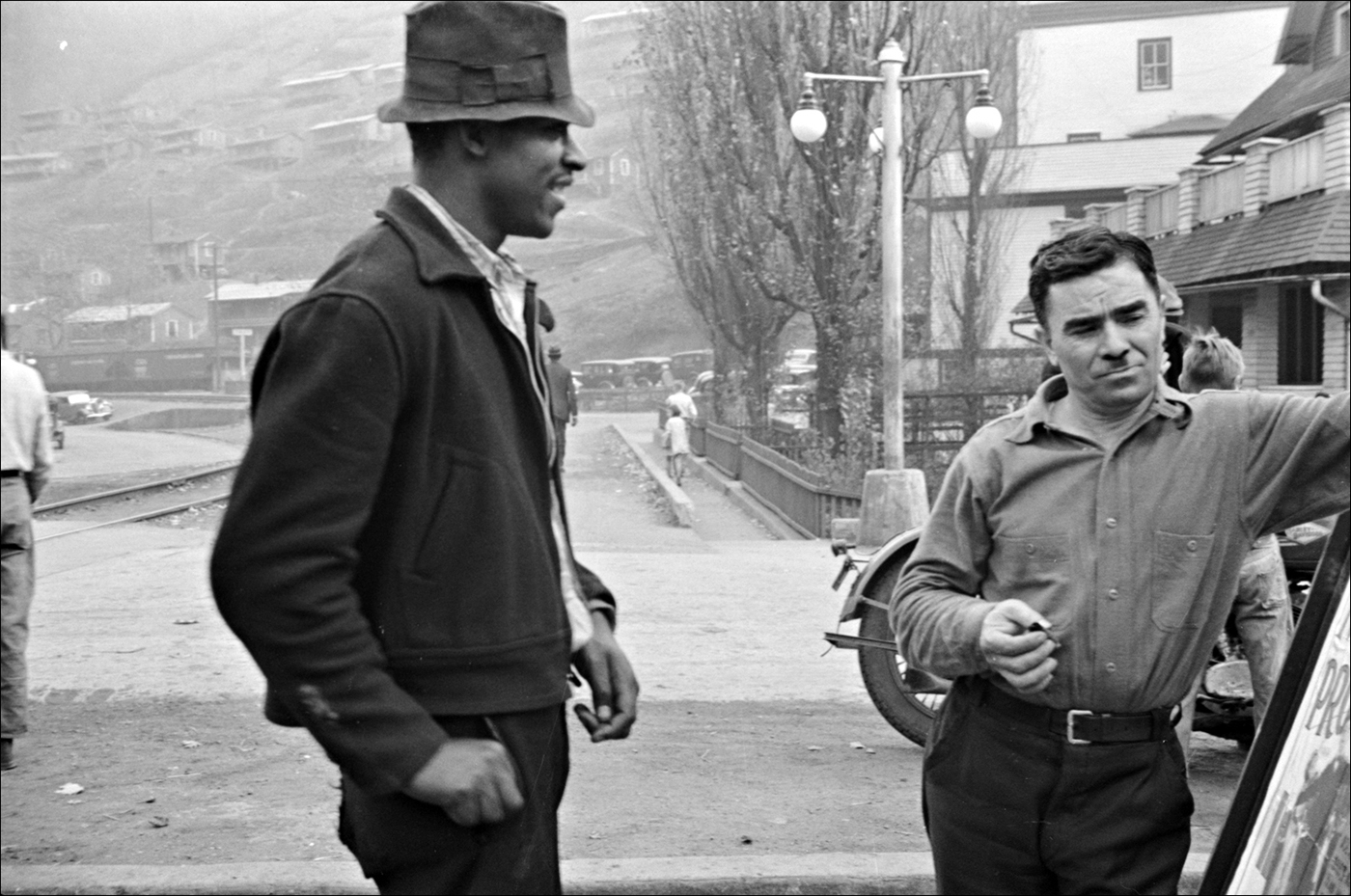 "When I first wanted to take their picture, they would be antagonistic, but as soon as I would explain, or briefly explain what the pictures were for and what I intended, they were cooperative."
—Marion Post Wolcott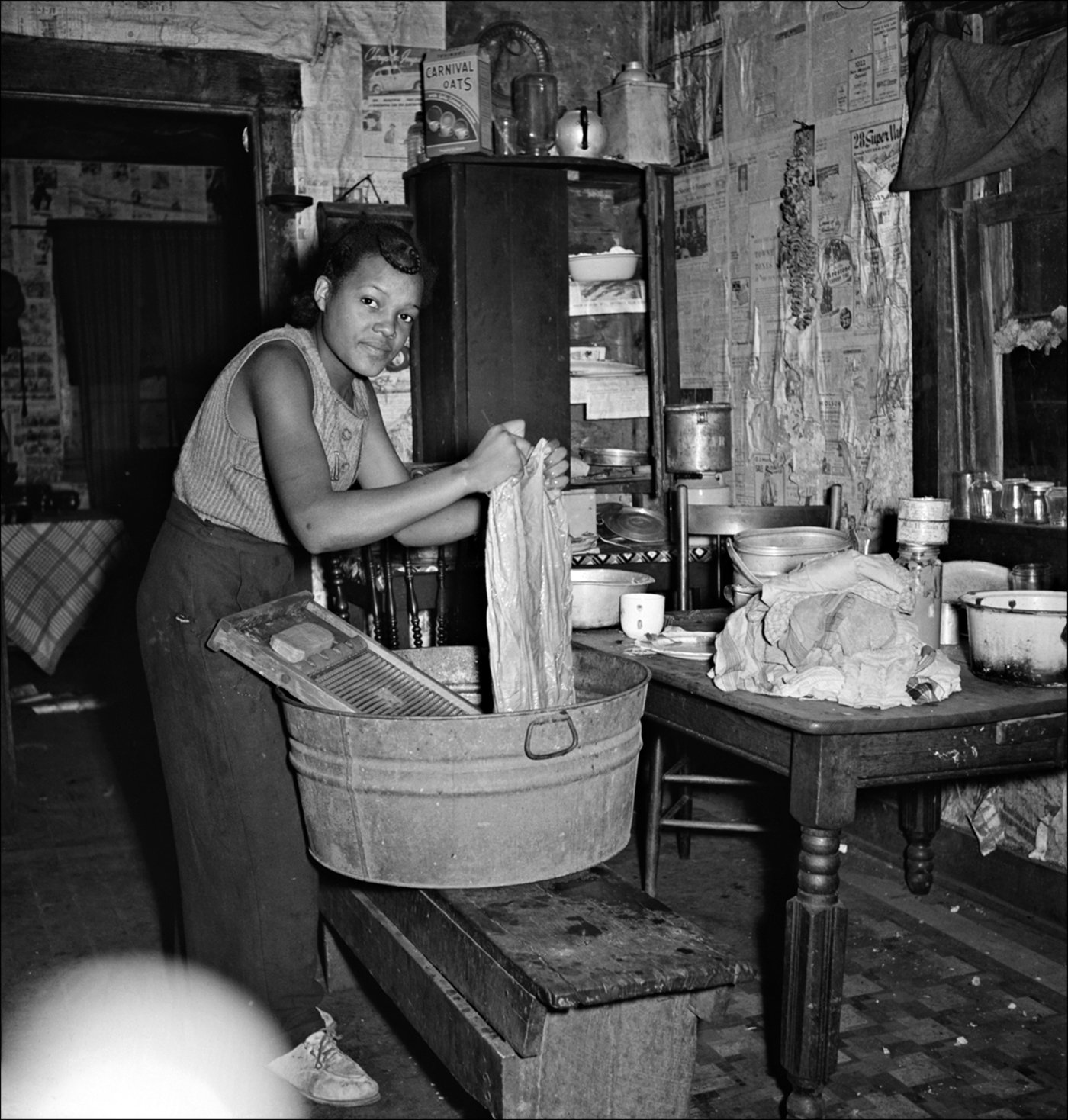 "In the South or in the mine country, wherever you point the camera there is a picture. But here you have to make some choices, you see."
—Ben Shahn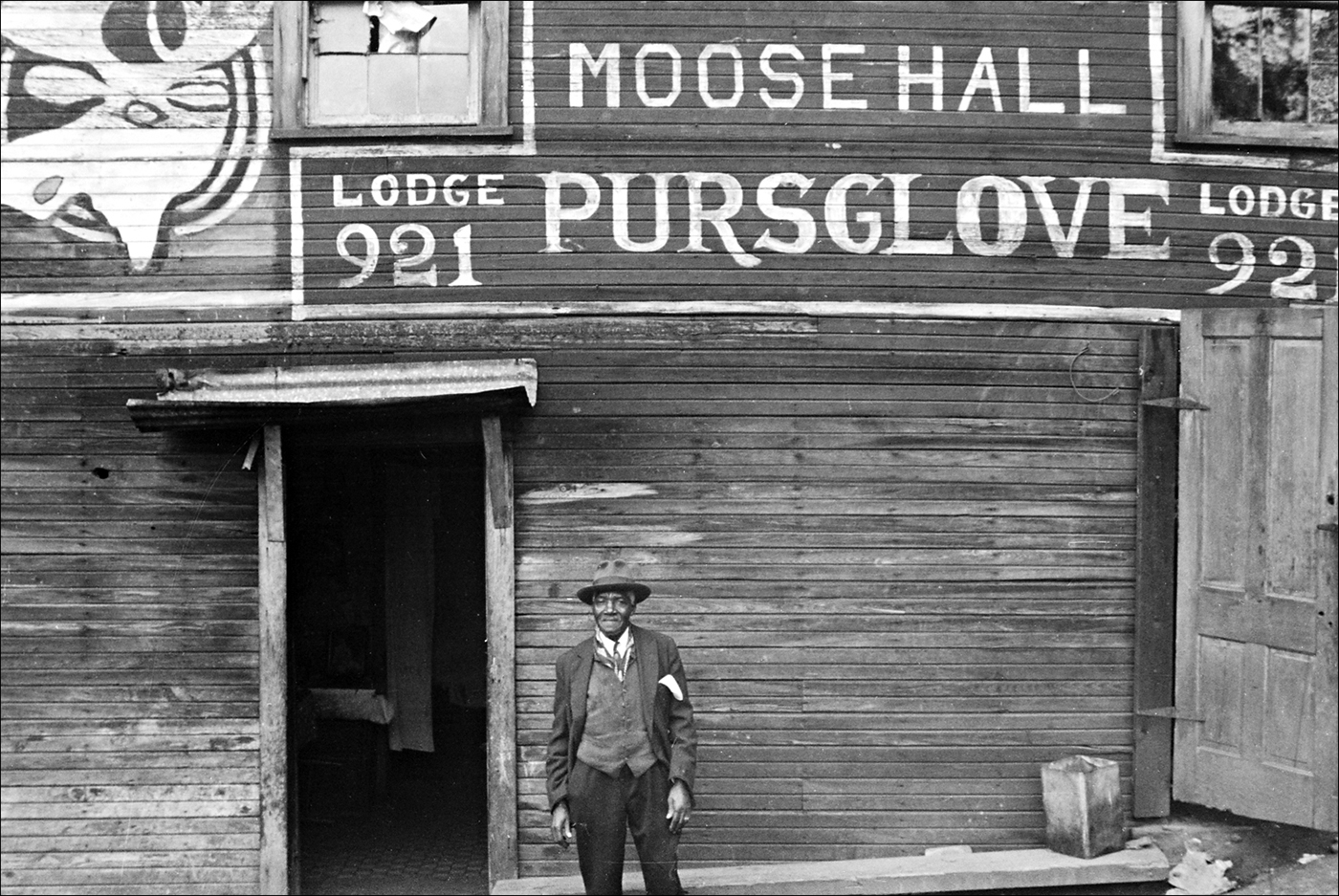 It's possible to look at an isolated photo, out of the hundreds that Shahn and Wolcott produced in Appalachia, and imagine that it merely confirms the stereotype of an impoverished and beaten-down people and region. But that would be wrong. The bodies of work that they produced show people and communities that couldn't be defined by any single aspect of their lives.
It's tempting to see Shahn's and Wolcott's Appalachia as an interracial paradise. It wasn't. Schools were segregated. African Americans faced discrimination in the workplace, as well.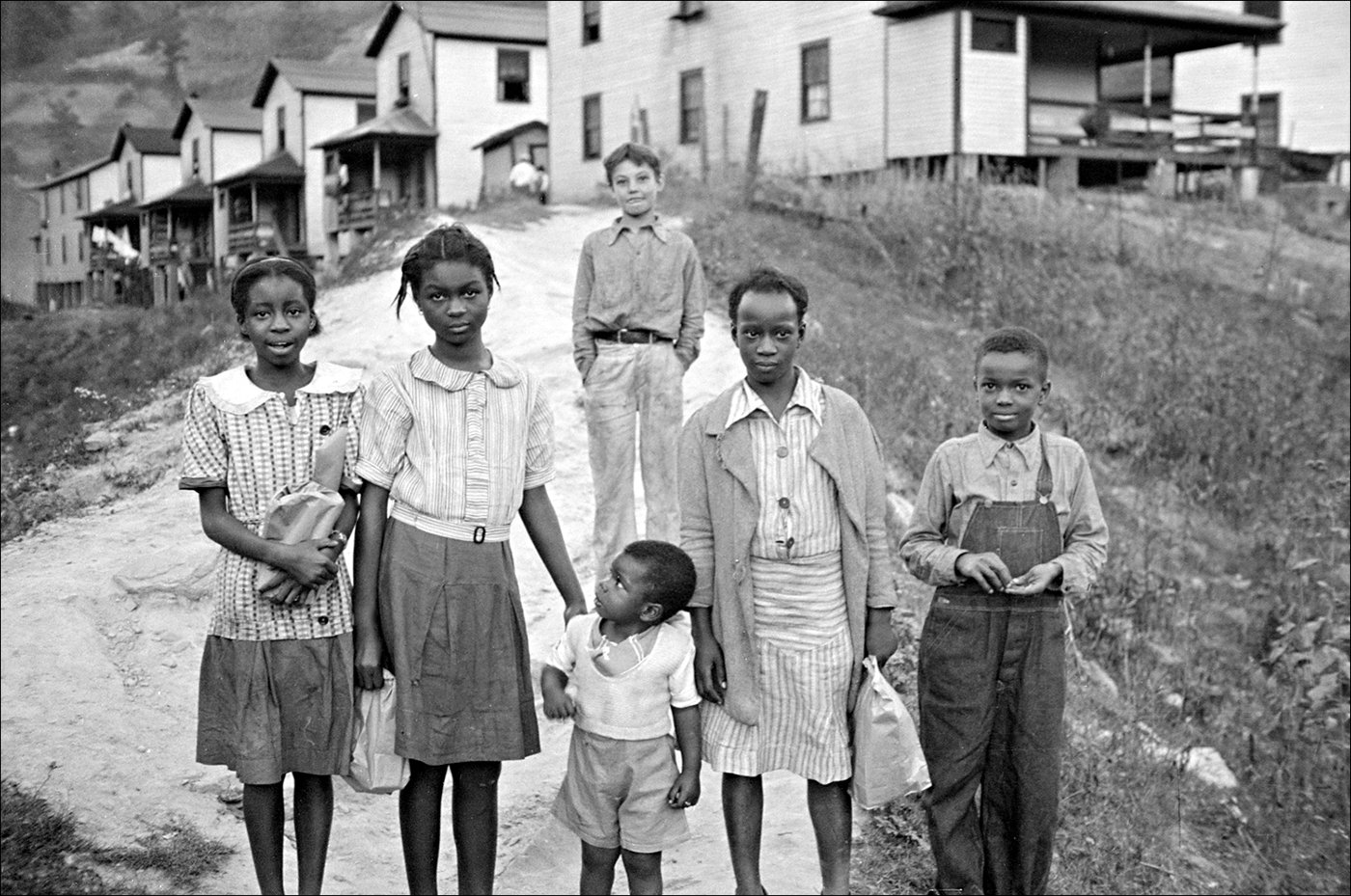 Yet it's also clear that Blacks weren't merely outcasts. They were part and parcel of their communities.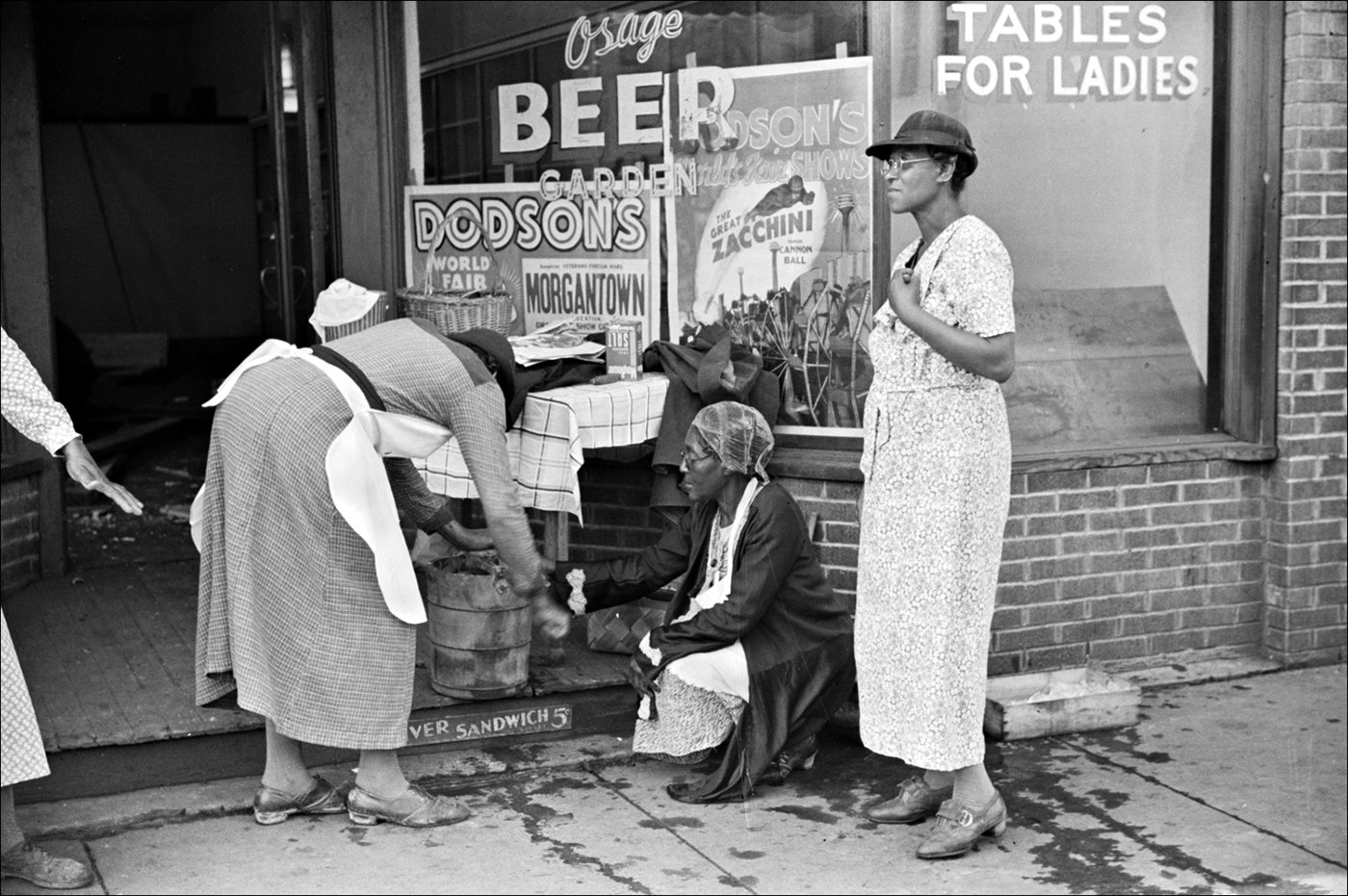 Neither Shahn nor Wolcott sugar-coated things. Poverty was real. But the people in the photos were always much more than simply poor.
Wolcott and Shahn are by no means that only photographers to picture the lives of Affrilachians. The great documentary photographer Lewis Hine did so in the early 20th century, as did Russell Lee, a former FSA photographer, in the 1940s. Recently, photographer and curator Roger May has spearheaded Looking at Appalachia, a photo-documentary project that engages scores of Appalachian photographers in a collective effort to overturn visual stereotypes about the region. Affrilachians appear in many of the images they've made.
Why have Affrilachians remained almost invisible in American culture, despite this visual record? Perhaps it's because, as Nell Irvin Painter has suggested in her introduction to Blacks in Appalachia, Affrilachians upset two cherished stereotypes—that Appalachia is uniformly white and that Black people can be found only in inner cities or what used to be the plantation South. And, because stereotypes help to orient us in a complex world, it can be hard to see them for what they really are. And, so, photographers and writers continue to reproduce myths and stereotypes about Appalachia and African Americans alike. We should demand that they do better.
But we must also ask more of ourselves as viewers and readers. Passive looking and reading is lazy, and it leads us astray. When we see beyond the myths, we find a world that's infinitely richer and more rewarding than anything we've been taught to imagine.
This story was funded in part by a grant from the One Foundation.
Black Farmers Say a Top Chicken Company Turned Them Away
New allegations surfaced in a lawsuit after ProPublica's investigation of Koch Foods in Mississippi. The company denies discriminating against Black farmers.
Once or twice every year since 2005, a Black farmer in Philadelphia, Mississippi, reached out to one of the country's largest chicken companies about starting to work with it. The company, Koch Foods, said that the farmer was too far away and that it wasn't taking on new growers, the farmer said in a sworn statement.
But an investigator with the U.S. Department of Agriculture found that Koch Foods had contracts with 10 farmers who were farther away and that it proceeded to recruit 165 other farmers since 2005, all of them white.
This new evidence surfaced in a lawsuit filed by another Black farmer in Mississippi who ProPublica wrote about in June. Koch Foods used to have contracts with four Black farmers in Mississippi but cut off business with them, one by one. The last to go, Carlton Sanders, lost his farm after Koch Foods wanted him to make expensive renovations that weren't required of any white farmers.
(The company's name is pronounced "cook," and it is not related to conservative billionaires Charles and David Koch.)
After ProPublica's article, Sanders found a lawyer, personal injury attorney Elizabeth Citrin of Daphne, Alabama. The lawsuit, filed in October in federal court in Jackson, Mississippi, accuses Koch Foods of fraud, breach of contract and violating the Civil Rights Act and the Packers and Stockyards Act, which regulates meat companies.
"Koch, and its employees, acted illegally and unconscionably in a manner that prevented [Carlton] Sanders from growing chickens in a fair and profitable manner, subjecting Sanders to agricultural servitude, akin to the abuses subjected to Sanders's ancestors, who were slaves brought over from Africa against their will," the lawsuit said. "All this conduct toward Plaintiff Sanders was due to his race."
Koch Foods has not yet responded to the complaint in court. Its CEO, Joseph Grendys, declined to comment on the lawsuit or the other farmer who was refused a contract. "ONCE AGAIN I STATE KOCH FOODS, WHILE INVESTIGATED WAS NEVER CHARGED," he said in an email.
In an earlier letter to ProPublica, Grendys denied discriminating against the Black farmers in Mississippi. He said the company made multiple attempts to work with the farmers to keep their contracts. "If Koch had a bias against them for any reason," Grendys wrote, "we would never have offered them contracts in the first place."
But that is exactly what the farmer in Philadelphia said happened to him. The farmer's name was redacted in the records obtained by ProPublica.
The farmer said Koch Foods told him he was "too far out" and it wasn't accepting new growers. The USDA investigator calculated that his farm is a 58.8-mile drive from the feed mill, while Koch had contracts with 10 farmers who were farther away. A Koch employee also told the investigator in a 2013 interview that the company accepted growers as far away as 60 miles, according to the investigator's notes.
The investigator also interviewed another Black farmer who said he called Koch Foods about obtaining a contract and was repeatedly told that a representative would visit his farm, but no one ever came. He ended up having to sell his farm at a loss.
The affidavits from both farmers say they tried unsuccessfully to get contracts with other chicken companies in the area. Most chicken in the U.S. is grown on contracts with a handful of big companies. This system gives the companies sweeping control over farmers' income and operations, while the farmers shoulder equipment costs and other risks.
African Americans lost the vast majority of their farmland during the 20th century and were excluded from government programs that benefited white farmers, contributing to the country's racial wealth disparity. As of 2017, the latest available government data, just 1.3 percent of the country's farmers were Black, down slightly from 2012. On average, their farms were significantly smaller and poorer, according to USDA data.
Sanders visited Washington in July with a group organized by the Rural Advancement Foundation International to talk to lawmakers and USDA officials about strengthening enforcement of the Packers and Stockyards Act. The Trump administration stopped tougher rules on chicken companies from taking effect and reduced staff in the office conducting investigations like the one into Koch Foods' treatment of Sanders.
"I have lost my home, my wife, my health, everything," Sanders said at a press conference during the visit, choking back tears. "When a company has as much control like these chicken companies do, then they can virtually act as they want without fear of reproach."
Koch Foods is privately held and supplies chicken, often sold under other brand names, to restaurants and retailers such as Burger King, Kroger and Walmart. One retailer, Foodtown, said it "made an independent decision" to stop carrying Koch Foods products. Other companies that Koch Foods' website shows stocking its products didn't respond to requests for comment.
Koch Foods' facility in Morton, Mississippi, was among the sites raided by immigration authorities in August, part of the largest workplace sweep in decades. No company officials have been charged.
This article was co-published with The Clarion-Ledger. It was originally published by ProPublica.
ProPublica is a nonprofit newsroom that investigates abuses of power. Sign up for ProPublica's Big Story newsletter to receive stories like this one in your inbox as soon as they are published.
LISTEN: Being Black In Appalachia, A Conversation With Author Crystal Wilkinson
Author Crystal Wilkinson is the 2019 Appalachian Heritage Writer-in-Residence at Shepherd University.
Wilkinson's second book Water Street was chosen by the West Virginia Library Commission as this year's One Book One West Virginia common read.
Wilkinson was born in Hamilton, Ohio, in 1962, but she grew up in Kentucky with her grandparents Silas and Christine Wilkinson.
Her grandfather was a farmer who grew tobacco, corn and sorghum, and her grandmother worked in the homes of local schoolteachers in Casey County.
Wilkinson studied journalism at Eastern Kentucky University, and then she received her MFA degree in creative writing at Spalding University in Louisville.
Wilkinson is a member of the Affrilachian Poets founded by Frank X. Walker.
In 2000, Wilkinson wrote her first book, Blackberries, Blackberries; in 2002, she published Water Street; and in 2016 she published The Birds of Opulence.
Wilkinson is an Associate Professor of English at the University of Kentucky in the MFA in Creative Writing program.
This article was originally published by West Virginia Public Broadcasting.