Laid off coal miners in Harlan County, Kentucky, took to the train tracks this week to protest over money they're owed from the bankrupt coal company Blackjewel, LLC. Despite the layoffs, miners were still owed wages from weeks of work earlier this summer, only to find their final paychecks bounce.
When a group of six miners learned that coal they believed they mined was being loaded on a train and hauled out of the county, they decided to take a stand. The small group blocked the train from leaving the mine by camping out on the train tracks at an intersection nearby, announcing they would leave when they were paid the back wages they had already earned.
"We saw they were going to pull the coal out and I guess that struck a nerve with us," said John Curtis Cress, a former Blackjewel coal miner. "Someone is going to make money from that and we've still not been paid for mining that coal. So, we stopped it."
The act of standing in front of a train in-protest is a visceral image and one that, as a documentarian, I couldn't ignore. So, I drove three hours from Charleston, West Virginia, down to Harlan County to capture images of the miners who are blocking a train with just their bodies and the principle of standing up for what's right.
Holding his young baby in one hand and standing in the middle of the train tracks, laid off miner Cameron Cornett put the protest in simple terms: "I just want the money that I've already worked for and they took back from me and my family."
Austin Watts, one of the original six miners who first stood in front of the departing train, said that the company owes him close to $7,000 in wages, but believes other miners are owed more than $10,000, money that each miner was counting on to provide for their families, make house and car payments and plan for a now uncertain future.
While the small protest started with just six miners on Monday morning, by Wednesday when I arrived, it had become a community affair. Dozens of other miners and families joined the protest, while community members showed their support with food, water, drinks and tents for protection against the blistering late summer heat. A cornhole game was set up on the tracks, musicians provided entertainment with songs and fires were started at night for marshmallow roasting.
"It's the greatest feeling in the world to have so many come out and show us their love and respect," miner Jerod Blevins said. "We're just out here supporting our family, supporting our kids. This brotherhood we have– this is what we're out here for and why we're holding up the coal."
---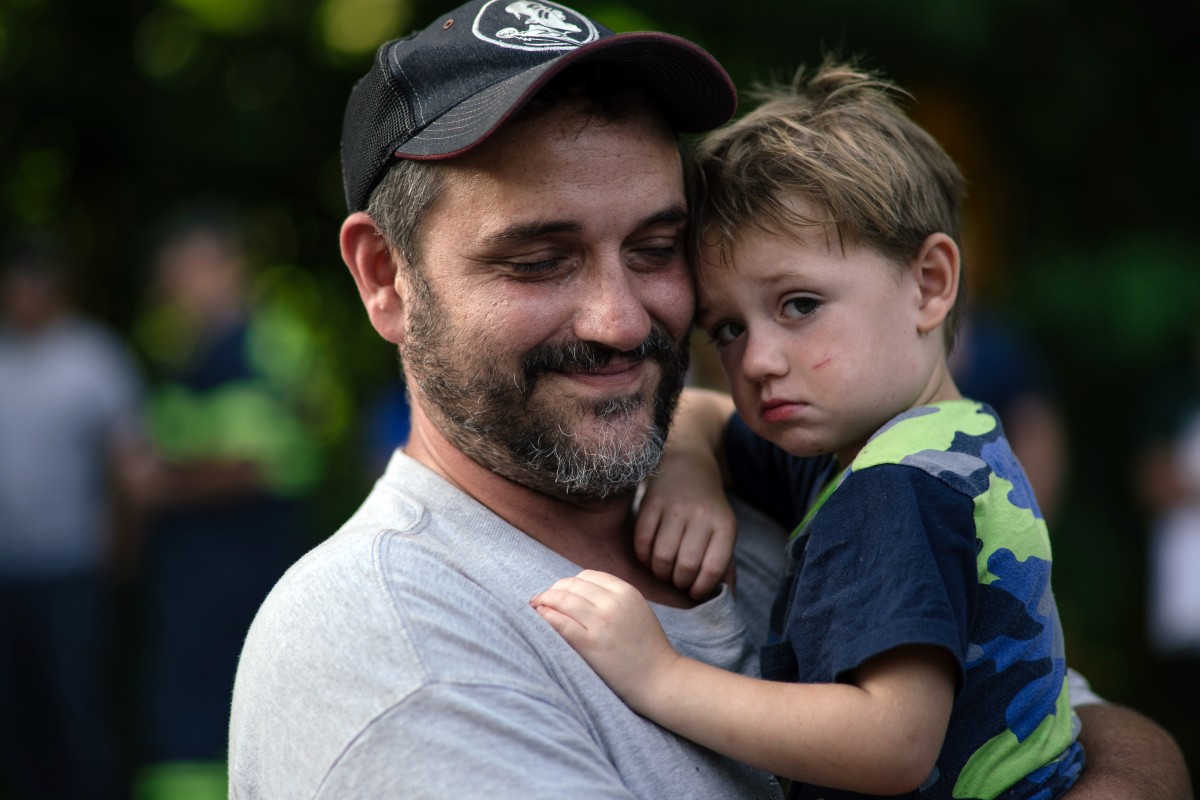 Curren Sheldon is an Emmy-winning and Oscar-nominated filmmaker and photographer from Charleston, W.Va. He is the director of photography and producer of two Netflix Original Documentaries, "Heroin(e)" and "Recovery Boys." His work has been commissioned by The New York Times, Orion Magazine, The Bitter Southerner, and Mashable among others. He isn't on social media so you can find him at www.currensheldon.com.