Climate-Change Bill Addresses Importance of Rural, Supporters Say
Senator and presidential candidate Cory Booker has introduced legislation that puts rural America at the center of addressing climate change, supporters say.
Senator Cory Booker's Climate Stewardship Act would invest billions in conservation-based farming practices, clean energy systems, establishing wetlands and restoring forests. Booker and groups that support the legislation say rural America plays a critical role in federal policy options to address climate change.
"In FDR's New Deal, the federal government planted billions of trees, provided conservation incentives to family farmers and ranchers, created hundreds of thousands of jobs in the Civilian Conservation Corps and electrified rural America," said Senator Booker (D-NJ), who is also running for the Democratic nomination for president. "After another year of extreme weather, no one understands the impacts of climate change better than our family farmers and ranchers."
Some rural advocates, such as Missouri farmer and Family Farm Action Board Member Wes Shoemyer, support the Climate Stewardship Act for the ways it addresses rural challenges to a changing climate.
"Farmers need only look out our back doors to see how climate change is having a dramatic effect on our way of life," Shoemyer said in a statement. "The farmers I know are great patriots and so they stand ready to be part of the solution."
Family Farm Action is joined by numerous rural and conservation organizations advocating for the bill. Among these are the National Family Farm Coalition; Institute for Agriculture and Trade Policy, Farm Aid; Iowa Citizens for Community Improvement; the Women, Food and Agriculture Network; and numerous state-based chapters of the National Farmers Union.
The legislation is designed to address problems identified by the fourth National Climate Assessment, which summarizes the impacts of climate change on the United States. Released last fall, the report found that climate change in rural communities poses an outsized risk to the national economy, the report says.
The Climate Stewardship Act is likely to be assigned to the Agriculture Committee for further action. Passage of the bill seems unlikely without significant support from majority-party Republicans. Currently, no Republicans have supported the legislation. Numerous programs within the act have received bipartisan majorities repeatedly in the past. But any measure that proposes increasing public sector-spending to reduce greenhouse gas emissions faces an uphill battle in the current Senate.
Companion legislation is being proposed in the House by U. S. Representative Deb Haaland (D-NM). Given the Democratic majority, the Climate Stewardship Act is likely to face an easier path to passage in the House.
Bill advocates are likely to use its issues and policy proposals as they evaluate candidates in the 2020 election. (A more detailed look at candidate positions on rural economies, agriculture and climate issues is available from Daily Yonder.)
Booker's bill invests heavily in agricultural systems that reduce emissions and job creation through more sustainable practices, according to the senator. "In addition to transitioning from fossil fuels to clean energy, another essential step that we must take is to increase the carbon sequestration in our soils, forests and wetlands," his statement said. He said the legislation will create "hundreds of thousands of new jobs" and make farms "more resilient and competitive."
Many of the bill's proposals involve farm bill programs that had their budgets or participation limited by the 2018 farm-bill debate. Such programs include:
Re-establishing the Civilian Conservation Corps (CCC) — establishes a new civilian conservation corps to provide youth from low-income communities, communities of color and indigenous communities with training and experience while employing them in the reforestation and wetlands restoration of federal forests and wetlands.
Expanding funding for clean energy through the Renewable Energy for America Program (REAP) — increases funding from the current $50M to $1 billion per year to provide grants and loan guarantees for tens of thousands of farmers, ranchers and rural businesses to expand renewable energy production and make energy efficiency improvements.
Expanding the Conservation Reserve Program (CRP)—increasing enrollment in CRP to 40 million acres by 2030. The additional acres would prioritize storing carbon in soils, establishing wildlife habitat and protecting streams and rivers from nutrient pollution. The current cap on CRP acres is 24 million acres, though CRP had as much as 40 million acres enrolled in the early 2000s.
Incentivizing climate-friendly farming practices through the Environmental Quality Incentives Program (EQIP) – expands EQIP by offering additional funding to support adoption of "climate stewardship practices" in agriculture. Practices are defined as those that improve soil health, reduce nitrogen fertilizer applications, improve grazing lands and restoring forests.
The bill also provides additional resources for local food projects, public-private partnerships in conservation and mandatory funding for farmers and farmworkers experiencing mental health challenges.
Booker's office estimates that the Climate Stewardship Act would support voluntary climate stewardship practices on more than 100 million acres of farmland, revive deforested landscapes by planting over 15 billion trees, support renewable energy projects throughout rural America and restore over two million acres of coastal wetlands.
This article was originally published by the Daily Yonder.
Meet the Young Appalachians Who Are Leading the Global Climate Strike
It looked like a climate strike was not going to happen in downtown Birmingham, Alabama.
In the Appalachian city, a group of hopeful high schoolers and middle schoolers planned to join hundreds of thousands of young people and adults from as many as 150 countries in a demonstration Friday as part of the Global Climate Strike. The strike comes just before a meeting of the United Nations General Assembly on September 23 and is meant to draw attention to the lack of action being taken to reverse or mitigate climate change.  
In Birmingham, students planned to hold a protest in Linn Park, just across the street from City Hall. But it looked as if the event would be cancelled this week when the group was late submitting a permit request to gather in the public space. 
Enter stalwart eighth-grader Stella Tarrant.
Stella, 14, wrote a letter to Birmingham Mayor Randall L. Woodfin, with a last-minute plea. 
" I wrote to him to see if he would get us a special permit," she said. And he did.
Now, plans are moving forward for the Friday morning rally, without much surety in how many people will actually attend. But if interest on the event's Facebook page is any indication, there'll be a crowd. 
"There are 200-and-something people who are either going or interested," Stella said, "and 5,000 people have seen our page."
Among those striking will be seventh-grader Eric Ledvina. He has his immediate future and that of his friends in mind. 
"I honestly don't want to end up when I'm 20, that there is a lot of pollution and many species gone extinct and terrible weather. You can already see patterns of that," he said.
One of the major goals of the climate strike week is to get more adults involved and for Eric, that means bringing his aunt, Anne Ledvina, along with him. Stella's resolve to save the nearly cancelled event wasn't lost on her. 
"We couldn't have done this climate strike without Stella taking the lead on this," she said.
The roots of the youth climate strike movement began in late 2018, when then-15-year-old Greta Thunberg left school in Stockholm, Sweden, one Friday with a hand-drawn sign: 'School strike for climate.' (In Swedish, of course: 'Skolstrejk for Klimatet,' is a now-iconic phrase.) Her solo strike has since spurred thousands of youth climate strikes around the world.
Now, young people in Appalachia are joining supporters like Greta on the front lines of the strike, organizing events in their communities, like Stella, and encouraging people in the generations ahead of them to take a stand.
'Most of My Family Denies It'
No doubt like many young climate activists popping up across Appalachia, 20-year-old Julia Alaimo meets resistance in her own family to even the notion of climate change.
"I never grew up in a household that cared about the environment or was interested in climate change. Actually, most of my family denies it," said Alaimo, who attends the University of Alabama in Tuscaloosa.
That hasn't slowed her in the slightest. Alaimo is student president of The Environmental Council at the university and coordinator for a climate strike on the campus Quad, which also takes place Friday.
An environmental engineering major, Alaimo said she wants to focus not just her current activism, but her life's work on the climate crisis.
"I've always wanted to solve environmental issues," she said. "I think one big thing that we can do personally is try to help with policy change and influence people who are making large decisions around us that affect every one of us."
A couple of days before the strike, she was at work on a speech to deliver at Friday's strike, along with classmate and fellow climate striker, Nick Wright-Osment. Growing up with a mother who is a biologist, Wright-Osment tuned in early to awareness of the human race's growing impact on the Earth's operating system. 
"I kind of grew up my whole life hearing, 'Oh, we need to do something about global warming.'"
There is absolutely no time to waste, he said.
"I think the big key here is, as a message, we want people to realize that climate change is the number one issue. It should be for everybody," Wright-Osment said. "This isn't, like, a political thing. It's a global threat that is extremely vital and extremely time-sensitive."
Climate Class Is in Session
It's a measure of the exploding activism around climate change that the strike was announced as a single-day event but has grown to a week's worth of happenings, ending September 27. It's another sign of the times that courses with titles like "People vs. The Planet: Interdisciplinary Approaches to Climate Change" are filling at Appalachian universities.
But they are, at least at West Virginia University in Morgantown, West Virginia, where 21-year-old Brandon Taylor, a double major in geography and Chinese studies, has signed up for the interdisciplinary humanities course this semester. 
"With climate change becoming even more of a threat— seemingly every day, there's a new story coming out— I want to shift away from just studying it," Taylor said. "I'm moving towards more of, like, closer to activism."
That's why he's participating in the climate strike event being planned at WVU, likely to be the largest Global Climate Strike event in the state. 
Taylor will be joined by some of his classmates and his professor, Andrea Soccorsi, who created the class not just foster conversations about solutions, but also encourage collective action across disciplines.
"I am not a scientist, that's the first thing that I always tell people," Soccorsi said, who teaches a variety of English and writing courses. "We always think that this is an issue that the scientists are going to solve, but I've tried to show the students that they have something to bring to the table as well."
In the classroom, her students explore the long tradition of eye-opening environmental literature, from Thoreau's masterwork "Walden," to Rachel Carson's "Silent Spring," which kickstarted the environmental movement. They also work closely with local environmental organizations to advocate for change, including things as small as aiding businesses who are trying to swap out plastic straws for alternatives.
"There are no simple answers," Soccorsi said, "but I think the first place is to begin having the conversation, which I'm not sure that we've done very successfully."
Taylor is keenly aware that the future he and his generation will inherit depends on rapid, concerted action on huge global goals, such as the call to bring carbon emissions to net-zero within a decade.
"There's a lot of work that needs to be done in a fairly short amount of time. But to not do it would be catastrophic for a lot of the world."
'How Do We Keep Appalachia from Burning?'
In Lynchburg, Virginia, he's known as "Rev. Paul." 
And while he doesn't fall into the definition of a young leader in Appalachia, Rev. Paul Boothby believes the stakes couldn't be higher for youth in the region. That's why he's hosting a Global Climate Strike gathering at his 1st Unitarian Church of Lynchburg.
"Appalachia has depended on a relatively stable climate for a long time," Boothby said, "and there are going to be ever-increasing extremes— between storms and drought and the movement of bio-regions in the generations to come."
Hotter temperatures and a northward shift of species as a result are not just airy concepts. They are pressing concerns, said Boothby, for the sprawling forests of Appalachia, a region that encompasses all of West Virginia and parts of 12 other states.
"Droughts are going to become more extreme. And that, of course, endangers the health of the forest, making forest fires all the more likely in the decades ahead," he said. "So, how do we keep Appalachia from burning?"
Right now is the time to bring youth and adults together, to confront and address these stark possibilities, he said. 
"Generations now have to do their part to take action."
Douglas John Imbrogno is a freelance writer and podcast producer based in West Virginia. He is editor of the newsletter and podcast ChangingClimateTimes.substack.com. The newsletter is a co-sponsor of the Global Climate Crisis Rally on Sept. 26, 2019, in downtown Charleston, W.Va.
The Golden-winged Warbler: One Indicator of a Changing Climate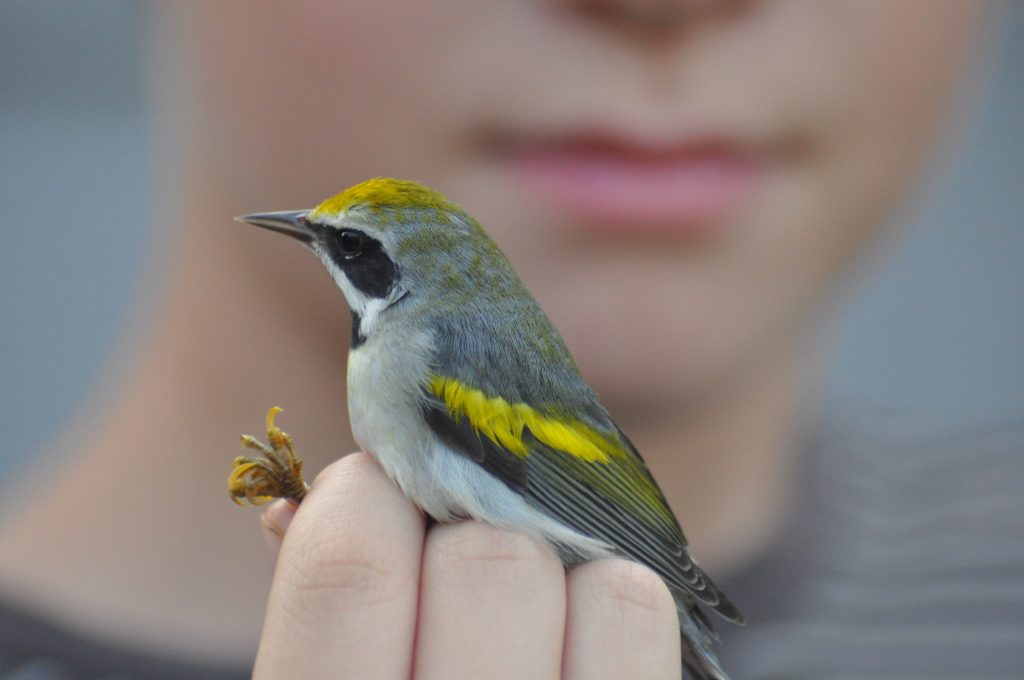 Birds capture the imagination because they are unlike any other creature. With prehistoric origins and the ability to fly, birds defy the realm of human capability.
Over 1,000 species of birds are native to North America. Since 1966, however, one-third of North America's wintering bird population has declined. The National Audubon Society, a nonprofit bird conservation organization, found in a 2015 "Birds and Climate Change Report" that "Of the 588 North American bird species Audubon studied, more than half are likely to be in trouble." Across this region, bird species could lose more than 50 percent of their current range by 2080 if the climate continues to warm at its current rate.
The impact of climate change on birds is often studied because they are highly sensitive to their environment, meaning that small changes can have a huge effect. Their unique breathing system and efficient flight style contribute to this sensitivity. Studies of bird flight reveal that small changes in environmental factors like sea surface temperature dramatically affect a bird's ability to fly. Birds depend on aerodynamics to carry their relatively heavy bodies across the sky, meaning that minute changes can affect flight.
In Appalachia, the Golden-winged Warbler has received special attention due to its steep decline. The songbird, which breeds in Appalachia during the summer, experienced a 97.8 percent population loss from 1966 to 2010. Habitat destruction, warming temperatures and interbreeding with the Blue-winged Warbler (a related but separate species) contribute to their disappearance.
"The core population [of Golden-winged Warblers], 90-95 percent, live in the Great Lakes region. The Appalachian population is relatively small, only about 5 percent of the global population," said Curtis Smalling, director of conservation at Audubon North Carolina.
The Appalachian population prefers to dwell at the highest points of mountains, about 2,500-5,500 feet. They are a highly specialized species, requiring shrubby young forest with adequate canopy cover interspersed with herbaceous openings for the bird to breed and thrive.
The Golden-winged Warblers are particularly fond of the Highlands of Roan, a high-elevation, grass and shrub-covered area that straddles North Carolina and Tennessee. The Southern Appalachian Highlands Conservancy (SAHC), a nonprofit land trust, works to conserve natural resources in this part of Appalachia. SAHC offers outdoor recreation and farming opportunities for residents, coordinates conservation activities and other work to conserve the land, which includes protecting and maintaining the Golden-winged Warbler's mountain home.
"They lack the open farmland and scrubby habitat. Here in the Appalachians, we're losing a lot of farmland. We are working to maintain that habitat," said Marquette Crockett, the Highlands of Roan stewardship director at SAHC.
Crockett helps coordinate conservation efforts like managing SAHC-owned properties to working with private landowners on best practices for preservation and organizing volunteer bird surveys. This multi-faceted approach is a community effort, Crockett emphasized. With so many different elements contributing to the Golden-winged Warbler's decline, it takes cooperation between researchers, conservationists and volunteers to make conservation a reality.
Although the species is still struggling, places where conservation activities have happened often see positive results.
"We've definitely seen Golden-winged Warblers disappear from spots that have become too overgrown or disturbed, like a housing development. But we've also been able to do projects that have immediate consequences," Crockett said. Those results are promising and motivate conservationists to continue their work.
Recent research indicates that the songbird's problems might have more to do with their winter home than their summer breeding grounds in North America. The Golden-winged Warbler winters across Central and South America in Guatemala, Honduras, Nicaragua, Venezuela and Colombia. Deforestation and poor land management practices are major problems, particularly in Nicaragua and Venezuela. This could explain the more dramatic decline of the Appalachian bird, which winters further south in these countries, compared to the Great Lakes birds that tend to go to Central America. Although it is tempting to conclude that the wintering grounds are the problem, further research is needed to say so definitively.
"There are just too many unknowns at the moment" about the warbler's problems, said Amber Roth, an assistant professor at the University of Maine and co-chair of the Golden-Winged Warbler Working Group. Further research is crucial for filling in these blanks, such as learning more about migratory behavior.
One factor is clear: climate change is affecting the birds. Roth elaborated:
"The population [of Golden-Winged Warblers] has declined and the population has shifted. They are a good indicator of climate change, but I would caution relying on one species to understand climate change. I think they are part of this huge list of things that points to climate affecting all sorts of other things, like trees."
"By managing habitat for Golden-Winged Warblers we are managing habitat for other species," Crockett said. Both Roth and Smalling echoed this statement by emphasizing that by managing for the needs of the Golden-winged Warbler, a highly specialized species, the needs of other species are typically met. Thus, conserving the Golden-winged Warbler encourages better overall forest management. This is important to remember because the Golden-winged Warbler is not the only declining bird population in the region. The Cerulean Warbler, Black-billed Cuckoo and Eastern Whip-poor-wills are among other threatened species.
This tiny, golden-winged bird that weighs about as much as four dimes represents something bigger: The possibility, in spite of irreparable human impact on the environment, that there is still hope of conserving and saving Earth's biodiversity. The fate of the Golden-winged Warbler remains undetermined, but with dedicated researchers, scientists, conservancies and volunteers working to protect it, the Appalachian population has hope.
Annie Chester is a writer and co-founder of expatalachians. She is currently an English teacher on the Island of Corsica, France.
This article was originally published by expatalachians.
Appalachians Share Solutions for Coal Transition with Congress
Democrats in the U.S. House are continuing their focus on climate change, this week shifting from its environmental to its economic impact and looking to Appalachia for next steps to aid communities with fossil fuel-based economies.

On Thursday, members of the Energy and Mineral Resources Subcommittee heard testimony on how struggling coal communities are working to transition to more efficient, greener industries that can still provide the region with an economic base.

"Investing in the economic revitalization of the communities that have been extraction based…must be front and center in the shaping of policies addressing climate change," Brandon Dennison told the subcommittee.

Dennison is the CEO of West Virginia-based Coalfield Development Corporation, an organization that retrains workers who have lost jobs in coal's decline and incubates new business initiatives in Appalachia, but Dennison said retraining programs like his that are already in place are not enough because businesses who could employ them are not thriving yet in the region.

Dennison argued the transition away from coal is already underway in central Appalachian communities and it is creating not only an economic, but also a social and environmental crisis that must be addressed by thoughtful federal policy. He recommended lawmakers work to create a task force focused on a just transition

Peter Hille, president of Mountain Association for Community Economic Development in Kentucky, agreed with Dennison that a focus on just transition, one that provides economic and social supports for communities, is necessary, but urged lawmakers to consider not just how to recreate the jobs lost in the extractive industries, but rather how to create a new, diverse economy.

"We envision economic transition driven by entrepreneurs whose businesses create goods and services to drive diverse local economies and focus on sectors that not only generate economic activity but also generate benefits for the community," Hille said.

But Bill Bisset, president of the Huntington, West Virginia, Regional Chamber of Commerce, didn't share the same sense of urgency about finding an economic solution for his home state. West Virginia is experiencing a boost from increased international demand for metallurgical coal and natural gas.

Instead, Bisset is concerned that while the nation focuses on the global climate problem, states like West Virginia will be disproportionately hurt, precisely because of its natural resources wealth.

"We simply do not have to sacrifice one industry to create new opportunities," Bisset told members of the subcommittee. "Sacrificing the economic future of West Virginia and Appalachia will have little impact on global man-made carbon, but you will succeed in creating more poverty, more hopelessness and an uncertain future for those of us…who call West Virginia home."

Republican members of the subcommittee, however, wanted to focus the conversation on one proposed legislative solution that has been controversial in Washington: the Green New Deal.

The Green New Deal is a package of economic and social proposals that would transition the United States toward full independence from fossil fuels and address historical, societal inequalities.

Recently, unauthorized iterations of the proposal were leaked online that New York Rep. Alexandria Ocasio-Cortez– the Democrat largely behind the Green New Deal– denounced as "doctored," but their contentious contents becem the subject of lines of GOP questions for witnesses Thursday.

Wyoming Republican Rep. Liz Cheney interrupted majority witnesses and persistently demanded that they defend the proposal, regardless of the fact that none of them were asked to Washington to advocate for the program.

Despite the extensive and diverse testimonies throughout the meeting, the conversation still dissolved into a partisan shouting match, largely signifying business as usual in Washington.