How Leaving Home Can Help Appalachia
This article was originally published by expatalachians.
Appalachian folk have a complicated relationship with leaving. It's a tension that shows up in regional media all the time: In stories about small towns working to keep their young people, about Appalachian millennials leaving New York to go back home, and, more negatively, about how folks in the region should just pack up and get out of dodge.
This isn't one of those stories. As one might surmise from the name expatalachians, I've already left Appalachia, and I'm not certain I'll ever live there again. And although I'm sympathetic to helping young people stay in the region, I also understand why they choose to leave. As I've written about elsewhere, folks have moved into and out of Appalachia looking for a better life for over a century, and I won't begrudge the current generation for doing the same.
Instead, I'm interested in discussing the possibilities leaving presents for Appalachia. Rather than enjoining people to stay or shaming them for going, I would argue conversations about leaving the region should instead focus on how to incorporate the Appalachian diaspora into regional conversations from where they are. Doing so successfully would not only expand our view of the Appalachian experience but also, with millions of Appalachian migrants and their descendants living outside the region, meaning we could better draw on migrants' diverse backgrounds and resources in addressing Appalachia's problems.
Doing this properly means wrestling with several fundamental questions. The one I would like to address here is where Appalachian migrants should fit in discussions about the region. Having left the region, to what extent can and should migrants claim a seat at the table in conversations about Appalachia, and when might their voices usefully contribute to discussions of its issues?
This question has gained increased urgency following the publication of Hillbilly Elegy by JD Vance, a descendant of Appalachian migrants raised in Southwest Ohio. I don't care much for JD Vance's views on Appalachia, or the solutions he offers to its problems. However, in addition to critiquing Vance's arguments, a particular line of Hillbilly Elegy criticism has focused on his lack of Appalachian credentials due to his being raised in Middletown, Ohio.
Wherever you come out on the debate, this line of criticism highlights the ambiguities Appalachian migrants face in trying to address the region. On the one hand, I personally find it hard to deny Vance's identification as Appalachian. Although not part of Appalachia, the region where he grew up, southwest Ohio, was a major destination for Appalachian migrants in the 20th century, and the Appalachian migrant identity remains relevant there. Furthermore, I fear this kind of territorial gatekeeping threatens to exclude those in the diaspora who sincerely and legitimately identify as Appalachian.
On the other hand, Appalachian migrants, including Vance, must also recognize their unique position in speaking from outside the region. Just as a well-off professor in Morgantown has a different experience from a glassmaker in Clarksburg, so too is an Appalachian migrant's experience of the region different from someone who stays. Those of us who've been outside the region for several years must accept that both we and the region may have changed since our departure, and that our experiences "abroad" mean we can no longer claim to speak as "typical Appalachians," if we ever could.
Moreover, while we may strongly identify with the region and its people, we must also accept that, in having left, our stake in the game is different from those who remain. As such, our role and our degree of power in deciding the future of the region should be different.
Of course, this does not mean migrants have nothing to contribute. On the contrary, in return for giving up our claims to being typical Appalachians, we have gained new experiences and insights that can benefit the region if used properly. One of expatalachians' founding goals was to create a place to share and debate these insights. Almost one year on, I'm proud of the fresh perspectives we've been able to inject into conversations about Appalachian history, politics, economics, environmental issues, literature, and more.
What other forms Appalachian migrant organizing may take remains an open question. In the past, migrants have created explicitly "Appalachian" organizations to agitate for better public services, state-specific clubs to commemorate their heritage, and hometown associations to network and reminisce.
As we are currently undergoing a renaissance in Appalachian organizing, diaspora activists would do well to look back on these experiences and think creatively about what kind of community they hope to create, and to what end. Whatever form it takes, for me Appalachian migrant organizing means prioritizing at least three goals.
First and foremost, in light of the Appalachian identity movement's uncomfortable relationship with racism and exclusivism, we must strive to build a diverse and cross-sectional movement that includes Appalachian migrants of all backgrounds, regardless of race, class, indigeneity, religion, gender, sexual orientation, or any other factor.
Secondly, while preserving a personal connection to the region is important in Appalachian migrant organizing, we must also seek to critically address and work toward resolving problems back home, be it through scholarship, donations, economic investment, volunteering, activism, or other endeavors. These problems must include not only pressing issues affecting the region, like the opioid crisis and poverty, but also deeper structural factors that are often ignored, including the present-day realities of racism and colonization.
Finally, to return to my original point, we must organize in solidarity both with fellow migrants and with folks back home while being cognizant of our different positions. This shouldn't just be an Appalachian migrant investment fund that seeks to "innovate" Appalachia while maintaining control. Rather, we must strive to build meaningful relationships and organizational structures between migrants and home communities so that, in seeking to promote positive change, we don't take power away from the region and the people ultimately supposed to benefit from it.
Nicholas Brumfield is a native of Parkersburg, WV currently working in Arlington, VA. He is also a 2007 recipient of the West Virginia Golden Horseshoe for exceptional knowledge of West Virginia history. For more hot takes on Appalachia and Ohio politics, follow him on Twitter: @NickJBrumfield.
Congress Hears Testimony From Chemical Company Executives On PFAS Contamination
This article was originally published by the Ohio Valley ReSource.
Executives from three major chemical companies — DuPont de Nemours, Inc., The Chemours Company and The 3M Company — testified for the first time to Congress about widespread contamination from the group of nonstick, fluorinated chemicals broadly called PFAS.
The so-called "forever chemicals" persist in the environment, are linked to ill health effects, and have been found in numerous water systems in the Ohio Valley.
The hearing — the third on PFAS contamination by the House Committee on Oversight and Reform's Subcommittee on Environment — explored the extent to which companies that make PFAS chemicals knew about its impacts on human health and the environment and how they should be held accountable. 
"These companies with us here today have screwed up and we need to hold them accountable for doing so," said Committee Chairman Rep. Harley Rouda from California. "I hope the people representing those companies here today will admit their mistakes so that we can all move forward and achieve what I believe is our common goal: to clean up contaminated sites, stop exposing innocent people to toxic chemicals and making sure that all Americans have clean water and clean air."
Concern over PFAS contamination has grown nationwide. The Environmental Working Group estimates the drinking water systems of more than 700 communities are contaminated with PFAS. Perfluoroalkyl chemicals were used to make nonstick products and are found in some flame retardants including firefighting foam.
Company executives called to testify focused on internal efforts to address concerns over PFAS in the face of major high-profile lawsuits and settlements over contamination in West Virginia and Minnesota. All expressed support for the U.S. Environmental Protection Agency's "action plan." The agency in February proposed a series of regulatory steps to address PFAS contamination and cleanup.
Lawmakers in both parties criticized EPA for not moving swiftly enough. Congress is considering amendments to its 2020 defense spending bill that would speed up EPA's timeline and regulate the entire class of PFAS chemicals.
Company executives were split over how PFAS chemicals should be regulated, although none supported broad legislative action to regulate all 5,000 PFAS chemicals.
A representative from DuPont went the farthest. Daryl Roberts, DuPont's chief operating and engineering officer, told the House subcommittee the company welcomed specific regulatory actions, such as listing two PFAS chemicals, PFOA and PFOS, as hazardous substances under the Comprehensive Environmental Response, Compensation, and Liability Act, or CERCLA, also known as the Superfund law.
"We support legislation to list PFOA and PFOS, and only those two, as hazardous substances under CERCLA. That's further than the other companies here are willing to go today, but that's what we believe is correct," he said. "What we know about those chemicals is that they're bio-persistent. That's enough to know that there's a clear concern for those chemicals within society at this point in time, and we feel for that reason they should be regulated."
DuPont no longer makes PFAS chemicals. It split off its fluorinated chemicals business in 2015 to Chemours. A representative from Chemours said that company did not support such regulation. Chemours and DuPont are engaged in litigation over the split. Chemours argues DuPont misrepresented the environmental liabilities associated with PFAS chemicals.
3M's Senior Vice President of Corporate Affairs, Denise Rutherford, doubled down on her company's claim that there are no negative health effects from PFAS exposure.
"When we look at that evidence there is no cause and effect for adverse human health effects at the levels we are exposed to as a general population," she said.
That didn't sit well with some Democrats, including New York Rep. Alexandria Ocasio-Cortez who said this position goes against findings from government agencies and 3M's own scientists.
The federal government's Agency for Toxic Substances and Disease Registry says some studies in humans with PFAS exposure have shown: effects on growth, learning, and behavior of infants; an increase cholesterol levels; effects on the immune system; and an increase in the risk of cancer.
The hearing began with testimony from two attorneys whose lawsuits against DuPont and 3M unearthed thousands of internal company documents that showed both companies knew the chemicals were dangerous to human health and the environment for decades, but didn't tell its employees or federal regulators.
Rob Bilott, an Ohio-based attorney who successfully brought a class action lawsuit against DuPont for its dumping of PFOA, sometimes called C8, near its plant in Parkersburg, West Virginia, told lawmakers he and his team for 18 years have funneled scientific studies from within DuPont to EPA that enumerated the health risks associated with exposure.
In 2012, an independent panel of scientists — the C8 Science Panel — concluded drinking PFAS contaminated water was linked with six diseases, including kidney and testicular cancers.
The group looked at all existing studies and conducted new ones on 70,000 impacted community members from around the Parkersburg area.
"This independent scientific review has occurred. Unfortunately EPA has not acted," Bilott testified. "We have more than enough evidence. We should move forward and protect the public."
From Corn Liquor to State Pride – Origins of 'West by God Virginia'
Here at West Virginia Public Broadcasting, we've been asking listeners what they wonder most about West Virginia.
The latest question that won out in an online poll came to us from St. Albans resident Trish Hatfield. She asked, "Where does the phrase 'West by God Virginia' come from?" WVPB reached out to experts across the state and discovered one of the first times the phrase was found in a publication — and we have a good idea why it has stuck around.
"West by God Virginia" is an idiom many West Virginians know well, but its exact origins have traditionally been less well-understood.
West Virginia University linguistics professor Kirk Hazen did some digging for us into the phrase. The earliest printed version he found was in a Virginia magazine published in 1926 called "The Virginia Spectator." It reads:
"And it is, we believe, the only way that corn can be mixed and presented to a girl — except the iron plated ones from West (by God) Virginia."
The article was written by students at the University of Virginia who, in the middle of the prohibition, are likely alluding to making alcohol, Hazen said.
He said the quote is basically saying West Virginia women can hold their liquor.
"And the implication here is that they are accustomed to drinking homemade corn liquor," he explained. "So, they can handle it without having to mix it up in certain concoctions."
Hazen discovered this publication with the help from a Google Books application called Ngram Viewer. It's an online tool that sifts through a massive digital database of millions of publications in several languages.
Hazen said the phrase likely appeared in written form earlier than 1926, but to confirm that it would take months of sifting through physical documents, such as newspaper clippings, journals, books and magazines.
Hazen found another early publication of the phrase in 1939 in an academic article published by WVU's English department. The phrase is found in a footnote written by Harold Wentworth. The quote explores the possible history behind "West by God Virginia." It reads: 
"Among phrases so formed is the well-known 'West by God Virginia.' But the expletive insertion here is more syntactical than morphological. One story of the origin of this phrase, true or not, is that a native West Virginian, irked at being called a Virginian, retorted with an intonation that can only be suggested here, 'not Virginia, but West by God Virginia.'" — Harold Wentworth, WVU department of English, 1939
The exact origin of "West by God Virginia" as a spoken phrase is difficult to pinpoint.
Hazen points out how most spoken language is almost a living organic thing — not something that's tracked, monitored, sorted or in databases.
But Hazen and other experts say there's a good chance the phrase made its first oral appearance sometime after West Virginia became a state in 1863. But they say this is educated guesswork.
We spoke with another expert from West Virginia University. Associate Professor Rosemary Hathaway specializes in American folklore and literature.
Hathaway has been working on a book that explores the cultural history of the term "Mountaineer." She points to parallels between the origins of "Mountaineer" and the phrase "West by God Virginia."
"The first time the term Mountaineer shows up as a synonym for West Virginian is before statehood," she noted.
Hathaway said before we separated from Virginia, there was a legislator from Harrison County who sent a letter to a newspaper in Richmond expressing annoyance that his region, western Virginia, was not being fairly represented in the Virginia Legislature.
And when he signed that letter?
"He signed it, not with his name, but as a Mountaineer," Hathaway explained. "So, I sort of see that as being parallel to the phrase 'West by God Virginia' in the sense that it's just kind of a way of reminding both ourselves and outsiders that we are distinct from Virginia, and we have a unique identity and a unique history as West Virginians."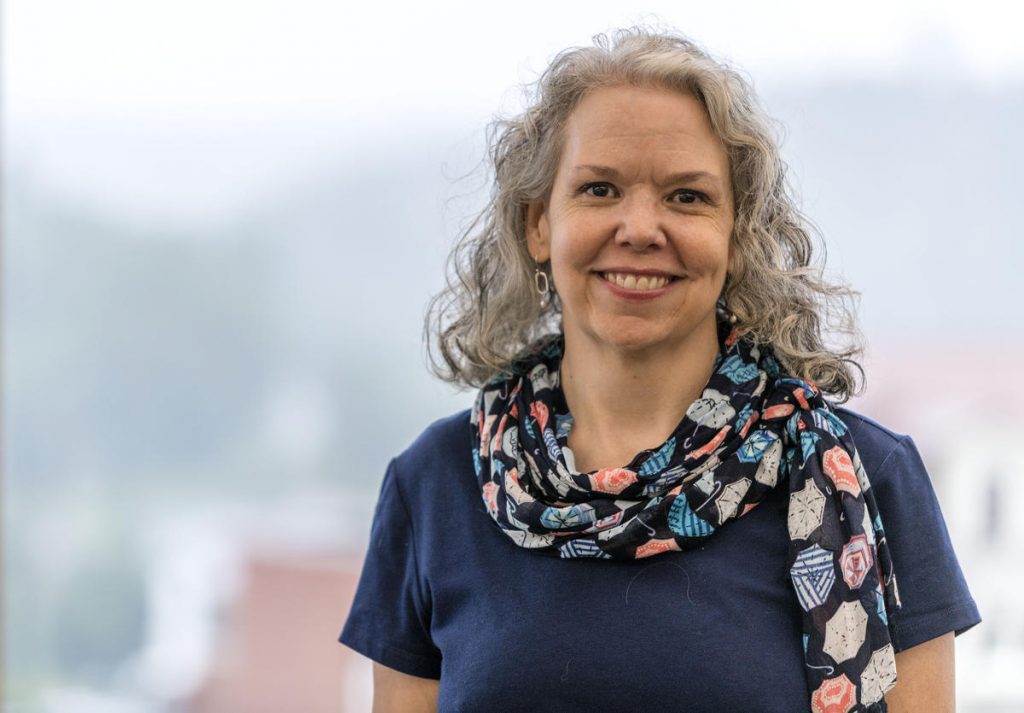 But none of this answers the underlying question — why did people start inserting "by God" into the name of West Virginia?
The use of "by God" in language dates back to the Anglo-Saxons, but it became commonplace in the 1600s, according to Eric Waggoner, the executive director of the West Virginia Humanities Council. Waggoner is also a retired history of English teacher.
Waggoner said "by God" has always been used as a way to emphasize something. He sees the inclusion of it in "West by God Virginia" as an expression of pride, when so much of the world perceives West Virginia in a negative light.
"There's been a sort of narrative about West Virginia that focuses on illness; it focuses on poverty; it focuses on hard times; it focuses on this sort of thin, cultural and educational infrastructure; a lot of things that are here that need attention and that people who live here know intimately," Waggoner explained. 
He said many West Virginians are tired and fed up with this negative narrative, and by adding "by God" into our state name, our identity, it allows us to reclaim our image.
"There's a kind of expression of pride, not just in place, but in being a person who is from this place, that 'West by God Virginia' seems to articulate in a very handy, in a very positive way," he said.
Even though the exact origin of the spoken phrase may be difficult to find, Waggoner and others said today it's often used to illustrate West Virginia as unique and separate from Virginia – that, by God, we are here, we exist and we have our own identity as West Virginians.
This article was originally published by West Virginia Public Broadcasting.
A Regional Focus on Health Care, Community by Community
Understanding Appalachia requires coming to grips with the complexities and challenges of rural healthcare.
It means understanding that addiction isn't just an opioid issue, as methamphetamines make a comeback in our communities. It means understanding that health goals reflect a Maslow's Hierarchy of Needs chart from one community to the next, and that how we define wellness is as diverse and place-based as other forms of Appalachian culture. It means understanding that there are no one-size-fits-all solutions in the creative ways that our communities tackle addiction, vaccines, mental health, access and affordability.
With support from Jim and Alexis Pugh, we hired a part-time editor/reporter for developing this beat. We'd like to introduce him to our readers and invite story pitches for tackling this topic together.
— 100 Days in Appalachia
Introduce yourself to the 100 Days audience. How does your background inform your perspective on health and health care issues in Appalachia?
I've been covering rural health throughout the Southeast for some years now. Appalachian born, in the mountains of Western North Carolina. I began writing about health care on a regular basis in 2008 with a series of articles on the breakdown of the mental health care system in North Carolina. I then began to more fully appreciate the complexity of health care issues and the range of repercussions of the decisions we make societally about health care.
I worked for a couple of years under a grant to cover rural health issues in North Carolina, and that job allowed me to spend a lot of time on two-lane roads – those roads William Least Heat-Moon coined the "blue highways" for the color in which they appeared on old Rand McNally maps. I've since been doing the same work as a freelancer, from the Finger Lakes region of New York to the Mexico border. I love driving those roads, realizing that I'm now somewhere I've never been before, then arriving at my destination and exploring how the issues this particular community is grappling with are the same and different as others elsewhere.
I'm looking forward to now returning my focus to Appalachia. I divide my time between Nashville, Tennessee, and Carrboro, North Carolina. I make the trek between those two cities every couple of weeks, and whenever I'm headed west and begin the climb up Old Fort Mountain or headed east and hit Pigeon River Gorge, I feel the tug. It's less than a hundred-mile stretch, but it's so distinctly Appalachia.
With 100 Days, I'm psyched to reorient along a roughly north-south axis, unfolding this region that ambles from Schoharie County, New York, to Kemper County Mississippi. Granted, much of this work will be done from my desk in Nashville or Carrboro. But I'll always be looking forward to that next excursion.
Of course, not all of Appalachia is rural. I do enjoy Appalachia's metropolitan areas, love discovering them anew, and look forward to further delving into their particular health care issues and successes.
Urban or rural, I'm intrigued by the role that place plays in the health care issues communities face and in their outcomes. I'm so looking forward to witnessing Appalachia.
When people see that we're launching a health vertical, it might seem like we're late to the game, that any number of outlets already have a strongly established focus on issues in this area. In what ways do you hope to lead the conversation about health in Appalachia?
Appalachia is facing some considerable health care challenges. In addition to the rising costs of care, rural communities are experiencing diminishing access to services, including hospital closures, and difficulties in recruiting health care professionals. Rural and urban communities alike have been particularly hard hit by opioids.
But Appalachia isn't a monolithic region, and there are nuances to these issues from one sub-region to the next, from community to community. While underscoring shared concerns, I intend to draw out those distinctions. I most especially want to bring attention to the particular ways in which communities are finding solutions
When I write that I'm from Western North Carolina, I capitalize the "W," as those in the region commonly do – because beyond identifying the region geographically, "Western" is an integral part of a proper noun, denoting cultural distinctions. I could ramble on about what those distinctions are – the libertarian instinct, etc. My point is that place matters. Murphy, North Carolina, in the far southwestern corner of WNC, is 355 miles from Raleigh, the state capital.
There are four other state capitals closer to Murphy. To assume that all North Carolinians share a sense of place, an identity, would be a mistake. I want to explore the contours of geography and culture, and how they shape health, health care, attitudes, practice and policies.
I intend to report on the challenges individual communities are facing and their responses to those challenges, and on decisions that the federal and state governments make and the outcomes of those decisions – whether to expand Medicaid coverage, for example, and the implications of that decision.
Are there any specific topics you think media outlets outside of the region do a bad job of covering here or that have perpetuated stereotypes of the people in Appalachia? In what ways do you hope to challenge those views?
I think there's a perception that Appalachia is waiting for a handout, that people in the region are expecting the federal government to solve all their problems. I hope to help counter that narrative.
The first piece I wrote for 100 Days was titled "New Report Cites Economic Woes, Addiction and Optimism in Appalachia." It was about the results of a survey conducted by the Robert Wood Johnson Foundation, National Public Radio and the Harvard T.H. Chan School of Public Health titled "Life in Rural America." Those results underscored the loss of jobs and the scourge of addiction. But the researchers also found that rural Americans are largely optimistic about their future, placing their faith in a shared sense of community. I described how that sense of community is expressed in Moorefield, West Virginia.
I strive to take a solutions-oriented approach to my work. I've written about the closures, mergers and acquisitions of hospitals and the ripple effects they have on communities. That's certainly an issue today in Appalachia. In reporting on these transactions, I've described how communities have responded – at times, rebelled.
I intend to tell the stories of ground-level, multi-fronted responses to the health care challenges Appalachian communities are experiencing.
The focus outside, and inside, the region, in terms of covering health in Appalachia, is largely focused on the opioid epidemic. In what ways do you hope to shine a new light or further the conversation around this topic?
I refer to my answer to the previous question: solutions. Whenever possible, I intend to report on solutions.
Recently, I attended a listening session hosted by the Appalachian Regional Commission in the small town of Wilkesboro, North Carolina. The objective was to discuss workforce issues related to the opioid epidemic. Participants brainstormed job-placement strategies and how communities can engage substance-abuse treatment programs, recovery initiatives and other services. They shared information on available resources in the community. People had driven up to three hours to attend – health care professionals, business owners, social workers, elected officials, academics, law-enforcement officers and plain-old concerned citizens. It was an impressive display of solution-oriented community resolve.
I've reported on naloxone initiatives, needle-exchange programs, law-enforcement assisted diversion programs and health care professionals assisting mother and child in alleviating the effects of neonatal abstinence syndrome, addressing the stigma attached to medical-assisted treatment. I've ridden along with a peer support specialist who helps former inmates in recovery and others who assist those exiting the criminal justice system.
I intend to remain attentive to programs focused on the treatment, care and recovery of those with substance-use disorders and on the prevention of addiction, but with an eye toward how we are solving these problems in our communities.