Listen: Going Home for My Small Town's First LGBTQ Pride
This piece was originally published in Scalawag, which amplifies the voices of activists, artists, and writers reckoning with the South. You can read the original article here.
When friends in Brooklyn ask where I'm from, I say "nearby Asheville." They usually react with delight. They've heard Asheville is so cool. Recently at a backyard party in Williamsburg, a woman sporting a see-through tote bag told me she's been considering buying a house down there to start a queer commune. I nodded sullenly. Living "nearby Asheville" is a loaded phrase. If you drive even just one mile outside of downtown Asheville, the free-spirited queer-friendly environment starts to fade. My hometown of Hendersonville is only about 25 miles from Asheville proper, but it can feel a world away.
A few weeks ago, I flew from New York City to Charlotte, where my partner met me at the airport. I don't get the chance to come home often. With every year I spend away, visiting feels more and more precious. This visit was especially charged because I was coming home to attend Hendersonville's first ever LGBTQ pride event.
Driving west on I-85, there's this electrifying moment where the Blue Ridge Mountains appear in the distance. It's the physical marker that I'm on the way home. Around this point in the drive, I usually start craving Cook Out. My partner and I split a strawberry milkshake and drive the rest of the way with the windows down, blaring Maren Morris. By the time we ascend the winding road to my parents' house, fireflies light the roadside.
Hendersonville is a small city of 14,000 with a remarkable concentration of retirees and a church at nearly every four-way-stop. It's the kind of place where people honk the car horn mostly as a way to say hello to a neighbor. It's also the kind of place where a teenage girl might hide in a bathroom stall during a school pep rally because someone yelled "dyke" at her and she turned as red as the plush auditorium seats. The bathroom stall at my high school is the only place where I did any kind of praying. Usually, I was praying to get as far away from Hendersonville as possible.
Growing up, I didn't know anyone in the town who was openly queer. I wasn't out either. Not even to myself. As a teenager, I couldn't picture living in Hendersonville as an adult. Now, I realize that inability to imagine my adulthood was related to the lack of LGBTQ visibility. There was a pervasive silence around who was queer. With everyone hiding in their own way, we never had a chance to connect.
Hendersonville's first pride celebration wasn't a parade or a festival. It was a potluck picnic. Bringing the community together over potato salad and watermelon slices is quaintly befitting for Hendersonville's first pride. It's also the kind of event where people can actually talk—unlike the relative anonymity of a parade or march. I felt that I was coming home to meet the LGBTQ people who were all around me as I was growing up. We would really see each other for the first time.
The week before the pride picnic, Mayor Barbara Volk made a proclamation declaring June 15 pride Day in Hendersonville. Dozens of protesters showed up to City Hall for the proclamation. Every member of the City Council publicly opposed the Mayor's decision. One City Council member said it didn't reflect the standards of the community. Another Council member who initially opposed the event asked, "What happens when White Supremacy Day comes up?"
I started to worry that Hendersonville wasn't ready for pride. I met organizer Laura Bannister on the day before the event. She was grilling a hundred hamburgers on her back porch for the picnic. Laura said she had no idea how many people to expect. She also told me that someone in the community had posted a video on Facebook, showing a group gathered in the park where the picnic was set to take place. They were saying prayers to dispel the devil. The woman who posted it said she heard someone say they wished death on the LGBT community. Laura sent a friend to check the trash cans for bombs both the night and morning before the picnic. Hearing this, my worry turned to fear.
I've been to pride events all over the South—Florence, Alabama; Salisbury, North Carolina; Huntington, West Virginia; Valdosta, Georgia—there are always protesters. Driving up to Patton Park on the day of the picnic, I expected to see those tall yellow signs warning of eternal damnation. But I didn't. Instead, I saw families unloading lawn chairs from their minivans, carrying Tupperware containers and gallons of sweet tea to the park shelter. The event kicked off with a blessing from a local Metropolitan Community Church pastor, Rev. Dr. Joan Saniuk. I thought the protesters must be running late.
As the festivities entered their second hour, I noticed another way this pride was unlike every other I'd attended. There were no sponsors, corporate or local. There weren't any vendors either, except local advocacy organizations. Someone set up free face painting, a DJ played gay anthems and picnic tables overflowed with homemade food. Almost 500 people came to the event, fixing plates and sitting in the grass to talk. By the time people started going back for seconds, it was clear that the protesters weren't coming. That relieved type of joy was palpable in the crowd. It also became clear to us that our town might not be ready for a pride parade or a march, but it was certainly ready for a pride picnic.
Monique LaBorde is a freelance audio producer based in Brooklyn, New York. She's a graduate of UNC-Chapel Hill, the Duke Center for Documentary Studies, and the Transom Story Workshop. Her work has aired on Morning Edition, All Things Considered, North Carolina Public Radio, West Virginia Public Broadcasting, and WCAI.
Stirring Up 'Dark Waters': The Complex Relationship Between Industry and Community
Seeing "Dark Waters" itself is a surreal experience for someone born and raised in Parkersburg, West Virginia, at least in part because I never thought I would see a story about my hometown on the big screen.
"Dark Waters" is an eco-thriller produced and starred in by Mark Ruffalo. It explores the life and ensuing legal cases led by the man who took on DuPont in the late 1990s over the dumping of forever chemicals, namely C-8 or PFOA, by the chemical company into the Mid-Ohio Valley. The movie fits well with Ruffalo's environmental activist profile, as he regularly advocates for environmental justice on national television.
The film is based on a New York Times article written in 2016, titled "The Lawyer Who Became DuPont's Worst Nightmare." In it, Ruffalo reflects on screen the important internal conflicts felt by my community as the class action lawsuit played out, such as the economic power of DuPont in Parkersburg, the long-lasting effects of the water pollution, and how one doesn't simply cut all their ties and leave West Virginia. That becomes obvious as we watch Ruffalo's character (the attorney at the center of the lawsuit against DuPont) Rob Bilott's inability to detach himself from the plight of Earl Tennant, the Wood County farmer who brought the issue to Bilott's law office office in Cincinnati.
As I returned to my hometown for the Thanksgiving holiday last month, some of my friends and family were looking forward to the movie's release, while others felt pessimistic about the shadow it would cast on our community. Even before seeing it, West Virginia legislators from the area disavowed and discouraged community members from watching it, accusing Ruffalo of using hillbilly stereotypes. The Ohio Manufacturing Association produced a campaign accusing "Dark Waters" and the filmmakers behind it of participating in a "ploy to sell tickets and score political points" that "misrepresents our way of life in the Ohio Valley," even though fact-checks clear most of the "Dark Waters" story. 
Like many of my friends from the Mid-Ohio Valley, I've had trouble coming to terms with the reality of the film. It has quite literally stirred the waters in my community and led to hard discussions within my family and friends. I've found myself late into the night researching the chemicals and learning what I can from local news about their impact, and now reflecting deeply on my upbringing, morality and the future of my health and that of my community.
For some of us younger folks, we are just realizing the extent to which the dumping occurred and the history behind the incident, the culpability of the people who live here. In the past month, I've found out just how deep that loyalty to DuPont extends, even into my own family. I learned one of my family members worked directly on the dumping night shifts– they're already dead from cancer. Another refuses to get follow-up medical tests after their initial testing for C8. While outsiders looking in may connect this hardheadedness to overwhelmingly conservative beliefs, those hesitant, defensive reactions in my family and those around us aren't based on politics. They've instead come from the left and the right.
I find myself wondering what other health problems could affect my friends, family, or me in the future. We were a generation of children, like our parents, raised on water with extremely high levels of C8 and now know many of us are likely to bear the brunt of the health crisis from this illegal dumping. Some friends– the lucky ones with good insurance– are already nervous about upcoming medical tests and it's not because we're overly paranoid. Recent studies have shown that people in the Mid-Ohio Valley can expect to live much shorter lives than the rest of the country for any number of reasons, but after seeing the results of the science panel put in place to study the area after a class-action lawsuit ruled against the company, instances of a variety of cancers linked to C8 certainly don't help increase that length.
But we're not alone in our concern. We are only one community in a much larger, global focus on the impact chemical plants and plastics manufacturing are having on the environment and, in turn, our health. Recent studies from the U.S. Environmental Protection Agency measuring the chemicals in bloodstreams demonstrate widespread exposure of PFOA/C8 in humans and wildlife, and the United Nations recommended a global ban on the chemicals last year. And it's not just DuPont: Many other companies produce these same hazardous chemicals.
Frankly, I believe most young people have little to no faith in government officials or companies to enforce water safety. Parkersburg's water remains polluted, according to the standards set by Environmental Working Group, a D.C.-based water advocacy organization. The state has failed so many times to defend public health and the environment that many people often develop a cynical view of government. In some cases, that cynicism leads them to step in and join the fight, but for many others, incidents like the one in "Dark Waters" pushes them out of the state altogether.
Recently, at a conference in Beckley, West Virginia, a woman from southeastern Ohio was surprised that I had never eaten catfish, even though I grew up on the Ohio River. I joked that my family always warned me that the fish in our river weren't safe to eat; it was too polluted or they were too mutated.
"Dark Waters" and the conversations I've had with friends and family since its release have forced me to reflect on the jokes that I grew up hearing, making me think there is something much more sinister behind them. The movie has sparked me, and many other young people from Parkersburg, to ask questions, to be critical and to examine the role of the company in the community, one that provided so many of our family's with economic security. But at what cost?
Alena Klimas was born and raised in Parkersburg, West Virginia. She co-founded expatalachians with a handful of other folks, mostly from the Mid-Ohio Valley. Klimas now lives in Asheville, North Carolina, where she works as a consultant on development projects in central Appalachia.
Wrestling with Rural Stereotypes (Instead of Pigs) on Television Could Bridge Our Political Divides
You never really forget a hog killing once you see it.
The smell of woodsmoke mingling with the smell of burning flesh as the men pour boiling water over the body to loosen the hair that would then be shaved off with a sharpened garden hoe in quick raking motions down the length of the animal. The hog is hung by its back legs so that its front legs are lifted just enough to not be touching the ground beneath. A long cut is sliced through the hog longways along its middle as it hangs, and the butchering soon follows.
I was younger than 6 when I saw my last hog killing live and in person. My dad's family used to slaughter one every fall when the weather started getting cold. His Uncle Bug, on his mother's side, was the best at shaving the hair, and to this day, he says there's scarce better than a fresh pork loin taken straight from the butchering to the kitchen.
My cousins and I would play hide and seek in the smokehouse where the meat from the hog was stored through winter. I'd slip inside while the count-down happened and crouch low beneath the hanging shanks and hams. I knew where they'd come from.And yet, I was fascinated to see them hanging there, waiting to be made into a meal for Sunday dinner or an upcoming holiday.
My family raised hogs to eat them and sustain them going through winters that used to be colder and more sparse in the mountains of Eastern Kentucky. And though I can't know with absolute certainty, I have never known of any stories from those living or long-since passed that involved wrestling those hogs they raised for the hell of it.
Yet, in the most recent portrayal of my home, Appalachia, on network television, "Perfect Harmony," the main character finds himself wrestling a pig in a mud pit at the town festival to prove he's one of the locals. The NBC show follows the story of Arthur Cochran, a former Princeton University music professor, as he attempts to lead the choir of the First Second Church of the Cumberlands to glory in a local choral competition.
Imagine my surprise when I flipped over to ABC to watch another 30-minute tale of city-slicker-turned-rural-resident, "Bless This Mess," set in Nebraska's farmland, to see that one of the ways the city couple, Mike and Rio, were told they could attempt assimilation in their new rural home was to wrestle a greased pig before the Nebraska University football season opener.
The fact that TV writers think one of the things rural people regularly do for fun is wrestle farm animals is not entirely surprising given the often reductionist ways rural places are portrayed in movies and on television. But the fact that this trope was included in two different shows about two very different rural places says a lot about how little the writers, and indeed the nation, truly understand about rural America.
And therein lies the rub, because in a post-Trump, "fake news" era in which national reporters and commentators are attempting to explain why our country is so divided in a seemingly incurable way, we need portrayals of entire swaths of the country and entire groups of our neighbors to be three dimensional and complicated so we can see the commonalities within rather than be presented with reasons to keep separating ourselves from one another.
On the surface, "Perfect Harmony" and "Bless This Mess" might seem innocuous. They are shows about the purity of rural people and a way of life that is slower and perhaps more connected than the hustle and bustle of big-city life that the shows' main characters are trying to escape in their own ways.
Arthur Cochran has come to rural Kentucky– a town ostensibly based on Corbin, about an hour and a half south of Lexington– to bury his wife, who was from the small town. He wanted to leave almost as soon as he got there, but after he tells off the choir in the first moments of the pilot episode, he learns they are competing in a choral competition against the choir of the mega-church off of I-75 whose pastor wouldn't let him bury his wife in their cemetery. He agrees to stay and help them win. Spoiler alert: They don't win, but he sticks around anyway– the locals have won him over.
Mike and Rio are a young, married couple from New York City in "Bless This Mess" who return to Mike's Nebraska roots to take over the family farm. Living in the city has become too much for them. They know nothing about farming, and less about living in a rural place, but in typical white-privileged fashion, they decide to give it a go anyway.
The locals in both shows are skeptical of the newcomers, but because they are nice people with big hearts, and a fair bit of small-town wisdom, they give the city slickers a chance. Even though Arthur, Mike and Rio muck things up every episode because they don't understand or fully embrace the cultural mores of the small towns in which they now find themselves (e.g. Arthur must go on a campaign of reconciliation after honking his horn at someone; Mike and Rio dress in formal wear instead of Nebraska football gear to a town party where the host of the annual home-game season opener is announced), the townspeople embrace them and welcome them in, and we're presented with resolutions each episode that are supposed to make us believe the rural-urban chasm has grown just a bit smaller.
But the truth is always more complicated than a sanitized version of it on TV. Those of us who live and work in, or are from, rural regions know that TV portrayals of our places far underestimate the true beauty, tragedy and complexity of the places many of us feel connected to in our bones. They also ignore the reasons why those simple portrayals are the most popular and proliferated, even when we know the stories of rural places are far more complex.
My home region of Appalachia, for instance, is a complicated place whose present is shaped entirely by the near-unrestrained resource extraction of the past. When the coal industry came into the region riding the Trojan horse of the broad-form deed (which basically gave them rights to get at coal under the surface by any means necessary), the mostly absentee coal company owners understood that in order to have unfettered access to mine as much coal – and make as much money– as possible, they had to control the narrative about the people who lived atop the black gold they coveted.
"One of the most effective means of controlling a people is controlling their image," writes Appalachian scholar Meredith McCarroll in her latest book, "Unwhite: Appalachia, Race, and Film." In the book, McCarroll explores the connection between Appalachian portrayals in movies and the power and privilege that made those images possible, and that allows them to continue being used against the region today.
It was in the best interest of the industry to propagate and allow to flourish images of backward, slovenly hillbillies who needed the strong hand of industry to set them right and make them productive for the country's benefit. If Appalachians in coal-mining towns could be painted as lesser than the dominant American culture, then it would make it a lot easier for coal companies to get away with taking everything from them, including their autonomy in telling their own stories.
This presents perhaps the most troubling aspect of the proliferation of these stories. As long as they are spread like a virus in our media, the people of Appalachia might just start to believe them, and therefore, believe they aren't worth much more than mining coal and living in service of far-away urban centers. There are few counter-narratives to this story, so there is little to stop Appalachians from convincing themselves that once the coal is entirely gone, and once there is nothing left for the cities to take from their homeplace, they'll be even more forgotten than they are now.
"Appalachia is shown– still– as the strange and peculiar place that is easy to forget," McCarroll writes. "So mountains are blown up. Schools are underfunded. Counties like McDowell [in West Virginia, and among the poorest counties in the nation] continue to die. And, most important, people of Appalachia begin to believe what is said about them."
In the 1950s and '60s, America "discovered" the region as it never had before, thanks in large part to President Lyndon Johnson's declaration of a War on Poverty and a trip to take pictures with Tom Fletcher on his porch in Martin County, Kentucky. After that, news cameras came in waves, and just like the ocean tides, took a little more of the region with them each time through the images they captured. 
Since, narrative television has had a poor history of portraying Appalachian people as anything more than a stereotype. It's important to remember that "Perfect Harmony" and "Bless This Mess" are only the latest in a long line of shows of the rural genre that started in the 1960s. Shows like "Petticoat Junction," "Mister Ed," "Lassie" and "The Andy Griffith Show" enjoyed high ratings and loyal fanbases until most were cancelled in the early 1970s under the assumption that audiences weren't as interested in rural stories anymore. Perhaps one of the most well-remembered shows of that era– also focused on what happens when city folks move out into the country to become farmers– was "Green Acres."
But the end-all, be-all of rural stereotypes employed by a popular TV show of that era was "The Beverly Hillbillies." The Clampett family moves from the mountains of Arkansas to the mountains of California after they strike it rich from oil they discovered on their land. We see the family in the opening credits heading west-ward in their beat-up jalopy with Granny sitting in her rocking chair on the back in one of the most famous and enduring images of the entire series.
This portrayal relies on the same stereotypes for its jokes, but adds in the extra flavor of hillbilly tropes. The salt-of-the-earth patriarch hillbilly in Jed; the over-sexualized hillbilly woman in Elly May; the gun-toting, spit-fire elder hillbilly in Granny; the goofy but lovable hillbilly in Jethro. These hillbilly images go much further back than the 1960s. Appalachian scholars have found their use in the literature produced during the local color writing movement of the late 19th and early 20th centuries– a genre of fiction and poetry writing that emerged during the Civil War focused on the characters, dialects, customs and culture of a specific region.
And the stereotypes decades of television shows have relied on for laughs have solidified themselves in popular culture as something close to fact, So much so that when it comes time to explain a national problem in which we all share culpability, reporters flock to Appalachia for easy answers, because there is at least 150 years worth of false narratives from which they can draw those easy conclusions. Therefore, the portrayals that end up making it in front of audiences are never enough to explain hundreds of years worth of exploitation, culture building and lived experience.
Those portrayals are simple for a reason, and that reason has everything to do with who controls the narrative and decides which stories get told. Most often, those people are wealthy, white and male, and they hold power for reasons that they'd rather we not question. They have a vested interest in the rest of us staying divided so they can maintain their level of power and privilege.
But if more nuanced and complicated stories about rural places were to be the norm, it's entirely possible that we'd begin to realize their great conceit, which is that they see rural America as one big monolithic place, where one region is as easily expendable as the next, as long as there are resources of any kind in those places to be extracted or harvested and sent to urban centers to enrich a select few.
We've been forced into this false understanding of one another over many generations of misleading narratives being told about any and all who are not of the dominant white culture. And as a result of the false dichotomy of rural versus urban, we've kept ourselves at arm's length from one another. Rural people were told that to feel like an equal with city folk was to admit that our rural way of life was less than. And city people have been told to fear rural people because they are backward and uneducated and could never change.
Sure, the images projected in today's "Perfect Harmony" look a bit different than those in 1960s "The Beverly Hillbillies," but they are rooted in the same simplistic understanding of rural people as being old fashioned, ignorant in the ways of the dominant and more preferred culture and forgetful of the very real and present challenges the region faces. The portrayal of Nebraskans in "Bless This Mess" is no more complex and leaves us watching characters that are more caricature than real life.
And it's no coincidence that shows like "Perfect Harmony" and "Bless This Mess" have come onto the scene during one of the most divided times in the history of the country. The last time communities were split down the middle because of political and social issues was perhaps during the 1960s and '70s, when "Green Acres" and "The Beverly Hillbillies" enjoyed success. Just like their predecessors, "Bless This Mess" and "Perfect Harmony" are two shows that are attempting to examine those divides. The only problem is, their examinations rely on simplicity and fiction when we're in a moment that calls for nuance and facts.
But despite the one dimensional, oversimplified nature of rural people depicted on these contemporary shows, rural people still watch. Appalachians and Nebraskans still tune in to these shows filmed on L.A. sound stages and California pastures and, generally, they like them. Why? Because in both, rural people win. Despite their backward culture, they value their communities, their friends and their families, and, perhaps most of all, their traditions, even when they go out of style.
This draws rural people in because they get to escape their reality. And in reality, most rural places are not winning. They feel forgotten and left behind. They know what urban places are taking from them, and they aren't happy about giving of their bounty while seemingly not getting anything in return.
Eastern Kentucky is home to several of the poorest counties in the country and has some of the highest rates of cancer deaths and lowest educational attainment rates. The infrastructure is crumbling, if it exists at all. Broadband is all but non-existent, water lines are failing, but even if they weren't, people still couldn't drink the water because it's full of toxic heavy metals. Schools can't afford textbooks for all of their students, and people long for work that isn't there.
All the while, people see the state government take 50 percent off the top of the coal severance money that's supposed to go back into the region to maintain infrastructure. They've watched for generations as the coal they mined and the children they raised left for Lexington and Louisville– Kentucky's two largest cities– and hardly ever came back. They've had to listen to Louisvillians blame them and the rest of rural Kentucky for "voting against their interests" when the same city uses tax money eastern Kentucky coal mining produced to maintain their water lines and make sure their roads are always passable. 
Eastern Kentuckians need a win and watching a former Ivy League professor– the symbol of all things elitist and urban– be snookered into a mud fight with a pig to prove his worth sure does feel good to see, even if it's not something that would ever actually happen.
The trouble comes when we grow complacent and allow these images to go unchallenged. We must not accept these white-washed versions of rural places that lack depth and complexity, and instead, advocate for those portrayals that put on full display the beauty, tragedy, challenge and joy of living in and loving rural places. Without countering those simple stories, we leave the fate of our communities in the hands of the powerful few who control the narratives about rural places and along with them, the wealth generated off their backs.
People and experiences that really matter are erased from rural places– just as much as they are from urban places– when the only stories we see about each other are mass-produced on a TV assembly line using all the same parts to describe incredibly different and diverse places. We have to demand more from our entertainment because representation matters, diversity of details matters, making sure people who don't look like us or think like us or live in the same place as us are humanized and made real matters.
People might think the only thing rural people do with pigs is wrestle them in mud pits if that's all they ever see from network TV. But my family, and countless others across rural America, raised animals for slaughter as an act of survival, to feed them through long winters when snow used to fall in feet, and they couldn't have made it to town to buy groceries if they'd wanted to. It was an act of patience and respect for the animal that kept them alive. And once you know that, it's pretty hard to make a joke about it.
Ivy Brashear is the Appalachian Transition Director at the Mountain Association for Community Economic Development in Berea, Kentucky. She is also a freelance journalist whose work has appeared in Yes! Magazine, Scalawag and Next City.
Commentary: As The Coal Industry Shrinks, Miners Deserve a Just Transition – Here's What It Should Include
Murray Energy, one of the biggest private U.S. coal companies, has become the fifth coal company to file for bankruptcy in 2019. Union leaders and many elected officials worry that in addition to the 7,000 miners on Murray's payroll, this step could threaten the solvency of the United Mine Workers of America pension fund, which supports over 100,000 retired miners and fully vested workers.
Whether people support or oppose the Trump administration's efforts to prop up the coal industry, one point of agreement is that shifting from coal to cleaner fuels threatens struggling coal-dependent communities. Murray Energy's bankruptcy is the latest reminder that it is past time to discuss a just transition for coal miners.
My legal scholarship examines environmental decision-making processes, with a focus on law and the urban-rural divide. In my recent research, I've dug into the origin and meaning of the idea of a just transition for workers.
My findings suggest that there is a strong ethical case for pursuing just transitions through policy. The challenge is to ensure that these policies nurture programs and institutions with lasting effects, rather than merely offering short-term band-aids.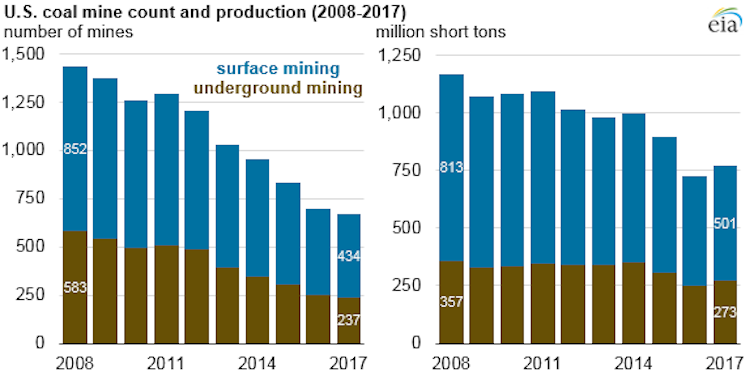 What is a just transition?
There is no single definition of a just transition, but in the coal context, it generally means finding alternative ways to support struggling communities that are losing their traditional livelihoods.
The concept was popularized in the 1970s by progressive labor activist Tony Mazzocchi, who worked in the auto, steel and construction industries before becoming an organizer. He believed that workers who had contributed to the public welfare through hazardous work deserved help in transitioning away from their difficult jobs. He first called for "full income and benefits for life" for such workers, but eventually changed his demand to four years of income and education benefits. Even then, his efforts met substantial opposition.
Mazzochi had ties to labor and the environmental movements, and his activism blended these concerns. Today scholars are embracing the idea that government should consider the economic impacts of transitions such as the shift to low-carbon fuels, especially when workers are displaced by public initiatives.
In my view, it's unfortunate that it has taken so long for mainstream attention to focus on the fate of coal workers. For communities dependent on fossil fuels, particularly in regions like Appalachia with few other major industries, today's job losses are just the latest phase of a long decline.
No simple formula
There is no road map for transitioning communities away from coal, but there are lessons from history. For example, American workers faced losses from international competition when the U.S. joined liberalized trade agreements in the second half of the 20th century.
In response, Congress passed legislation in 1974 that established the Trade Adjustment Assistance Program, which still operates today. It provides aid primarily to factory workers who can show that they have lost jobs or wages because of increased international competition. Eligible workers petition the U.S. Department of Labor for benefits administered through state agencies, including cash payments, retraining and assistance with relocation and job searches.
However, research shows that even with this support, affected workers were substantially worse off than they had been before the shift in trade policy. Scholars have criticized trade adjustment programs as an ineffective band-aid. In 2008 one of the program's directors called it "too little assistance too late to those in need."
Another example, the Clinton administration's 1994 Northwest Forest Plan, was developed in connection with the decision to provide federal protection for the Northern spotted owl. Officials recognized that restrictions on logging would hurt the Pacific Northwest timber industry, which was already declining.
The plan provided direct federal subsidies to traditional timber counties to offset logging reductions on public lands. However, these payments have been declining since 2006, contributing to a fiscal crunch in rural Oregon. Local opposition to tax increases, which could support local government services and community planning, hasn't helped.
Another initiative, the Tobacco Transition Payment Program, achieved more mixed results. In 1998 the four largest U.S. tobacco companies executed a major legal settlement with states suing them to recover tobacco-related health costs. The agreement required tobacco companies to provide billions of dollars in economic assistance to farmers to ease their transition away from growing tobacco.
Each participating farmer received an average of US$17,000 through the program, which ran from 2005 to 2014. The top 10 percent of recipients received 75 percent of the payments. Some assessments concluded that these cash injections boosted struggling rural communities. But farmers arguably have more autonomy than many other kinds of workers, since they can opt to grow different crops, so this example may have limited relevance for coal miners.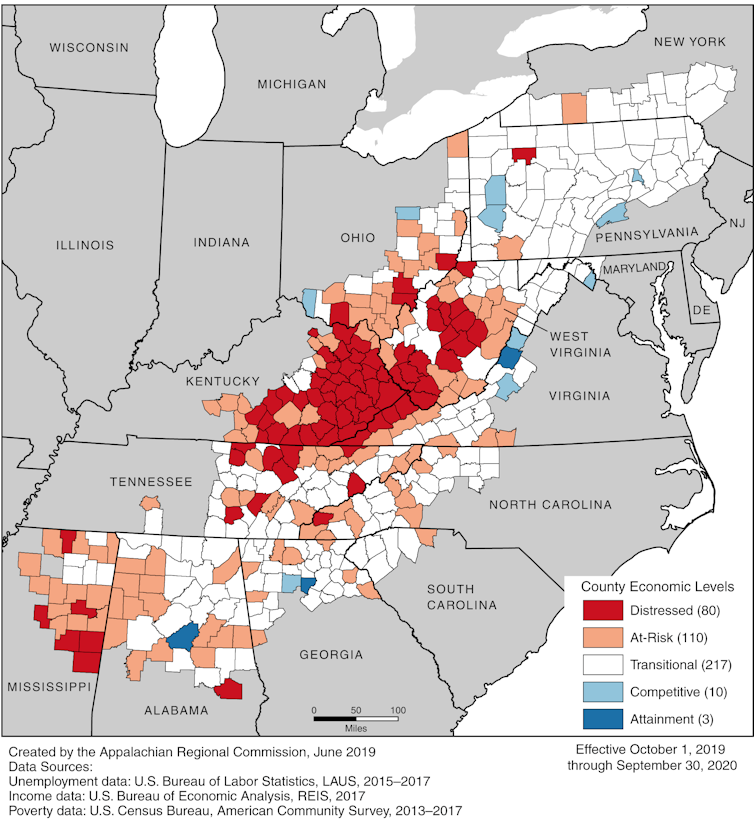 Recent transition aid for coal communities
The most defined federal effort so far to help coal communities economically is the POWER Plan, launched by the Obama administration. This program directs funds into Appalachian communities to assist displaced workers, build regional institutions' capacity and fund economic development programs.
From 2015 through 2019 the Appalachian Regional Commission, an economic development agency supported by federal, state and local governments, has invested over $190 million in 239 projects across Appalachia. Although President Trump often calls himself a friend to coal miners, his first budget request proposed terminating the commission. Congressional supporters restored its funding.
It is popular for commentators to propose initiatives such as retraining coal workers for solar or natural gas jobs. In my view, this approach is simplistic: A just transition should focus on sustainably rebuilding regional economies, and should be informed by input from people who are affected.
Subsidies to local governments and benefits for individuals are a start but should be better funded and implemented than trade adjustment assistance. They should build local institutions, such as schools and planning agencies, that can contribute to sustainable economic diversification – something the Northwest Forest Plan failed to do. And they should distribute benefits more equitably than the compensation program for tobacco farmers.
Along with job retraining programs, POWER is funding infrastructure development, public services and new educational institutions. But a just transition will require substantial resources and effort. It remains to be seen whether federal efforts will rise to the challenge.
[ You're smart and curious about the world. So are The Conversation's authors and editors. You can read us daily by subscribing to our newsletter. ]
Ann Eisenberg, Assistant Professor of Law, University of South Carolina
This article is republished from The Conversation under a Creative Commons license. Read the original article.