It's Time to Stop Promoting the White, Working-Class Cliche of Country Music
Every few years, journalists take an interest in country music again, often attempting to make sense of how the music of "simple," "rustic," "uneducated," and "impoverished" white "hillbillies" and "rednecks" can continue to be such a vital space for cultural expression and a lucrative commercial enterprise. 
In a 1944 Saturday Evening Post essay, for instance, journalist Maurice Zolotow remarked on a "hillbilly boom," in which "hillbilly troupes will consistently outdraw legitimate Broadway plays, symphony concerts, sophisticated comedians and beautiful dancing girls." Similarly, Tom Anthony's 1981 profile of singer Kenny Rogers in the same magazine observed that Rogers's "audience is a study in contradictions. They come in cowboy hats and blue jeans, three-piece suits and leisure suits, wearing cowboy boots, dress shoes, or Adidas…Everyone is sporting authentic (i.e., expensive) Western footwear or fashionable Guccis. The star is the only one wearing loafers." And earlier this month, Guardian writer Emma John expressed surprise that young, middle-class musicians (many with college educations) have turned to bluegrass music—an important subgenre of country music—as a liberal cultural outlet during the Trump era, despite the genre's purportedly hyperconservative political leanings of its musicians.
As a country music historian and bluegrass educator, I am both unsurprised and troubled by the ways that these well-worn but misleading stereotypes and myths about the genre's history and its fans continue to circulate in the national and international press. Country music—and bluegrass music, more specifically—has been widely reported to be the music of the southern white working class, but there is plenty of evidence that, from the very beginning, this notion was a fragile one. 
Sociologist Richard A. Peterson, for instance, spent much of his career debunking the genre's supposed rootedness in the U.S. South, and more recent scholarship on country music's remarkable history in such places as Chicago, New England, California and in international markets reveals that country music culture has always been more geographically diverse than conventional narratives suggest. And, as musicologist and queer studies scholar, Nadine Hubbs discusses in Rednecks, Queers, and Country Music that country music has been a key part of the lives of rural LGBTQ+ communities for decades. At best, the reliance on these historically inaccurate narratives makes for lazy writing. But at worst, they serve to buttress the genre's presumed whiteness and to discourage diverse people from participating in country music, both as artists and fans.
To be sure, country music has a race problem, and it always has. As a commercialized genre, country music is barely a century old, having been recorded first in the 1920s as part of a broader effort to reach new audiences. It was then, as historian Karl Hagstrom Miller has argued, that the recording industry deployed the practices of Jim Crow to "segregate sound," recording white artists under such labels as "hillbilly" and "old familiar tunes" while consigning African American artists to their "race" series. Such practices not only marked country music as white, but presented its whiteness as inherent. 
Yet historian Patrick Huber has documented the presence of numerous African American musicians on hillbilly recordings of the 1920s, showing how country music's presumed whiteness requires the erasure of people of color from its history. During the height of the Civil Rights Movement, country music became, in many ways, the soundtrack of not only white southern resistance to desegregation but to white resistance across the United States, and the genre's gatekeepers have turned to token figures such as Charley Pride as proof that the genre has black friends. Even more recently, the controversy around Lil Nas X's "Old Town Road" revealed just how powerful these notions of country music's whiteness continue to be in the 2010s.
Country music also has a gender problem. Although women are very active in the country music field, they have not been afforded the same opportunities to develop as artists that their male counterparts have. Mary A. Bufwack and Robert K. Oermann's Finding Her Voice: The Saga of Women in Country Music traces the significant contributions of women in commercial country music, focusing not only on well-known recording artists such as Dolly Parton, Wynonna Judd and Martina McBride, but lesser-known figures, as well. 
Similarly, bluegrass musician and historian Murphy Henry's Pretty Good for a Girl: Women in Bluegrass documents the challenging landscape for women-identified bluegrass musicians who have sought to make space for themselves in a male-dominated genre. SongData, a project directed by musicologist and data scientist Jada Watson, has pointed to the gender biases that have led to significant declines in women's presence on the Billboard "Hot Country" chart and on the playlists of country radio stations over the past two decades. And, despite the mainstream success of Trixie Mattel, a drag artist whose country songs have circulated widely on the internet, out LGBTQ+ artists remain on the far margins of country music's mainstream.
The implicit racism and sexism of country music culture, I would argue, is reinforced by the work of writers who replicate conventional narratives without doing the important work of reading nuanced scholarship on country music culture. Country recording artists, fans, and even the country music industry take an active role in telling the genre's history, and they often serve as gatekeepers to country music culture by determining whose voices are "authentic" (or, in the words of ethnomusicologist Aaron Fox, "real country"). 
A visit to the Country Music Hall of Fame and Museum, for instance, presents a country music history that is decidedly focused on Nashville's music industry to the exclusion of country music communities elsewhere in the U.S. and abroad. Similarly, "best of" lists commonly recite the names of chart-topping artists, the overwhelming majority of whom are white men who came through the Nashville system. When writers treat authenticity work as historical fact, they replicate the genre's implicit—and at times explicit—racism, sexism and homophobia and further justify the maintenance of those attitudes.
At the same time, by leaning on conventional notions of country music's southern white working-class base, it is easy to overlook the rich communities of musicians who have been carving out their own spaces within country music culture over the course of its long history. In John's recent piece in the Guardian referred to above, for instance, she suggests that "Bluegrass has no history of protest music. Or rather, its protest has always been a passive, melancholic one, the sound of displaced workers longing for their home in the Blue Ridge Mountains far away. It is a music whose roots are bedded so deep in its nostalgic view of America that it can seem estranged from the modern world—and vice versa." 
To be sure, bluegrass musicians often celebrate the status quo, recalling antiracist writer Robin Diangelo's admonition that "romanticized recollections of the past and calls for a return to former ways are a function of white privilege, which manifests itself in the ability to remain oblivious to our racial history."
But it is also worth noting that bluegrass music—and country music, more broadly—has long been a venue through which marginalized people have called for social equity and justice, both through songwriting and through their participation in the genre. One needn't look much further than Mercer County, West Virginia, native Hazel Dickens, whose songwriting not only highlighted the struggles of working people in Appalachia, but also challenged the patriarchal norms of bluegrass culture. 
Biographer Bill C. Malone notes that Dickens "keenly observed the ways women were treated" in the bars of Baltimore where she often played music, and several of her songs reflect a desire to call out men for their poor behavior. "Don't Put Her Down (You Helped Put Her There)," recorded on the landmark album Hazel & Alice in 1973, reminds men that, although they might "abuse," "accuse" and "forsake" a woman, "there's more to her than powder and paint, / Than her peroxided, bleached out hair" and that "if she acts that way, it's cause you had your day. / Don't put her down, you helped put her there." 
At the same time, journalist Jewly Hight has noted, much mainstream country music engages in "muted, and easier to miss" forms of protest, often offering "subtle appeals to conscience." Citing such songs as Kacey Musgraves's sex-positive "Follow Your Arrow" (2013) and Maren Morris and Vince Gill's antiracist duet "Dear Hate" (2017), Hight reveals a thriving, if coded, discourse around hot-button social issues.
John's Guardian piece also points to a powerful example of protest against the whiteness of country music, although she doesn't name it as such: the increasing presence of people of color, women and LGBTQ+ musicians and fans at bluegrass events. If country music has deep systemic and unexamined issues with racism, sexism and homophobia, the physical presence of people who challenge the genre's southern white working-class identity stands as a vital form of protest against such attitudes.
But the time has come for writers to begin looking beyond stereotypes when they approach country music culture. It is time to recognize that country music has always appealed to more than southern working-class whites and that its presumed fan base is largely the product of a music industry that wished to market music to segregated audiences. By relying on stereotype and myth, we allow racism, sexism, and homophobia within country music to live another day, treating them as natural byproducts of an antimodern musical community. And we do violence to those people who identity as country music fans but who do not identity as white, southern, working-class, or straight. It is time that we instead write about these people's experiences, treating them not as anomalies but as important members of the country music community.
Travis D. Stimeling is associate professor of musicology at West Virginia University, where he also directs the WVU Bluegrass and Old-Time Band. He is the author or editor of several books on country music.

W.Va. Campground Preserving Appalachian-Born Style Of Sacred Music That Is Quickly Being Forgotten
There's a place in southern West Virginia that many consider holy ground. For nearly 70 years, gospel music fans have gathered on this mountaintop just south of Summersville Lake for weekend concerts featuring singers from all over West Virginia and its surrounding states.
This is the annual West Virginia Mountain State Southern Gospel Convention.
It doesn't take long before you realize the people who come here feel a deep connection with southern gospel music.
"It's the old-fashioned way of worship," said Pat Coberly, the convention's second vice president. "And southern gospel music is more that way. It tells of happenings — it tells of trials, troubles, it tells of wonderful things that happen. It's more down to earth, more earthy than a lot of your music."
"It's the only kind, in my opinion, that can get in your soul. It moves you," said Jim O'Dell, a singer who's been coming to the convention for years.
There is also a deep love for the land here.
The camp is in Mt. Nebo, which takes its name from the Old Testament mountain where God gave Moses a peek at the Promised Land. In the same way, longtime attendees see these 48 acres as a little piece of heaven.
"It is a home," said Jim Nelson, the convention's first vice president. "It's not like next weekend there will be football there and the following weekend basketball or a country music concert, or something like that. This is dedicated to gospel music and to the Lord. In fact, we call the shelter where the sing is: 'The Tabernacle.' And treat it as such. Set aside for singing and fellowship and just praising the Lord."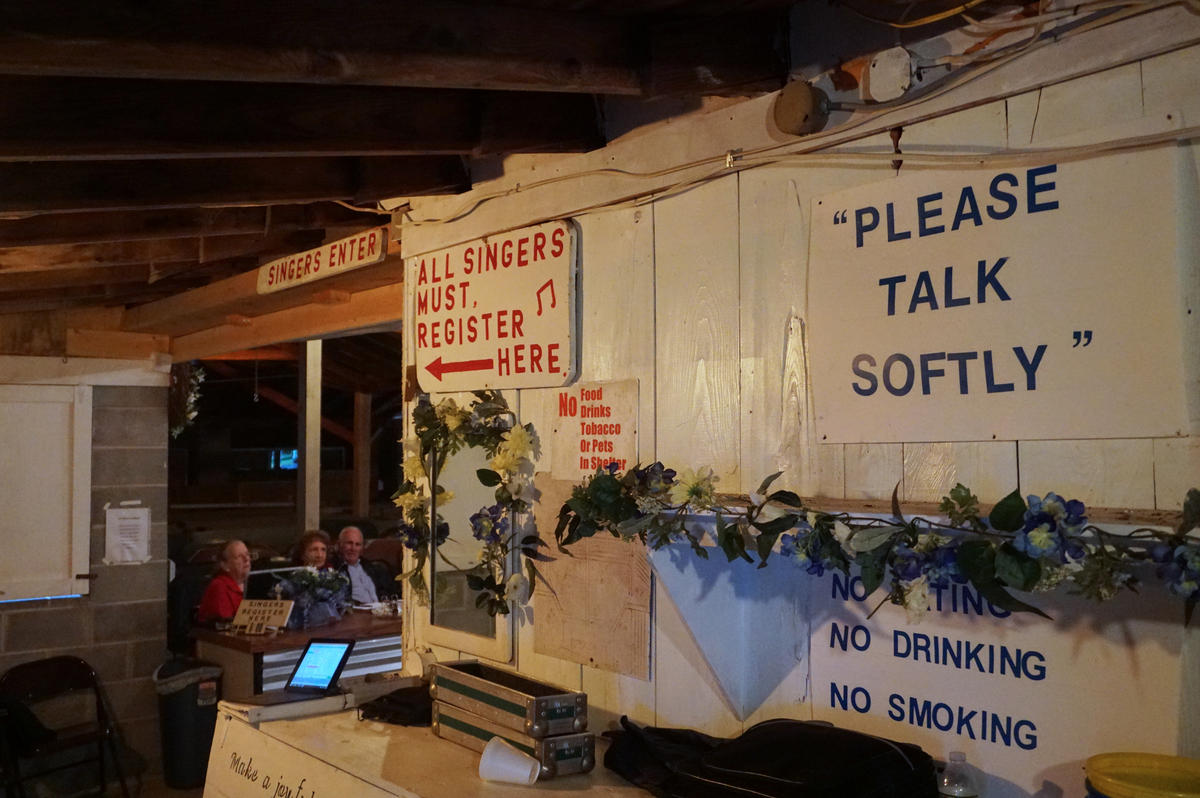 Southern gospel musicians and fans make their way to the tabernacle on a rainy summer Friday night. Singers trickle into the green room behind the stage, taking their place in a row of old wooden theater seats, each with a number on the back. Those numbers are important because that's how singers decide the order in which they'll sing.
"If you wanna go first, you're in no. 1 chair. If you wanna go fourth, you're in no. 4 chair. I picked number four because Terry said 'I can't get there by 7, don't book us first," Odell said.
O'Dell has been performing here for years with several groups. He's been singing with the trio Saved By Grace for the past three years.
"It's a good atmosphere. And the people are so nice over here. It's just a wonderful place to sing and fellowship," he said.
Fellowship. That's a word you hear a lot around here.
Although the convention is strictly for Christian music, it is independent of any church organization. For longtime convention attendee Linda Fitzwater, who lives about 25 miles away in Danese, West Virginia, that independence is one of her favorite parts.
"There's no denominations here. There's no Methodists, there's no Baptist, there's no Pentecostal. Everybody worships the Lord as one, which is the way it should be," she said.
They worship together and they work together.
"We dress up and have the sings but any other time we're raking leaves, mowing grass, cleaning bathrooms, hauling rocks, all that. It takes it all to keep it a'going," second vice president Pat Coberly said. "And it's all volunteer. We're all volunteer work. Nobody gets paid for anything, except for the Lord. And the blessings from the Lord."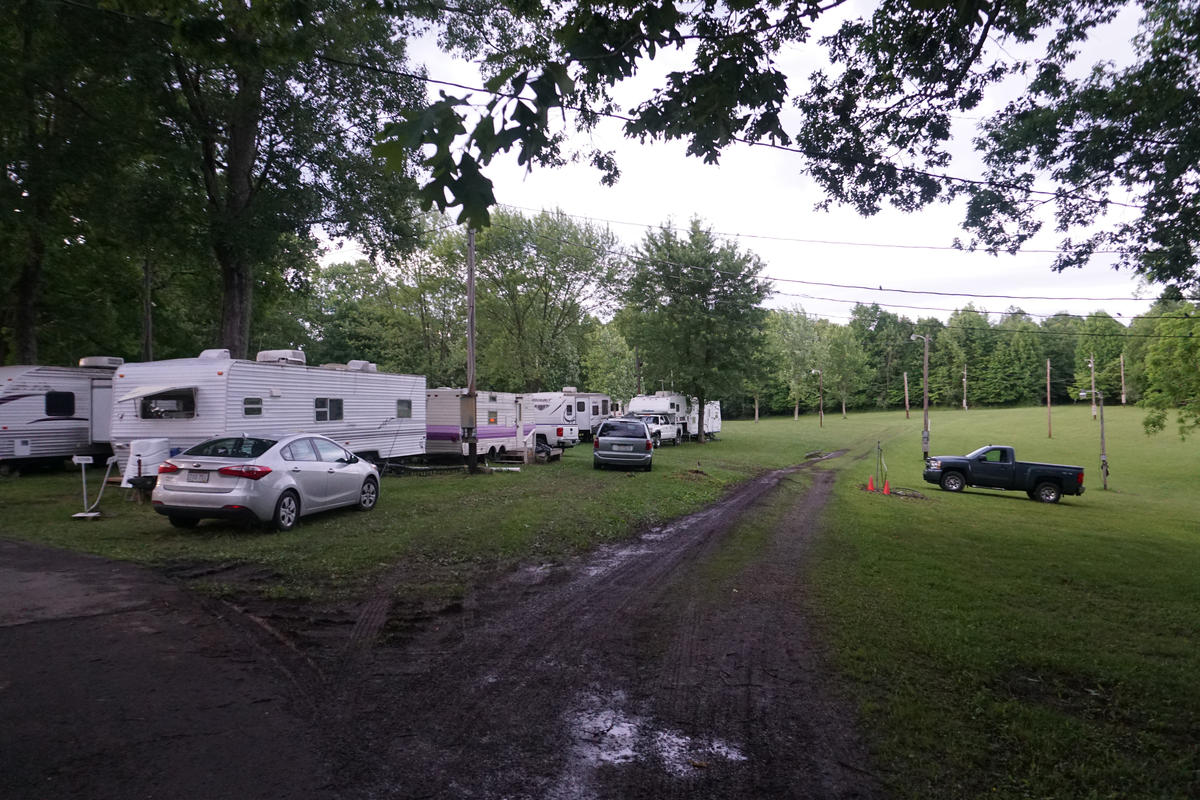 Most things at the Convention are free — except for the food at the concession stand and souvenirs at the bookstore. 
No one has to pay admission. There's no fee to park. The convention doesn't even charge campers to hook up to electricity, water, and sewer offered in the campground.
Coberly says that's because the convention serves a higher purpose.
"We're here for the Lord. This is God's. This is not ours," she said. "We're just workers for him. This belongs to him. And we're here to spread his word through gospel music."
Catch that? Not "Christian" music. "Gospel," music. There is a difference.
That Old-Time Religion
Most of the Christian music you find on the radio now is known in the music industry as "contemporary Christian music." This style has been around since the 1960s, when artists started mixing the sounds of pop and rock music with religious lyrics.
But the West Virginia Mountain State Southern Gospel Convention was built on a completely different, and older, genre of sacred music known as southern gospel.
You can trace the roots of the style to one songbook, published in the year 1900 in the tiny town of Lawrenceburg, Tennessee.
It was called "Gospel Chimes," and it was the creation of singing instructor James D. Vaughan. The book contains songs by Vaughan and other Christian songwriters of the day, arranged in four-part harmony.
Vaughan sent out quartets to perform concerts featuring the bouncy tunes from his songbook.
As the company grew, he published additional songbooks and started additional quartets. It wasn't long before other publishers got in on the act. This inspired other quartets to head out on the road and churches to organize singing conventions, where different congregations would come together and sing their favorite songs.
That's how the West Virginia Mountain State Gospel Sing got started back in 1949.
Held at the Nazarene Church Camp, just outside Summersville, it was supposed to be a one-time thing. But the sing was such a success that organizers decided, right there by the camp's split rail fence, to make the convention an annual occurrence.
It eventually out-grew the Nazarene Church Camp and bounced between a few locations before the convention purchased 48 acres of land in Mount Nebo.
Over the years, the event eventually shifted away from congregational singing to focus more on performances by southern gospel quartets. And that's when the crowds really started flocking to the Tabernacle.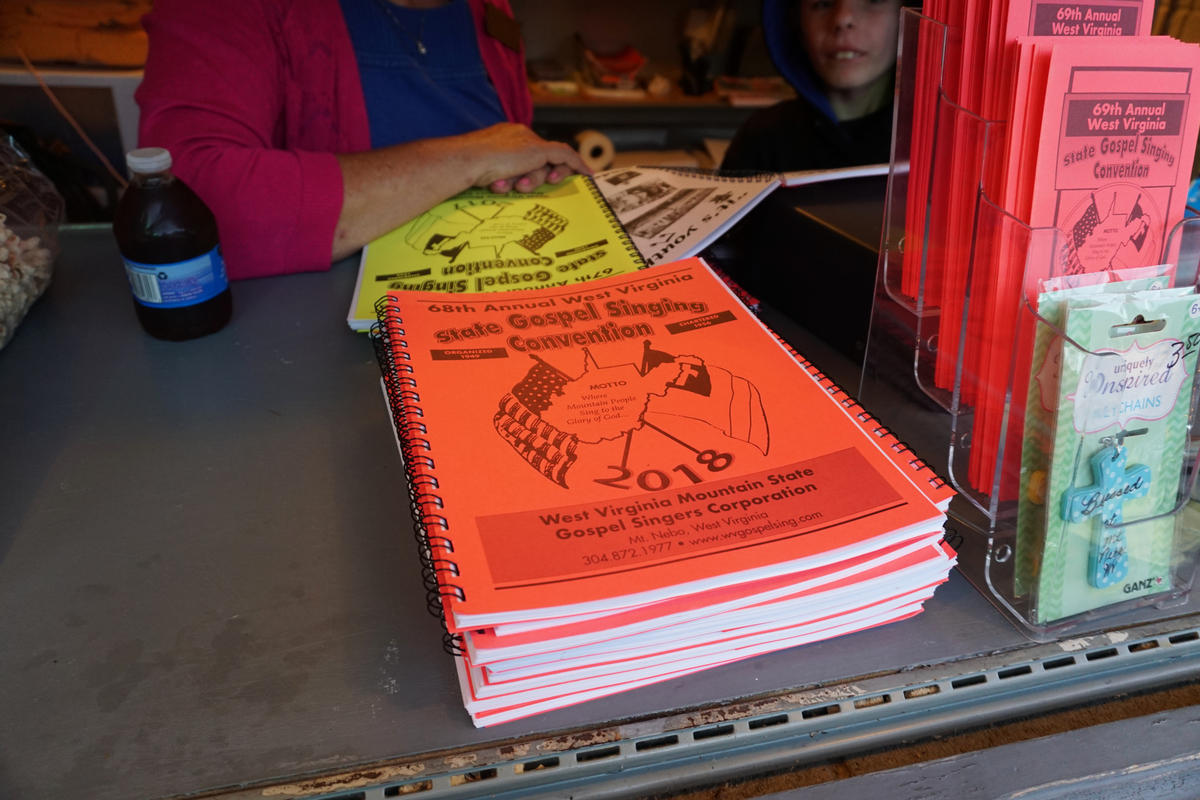 Fitzwater, now 77, says she started coming to Mount Nebo when she was just 16.
"I can remember when I was a teenager that these fields up here where they park the cars would be full. There would be thousands. Not hundreds, but thousands of people here."
The 1970s is when the convention really seemed to hit its stride. Singer Eddie Withrow remembers one night when prominent southern gospel songwriter Conrad Cook wasn't quite finished when the convention was over.
"It was about 2:30 in the morning and the singing had just stopped here in the tabernacle. And he said, 'If I had a piano, buddy we'd sing.' We pulled a piano off our bus and set up a little sound system and we got right out there. There must have been probably 150, 200 people around in a circle in their lawn chairs," Withrow said.
Precious Memories
Attendance at the convention remained strong through the 1980s and 1990s. That's when I first started going. I remember stepping onstage with my family's southern gospel group, The Bobby Adkins Family, and looking out at what seemed like an endless sea of people.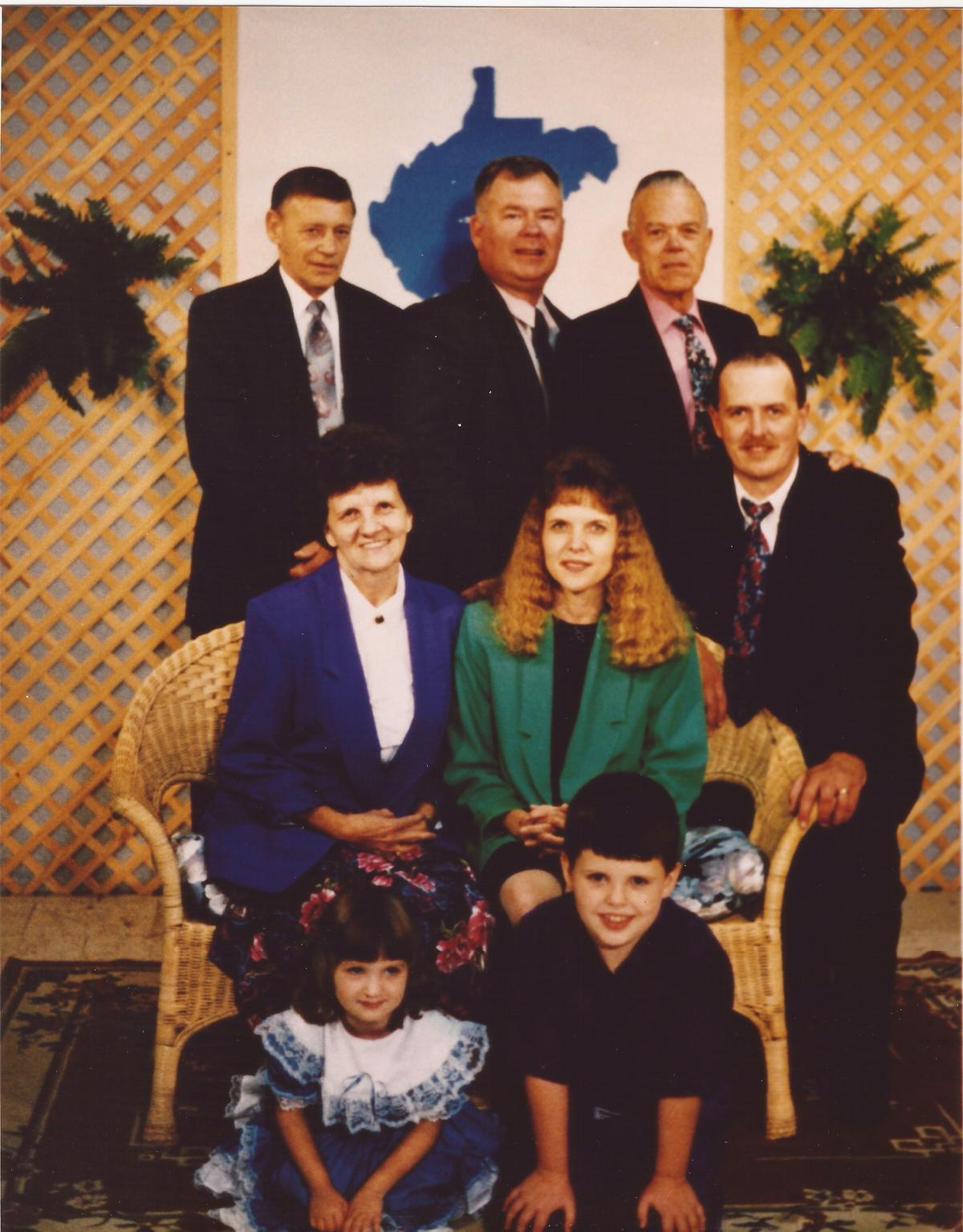 But things started to change. Radio shifted away from southern gospel music, as did some churches. Older fans started dying off. In the 1990s, average attendance was around 15,000 between all three sings. By the year 2000, that figure had dropped to about 10,000 people. And it's continued to decline.
Each sing now draws just a few hundred people. I hadn't been to Mount Nebo in years, but on the night I was there, there were almost as many singers waiting in the back as there were audience members to hear them.
The people running the convention aren't content to let their tradition die on the vine, though.
Larry Neff was elected convention president last year. He has some ideas about how to get the convention thriving again. The organization held its first-ever bluegrass gospel sing in May 2019, which attracted a modest but promising turnout. They're also upgrading the campgrounds in hopes to attract more campers.
These steps appear to be working. Neff says he noticed a slight increase in attendance in 2019. But he knows the long-term future of the Convention is up to the young people.
"If you don't have young people to come up and carry it on… like now most of us are over 50. You've gotta get young people interested in something if you want it to grow and keep on growing," Neff said.
Neff acknowledges that getting young people involved will likely require incorporating some of the more modern Christian music young people seem to enjoy — while still finding a way to stay true to the Convention's roots.
"I believe we're going to have to get contemporary music in here. Bluegrass gospel. And still keep it the old fashioned way. Somehow we're going to have to mix those three together."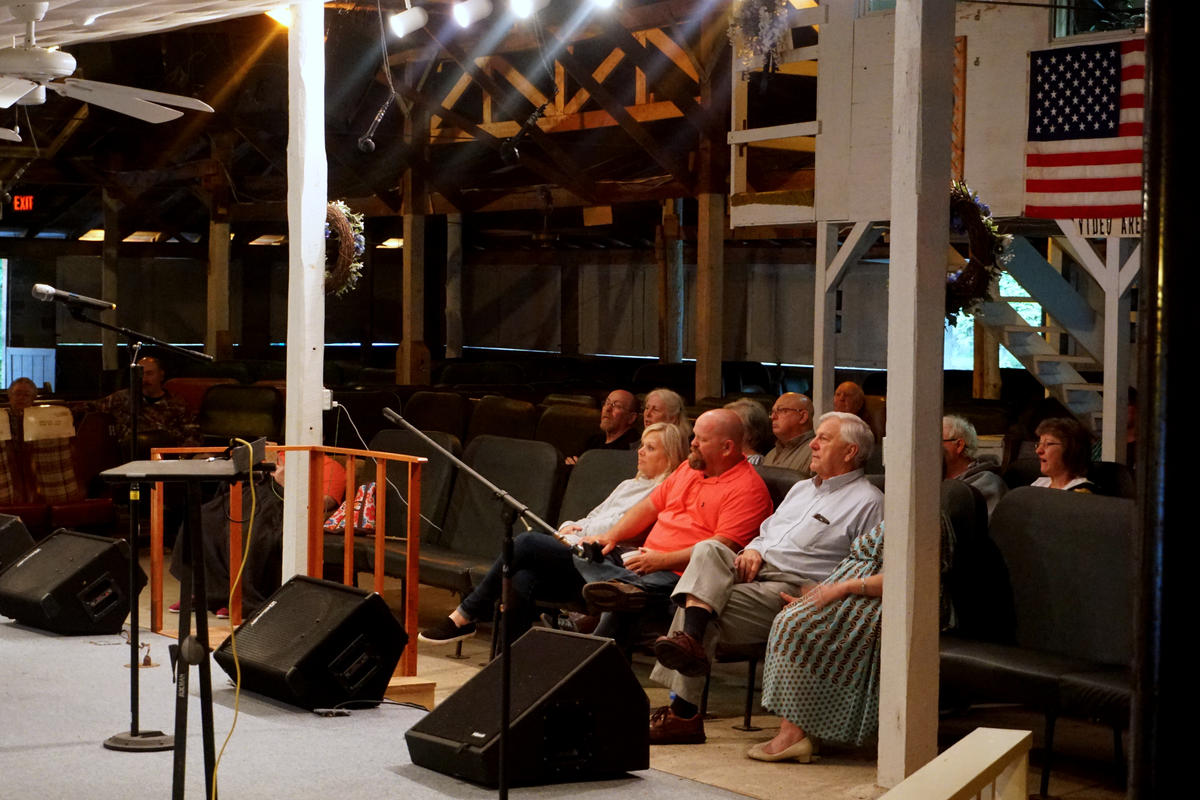 In the meantime, the folks on Mount Nebo are doing their best to make it through. While I was there, Nelson took the stage to explain some recent bad news the board received.
"We found out our insurance we have been carrying has been very lacking in the amount of coverage we need to have," he told the tiny crowd. "So to bring our insurance up to date is an increase of about $3,000. We've got to cough up some money."
So what do the organizers do? The thing they've always done. Nelson asks Withrow to say a prayer. Then, as the offering plates make their rounds, the crowd joins together in an old, familiar song:
"When we've been there 10,000 years,
Bright shining as the sun,
We've no less days to sing God's praise
Than when we first begun."
This story was originally published by West Virginia Public Broadcasting. it is part of the Inside Appalachia Folkways Reporting Project, a partnership with West Virginia Public Broadcasting's Inside Appalachia and the Folklife Program of the West Virginia Humanities Council.  
The Folkways Reporting Project is made possible in part with support from Margaret A. Cargill Philanthropies to the West Virginia Public Broadcasting Foundation.  Subscribe to the podcast to hear more stores of Appalachian folklife, arts, and culture.
Ken Burns's 'Country Music' Does Little to Tell the Story of the Non-White, Non-Straight World of Country
When rumors began circulating among the community of country music scholars that famed documentarian Ken Burns was turning his attention toward country music, I had mixed feelings.
To be sure, such a national platform for the telling of the genre's history would provide an opportunity for a national— and even international— audience to engage with the work that my colleagues and I do every day. But it also is an opportunity to tell the story of a genre that I have loved since I was a kid.
This work not only documents country music's history but considers why the genre has always attracted a diverse range of emotional responses from fans and detractors alike. I recalled the influence that his "Jazz" had on me as an aspiring jazz musician in my early twenties and thought of the remarkable power that documentary enterprises like Burns's have to shape narratives and create a sense of belonging for their audiences.
But, as a country music scholar, I was also highly skeptical of Burns's involvement in a country music project. His previous documentaries have often leaned on familiar historical narratives that privilege dominant perspectives on his subjects while only nodding toward voices of dissent and debate. As well, I am also deeply aware of Burns's reliance on the insights of sometimes-problematic narrators, such as Confederate sympathizer Shelby Foote, whose work shaped Burns's Civil War, or jazz conservator Wynton Marsalis, often to the exclusion of other historians and experts in the field.
And, as a well-produced and carefully promoted commercial property, Burns's documentaries have extraordinary power to shape public understandings about their subjects for a generation or more, using their public television platform to overshadow the work of experts who have dedicated their careers to understanding the same subjects.
Burns's "Country Music," which airs on PBS for eight nights beginning on September 15, offers a familiar journey through the history of country music as a commercial popular music genre. Covering roughly 75 years from the production of the first "hillbilly" records in the early 1920s to the rise of stadium star Garth Brooks in the early 1990s, the 16-and-a-half-hours of "Country Music" showcase an impressive array of archival photographs (many of which have never been published previously) and interviews with dozens of Country Music Hall of Fame members and musicians who are well on their way to that honor.
Country music fans will take particular note of the number of recently deceased artists– Merle Haggard, Jean Shepard, Little Jimmie Dickens– and industry leaders– Harold Bradley, Fred Foster– who appear in the series, often telling stories that have not previously been shared on the record. As well, an impressive soundtrack— typically one of the strengths of Burns's documentaries— grounds the series in familiar sounds, evoking the old K-Tel and Time-Life collections that were so popular during the 1970s and 1980s.
Like many of Burns' productions, "Country Music" leans heavily on the work of a single historian: Bill C. Malone. The choice of Malone is not surprising, as he literally wrote the book on country music. The eight episodes are structured carefully around the contents of his pioneering study, "Country Music, U.S.A.," first published in 1968. It was the first narrative history of the genre and a standard text for anyone seeking a broad understanding of the musical style for more than five decades.
Malone's understanding of country music is grounded in his own childhood experiences growing up on a farm in Texas in the 1940s, where he listened to the "Grand Ole Opry" on a Philco radio, and as a student at the University of Texas at Austin during the 1960s, where he participated in folk singing at a local beer joint owned by a yodeler and frequented by a young Janis Joplin.
For Malone, country music is a musical style that draws influence from African American, Mexican and Mexican American, and Anglo-American musics and filters those sounds and styles through the lived experiences of the white working class of the U.S. South. Although numerous scholars have critiqued this argument and provided ample data to challenge Malone's "southern thesis," "Country Music" works to affirm its southernness, nodding only occasionally to thriving country music communities in the Midwest (most notably in the second episode, which focuses on members of Chicago's "National Barn Dance") and otherwise neglecting the genre's popularity in other regions of the U.S. and abroad.
Moreover, by the second episode, titled "Hard Times, 1933-45", the documentary's narrative centers not only around the South, but Nashville in particular– a city that has practically become a synonym for country music in the global consciousness.
Country music communities have always been obsessed with the genre's history. In the 1920s, when it first appeared on commercial recordings, producers promoted the music as "old familiar tunes," and such leaders as industrialist Henry Ford saw the music and its associated dances as a way of turning back the tide of urbanization and racial miscegenation. As new generations of country musicians came along in the 1930s and 1940s, they often imitated the sounds of such first-generation stars as the Carter Family and Jimmie Rodgers, and included their music in repertoires to show their allegiance to tradition.
And by the mid-1960s, the recently formed Country Music Association was working to establish the Country Music Hall of Fame and Museum to tell the genre's story to visitors from around the world, a story that placed Nashville, the "Grand Ole Opry," and the recording studios and publishing houses on Music Row at the center of the narrative, much to the exclusion of competing country music styles that were popularized in other music industry centers.
Like these historicizing acts, "Country Music" often treats the genre as the product of consensus, of mutual respect and of shared rewards. For example, in the final episode, "Don't Get Above Your Raisin': 1984-1996", viewers are introduced to Garth Brooks, the country music juggernaut who merged honky tonk songs and arena rock concert productions to dominate the country music landscape in the early 1990s. With the benefit of nearly three decades of hindsight, Brooks' meteoric rise to international superstardom can be cast as a high point in the genre's history, one that confirmed decades of work in the country music industry to prove that the genre could have widespread popular appeal.
But Brooks's music and stage antics were also widely seen as a sign that country music had lost its soul, that the music was little more than a product to be bought and sold and that it no longer reflected the experiences of the working people who originally created it. Referencing one of the genre's most influential artists, Hank Williams, Texas singer-songwriter Kinky Friedman even went so far as to brand Brooks "the anti-Hank," garnering the support of a wide variety of disaffected country fans who preferred what was commonly known as "alternative country" music.
To be sure, "Country Music" does occasionally note controversies and debates, most commonly in a brief image, video clip, or voiceover. Discussion of Merle Haggard's "Okie from Muskogee" (Episode 5, "The Sons and Daughters of America, 1964-1968"), for instance, highlights the many ways that the song could be interpreted, particularly at the height of debates about the Vietnam War and Civil Rights. So, too, does the legendary rift between bluegrass pioneer Bill Monroe and former sidemen Lester Flatt and Earl Scruggs garner discussion. And singer-songwriter Jeannie Seely's outspoken criticism of the patriarchal attitudes of country music executives (Episode 5) bears multiple viewings and, in light of recent reporting on women in the country music industry, reveals the depth to which such attitudes and behaviors extend within the industry.
But still more common in "Country Music" are efforts to smooth over these debates, controversies and conflicts— or simply to pretend that they did not happen at all. Such is particularly the case in Episodes 5 and 6, which together cover the period between 1964 and 1972. Here, "Country Music" is quick to point out the resistance that some artists had to Vietnam War protesters, particularly in a steely-eyed interview with singer Jan Howard, who lost two sons as a consequence of the Vietnam War.
As well, the film showcases the work of Earl Scruggs, Charlie Daniels and others to engage with the counterculture and to provide material support for their cause. But conspicuously absent from the narrative is the country music industry's decided resistance to the Civil Rights Movement, as exemplified by the profound support that many industry leaders and artists offered segregationist George Wallace as early as the 1950s and most notably in his 1968 presidential campaign. Interestingly, this subject is broached on page 375 of the latest edition of Malone's "Country Music, U.S.A.," but no mention is made in Burns' documentary re-telling.
Implicit– and, at times, explicit– in these oversights and smoothings out is whiteness. Whiteness shapes everything in "Country Music," with white voices— and voices that confirm what white voices have to say— given priority.
Three African American country artists are given a platform to speak: Charley Pride, Rhiannon Giddens and Darius Rucker. Additionally, Wynton Marsalis, who has collaborated with such country artists as Willie Nelson and Del McCoury, appears periodically to emphasize the ways that exchanges between people of color and whites have shaped music-making in the Americas.
Although Pride's story does detail some of the bigotry that he encountered as he was trying to break into the industry, the other African American speakers are treated as tokens that endorse country music's presumed whiteness through their presence. Moreover, the film's treatment of DeFord Bailey, an African American harmonica player who performed on the "Grand Ole Opry" during its first decade, draws attention to his white patrons— including Uncle Dave Macon and the Delmore Brothers— who treated Bailey with dignity while completely decontextualizing his dismissal from the "Opry" at the precise moment that it began to garner national attention.
Similarly, Mexican American country recording artists Johnny Rodriguez and Freddy Fender receive mention, as does famed accordion player Flaco Jiménez, but their presence in the film reads more often as a reinforcement of the genre's whiteness by pointing to their exceptionalism. As I have written previously, the deliberate construction and reinforcement of country music's whiteness have led many to believe that the genre cannot be a viable expressive space for artists of color and queer artists.
In presenting a handful of non-white and non-cishet artists as exceptions to country music's whiteness, Burns's "Country Music" is not atypical. But, as a country music scholar and a bluegrass musician, I find myself frustrated that the Burns team relied so heavily on well-worn and convenient narratives in the development and presentation of their film.
I wonder what "Country Music" would have looked and sounded like if the voices of Diné musicians in Arizona and New Mexico were included in place of the extended discussion of Johnny Cash's celebration of Native American themes offered in Burns's film.
And what about the many African American musicians who were uncredited contributors to early country music recordings, only to be rediscovered through meticulous research nearly a century later?
How might our understanding of the genre's entrenchment in patriarchal values be changed if we were to consider the many queer communities that have found meaning in country music?
And, as journalist Ludwig Hurtado recently suggested, how might our notions of national belonging change if the story of country music included Mexican and Mexican American audiences who have both contributed to and engaged with country music from the very beginning of the genre?
To be sure, "Country Music" is an enjoyable film, and country music fans will likely revel in seeing the stories of their favorite artists presented in the Ken Burns style. As a lifelong fan, I certainly did. I sang along with the hits, and I wept at some of the more emotional moments.
But I also long for a depiction of country music culture that embraces the debates around the car radio about whether country music has lost its soul, that interrogates the many ways that the genre has been co-opted in the name of patriotism and that considers how people from many walks of life find meaning in the music.
I didn't get those narratives from Burns. But that's a "Country Music" I could get behind.