How A Proposed SNAP Eligibility Revision Could Affect Central Appalachia
This article was originally published by the Ohio Valley ReSource.
The U.S. Department of Agriculture announced this week a proposal to tighten the rules on who qualifies for food stamps through the Supplemental Nutrition Assistance Program (SNAP).
USDA estimates more than three million people across the country would lose SNAP benefits in an effort to prevent fraud.
Anti-hunger advocates in the Ohio Valley say the more than two million people in the region who use the benefits would be impacted.
The department wants to change what they call "broad-based categorical eligibility" in the SNAP program. The regulation allows people that don't have a low enough income to qualify for food stamps to get them in other ways. For example, people can also qualify if they receive assistance from other federal programs, such as Temporary Assistance for Needy Families.
"Eighty-nine percent of the people that we serve are what we refer to as working, poor families," said Facing Hunger Food Bank Executive Director Cynthia Kirkhart. "So those are folks that are working one or more jobs to try to make a living. And those families usually have children."
Kirkhart said her food bank in Huntington, West Virginia serves 116,000 people across 17 counties in West Virginia, Ohio and Kentucky. Most of the people she serves get food stamps through categorical eligibility. She said these families often use the money they save on food because of SNAP to build emergency savings or pay other bills.
The USDA argues that by tightening SNAP eligibility rules, the department can save billions of dollars by preventing abuses of the program. The department pointed to an example of a wealthy Minnesota man who claims he collected thousands of dollars in food stamps.
But Kirkhart said without the current rules, she sees some in the Ohio Valley may lose that extra support.
"The resources they may receive otherwise — pay compensation or the Temporary Assistance for Needy Families — more of that goes to buy food," Kirkhart said. "They can't pay for rent or utilities, or fuel for their cars to get to their jobs."
If individuals can't get food stamps through categorical eligibility, then the traditional way to determine food stamp eligibility is through figuring out whether their gross income, along with combined assets like a car, is low enough to qualify. And that can take time to figure out.
"When I was a case worker before broad-based categorical eligibility… I would spend a lot of energy having my applicants go to the bank and prove that they had 42 dollars in the bank," said Jason Dunn, a policy analyst with the advocacy group Kentucky Voices For Health.
Dunn is a former director of the Kentucky Division of Family Support, an agency that helps manages SNAP eligibility in the state. He said it can take a significant amount of time to determine if gross income is low enough to qualify, and that categorical eligibility speeds up this process.
With the potential of tighter rules, more people wouldn't automatically qualify for SNAP and have to go through this "asset test". Dunn said this could create a backlog of cases that could ultimately increase the wait time for people who need SNAP.
"When you add that for hundreds of thousands of cases, it really adds up in time and effort on the state's part," Dunn said.
State agencies in the Ohio Valley don't yet know exactly how many people could be affected by this proposal. Ohio, Kentucky and West Virginia combined have 2,221,188 people signed up for SNAP benefits as of April 2019, according to USDA data. And a report last year by Daily Yonder, an online news outlet that focuses on rural issues, showed rural counties — including in central Appalachia — are more reliant on SNAP.
"Probably disproportionately [people in Appalachia] would be more impacted than in urban areas because of the concentration of SNAP recipients," said Ohio Association of Foodbanks Executive Director Lisa Hamler-Fugitt.
Hamler-Fugitt said grocery stores in rural areas that would otherwise be food deserts depend on money from food stamp sales. She said if fewer people are eligible for food stamps, these stores could see less revenue.
"When SNAP comes under attack and results in people being unable to receive a modest benefit and to be able to stand in grocery store check-out lines, then what happens is that those retailers that rely on not only cash sales but SNAP sales are very vulnerable," Hamler-Fugitt said. "And many of them, if you know anything about the grocery industry, they operate on very slim margins. What we're at risk of is losing even more full-service grocery stores."
Hamler-Fugitt said that could impact people beyond those who use SNAP benefits.
The proposed rule is open for public comments for two months.
Grocers In Rural Coal Country Struggle To Stay In Business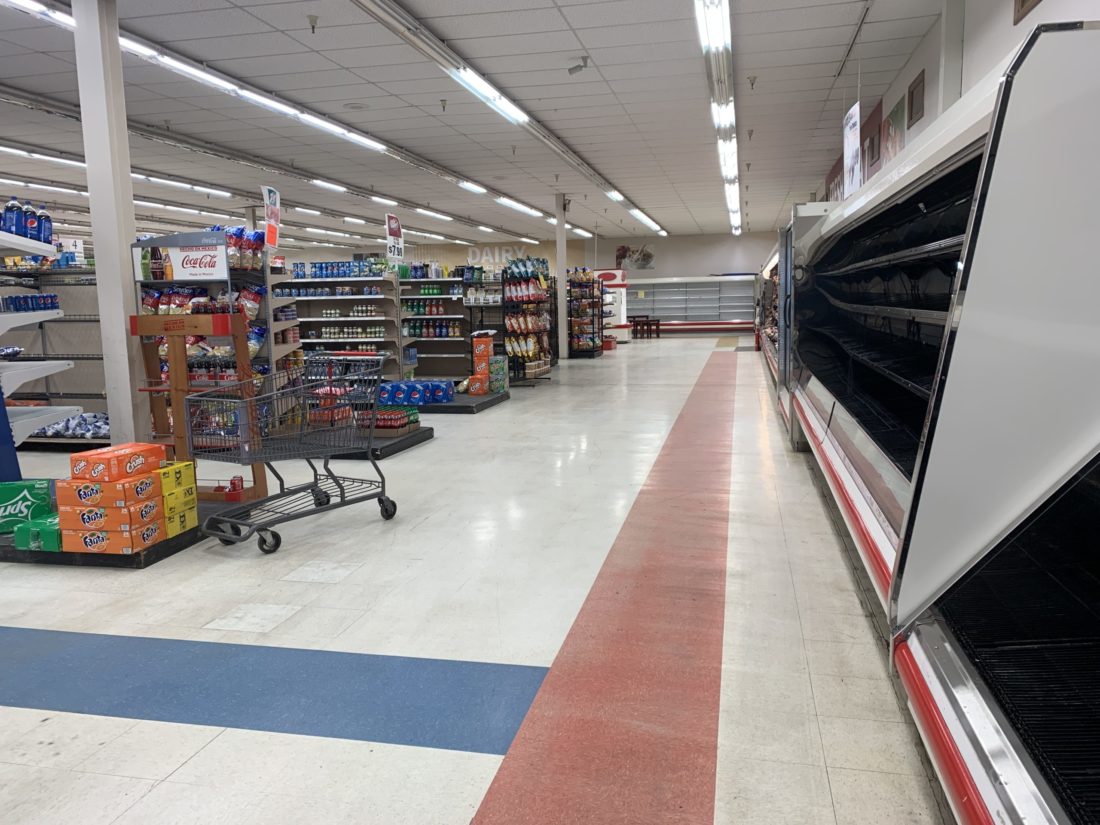 This article was originally published by Ohio Valley ReSource.
There's a picture frame on the wall next to the customer service desk in the IGA in Inez, Kentucky. Inside the frame is a scrap of beige meat-counter paper, on which a man named Derle Ousley sketched the layout for an ad announcing the opening of his very first grocery store. 
"Inez Supermarket Grand Opening," it reads. The date: September 28, 1959.
A Mississippian by birth, Ousley moved to Martin County after he served in the Korean War and noticed that Inez, the county seat, had no grocery store. So he opened one.
The supermarket burned down twice, and was rebuilt as many times. It rebranded as the Inez IGA, and Judith Ousley, who was four when the store opened for the first time, took over from her dad.
"He died five years ago this month," Ousley said. "I've tried my best to keep it going, but when the coal left, so did a lot of people. It's rough."
When the Inez IGA closed its doors on January 6, the deli was empty and dark. The shelves were mostly bare. Every so often, a customer trundled a rickety shopping cart through the silent aisles.
Like much of Kentucky, which has lost 63 percent of its coal jobs since 2009, Martin County has struggled economically. The county has also made news in recent years for its beleaguered drinking water system, and as the coal jobs went away, so, too, did Ousley's customer base.
"Back in the boom days, say 30 years ago, we would do $200,000 in a week. Now it's about $75,000."
The IGA wasn't the only food option in town, but it's close. The other, a discount store, has a limited selection that does not include much produce or many other nutritious items. With the closing of the IGA, folks in Inez must travel to another store in Warfield, 10 miles away over treacherous mountain roads, or go out of the county to chain stores 30 or 45 minutes away in Pikeville or Prestonsburg.
Sarah Congleton is already feeling the loss. "Today is the first day of the IGA being closed, and my assistant Robin is searching the county for bagels. Not even whole wheat bagels. Just bagels. And we can't," Congleton said.
Congleton works with the University of Kentucky extension office in Inez as the family and consumer science agent. The extension office had been working with the IGA to encourage healthy purchases, like lean meats and whole grains.
The extension office had a grant from the Centers for Disease Control and Prevention to address Martin County's high rates of diabetes and obesity. The work was hard enough with a grocery store, Congleton knew. How could she begrudge a mom on a limited budget for buying junk food she knew her kid would eat over an apple that she knew would go to waste?
Losing the store made that even harder.
"If you're trying to combat food accessibility and then there goes your grocery store, what do we do?" she asked.
Challenges and Creativity
Inez joins a growing list of rural communities across the country losing their grocery stores, as declining rural populations mean fewer shoppers, and small-town independent groceries find it hard to compete with big-box chain stores. 
According to an Ohio Valley ReSource analysis of U.S. Department of Agriculture data, between 2010 and 2015, 135 counties in the Ohio Valley saw an increase in the percent of the population with low access to grocery stores. That's 51 percent of counties in Kentucky, Ohio and West Virginia, compared to 40 percent nationwide. Ohio saw the greatest increase in low access at 58 percent of counties. The USDA defines low access as .5 miles or more from a grocery store in an urban area and 10 miles or more away in a rural area.
There's no central organization tracking the closures of rural grocery stores nationwide, but Rial Carver at Kansas State University's Rural Grocery Initiative knows it is a national problem. "We often get calls saying, 'Okay, the grocery store just closed, what can we do?'" Carver said. Those calls come from as far away as Alaska and Maine, sometimes in the same week.
According to Carver, the largely rural state of Kansas lost about 100 rural groceries between 2008 and 2018. Declining or aging rural populations, stagnant rural wages, price competition from chain stores, and a generation of mom-and-pops retiring have all contributed to that, and the effect on the grocery's home community can be stark.
Carver says that particularly in rural areas, grocery stores do more than just provide access to nutritious food. "They can serve as gathering places and be a place to allow for community cohesion," Carver said. "So if the grocery store goes away, then the community loses those things."
But there is a silver lining. Carver says that of the 100 groceries that have closed in Kansas, roughly half of them have reopened, largely due to creative thinking by community members.
"We have seen in the last couple of years more examples of different ownership models," she said. "So instead of that traditional mom-and-pop, maybe the community steps in and owns the store, or maybe the community runs the store."
Other communities open coffee shops inside a grocery to turn it into a community gathering place. A Florida town opened its own government-run grocery store after it lost its privately owned one, and stores in Kansas are exploring non-profit models.
Renewable Change
Eastern Kentucky is also home to some creative solutions, as one grocer attacks high energy bills in order to lower overhead costs.
About an hour south of Inez, the IGA in Isom, Kentucky, is bustling. Gwen Christon, who owns the store, noticed the same trends Judith Ousley did: declining foot traffic, lower incomes in the community, and less revenue. She raised her concerns with her account manager at Kentucky Power, the local energy utility, who happened to be a customer at her store.
A few months later, Christon had taken out a loan from the Mountain Association for Community and Economic Development. The nonprofit focuses on economic transition in coal country and, among other things, issues loans to small businesses. Christon used the loan to replace her open refrigerator cases with closed-door cases that would cost less to cool.
"Just doing that, my electric bill went down from $11,000 a month to $7,000," Christon said.
Next, Christon replaced her roof to add more insulation, further reducing her electric bill. "And then once I get the new roof on, the next thing I want to do is go solar," Christon added.
Back in Martin County, Ousley plans to run the IGA's other location in Warfield for a bit, but is looking forward to retiring and starting to volunteer rocking babies at the local hospital. For her employees, the future is a little less certain. Crystal Newsome, a longtime employee, has secured a position at the Warfield IGA, but hopes to move away from her home town soon.
"It's sad, I guess. It's just gonna be a ghost town."
Recession's Impact Lingers for Food-Insecure Rural Seniors
"Despite an improving economy and financial markets, millions of seniors in the United States are going without enough food due to economic constraints," says a new study on hunger among senior citizens.
Betsy, a food bank recipient in rural Kentucky, never expected to need handouts of food.
For nearly 35 years, she had a good job making decent money. But now, at age 51, she suffers from health problems and often has to decide between buying food or medicine. (EDITOR'S NOTE: This story uses the first names of food-pantry recipients to protect their privacy.)
Decisions like those are part of the reason senior citizens in rural America are facing food insecurity, a new study shows. In fact, one in five rural seniors has difficulties getting enough to eat.
According to Dr. James Ziliak, director of the University of Kentucky's Center for Poverty Research and the co-author of the study, nearly 30 percent of senior citizens living below the poverty line are food insecure, or concerned they won't have anything to eat. About half of those seniors, defined as 60 years and older, have very low food security, meaning they frequently worry about access to food.
Of the top 10 states for food insecurity in seniors, nine of them are in the Southeast.
The study shows that while the economy has recovered since the Great Recession, it hasn't recovered as quickly for those in rural areas. Lack of jobs, lack of access to food and lack of income are hampering seniors' ability to rest assured that they will have food when they want it, Ziliak says.
"Despite an improving economy and financial markets, millions of seniors in the United States are going without enough food due to economic constraints," Ziliak said in the study. "This stubbornly high proportion of food-insecure seniors continues to impose a major health care challenge in the U.S. One group of practical concern is those seniors experiencing VLFS (Very Low Food Security), the ranks of which have especially swelled since 2001."
In Kentucky, where Betsy lives, food insecurity rates are also elevated for middle-aged residents. Nearly 20 percent of Kentucky adults in their 50s are food insecure – compared to 11.3 percent nationwide. Kentuckians over the age of 60 have a higher rate of food insecurity regardless of their income – 8.4 percent of them are hungry, compared to 7.7 percent across the country.
"Too many older adults and senior citizens in Kentucky are struggling to put food on the table after decades of hard work," said Tamara Sandberg, executive director of Feeding Kentucky, a network of food banks that serve all of the state's 120 counties. "They are faced with agonizing choices such as paying for food or paying for medicine."
Limited Income, Hard Choices
Betsy has had to make just those choices.
As a child, Betsy began working at age 9, babysitting to save up for the name brand clothes she wanted. As an adult, she worked as a lab technician in Florida. But when her mother got sick, she returned to Morehead, in the coalfields of northeast Kentucky. She continued to work and returned to her Florida job after her mother died.
"I've worked all my life," she said. "There wasn't a time I wasn't working up until I had to file for disability."
After moving back to Florida, Betsy was diagnosed with kidney cancer. Manageable at first, she thought she could continue to work while going through treatment. Then the doctors had to take out a kidney. Later, she was placed on dialysis. The treatments left her unable to work. In response, she moved back to the small town of Morehead, population 6,897, so she could be closer to the support of her family.
Her disability checks and government housing leave her with little money for luxuries. Betsy lives on a little over $900 a month, $100 of which goes to prescriptions. Government housing costs about $143. The rest goes to bills first and food second.
Her son, a 31-year-old living and working in a nearby factory, struggles to make ends meet too, she said.
"He needs to worry about himself," she said. "He needs to get a new vehicle. The one he has now has issues. He needs to take care of himself first."
Even though she has an income, she still can face dark times, she said.
"I remember one year a few days before Christmas, I had $2 in my checking account," she said. "I didn't know how I was going to pay for any food. I didn't know where our Christmas dinner was coming from, or what I was going to do about Christmas."
In that circumstance, a check from her landlord, where she had overpaid her rent for a year, helped to smooth out the difficulties. Most times, she's not so lucky. Betsy gets food from the food bank once every three months but volunteers there almost daily.
"I don't eat much," she said. "So I don't need to go and get as much food. I figure others probably need it more than me."
Ziliak's study found that seniors in rural areas are statistically more likely to be hungry if they are divorced, widowed or separated; if they are sick, disabled or unemployed, and if they are renters.
The study, he said, points not only to the lag in the economic recovery seen in rural America, but also the lack of access to food and resources for seniors in rural areas.
"Our studies have shown that those who are 50 and above were, like the rest of the country, dramatically affected by the Great Recession," Ziliak said. "But what we're seeing is that those groups in non-metro areas did not recover like the rest of the population… Non-metro areas have lower incomes generally than metro areas… and it took a long time for the economy to recover for those in the lower income stratus."
Another cause for food insecurity may be that there just isn't a way for seniors to get to the food and resources, Ziliak said.
"In non-metro areas, there are fewer outlets that are in reasonable proximity to the full bevy of fruits and vegetables that one needs," he said.
One Problem away from Hunger
Michael Halligan, CEO of God's Pantry, a Lexington-based food bank that supplies pantries in Rowan County and other locations, said sometimes one twist of fate can be costly for those in rural areas:
"It's a different economic reality today than others had to deal with. Put yourself in a situation where you live 30 to 45 minutes away from a grocery store. And imagine being 50 to 59 and losing your job thanks to a downturn in the economy. All of a sudden after 20 or 30 years, you don't have a job, which means you don't have a commute so you can't stop at the store on your way home from work. You don't have an income, so you have to think about the gas it takes to drive into town. The hardships become very complicated very quickly. … Many people are just one unfortunate or one unexpected incident away from food insecurity. The vast majority of individuals who are food insecure are working to stretch their budget as best as they can."
For 53-year-old Joe, worrying about food is a daily concern. He, his 22-year-old wife and their 18-month old daughter, as well as a 17-year-old son from a previous marriage, all live together in government housing. All told, they live on less than $1,500 a month, he said.
"For people who don't understand what it's like, they should take a box of macaroni and cheese, a pound of hamburger and a pack of hot dogs and use that to feed a family of four for a day," he said. "It's a constant struggle. I think about it every day."
Joe grew up in Phoenix, Arizona, and was working in a factory making $27 per hour when the factory closed.
Divorced with three kids, he was ordered by the court to pay $800 in support each month. To make it, he drove with a friend to Indiana to find work. There he met his second wife and moved with her to Morehead to be closer to her family. Within a few years, they had three children. Not long after the birth of their third child, his wife died of breast cancer.
Through it all, Joe worked. He worked as a custodian at nearby Morehead University and at a local school. He worked as a cashier at various places. He worked doing what he could, making what he could.
But finding jobs in a small town presents its own challenges.
"It's such a small town," he said. "Unless you have family and friends here to support you, it's tough to get a job."
Getting a job is complicated by the fact Joe doesn't have a driver's license. In Arizona, he said, the state suspends your license if you fall behind on child support.
Joe owes the state of Arizona more than $165,000 in child and spousal support — an amount that he has owed for more than a decade even though his children are grown and living in Michigan.
"How am I supposed to fight that?" he said. "I'd have to go there and go to court. And every attorney I've ever talked to said they need $5,000 just to look at my case… I'll never drive again. It's hard to find a job that you can get to around here if you can't drive."
Now he and his current wife feed their small family on $234 per month in food stamps. That money is supplemented by food they get at food banks in the area.
"People talk a lot about the last time they went out to eat and what they had," he said. "I can't remember the last time we went out to eat. A big treat for us is a four pack of Totino's pizza. That's what eating on $234 a month looks like."
Caring for Others as Well
For some seniors, taking care of their grandchildren means added expenses and gnawing concerns. People over 60 with children living with them are almost twice as likely to have food insecurity, the study found.
Mary, another Christian Outreach Services food bank participant, cares for her 17-year-old daughter and her 12-year-old grandson. For her, summers are hard because they mean breakfasts and lunches for the kids who would normally eat via free and reduced lunch programs at school.
"I know a lot of people in the area who are raising their kids and grandkids," Mary said. "I pay bills and then I buy food. I'm always trying to save all I can. I try to stretch every dollar. My ex-husband died three years ago of a heart attack and I get his Social Security. And we get money for my grandson and money for my daughter."
While Mary manages her household on around $1,200 a month, there's not much left after car payments, insurance, loans and utility payments, she said.
Another factor, Halligan said, is the culture surrounding asking for help.
Senior citizens, he said, are less likely to take advantage of assistance because they come from a generation that doesn't ask for help. In rural areas, that pride can be just as strong if not stronger than in metropolitan areas. Programs like the Supplemental Nutrition Assistance Program (SNAP) and Senior's Farmers Market Program may some help for seniors, but many don't know about the programs or are disinclined to use them, he said.
"Senior citizen participation is under-indexed when it comes to the SNAP program," he said. "I think we need to make those who are vulnerable more aware of the programs and get them signed up."
For Halligan, the issue of food insecurity is one that policymakers need to be thinking about now.
"I think we need to really think through how we're going to take care of folks as our society ages," he said. "It's great to say people need a larger nest egg to live on, but how do we ensure people are stable? How do we get services to where people live rather than where they aren't? I think we really need to envision and reimagine solutions to the problems that I see as indicators of increased risk for all seniors."
This article was originally published by the Daily Yonder.
Study Links SNAP Spending to Job Creation
Increased food-assistance spending that was part of the 2009 economic stimulus package helped increase employment at the peak of the Great Recession, especially in rural areas, a first-of-its-kind study says.
During the peak and immediate aftermath of the Great Recession, nonmetropolitan counties gained one job for every $10,000 in increased SNAP redemptions, said the study, which was conducted by USDA Economic Research Service.
The economic impact in metropolitan areas was measurable but not as great. Metropolitan counties saw an increase of 0.4 jobs for every $10,000 in additional SNAP redemptions during the height of the recession, according to the study.
The American Recovery and Reinvestment Act of 2009 allotted an additional $40 billion in total SNAP benefits for low-income Americans from 2009 to 2013. The increase was enough to give each recipient an extra 13 percent in benefits. Part of the rationale for including increased SNAP benefits in the stimulus package was that the program would help both SNAP families and the greater economy, which would benefit from an infusion of cash-like benefits.
Previous studies have predicted that's what happens with increased SNAP benefits. The ERS study is the first to confirm that prediction using historical economic data after the fact.
The study is also the first to look at the county-level impact of SNAP expenditures, giving economists a way to compare the economic impact in metropolitan vs. nonmetropolitan areas.
As expected, the economic impact was greater in rural areas, because the poverty rate is higher and a greater percentage of families participate in SNAP in nonmetropolitan counties.
The study controlled for other federal transfer payments, meaning the increase in employment is related to SNAP payments exclusively, not to other forms of government funding that went to individuals during the study period.
As expected, the economic impact of SNAP redemptions was less before and after the Great Recession of 2018.
The study examined three time periods – before the recession (2001-07), the recession and its immediate aftermath (2008-10), and post-recession (2011-14). Both metropolitan and nonmetropolitan counties saw statistically significant numbers of jobs created during the recession and its aftermath.
Surprisingly, while pre-recession SNAP reimbursement correlated with job-creation in nonmetro counties, in metro counties before the recession, SNAP had the opposite impact. Metro counties had a 0.2 job reduction for every $10,000 in SNAP redemptions. Researchers said that finding "is not robust" and needs further investigation.
"The main findings … — that SNAP redemptions have a positive and statistically significant impact on county-level employment, that these impacts were larger during the Great Recession than before or after it, and that the impacts were larger in nonmetro than metro counties – are robust across the models estimated," the study stated.
The study also found that SNAP spending has a "spillover" effect. Increased SNAP reimbursements in one county were linked to job creation in adjoining counties, as well.
This article was originally published by the Daily Yonder.