Craft Brewers Work With Farmers For Unique Ingredients
Craft breweries are popping up all over the region. In West Virginia alone, there are 27 breweries and three quarters of them opened in the last five years.
Sam Fonda, from Weathered Ground Brewery in Raleigh County, West Virginia, has almost 3,000 gallons of soon-to-be-beer fermenting and another 1,000 gallons aging in oak barrels nearby at any given time. That may sound like a lot, but his typical batch is 220 gallons, and that gives him the chance to experiment.
In addition to the basics of water, malted grains, hops and yeast, small craft brewers all over the region are experimenting with locally sourced ingredients to give their beers a unique flavor. Today, you can find West Virginia beers that contain traces of coffee, berries — even tree branches.
Weathered Ground buys malted grains from the mountains of North Carolina, as well as hops, fruit, and flavorings from local farmers. Working with his neighbors is a source of pride for Sam.
"That's why using local is so much fun. Because you can have this personal relationship with your suppliers. It's almost always more expensive. Sometimes double really, but that's just kind of the price you pay for doing what you want to do. So, we're happy to pay a little more for the flavor we're going to, as well as supporting local," Fonda said.
One of Fonda's suppliers is JR Ward, a hop farmer and full-time underground coal miner who lives just 20 miles or so down the road in Fairdale. JR loves the farm he has built, with 3,000 square feet of vegetable garden and a quarter acre of hops.
"Years ago, I couldn't tell you what a hop was, didn't even know they looked like, did not like craft beer. Then what really made me going forward was a few years ago we had layoffs in the mines and the hard times and I never want to leave here because this is just a piece of heaven to me. And it's beautiful land, I just started looking into stuff and hops caught my attention," Ward said.
He currently supplies Weathered Ground with enough hops for 440 gallons of beer in two batches. They are: "Lost Ridge Pale Ale," named for JR's farm, and the second is a nod to JR's other job. It's called "Hop Farmin' Miner."
Starting next year, he plans to expand to five full acres of hop yard on his property and is working with a friend to plant an additional five acres on a nearby farm. That will make Lost Ridge Farms one of the largest hop growers in the state.
Besides hops, Weathered Ground sources local fruits and just about anything that tastes good according to Sam Fonda.
"We brewed an IPA a few weeks ago with birch branches, and then the flavor that comes from birch just unreal, so a lot of people don't think about that kind of thing when they think about beer, but back in the day, that's kind of what beer was, what materials do you have on hand," Fonda said.There is a growing movement throughout Appalachia for beverage makers to use locally sourced ingredients. It may cost more, but brewers like Sam Fonda believe in the process and so far, they've been successful using that business model.
This article was originally published by West Virginia Public Broadcasting. It is part of an Inside Appalachia episode exploring the alcohol culture and industry in Appalachia. 
Generation After Generation: Ashe County Seed Savers Preserve Heirloom Seeds, Appalachian History
In Appalachia, organizations like seed libraries and community gardens are helping to save traditional heirloom vegetables from being lost. Sometimes, the seeds are found in unexpected places like when Travis Birdsell visited the barn of an Ashe County farmer in 2017.
There, he found tomato seeds smeared on the side of an old grocery store sack.
"All the words said were 'Big Red,'" Birdsell said.
"Big Red" ended up being an Oxheart tomato, an heirloom variety known for its huge size. Each tomato can weigh up to 2.5 pounds, making them more than four times the size of the average grocery store tomato. Before the tomatoes are even fully grown, they're heavy enough to bend their stalks.
Birdsell knew he wanted to plant the seeds, but when he did, only one germinated. That single seed, though, was enough for him to successfully grow the tomato in 2019.
The seed was planted in the Ashe County Victory Garden. It's located in downtown Jefferson, North Carolina. Birdsell, the Ashe County Cooperative Extension director, has used the garden since 2016 as a space to grow and reintroduce heirloom vegetable varieties in southern Appalachia.
Each seed has a special origin story, but right now, the Oxheart tomato is the star — it's enormous, of course, and Birsell said it has a meaty texture.
Varieties like the Oxheart tomato are kept alive thanks to the work of seed savers. The work they do throughout Appalachia is crucial in keeping heirloom varieties on our tables and in our bellies.
Seed saving is especially important in communities like Ashe County. Agriculture has always been the main industry, and local families have been able to keep certain varieties around for decades. Birdsell said he hopes the Victory Garden highlights that.
"We want to play into the culture that's alive and well in southern Appalachia, which is independence. This is a way to tap into food independence."
A Radical Idea
Getting seeds into the hands of home gardeners is a key part of that self sufficiency. In 2019, Birdsell produced enough of the Oxheart tomatoes to make seeds available to the public, through the Ashe County Seed Library, which is about a mile up the road from the garden in West Jefferson, North Carolina.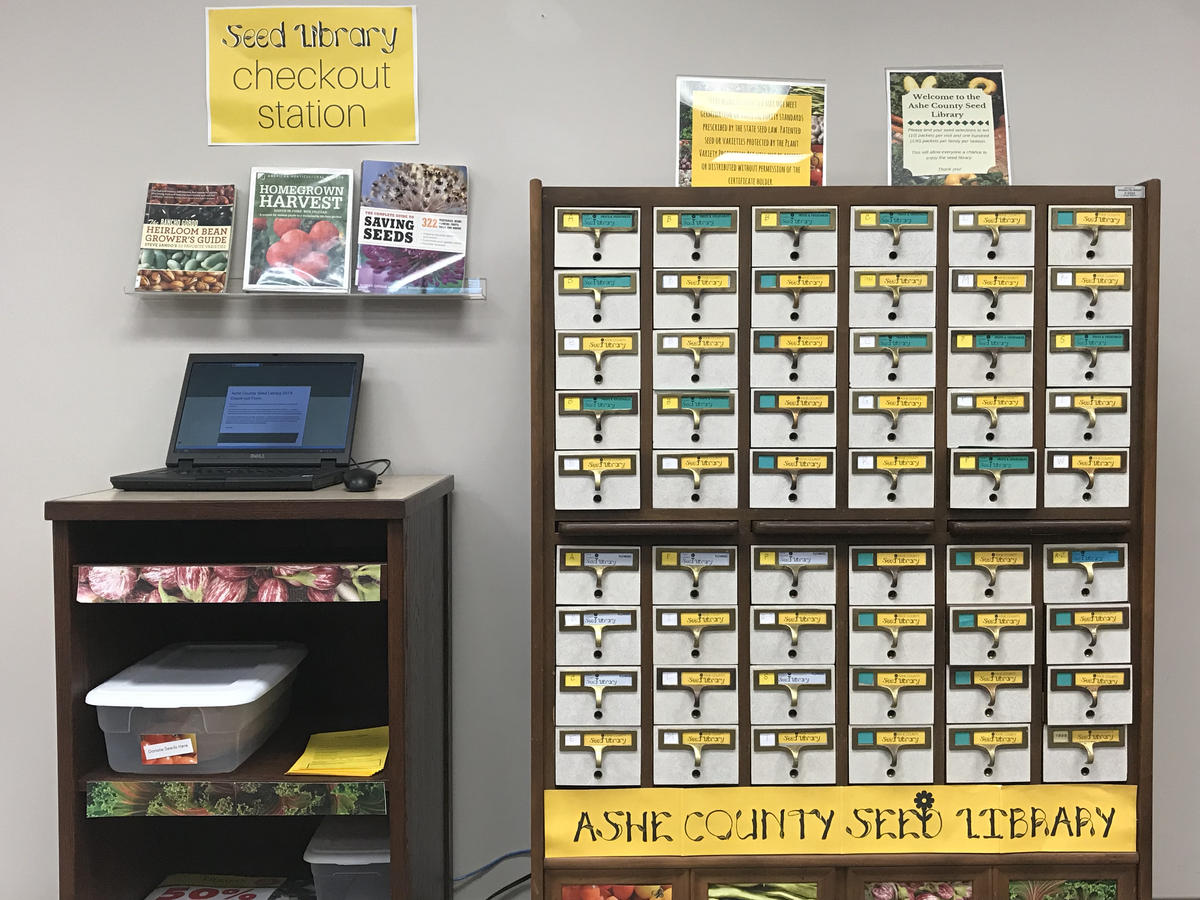 The seed library is on the second floor of the public library and is housed in an old card catalogue cabinet. The drawers are stuffed with dozens of varieties of seeds. There are beans, tomatoes, greens and even flowers.
Each tiny manila envelope contains about a dozen seeds. Heirloom beans and tomatoes are among the most popular. Librarians ask that people try to save a few seeds, so they can continue to stock them next year. There are also handouts that describe the seed saving process for nearly every kind of seed in the library.
Beans can be left on the vine until the shells are dry. Then, the seeds can be removed and stored in a jar until next year. Tomatoes are a bit trickier. Some people dry the seeds on a piece of wax paper so they're easy to remove, and others put seeds in a jar and cover them with water. The good seeds float to the top, and the others stay at the bottom.
All the seeds at the Ashe County Seed Library are free. There's no formal check-out process, and you don't even need a library card. And when the cost of heirloom seeds can sometimes be more than $4 in stores, it can seem like a radical idea to give them away.
"I think it's liberating to be able to provide for yourself and being able to access free seeds is the start of that process," Birdsell said.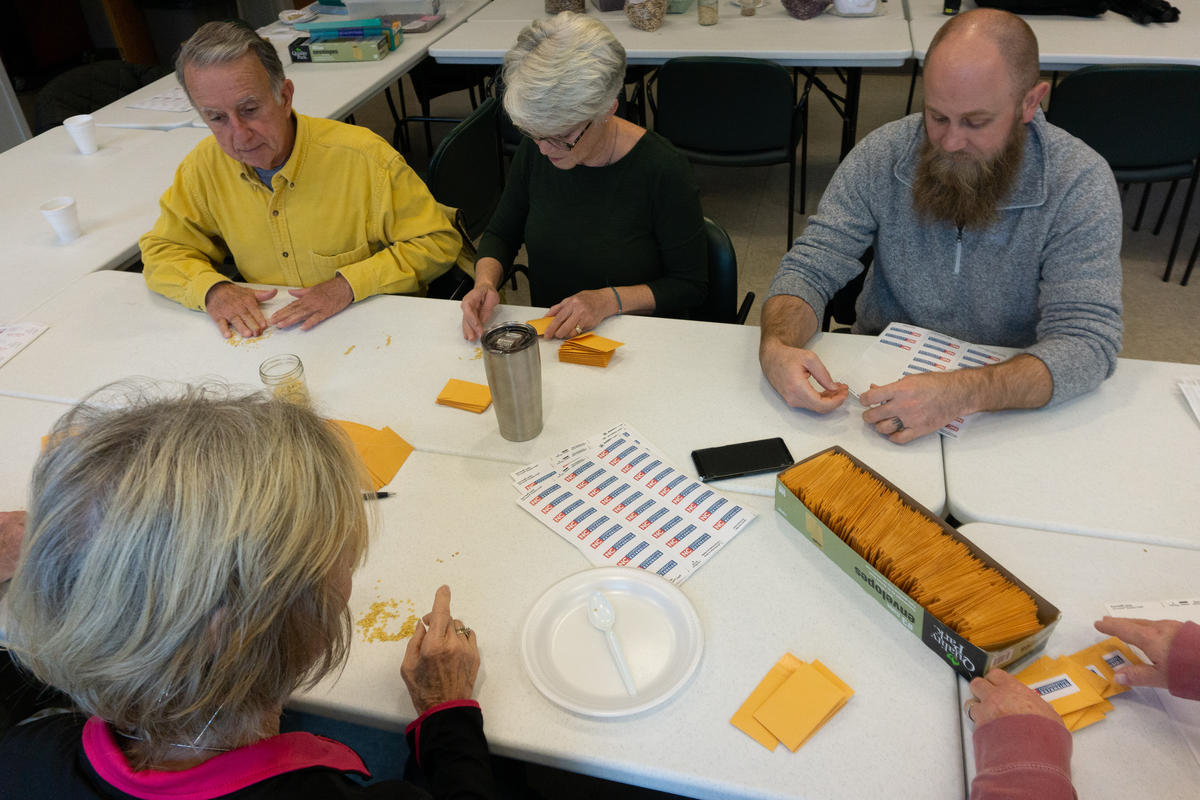 A Lost Art
Some of these seeds in the Ashe County Seed Library have been saved by local families like Vida Belvin's for generations.
Her brother donated a special variety of pole bean that's been a staple in their family since the 1920s. She calls it the Six Week Bean. It's a flat green bean and you can get up to two harvests a year with it — more than a traditional green bean.
Blevins and her brother learned to save seeds from their parents. Their mom, Kada Owen McNeill, has lived in Ashe County for a century. McNeill was the 7th child of 12. She grew up on a family farm, just a few miles north of Jefferson.
They grew and preserved most of the food they ate. McNeill remembers giant, 65 gallon barrels of sauerkraut that her family would make and share with their neighbors. And, to save money, they spent many hours at the end of each season saving seeds.
McNeill grew up during the Great Depression. Then, saving seed was a necessity. Because you couldn't just run out and buy them at the store. They saved seeds for apples, cabbage and parsnips. Her dad even built a small room specifically for drying pumpkin and apple seeds. She taught her daughter to save seeds too.
"I think it's kind of a lost art now," Blevins said.
Seed saving may be less common than it was a few decades ago, but it can still have the power to shape entire communities, Sarah Harrison said, who donated seeds to the Ashe County Seed Library through the Seeds of Resilience Project at Appalachian State University.
"Seeds are so important. We don't really think about it that much, but one simple seed can produce a plant that can produce hundreds of more seeds, which can feed a whole community," Harrison said.
According to experts like Chris Smith, the executive director of the Utopian Seed Project, based in Asheville, North Carolina, the cost of losing these seeds could be devastating for Appalachian communities down the road.
Smith said that seed saving helps build ecological resilience. Because if we only have a handful of different types of tomatoes or types of beans, we aren't as adaptable as we would be if we have hundreds of different types of heirloom seeds kept somewhere safe. As a researcher, he said that genetic diversity in seeds is key for a sustainable, resilient future.
"If we're saving our own seeds, in our own regions, then what we see is crop adaptability from season to season," Smith said.
And the seeds that have grown here in this climate for hundreds, sometimes thousands of years are simply better adapted to southern Appalachia than most of the seeds you can buy in the store.
This story was originally published by West Virginia Public Broadcasting. It is part of the Inside Appalachia Folkways Reporting Project, a partnership with West Virginia Public Broadcasting's Inside Appalachia and the Folklife Program of the West Virginia Humanities Council. The Folkways Reporting Project is made possible in part with support from Margaret A. Cargill Philanthropies to the West Virginia Public Broadcasting Foundation. Subscribe to the podcast to hear more stories of Appalachian folklife, arts, and culture.
Inside Appalachia: Politics Is A Difficult Topic, But Necessary
Last week's episode of Inside Appalachia is doing something a bit different. The West Virginia Public Broadcasting team took a temperature check on how people are feeling about politics as we head into what is sure to be a critical election year. While most people have the presidential race on their minds, there are many local races throughout Appalachia that will have lasting impacts as well.
How Appalachia votes could affect how lawmakers make decisions on a range of issues, like abortion, or how much severance tax coal and natural gas companies pay to states. It could also affect how federal aid is spent on economic development in local communities, and on things like Medicare and SNAP benefits. We all have something in our lives that likely will be affected by the upcoming election.
Coal Country
Following the 2016 election, many in the national news media looked to Appalachia to explain President Donald Trump's victory. There were seemingly endless stories about voters in the region — talking to voters inside and outside coal mines. There was a clear fascination with central Appalachia, which was dubbed "Coal Country".
For those who had been paying attention to this place long before 2016, Trump's big win here wasn't a huge surprise. After all, the region had been growing as a Republican base for decades.
"The trend line in Appalachia has been pretty bad for Democrats over the course of the last several decades," said Kyle Kondik. the managing editor of Larry Sabato's Crystal Ball at the University of Virginia's Center for Politics. "When Jimmy Carter ran for President 1976. He won 68 percent of all the Appalachian counties. But by 2008, Barack Obama 113 percent of the Appalachian counties and then by 2016, Hillary Clinton only one 6 percent."
But Kondik points out larger metropolitan places, like Pittsburgh, bucked that trend and voted Democrat in 2016. So did college towns, like Athens, Ohio, and Morgantown, West Virginia.
Kentucky
Last year, elections in Kentucky drew a lot of attention, and Democrat Andy Beshear won the governor's race. But Republicans came away with wins in all of the other offices in Kentucky's executive branch. In this episode, guest host Dave Mistich speaks with Kentucky's Public Radio's Ryland Barton about how state races in Kentucky could play out in 2020 and what implications this may have for the country as a whole.
Virginia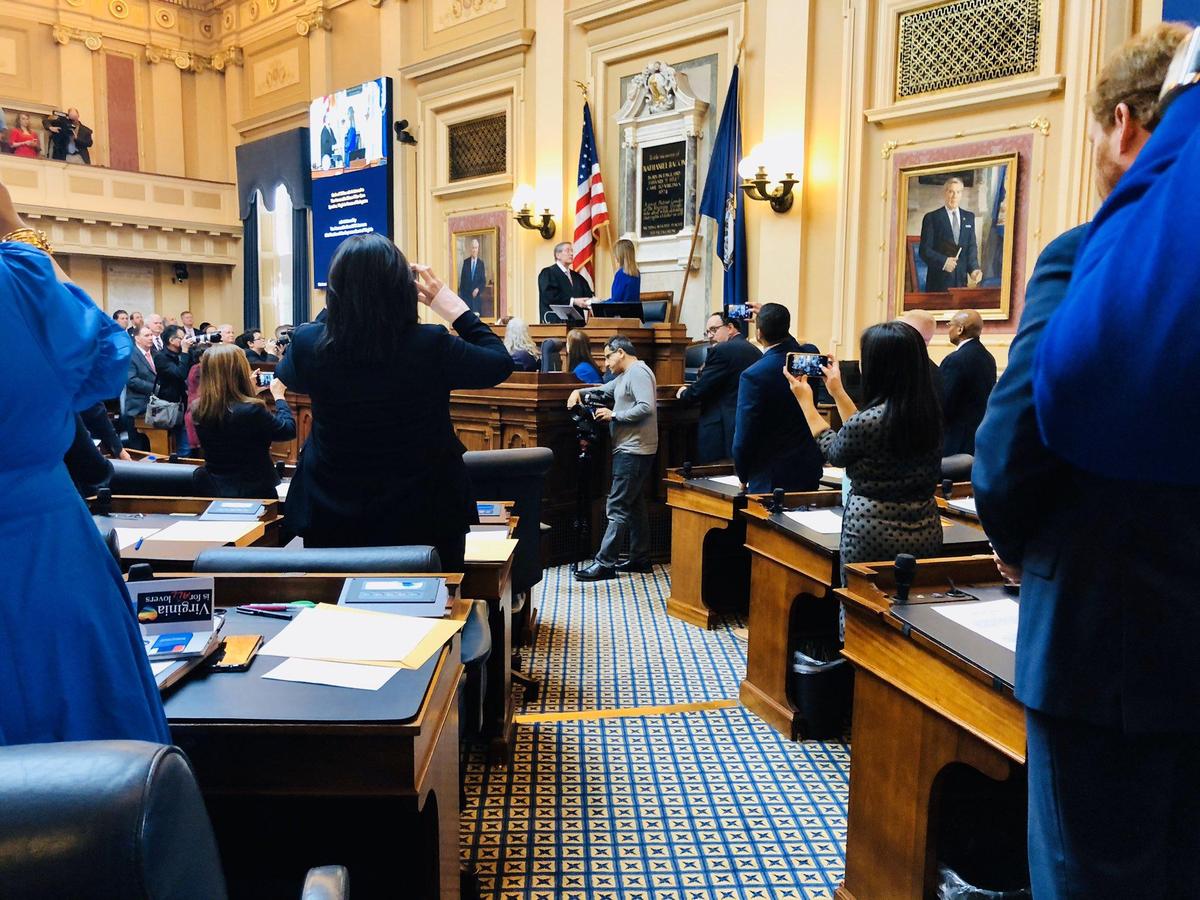 Virginia's 2019 elections may paint a different picture. Democrats flipped the statehouse, giving them a majority in both chambers of the Virginia General Assembly for the first time since 1996. WVTF's Michael Pope and Mallory Noe-Payne produced a report on election night about the outcome.
House Democrats in Virginia chose Delegate Eileen Filler-Corn to become speaker just days after the election. She is not only the first woman to hold that title, but also the first Jewish person to take the gavel in that chamber.
West Virginia
In the upcoming election in West Virginia, all three seats in the House of Representatives will be on the ballot, as well as a U.S. Senate seat. Then, there's 17 of 34 state Senate seats, all 100 seats in the House of Delegates, five constitutional officers and the governor's seat also up for grabs.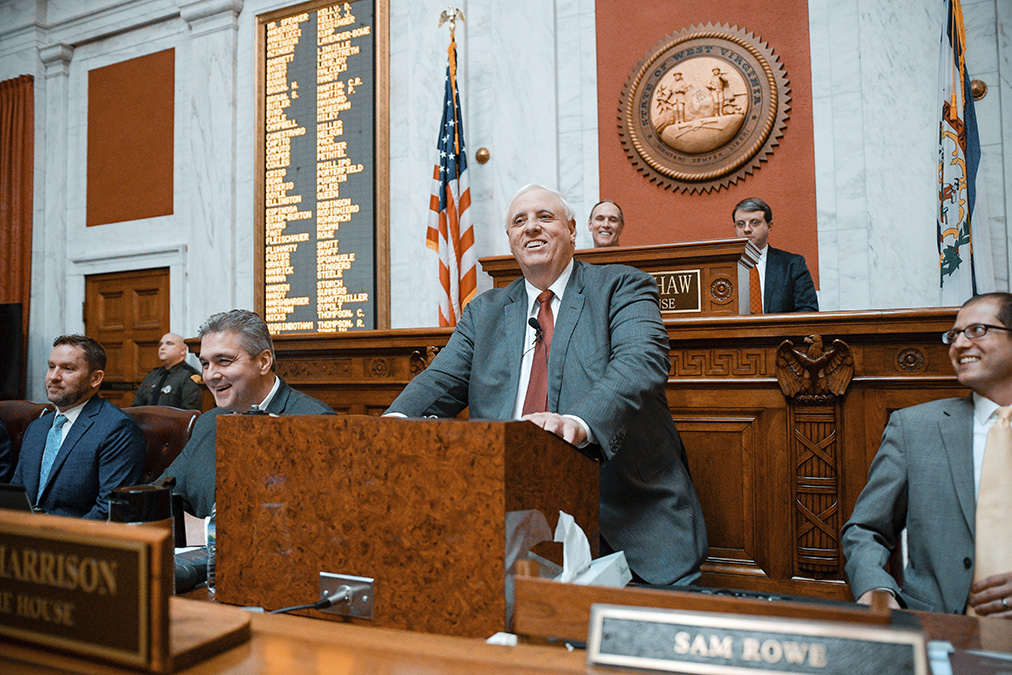 According to the Secretary of State's website, 18 people are running for governor against incumbent Republican Jim Justice. Justice has often been compared to President Donald Trump — he's a billionaire, for one thing. But in other ways, Justice is completely unique. He was elected as a Democrat but switched to the Republican party only seven months into his term.
This is one reason both the Republican and Democratic parties are facing an identity crisis in West Virginia as they head into the 2020 gubernatorial election. Independent producer Kyle Vass took us through how each party is gearing up.
Republicans: According to a West Virginia MetroNews poll released late last year, Gov. Justice holds a commanding lead in the Republican Primary. The poll says 56 percent support Justice, 21 percent support Woody Thrasher and 11 percent are backing Michael Folk.
Democrats: In the Democratic primary, things are much less clear. According to another poll from West Virginia Metro News, 42 percent of likely Democratic voters aren't sure who'll they pick at the ballot box. Between the top three candidates, things seem neck-and-neck as of now. 21 percent expressed support for Stephen Smith. 19 percent favor Sen. Stollings and 18 percent say they're behind Salango.
Census and Reapportionment
With all of this talk about the 2020 elections, there's a big story looming in the background that will have consequences for years to come. That's the 2020 census, when the federal government takes a count of the population of the entire country.
Census experts say losing residents means losing money, business, jobs and federal assistance for emergencies and infrastructure.
After the upcoming census, one study projects West Virginia could lose a member in the U.S. House of Representatives. Emily Allen takes us through one recent example of when this happened in West Virginia to see how it might play out after the 2020 census.
Register to Vote!
With all this talk of elections, now is a good time to make sure your voter registration is up-to-date and, if you're not registered, make sure to do that. If you're in West Virginia, you can register at your county clerk's office, or by going online to the Secretary of State's website at govotewv.com.
If you're in another state, be sure to check with the officials that handle elections there.
This article was originally published by West Virginia Public Broadcasting.
How One University Mascot Has Influenced Generations of West Virginians
West Virginia University's mascot, the Mountaineer, is a big deal in the state. In fact, fans are called 'Mountaineer Nation.' West Virginians have long identified with the mascot as it symbolizes independence, strength and curiosity — a true frontiersman attitude.
On a football gameday, the Mountaineer stampedes down the field, rallying the crowd. The mascot wears a tan leather buckskin shirt and pants with long fringes that flap in the wind. There is a raccoon skin hat with a bushy tail and beady eyes, knee-high moccasins and a bison horn that holds black powder — the ammunition for the rifle held in the Mountaineer's hand.
Among a cheering crowd of 60,000 fans and a stadium with a giant screen, is a Mountaineer who looks like he stepped straight out of the 1800s Appalachian frontier.
"Growing up in West Virginia, you're instilled with that mountaineer pride at a very young age," said Timmy Eads, the current WVU Mountaineer.
Becoming The Mountaineer
The mascot was officially recognized in the state in 1934. It is unique in that unlike most other university mascots, the Mountaineer does not wear a foam head – one can see the person's face.
Also, there are no top-tier pro-sports teams in the state, so most sports fans rally around the Mountaineer.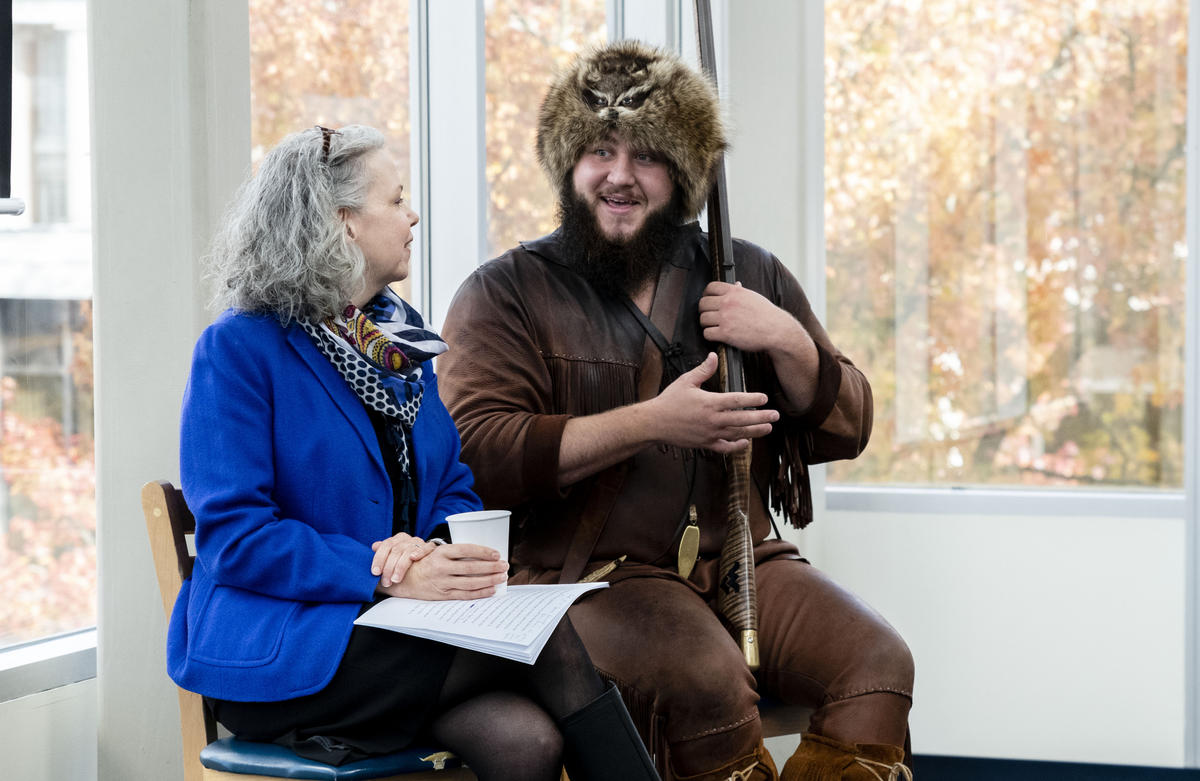 Rosemary Hathaway is the author of the soon to be released book "Mountaineers Are Always Free." She said former Mountaineers she interviewed all say it is more than a mascot for them.
"Putting on the outfit and feeling almost this magical transformation; I'm both myself but I'm also sort of this symbol of the state," she said.
Becoming the Mountaineer is a rigorous process. One has to be able to handle a gun, take a full class load, be a good public speaker, be willing to travel across the country, have the energy to serve as a role model daily and be able to represent not only the university, but West Virginia as a whole.
Gene Wotring started making the Mountaineer rifle last year. His father, Marvin Wotring, made rifles for the university for more than 40 years before he passed away in 2018.
Growing up, Gene watched many Mountaineers come in and out of his father's shop.
"The Mountaineers, they were little kids dreaming about being a mountaineer and they're here now, and going through it," Gene said. "I think they have to mature in the role because it's a big responsibility."
The Buckskins
In just about six months, Timmy has attended over 250 events as the Mountaineer – including everything from elementary school visits to sports games to hospitals to rural hollow communities. He said he wears his buckskins almost every day, and one can tell. The leather has darkened, the creases look permanent, there is a musky smell and it is a little rough around the edges.
"What I was told by former Mountaineers to do if you come home and are absolutely drenched in sweat or you catch an odor, just freeze the entire thing and the freezer will help kill the bacteria and help it not smell so bad," Timmy said.
Each Mountaineer keeps their buckskins at the end of their reign.
Gary Nebel has been hand-stitching deer hides together to create the Mountaineer outfit since the 1980s. All his work is in the style of pre-1840s.
"We even make some of the buttons — we roll the leather buttons or put antler buttons on them," Gary said.
Gary is not from West Virginia, nor has he ever lived in the state. He lives in Indiana, but WVU still sought him out to make the outfit. That is just how rare his skill set is.
Gary said, hand-making these buckskin outfits — much like our Appalachian ancestors did — is a knowledge that is also dwindling.
"When I'm gone I don't know who will take it over. I don't know if my son will do it or not," Gary said.
But he does not plan to retire anytime soon.
The Rifle
Gene Wotring — the new maker of the Mountaineer rifle — is someone who did take over his dad's business. His dad, Marvin, made 949 black powder rifles. Gene is on number nine.
The Mountaineer uses a .45 caliber Kentucky Long Rifle, a weapon developed in the early 1700s. Gene said it is a primitive technology, and the pressure of making the WVU rifle is huge.
"It's not just the Mountaineer, it's all of Mountaineer Nation," he said. "If the rifle doesn't go boom, a lot of people are upset."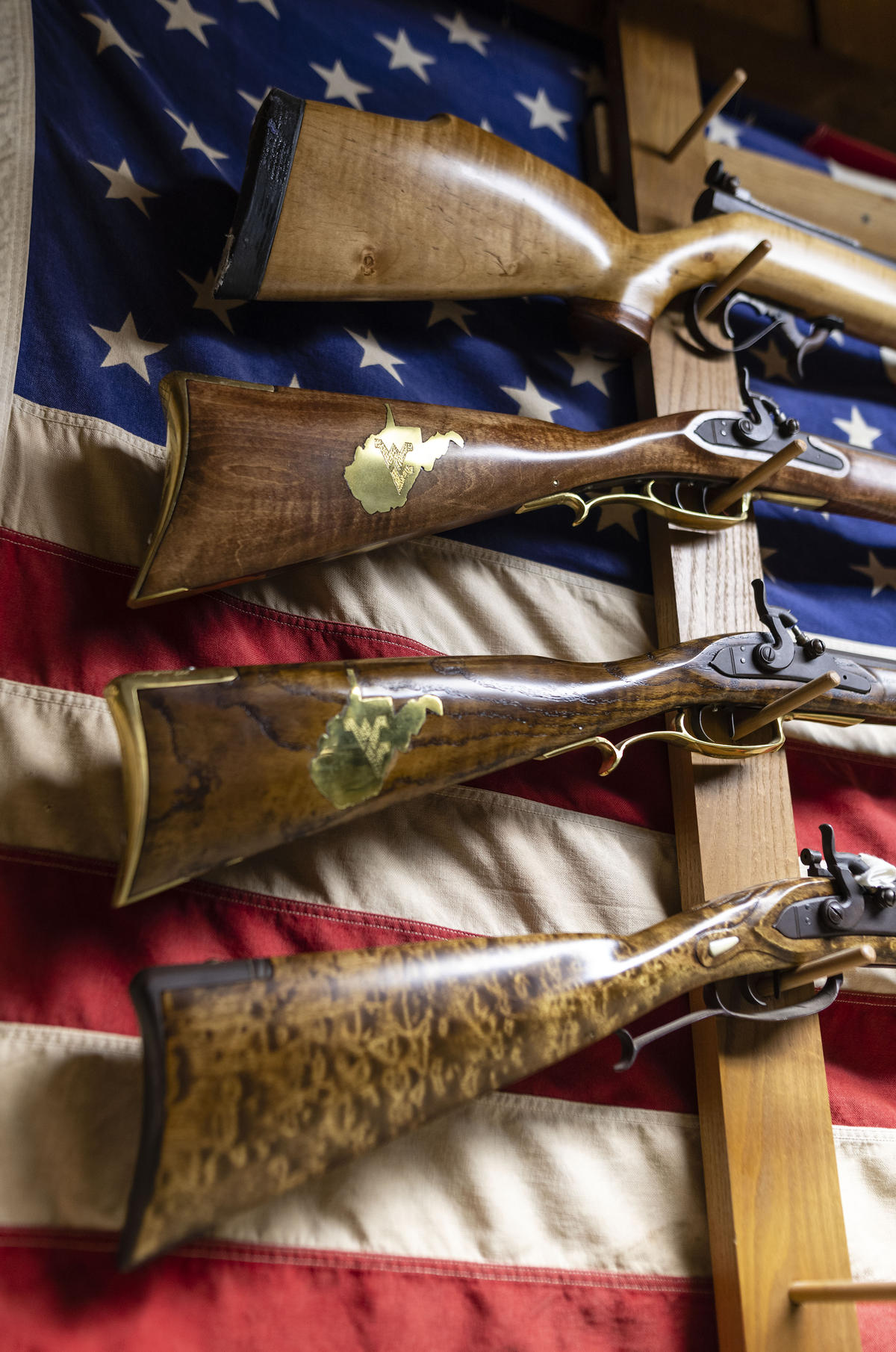 In a football game, the rifle is shot dozens of times, with a stadium and thousands of fans at home watching.
The Mountaineer rifle Gene made last year is striking. It is a dark, maple brown and about four-feet long. There is a gold metal, hand-carved emblem in the shape of West Virginia on the side. Underneath, in gold metal, are the words "Country roads take me," with the shape of West Virginia as the implied home.
"I had to do like five of these to get the state and get the arc right and get the words to fit in there," Gene said.
And on the other side are the distinctive flying letters "WV" — the letters almost look painted on.
"It's coal, and it's inlaid in there," Gene said. "I took coal and crushed it up and put it in a resin and molded it in there. Yeah, coal's just a big part of West Virginia."
The WVU rifle is passed down each year to the new Mountaineer. It is only replaced every five or six years.
Seeking Diversity
These days, the Mountaineer typically has a big, bushy beard. Although, prior to the 1970s, that was not the case. Rosemary Hathaway, the author of the upcoming Mountaineer book, said beards were seen as being unkempt and represented someone who has radical politics.
In fact, the Mountaineer statue at WVU does not have a beard, and two women have been the mountaineer — Natalie Tennent in 1990 and Rebecca Durst in 2009. Rosemary said the beard was used as an argument for not having a female as the mascot.
"In their minds, I think they're thinking, 'You're not being sexist, right? Because you just can't grow a beard so you can't be the Mountaineer,'" Rosemary said. "But, I think it was really just a cover for a woman not being the Mountaineer for a whole lot of other reasons, and not growing a beard was just one of them."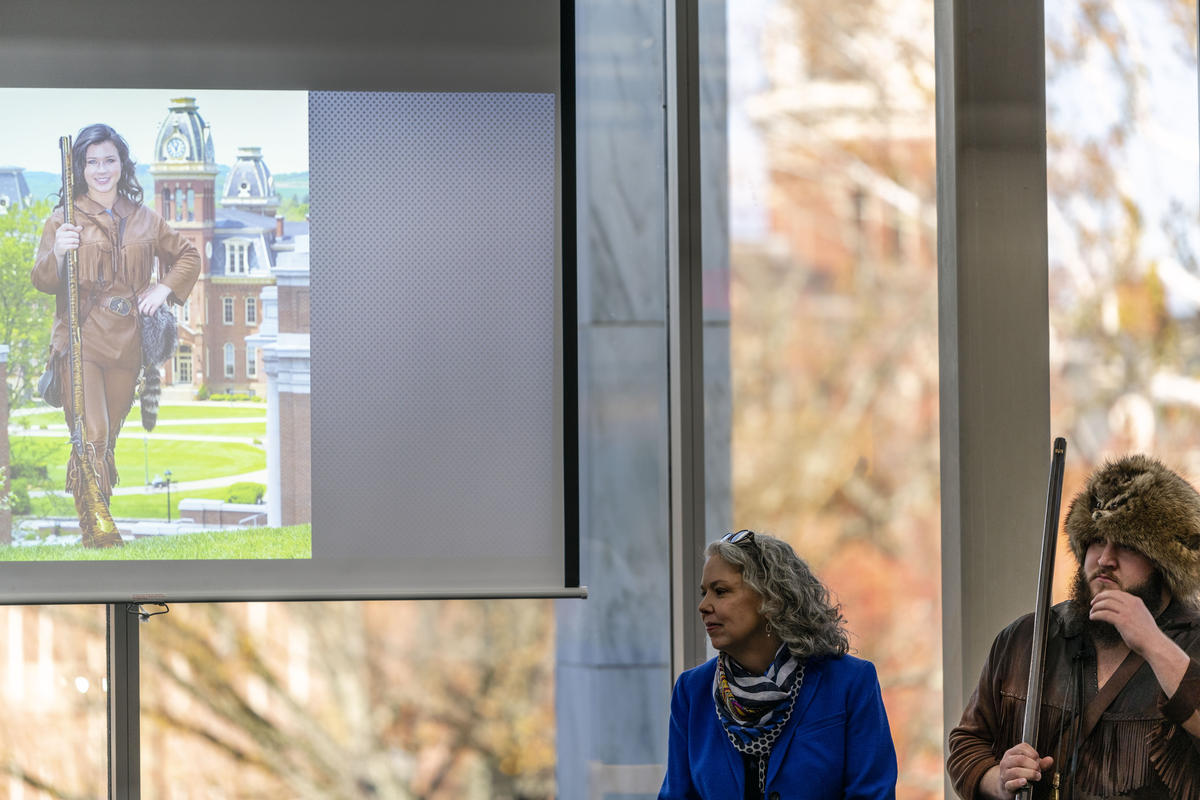 In the 84 years since the mascot was officially recognized, there has not been a person of color in the role. Granted, over 75 percent of WVU's population is white, but there are students of color, and only one person of color has ever applied.
Rosemary said the women who were the mountaineer faced a lot of backlash, and that could be intimidating for any minority student who is thinking of applying.
"I don't know what the reaction would be, if people would be cool about it or if they'd think, 'It'd be politically incorrect for me to say something, so I'm just going to keep my mouth shut.' Or whether there would be an out-and-out racist response to it," Rosemary said.
However, according to the mascot application the "Mountaineer Mascot selection committee and the Mountaineer Advisory Committee do not discriminate on the basis of race, sex, age, disability, veteran's status, religion, sexual orientation, color or national origin."
Timmy Eads will be passing the rifle that Gene made onto the new mountaineer this spring.
This story was originally published by West Virginia Public Broadcasting. It is part of the Inside Appalachia Folkways Reporting Project.
Subscribe to the podcast to hear more stories of Appalachian folklife, arts and culture.