Commentary: Rural Power Co-Ops 'Stranded in Coal'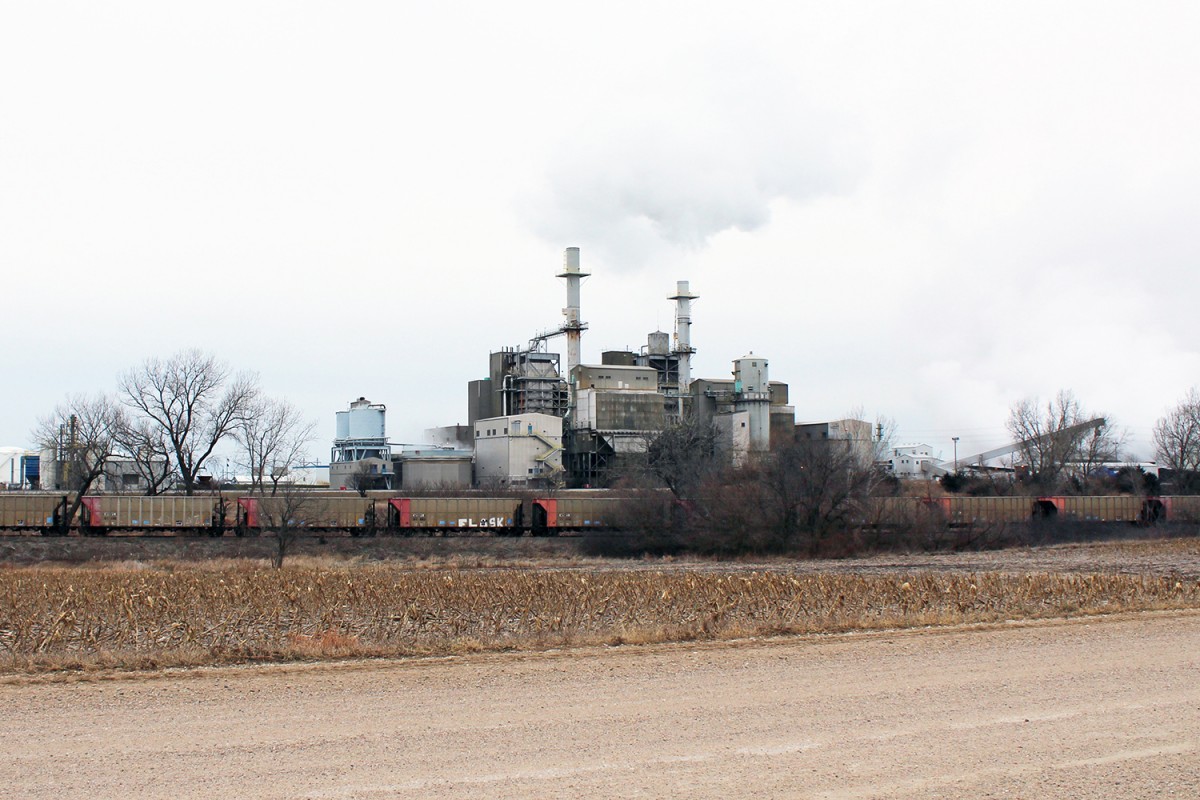 Electric co-ops' old investments in coal-fired production prevent them from taking the next step into economical and efficient renewable energy. A new report offers a way forward.
Rural electric cooperatives' loyalty to coal is holding rural America back.
That's according to a new report authored by CURE (Clean Up the River Environment), We Own It and the Center for Rural Affairs.
During the 1970s, most rural electric cooperatives made significant investments to build coal-burning power plants. At the time, the coal investment strategy made in the interest of providing low-cost electricity to their member-owners. Co-ops took on massive amounts of debt, mostly from the federal government. One year a loan to Basin Electric (a consortium of cooperatives that serves much of the Northern Great Plains) for a coal plant took up almost the entire annual budget for loans from the USDA's Rural Utility Service.
In 2019, the world of energy production and distribution is very different.
Coal is now increasingly expensive as well as being a leading contributor to climate change. With this rise in the cost of coal and the simultaneous drop in the price of renewables, coal is an increasingly bad choice for utilities. Today, most coal plants are considered to be uneconomic (perhaps "underperforming") assets by utilities, and many rural electric co-ops are identifying coal plants as stranded assets.
For example, a 2018 report from Rocky Mountain Institute shows Tri-State Generation and Transmission Association, (a partnership of 43 electric cooperatives and public power districts in Colorado, Nebraska, New Mexico and Wyoming) could save at least $600 million by 2030 and reduce their risk by using their coal plants less and investing in more renewable energy.
Beyond the powerful report conclusions, major utilities are making big commitments to renewable energy. Xcel Energy, an investor-owned and profit-driven utility, recently committed to 100 percent carbon-free electricity by 2050. In 2018, Great River Energy, a generation and transmission cooperative serving 28 electric distribution cooperatives in Minnesota, committed to 50 percent renewable energy by 2030. In a fact sheet, Great River Energy stated, "Renewable energy, particularly wind, is Great River Energy's lowest-cost option for new generation resources… Great River Energy's average wholesale rates will remain flat in 2019 with projected increases below the rate of inflation for the next decade."
In 2016, Kit Carson Electric Cooperative bought themselves out of their Tri-State Generation and Transmission Association contract to transition to 100 percent daytime solar generation, which is projected to save the co-op at least $30 million over 10 years. Other Tri-State Generation and Transmission Association member cooperatives are looking into buying themselves out or increasing the association's 5 percent cap on local renewable energy generation. Cooperatives across the country are locked into similar long-term, 40-plus year contracts with their generation and transmission cooperatives, some allowing only a couple dozen kilowatts or zero local renewable energy generation. These long-term contracts are often driven by outstanding debt for coal plants.
Rural electric co-ops are caught between the push for clean energy and their stranded assets, leading many co-ops to double down on their bad investments and push a pro-coal agenda that approaches a dogmatic rejection of the potential prosperity of clean energy for rural communities. As co-ops reject the new reality of more affordable electricity generation and a more distributed, safe and modern utility system, rural America is being left behind by clean energy prosperity while also having more expensive electricity and an unstable utility structure.
The report details five suggestions for policy solutions to address the problem and makes a preliminary examination of each of them. The policies range from regulatory action to swapping a determined dollar amount per new megawatts of clean energy, to familiar financial strategies. While each of these potential solutions addressed could potentially move the needle on electric cooperative debt and transitioning to clean energy, there are definite advantages and disadvantages to each policy.
The options of securitization, USDA Rural Utility Service refinancing, and debt absolution all have the same flaw: they do not guarantee that retired coal plants will be replaced by new energy efficiency and renewable energy investments. These mechanisms rely on market-based logic to ensure clean energy replaces coal. Or they assume that because utility-scale wind and solar are consistently the lowest cost option, rural electric cooperatives will choose to make investments in that direction. Unencumbered with the barrier of coal debt and stranded assets, cooperative leaders may fall victim to their own dogma about fossil fuel infrastructure rather than take the more affordable wind and solar route. Despite the current economics of wind and solar versus coal and natural gas, this is already proving true.
Since 2014, electric cooperatives have reduced their reliance on coal from 54 percent to 41 percent; however, they have also increased their natural gas generation portfolio from 18 percent to 26 percent. Overall, that's a shift from 72 percent to 67 percent fossil fuel generation. Meanwhile, nationally, cooperatives have only increased their wind and solar generation from 4 percent to 8 percent.
In order to be effective in closing co-op coal plants, avoiding a natural gas buildout, as well as delivering clean energy and prosperity for rural America, any potential solution will need to be designed with excruciating detail.
We need strong, forward-looking rural electric co-ops that are ready to serve our rural communities for the next 100 years. We need our co-ops to deliver on their founding promise of member control and democratizing the rural economy. Relieving the burden of electric co-op coal debt is one way to make that happen.
Erik Hatlestad is director of the Energy Democracy Program at CURE (Clean Up the River Environment) and Liz Veazey is network director of We Own It. Hatlestad and Veazey will host a webinar about their report on Monday, June 24, at noon Central. Register here.
This article was originally published by the Daily Yonder.
Climate Activism Could Be Swaying Public Opinion In The US
Climate activists walked out of classrooms and workplaces in more than 150 countries on Friday, Sept. 20 to demand stronger action on climate change. Mass mobilizations like this have become increasingly common in recent years.
I'm a scholar of environmental communication who examines how people become engaged with solving dilemmas such as climate change, and how activism motivates others to take action. A new study I worked on suggests that large rallies, such as this youth-led Climate Strike, could be influencing public opinion.
Conflicting signs
For anyone in the U.S. who has been following climate change news for years, it could be easy to conclude that these protests don't have an impact. After all, no major environmental legislation has been signed into law in this country in decades.
Further, in 2016 a near-majority of U.S. voters elected a president who rejects the scientific evidence on climate change.
On the other hand, concern about climate change is rising. So is media coverage about global warming, notably including CNN's seven-hour town hall on the topic with 10 Democratic presidential candidates.
To see whether rallies, such as the Global Climate Strike are contributing to this change in public opinion in a measurable way, I partnered with Pennsylvania State University psychologist Janet K. Swim and Michael L. Lengieza, a graduate student. We collected public opinion data before and after major protests.
Seeing activists in a less negative light
We conducted surveys to assess public opinion before and after the March for Science – which had a wide-ranging agenda that included climate change – and the 2017 People's Climate March, which took place on back-to-back Saturdays in April 2017. Hundreds of thousands of people took part in the main protests in Washington, as affiliated marches occurred in other cities in the U.S. and around the world.
Nearly 600 people around the country, including some who had heard very little or even nothing at all about the mobilizations, answered our series of detailed questions. We tried to gauge their perceptions of climate activists and faith in humanity's ability to come together on issues like climate change.
Half of the survey-takers completed their survey right before the first protest and the other half did it after the second one. Both groups represented broad ranges in age, education level and political beliefs.
The responses suggested that many Americans may have changed their opinion about the climate change movement around that time – in the spring of 2017.
For instance, the percentage who viewed climate activists as "aggressive" fell by 10 percentage points, from 74 percent to 64 percent. Similarly, survey respondents viewed activists as less "arrogant" and "dictatorial" after the protests occurred.
We consider this finding important because other research has suggested that people who view climate activists in this negative manner are more motivated to speak out against policies aimed at slowing the pace of global warming, such as the two carbon tax initiatives that voters have rejected in Washington state despite its Democratic majority.
Feeling less pessimistic about the future
Although most survey-takers said they had heard about the protests, few actually knew someone who had participated in one. Wondering whether the way that media covered these events might influence how people reacted, we looked into whether Americans who prefer liberal-leaning media outlets, such as MSNBC, reacted differently than those who rely on conservative-leaning media, such as Fox News.
We detected some interesting and unexpected patterns.
Before we looked at the data, we thought that differences in the media coverage might further the political polarization of climate change. We were surprised when we saw that the marches appeared to have the opposite effect.
In particular, the protests may have made consumers of conservative-leaning news more hopeful. Before them, consumers of conservative-leaning news were more likely to say they doubted the ability of humanity to work together on big problems like climate change.
After the marches, fewer people of all kinds expressed pessimism. In particular, consumers of conservative media became less likely to agree to statements like this one: "People are too selfish to cooperate and to fix big problems." Before the protests, 60 percent of them agreed with that statement. Afterward, only 45 percent did.
The limits to this influence
Even so, the mobilizations did not seem to sway public opinion in every way that the organizers might have hoped. In particular, despite the large numbers participating, the two waves of protests did not appear to have any measurable impact on convincing Americans that taking community action on climate change was a normal or common thing for people to do.
Specifically, there was no change in the perceived number of people in their community or in the entire country that survey-takers believed engaged in collective action, such as environmental activism or voting for politicians that support environmental issues.
We suspect the people we surveyed did not consider the marchers to be similar to average people – like themselves.
Over the next few years, it will be interesting to see whether these shifts in public perceptions translate into shifts in consumer purchasing habits and public policy.
[ You're smart and curious about the world. So are The Conversation's authors and editors. You can read us daily by subscribing to our newsletter. ]
Nathaniel Geiger, Assistant Professor of Communication Science, Indiana University
This article is republished from The Conversation under a Creative Commons license. Read the original article.
Is Rural America Having a Moment in Democratic Policy Proposals?
The 2020 Presidential election is not likely to hinge on nuanced rural policy positions and party platforms. That doesn't seem to matter to the women and men running for the Democratic nomination, many of whom are campaigning hard for big investments and jobs in rural infrastructure, agriculture, clean energy and health care.
When it comes to presidential elections, many people feel that rural issues get ignored . Mainstream media coverage of campaigns and voter opinion tends to focus on the horserace between political parties, geographic divisions and the moving weathervane of "electability." Rural topics, with the exception of commercial and corporate agriculture, traditionally don't get much mention.
Things seems different this year. Last week I spent a lot of time reading and comparing statements and policy positions among the diverse field of Democratic candidates. Unlike any time I've seen in 20 years of rural advocacy and economic development work, many of the candidates are developing serious and innovative rural policy ideas that deserve more attention.
A large number of campaigns are embracing infrastructure and telecommunications improvements in rural communities, for instance, and are trying to differentiate themselves through specific budget and policy goals. Numerous candidates are calling for aggressive changes in the health-care sector to address a crisis in rural health care facilities and availability. Most of them support agricultural reforms and conservation programs that would decrease greenhouse gas emissions.
As we were compiling our initial set of candidate position reporting at the Daily Yonder, there was a flurry of activity on rural issues just last Wednesday and Thursday. Senators Elizabeth Warren (D-MA), Amy Klobuchar (D-MN) and Kirsten Gillibrand (D-NY) all released comprehensive, detailed rural economic development platforms while campaigning in rural Iowa. Senator Cory Booker (D-NJ) introduced a bill designed to address climate change through conservation-based farming practices, renewing the Civilian Conservation Corps and scaling up clean energy systems in rural communities. Mayor Pete Buttigieg (South Bend, IN) unveiled his plan for improving rural healthcare and later released a comprehensive rural-policy plan.
A few of the innovative proposals that stick out for innovation and scope include the following:
ARPA-Ag, a science and innovation platform to decrease greenhouse gas emission from agriculture, Washington Governor Jay Inslee.
Modeled after the U. S. Defense Department's Defense Advanced Research Projects Agency (DARPA), the public-sector research and development initiative that helped create the internet and supercomputers, and the Department of Energy's ARPA-E that led to clean energy innovations during the Obama Administration, Inslee's ARPA-Ag would attempt to decarbonize agriculture.  ARPA-Ag would expandd federal investment in "research, development, demonstration and deployment" of climate-friendly farming practices, while also reducing climate emission from the agricultural input sector. Inslee would also create a Next-Generation Clean Energy Extension Service to share the results, knowledge and resources for participating in ARPA-Ag and related efforts to decrease greenhouse gas emissions and address climate change.
Warren's $85 billion rural broadband proposal states that, "One of the best tools for unlocking economic opportunity and advances in health care, like telemedicine, is access to reliable, high-speed Internet." The package includes funding, incentives and regulatory changes that will allow public sector internet providers to compete head-to-head with private services. In addition, funding will be available to expand service to rural communities currently being ignored by the private sector. Eligible entities will be local governments, Native American tribes, rural electric cooperatives and rural telephone cooperatives among others.  Warren's plan is to set-aside at least $5 billion funding for Native American tribal governments.  The $85 billion broadband plan seeks to address the rural internet access gap. "According to the FCC, in 2017, 26.4% of people living in rural areas and 32.1% of people living on tribal lands did not have access to minimum speed broadband (25 Mbps/ 3 Mbps), compared to 1.7% in urban areas," Warren's plan states.
"Rural Future Partnership Fund," New York Senator Kirsten Gillibrand.
Gillibrand is proposing $50 billion in public financing to fund multi-year, flexible, block grants to local communities with comprehensive rural revitalization strategies. Funds would be available for rural water systems, affordable housing, local food efforts, rural entrepreneurship and other rural economic development needs. The funding will target projects in rural communities with a history of persistent poverty, along with prioritizing cooperatively-owned enterprises. Gillibrand's rural economic development plans also include the creation of a "Rural Future Corps" that identifies and trains rural young people and public servants, as well as supporting arts and cultural heritage-based efforts at job creation and local economic development.
REAP, the Renewable Energy for America Program, is a popular grant and loan program that supports installation and operation of renewable energy systems serving farmers and rural small business owners. Senator Booker recently proposed a $1 billion expansion of REAP as part of his Climate Stewardship Act. The program, in operation since 2009 with limited budgets averaging from $10-$50 million per year, has already been responsible for more than 10 billion kilowatt hours of renewable electricity production by participants, according to USDA. The Booker REAP expansion would provide a short-term boost to the already growing rural deployment of solar, wind and geothermal energy production. REAP expansion would likely result in huge increases in rural solar installations and energy efficiency improvements for farmers and rural small businesses throughout the nation.
I don't want to pretend that a rural policy position paper is going to lead to the presidency, let alone get passed and implemented. Bold, aggressive policy proposals to expand rural economic development like these face a long and politically driven set of challenges.
The coalition of limited government activists, tax-cut proponents and white Christian conservatives that make up the bulk of the Republican Party are not likely to jump for joy. Within the Democratic Party, there is a large contingent of voices that repeatedly call for caution, moderation and fiscal conservatism. "How are we going to pay for it?" is often the mantra of the pundit and lobbyist class.
Still, while partisan and electoral politics are an ever-present barrier, rural people and organizations should take note that their consistent calls for more funding, resources and attention are working. Huge investments in rural broadband have been embraced by all of the Democrats in the race. (Broadband is one of the few rural development areas that the Trump administration has also supported.) Nearly all the candidates have called for aggressive antitrust action to curtail the market power of corporate agribusiness, a clear rejection of the hands-off approach during the Obama administration. The rural hospital closure crisis is being mentioned on the nationally televised debate stage. The climate crisis is being treated as a serious issue, with a "just transition" to cleaner agriculture, forestry and mining practices in the spotlight.
I'm not sure how to take these developments other than to report them as words on the page. Electoral politics, in my opinion, is all-too-often an incredibly important but ultimately frustrating popularity contest void of actual substance. Perhaps 2020 is going to be different, even if the innovative ideas for improving economies and quality-of-life in rural America is coming from the party that most mainstream political pundits describe as "urban." Stay tuned.
Bryce Oates covers federal rural policy for the Daily Yonder.
This article was originally published by the Daily Yonder.
Commentary: Immunizing Against Our Culture of Contempt
Today's public discourse is a petri dish for breeding disgust for people with whom we disagree. Debates about healthcare issues affecting rural America are no exception.
From the left's "basket of deplorables" to the right's "send her back," our public and private spaces have become infected with a culture of contempt. On too many days, I feel I am in a country I barely recognize. I don't know if conservatives and liberals equally engage in contempt of the other, only that I hear too much of it from both sides.
I take little comfort when individuals say it's not so bad, that we were more divided during the Civil War. As savage as those days were, Abraham Lincoln knew we could and must do better.
"Though passion may have strained, it must not break our bonds of affection. The mystic chords of memory, stretching from every battlefield and patriot grave to every living heart and hearthstone all over this broad land, will yet swell the chorus of the Union when again touched, as surely they will be, by the better angels of our nature."
Even while coming of age in the riot-torn '60s, my evangelically conservative family would encourage me "to hate the sin but love the sinner." And not dissimilarly, at the same time, the left made an icon of a Vietnam War protestor placing a carnation into the barrel of a soldier's rifle.
From Fox News to MSNBC, our airwaves are filled with voices competing to be the loudest and the most adept at ridiculing their opponents. The dominant narrative is not to address ideas but to reduce those with whom who we don't agree to a position beneath contempt. Once we allow ourselves to hold someone in contempt, all that the best of our culture teaches us about how we are to relate and support each other goes out the window.
I have taken heart from individuals who have begun to name this problem and suggest solutions, such as Arthur Brooks, long-time president of a conservative think tank, as he wrote about "Our Culture of Contempt" in a recent issue of The New York Times: "What we need is not to disagree less, but to disagree better. And that starts when you turn away the rhetorical dope peddlers–the powerful people on your own side who are profiting from the culture of contempt. As satisfying as it can feel to hear that your foes are irredeemable, stupid and deviant, remember: When you find yourself hating something, someone is making money or winning elections or getting more famous and powerful."
If we are to reverse our country's slide into increasingly entrenched and divided camps, we need to relearn how to productively talk about our differences instead of attacking the character, motive and personal attributes of the "other side."
Brooks goes on to say that "each of us can make a commitment never to treat others with contempt, even if we believe they deserve it. This might sound like a call for magnanimity, but it is just as much an appeal to self-interest. Contempt makes persuasion impossible – no one has ever been hated into agreement–so its expression is either petty self-indulgence or cheap virtue signaling, neither of which wins converts."
For those of us working in health care, contempt is not theoretical. We seem increasingly less able to make progress on important issues as the rhetoric heats up and the attacks get more personal. Here are a few examples of current health care issues that seem too often to be dominated by attacks on those who hold an opposing opinion rather than the opinion itself.
Advanced Practice Registered Nurse Collaboration
Family Planning
Federal Dollars for Medicaid Expansion
Medicare for All
Race and Geography in Health Disparities
Vaccination and Anti-vaxxers
While I know that I have and still can readily discount those who disagree with me on each of these issues, I have renewed my commitment to keep my advocacy based on the facts and our organization's aspirations, not on trying to tear down those who might disagree. Will you join me in this quest?
Tim Size is executive director of the Rural Wisconsin Health Cooperative.
This article was originally published by the Daily Yonder.