Maryland Has Created a Truth Commission on Lynchings – Can it Deliver?
Between 1850 and 1950, thousands of African American men, women and children were victims of lynchings: public torture and killings carried out by white mobs.
Lynchings were used to terrorize and control black people, notably in the South following the end of slavery.
Yet despite the prevalence and seriousness of the practice, there has been an "astonishing absence of any effort to acknowledge, discuss, or address lynching," reports the Equal Justice Initiative, the leading organization conducting research on lynchings.
Until now.
In April 2018, the National Memorial for Peace and Justice – the first lynching memorial in the U.S. – was opened in Montgomery, Alabama. In December of the same year, the U.S. Senate unanimously passed a bill that defined lynching as a federal crime.
More recently, in April 2019, the state of Maryland established a truth commission to investigate the lynchings of at least 40 African Americans between 1854 and 1933.
The legislation that authorized the truth commission, Maryland HB 307, was sponsored by Maryland House Delegate Joseline Peña-Melnyk.
Speaking before the House Judiciary Committee in February 2019, Peña-Melnyk said that the commission would be an opportunity "to send the message that the lives of the 40-something people really mattered." Written with the help of the Maryland Lynching Memorial Project and endorsed by the Equal Justice Initiative, the bill passed with strong bipartisan support just two months later.
The commission has the potential to educate the public about dozens of lynchings – some of which occurred with the knowledge or direct involvement of local, county and state government entities. The commission can also provide the opportunity for reconciliation between the families of those who were responsible and the families of those who were killed.
Can it live up to its promise?
Truth commissions around the world
I study human rights, with a particular interest in institutions that hold individuals, organizations and governments accountable for human rights abuses. My current research focuses on truth commissions and how they can be designed to be effective.
A truth commission is a temporary body that investigates different forms and systems of violence that happened in the past. Examples include the commissions that investigated apartheid in South Africa, the civil war in Timor-Leste and the dictatorship in Chile.
Generally, governments establish commissions to examine documents and collect witness testimony. A key goal of commissions is preparing a report that details the facts and traces the legacies of violence and abuse. A second, related goal is reconciliation. In Maryland's case, this would mean working toward respect, understanding and trust of those of other races and their experiences.
Based on my research and analyses of truth commissions in Chile, South Africa and Timor-Leste, I believe that the commission in Maryland has the potential to succeed.
But it faces some big obstacles.
Truth commissions in the US
The commission in Maryland will not be the first in the U.S.
In the 1980s, a national commission studied the government's relocation and internment in camps of people of Japanese ancestry during World War II. The commission's work led to both apologies and reparations for victims.
In addition, there have been commissions at the local level – for example, the 2004 commission in North Carolina that examined the killing of five anti-Ku Klux Klan demonstrators in Greensboro in 1979. There have also been commissions at the state level – for example the 2013 commission in Maine that investigated the separation of indigenous Wabanaki children from their communities since 1960.
However, the commission in Maryland will be the first to research lynchings, which investigative journalist Ida B. Wells in 1909 called the U.S.'s "national crime."
The truth commission in Maryland
The Maryland law establishing the commission calls for "full knowledge, understanding, and acceptance of the truth."
How would a commission accomplish this?
I have found in my research that a commission needs support from politicians, access to information, and community knowledge and involvement. It appears that the commission in Maryland has – or will have – each of these characteristics. In this regard, it is similar to previous successful commissions.
First, similar to South Africa, the commission has support from politicians on both sides of the aisle – in this case, Democrats and Republicans. Bipartisan support affords the commission public legitimacy as it seeks access to court records, historical archives, and local and statewide newspapers. So, it may be harder to politicize the commission's work.
Second, as in Timor-Leste, where the commission held hearings in the villages where violence occurred, the commission in Maryland will hold hearings across the state, including in communities where lynchings occurred.
By operating throughout the state, the commission can more easily reach victims' descendants and collect their stories. Collecting information from as many sources as possible is important to ascertaining the truth.
In addition, the commission will be well positioned to broadly share its work and findings, through the hearings themselves, local news reporting and more. This is key to both truth and reconciliation.
Third, as in Chile, the commission in Maryland will receive recommendations from the public, including from victims' families, about erecting memorials and historical markers where lynchings occurred.
Getting families and the wider community involved in this aspect can help provide healing and closure. For more than a century, the pain and trauma they experienced went unacknowledged.
Now, not only does Maryland have the potential to address this pain and trauma, it has the opportunity to memorialize the lynchings so others, too, can know what happened.
Obstacles to truth and reconciliation
There are, I believe, obstacles that may prevent the commission from accomplishing all of its goals.
To start, the commission's limited focus may lead to limited reconciliation. Lynchings represent just one form – the most extreme form – of race-based discrimination and violence.
Other forms – which persist today – include the over-policing, over-criminalization, and mass incarceration of African Americans. The commission hasn't been designed to address these issues or the broader context of racism and violence. So, it's unclear how the commission will lead to widespread reconciliation.
In addition, while the families of those responsible for lynchings can work with the commission and take the opportunity to make amends to the victims' families and communities, they may decline to do so. And victims' families may not be prepared to forgive.
Finally, the commission has been created in a fraught social and political environment. Hate crimes have increased in recent years throughout the U.S. Some elected officials have trivialized racial violence – including lynchings. And some race-focused policies, such as reparations, are widely unpopular among Americans.
So, while the commission benefits from broad support from government leaders in Maryland, it may not enjoy similar support from the public.
Whether the obstacles I describe will overcome the strengths of the commission remains to be seen. Nevertheless, the commission represents an important first step, and offers a guide for similar efforts in other states.
Kelebogile Zvobgo is the Provost's Fellow in the Social Sciences and a Ph.D. Candidate at the University of Southern California – Dornsife College of Letters, Arts and Sciences.
This article is republished from The Conversation under a Creative Commons license. Read the original article.
Listen: Going Home for My Small Town's First LGBTQ Pride
This piece was originally published in Scalawag, which amplifies the voices of activists, artists, and writers reckoning with the South. You can read the original article here.
When friends in Brooklyn ask where I'm from, I say "nearby Asheville." They usually react with delight. They've heard Asheville is so cool. Recently at a backyard party in Williamsburg, a woman sporting a see-through tote bag told me she's been considering buying a house down there to start a queer commune. I nodded sullenly. Living "nearby Asheville" is a loaded phrase. If you drive even just one mile outside of downtown Asheville, the free-spirited queer-friendly environment starts to fade. My hometown of Hendersonville is only about 25 miles from Asheville proper, but it can feel a world away.
A few weeks ago, I flew from New York City to Charlotte, where my partner met me at the airport. I don't get the chance to come home often. With every year I spend away, visiting feels more and more precious. This visit was especially charged because I was coming home to attend Hendersonville's first ever LGBTQ pride event.
Driving west on I-85, there's this electrifying moment where the Blue Ridge Mountains appear in the distance. It's the physical marker that I'm on the way home. Around this point in the drive, I usually start craving Cook Out. My partner and I split a strawberry milkshake and drive the rest of the way with the windows down, blaring Maren Morris. By the time we ascend the winding road to my parents' house, fireflies light the roadside.
Hendersonville is a small city of 14,000 with a remarkable concentration of retirees and a church at nearly every four-way-stop. It's the kind of place where people honk the car horn mostly as a way to say hello to a neighbor. It's also the kind of place where a teenage girl might hide in a bathroom stall during a school pep rally because someone yelled "dyke" at her and she turned as red as the plush auditorium seats. The bathroom stall at my high school is the only place where I did any kind of praying. Usually, I was praying to get as far away from Hendersonville as possible.
Growing up, I didn't know anyone in the town who was openly queer. I wasn't out either. Not even to myself. As a teenager, I couldn't picture living in Hendersonville as an adult. Now, I realize that inability to imagine my adulthood was related to the lack of LGBTQ visibility. There was a pervasive silence around who was queer. With everyone hiding in their own way, we never had a chance to connect.
Hendersonville's first pride celebration wasn't a parade or a festival. It was a potluck picnic. Bringing the community together over potato salad and watermelon slices is quaintly befitting for Hendersonville's first pride. It's also the kind of event where people can actually talk—unlike the relative anonymity of a parade or march. I felt that I was coming home to meet the LGBTQ people who were all around me as I was growing up. We would really see each other for the first time.
The week before the pride picnic, Mayor Barbara Volk made a proclamation declaring June 15 pride Day in Hendersonville. Dozens of protesters showed up to City Hall for the proclamation. Every member of the City Council publicly opposed the Mayor's decision. One City Council member said it didn't reflect the standards of the community. Another Council member who initially opposed the event asked, "What happens when White Supremacy Day comes up?"
I started to worry that Hendersonville wasn't ready for pride. I met organizer Laura Bannister on the day before the event. She was grilling a hundred hamburgers on her back porch for the picnic. Laura said she had no idea how many people to expect. She also told me that someone in the community had posted a video on Facebook, showing a group gathered in the park where the picnic was set to take place. They were saying prayers to dispel the devil. The woman who posted it said she heard someone say they wished death on the LGBT community. Laura sent a friend to check the trash cans for bombs both the night and morning before the picnic. Hearing this, my worry turned to fear.
I've been to pride events all over the South—Florence, Alabama; Salisbury, North Carolina; Huntington, West Virginia; Valdosta, Georgia—there are always protesters. Driving up to Patton Park on the day of the picnic, I expected to see those tall yellow signs warning of eternal damnation. But I didn't. Instead, I saw families unloading lawn chairs from their minivans, carrying Tupperware containers and gallons of sweet tea to the park shelter. The event kicked off with a blessing from a local Metropolitan Community Church pastor, Rev. Dr. Joan Saniuk. I thought the protesters must be running late.
As the festivities entered their second hour, I noticed another way this pride was unlike every other I'd attended. There were no sponsors, corporate or local. There weren't any vendors either, except local advocacy organizations. Someone set up free face painting, a DJ played gay anthems and picnic tables overflowed with homemade food. Almost 500 people came to the event, fixing plates and sitting in the grass to talk. By the time people started going back for seconds, it was clear that the protesters weren't coming. That relieved type of joy was palpable in the crowd. It also became clear to us that our town might not be ready for a pride parade or a march, but it was certainly ready for a pride picnic.
Monique LaBorde is a freelance audio producer based in Brooklyn, New York. She's a graduate of UNC-Chapel Hill, the Duke Center for Documentary Studies, and the Transom Story Workshop. Her work has aired on Morning Edition, All Things Considered, North Carolina Public Radio, West Virginia Public Broadcasting, and WCAI.
Commentary: Rural Power Co-Ops 'Stranded in Coal'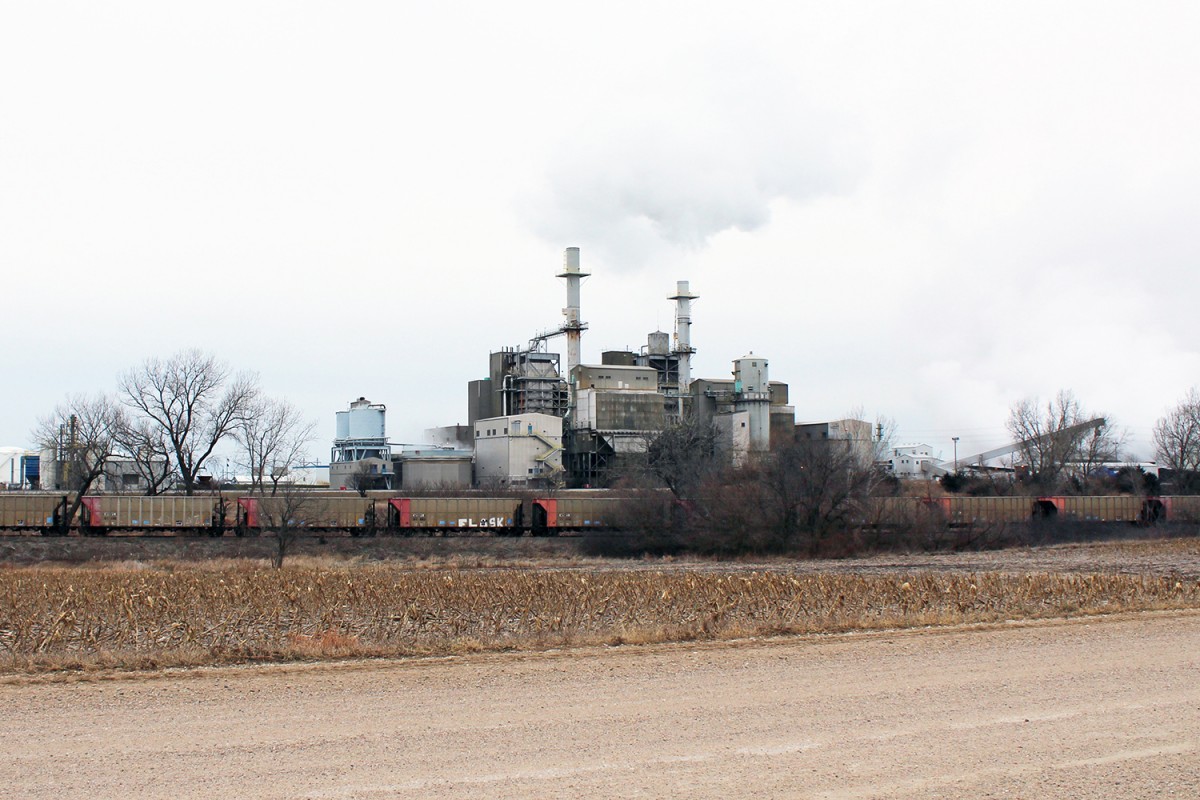 Electric co-ops' old investments in coal-fired production prevent them from taking the next step into economical and efficient renewable energy. A new report offers a way forward.
Rural electric cooperatives' loyalty to coal is holding rural America back.
That's according to a new report authored by CURE (Clean Up the River Environment), We Own It and the Center for Rural Affairs.
During the 1970s, most rural electric cooperatives made significant investments to build coal-burning power plants. At the time, the coal investment strategy made in the interest of providing low-cost electricity to their member-owners. Co-ops took on massive amounts of debt, mostly from the federal government. One year a loan to Basin Electric (a consortium of cooperatives that serves much of the Northern Great Plains) for a coal plant took up almost the entire annual budget for loans from the USDA's Rural Utility Service.
In 2019, the world of energy production and distribution is very different.
Coal is now increasingly expensive as well as being a leading contributor to climate change. With this rise in the cost of coal and the simultaneous drop in the price of renewables, coal is an increasingly bad choice for utilities. Today, most coal plants are considered to be uneconomic (perhaps "underperforming") assets by utilities, and many rural electric co-ops are identifying coal plants as stranded assets.
For example, a 2018 report from Rocky Mountain Institute shows Tri-State Generation and Transmission Association, (a partnership of 43 electric cooperatives and public power districts in Colorado, Nebraska, New Mexico and Wyoming) could save at least $600 million by 2030 and reduce their risk by using their coal plants less and investing in more renewable energy.
Beyond the powerful report conclusions, major utilities are making big commitments to renewable energy. Xcel Energy, an investor-owned and profit-driven utility, recently committed to 100 percent carbon-free electricity by 2050. In 2018, Great River Energy, a generation and transmission cooperative serving 28 electric distribution cooperatives in Minnesota, committed to 50 percent renewable energy by 2030. In a fact sheet, Great River Energy stated, "Renewable energy, particularly wind, is Great River Energy's lowest-cost option for new generation resources… Great River Energy's average wholesale rates will remain flat in 2019 with projected increases below the rate of inflation for the next decade."
In 2016, Kit Carson Electric Cooperative bought themselves out of their Tri-State Generation and Transmission Association contract to transition to 100 percent daytime solar generation, which is projected to save the co-op at least $30 million over 10 years. Other Tri-State Generation and Transmission Association member cooperatives are looking into buying themselves out or increasing the association's 5 percent cap on local renewable energy generation. Cooperatives across the country are locked into similar long-term, 40-plus year contracts with their generation and transmission cooperatives, some allowing only a couple dozen kilowatts or zero local renewable energy generation. These long-term contracts are often driven by outstanding debt for coal plants.
Rural electric co-ops are caught between the push for clean energy and their stranded assets, leading many co-ops to double down on their bad investments and push a pro-coal agenda that approaches a dogmatic rejection of the potential prosperity of clean energy for rural communities. As co-ops reject the new reality of more affordable electricity generation and a more distributed, safe and modern utility system, rural America is being left behind by clean energy prosperity while also having more expensive electricity and an unstable utility structure.
The report details five suggestions for policy solutions to address the problem and makes a preliminary examination of each of them. The policies range from regulatory action to swapping a determined dollar amount per new megawatts of clean energy, to familiar financial strategies. While each of these potential solutions addressed could potentially move the needle on electric cooperative debt and transitioning to clean energy, there are definite advantages and disadvantages to each policy.
The options of securitization, USDA Rural Utility Service refinancing, and debt absolution all have the same flaw: they do not guarantee that retired coal plants will be replaced by new energy efficiency and renewable energy investments. These mechanisms rely on market-based logic to ensure clean energy replaces coal. Or they assume that because utility-scale wind and solar are consistently the lowest cost option, rural electric cooperatives will choose to make investments in that direction. Unencumbered with the barrier of coal debt and stranded assets, cooperative leaders may fall victim to their own dogma about fossil fuel infrastructure rather than take the more affordable wind and solar route. Despite the current economics of wind and solar versus coal and natural gas, this is already proving true.
Since 2014, electric cooperatives have reduced their reliance on coal from 54 percent to 41 percent; however, they have also increased their natural gas generation portfolio from 18 percent to 26 percent. Overall, that's a shift from 72 percent to 67 percent fossil fuel generation. Meanwhile, nationally, cooperatives have only increased their wind and solar generation from 4 percent to 8 percent.
In order to be effective in closing co-op coal plants, avoiding a natural gas buildout, as well as delivering clean energy and prosperity for rural America, any potential solution will need to be designed with excruciating detail.
We need strong, forward-looking rural electric co-ops that are ready to serve our rural communities for the next 100 years. We need our co-ops to deliver on their founding promise of member control and democratizing the rural economy. Relieving the burden of electric co-op coal debt is one way to make that happen.
Erik Hatlestad is director of the Energy Democracy Program at CURE (Clean Up the River Environment) and Liz Veazey is network director of We Own It. Hatlestad and Veazey will host a webinar about their report on Monday, June 24, at noon Central. Register here.
This article was originally published by the Daily Yonder.
Opinion: An Agnostic in the Bible Belt
In my small town, not all of us believe the same thing. But that doesn't stop us from believing in each other.
Growing up in the South, we always congregated around churches. Believing in God felt a lot like believing in each other. For many years, I equated the belief in a higher power with the presence of hope.
I lived in a mid-sized city, Rome, Georgia, which prided itself for its distance from the interstate but still had its fair share of rush hour traffic. You couldn't easily walk from one end of town to the other, but you could navigate downtown on foot. Three rivers met just behind Broad Street, and people were usually standing down by the banks fishing as the clock tower announced each passing hour.
If you get in a car on Broad Street and head south, passing the fairgrounds, which fill up each October, and continuing past an iconic lot filled with stone statues, another filled up each holiday with inflatables, and finally past the expanses of woodlands beset in recent years by controlled burns — you will reach Kingston, Georgia. Growing up in Rome, we told local legends about avoiding Kingston at all costs. We said it was haunted or dangerous, the sort of place you'd get lost in forever.
Always curious, I longed to find out if the stories were true. Then, in my early 20s, I met a man who had recently opened a scenery studio in Kingston. Seeking refuge from the madness of Atlanta, he'd traveled north to a former lumber yard that before that had been a railroad wye – an important transportation hub during the Civil War.
Kingston has felt a lot like a forgotten town. You can walk from one end to the other. There is a park in between. Railroad tracks, on which trains still run, cross through the center of the town. We are known for our high number of Civil War landmarks and not much else. There are churches on many of the corners, and the conflation of religion with hope there feels almost as practical as fanciful. Specifically, churches provide evening childcare for many children of working parents and give food and clothing to a population in need.
When I married in 2007, a pastor from a local church officiated the ceremony. Four years after that, I found myself sitting on the town's active railroad tracks. Some of me wanted to die. Nonetheless, I chose to live. I also began the long process of quietly losing my religion. This wasn't because my troubling circumstances caused a lack of faith. Rather it was because, while sitting on those tracks, my inner will inspired me to go back inside, hug my child, seek out treatment for depression and ultimately be brave enough to leave what grew to be an unhealthy marriage. I had called out to God and received the clear message to call upon myself instead and rise beyond the stories of my childhood. I had not so much renounced my faith in God as found my faith in myself.
For many of my neighbors, that still sounds a lot like blasphemy. For others, it sounds like an opportunity for them to put me in their prayers. I greet both attitudes toward my agnosticism with a smile. There is no need for it to stand between us, and it doesn't most of the time. At 10, my daughter can safely walk to local stores by herself and have picnics in the park with her friends. Mine is the house where local children come to pass hours and eat chicken nuggets and cookies before pulling out flashlights and making their way home at dark. We help each other plan parties when it comes time for them to celebrate birthdays. We share folk remedies and food. Within our community, there is a lot of love. There is also a lot of poverty, addiction and emotional pain. Whether or not our comfort comes from religion or elsewhere, we show each other kindness and respect.
I am writing to share that revelation. During a time when the United States is divided pointedly along party lines, I've found security and peace in rural America. In many ways, my small, taboo town has become its own nexus of hope. The simple fact that we keep showing up daily, bearing witness to each other's lives, is enough.
Kelli Lynn, a native of Northwest Georgia, is an author, activist and entrepreneur. More of her writing is available on Medium.
This article was originally published by the Daily Yonder.