Officials Push Petrochemical Expansion, Protestors Fight Back
State and federal politicians announced initiatives this week to move forward an effort to build a major underground natural gas liquids storage facility in the Ohio Valley, an effort opposed by environmental activists who fear a petrochemical expansion in the region will threaten not only the environment but public health.
The Appalachian Storage and Trading Hub has been in the works for almost a decade. Developers are seeking billions in loan guarantees from the Department of Energy.
This week, Gov. Jim Justice met with officials from the U.S. Department of Energy to discuss the hub and developing the petrochemical industry in West Virginia. In a press release the governor said he would appoint a liaison to work with Energy Department officials on these issues.
"It is absolutely vital that we create a petrochemical industry in West Virginia versus building more pipelines that leave our state without creating any long-term manufacturing jobs," Justice stated.
Officials from West Virginia, Ohio and Pennsylvania support efforts to bring cracker plants and other plastics manufacturing infrastructure to the Ohio Valley, which sits upon two of the nation's most productive natural gas and natural gas liquids repositories, the Marcellus and Utica shale formations.
A 2018 study by the Department of Energy estimates the largest growth in natural gas liquids production is expected from this region.
"Ethane production in Appalachia is projected to continue its rapid growth in the coming years, reaching 640,000 barrels per day in 2025 – more than 20 times greater than regional ethane production in 2013," the report states.
The announcement coincided with the Marcellus to Manufacturing Development Conference held this week in Morgantown. The conference, organized by the West Virginia Manufacturers Association, brought together officials and business representatives from across the region, largely to discuss expanding petrochemical manufacturing in West Virginia.
Conference keynote speaker West Virginia Commerce Secretary Ed Gaunch told attendees his agency actively wants to help bring plastics and other petrochemical manufacturers to the state.
"The sun's about to shine on this wonderful state," he said. "Opportunities abound in West Virginia."
'People Over Petro'
Not everyone sees it that way, and those opposed to the petrochemical buildout say they've struggled to be heard by elected officials.
"Petrochemicals are not energy. It's plastic," said Belmont County, Ohio resident Bev Reed. "It's a dead product that doesn't go anywhere except to poison people."
Reed was one of about 40 protestors who gathered outside the conference. Protestors carried colorful signs, some with plastic grocery bags attached that whipped in the wind, and chanted "people over petro, people over plastics, people over profit."
Activists voiced concerns that turning the region into the next plastics manufacturing center would place the state's natural resources at risk, and harm its people, many of whom are already impacted by resource extraction.
Lawmakers in favor of the proposed of the petrochemical expansion often cite an American Chemistry Council study that projects the industry would bring 100,000 jobs to the region. It also estimates 60 percent of plastic production would be for food products.
Potential investment into the Ohio Valley's petrochemical buildout comes at a time when some cities and companies around the globe are pledging to discontinue use of single-use plastic.
Protestor BJ McManama with the Indigenous Environmental Network pushed back on the argument that a petrochemical future is the only one that can bring new jobs to the area.
"They shout jobs, jobs, jobs, making it sound like we don't want jobs. We want handouts. We don't want you guys have jobs. No, that's not right," she said. "We want clean, safe, sustainable jobs that create resilient, happy and peaceful communities."
Federal Support
A long-sought, and key component, to creating a petrochemical industry in the Ohio Valley is building storage for ethane. Ethane is a component of the natural gas liquids abundant in the region, and a building block of plastic.
Both of West Virginia's U.S. Senators, Democrat Joe Manchin and Republican Shelley Moore Capito, support the Appalachian Storage and Trading Hub.
At a budget hearing last week, Manchin pressed Energy Secretary Rick Perry about its progress.
"Are you all looking seriously at a natural gas storage hub in the mid-Atlantic region, and advancing that as quickly as we possibly can to have that backup for security? And how does that play into the national security of our country?" Manchin asked.
Perry said the hub was "not happening as fast as I'd like to see it," but noted the Trump administration's support.
"I think there is extraordinary potential in those four states and the Appalachian region – Pennsylvania, West Virginia, Kentucky, Ohio," he said.
About a year ago, the project got approval for the first of two application phases for a $1.9 billion U.S. Department of Energy loan guarantee.
To bolster the argument that this development would improve national security, this week Manchin introduced a bill, the Appalachian Energy for National Security Act, which would task the Energy Department with studying the national security benefits of the proposed gas hub.
But for the protestors who picketed Tuesday, the fight isn't over.
"We need to keep them from taking away what we have left," said Ashley Funk, with the Mountain Watershed Association, an environmental group based Fayette County, Pennsylvania. "We must stand together from death alley to the Ohio River Valley to say to these companies that want to profit from our communities that we are not disposable."
This article was originally published by West Virginia Public Broadcasting.
Rare Conservation Win In Congress Helps Ohio Valley Parks And Monuments
This story was originally published by the Ohio Valley ReSource.
The Ohio River Islands National Wildlife Refuge's namesake is apparent upon stepping outside its visitors center in Williamstown, West Virginia. Gazing past bird feeders and the forested bank of the Ohio River, a skinny island looms large.
"So Buckley Island is right across the water from us," says Michael Schramm, visitor services manager at the refuge.
Buckley Island is one of about 40 river islands spanning hundreds of miles of the Ohio River. The islands were formed by rock and gravel deposited during the Ice Age, and they serve as important habitat for wildlife on the Ohio River, including migrating birds. Over the years, as the river channel has deepened, some of the islands have eroded away. Today, the refuge manages 22.
"Part of the concept of the refuge and why it's so widely scattered along the Ohio River is that it's sort of like a little Noah's Ark that the wildlife can use as they migrate," Schramm says.
The islands have a unique history. Some were used for farming, oil was drilled on others. Schramm spots a rafter of wild turkeys near an abandoned barn on Buckley Island, about a quarter mile from the visitors center. A century ago, it was home to an amusement park.
Since the refuge's founding almost three decades ago, the U.S. Fish and Wildlife Service has acquired these river islands, the bulk of which are in West Virginia. A handful fall in Kentucky and Pennsylvania. Largely, the agency has used millions of dollars from the Land and Water Conservation Fund.
The LWCF, as it's often called, was created by Congress more than 50 years ago as a way to protect the country's natural areas and ensure Americans have access to them. It's funded with revenues from royalties on offshore oil and gas drilling.
Across the Ohio Valley, more than $700 million from the LWCF has been invested at federal, state, and local parks, forests and wilderness areas and to increase recreation access.
"We like to say the Land and Water Conservation Fund is the most important conservation program that nobody knows about," said Matt Keller, senior director at the conservation group, The Wilderness Society. "It's a program that had pretty positive and dramatic impacts all over the country, including West Virginia, and Ohio and Kentucky."
Despite its popularity, the program hasn't always been functional. Congress must both authorize the program and fund it, and previous authorization for the LWCF expired on September 30, 2018.
Keller said in today's divided political atmosphere, passing bills in Congress even with broad bipartisan support can be a challenge, but in February both the House and Senate resoundingly passed S. 47, the Natural Resources Management Act.
In March, President Donald Trump signed it into law.
"It's a remarkable moment for conservation of public lands," Keller said. "There haven't been a whole lot of victories and positive things moving forward in the past couple years, but this is a notable exception."
Congress, he noted, still needs to provide funding for the program.
The public lands package has a wide reach. Not only did it reauthorize the LWCF, the bill folded in measures that increase access to public lands for hunters and anglers, and designate more than 1 million new acres of wilderness. The legislation also renews for seven years the Every Kid Outdoors program, which gives all fourth graders and their families free access to U.S. National Parks.
More than 100 smaller bills were also added into the final version. Most authorize regionally-specific projects, including in the Ohio Valley.
Battlefield Victory
For years, Mill Springs Battlefield, located near Nancy, Kentucky, was ranked one of the most endangered battlefields in the country. Under the new bill, it's now a national monument. It will receive funding and support from the National Park Service.
"It's a big deal for us, something we've been working on for about 15 years," said Bruce Burkett, president of the Mill Springs Battlefield Association.
The non-profit has since 1992 purchased and preserved more than 400 acres of land associated with the 1892 Battle of Mill Springs, the first major Union victory in the Civil War's western theater.
Burkett said the national monument designation will raise the profile of the battlefield and draw more visitors in to learn about the role Kentucky played in the Civil War.
"Kentucky, for the most part, you know, is truly the brother against brother in this county," he said, adding that the inclusion of Mill Springs Battlefield as a national monument is an important step. "I think it does help further the understanding the American Civil War."
A second Kentucky Civil War battle site, Camp Nelson, which was one of the largest training depots for African-American soldiers, was also designated in the bill.
Forest Heritage
A few hundred miles away, the Appalachian Forest Heritage Area is also getting a new name, adding "national" to its title after years of being stalled by Congress.
"We're just incredibly excited about this. We've been working on this for so long," said Phyllis Baxter, executive director of the nonprofit that manages the diverse, 18-county swath of forest highlands in West Virginia and western Maryland.
She said the official National Heritage Area designation increases the resources available to promote the area.
"This will get us branding on the National Park Service website," Baxter said. "We can do a Passport program. There's a lot of things that we could do, that will have access to now that we didn't have access to before."
Baxter said one hope is that national visibility boosts tourism in some of the rural communities in the heritage area, providing a sustainable source of economic diversification.
"Whatever we can do to help those small towns find ways to diversify their economy and whether that's, you know, tourism or other small business or whatever works in each place we want to support that," she said. "And we hope that this will help."
Economic Boost
The Natural Resources Management Act also includes language that increases funding for all National Heritage Areas, and specifically expands the funding cap for the Wheeling National Heritage Area, from $13 million to $15 million. WNHA was established in 2000 and encompasses a 12-square-mile region throughout Wheeling, located in West Virginia's northern panhandle.
A 2017 economic impact analysis found from 2014-2016, WHNA generated $86.6 million in economic impact largely from tourism. The heritage area also supported 1,109 jobs and generated $6.4 million in tax revenue.
Supporters of the LWCF also point to billions of dollars in economic benefits associated with outdoor recreation.
Angie Rosser, executive director of the West Virginia Rivers Coalition, said the program benefits communities at all levels and has played an important role in expanding the state's whitewater rafting industry.
"When we think of river access, I mean LWCF immediately comes to mind in the ways that it's benefited rivers like the Gauley, which of course attract tens of thousands of people from all over the world to experience our world-class, whitewater rapids," Rosser said.
Every public access site on the Gauley River was made possible using funds from the LWCF.
"Whether it be a town swimming pool, or state park or national forest or driving by Seneca Rocks, almost everyone has been touched in some way by the support of the Land and Water Conservation Fund," she said. "It's made those places what they are today and accessible for us all to enjoy."
This story was originally published by the Ohio Valley ReSource.

Study Finds Coal Ash Contamination Widespread In Ohio Valley
More than 90 percent of the nation's regulated coal ash repositories are leaking unsafe levels of toxic chemicals into nearby groundwater, including ash sites at more than 30 coal-fired power plants in the Ohio Valley.
A new analysis released Monday by the Environmental Integrity Project and other advocacy groups looked at federally-mandated groundwater data from 265 coal plants and their more than 550 coal ash sites across the country.
The data show unsafe levels of pollutants including lead, arsenic and mercury are leaking into nearby groundwater from coal ash sites at 14 coal-fired power plants in Kentucky, 10 in Ohio, and 7 in West Virginia.
"This is a crisis because coal ash is poisoning an invaluable and irreplaceable resource," said Lisa Evans, senior counsel with the environmental advocacy group Earthjustice, and one of the co-authors of the report. "Even if this water is not now used for drinking, contaminated groundwater flows to lakes and streams and can contaminate these waters making them unsafe for fishing, recreation and irrigation."
The groups analyzed industry-supplied groundwater data required by the U.S. EPA under its 2015 coal ash rule. The Obama-era regulation requires utilities to not only conduct groundwater monitoring at ponds and landfills, but close leaking ash ponds and clean up polluted groundwater.
The first round of data was posted last spring and includes eight rounds of testing for 21 pollutants.
While the 2015 rule does not apply to all coal ash sites across the country, Abel Russ, senior attorney with the Environmental Integrity Project and lead author of the report, said the new analysis provides the most up-to-date picture of how pollutants contained in coal ash are leaching into the environment.
"Our report provides a unique, nationally comprehensive snapshot of the industry and it's confirmed that virtually all coal plants are contaminating groundwater," he said.
Regional Contamination
The report's findings mirror those published last year by the Ohio Valley ReSource and member station WFPL. In Kentucky and West Virginia, every power plant covered under the EPA rules had coal ash waste sites with evidence of contaminated groundwater.
In some cases, the data showed levels of pollutants many times higher than the federal drinking water standards. For example, coal ash sites near West Virginia's Pleasants Power Station had levels of the neurotoxin arsenic 16 times what the EPA deems safe. The radioactive and cancer-causing pollutant radium was found at levels six times higher than acceptable.
The groundwater data was collected close to the unlined coal ash pits and landfills. More testing is needed to determine to what extent those contaminants affect drinking water.
Kentucky's Ghent Generating Station — located along the Ohio River about an hour northeast of Louisville — ranked among the 10 worst contaminated coal ash sites in the country.
The report's authors said in light of their findings, federal and state regulators must move to regulate all coal ash repositories and quickly.
However,  the Trump administration has moved to weaken the 2015 coal ash rule.  The EPA extended the deadline for utilities to stop using some coal ash ponds by more than a year, and has allowed utilities to assure regulators that leaking contaminants won't get into groundwater. It is expected to release further changes to the rule this year.
This story was originally published by Ohio Valley ReSource.
Large Natural Gas Producer to Pay West Virginia Plaintiffs $53.5 Million to Settle Royalty Dispute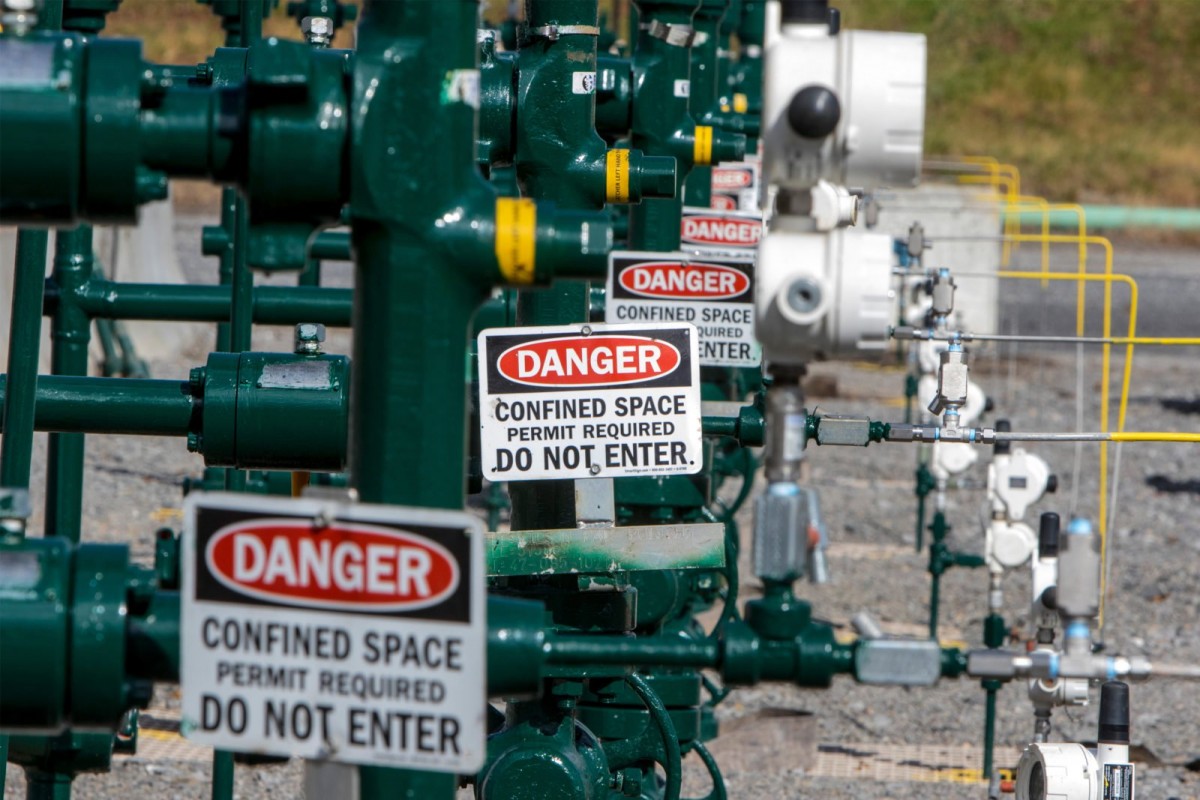 This article was produced in partnership with the Charleston Gazette-Mail, which is a member of the ProPublica Local Reporting Network.
As ProPublica's investigation detailed, EQT Corp. had been accused of deducting a variety of unacceptable charges from natural gas royalty checks. The company says it wants to "turn over a new leaf" in its relationship with the state's residents.
The second-largest natural gas producer in West Virginia will pay $53.5 million to settle a lawsuit that alleged the company was cheating thousands of state residents and businesses by shorting them on gas royalty payments, according to terms of the deal unsealed in court this week.
Pittsburgh-based EQT Corp. agreed to pay the money to end a federal class-action lawsuit, brought on behalf of about 9,000 people, which alleged that EQT wrongly deducted a variety of unacceptable charges from peoples' royalty checks.
The deal is the latest in a series of settlements in cases that accused natural gas companies of engaging in such maneuvers to pocket a larger share of the profits from the boom in natural gas production in West Virginia.
This lawsuit was among the royalty cases highlighted last year in a joint examination by the Charleston Gazette-Mail and ProPublica that showed how West Virginia's natural gas producers avoid paying royalties promised to thousands of residents and businesses. The plaintiffs said EQT was improperly deducting transporting and processing costs from their royalty payments. EQT said its royalty payment calculations were correct and fair.
A trial was scheduled to begin in November but was canceled after the parties reached the tentative settlement. Details of the settlement were unsealed Wednesday.
Under the settlement agreement, EQT Production Co. will pay the $53.5 million into a settlement fund. The company will also stop deducting those post-production costs from royalty payments.
"This was an opportunity to turn over a new leaf in our relationship with our West Virginia leaseholders and this mutually beneficial agreement demonstrates our renewed commitment to the state of West Virginia," EQT's CEO, Robert McNally, said in a prepared statement.
EQT is working to earn the trust of West Virginians and community leaders, he said.
Marvin Masters, the lead lawyer for the plaintiffs, called the settlement "encouraging" after six years of litigation. (Masters is among a group of investors who bought the Charleston Gazette-Mail last year.)
Funds will be distributed to people who leased the rights to natural gas beneath their land in West Virginia to EQT between Dec. 8, 2009, and Dec. 31, 2017. EQT will also pay up to $2 million in administrative fees to distribute the settlement.
Settlement payments will be calculated based on such factors as the amount of gas produced and sold from each well, as well as how much was deducted from royalty payments. The number of people who submit claims could also affect settlement payments. Each member of the class that submits a claim will receive a minimum payment of at least $200. The settlement allows lawyers to collect up to one-third of the settlement, or roughly $18 million, subject to approval from the court.
The settlement is pending before U.S. District Judge John Preston Bailey in the Northern District of West Virginia. The judge gave it preliminary approval on Monday, which begins a process for public notice of the terms and a fairness hearing July 11 in Wheeling, West Virginia. Payments would not be made until that process is complete.
The Charleston Gazette-Mail and ProPublica want to tell the story of the changing landscape in West Virginia, and how coal and natural gas are impacting it. West Virginians: Tell us how your community is changing. Call or text us at 347-244-2134, or email us: changingwv@wvgazettemail.com.
Kate Mishkin and Ken Ward Jr. cover the environment, workplace safety and energy, with a focus on coal and natural gas for the Charleston Gazette-Mail. Email Kate at kate.mishkin@wvgazettemail.com and follow her on Twitter at @katemishkin; email Ken at kward@wvgazettemail.com and follow him on Twitter at @kenwardjr.
This article was originally published by ProPublica.