Families all across the world pass on traditions and it is no exception in Appalachia.
Traditions like making apple butter in the fall, or celebrating Christmas morning at mamaws, or picking ramps at that secret spot in the spring, or even just going to church on Sunday.
But for one family in Lincoln County, West Virginia, the tradition is building furniture.
Jim Probst has spent over 40 years hand making furniture. Over the last 20 years, he has passed down that tradition to his son-in-law Eddie Austin.
Jim is now retired, but he built himself a "retirement workshop" at the end of a muddy road down a small hollow in Lincoln County.
Inside it smells of fresh ash wood. It is cozy with a wood-heated stove. West African music plays softly from the stereo.
At the back of the room there is a smooth finished, spiral wooden staircase that leads to a loft. The steps are patterned with a dark, walnut wood; all of which Jim built.
Since Jim is retired, he still maintains a shop for work on the occasional piece, but mostly just for fun.
"There's a woodworking tradition that seems to have started in Lincoln county," Jim says. "And who knows, Eddie's got two kids and his son says he's gonna be a woodworker, farmer."
Although Jim loves woodworking, the work is not easy. He puts hours upon hours of labor into each piece of furniture, and it shows.
The pieces are exquisite. Smooth finished curves, often in a deep cherry wood. But that hand crafting makes the pieces expensive – money that not a lot of people have.
One of Jim's chairs can retail for $800.
He moved to West Virginia from Indiana with his wife during the back-to-the-land movement in the '70s when many young, artsy people moved and bought land in the state.
Jim loves West Virginia – the nature, solitude and low crime rates. He considers it his home and says he would not live anywhere else.
As a child, he had learned basic woodworking skills from his father, but the craft of furniture making is something he's largely taught himself.
"I was accustomed to that if you wanted something you could build it yourself," he says.
During his 40-year career, Jim became a nationally- recognized furniture builder. He has been featured in magazines and two books.
His sleek, minimalist style caught the eye of wealthy buyers and several high-end furniture festivals. These things helped put him on the map.
"We were in shops in Seattle, one in Colorado, a shop in Chicago, shops in New York, Atlanta, out in Martha's Vineyard," he says.
Passing it Down
Today, most of the work is done by Eddie.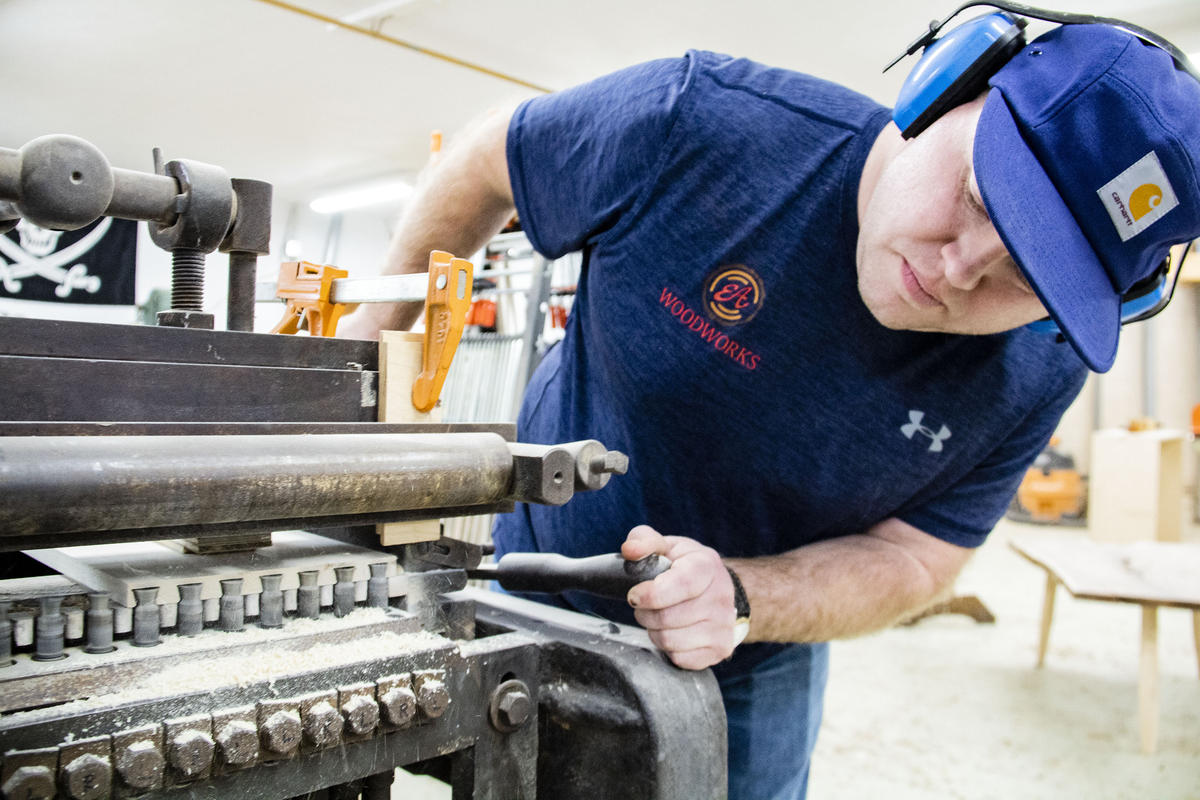 "It started with a girl," Eddie says.
He is referring to Jim's daughter Emma.
"I was 17 and I had a job as a full-time dishwasher at a local restaurant," Eddie says. "They said, 'We're closing the restaurant, here's your last paycheck, we wish you the best.' I'd just started dating Emma and she came home and told her dad. He said, 'Well, why don't you get him to come into the wood shop.'"
Eddie started by sweeping floors, but over time he became a top builder for Jim, and eventually married his daughter.
Two years ago, after working together for two decades, Eddie bought the shop from Jim.
Eddie now runs his own business, EA Woodworks, out of the original woodworking space.
Much like Jim, Eddie loves West Virginia. He was raised in Lincoln County, and as an adult, he has never doubted raising his family anywhere else.
He says he cannot identify with the phrase "the struggle to stay," a phrase media sometimes uses to describe the state's declining population of young adults.
"A lot of us West Virginians grew up without a running bathroom in our home, and we were able to overcome things like that," Eddie says. "And so, it really irked me that people found a struggle to stay. It never was struggle for me, it was just a time to dig deeper."
Eddie dug deeper by learning to woodwork. It has been the reason he could stay in Lincoln County.
A lot of that is thanks to Jim.
Connected But Different
The connection between the two shows in their work. Both create pieces that are sturdy while still upscale and elegant.
The differences, however, really shine through in their work spaces.
Jim's retirement shop is quite uniform. The focal points are the actual wood structure of the shop, whereas Eddie's shop highlights his extroverted personality.
There's a lot of color. His door is painted purple. There is a wall dedicated to street signs with tree names, like "Maple Street" and "Oak Avenue."
Music with Appalachian roots is often playing. A favorite of Eddie's is Kentucky artist Tyler Childers.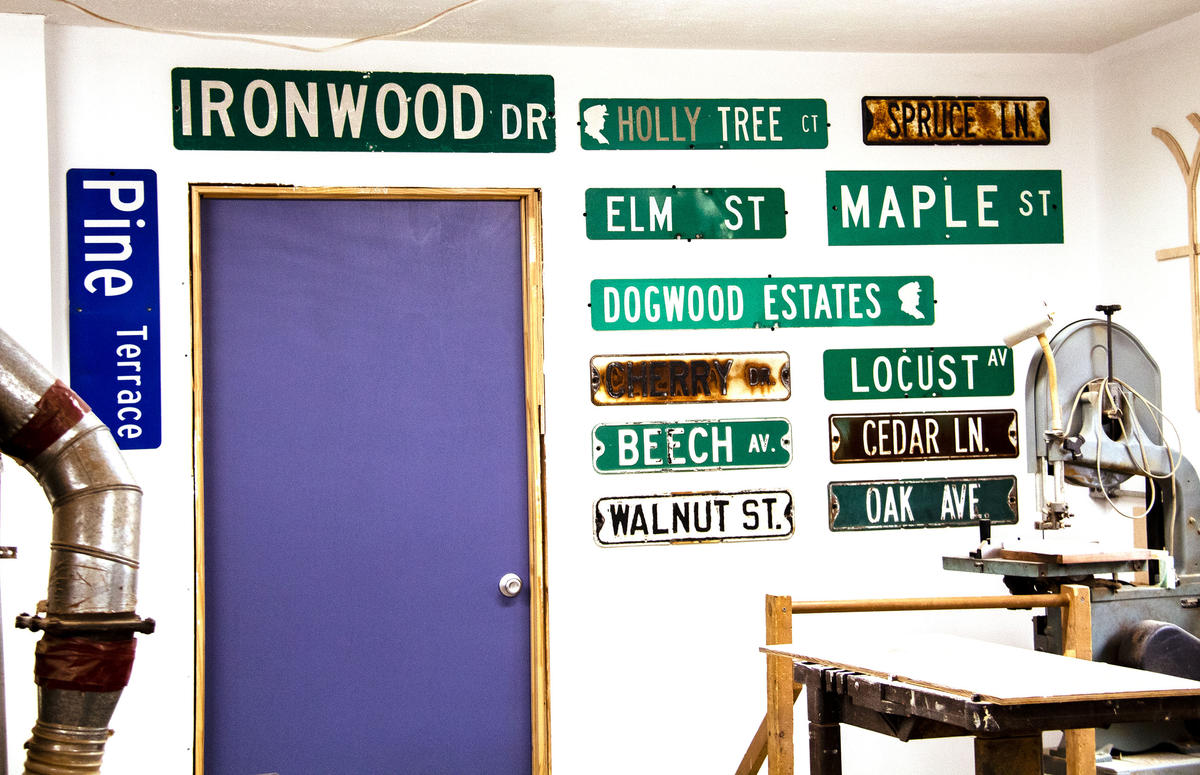 Eddie has also changed what was once Jim's furniture showroom for clients. It is now a laid-back room with a table, chairs, snacks and many colorful drawings from his kids.
Inside Eddie's Space
There are three other rooms in the shop that serve different purposes in the furniture building process.
"The middle room is actually the room where our lumber comes in," Eddie says. "We go through 10 to 20,000 board feet a year."
That is roughly 50 average size trees per year.
The next room is where he spends a lot of his time, and it's where Eddie first learned a lot of his wood working from Jim. Wood pieces are cut here, sanded and glued together. A lot of the large machinery is in here, like Eddie's dovetail machine.
At about 1,000 pounds, the 1920's model dovetail makes joints to connect drawer sides together. The joints themselves kind of look like birds – hence the name dovetail.
The machine roars when Eddie puts a wooden drawer inside of it.
The third room is the finishing room, where pieces are painted with a finish and left to dry.
The Tradition Lives On
A lot of Eddie's clients are within the tri-state region including West Virginia, Pennsylvania and Ohio. His pieces are no less expensive than Jim's, but he says the price point isn't the focus of his work.
"It doesn't necessarily matter how much money they make a year or who can afford it, as much as who can appreciate it," Eddie says.
Although ultimately a lot of people do not have the money for an $800 chair, Eddie does have an order list for six months out, much like Jim did.
Still, Jim says furniture making is much a labor of love.
"You never want to look at what you're making on the hour because it's going to be horrible," he says. "You have to love what you're doing, and you need to marry well."
Despite the aspects of financial uncertainty associated with the business, Eddie maintains that the quality and lifetime warranty of his furniture keeps customers coming back.
Jim says Eddie is enhancing the business aspect of the shop while still maintaining the history of the craft.
"I never really have enjoyed the business part of being in business," Jim says. "I truly think Eddie is better at the business end of business than I ever was."
Much like it was for Jim, Eddie says it is important to pass down the craft.
Eddie now teaches woodworking classes at a work training program based in Wayne County. One of his students has even gone on to work in the industry.
This story is part of an episode of Inside Appalachia that explores alternative cultures and economies. To listen to the full episode click here.
This article was originally published by West Virginia Public Broadcasting.