I Pledge Allegiance to Affrilachia
I am a Black Southerner and my experience, though it defies the white hillbilly stereotype, is assuredly Appalachian.
Being a Black person from Appalachia can be summed up in that old Facebook relationship status: It's complicated.
During my childhood, I enjoyed The Waltons, a popular 1970s TV show about a hardscrabble white family in the Virginia mountains, as much as I enjoyed Good Times, the story of an irrepressible Black family in Chicago's Cabrini-Green public housing community.
My Black friends from Atlanta and other cities look askance when I mention I had simultaneous crushes on the sensitive aspiring writer John-Boy (the eldest Walton son) and Michael Evans, the smart, politically conscious youngest child on Good Times.
I'm used to this reaction. I've always been teased because I was born and raised in the foothills of Georgia's Appalachian mountains—a place not known for having Black communities or Deep South "chocolate cities."
But Appalachia is a crossroads—where African, European, and indigenous people collided and co-existed. As a friend recently remarked, "We were 'intersectional' before the word existed. In the best of times, the regional camaraderie flows in an easy familiar manner 'cause everybody knows 'your momma and them.'" In the worst of times, I've despaired of finding better ways to co-exist on this land. As I'm crafting these emotions into sentences—and this native daughter returned to Georgia after many years away—I am still sorting out how I feel about this place called home.
I was born in Toccoa, in Stephens County, Georgia.Even these place names express the dissonance I feel about my geographic roots.
"Toccoa" is a word of Cherokee origin; almost every local Chamber of Commerce brochure claims that translated into English it means "the beautiful," though it was probably derived from "tagwahi," meaning "Catawba place." My high school mascot is still the Indians, boldly and inaccurately adorned in Plains Indian headgear. There was hardly any mention in our history classes of the "Trail of Tears" that removed indigenous people from this area of northeast Georgia, nothing about the reasons why, and no thoughtful contemporary attempt to connect with the culture we claim to honor on the athletic field.
The county is named after Alexander H. Stephens, vice president of the Confederacy during the Civil War. He is commemorated with a bronze plaque on the grounds of the county courthouse. This official marker does not refer to his infamous Cornerstone Address, delivered in Savannah in March 1861. There, he stated the logic behind the Confederacy's creation: "Its foundations are laid, its cornerstone rests, upon the great truth that the negro is not equal to the white man; that slavery, subordination to the superior race, is his natural and normal condition."
Clearly, there was no place in Stephens' vision for me, but the Confederacy did not prevail. I am a Black female who was a first-generation college student. My parents (pictured, visiting Cherokee, North Carolina) spent their teens being "the help" and then labored in the textile mill as adults. I am the grandchild of sharecroppers and the great-grand of enslaved people. As an heir of the civil rights movement, I claimed the freedom to become an artist, curator, and educator. I also embraced the role of cultural pollinator and mentor to many. I've earned two degrees, and much of my work connects colleges to grassroots communities. I am a Black Southerner, and my experience, though it defies the white hillbilly stereotype, is assuredly Appalachian.
The inhabitants of Appalachia are as diverse as its terrain—which ranges from soaring peaks to gentle hillsides, and from rural agricultural communities to bustling metropolitan municipalities. Yet when we talk about the region, Appalachia is narrowly defined and caricatured. Very little attention has been paid to the Black individuals and communities for whom this place has been home for generations.
Responding to the persistent erasure of our presence, I often say: "Small numbers, tremendous impact." The historic impact of grassroots Black folks upon these ancient mountains can be found in a range of examples: from inmates who constructed the railroads of Western North Carolina to the Highlander Center in East Tennessee, where multiracial civil rights allies strategized nonviolent tactics to dismantle legalized segregation and discrimination. Yet, for me, the most poignant and ironic example of the intersection of cultures in the region is the banjo itself, which is both quintessentially Appalachian and has African roots. Carter G. Woodson, the founder of Black History Month, lived in West Virginia. Henry Louis Gates, the renowned scholar of Black literature and culture, grew up in the mill town of Piedmont, West Virginia, and boosted the popularity of genealogy in this country. Appalachia gave us recording artists Nina Simone, Bill Withers, and Roberta Flack, as well as writers August Wilson and Nikki Giovanni, to name a few.
Musical giants even made their mark in my tiny hometown. James Brown came to Toccoa. Fleeing a tumultuous childhood and a perilous future, he healed his spirit and birthed his musical prowess in the shadow of Currahee Mountain. The blues vocalist and vaudeville performer Ida Cox was born here, and her enslaved parents probably worked on the Riverside Plantation before she fled as a teenager to sing about daily struggles and sexual liberation in the 1930s. Going on to fame as a prolific composer and bandleader, her song "Wild Women Don't Get the Blues" is largely recognized as an early feminist anthem.
When viewed as individuals, these creative folk appear to be Black "unicorns"—rare artifacts without context. Their Appalachian associations are rarely discussed, and ignoring their mountain connections allowed them to comfortably fit into a national commercial context. But I know their contributions to be great gifts from the region and to the nation. And I proudly claim them as Affrilachians.
Black in Appalachia = Affrilachian. This clever term is short enough for a tweet and long enough for a bumper sticker, and it was coined in the 1990s by Kentucky-based writer Frank X Walker. In 2011, I created the Affrilachian Artist Project, inspired by the Affrilachian poets who had been working together since college and the modern resurgence of old-time music by string bands like the Grammy Award-winning Carolina Chocolate Drops. Following in the footsteps of these creative trailblazers, I presented a regional digital showcase featuring the work of living artists for a two-day interdisciplinary Affrilachia symposium at the University of Kentucky in 2011. My motivation was simply to create a directory of Black visual artists in the region.
But the dream grew. I co-curated the inaugural museum exhibition of the Affrilachian Artist Project at the August Wilson Cultural Center in Pittsburgh, the region's unofficial urban capital. My goal was to create a sustainable collaborative network among the region's artists and community organizers. Today, the Affrilachian Artist Project Facebook page includes 2,000 individuals and organizations that celebrate and explore the intersection of cultures in Appalachia.
Affrilachia cannot be located on a map. Yet it is manifest, in writers' words, the sounds of musicians, visual art, and the creative network we continue to build. I seek out the makers and the truth tellers. I vow to honor the messy, bittersweet contrast of my home region's historic challenges and the courageous accomplishments of artists, activists, and residents who want a better future.
In an 1848 letter to Frederick Douglass, journalist and abolitionist Martin Delany said it best.
"It is only in the mountains that I can fully appreciate my existence as a [person] in America, and in my own native land. It is then and there my soul is lifted up, my bosom cause to swell with emotion, and I am lost in wonder at the dignity of my own nature."
This is why I pledge allegiance to Affrilachia.
This article was originally published by Rewire.News.
Commentary: Immunizing Against Our Culture of Contempt
Today's public discourse is a petri dish for breeding disgust for people with whom we disagree. Debates about healthcare issues affecting rural America are no exception.
From the left's "basket of deplorables" to the right's "send her back," our public and private spaces have become infected with a culture of contempt. On too many days, I feel I am in a country I barely recognize. I don't know if conservatives and liberals equally engage in contempt of the other, only that I hear too much of it from both sides.
I take little comfort when individuals say it's not so bad, that we were more divided during the Civil War. As savage as those days were, Abraham Lincoln knew we could and must do better.
"Though passion may have strained, it must not break our bonds of affection. The mystic chords of memory, stretching from every battlefield and patriot grave to every living heart and hearthstone all over this broad land, will yet swell the chorus of the Union when again touched, as surely they will be, by the better angels of our nature."
Even while coming of age in the riot-torn '60s, my evangelically conservative family would encourage me "to hate the sin but love the sinner." And not dissimilarly, at the same time, the left made an icon of a Vietnam War protestor placing a carnation into the barrel of a soldier's rifle.
From Fox News to MSNBC, our airwaves are filled with voices competing to be the loudest and the most adept at ridiculing their opponents. The dominant narrative is not to address ideas but to reduce those with whom who we don't agree to a position beneath contempt. Once we allow ourselves to hold someone in contempt, all that the best of our culture teaches us about how we are to relate and support each other goes out the window.
I have taken heart from individuals who have begun to name this problem and suggest solutions, such as Arthur Brooks, long-time president of a conservative think tank, as he wrote about "Our Culture of Contempt" in a recent issue of The New York Times: "What we need is not to disagree less, but to disagree better. And that starts when you turn away the rhetorical dope peddlers–the powerful people on your own side who are profiting from the culture of contempt. As satisfying as it can feel to hear that your foes are irredeemable, stupid and deviant, remember: When you find yourself hating something, someone is making money or winning elections or getting more famous and powerful."
If we are to reverse our country's slide into increasingly entrenched and divided camps, we need to relearn how to productively talk about our differences instead of attacking the character, motive and personal attributes of the "other side."
Brooks goes on to say that "each of us can make a commitment never to treat others with contempt, even if we believe they deserve it. This might sound like a call for magnanimity, but it is just as much an appeal to self-interest. Contempt makes persuasion impossible – no one has ever been hated into agreement–so its expression is either petty self-indulgence or cheap virtue signaling, neither of which wins converts."
For those of us working in health care, contempt is not theoretical. We seem increasingly less able to make progress on important issues as the rhetoric heats up and the attacks get more personal. Here are a few examples of current health care issues that seem too often to be dominated by attacks on those who hold an opposing opinion rather than the opinion itself.
Advanced Practice Registered Nurse Collaboration
Family Planning
Federal Dollars for Medicaid Expansion
Medicare for All
Race and Geography in Health Disparities
Vaccination and Anti-vaxxers
While I know that I have and still can readily discount those who disagree with me on each of these issues, I have renewed my commitment to keep my advocacy based on the facts and our organization's aspirations, not on trying to tear down those who might disagree. Will you join me in this quest?
Tim Size is executive director of the Rural Wisconsin Health Cooperative.
This article was originally published by the Daily Yonder.
How Organized Labor Can Reverse Decades of Decline
Collective bargaining has long been one of organized labor's most attractive selling points.
In its simplest form, collective bargaining involves an organized body of employees negotiating wages and other conditions of employment. In other words, unions are saying: Join us, and we'll bargain with your boss for better pay.
Unfortunately, traditional collective bargaining is no longer an effective strategy for labor union growth. That's because employers and many states have made it incredibly hard for workers to form a union, which is necessary for workers to bargain collectively.
My own research suggests unions should pursue alternative ways to organize, such as by focusing on more forceful worker advocacy and offering benefits like health care. Doing so would help unions swell in size, putting them in a stronger position to secure and defend the collective bargaining rights that helped build America's middle class.
Why unions still matter
Unions reached their pinnacle in the mid-1950s when a third of American workers belonged to one. Today, that figure stands at just 10.5 percent.
A big part of the problem is that employers have used heavy-handed legal and managerial tactics to block organizing and the elections necessary to form a union. And more than half of U.S. states have passed so-called right to work laws, which allow workers at a unionized company to avoid paying dues.
The stakes of this challenge are high – not just for unions but for most workers in the U.S. That's because weaker unions correlate with lower wages, reduced benefits and greater economic inequality.
Millions stand to gain from a strengthened labor movement, from Uber and Lyft drivers in the gig economy to low-wage employees in retail and hospitality. And surveys show nearly half of nonunion workers in the U.S. say they would join one if they could.
I believe there are three models traditional unions could pursue to add members without relying on workplace certification and collective bargaining.
Advocating for workers
One approach is to build on the success of worker advocacy groups like Fight for $15 and the National Domestic Workers Alliance.
Fight for $15, for example, played a leading role advocating increases in the minimum wage in several states, most recently Connecticut, while the National Domestic Workers Alliance helped secure the passage of the domestic workers bill of rights in New York.
What they all have in common is that they engage in protests and strikes to call public attention to the plight of exploited workers while advocating for economic and social justice. Unions, which used to engage in more of this kind of activism, need to recapture some of that militant spirit.
Establishing minimum standards
A second model involves pushing employers to agree to a minimum set of standards for benefits and pay to provide workers.
The Writers Guild of America, which represent screenwriters and others in television, theater and Hollywood, exemplify this model. For example, they establish minimum levels of compensation for specific jobs and duties and then require members – both employers and workers – to adhere to them. It's a collective bargaining agreement with a potentially much wider reach.
That's because these agreements are negotiated with employers but also cover independent contractors who sign on as well. Their strength comes from the aggressive organizing and advocacy plus the strategic importance of the workers they represent, which puts pressure on employers to take part and meet the minimum standards.
Other unions could expand this approach to encourage workers throughout industries that have little or no labor representation to join their ranks as affiliated members, which should pressure employers to follow suit.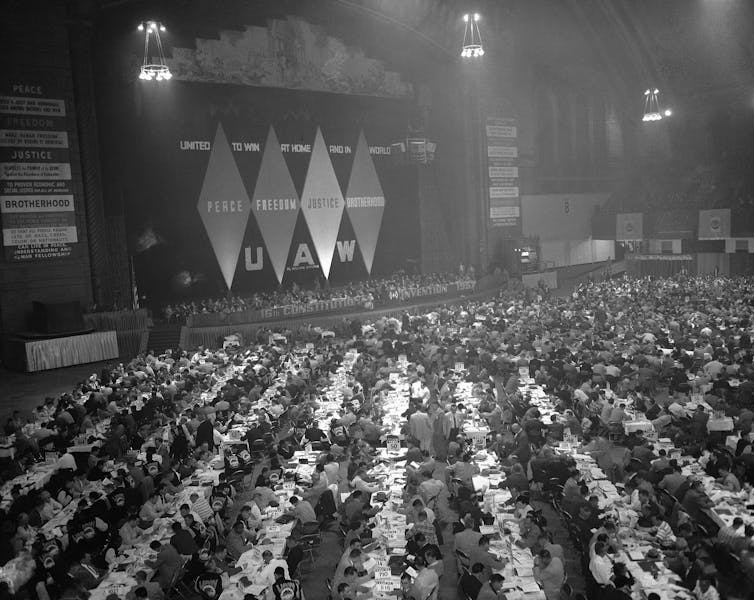 Unions with benefits
Another approach involves focusing on offering special benefits to independent workers in exchange for fees.
Some labor groups already do this, but the workers would benefit from unions combining their collective power to offer more heavily discounted goods and services, such as health care, disability benefits and legal representation.
For example, although the 375,000-strong Freelancers Union can't negotiate over pay, it offers independent contractors these sorts of discounted benefits. Instead of charging dues, it charges fees for its benefits, essentially operating as its own insurance company. It also advocates for public policy changes that safeguard freelancers from exploitation, such as New York's Freelance Wage Protection Act of 2010.
This model is probably the approach most likely to succeed in attracting large numbers of new members. The growing gig economy and low-wage industries like fast food are two areas that could receive benefits from these types of collective entities.
The endgame
Ideally, unions would embrace all three of these models, offering discounted benefits to any worker interested in signing on, fighting for minimum standards across industries and putting worker advocacy front and center. By broadening the ways in which workers can join and what they offer, unions will become stronger and closer to the people and communities that they are meant to represent.
But by no means are these models meant to supplant organized labor's traditional collective bargaining role. My point is that unions should break the straightjacket fixation on traditional bargaining and use alternative models as intermediate steps to the ultimate goal of unionizing more workplaces in order to negotiate collective bargaining agreements on behalf of workers.
To get there, though, unions must mobilize a critical mass of workers. Only then will they break the dynamic of labor's decline.
[ Deep knowledge, daily. Sign up for The Conversation's newsletter. ]
Marick Masters, Professor of Business and Adjunct Professor of Political Science, Wayne State University
This article is republished from The Conversation under a Creative Commons license. Read the original article.
Why Do So Many Rural Americans Feel Politics is Pointless?
In sociologist Jennifer Silva's first book, "Coming Up Short," she interviewed working-class young adults in Lowell, Mass., and Richmond, Virginia.
Most had a tough time earning decent wages. Many felt like they were in a perpetual state of limbo, unable to reach the traditional markers of adulthood: job, marriage, house and kids. But Silva was surprised to learn that many blamed themselves for their situations and believed that relying on others could only result in disappointment.
After the book was published, it bothered Silva that she never pressed her subjects further on their politics to see how they might be connected to their worldview.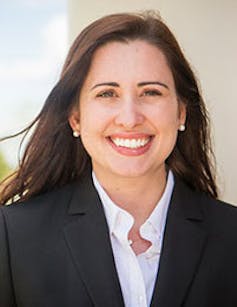 Now, in a new book, "We're Still Here: Pain and Politics in the Heart of America," she has made working-class politics her focus.
Beginning in May 2015, Silva started conducting interviews in a once-thriving coal town in central Pennsylvania, which she calls "Coal Brook." The timing was prescient: A month after she began her research, Donald Trump descended the escalator at Trump Tower and announced his candidacy for president.
Silva spent over a year interviewing townspeople. She gained their trust, forged relationships and spent time in their homes and at community meetings. After years of declining prospects under both political parties, some of the townspeople she interviewed were drawn to Trump's anti-establishment message. But for most, their politics had devolved into an abyss of cynicism that couldn't even be penetrated by a politician who promised to "fix" everything.
In an interview, which has been edited for length and clarity, Silva describes a community that is racially diverse, hardworking and politically aware. But its residents are also deeply distrustful and shoulder immense amounts of pain and alienation.
---
Can you talk a little bit about what inspired you to study working-class Americans?
I was the first person in my family to graduate from college, and I experienced some self-doubt and discomfort when I tried to integrate into the world of academia.
In my position between two worlds – growing up with more working-class roots, and then building a professional middle-class life – I would cringe whenever I saw upper-middle-class people treat working-class people with casual condescension or indifference. It sometimes seemed like the very colleagues who most loudly proclaimed their commitment to social justice were the ones treating the administrative assistant like their personal secretary or complaining about the cost of their housekeeper. It made me really skeptical of whether people's stated political beliefs were even a good predictor of how they treat people with less power and status.
What was the hardest part of the research?
Getting people to open up to me. I wasn't from the area. This is the kind of place where if you knock on someone's door, they're not going to let you in. I started off talking to white people. I'd go to football games and addiction meetings to try to meet people, and I was able to get to be known as "so-and-so's friend." Then I realized I wanted to have a non-white group in my book, because there's been an increase in Latino and black people in the area. So I had to find out how to get this population to trust me because the white population and the minority population don't overlap very much.
You spent months conducting interviews. Then the election happened, and Trump won. All of a sudden, there was a lot of interest in the very sort of community you had just spent time in. What's your take on the ensuing media coverage of these small towns?
It seemed like there was one dominant story: older white men, angry and in pain, were feeling bad about not having jobs and blaming racial minorities or foreigners.
And an element of that certainly emerged in my research. But the overall picture was just so much more complex. One of the things that was very striking to me was how much distrust there was. Among everyone I interviewed – white, Latino and black – there was a fierce distrust and hatred of politicians, a suspicion that politicians and big business were basically working together to take away the American Dream. Everyone was very critical of inequality.
So it wasn't this idea of "dumb white people voting for billionaires because they don't understand it's against their interests." Almost everyone was aware that the system is rigged against poor people. They blamed politicians for refusing to raise wages to a level people can live on. Many wanted higher taxes to support education. I heard a lot of that, across all of the different groups, and I didn't read a lot of that in the articles about these communities.
You interviewed 108 people and only 37 of them actually voted, with 26 voting for Trump. Of the 41 black or Latino people you spoke with, only four voted. So to me, one of the major stories wasn't necessarily support for Trump. It was a refusal to participate in politics altogether.
Two-thirds of the sample were nonvoters. They knew the election was happening but they just viewed political participation as pointless. They thought of it as a joke. And they said, "Look at what's happened in my lifetime, it doesn't really matter who's been president."
One of the critiques I heard a lot was that everything's about money now. If you have money, your life is good. You can buy anything. But if you don't have money, the system is stacked against you. I heard that from old white men. I heard that from young black women. And it was interesting, because it's not untrue, right? If you kill someone and you're rich you're more likely to get off.
So I think for them it was almost like, "Well, if we participate, we're just playing along and pretending. But we're not naive. We know already that politicians are bought off by corporations. No one actually cares about us."
There's that great story in the book where you showed up to an interview wearing your "I voted" sticker.
He laughed at me! Like, "Why would you vote? Are you crazy?"
And yet of those who voted, Trump did emerge as the clear favorite.
Well, Trump and Bernie Sanders. But Sanders wasn't an option in the end. The general take on Trump was, "We like Trump's personality, we like his aggressiveness, we like how he doesn't care about the rules." And then they liked Bernie Sanders for his authenticity and his heart. But for many who even ended up voting for Trump, they still didn't think it would matter if they voted.
Where does this disillusionment come from?
There's a sense of betrayal by a number of social institutions – education, the workplace, the military – all of these things that they thought they could trust, but, for one reason or another, ended up disappointing them.
So they turned inward. No one was really looking for external collective strategies changing the world. Many wanted to simply prove that they didn't have to rely on other people. There was this sense that any kind of redemption is only going to come out of your own efforts. And then you'll see some blame other people who don't seem to support themselves.
Before and after the 2016 election, J.D. Vance, with the publication of his memoir, "Hillbilly Elegy," was held up in the mainstream media as an oracle for dispossessed rural Americans. But in your book, you vehemently disagree with his worldview.
Vance seemed to look at other people in his community and think that the reason they were suffering was because of their own choices – that they weren't really strong enough to face the truth about themselves, that they had to stop blaming the government and corporations and actually take responsibility.
And that just wasn't the story that I heard. I heard a lot of self-blame and a lot of people who wanted to take responsibility for their own fate. There was a lot of soul searching and a lot of pain. Vance makes it seem like everyone just needs to be like him – a lone hero who escapes his difficult past on his own. It's not that simple or easy.
Can the pain people feel be used as a bridge to bring people together? That's how I end my book. And I saw signs of it. Families suffering from addiction were coming together and wondering, how can we change the ways that doctors prescribe medicine? Or how can we challenge pharmaceutical companies to stop making these medications that get our children addicted? Can we get the police to help addicts instead of arresting them?
That sounds like the stirrings of political mobilization. But what's the biggest obstacle that's preventing working-class voters from organizing en masse?
I think that it's the absence of what you could call "mediating institutions." The people in my book have a lot of critical and smart ideas. But they don't have a lot of ways to actually connect their individual voices. So they don't have a church group or a club that they would join that would then give them political tools or a louder voice. And I don't even know if they would join one if these did exist, because of their distrust of institutions. So it just ends up being turned inward rather than outward.
Within academia, what are some of the most common misconceptions you encounter when it comes to working-class politics?
I have heard some liberal academics talk about how self-defeating and misinformed working-class white people are. They seem to believe that if these people just knew the facts, they would change their votes immediately. Or they dismiss all working-class white people as angry and racist.
The working-class people I met were often radically critical of inequality and deeply skeptical about whether we live in a meritocracy. It was important to me to show that the people in my book of all races are creative and thoughtful – that they arrive at their positions by piecing together their histories and experiences in meaningful ways.
Sometimes these ways are destructive and divisive, and sometimes they have the potential to be transformative and healing.
[You're smart and curious about the world. So are The Conversation's authors and editors. You can read us daily by subscribing to our newsletter.]
Nick Lehr, Arts + Culture Editor, The Conversation
This article is republished from The Conversation under a Creative Commons license. Read the original article.