Kentucky Secretary of State Staff Searched Voting Records for Investigators and Rivals, Records Show
A release by the State Board of Elections shows that two secretary of state staffers used their access to the voter registration system to look up members of an agency currently investigating the office, along with a slew of other state employees.
Kentucky officials publicly released records Wednesday that show employees in the secretary of state's office used the voter registration system to look up political rivals, state investigators and a range of political operatives.
It is not clear in many instances why the office of Secretary of State Alison Lundergan Grimes was looking up people and their personal information — political affiliation, every home address ever on file, some Social Security numbers — but it has led critics to conclude her office abused its access to the system to gain information about her political opponents and those involved in multiple investigations of her conduct while in office.
After ProPublica and the Lexington Herald-Leader reported on the use of voter rolls this year, Grimes, a Democrat, had maintained that her office had done no inappropriate searches, and she called for the State Board of Elections to release records of who had looked up what, if anything. She asked that not only her staff's search logs be made public but also the searches of every county official with similar access.
"These searches will reflect that my staff have always acted appropriately pursuant to my role as Kentucky's secretary of state and chief elections official," she said in a statement released by her office.
After the release of the records, a spokesperson maintained the same. Lillie Ruschell said all searches were performed at the request of the media or the public, or to perform background checks on job applicants. She attached a series of documents she contended proved that the searches were valid, though many of them were irrelevant to the claims.
The disclosures come as an independent counsel is preparing a report on a variety of allegations made against Grimes, including claims her office has inappropriately handed sensitive voter roll information. The investigator, appointed by the state's attorney general, is also looking into complaints of inappropriate contracts and compliance with a federal consent decree governing Kentucky's efforts to keep accurate records of registered voters.
The Executive Branch Ethics Commission and the Personnel Cabinet are conducting their own investigations, and they were given copies of the search logs in August. Both are investigating, among a range of issues, whether Grimes' office inappropriately searched current and former employees as well as job applicants to determine their political affiliation.
Grimes has maintained her office's innocence and has repeatedly called the investigations political, despite the fact the investigations of her are based in part on complaints filed by Jared Dearing, a fellow Democrat whom Grimes had hand-picked to serve as executive director of the SBE. Grimes has maintained that the searches were done as part of the regular course of business at the request of citizens, candidates and members of the media, and that any searches of job applicants were part of standard background checks.
At the heart of much of the controversy surrounding Grimes is the claim by some that she has inappropriately attempted to usurp the authority of the SBE, turning the ostensibly independent agency into a tool of her office.
Indeed, state legislators had drawn up a bill that would strip the secretary of state's authority over the SBE and make inappropriate access of the voting rolls a crime. While the bill passed the state Senate, it did not make it past a House committee vote. Sen. Damon Thayer, a Republican and the author of the Senate bill, revived it on Wednesday, giving it a second chance this session.
Grimes was not the only member of the secretary of state's office to argue she had never inappropriately accessed the voter rolls. Mary Sue Helm, the elections director within the office, also disputed reporting by ProPublica and the Herald-Leader showing she had searched for information on members of the state school board and ethics commission.
"I have never, ever misused or abused any voter information for any purpose other than to fulfill my duties and responsibilities as a county employee and a state employee," Helm told the House elections committee on Monday. "It is not a good feeling when you wake up in the morning and you see your name in the paper where it has been alleged that you misused voter data."
Republican Rep. Jeff Hoover said he ultimately voted against the bill restricting the secretary of state's oversight of elections because of Helm's denials.
But the documents show Helm searched for all members of the school board in alphabetical order on May 10, 2018, and Holly Iaccarino, a member of the ethics commission, on July 31. She also looked up Iaccarino's husband, Carmine Iaccarino, an attorney in the Public Protection Cabinet.
Lindsay Hughes Thurston, then the assistant secretary of state and now a district judge in Fayette County, searched for the rest of the ethics commission on the same day in late July, though her searches of commission members began in May of last year. She looked up Commissioner April Wimberg on May 4 and Commissioner Christopher Brooker on May 29.
One of the complaints filed by Dearing last summer accused Thurston of searching for job applicants and, in one instance, recommending a less qualified Democrat over a Republican applicant. The documents show Thurston performed the searches for these candidates on April 26. She looked up the same candidates again, along with multiple other staff members, on Sept. 6.
In her statement, Ruschell provided no explanation for why members of the school board were searched. She attached two articles written in 2016 as explanations for the 2018 searches of the ethics board, saying they provided "further background as to why ethics commissioners were looked up." The articles concerned Gov. Matt Bevin's control of appointments to the board.
Ruschell also claimed that Helm — who has worked in state government for more than 20 years — "does not know who is on these boards," and so did not search for them intentionally. She simply did searches she was asked to perform without question.
Similarly, Ruschell provided documentation to justify Helm's July 30 search of Crit Luallen, the former Democratic lieutenant governor. The documentation shows that Luallen signed as a witness for a candidate for office who filed paperwork in late January. Ruschell claimed that the search, done six months after the filing, was in response to a press inquiry about Luallen's residency. She provided no proof of the inquiry.
Grimes is not known to have used the system to perform these searches herself. Only the search logs of Helm, Thurston and Erica Gaylon, Grimes' current chief of staff, were released Wednesday. Grimes has claimed she voluntarily relinquished her login to the system shortly after the 2016 election, after a Department of Homeland Security briefing warned that too many logins presented security risks.
Thurston did not immediately return requests for comment. Helm declined to comment.
The remainder of the searches reported by ProPublica and the Herald-Leader are also reflected in the documents. Helm looked up Rocky Adkins, a Democratic state representative and current candidate for governor, multiple times on Jan. 25, 2018, initially misspelling his name.
Helm also searched three other state representatives: Rep. Angie Hatton, D-Whitesburg; Rep. Diane St. Onge, R-Fort Wright; and Rep. Regina Huff, R-Williamsburg. All three, along with Adkins, were searched around the January 2018 deadline for candidates to file for office, which is consistent with Helm's claim that she uses the database to make sure candidate information is correct when they file for office.
Ruschell also pointed to a May 14 call for poll workers for the primary election to help explain why Thurston searched hundreds of public workers between May 16 and 17.
A spokesperson for Grimes' office said the political affiliations of staffers and job applicants were searched because the office is required to maintain a bipartisan staff. The spokesperson also claimed that staff searched for job applicants' voting histories in order to assess their qualifications.
The Personnel Cabinet, which manages hiring and human resources for the state, has said it is wrong to look up the party affiliation or voting history of any applicant for a nonpolitical state job.
"Under no circumstances should merit employment be based upon one's political affiliation or their voting record," said Katherine North, a spokesperson for the agency.
In addition to reporting on searches within the voter registration system, ProPublica and the Herald-Leader's three-part series showed Grimes pushed through a $150,000 contract to a cybersecurity consultant state employees had worried was unqualified, but whose CEO had donated to Grimes' campaigns. The reporting also showed Grimes and Thurston had instructed SBE staff to delay acting on a federal consent decree aimed at cleaning the state's voter rolls.
Grimes has called the reporting sexist, defending the actions of her office. She denies that the contract was awarded inappropriately, and she maintains that her office is in compliance with the consent decree.
Correction, March 6, 2019: This story originally misstated whose search logs were released. It was those of Mary Sue Helm, Lindsay Hughes Thurston and Erica Gaylon, not just Helm and Thurston.
This story was co-published with the Lexington Herald-Leader and was originally published by ProPublica.
How a Western Pennsylvania Police Shooting Sparked a Political Movement
In Pittsburgh, Summer Lee and Leon Ford are part of a new
brand of local politician whose influence is growing.
On the afternoon of June 19, 2018, a gold Chevy Cruze pulled up to row houses in Braddock, Pennsylvania, and stopped. One of the car's passengers, seventeen-year-old Zaijuan Hester, opened the rear window and traded fire with an unknown figure on the street. Also in the car was seventeen-year-old Antwon Rose, Jr. The two shooters—Hester and the person on the street—littered the ground with .40- and .45- caliber shells. Bullets lodged in the car's trunk and front passenger-side door. Then the car sped away toward East Pittsburgh with its passengers unharmed.
Officer Michael Rosfeld was only three weeks into his job at the East Pittsburgh police department when he received the car's description. He'd been sworn into the five-person municipal office fewer than six hours previous, having been dismissed from a five-year stint at the University of Pittsburgh's police department earlier that year. Rosfeld saw that the bullet holes sprayed across the Cruze matched the description from the police report and pulled the car over.
This is where the story gets fuzzy. In a shaky cell phone video taken from a second story window, a white-shirted Rose opens the car's right door, sprints through a gap between two row houses, and disappears from the camera's view. Rosfeld lifts his wdaniel eapon and fires the first of three staccato gunshots: Crack. The camera-holder's hand jumps. Crack. She gasps. Crack. "Why are they shooting at him?" the camera-holder asks, seemingly in shock. "Get down!" someone out-of-frame says. "No, I'm recording this," she replies. "Why are they shooting? All they did was run, and they're shooting at them!"
The autopsy report would later reveal that the first of the three shots struck the right side of Rose's face; another hit his right elbow, shattering bone; and the third and fatal shot entered through Rose's back, pierced his lung, and tore through his heart. A crescendo of sirens swelled through the neighborhood, and police officers pooled into the street at the traffic-stop-turned-murder-scene.
Rose knew the consequences America might impose on him for the color of his skin. In a poem for an honors English course two years previous, he had written, "I see mothers bury their sons / I want my mom to never feel that pain…I understand people believe I'm just a statistic / I say to them I'm different." He knew he lived in a country where black men are more than twice as likely to be shot by police than their white counterparts, and more than five times as likely to be imprisoned despite committing crimes at similar rates.
Rose lived in a community regularly punctuated by gun violence. But his murder at the hands of a police officer—an agent whose sworn mission was to serve and protect him—pushed Pittsburgh over the edge. In the following weeks, the city and state deployed hundreds of riot police to quell more than ten demonstrations across more than twenty square miles; protesters blocked a highway at one protest; a Republican elected official drove through a crowd at another. High-profile figures, including activist Shaun King, rapper Nas Jones, and NFL player Lamont Wade, weighed in on the case, and national media descended on Pittsburgh to see whether the city would detonate, like L.A. after the killing of Rodney King.
I covered Rose's story and its aftermath for The Pitt News. Buildings remained unburnt, but Rose's death lit a fire that has lasted long after the attention of national media. The shooting sparked a political movement that, like the Georgia movement that followed the shooting of seventeen-year-old Jordan Davis and got his mother, Lucy McBath, elected to the House of Representatives, could re-align the power balance of the city.
On a muggy summer afternoon, the Thursday after Rose died, protesters gathered outside the sleepy East Pittsburgh shopping complex that hosts the neighborhood's police station. "He was a good kid. He didn't deserve this," Lesa Sanders, who knew Rose, told me. She was working on a sign that read: "Black Lives Matter / No Justice / No Peace." Her young daughter stabbed the sidewalk with pink chalk next to her. A number of protesters in attendance had personal connections to Rose. Others were members of political movements that had emerged from the 2016 election—leftists, anarchists. Among them was PA District 34 House Candidate Summer Lee.
Lee is a community organizer with a firm gaze, two tightly-wound hair buns, and a brusque speaking voice that brooks no bullshit. She graduated Woodland Hills High, where Rose also attended, in 2005. She went on to attend Penn State and Howard Law School, worked for the "Fight for $15" and Clinton campaigns, and started her own political career after police brutality at Woodland Hills reached a nationally-scrutinized nadir.
In late spring of 2017, former Woodland Hills School Resource Officer Steve Shaulis allegedly hit fourteen-year-old student Queshawn Wade in the face so hard that he knocked Wade's front tooth out. Shaulis reportedly assaulted Wade in front of another officer and former Woodland Hills Principal Kevin Murray. Murray had been suspended earlier that year after he threatened to do the exact same thing to a different fourteen-year-old student with special needs. "I'll knock your fucking teeth down your throat," Murray can be heard saying to a student bystander who was recording the latter incident on his cell phone.
There was more where those incidents came from. A separate March 2015 video showed Shaulis slamming a student to the ground and discharging a taser twice while Murray restrained the student. A 2009 video showed him tasing another student against a locker while Murray looked on. The 2017 video circulated so widely that it reached the Washington Post. That year, five students filed a federal civil rights lawsuit alleging that the school district fostered "a culture of abuse."
Lee mobilized her community around the assaults using her national campaign knowledge. She helped local parent Akeya Kester run for the school board and lobbied for the Woodland Hills senior administrative staff to be replaced. Her efforts garnered the attention of Daniel Moraff, a volunteer organizer for Pittsburgh's Democratic Socialists of America, who had recently written a piece for In These Times titled "Want to Elect Socialists? Run Them in Democratic Primaries." Moraff approached Lee after a school board meeting to talk about doing just that.
Lee was initially reluctant, but they eventually decided on a bid to unseat Representative Paul Costa of Pennsylvania's 34th House District, who was part of a Southwestern Pennsylvania political dynasty that had been in politics for more than twenty years. "I just came to the realization that I can't lead someone some place where I'm not willing to go myself, so that's how I got into this campaign," Lee told Pittsburgh publication The Incline in December 2017.
Lee launched her campaign in January 2018, at Braddock sandwich restaurant Portogallo Peppers N'At. Her platform included implementing a $15-an-hour minimum wage, abolishing cash bail, banning fracking, and refusing corporate donations. Under a poppy-colored pea coat, she wore a shirt which read: "I Am My Ancestors' Wildest Dream," and in an optimistic first speech she promised to replicate her work with the school board in Pennsylvania's State House. "If I can do something in my community, if I can change the landscape in Pittsburgh…then we can change things in every community across the country," Lee said.
Fast-forward six months, and Lee had a different tone. "Five kids from Woodland Hills have been killed since I started running," she said at a rally outside the Allegheny County Courthouse the day after Rose was killed. Her voice was hard, and she gripped the microphone like a sword. "We will not just fight the power. We will seize the power. We are coming for anybody, anybody who stands in our way."
At this East Pittsburgh protest, Lee was coming for the Allegheny County District Attorney. She passed the megaphone between herself and two young activists: seventeen-year-old Christian Carter and a twenty-year-old named Miesha Blackwell. The three led more than one hundred protesters in blocking a major intersection near the police station. "We want an indictment!" they chanted as cars lined up like caterpillars around them. Blackwell gathered a group of children to the center of the circle. "We're doing this because they have the right to live without fear," she said.
A handful of police officers flanked the protesters from a distance. "No media comment," one told me when I asked them about strategy. Others just scowled. But they followed the protest as it twisted and turned.
Three miles in, protesters climbed an exit ramp onto a half-deserted I-376 East. Lee stopped them there. "We're not going to leave this highway until everyone is registered to vote!" she shouted. Organizers distributed themselves in practiced motion across all exit ramps and started blocking traffic. Others blew up two child-sized balloons, shaped '1' and '7' for Rose's age when he died. Protesters held the bridge for two, then four, then six hours. Helicopters circled overhead. Lines of car headlights stretched like luminous threads over the horizon.
Protesters prepared to camp out until dawn. "We'll stay out here 'til the sun comes up if we have to," Sonia Andrews, from the nearby town of Wilkinsburg, said. She sat blocking an I-376 exit with her daughter, Traci. Both were determined to pressure the DA to indict Rosfeld. "Enough is enough," Andrews said. Next to her, Stephanie Blakemore rocked her nine-month-old child to sleep at the highway exit's mouth. A nearby speaker blasted N.W.A.'s "Fuck tha Police." "Those cops should not have shot that baby," Blakemore said, speaking of Rose. "All babies matter." Allana Curington, an organizer from Pittsburgh's North Side, articulated the animating spirit that had more than a hundred people occupying a state highway early into Friday morning: "They won't listen to anything we say," she said. "Maybe they'll listen because of what we do."
Eventually, Curington received confirmation that they'd been heard. More than forty state police show up at one a.m. and swept in from the East. Led by Area Commander William Teper, they were dressed in all-black gear and had one vehicle for roughly every twenty protesters.
"What you've done here is unprecedented," Teper said to Lee. "But you need to leave."
"You gonna discipline your officers?" A protester on a motorcycle shouted from behind Lee. "You gonna kill me too?"
She quieted him with a gesture and turned back to Teper. "We're just trying to —" she said, before Teper cut her off.
"There are a hundred more officers stationed up the road, and they're wearing riot gear," Teper said. "You have five minutes." He stared at her for a moment more, turned back, and disappeared over the horizon.
Lee returned to the protesters and relayed the message. Five minutes stretched into ten, which stretched into an hour. People nervously eyed the police vehicles up the road. "I'm not tryna get arrested," a protester confided to me. But when Summer began to speak, he turned to her reflexively.
"I'm not here to tell y'all what to do," she said to a crowd of roughly fifty remaining protesters. "You gotta do what's right for you." Many of them were haggard and tired, and their exposed skin glowed with warm June drizzle. They conferenced briefly. Then they linked arms, blocked the highway, and prepared for confrontation.
Around 2:30, Teper started back down the road with roughly thirty black-clad riot police. They moved honey-slow under sodium-yellow streetlights, their batons ready, toward protesters who wanted nothing more than legal recourse for a child's death. The image felt like something from an historical biopic—an ultra-vivid entry in a gallery of sepia-toned Civil Rights-era photographs.
The riot police got within fifty feet of the protesters. I raised my cell-phone camera to record a video. And then Lee ran out between the two crowds.
"Hold up! Hold up!" she shouted. The police stopped for a moment, and protesters swarmed around her.
"What we've done here is unprecedented," Lee said to them, her words echoing Teper's. Her hair was lit red and blue by nearby police lights. Officers fingered their batons as they watched her speak. "But we can come back tomorrow." There were grumbles and moans, and the same man from the motorcycle shouted back at her: "How they ever gonna stop doing this if we don't show them?" Lee acknowledged his words with a nod, but posed a question in return. "You gotta ask yourself: Is this worth going to jail for?"
In that moment, it was tempting to imagine Lee as democracy's last defender—poised between riot police and a grieving township, the last levee of a community whose boys lie dead in the street. She's a candidate who could've been a high-powered Washington lawyer, a woman who could've left her steel town behind but returned to flip its school board, a rhetorical firebrand who's just as fluent in the science of air pollution as she is in the history of racist incarceration. Although her politics are local, they echo beyond the three-thousand-acre district she hopes to represent, touching on such universal themes as violence, love, justice, you and me. And on that June night, when police brutality might've set flint to tinder, she diverted hope towards the ballot box one last time.
"Remember, we need you out there. You gotta do what you gotta do to keep yourself safe," she told the assembled protesters one last time. One woman was voluntarily arrested to protest police brutality. The rest heeded her advice, and the group dissolved. Protesters walked down to an unblocked street to hail cabs and call Ubers. One checked back with Lee to see if she had a ride: "You good, Summer?"
"I'm good," she called back, nodding. Then she walked down the exit ramp and slipped out of sight.
Lee's message appears to be resonating with her constituents. In the May 2018 primary election, she beat out nineteen-year incumbent Paul Costa with seventy percent of the vote. She ran unopposed in the November general, securing more than twenty-one thousand votes in a district populated by around fifty-five thousand people per the 2010 census. She's now the first black woman to represent southwest PA in the state legislature. Since her victories, she's been profiled by The New York Times, The New Yorker, and many other national publications. It's a spotlight that she could easily parlay into television appearances and national fame. But she remains focused on winning Western Pennsylvania races, and helping like-minded candidates do the same.
In late November, Pittsburgh activist Leon Ford announced his campaign for a Pittsburgh city council seat at a local co-working space. "We are here as part of a movement," he told a crowd of supporters. "Summer Lee has shown us it can be done."
In 2012, Ford was paralyzed from the waist down after an altercation with two police officers who mistook him for a suspect with a similar name, CityLab reported. He was nineteen at the time, and complied with the officers' request for his license, insurance and registration. But Pittsburgh detective David Derbish jumped in Ford's car and the two started to struggle. Derbish shot Ford in the spine. Ford later woke up handcuffed to a hospital bed to discover he'd been arraigned on charges of aggravated assault against a police officer. Ford sued the city for $5.5 million and won. He released a book, Untold: Testimony and Guide to Overcoming Adversity, about his experience, and was named Pittsburgh City Paper's 2017 "Pittsburgher of the Year." But Ford hadn't considered a run for office until Rosfeld shot Rose.
"After Antwon got shot…I was talking to the family and realized, 'I've been there. That's been me,'" he told me.
Ford's words could serve as the motto for Pittsburgh's emerging political class: "I've been there. That's been me." Both he and Lee are part of a new brand of local politician whose influence is growing. They cement their beliefs at children's funerals rather than black-tie fundraisers, forge their characters in grueling physical therapy sessions instead of handshake marathons. Lee and Ford—along with New York's Alexandria Ocasio-Cortez, Virginia's Lee Carter, and Michigan's Rashida Tlaib—are the emergent Left's answer to an authoritarian future of border walls and resource wars. If Donald Trump cynically adopted the language and posture of grievance, Lee and Ford inspire loyalty by genuinely sharing in their community's grief. When the steel industry left her town to die, she came back to save it. When the city took his use of his legs, he fought back in court. And when Rose was killed, they mourned with their communities for another boy lost before his time.
Lee was the final speaker at Ford's campaign event. Many of the attendees knew her on a first-name basis, and they tuned in, rapt, when she took the stage. She worked her way to a peak, and delivered them an ultimatum. "Y'all gotta turn out for him!" she shouted. "Leon will need every prayer, every thought, every dollar, and every door to win!"
The crowd exploded in applause, and Lee exited stage left. Attendees' hands gripped hers with a dedicated intensity. They told her about their fears for their children, their struggles to pay rent, expressed frustration at still being treated like second-class citizens this far into the second millenium. She listened, nodded, and, disentangling herself, ducked into a nearby hallway. She paused and massaged her temples. Then she took a deep breath, straightened her back, and re-entered the world. ■
*Correction: an earlier version of this story referred to Daniel Moraff as a "former campaign manager" for the DSA. He was a volunteer organizer.
Kieran McLean is a Pittsburgh-based reporter whose work has appeared in NPR and PublicSourceand is forthcoming in Citylab and Popula.
This article was originally published by Belt Magazine.
W.Va. House of Delegates Erupts after Anti-Muslim Display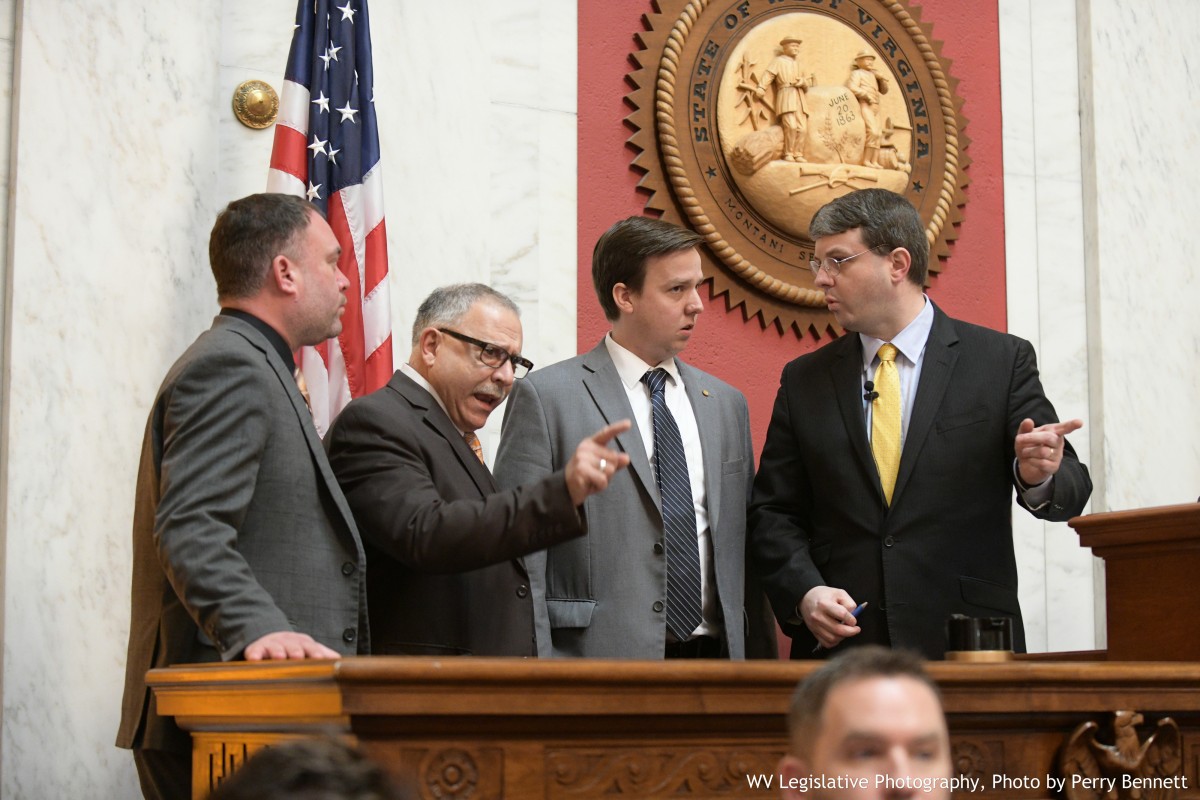 For the second time in its 60 day legislative session, the West Virginia House of Delegates is once again embroiled in controversy that stemmed from a display of hate.
Friday was deemed West Virginia Republican Party Day at the statehouse, a day for county party groups to set up informational booths in the halls of the Capitol, pass out fliers and speak with their representatives.
But a booth set up by one group in particular, which displayed anti-Muslim sentiments, sparked so much anger from Democratic members of the body that outbursts from both sides led to the resignation of the chamber's sergeant at arms, the possible injury of a staff member and could end in disciplinary action for the House minority whip.
The poster contained two photos, the top showing planes crashing into the Twin Towers in New York City on September 11, 2001, with the text "'Never Forget' – You Said." Below that photo was a photo of U.S. Congresswoman Ilhan Omar, D- Minn, and the text "I Am Proof – You Have Forgotten."
Omar, who is shown in the photo wearing a hijab, is the first of two Muslim women to be elected to the U.S. Congress.
The display was directly next to a poster promoting ACT for America, which the Southern Poverty Law Center has identified as an anti-Muslim hate group. A person standing behind that display was wearing a T-shirt that included the group's logo.
ACT for America said on Twitter they were not responsible for the meme with the Twin Towers and Omar. The group later removed that tweet, though, disassociating themselves from Friday's events at the West Virginia Capitol.
The display was denounced by Democratic members of the House of Delegates almost immediately as the chamber's Friday morning floor session began. One claimed in a discussion prior to the session's start, the House's Sergeant at Arms Anne Lieberman, the first woman to hold the position in West Virginia, said all Muslims are terrorists.
"That's beyond shameful — and that's not freedom of speech. That's hate speech and it has no place in this House — the people's House — and I am furious," Del. Michael Angelucci said on the floor.
By the end of the day, Lieberman had resigned and Speaker of the House Roger Hanshaw, who said he spent his afternoon in meetings and taking phone calls, chastised members of the body for their behavior earlier in the day.
"Where are we as a House and what possible example are we setting for the people of this state? What possible example are we as a body setting for those who sit at home and watch our sessions?" he said.
West Virginia Republican Party Chair Melody Potter released a statement Saturday in response to the incident:
"The West Virginia Republican Party does not approve, condone, or support hate speech. One of the exhibitors…displayed a sign that we did not approve, were not aware of before the day started and we do not support. Our Party supports freedom of speech, but we do not endorse speech that advances intolerant and hateful views."
Saturday morning, members of the majority party we also schedule to meet to discuss the potential censurer or expulsion of a Democratic member, Minority Whip Mike Caputo.
Before Friday's floor session, Caputo reportedly kicked open the chamber door, which is held closed during the House's opening prayer and the Pledge of Allegiance, striking a staff member. Caputo admitted to the act on Friday.
"We've got doorkeepers going nose to nose with members, Sergeant at Arms going nose to nose with members. We have created an anger that I've never witnessed in 23 years in this body and it's sickens me. It absolutely sickens me," he said.
During a Saturday floor session, Caputo apologized for the incident, but there has been no final decision on what if any action may be taken against him.
This story includes information first reported by West Virginia Public Broadcasting.
When W.Va. Delegate Compared LGBT to KKK, He Highlighted the History of Religious Right Prejudice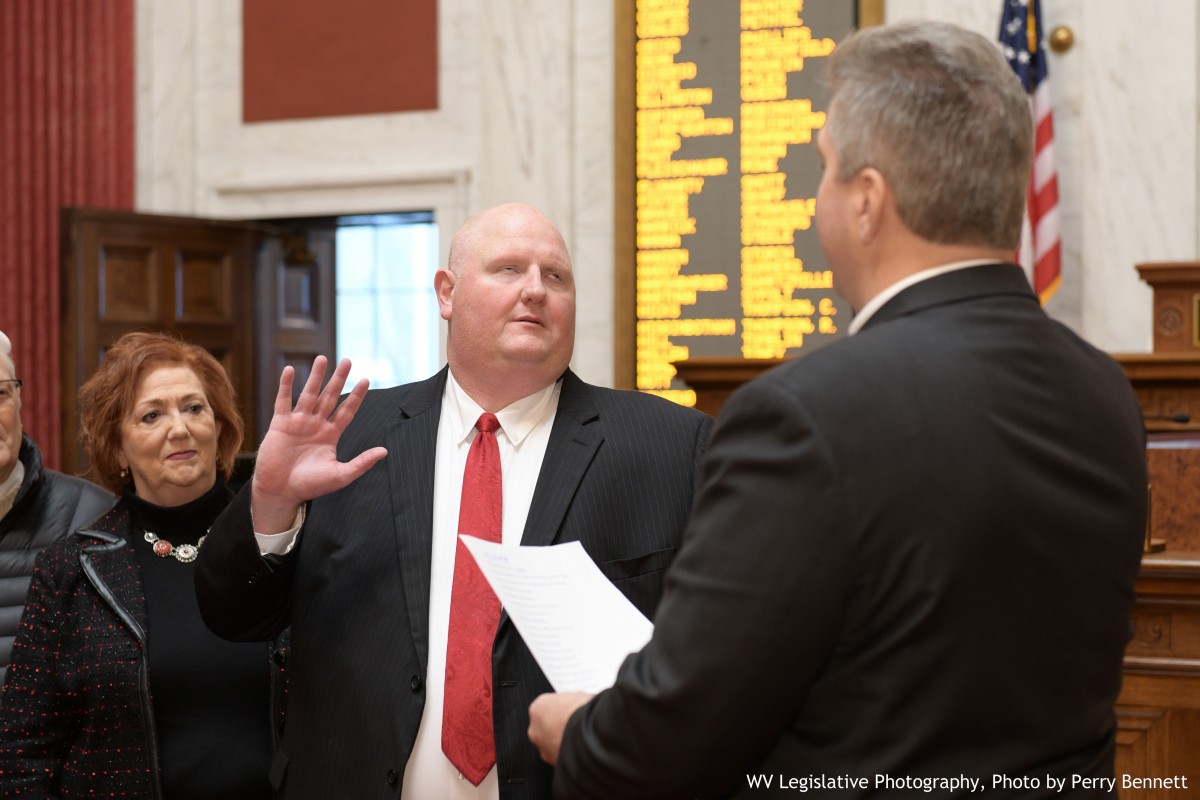 When West Virginia House of Delegates member Eric Porterfield, R-Mercer, called the LGBT community "the modern-day version of the Ku Klux Klan" in an interview with a Charleston Gazette-Mail reporter last week, it drew condemnation not just in the state, but nationwide. But Porterfield, in fact, joined a long legacy of right-wing evangelicals who have conflated legal protections for lesbians, gay men, bisexuals and transgender people with white supremacy and domestic terrorism.

The Southern Baptist Convention in 2012 resolved that "homosexual rights activists" had "misappropriated the rhetoric of the Civil Rights Movement" in advocating for marriage equality and other legal protections.

Bryan Fischer, former director of issues analysis for the American Family Association, has compared LGBT people to Nazis numerous times, arguing in a 2010 column that "homosexuality gave us Adolph [sic] Hitler."

And Tony Perkins, president of the Christian conservative lobbying group the Family Research Council, argued in a 2018 column on the organization's website that marriage equality was really "about obliterating every moral and cultural boundary humans have ever known."

"The LGBTQ is suppressing the freedom of people that disagree with them and forcing their ideology," Porterfield told Rachel Anderson, a reporter and weekend anchor with the Bluefield, West Virginia, TV station WVVA, in a separate interview.

"If they do not get their way, they cause chaos, apply pressure, intimidate, internet stalk," he added. "They're the most evil-spreading and hate-filled group in this country."
Porterfield's comments came after a controversial rant in a legislative committee meeting, during which lawmakers were debating a bill to add protections to the state's housing and employment nondiscrimination law for sexual orientation and gender identity.

His broader claim that "the LGBTQ" are harming America by lobbying for equal protections under the law is not new either. It's right out of the right-wing evangelical playbook, according to Randall Balmer, an Episcopal priest and historian whose work studying the religious right has been recognized with numerous accolades, including an Emmy nomination for script-writing and hosting the PBS documentary based on his book, "Mine Eyes Have Seen the Glory."

Balmer said that right-wing evangelical leaders often rely on a "rhetoric of victimization" to make themselves seem persecuted in the face of changing social norms.

"That, by the way, is one of the reasons that they embrace Trump…he's very good at this rhetoric of victimization," Balmer said. "What this guy in West Virginia is saying is just a variant on this. 'We're the ones who are under siege, we're the ones who have some sort of grievance that needs to be redressed.'"

But even given this context, Porterfield's comparison of LGBT people with the KKK is a strange one, given the religious right's origins. Although many believe abortion had a central role in pushing evangelical leaders toward politics, pro-life rhetoric did not become important in those circles until well past the 1970s.

In a Politico Magazine piece, Balmer traces the beginnings of the evangelical right's political efforts to a court case in the late 1960s, when a group of Black parents in Holmes, Mississippi, filed a lawsuit against the U.S. Treasury Department in hopes of preventing segregated private K-12 schools from receiving full tax-exempt status. As the Internal Revenue Status targeted the tax exempt status of private, segregated primary and secondary schools, leaders like the late Jerry Falwell became involved in the fight. "In some states it's easier to open a massage parlor than to open a Christian school," Falwell is quoted as saying at the time in an article in The Nation exploring the preacher's racist roots.

The racism exhibited by leaders of the evangelical right at the time was not limited to their efforts to preserve whites-only Christian academies. Tony Perkins, the aforementioned president of the Family Research Council, had no problem associating with the KKK when he served in Louisiana's House of Representatives. He even spent time with David Duke, a former grand wizard for the white supremacist hate group.

"The religious right has its roots in racism, I'm sorry to say," Balmer said. "So for this guy to kind of call on that trope is both ironic, but also fully compatible with the history of this movement."

Heather Warren, a University of Virginia religion professor who studies American religious history, agreed with Balmer, adding that racism and Christianity were intertwined not just in evangelical movements, but in "hardcore KKK ideology." Warren, who is also an Episcopal priest, said that in the 1950s and '60s, leaders in the religious right were fighting not to make America great again, but "to keep America Christian."

"And Christian and white and democracy all went together," she said. "They were all interchangeable. There was this way that it all added up to a white supremacy."

So laws and ordinances banning discrimination based on sexual orientation and gender identity are a direct affront to democracy, Warren said, and an attack on democracy is synonymous with an attack on white Christianity and America, under this belief system.

"When Falwell was alive and writing, usually in his catalogue of phenomena and types of people who were eroding America and eroding American democracy, he'd often start off with homosexuals at the top of his list," Warren said. "Feminists were close behind."

It's a convenient leap to make if you want to demonize the continued push for increased LGBT rights, which Porterfield seems to think are somehow wholly separate from the gay community. He clarified in his interview with Anderson that his original statement was an "anti-LGBTQ sentiment," not an "anti-gay sentiment."

Even before taking office, Porterfield made his positions on issues that directly impact the LGBT community clear. In a December interview, Porter condemned efforts to outlaw conversion therapy in West Virginia, a practice opposed by every major credible psychology or psychiatry organization. Porterfield called efforts to ban the practice "bigoted and discriminatory" and that the counseling practice should be protected as free speech.

Historically, conversion therapy methods have relied on tactics like castration, induced vomiting and electroshock therapy to "cure" LGBT people. While the unscientific and unethical therapeutic method has been banned or condemned in a number of states, including California and Washington State, New York is the only Appalachian state so far to outlaw it.

Porterfield's comments, both before taking office and since, make it clear that he believes being criticized for bigotry is on par with a legacy of racist, sexist, homophobic and transphobic violence rooted in white supremacy and white Christianity. By making this comparison, he's dismissing that Black and LGBT Americans have faced far worse than a few mean comments online.

The KKK was infamous for carrying out lynchings against Black Americans, a hate crime that often involves hanging but often also can include being burned alive or shot multiple times. The 1998 murder of Matthew Shepard's, a gay college student from Wyoming who was beaten and left to die tied to a fencepost,is sometimes considered a lynching, and the history of lynching was painfully brought up for many Black LGBT Americans recently when Jussie Smollett, a Black gay actor, was assaulted by two men in Chicago who put a noose around his neck.

There's hope, however, for Balmer in the form of younger white evangelicals who might not share Porterfield's extreme beliefs.

"Not that his views are unique, and not that his vitriol is unique," Balmer said. "But I think it's changing, and much of it is generational."

Balmer says young evangelicals are already showing they're more concerned about issues like ending widespread hunger and poverty than whether someone is trans or attracted to a person of the same gender. Hopefully, he says, one day these young people will refuse to back other politicians like Porterfield and focus their efforts on finding solutions for struggling communities.
Tiffany Stevens (@tiffanymstevens) is an independent journalist living in Southwest Virginia. Their work focuses on the media, the LGBT community and Appalachia.